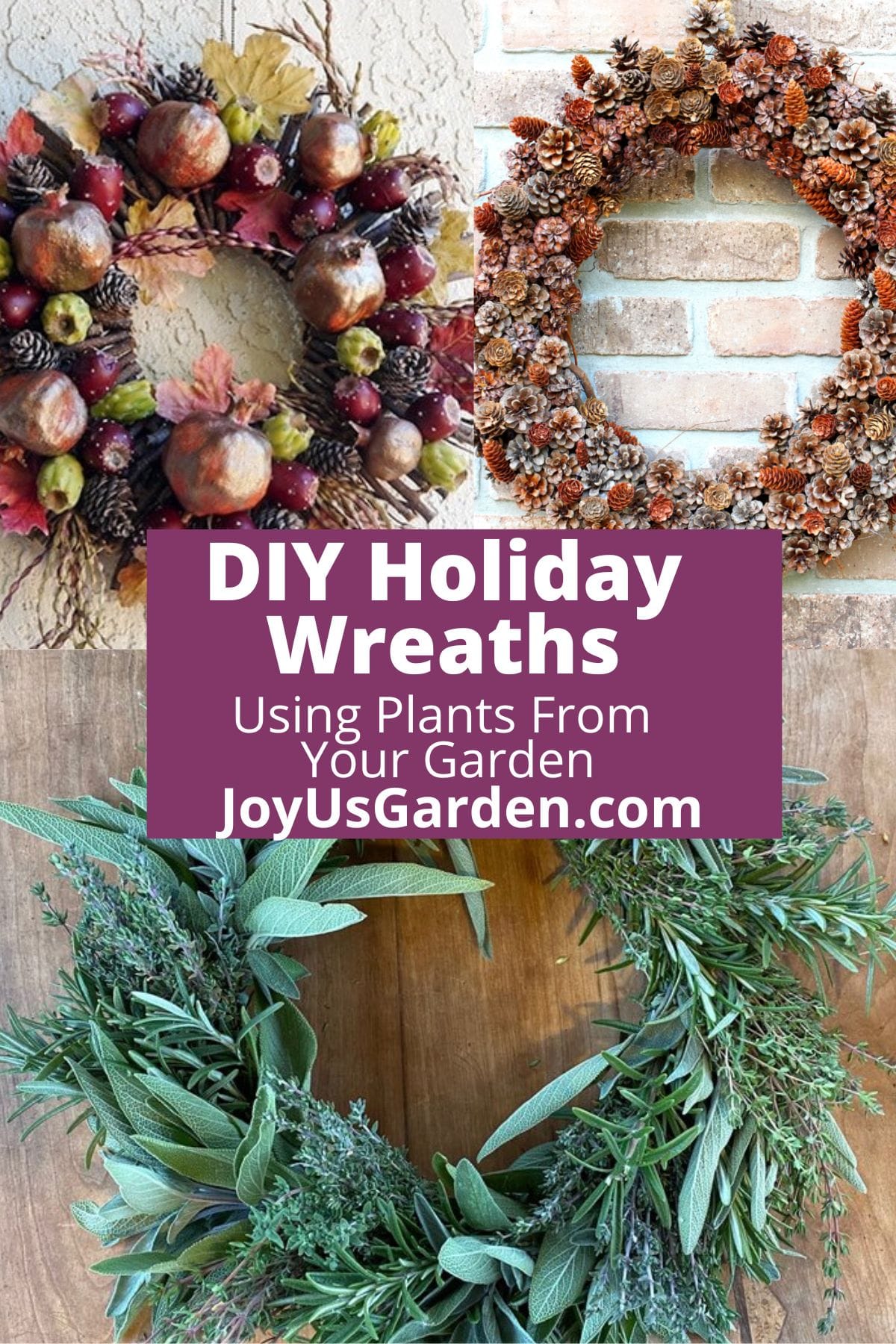 The purchase of faux wreaths and the repetition of their use every year can get old. Besides, you have inspiration waiting for you in your own garden. Creating your own wreath and showing off your personality is a fun project you can do this time of year. Here are some ways to make homemade Christmas wreaths and DIY holiday wreaths using plants in your yard.
1. Go Native, Especially With Evergreens
What plants are native to your area? Does fir, cypress, or juniper grow? If you don't feel like clipping the evergreens in your yard, many Christmas tree lots and garden centers have loose greenery for sale to create your wreath.
2. Use Dried Herbs and Flowers
A dried herb like mugwort is tall and often dries itself out in mid-December its stems are perfect for the base of a wreath. You could also use sage or rosemary, which symbolize fire and the desire to return to warmer months, but for now, these symbolize the warmth and love of your home.
3. Intermix Succulents with Pine Cones
In your backyard, gather succulents, or pick a few up from your local nursery. Secure the succulents to the wreath, alternating color, and type. Between the various colors of succulents, pine cones are an interesting pop of earthy brown with a similar geometric shape.
DIY Holiday Wreaths Ideas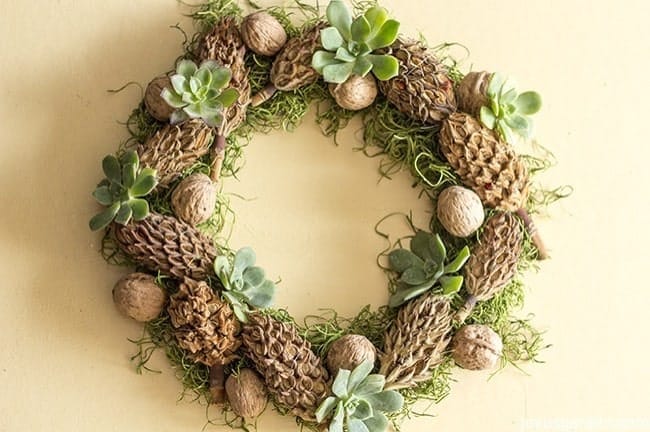 If you're in search of a living wreath using succulents, this Christmas wreath is the way to go. In addition to your wreath form, you will need only a few plant materials – magnolia cones (or any cones), walnuts, a type of moss sphagnum moss or Spanish moss, and of course succulents.
This succulent wreath will look beautiful on your front door to greet your guests with.
Looking for another succulent holiday project? Check out these DIY Succulent Christmas Gardens.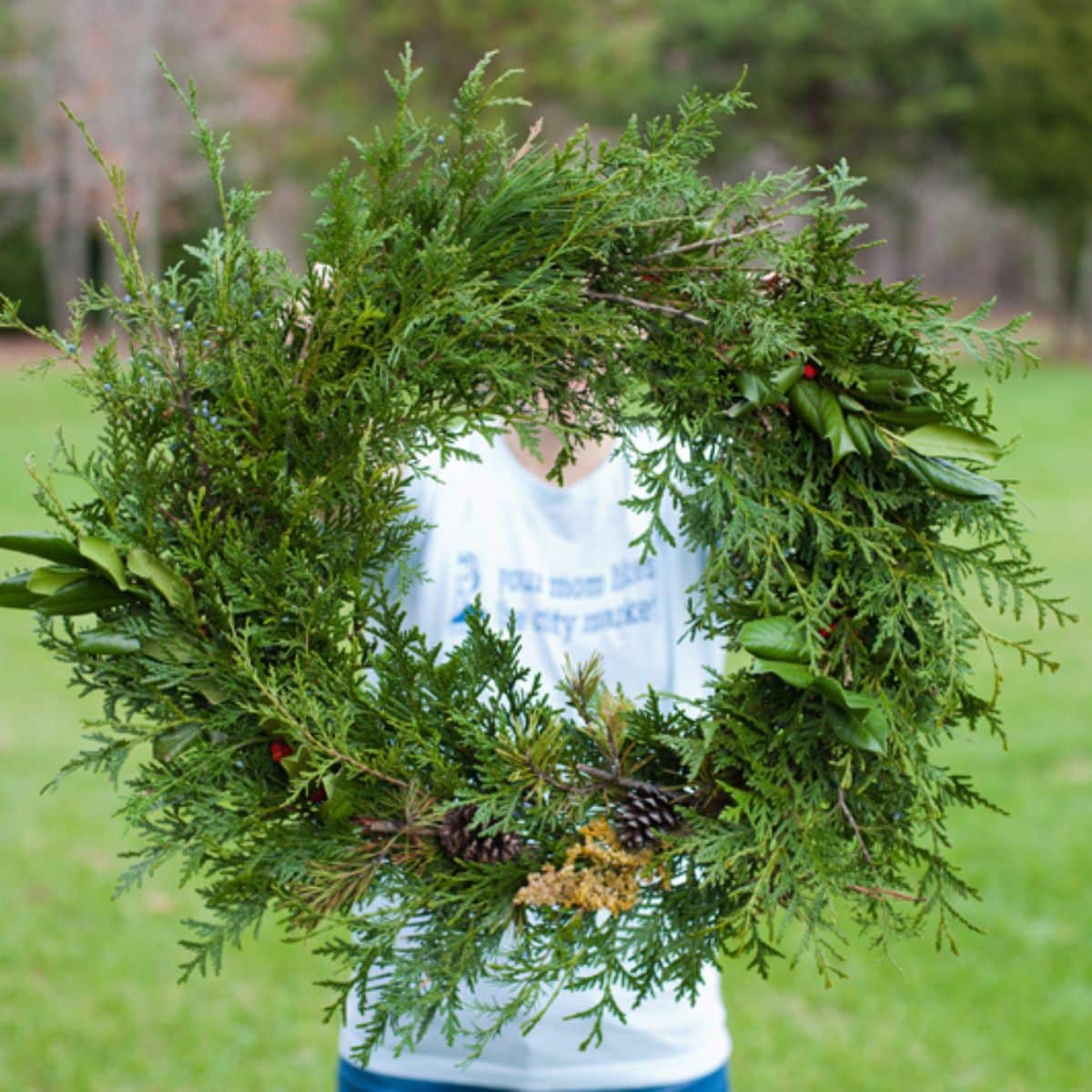 This wreath can be made with a few simple materials; a wire wreath frame, floral wire, foliage from a pine tree, bright red berries, and a couple of pine cones. If you want to keep this wreath more minimalist you can skip the berries and pinecones and just use evergreen branches and foliage on the entire wreath.
This DIY wreath is a good choice for those who are looking for something simple and easy.
Are you decorating with Poinsettias this season? Here are tips to help you Pick out the Perfect Poinsettia. And, you'll need Poinsettia Plant Care Tips to keep that beautiful plant alive.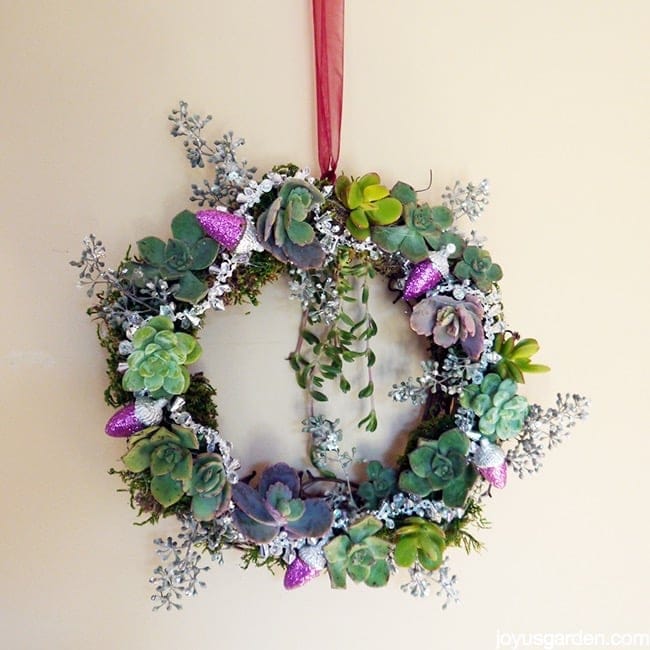 This wreath is full of sparkle and shine, and we love all the glitter for this festive season. In addition to needing a grapevine wreath, you will need preserved sheet moss, bead garland, glittered acorns, glittered seeded eucalyptus, and succulent cuttings.
This stunning wreath can be put together in different ways, so if you want to forgo the glitter and shine, that's totally fine too.
We've also done posts on Holiday Plants For Christmas and Blooming Christmas Plants that you might want to check out. All with images!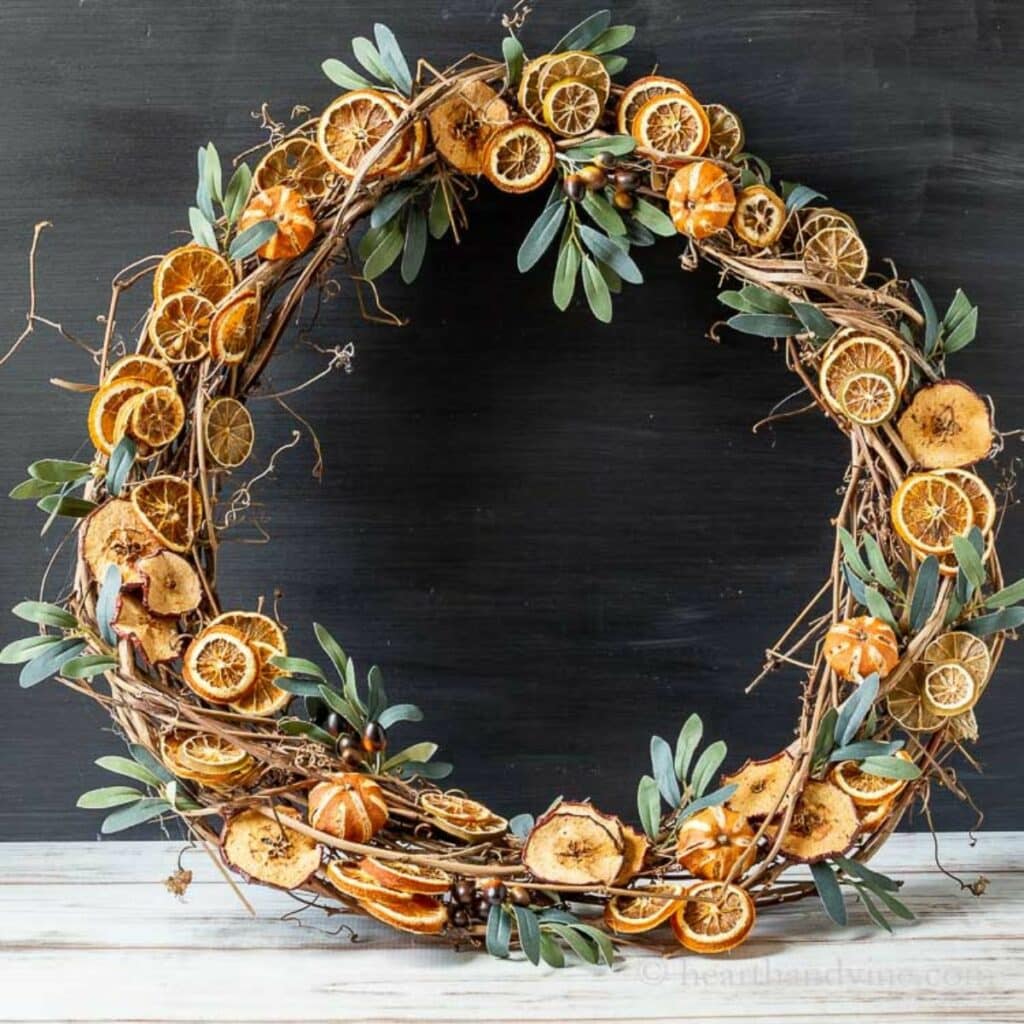 Using the beauty of nature in your home decor is a good rule of thumb. We like this wreath because of its pops of color. Dried oranges might not be the first thing you think of when looking for holiday decorations but we think it's a great choice.
So if you have citrus trees growing in your garden this is a great DIY wreath for you.
Here's another holiday decor idea using fruit. This Citrus & Spice Decoration DIY not only looks good, but it's fragrant also.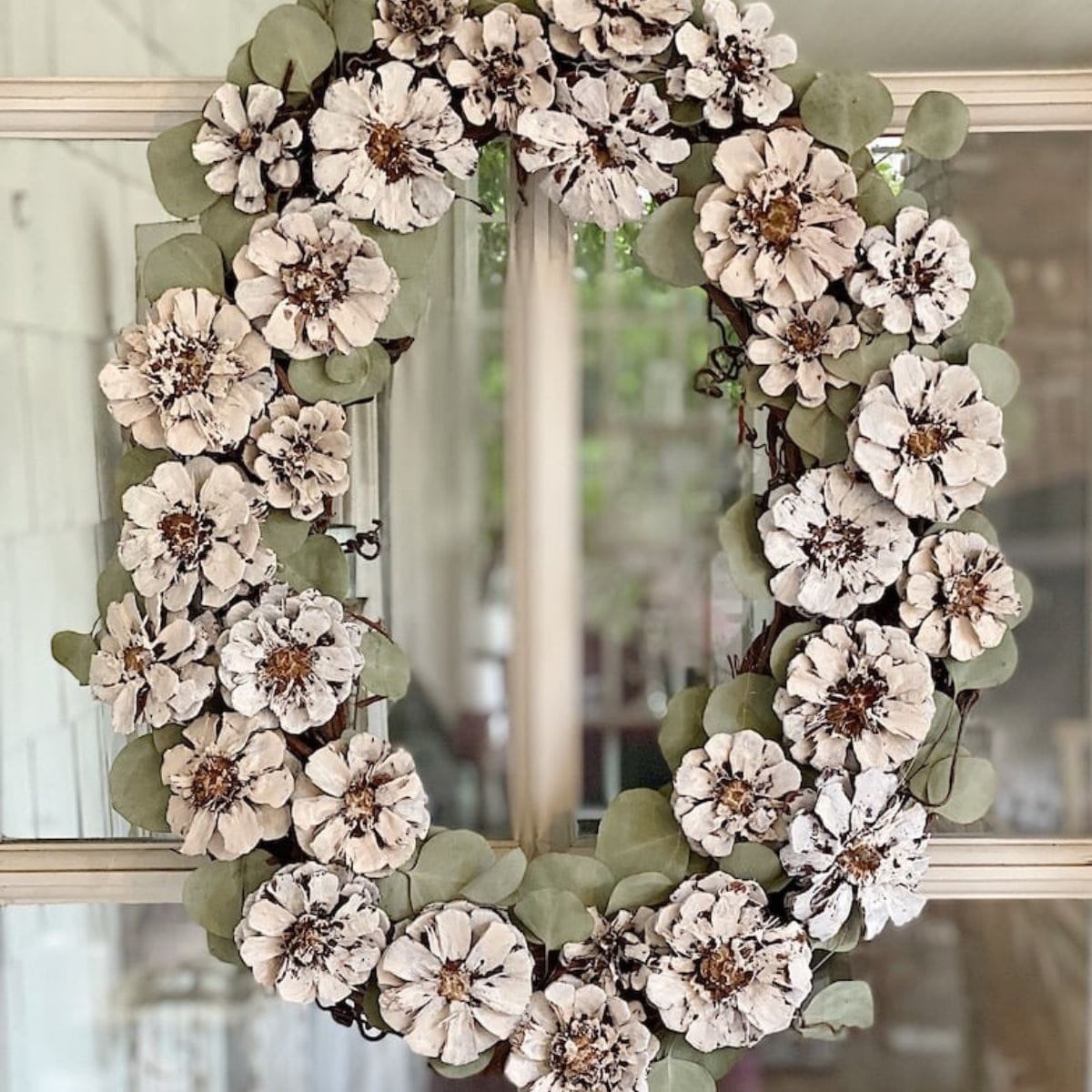 This beautiful wreath puts a fun twist on the use of pinecones. The pine cones are cut and painted to look like flowers and the wreath frame is adorned with eucalyptus for added texture.
Grab your glue gun and a few other easy materials and you will have a DIY holiday wreath in no time. By the way, pine cone wreaths can last for many years to come.
We have more Christmas Decor and DIY Crafts: Christmas Succulent Arrangements, Homemade Christmas Decorations Using Fruits & Spices, 2 Easy Last Minute Christmas Centerpieces, 3 Easy DIY Ornaments
The only non-grown element of this wreath is string, a wire frame, and ribbon. The types of plants used are hydrangeas, rose hips, fern fronds, berries, twigs, and fresh greens.
This is certainly a fresh wreath that is sure to bring some holiday cheer to your home.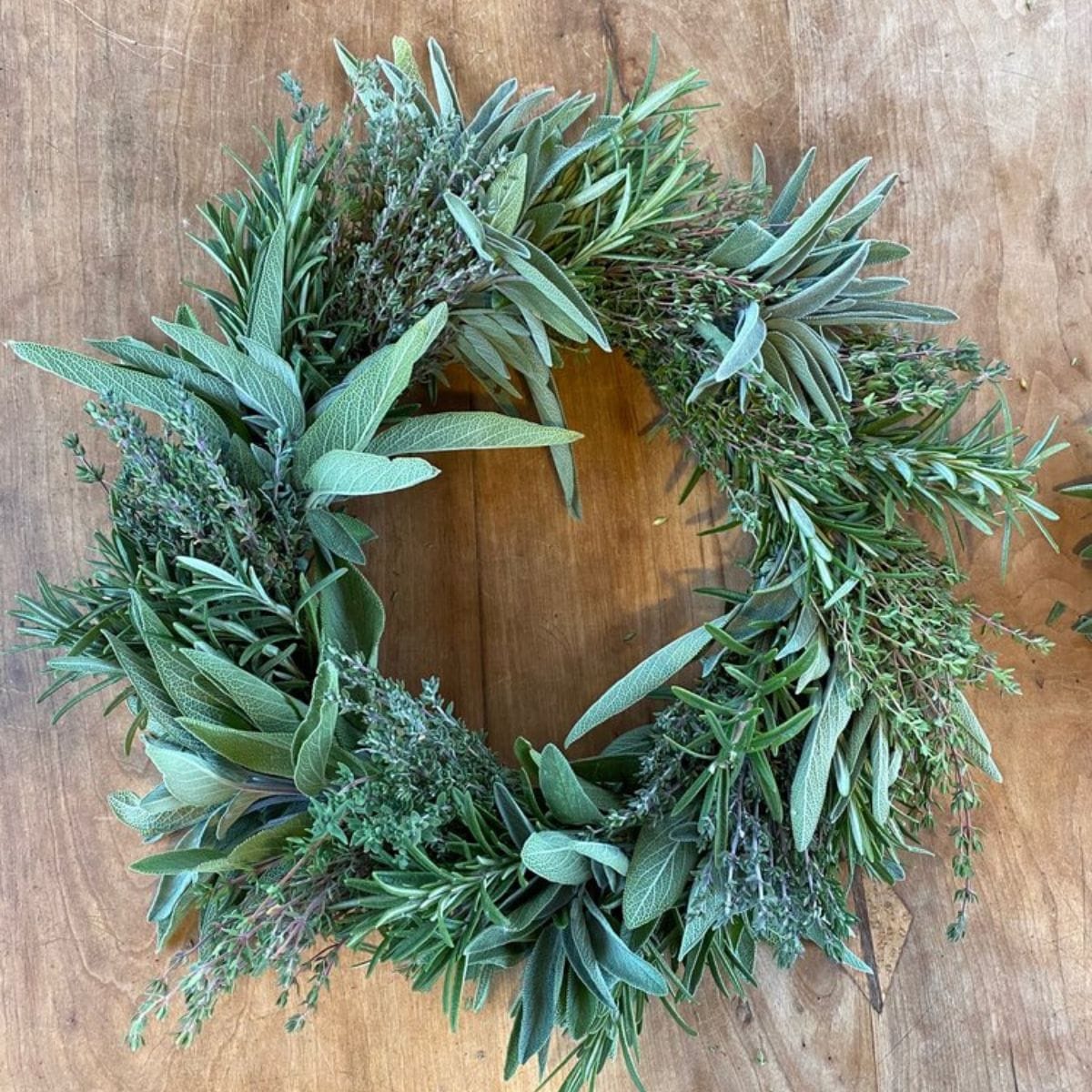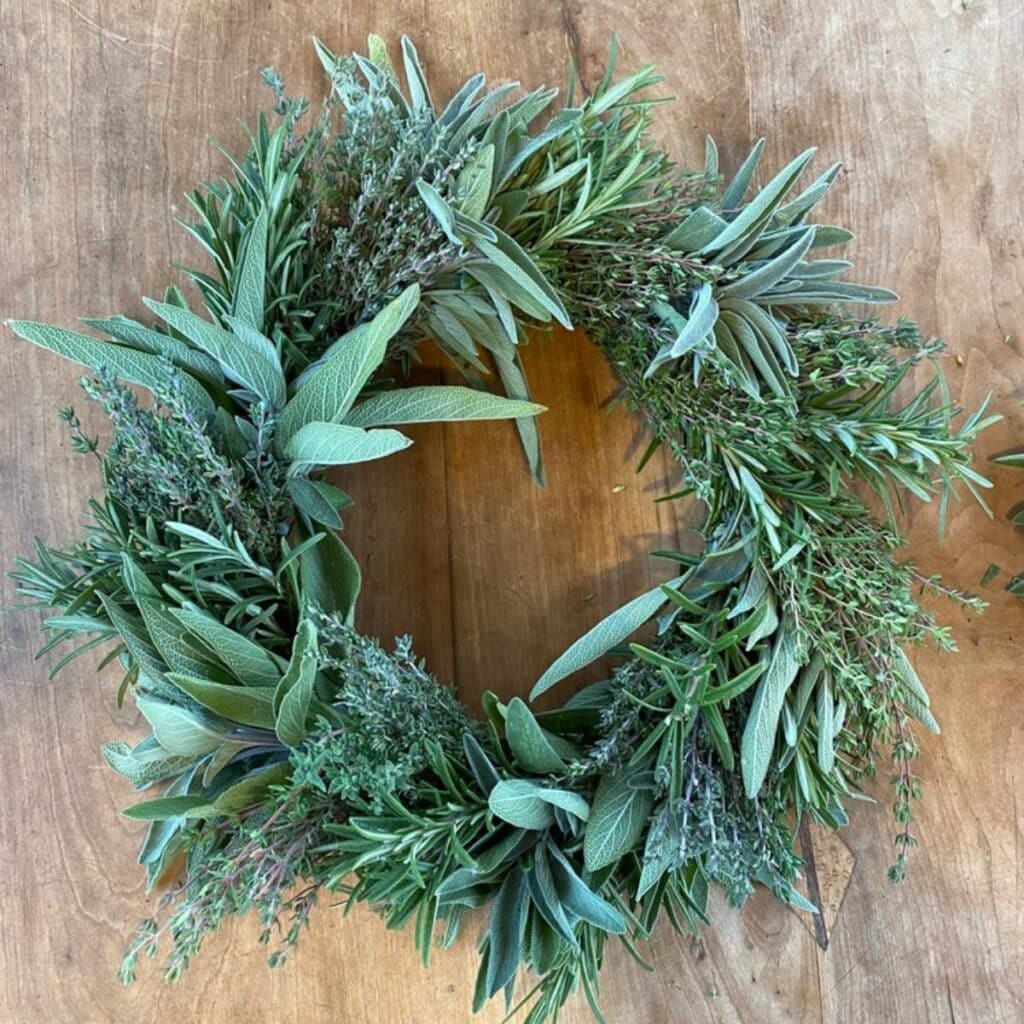 This wreath is not only beautiful but fragrant as well. Gather a mix of herbs from your garden and you're good to go. It would make a wonderful living gift for a friend or family member who loves to cook.
This one uses rosemary, thyme, and sage. We can only imagine how delightfully fragrant it smells!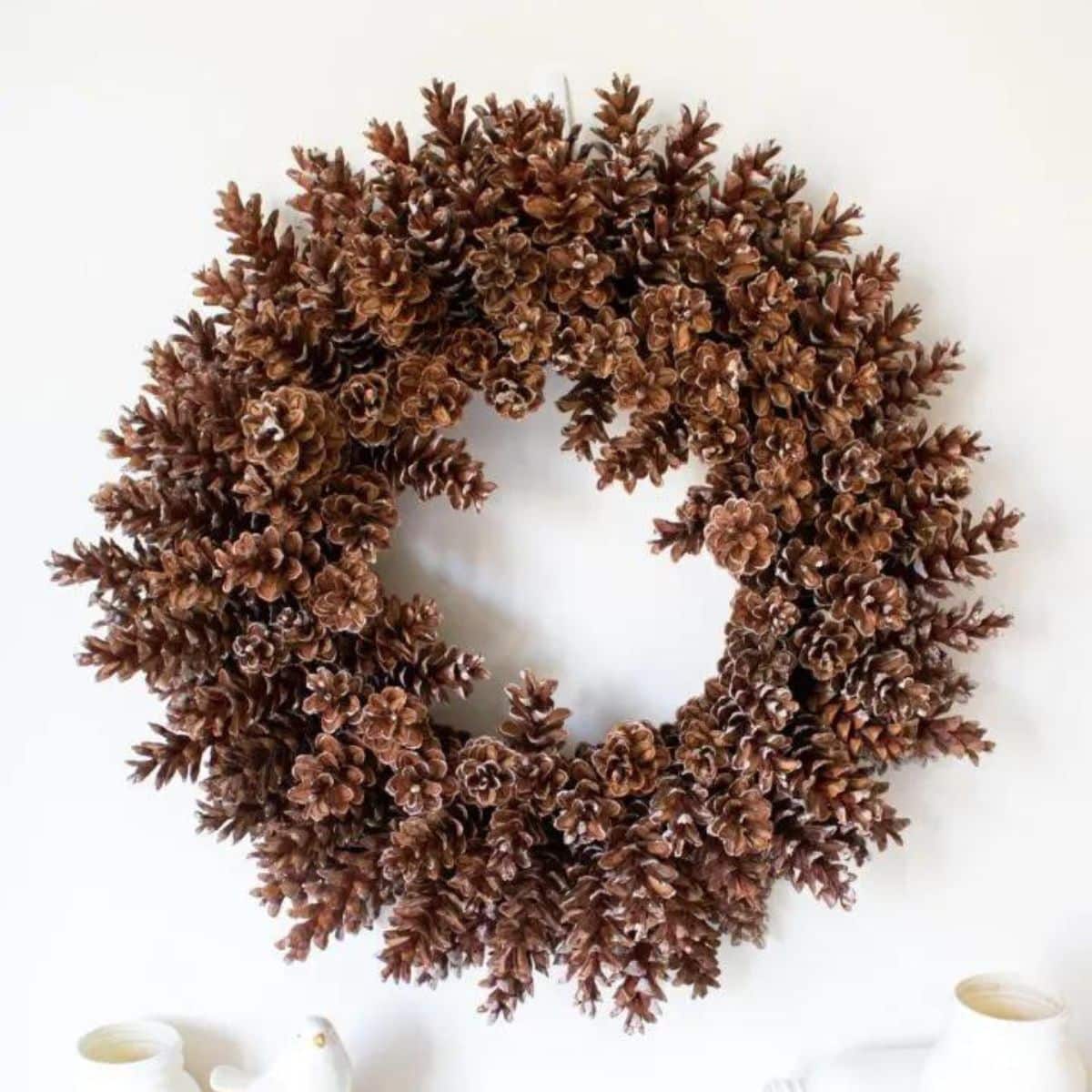 This wreath is so simple to make with just three supplies: a wire wreath form, a pail of water, and pinecones. Wreath making doesn't need to be difficult and this DIY wreath is proof of just that.
We think this wreath would make a beautiful and natural addition to your Christmas decorations.
Check out this post for How To DIY Glitter Pine Cones 4 Ways – gold, silver, frosted and bleached.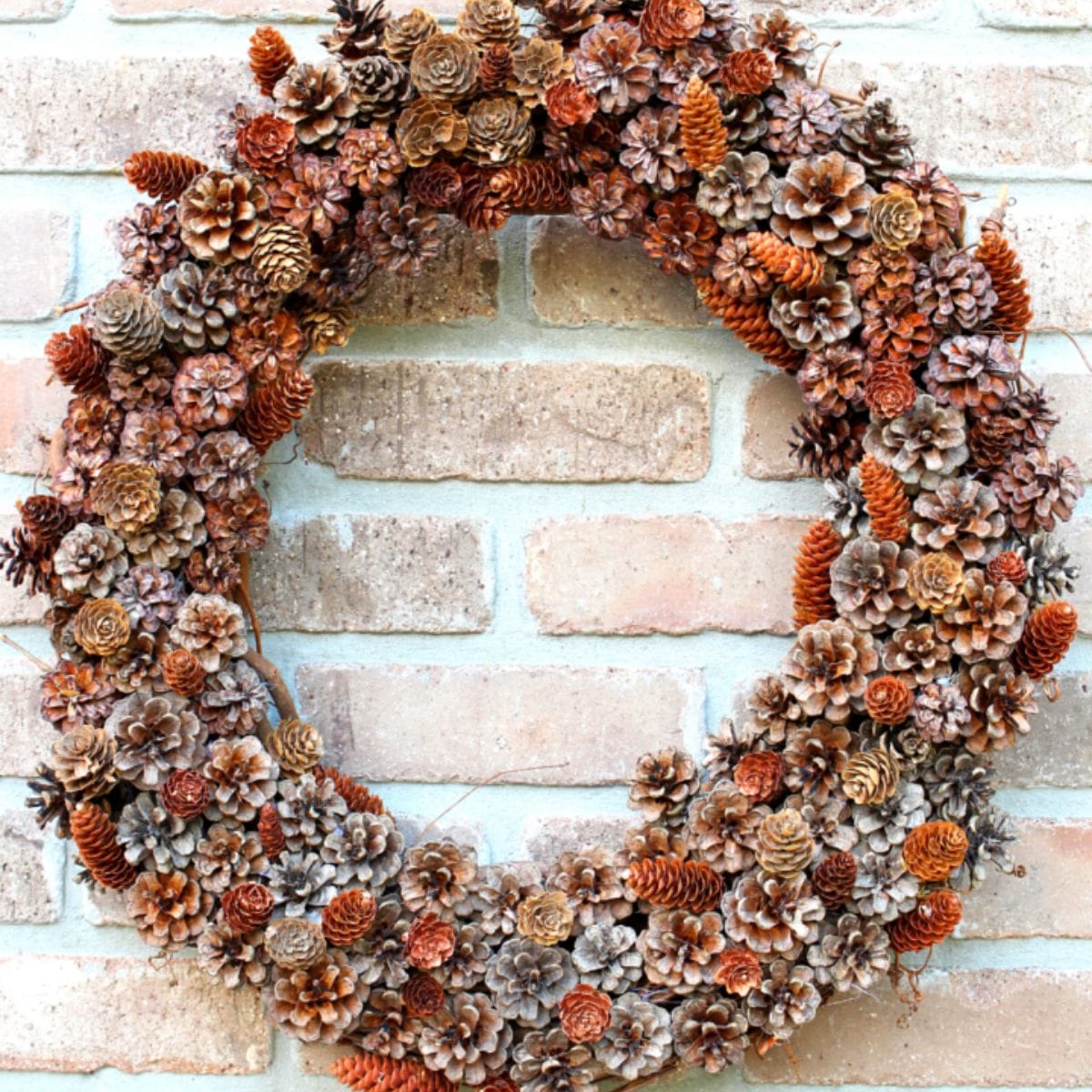 With some hot glue and some pines cones, you can have a new wreath in no time. This wreath makes for an easy DIY project and a great way to get the kids involved in helping to create some holiday arrangements.
How fun are all these colors?!
Love to decorate with pine cones? Here are 15 Pine Cone Crafts For Christmas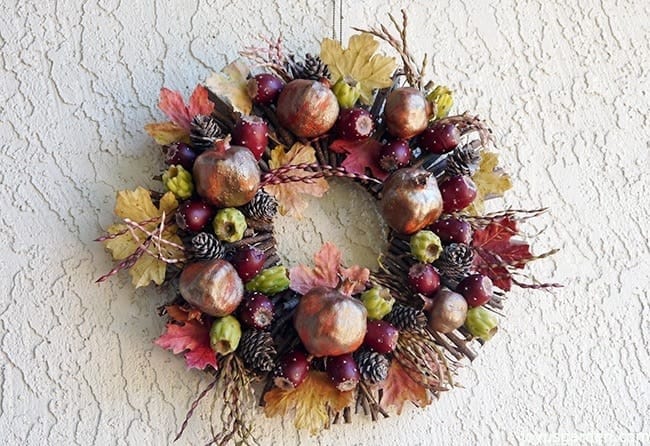 This wreath is made with some of the plants that we have growing in abundance here in Tucson AZ. Nell created this wreath using Pomegranates, prickly pear fruits, cholla fruits, acacia pods, pine cones, and maple leaves.
Even though the colors might be more reflective of fall colors, this desert-inspired wreath can be used through the end of the season.
Tools Needed For Wreath Making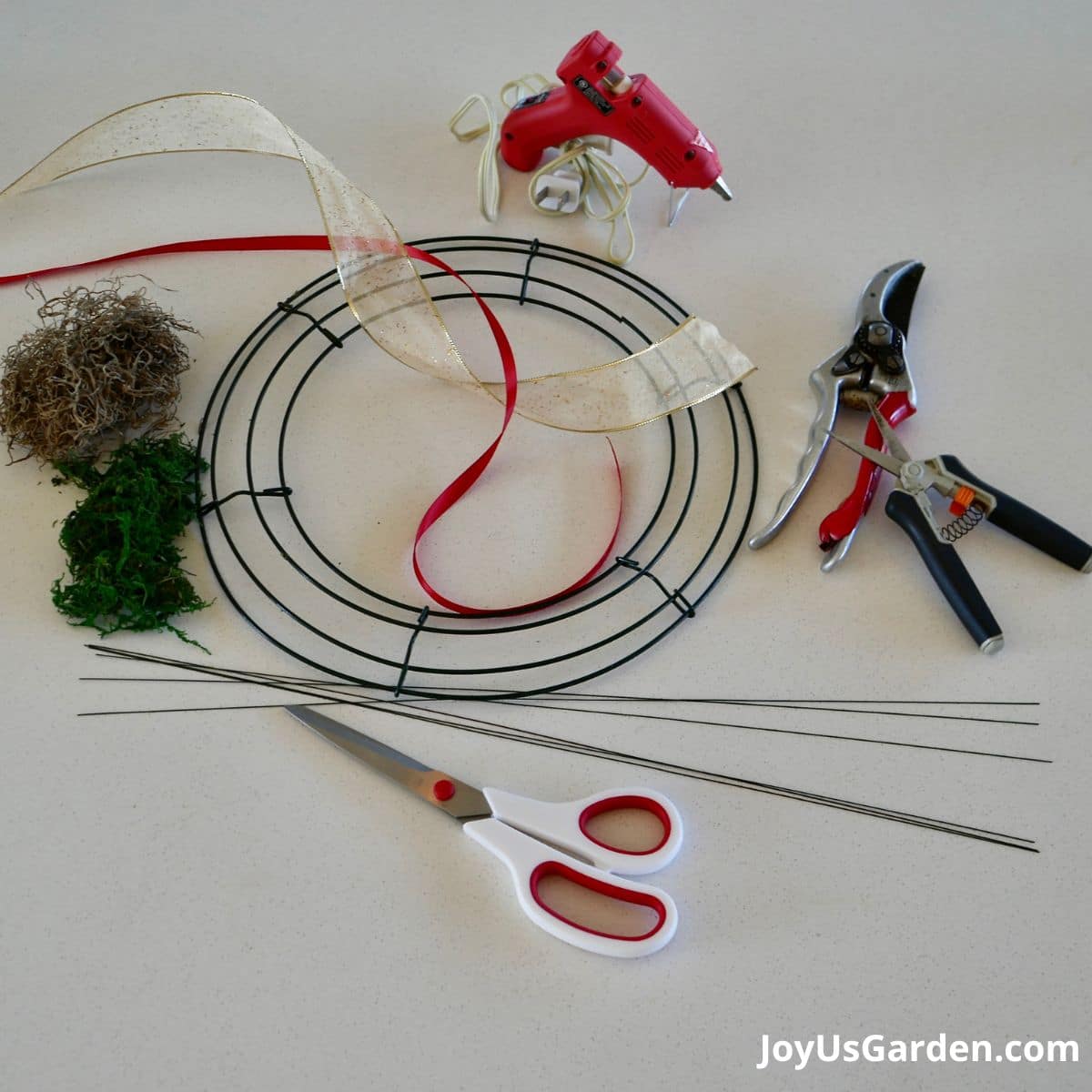 Nature is abundant and has many gifts for you this holiday season. Use Mother Nature's wealth to decorate your home sustainably, and when you're done, many of these items may be deconstructed to go into the compost or provide nutrients for your plants next year.
We hope these DIY holiday wreaths and homemade Christmas wreaths have inspired you!
Happy holidays,
-Cassie
Note: This post was originally written 11/2017 by Emily Folk. She is a sustainability writer, avid gardener, and editor of Conservation Folks. The post was updated 11/2022 by Cassie.
This post may contain affiliate links. You can read our policies here. Your cost for the products will be no higher but Joy Us garden receives a small commission. Thank you for helping us spread the word & make the world a more beautiful place!