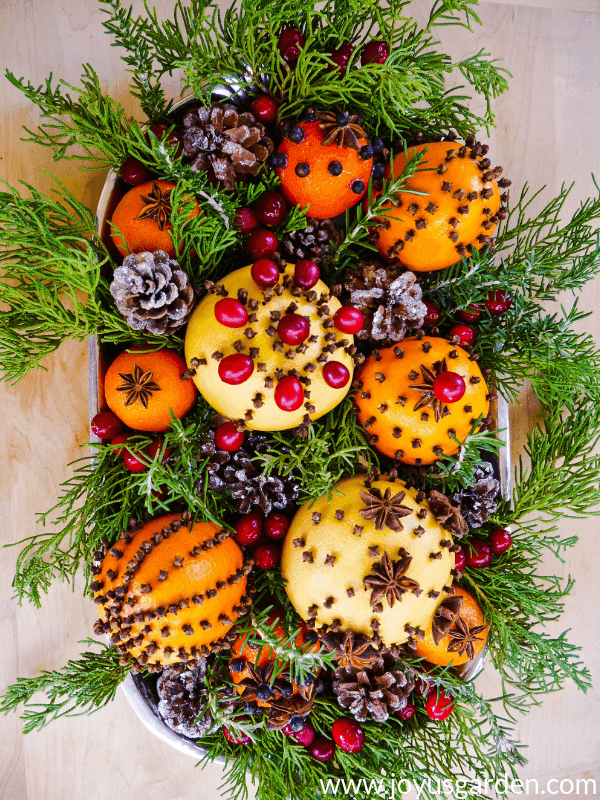 Like your holiday decor au naturel? This inspiration for homemade natural Christmas decorations using fruits & spices is for you.
Shiny, sparkling Christmas decorations are certainly eye-catching and the stores are full of them at this time of year. I love me some holiday bling but natural is oh so appealing too.
If you want an easy idea for homemade natural Christmas decorations (which also smells good!),  look no further. All you need to do is gather some citrus fruits and whole spices and you'll be well on your way to a festive table or mantle decor.
I grew up in the charming New England countryside in a very small town in Connecticut's Litchfield County. This was long before the days of the internet and television with over 1000 channels to entertain and keep us fixated.
I played outside year-round and did a lot of crafting to keep myself amused. This was 1 of the projects that I'd do every Christmas to use as a centerpiece and also to give as gifts to the neighbors.
Riley cat checking out the finished product. It was hard to keep him out of this picture so I'd say he approves!
This isn't a step by step DIY but more of an inspiration to give you ideas. It's pretty self-explanatory but I do want to give you a few tips to make it easier and of course more beautiful. Years ago I owned a commercial Christmas decorating business in San Francisco and used a lot of glitters and shine to make those decorations really pop in lobbies and large spaces. I still love some serious Christmas sparkle but natural touches thrown in here and there make me happy.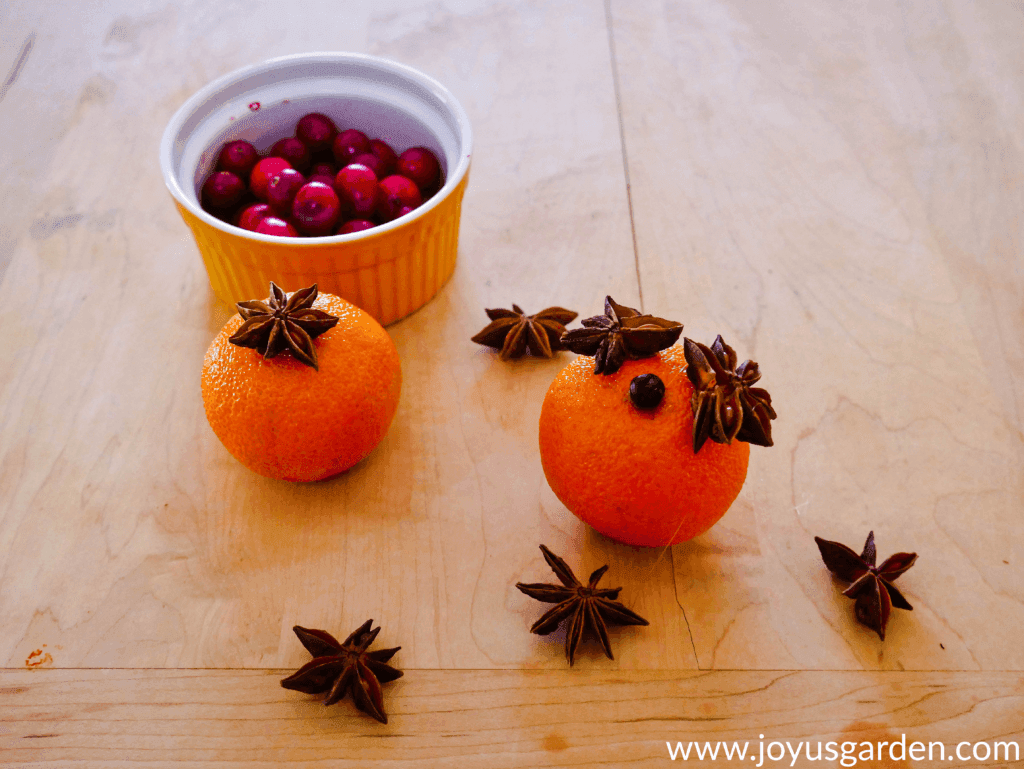 The cranberries, star anise & cuties. You can see a juniper berry on 1 of the fruits. I like to use them because they lend a dark contrast.
You might find more inspirations in my book Mother Nature Inspired Christmas Ornaments.
Here are the materials I used:
Citrus fruits – I used naval oranges, pink grapefruits & cutie clementines.
Spices – Whole cloves, star anise & juniper berries.
Fresh cranberries.
Manicure scissors.
Soft pencil.
Hot glue.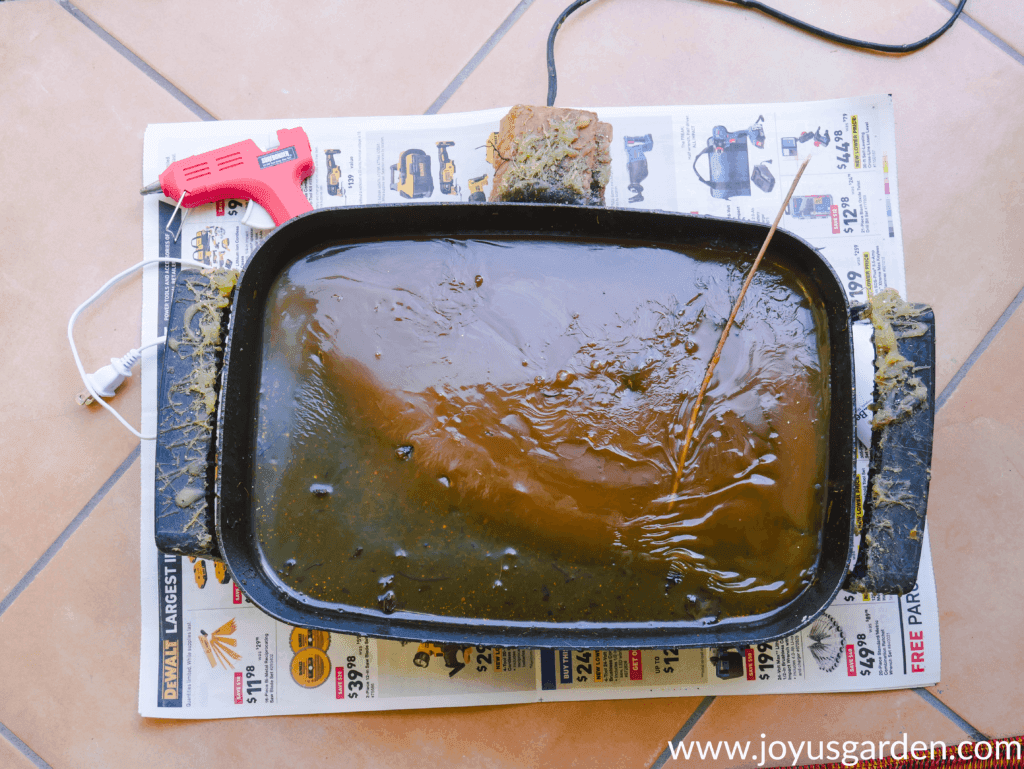 This weird looking thing is my hot glue skillet. I bought it the 1st year I started my Christmas decorating biz & it's still going strong 37 years later. I like it much better than the small hot glue gun. In case you're wondering, the piece of cardboard wired around the control dial to protect it from hot glue drips.
Tips & things good to know:
Buy your citrus fruit as fresh as possible.
This way your decorations will last much longer. I pawed through the bin of oranges to find the ones which were most orange. The pink grapefruits were picked off my neighbor's tree. The cuties will be the ones to go 1st because their skin is so thin.
If you use cranberries, buy them fresh.
The frozen ones will be too mushy to use once defrosted.
Buying bulk spices are cheapest & works the best.
I bought way more cloves than I needed because some are small &/or the heads are missing. If you buy packaged star anise, you may get 2 or 3 whole ones. I weeded through the bulk jar to get as many whole ones as I could.
Any leftovers you can use to spice hot cider or wine. I like to throw them in a pot with water, oranges slices, rosemary sprigs & have it simmering on the stove during the holiday season.
Be creative when creating patterns.
You can do something simple or be as intricate as you'd like. This is where the soft pencil comes into play. You can outline the design & follow it as you go along. The cloves will cover it up.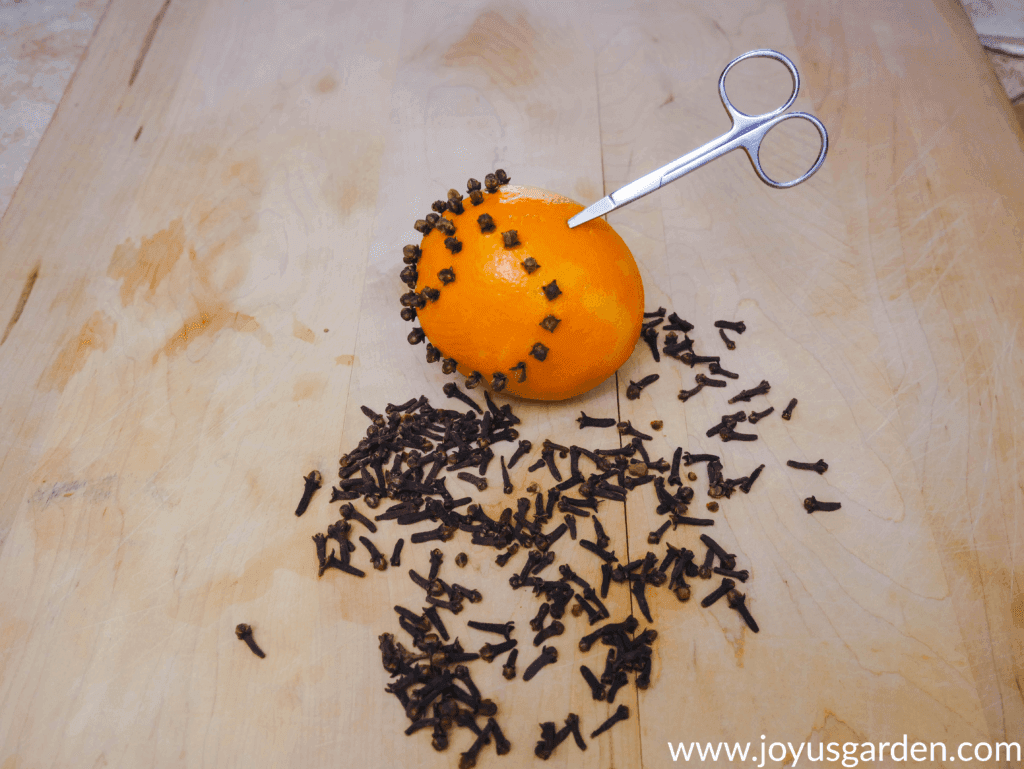 Yes, this is what I used the manicure scissors for!
Use manicure scissors to poke holes.
If you're decorating more than 1 piece of fruit, this protects your paws from getting too sore when sticking in the whole cloves. A nail or fine knitting needle would work too – anything with a straight blade.
Most of the cranberries fell off.
The only reason I could think of why this happened is because they're so soft, plump & very smooth. I ended up adhering them with a dab of Locite GO2 Gel & they're holding on 5 days later. I probably won't use them next time because they'll be the 1st to go. They sure are pretty though!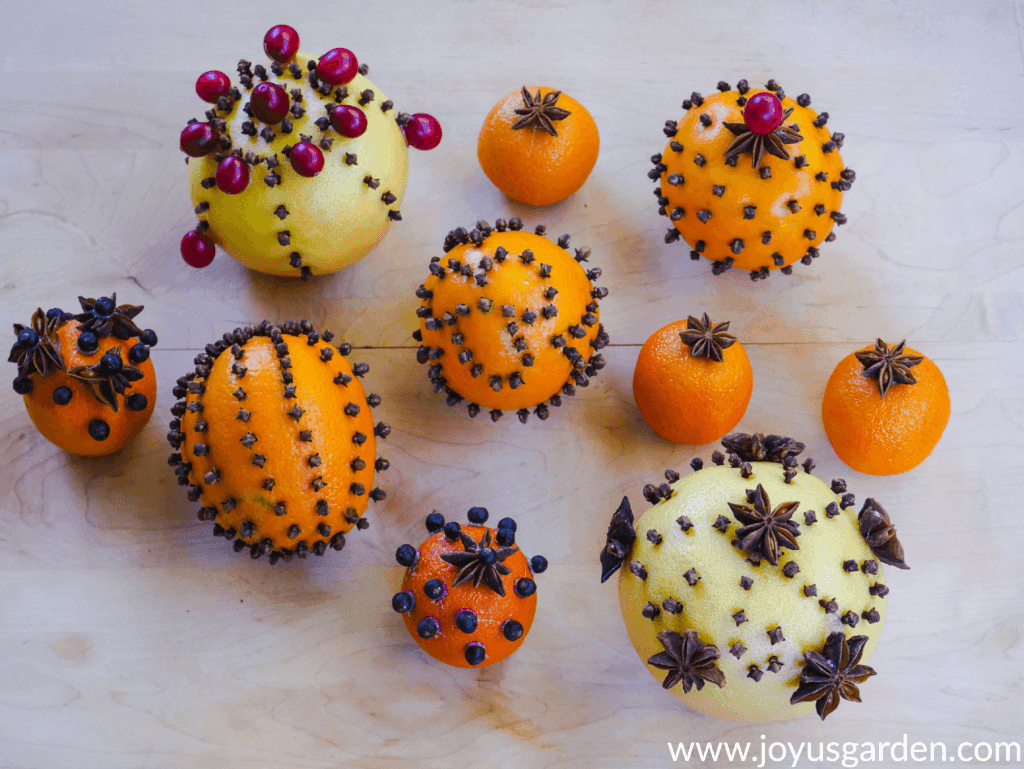 All ready to go.
The fruit with the cloves is sturdiest.
The juniper berries & cranberries are still on days later but are best not to move around. The glue has a harder time adhering them to the smooth skins. The fruit with the cloves only you can practically play catch with!
Oranges make great pomander balls.
Simply ties a ribbon around oranges studded with cloves only & you'll have a pomander ball. You'll see me do this in the video below.
Here are some ways you can display your natural decorations:
These would make a beautiful centerpiece or could be used as mantle decor. Mine are going to grace my coffee table. Here are a few ideas for displaying them on a tray.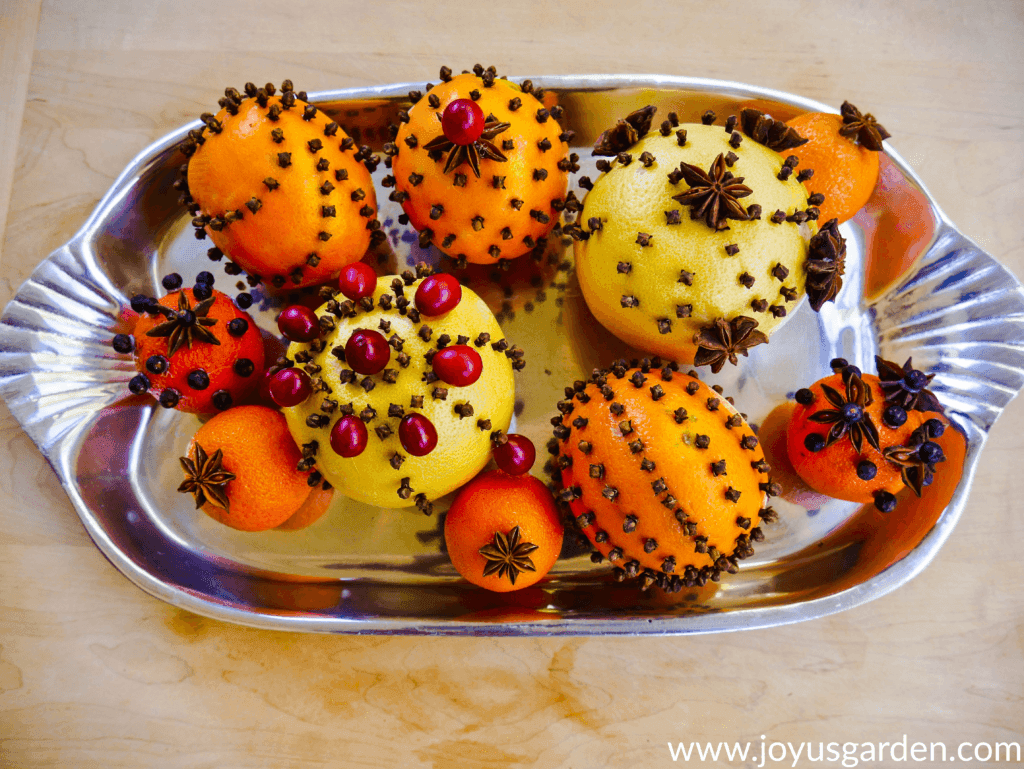 The fruit only.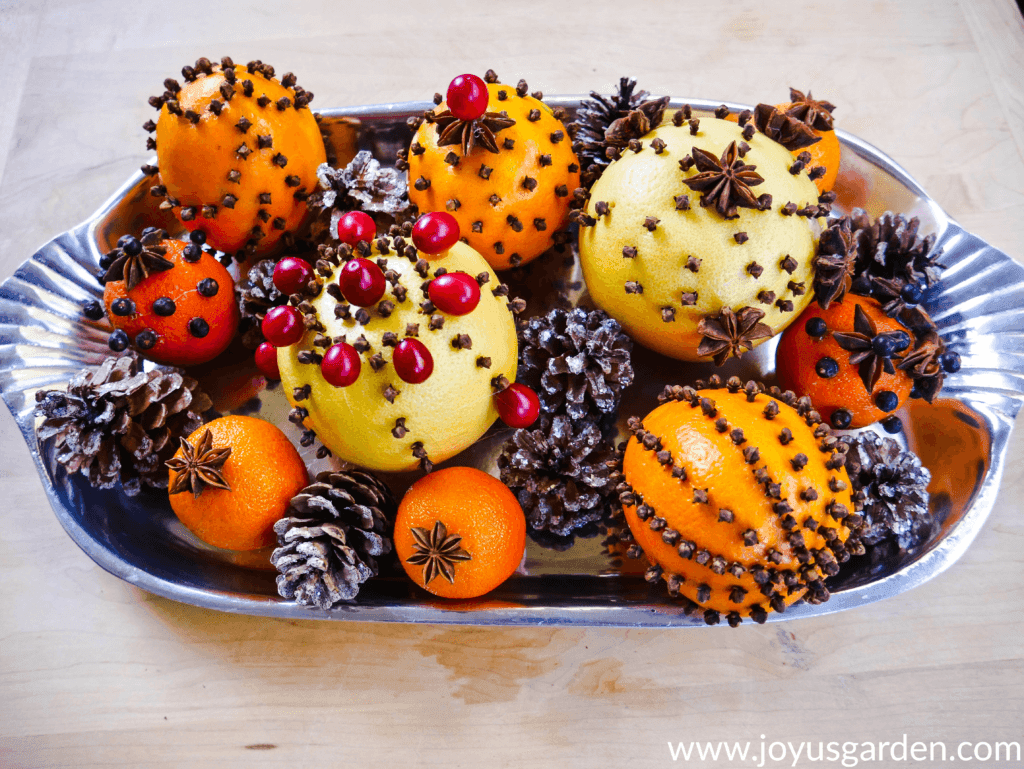 With pinecones collected behind my house which have been sprinkled with a little glitter.
Adorned with snips of cedar, rosemary & fresh cranberries.
I love the smell of the oranges and cloves as I'm making these and so will you. Days later they still smell good and will look good for weeks and weeks. They do start to dry out a bit after the 1st week or 2 but look festive none the less. I hope you have a wonderful holiday and that this inspires you to create some beautiful, natural decor of you own.
Check out our Christmas category for more decorating ideas & DIYs.
You might find more inspirations in my book Mother Nature Inspired Christmas Ornaments.
Not natural but worth a look: Ornaments To Make Your Christmas Sparkle.
Happy creating,

This post may contain affiliate links. You can read our policies here. Your cost for the products will be no higher but Joy Us garden receives a small commission. Thank you for helping us spread the word & make the world a more beautiful place!
I'm a life-long gardener who still to this day gets giddy at the thought of a trip to one of the local nurseries. Yes, I actually studied landscape and environmental horticulture and the practical experience I have garnered through the years has served me well. Childhood memories of chicken manure "tea" still float through my olfactory senses to this day. I have always been an organic gardener and always will be. From the Earth … To the Earth. I was born and raised in rural, bucolic Litchfield County, Connecticut and now joyfully live a few blocks from the ocean in beautiful Santa Barbara, California.