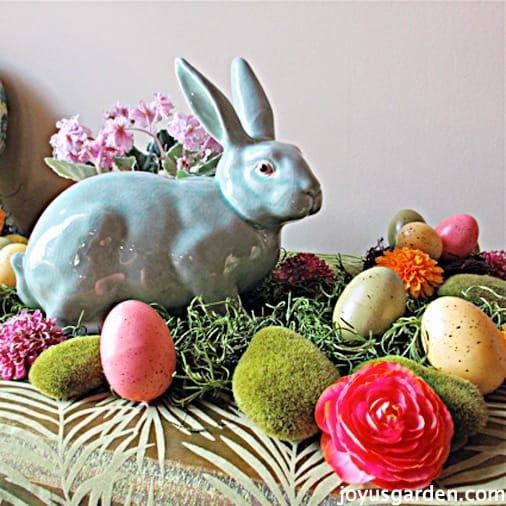 I love decorating the table in my entry area for the holidays and now yippee, it's time to usher in that glorious time of year that makes our hearts go all a flutter … Spring.   The tablescape that you will see could easily be an Easter or Spring centerpiece if it was reconfigured and compacted a bit.  Front and center to this creation is the Easter bunny  who at other times of year is known as "Bun Bun" and resides happily on my front porch.   Everything used for this Easter home decorating extravaganza I already had except for the Easter eggs – those I picked up at Tuesday Morning (a great place to scavenge).  I'll take you step by step on how I put this together in no time at all.Everything is gathered up on the coffe table and ready to go.  The things I plan to use in this horizontal work of art are Bun Bun, a large decoupage Easter egg, moss rocks, a bird's nest, a kissing ball, eggs, silk flower heads, a topiary and an African Violet.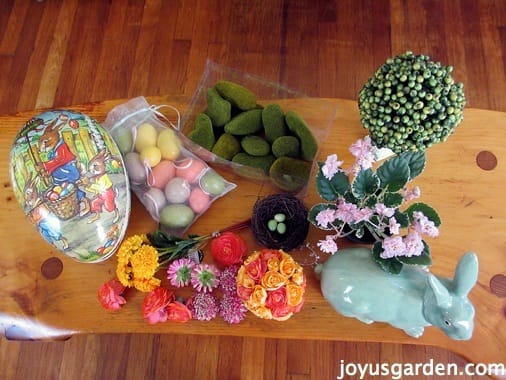 A sheer cloth in a bright, mossy green with a fern motif is laid on the table & the decoupage egg is uprighted in a small plastic container.
The Easter bunny, topiary and preserved Spanish moss are put in place.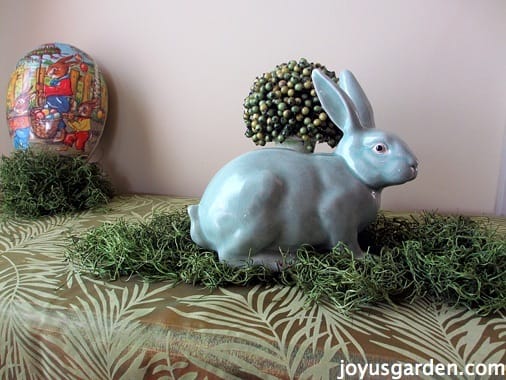 The African Violet, moss rocks, kissing balls and eggs are added in.  The topiary goes back to its place on a side table.
I made another nest out of Rosemary stems from my ginormous shrub in the front garden.  I simply wove them together and secured with a small piece of green wire.   Plus, it adds a bit of scent to the house.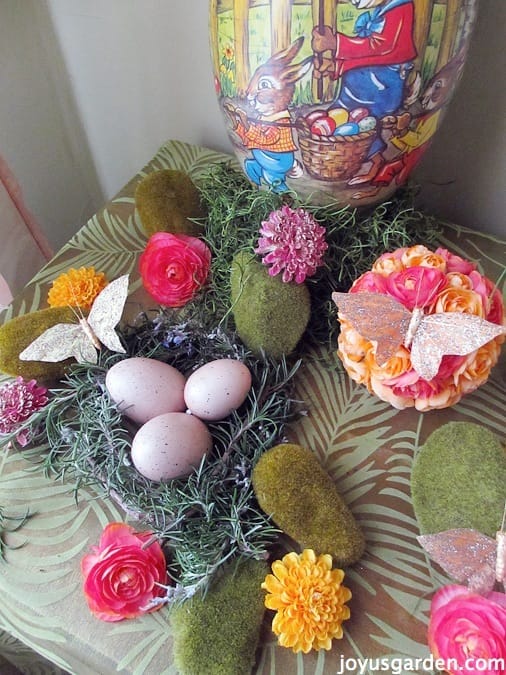 In go the flower heads – I like the few pops of bright yellow to jazz it up a bit (thin daffodils in the landscape).
This overview shows it's almost done.
I just had to add a few glitter butterflies in here and there.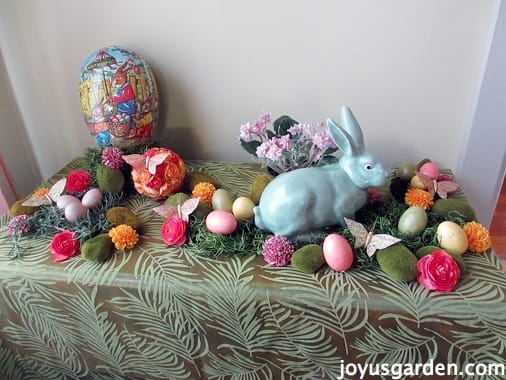 The pink was too pale – the African Violet goes back to the kitchen windowsill.
I added in a small bud vase with a stem of Cymbidium Orchids and a little Bear Grass for a bit of "up and over".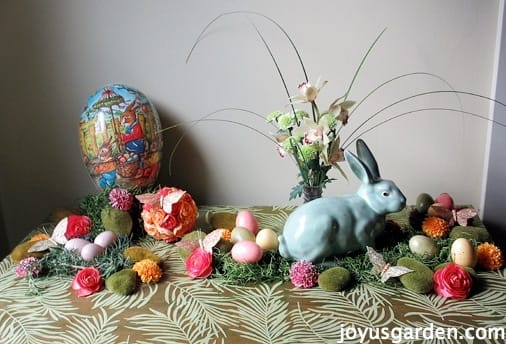 I hope I've given you a little inspiration for a long and low Easter or Spring table decoration of your very own.  It's amazing what you can do with things you already have.  A Happy Easter to all who celebrate it and to those who don't … Happy Spring!
This post may contain Amazon affiliate links. You can read our policies here. Your cost for the products will be no higher but Joy Us garden receives a small commission. Thank you for helping us spread the word & make the world a more beautiful place!