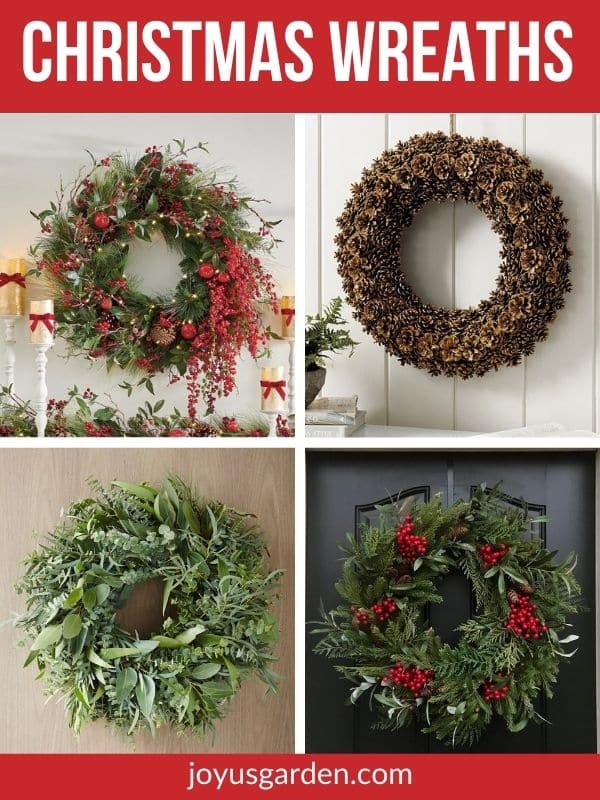 I grew up in New England part of a family in which decorating for Christmas was a really big deal. We had wreaths on every door, hanging on our lamppost, and on the barns too. I want to share these Christmas wreath ideas, all natural-looking, to get the holiday spirit going in full gear.
All our wreaths were fresh and had been bought at nearby stands or made from evergreen branches collected off of our property. These days, artificial wreaths are popular because they look realistic, last all season, and can be used from year to year.
I owned a Christmas decorating business in San Francisco for 14 years. All the wreaths we used on jobs were artificial because of fire laws. We used them over and over again throughout the years, decorating with a different theme each time.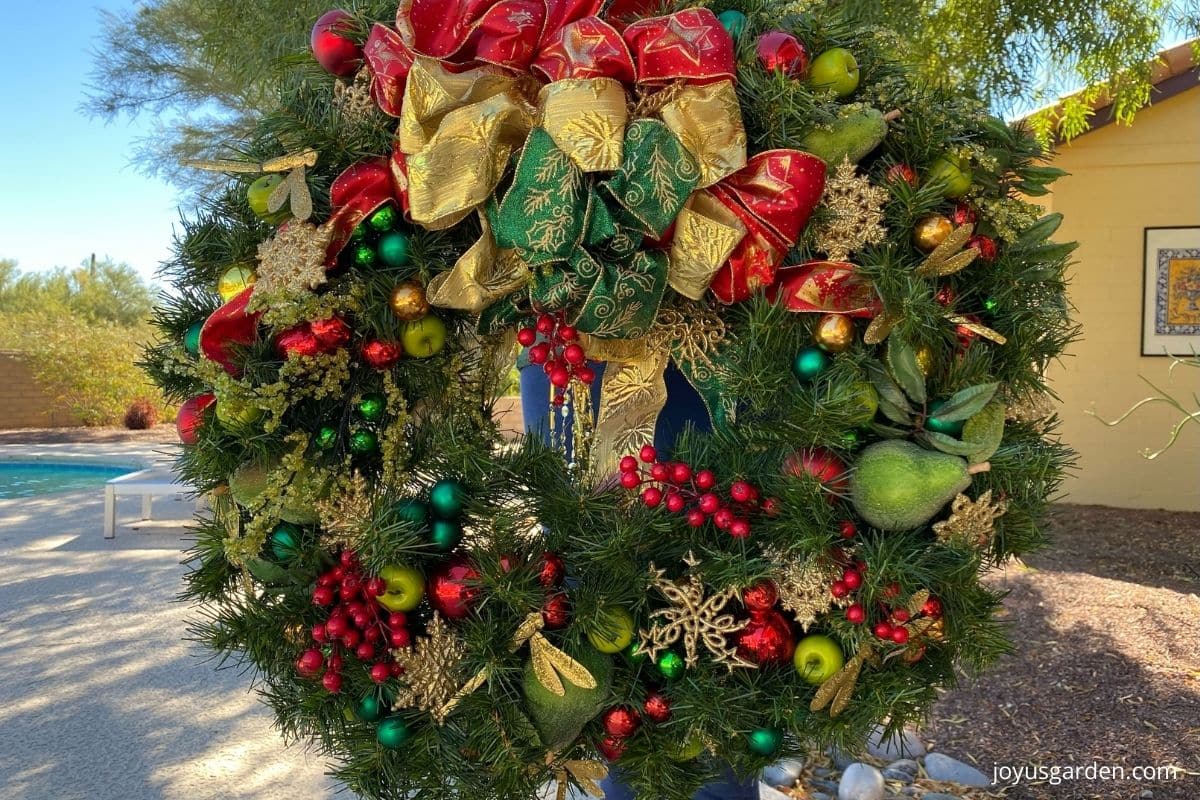 Christmas Wreath Tips & Accessories
TIP: I want to share with you a quick and easy fix we used when wreaths were getting a bit sparse from having the ornamentation yanked off them every year. We'd simply fill in with garland and/or branches wired to the frame making the wreath nice and full (or even fuller) again.
TIP: Storage is key. Place your holiday wreaths in a box or wreath storage bag and don't pile anything on top of it. I store mine in heavy-duty garbage bags in storage closets in my garage. They're out of any sunlight, stay dry, and don't have other decor stacked on top of them. Hanging them up is another option.
TIP: Fluff your wreath to make it look better. I fluff before I hang a wreath and then do any "fluff-up touches" after it's hung. It'll look more natural and fuller rather than having all the tips smushed and bent.
TIP: If don't want to put a nail in your door here are some wreath hanger options: simple clear hanger, adjustable brass hanger, elegant hanger, and ornate hanger.
I sold my Christmas decorating business and warehouse in 2005 and still have the wreath I made a few days before the sales of both wrapped up. I've added in some stem balls throughout the years but the red, green, and gold ornamentation has remained pretty much the same. It's 2022 as I'm writing this and the wreath still looks great – you can see it above.
You can switch up the ribbons and decor if you'd like or keep it the same. A festive wreath is a welcoming sign. You can bet we here at Joy Us Garden will be hanging them on our front door and in our homes once again this holiday season. On to the Christmas wreath ideas!
Christmas Wreaths To Buy Online
Mixed Greenery Christmas Wreaths
1) Modern Eucalyptus Wreath, $38
This is a sleek and modern take on a eucalyptus wreath. Since it's so simple, it can be displayed year-round for a pop of greenery in your home.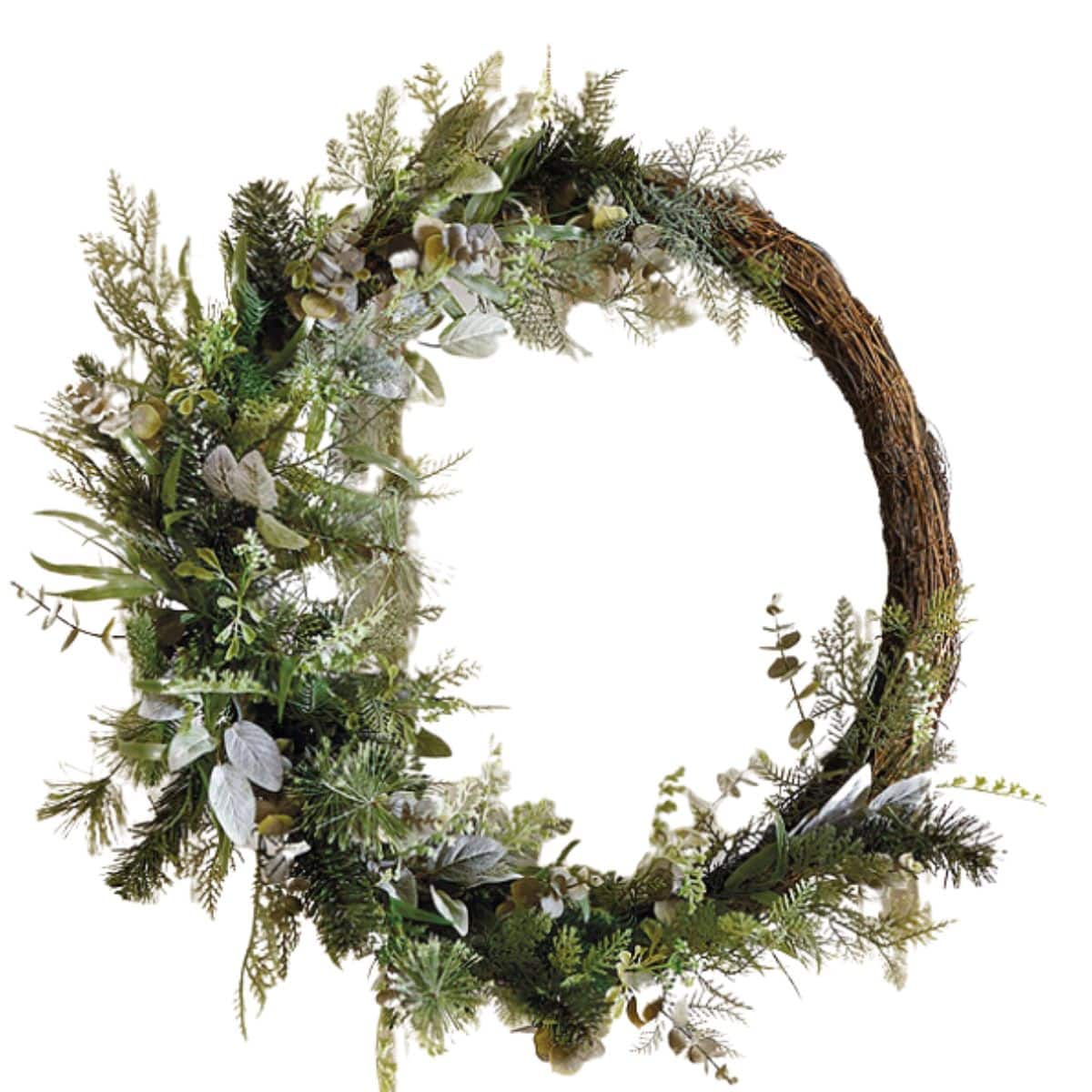 2) Frosted Winter Wreath, $119
This wreath has an asymmetrical, modern look with faux cedar, pine, eucalyptus, and mistletoe which is fun and festive!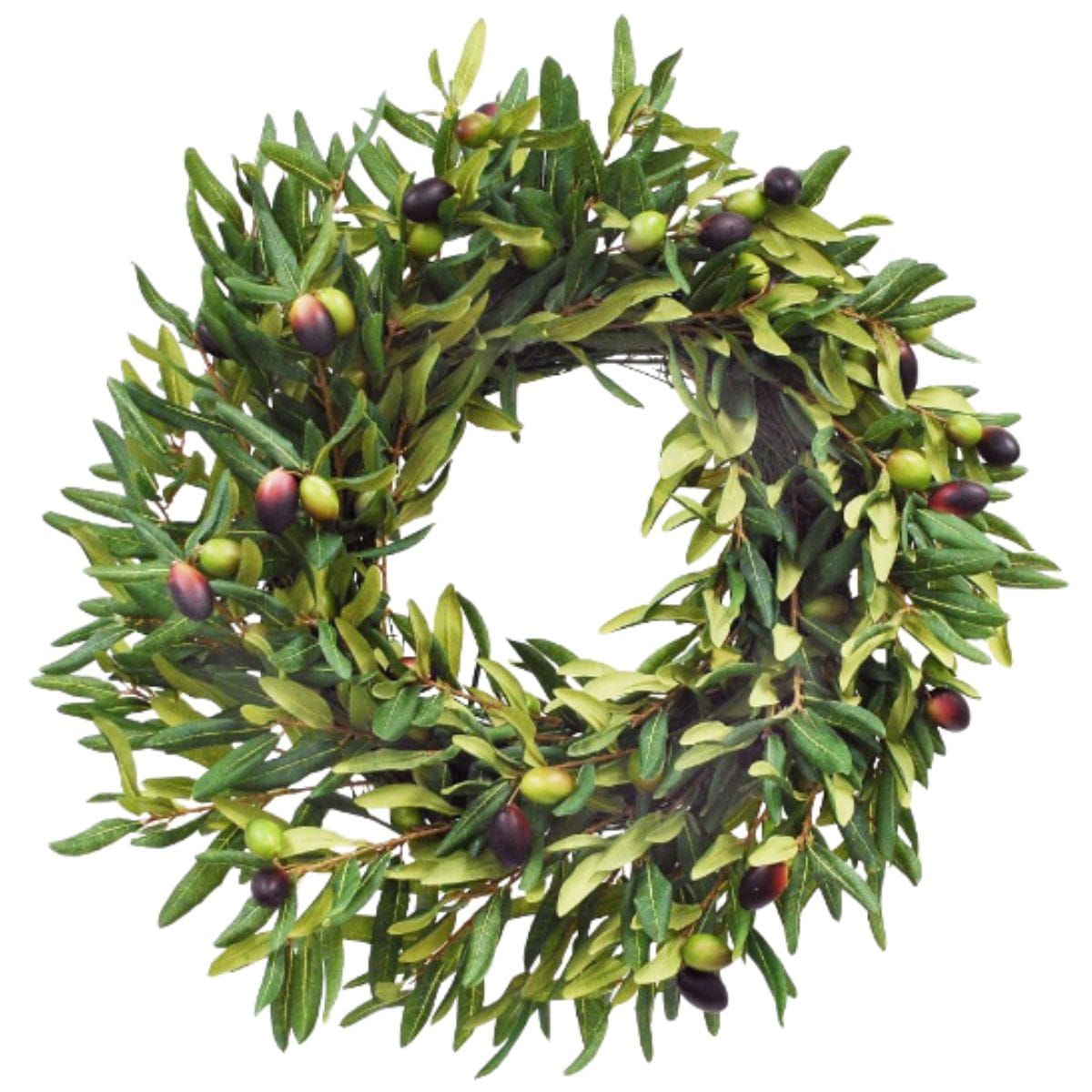 3) Olive Leaf Wreath, $199
This simple olive leaf wreath can be used during Christmas time and all year round. The little pops of color are a delightful sight.
4) Boxwood Wreath, $120
This beautiful fern and boxwood wreath was designed to take you through all the seasons. Its size and natural beauty are enchanting.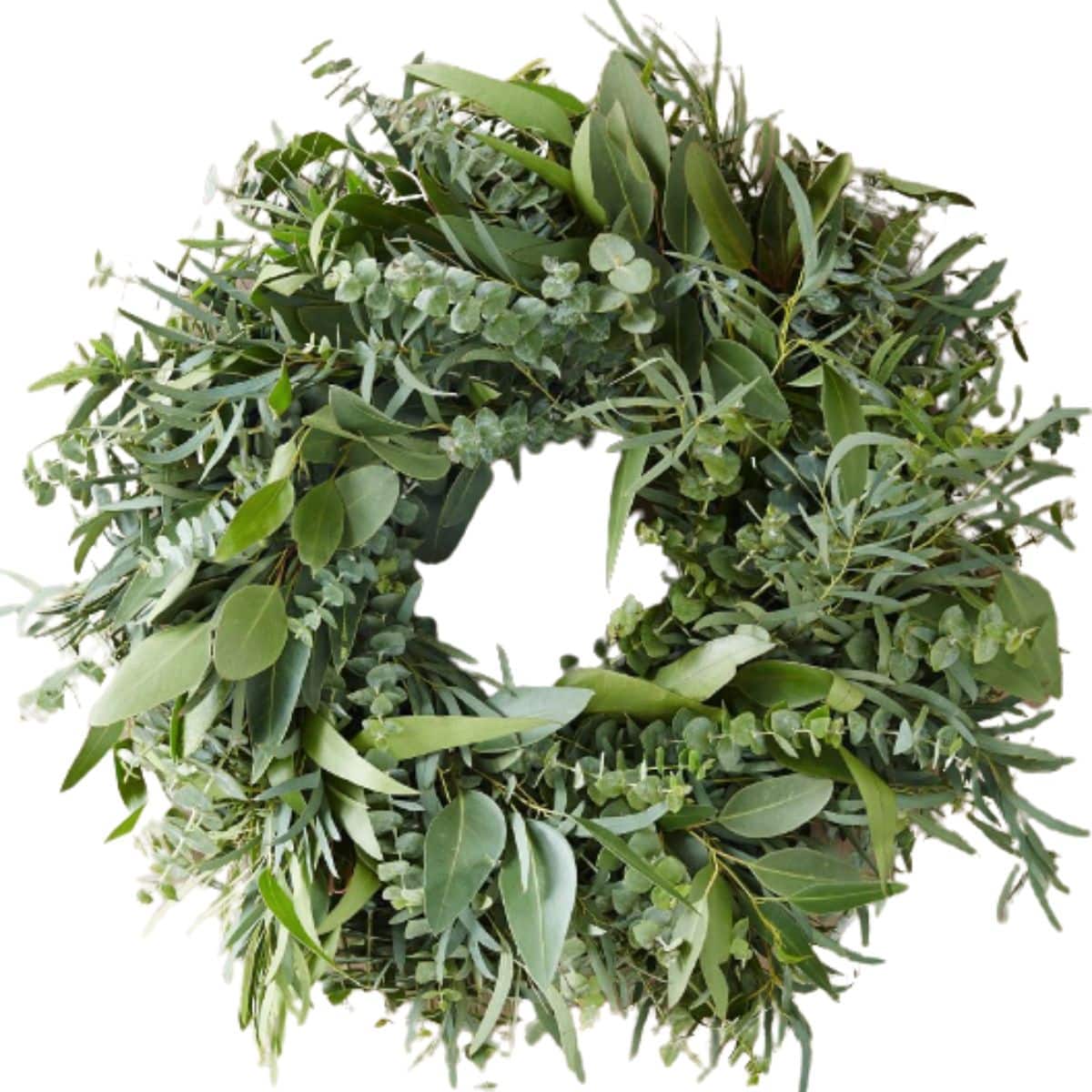 5) Dried Eucalyptus Wreath, $129
This wreath has tons of texture thanks to the mixed arrangement of freshly cut eucalyptus including spiral, seeded, and knife-blade eucalyptus plants. Each one is made to order so yours will be fresh and unique.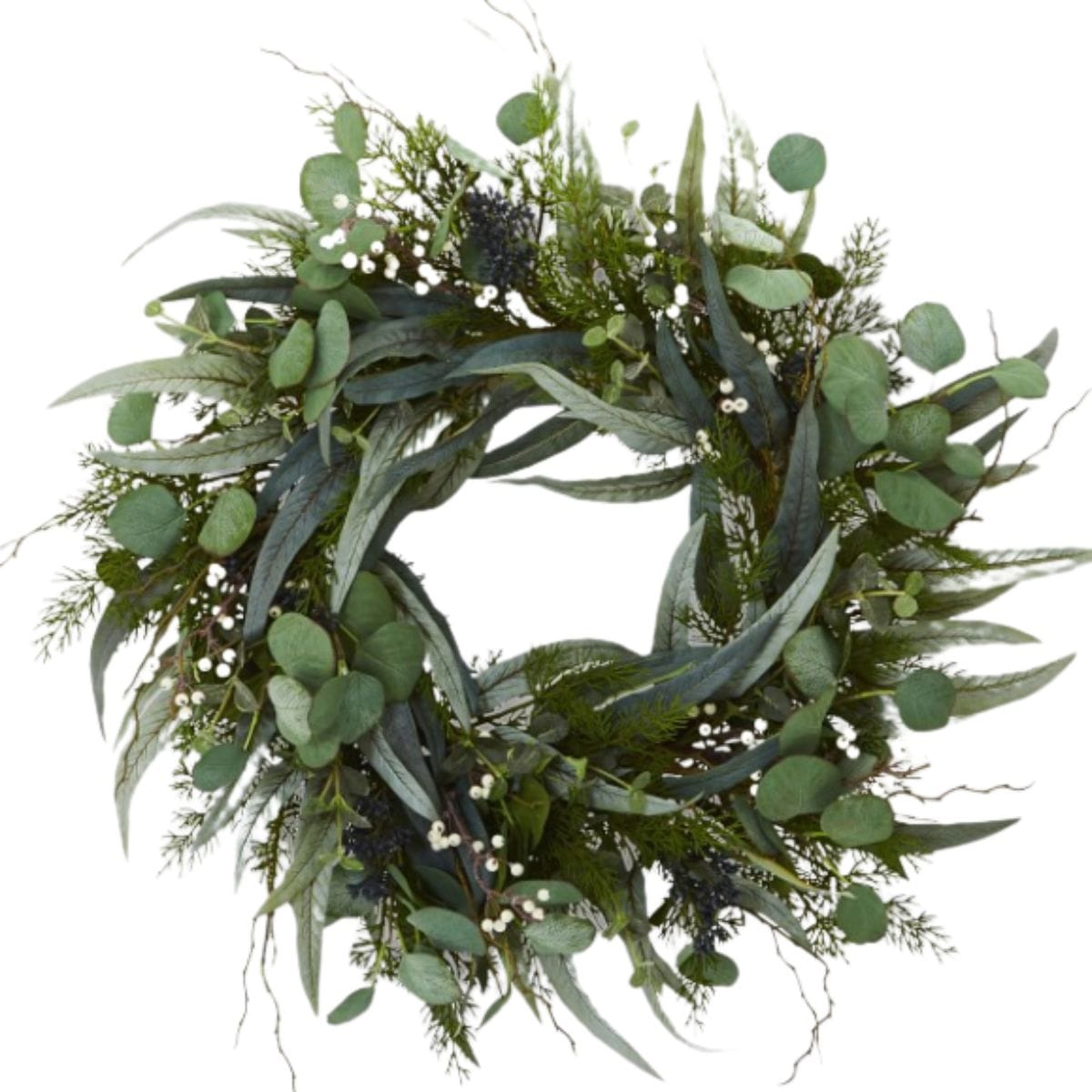 6) Eucalyptus & Mixed Greens Wreath $120
Adorn your home with an artfully arranged wreath layered with remarkably realistic leaves, berries, and greenery. Perfect for a guest room, hallway or entry. This wreath really captures the holiday spirit.
Are you looking for other Christmas Decor? Check out Natural Christmas Decorations To Warm The Season
Berry Holiday Wreaths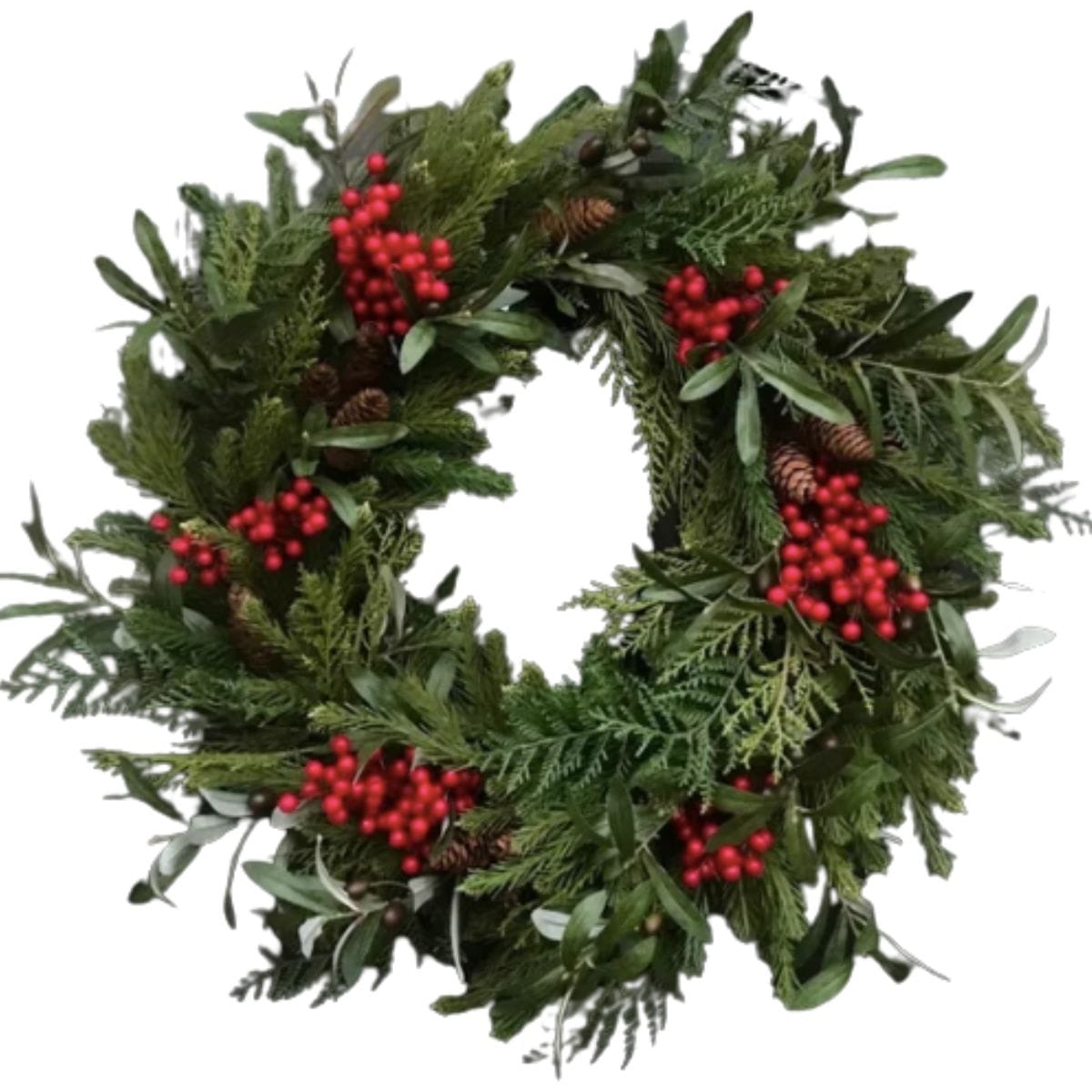 7) Christmas Pine Wreath, $235
Make a statement this year by hanging this 24-inch classic wreath on your door. It's made from artificial evergreens, pine, olive branches, and red berries to give off that festive Christmas feel. This wreath is timeless.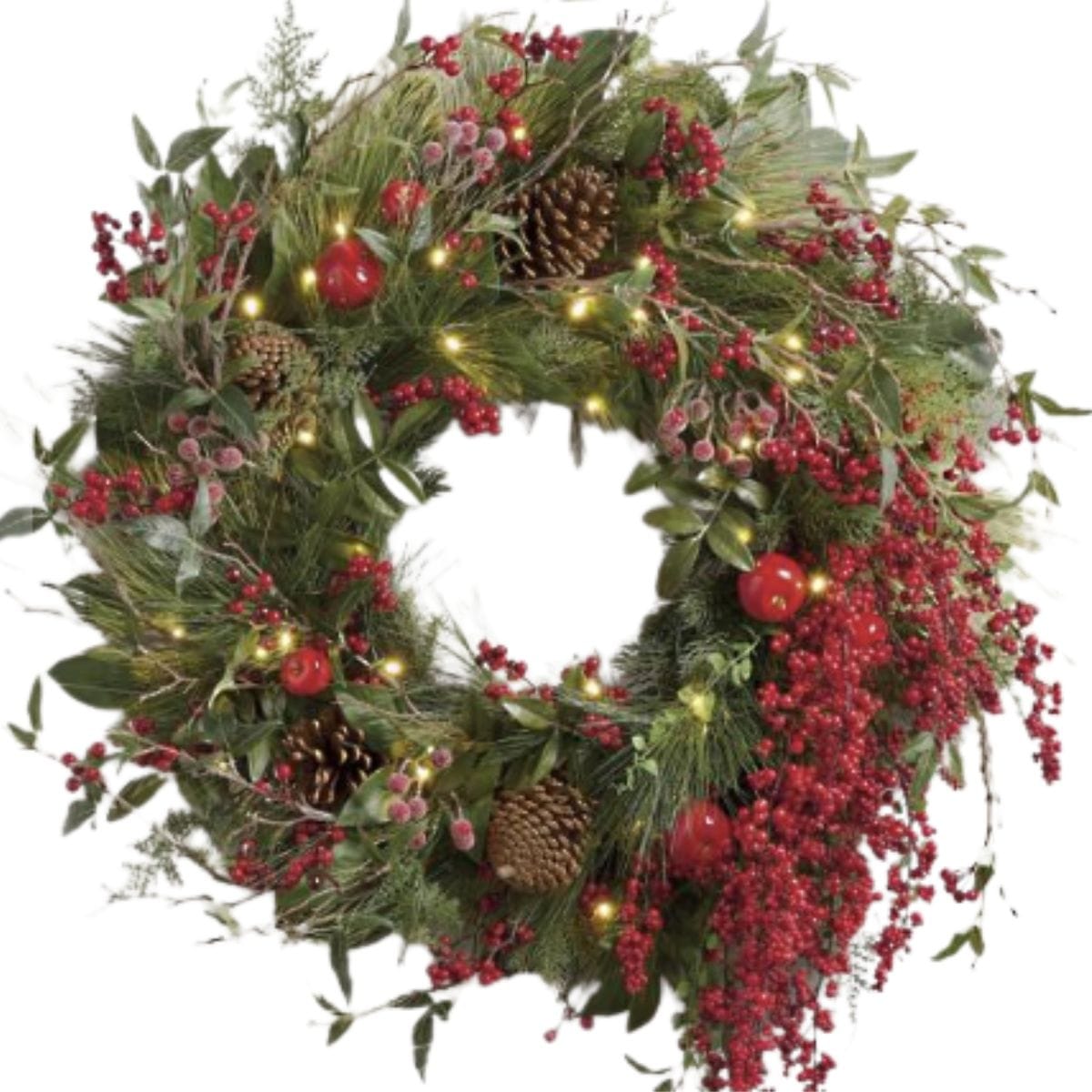 8) Winter Berry Wreath, $199
This Christmas wreath is definitely eye-catching with its bright red berries and battery-powered lights. What makes the wreath extra cool? The lights have a timer for your convenience. They make it shine like a cold winter's night.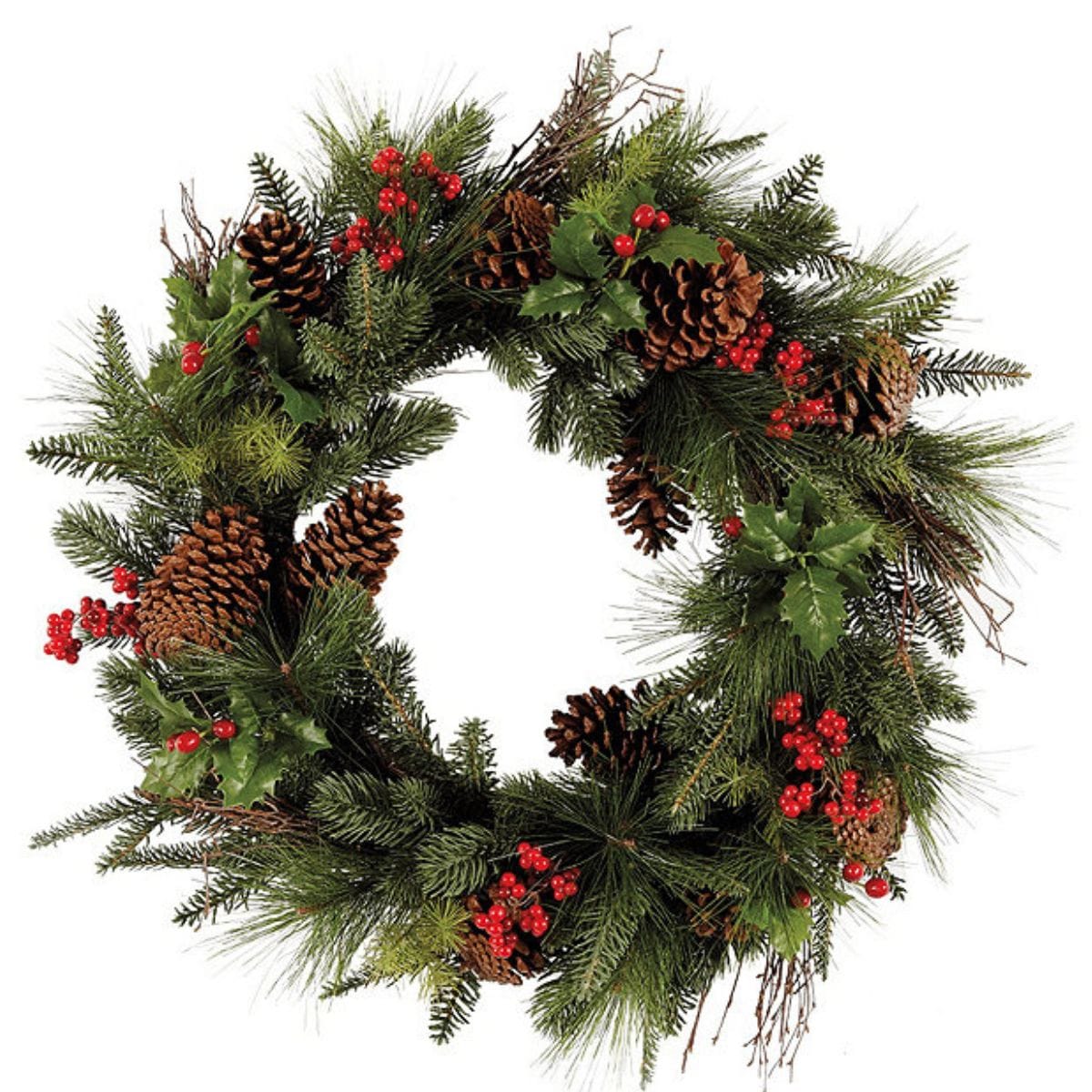 9) Mixed Pine and Berry Wreath, $149
Nothing screams Christmas more than holly berries and pine branches. This classic red and green traditional Christmas wreath features some pinecones to bring nature indoors this holiday season.
10) Faux Mushrooms & Berry Wreath, $30
Bring the forest indoors with this asymmetrical and whimsical wreath. This grapevine wreath is adorned with faux greenery, red berries, adorable mushrooms, and pine cones.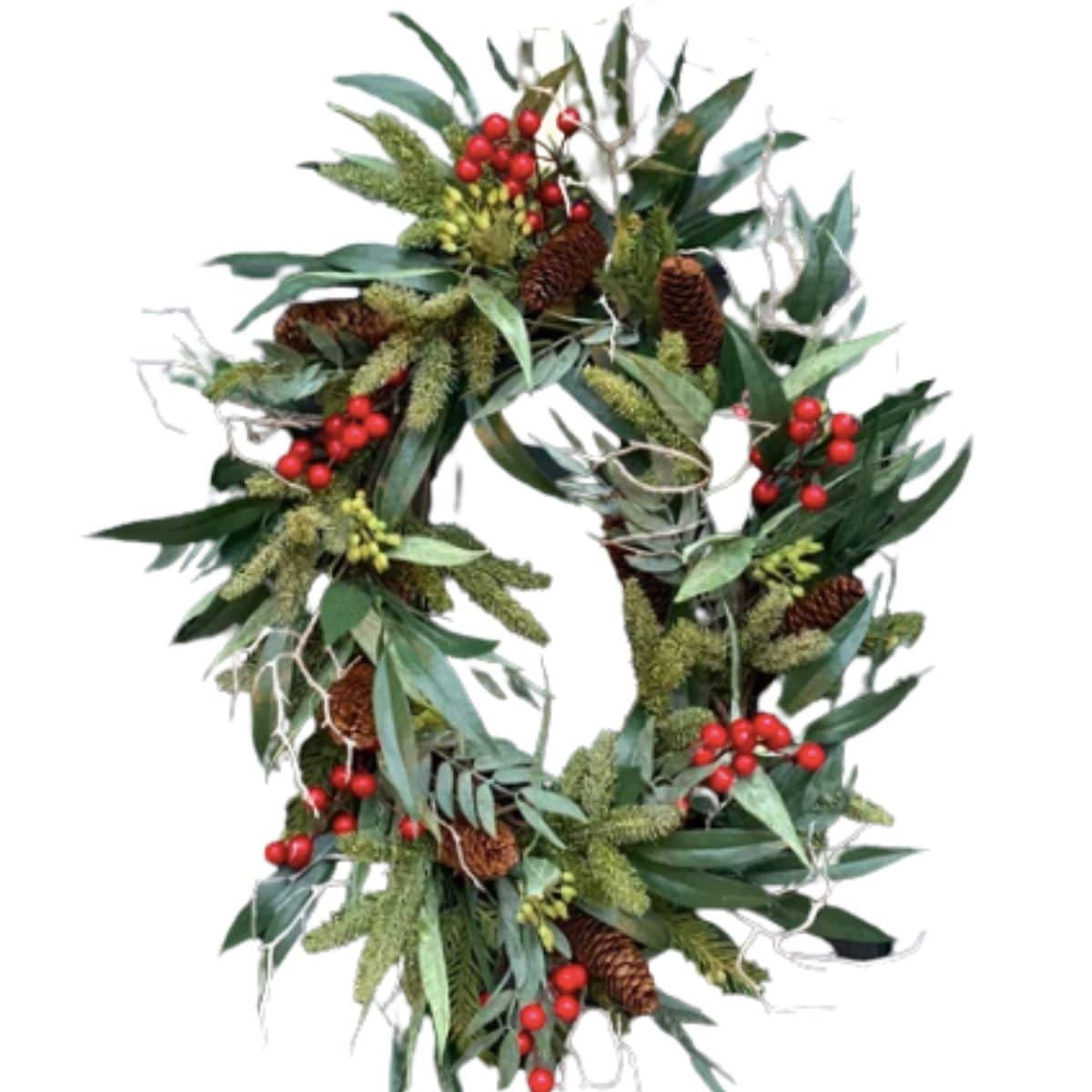 11) Oval Berry Wreath, $240
Greet your guests in style this season with this out of the ordinary Oval Wreath. The wreath is full of natural-looking winter pine, bay leaf, twigs, and red berries along with natural pinecones.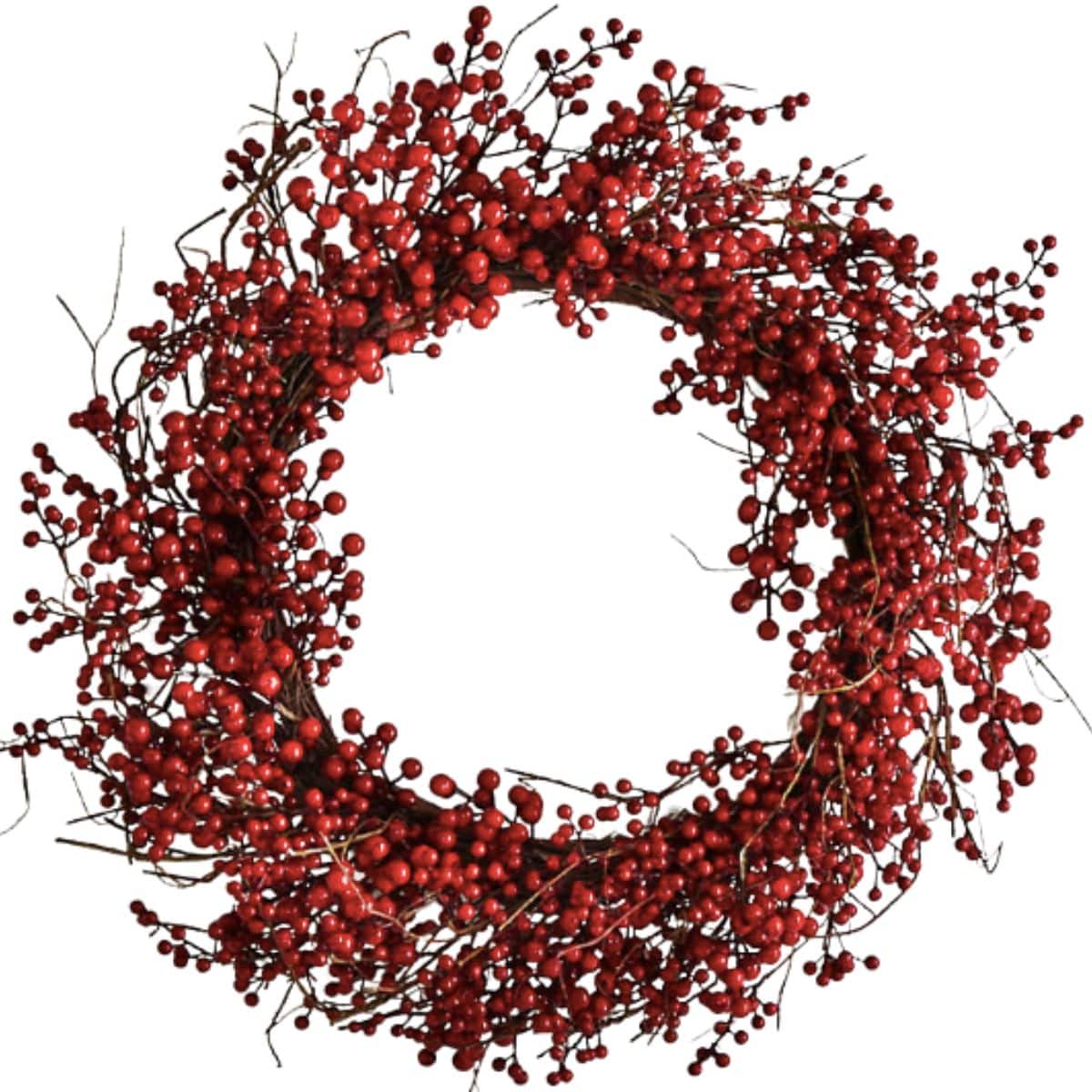 12) Faux Twigs & Red Berry Wreath, $119
Twigs and faux berries wind a large wreath adding festive color above a fireplace or as a welcoming wall decoration in the foyer. We love this simple wreath.
Pinecone Wreaths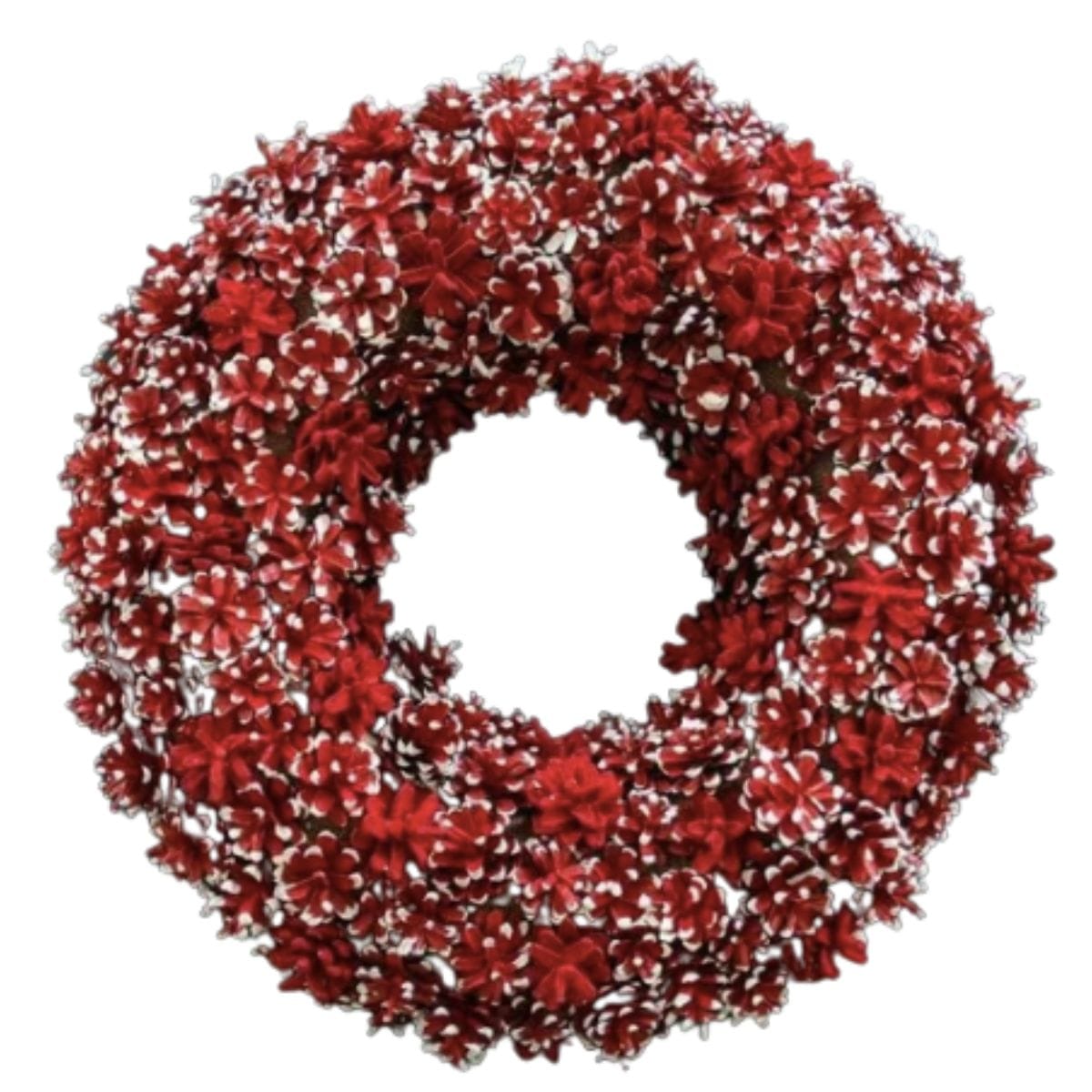 13) Red Pinecone Wreath, $130-$375
Hundreds of pine cones were used to create this elegant Christmas wreath, and it shows. This is a gorgeous wreath and a great pop of color.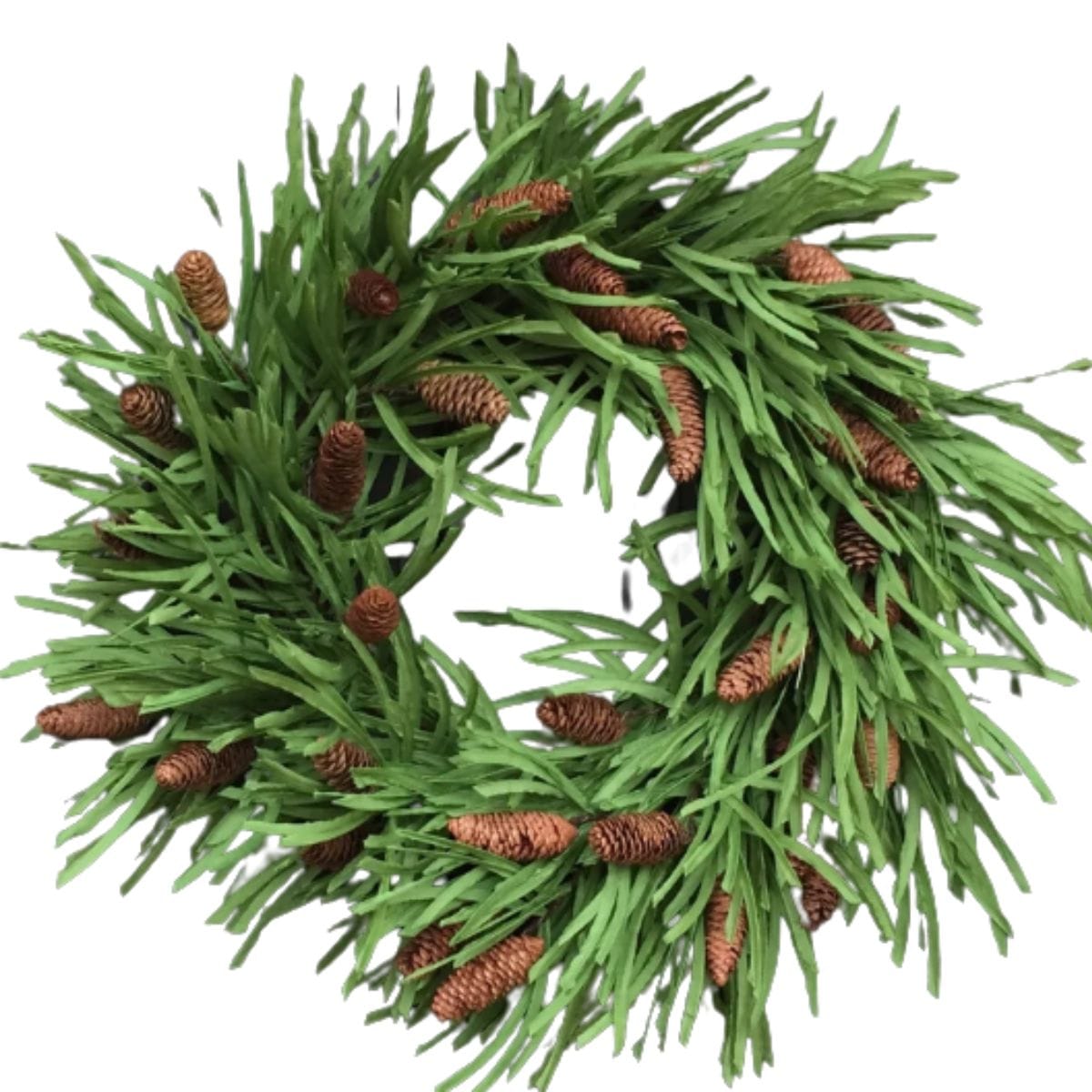 14) Pinecone Wreath, $165-$255
This wreath was made to outlast the holiday season and can be displayed through February since it has such a pretty, winter feel.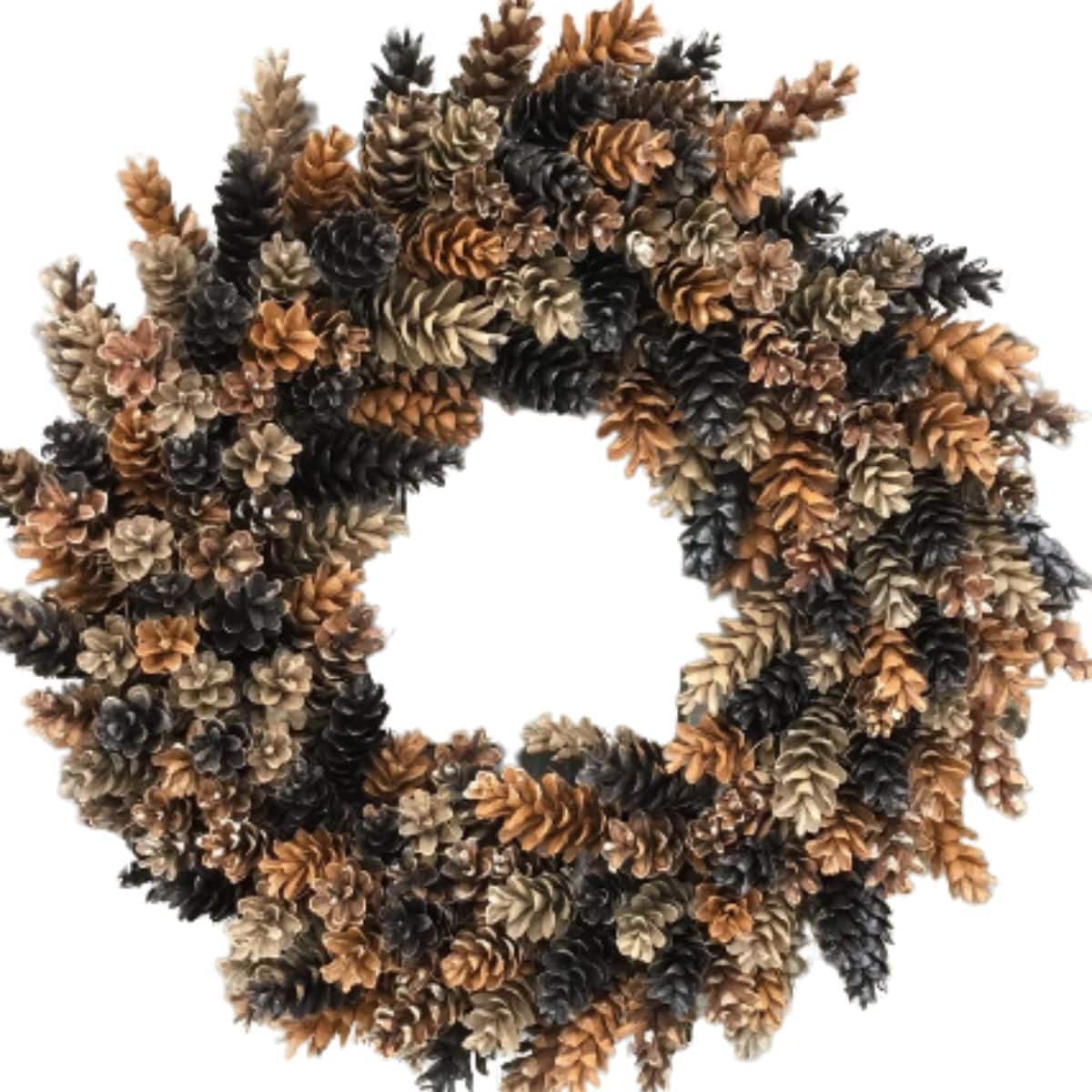 15) Maine Pinecone Wreath, $168
The pinecones on this wreath are collected off the coast of Maine and are wired onto a sturdy metal frame. This wreath is not only beautiful, but it's also extremely durable too.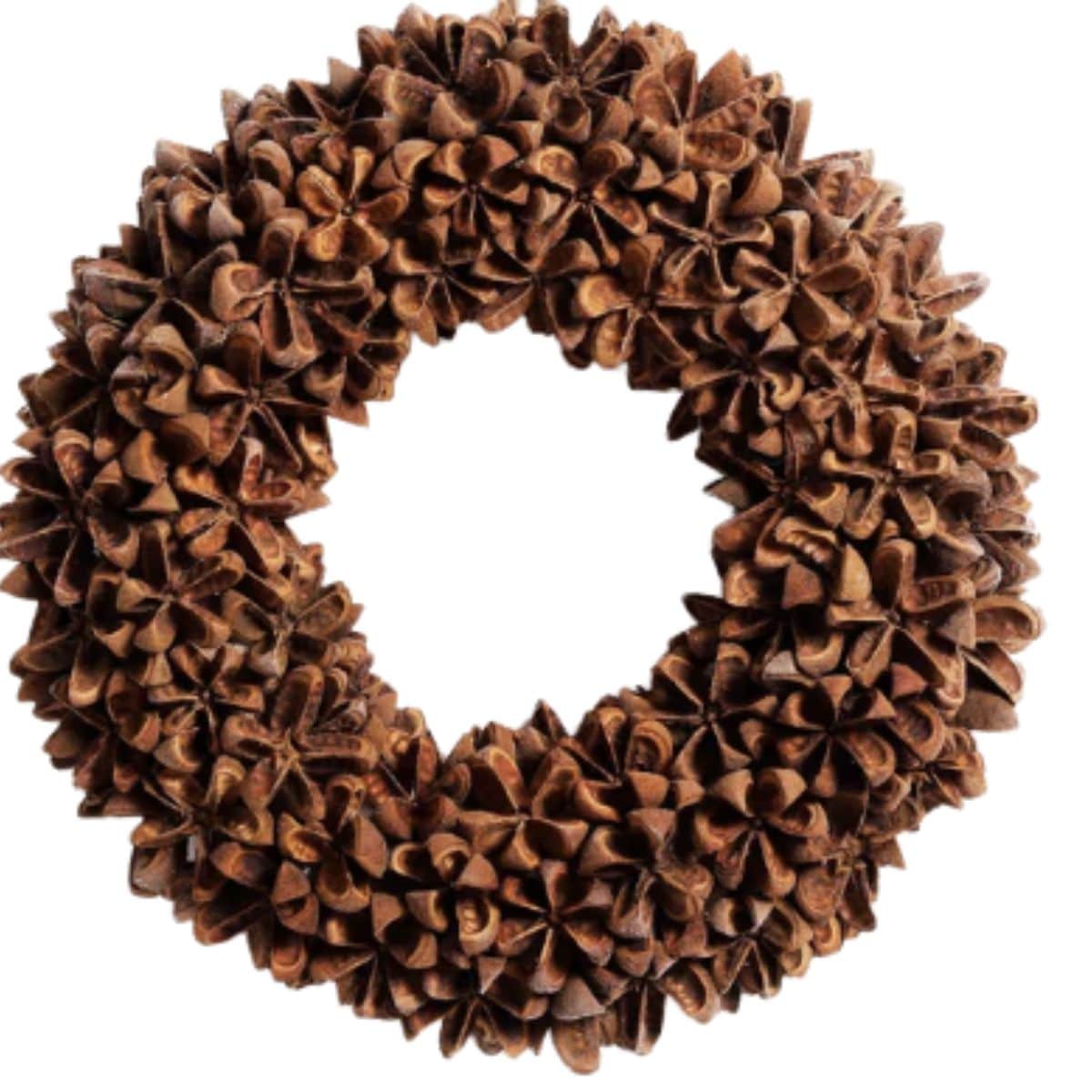 16) Natural Amazonian Flower, $219
These actually aren't pinecones, they're dried Amazonian flowers. They give off the same natural, forest vibes as a pinecone wreath, but with an interesting twist.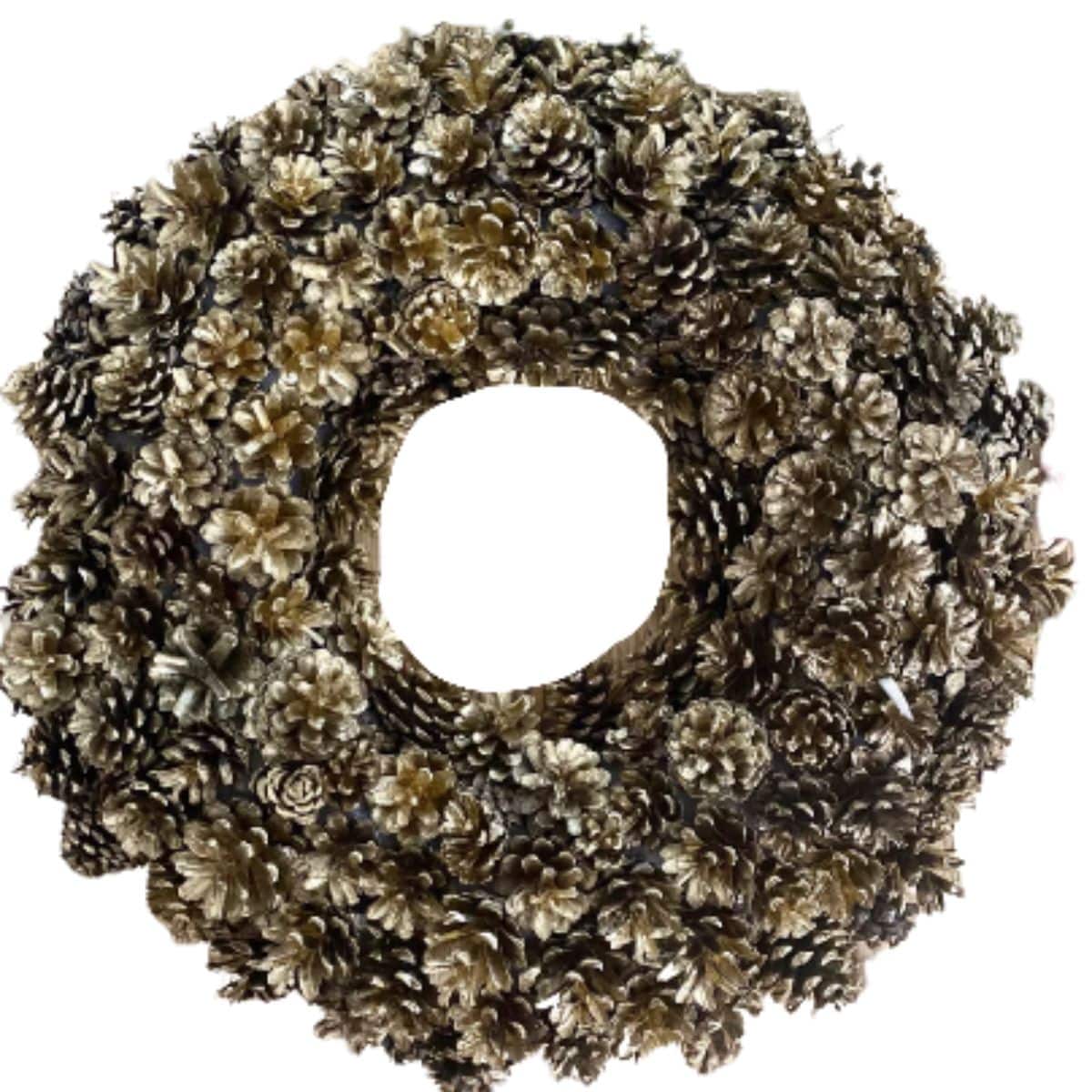 17) Gold Handmade Wreath, $86
This pinecone wreath comes in two different finishes: natural and golden. Depending on your style, this handmade wreath is gorgeous on its own or you can add more ornaments to completely customize it.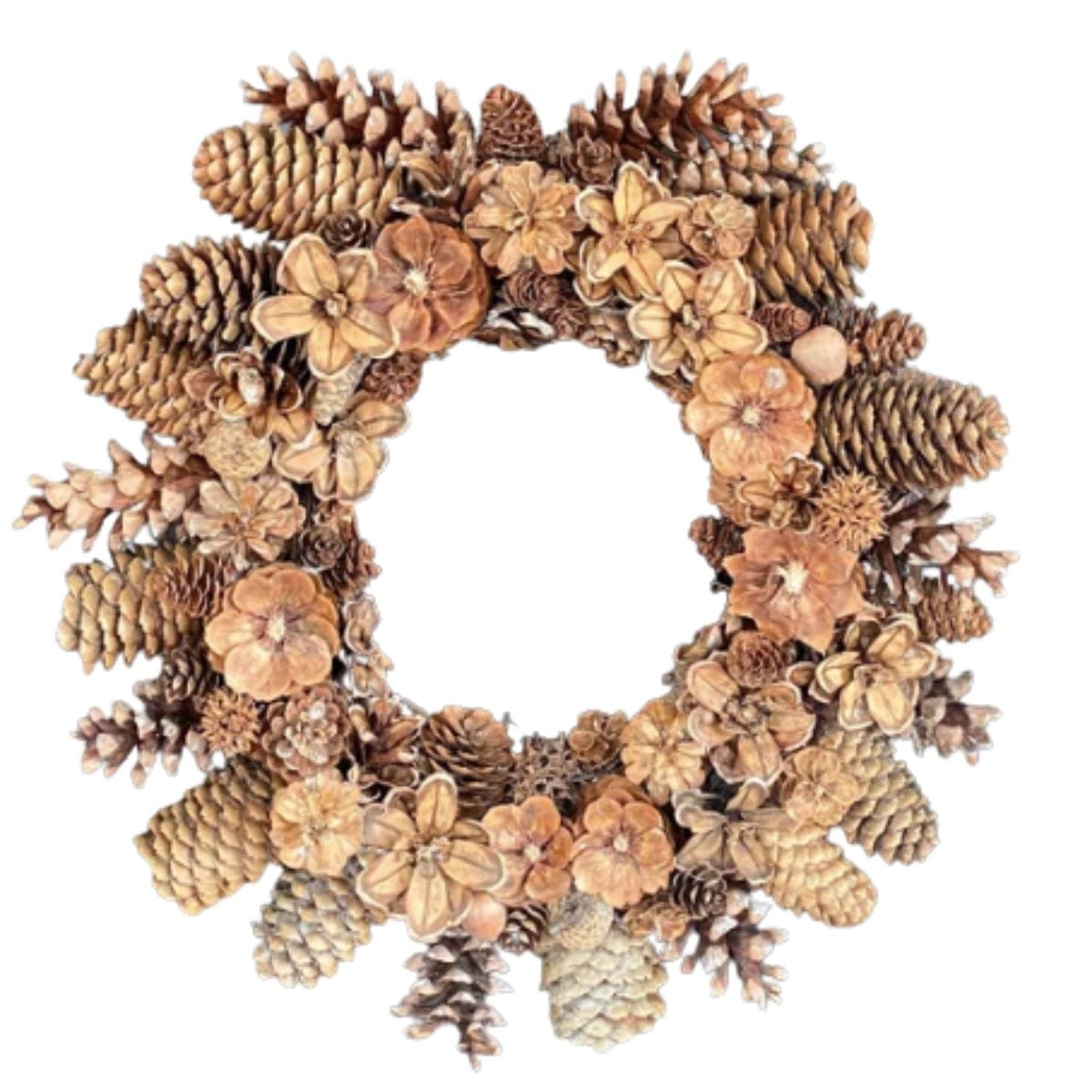 18) Natural Pine Cone Wreath, $40-$75
If you love pinecones as much as we do here at Joy Us garden, then this natural wreath is a must-have. It's made with real locally sourced pine cones, acorns, and sweet gum seeds, so pretty!
We have more Christmas Decor and DIY Crafts: 11 Pinecone Crafts For Christmas, Christmas Succulent Arrangements, Homemade Christmas Decorations Using Fruits & Spices, 2 Easy Last Minute Christmas Centerpieces, 3 Easy DIY Ornaments
We hope you enjoy these beautiful Christmas wreath ideas as much as we do and they a touch of beauty to your holiday decor!
Happy Holidays!
This post may contain affiliate links. You can read our policies here. Your cost for the products will be no higher but Joy Us garden receives a small commission. Thank you for helping us spread the word & make the world a more beautiful place!
About the Author
Latest Posts
Nell, the founder of Joy Us garden, was born into a gardening family and grew up in Connecticut's countryside. After living in Boston, New York, San Francisco, & Santa Barbara, she now calls the Arizona desert home. She studied horticulture & garden design, working in the field all her life. Nell is a gardener, designer, blogger, Youtube creator, & author. She's been gardening for a very long time & wants to share what she's learned with you.