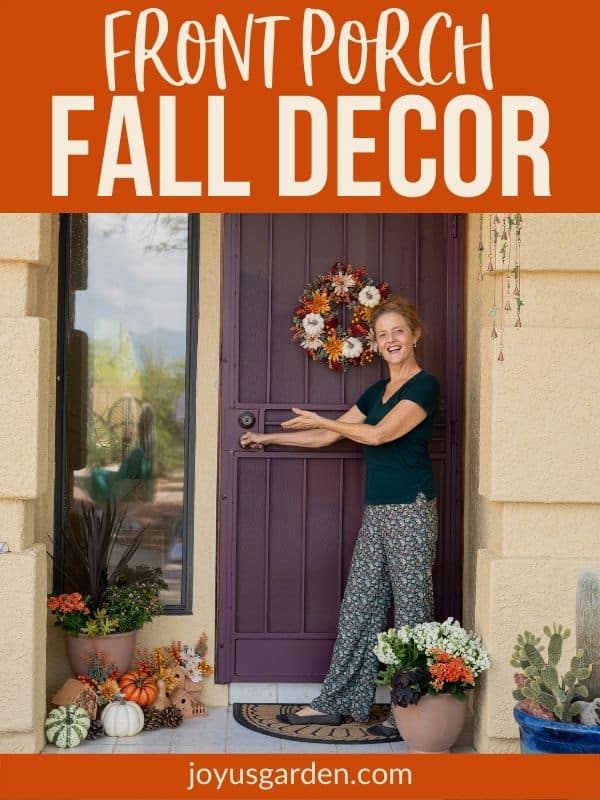 It's that time of year again, Summer is ending and the Fall season is quickly approaching. We can't wait to decorate for the holidays here at Joy Us Garden. First thing on the list is some festive Fall front porch decor complete with an easy DIY project for making a fall wreath.
This year, our Fall decorations include flower and succulent pots, white pumpkins, hay bales, fall flowers, bird houses, gourds, pine cones and a beautiful wreath for the front door.
It's early September here in Tucson, AZ as we put this project together. The temps are still hit 100 degrees most days and the sunshine is plentiful and strong.
We put a Southwestern spin on Fall decor classics. This means instead of using popular Fall decor like real pumpkins and mums (which we can't even find at the grocery store yet), we used faux pumpkins and flowering kalanchoes to get that same look.
Our home is outside the city and surrounded by lots of desert vegetation. The driveway and walkway are long but the porch, which is technically more of an entryway, is small. This display can't overpower because the door needs to open and close!
Besides the heat and sunshine factors, we have lots of wild animals that frequent the front yard like javelinas and ground squirrels. They would love to eat the pumpkins, gourds, and fresh greenery so faux it is.
We're big on reusing the same decor year after year. We pack away and store these decorations well so they'll last for years and years to come.
Everything we used or something similar is linked down below to make your Fall shopping a bit easier.
Supplies Needed for DIY Wreath and Fall Front Porch Decor: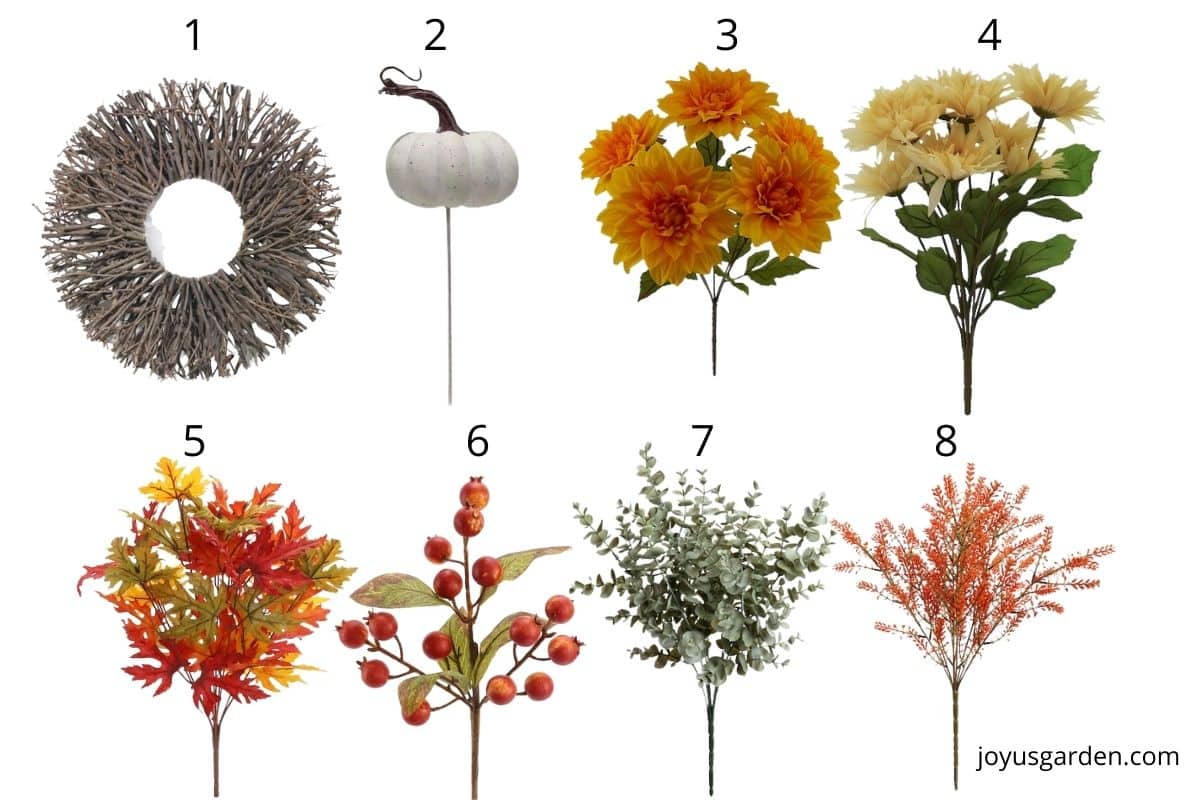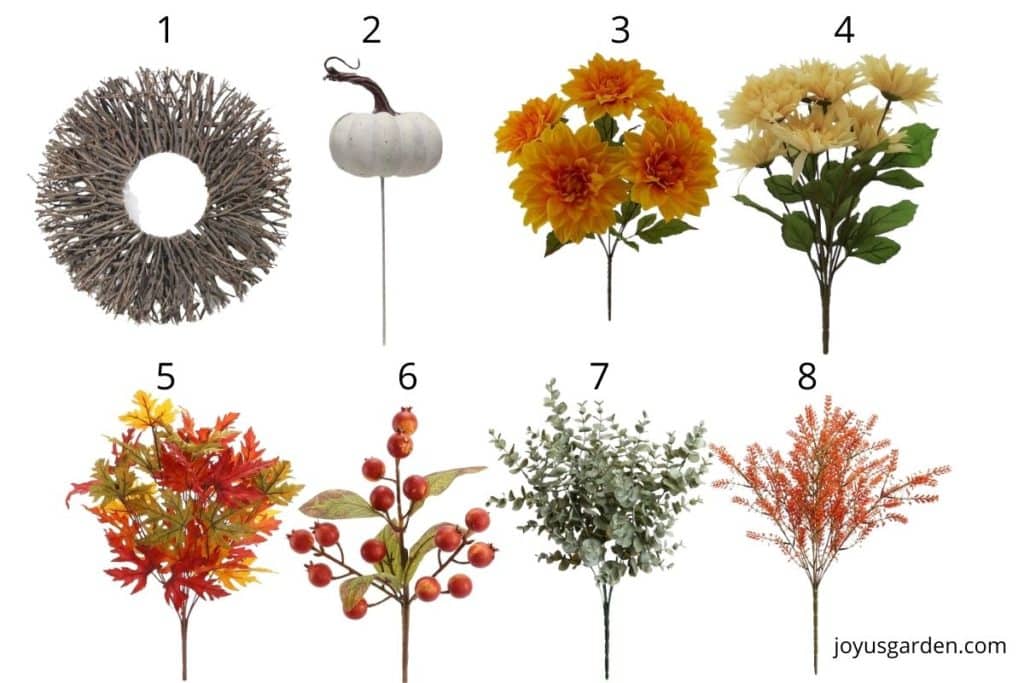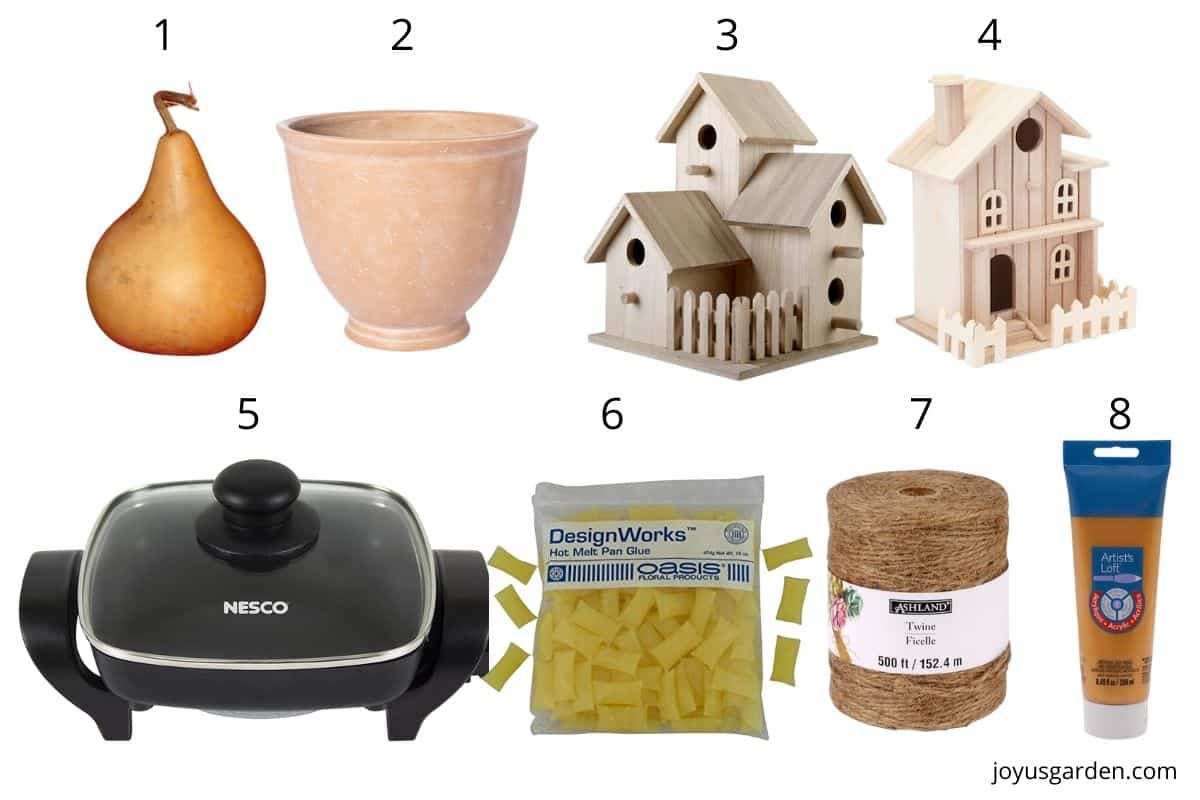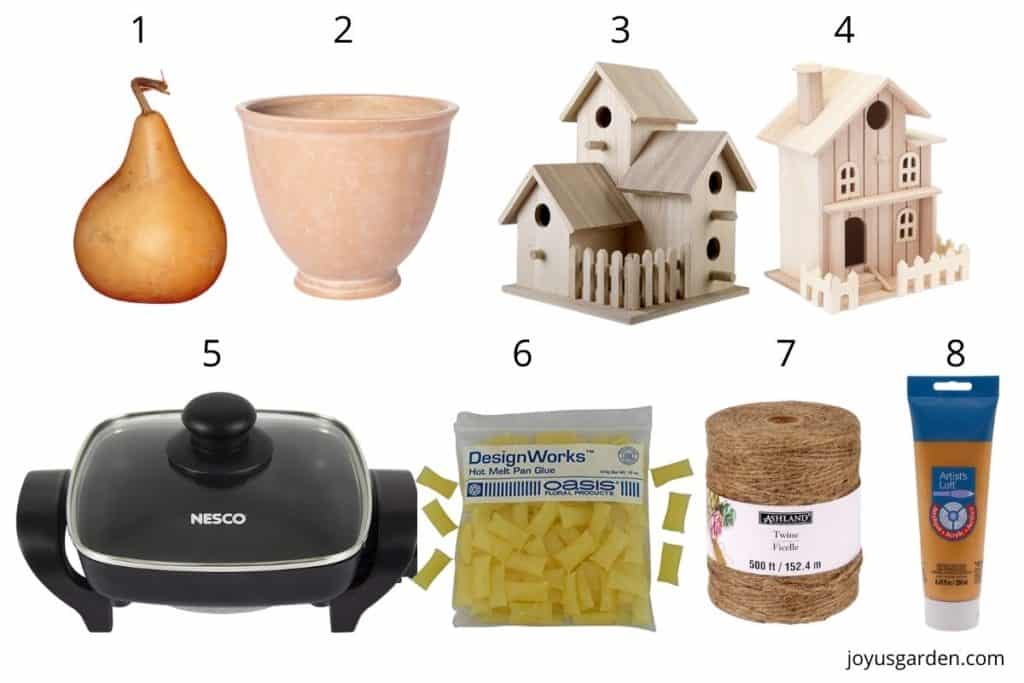 Dried Gourds 2. Composite Planter 3. Triple Birdhouse 4. Cottage Birdhouse 5. Hot Glue Skillet 6. Hot Glue Pillows 7. Twine 8. Gold Paint
Step by Step Fall Wreath DIY
Nell has this adorable twig wreath that can be used for all seasons depending on how she decorates it. Here's how we made the fall wreath step by step: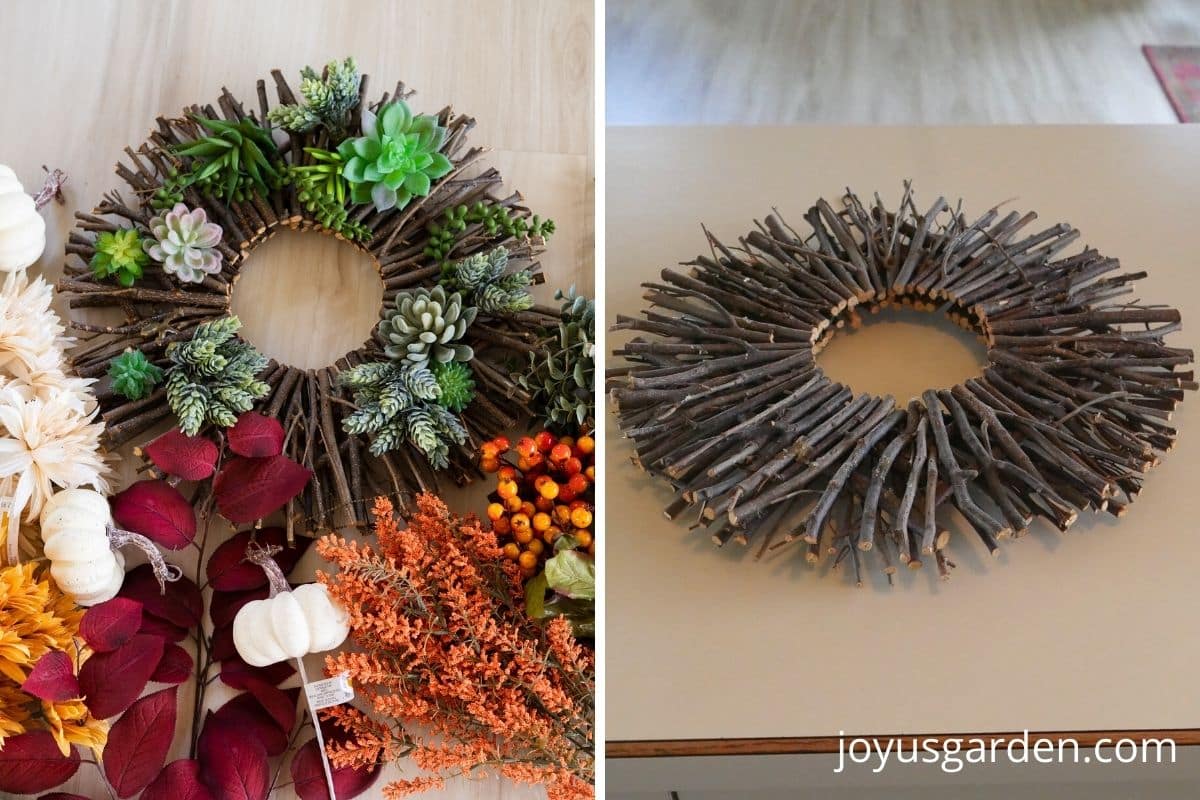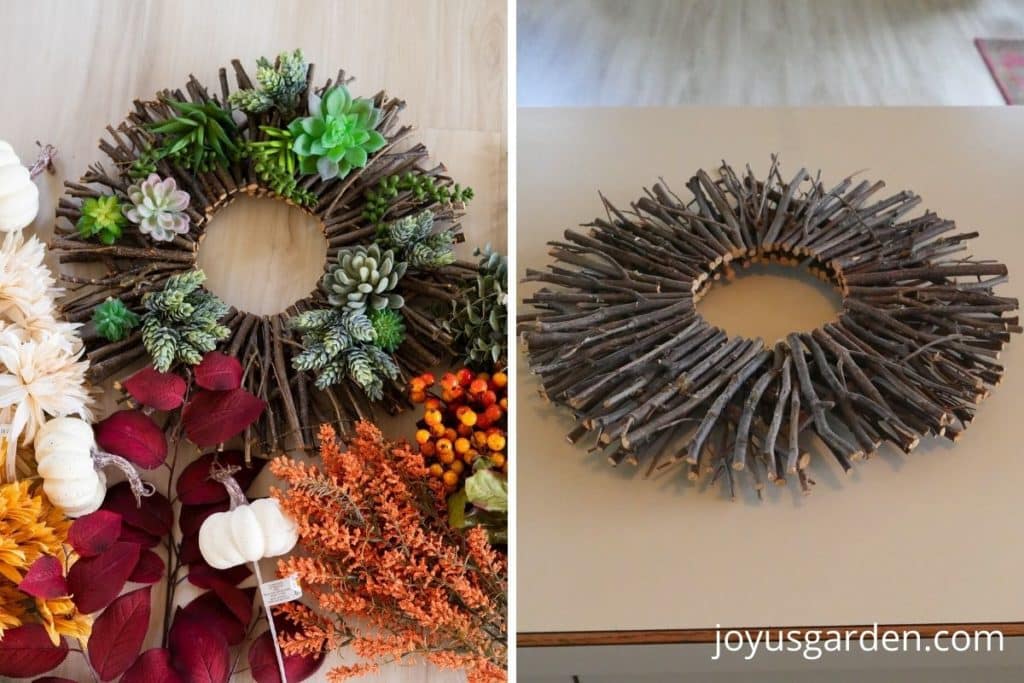 1. Remove any old decorations. We removed the faux succulents. They were nice in a Summer wreath but not so much for our Fall theme.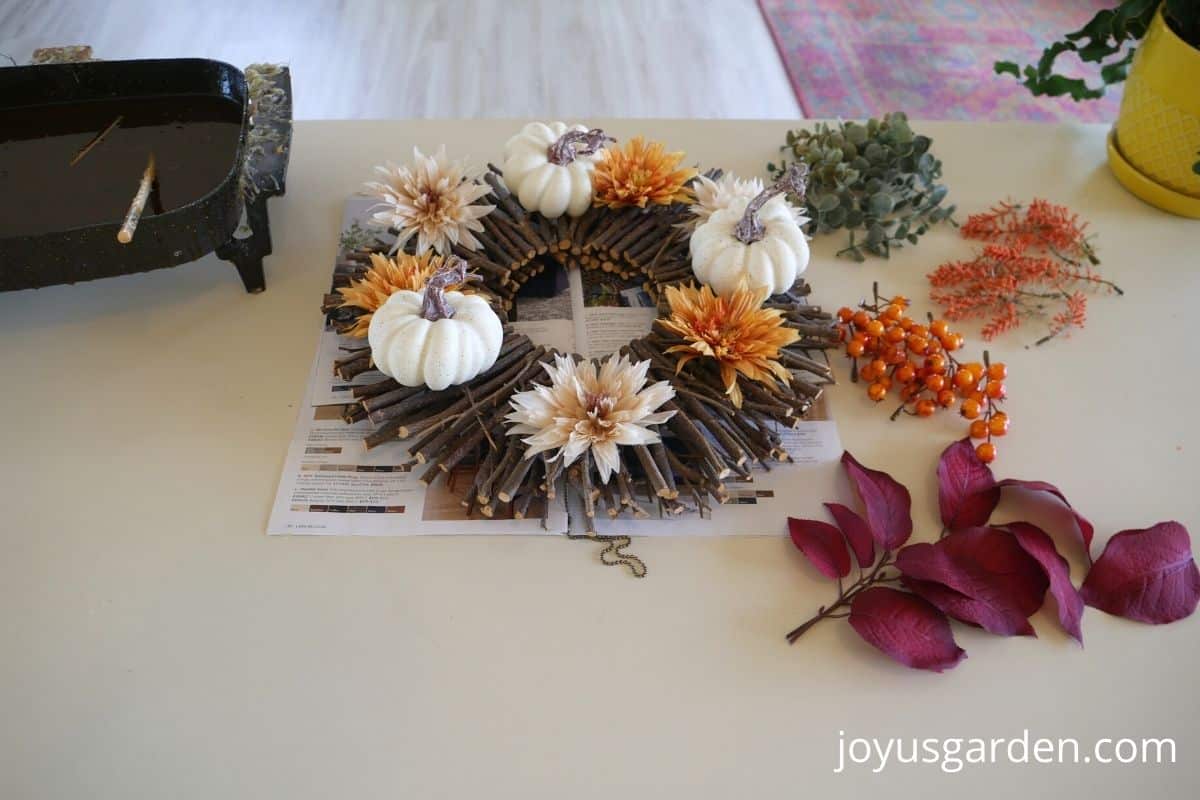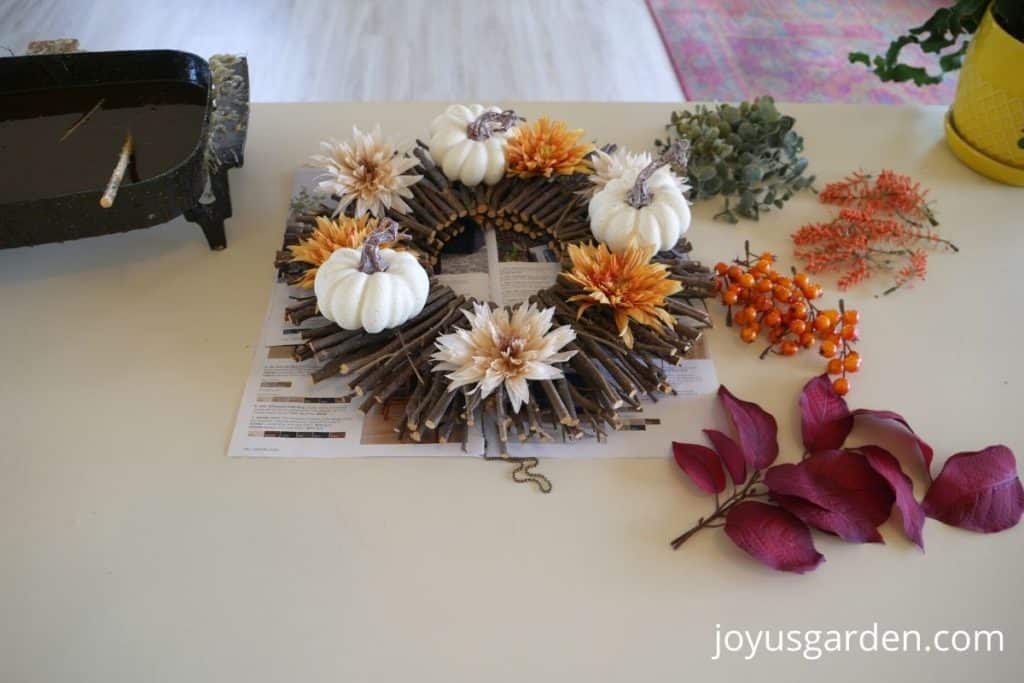 2. Pull off white pumpkins and dahlias from their stems and cut leaves into single pieces. Cut the berries aand foliages into smaller bunches. If everything is ready to go, the hot glue process will be easier.
3. Hot glue the largest decorations on first like the white pumpkins and dahlias. Space everything out so the colors are evenly dispersed.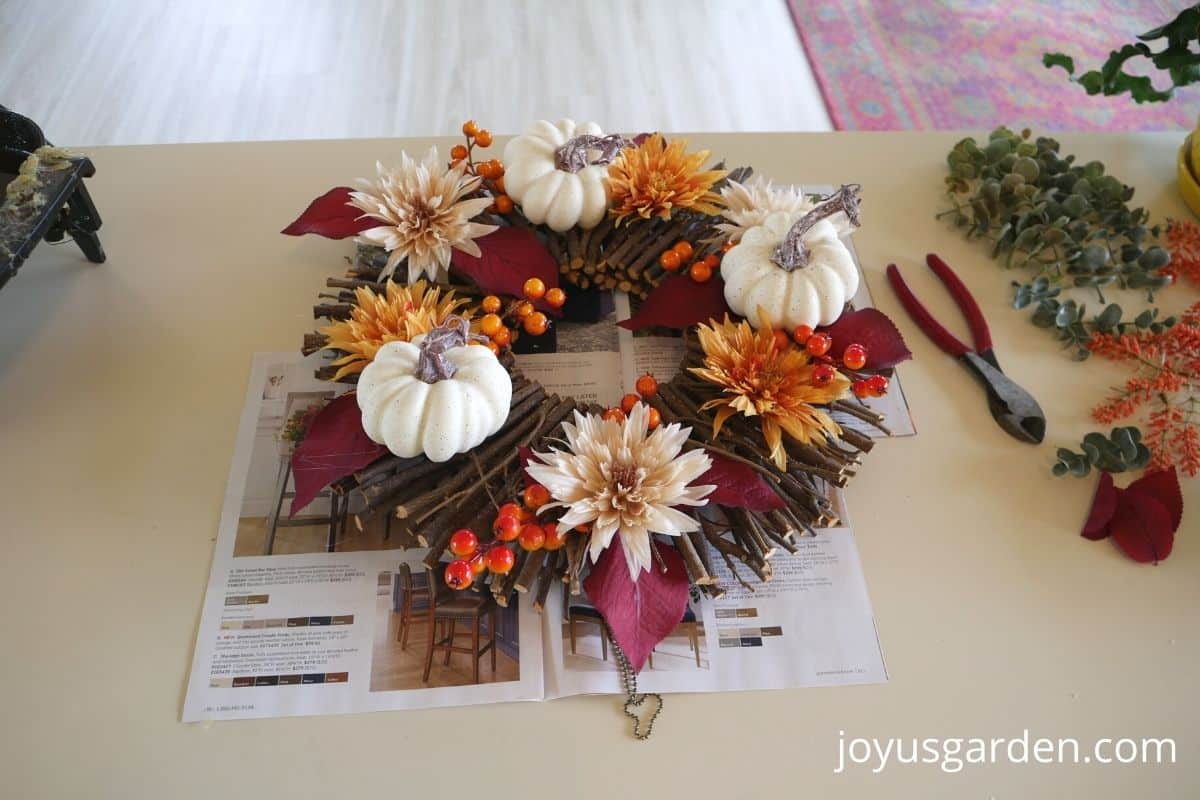 4. Next, glue on the leaves and berries.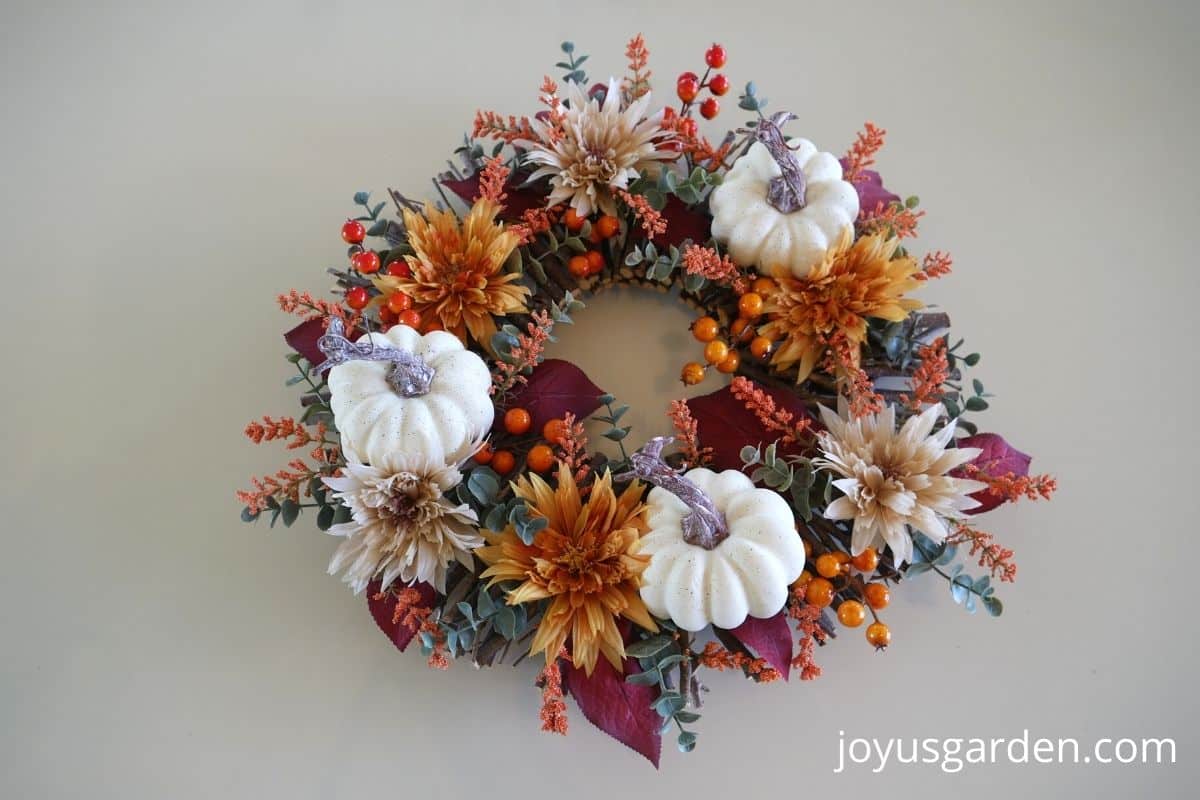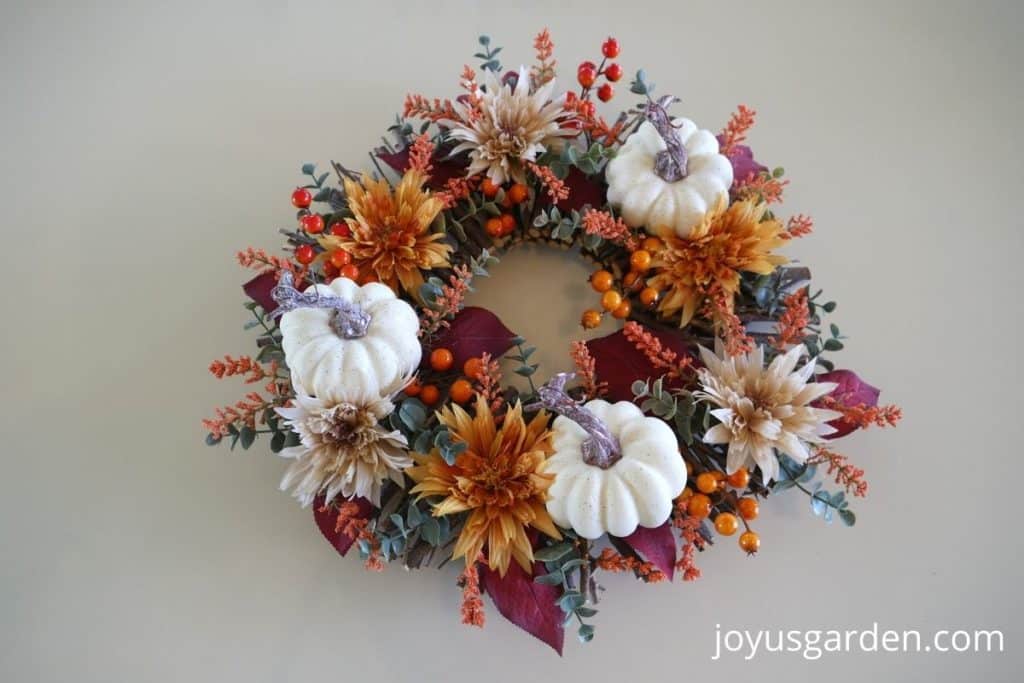 5. Add the eucalyptus and seed heads.
NOTE: We like to attach the hanging device on the wreath before the glueing begins. Here we used a long keychain but can also use twine, fishing line, ribbon, or wire. Whatever works best for you and your design.
Fall Porch Decor Step by Step
To complete the front porch for Fall, we added everything in stages. Take your time with these steps and don't be afraid to get creative and switch things up as you go. We ended up taking a few things out because they took away from the overall design.
Here are the steps we took: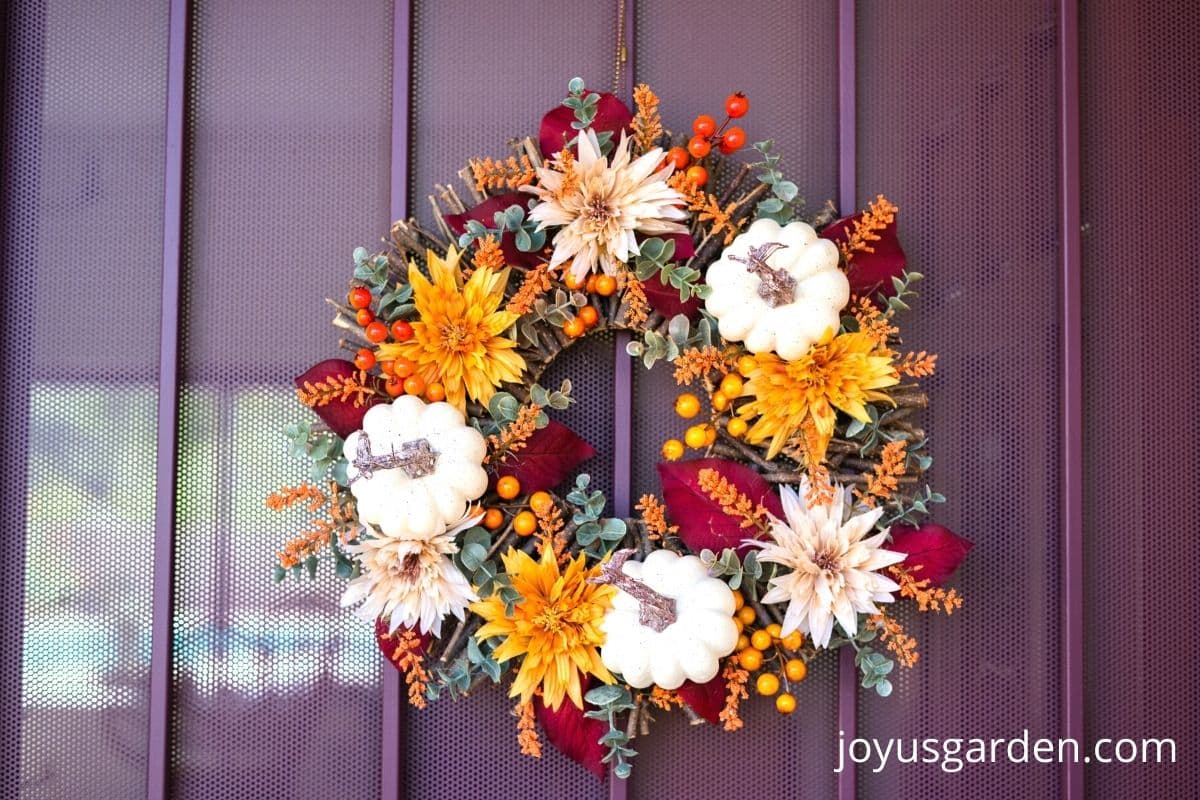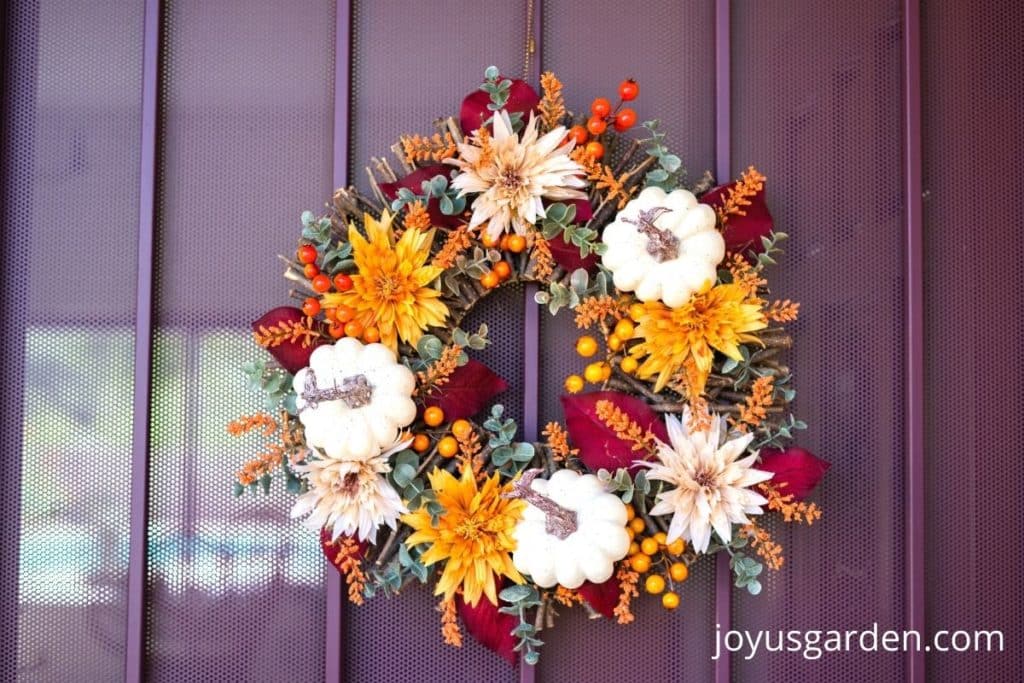 Hang the wreath with fishing line through perforations in the security door.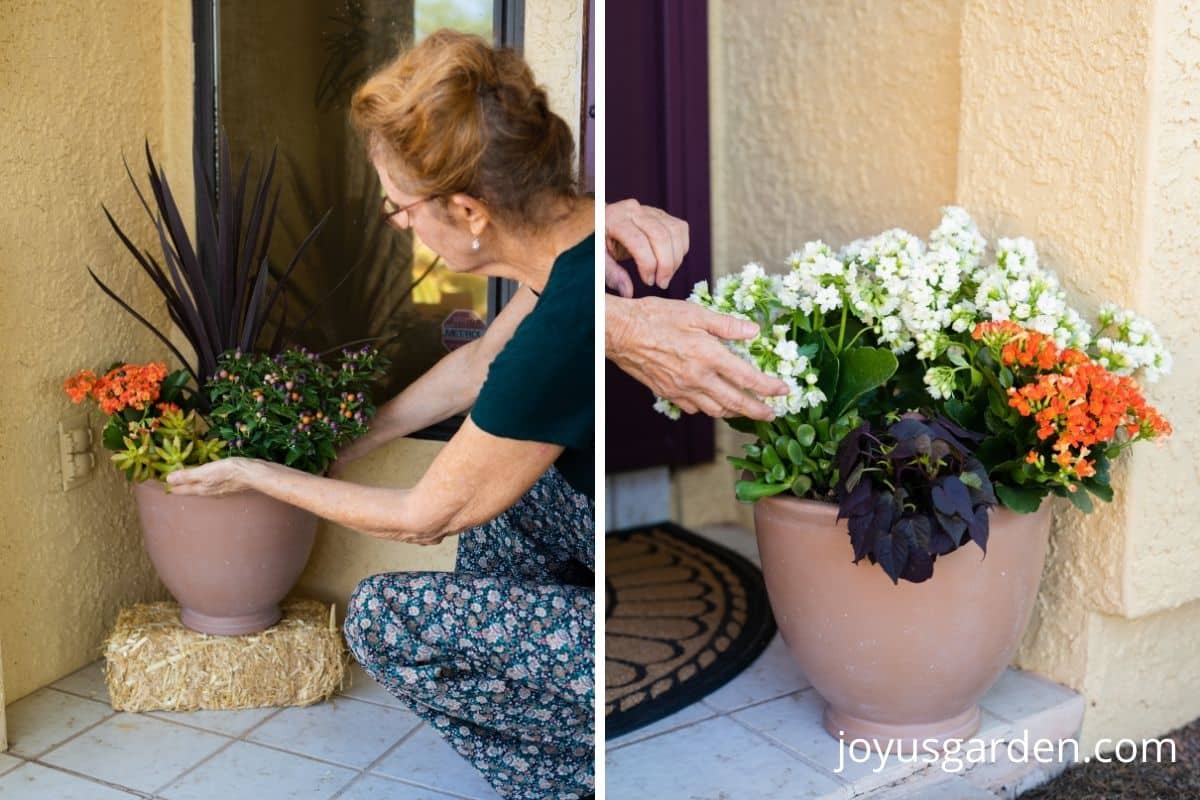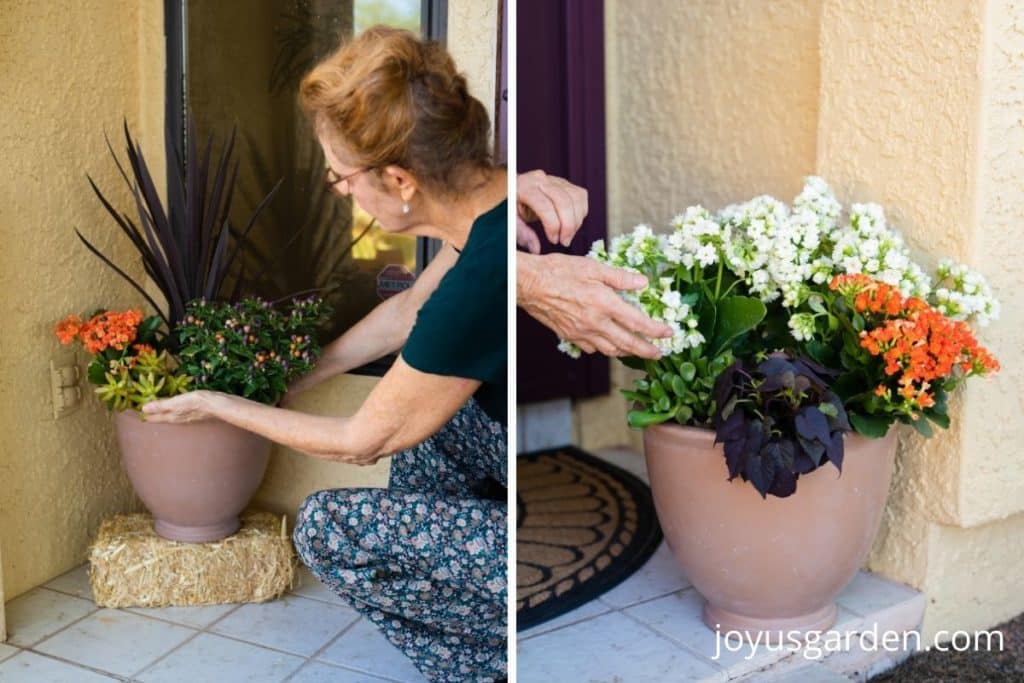 2. Place plant pots on either side of the door. We gave one pot extra height by putting a hay bale under it.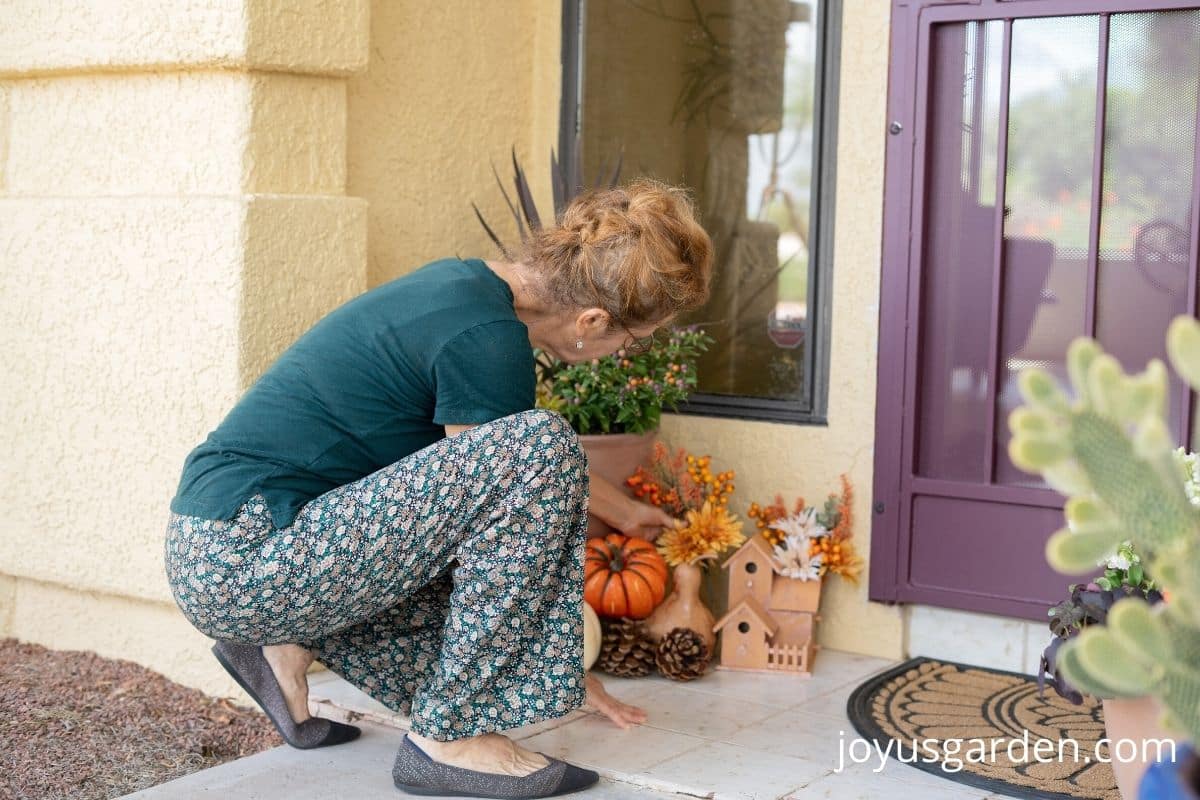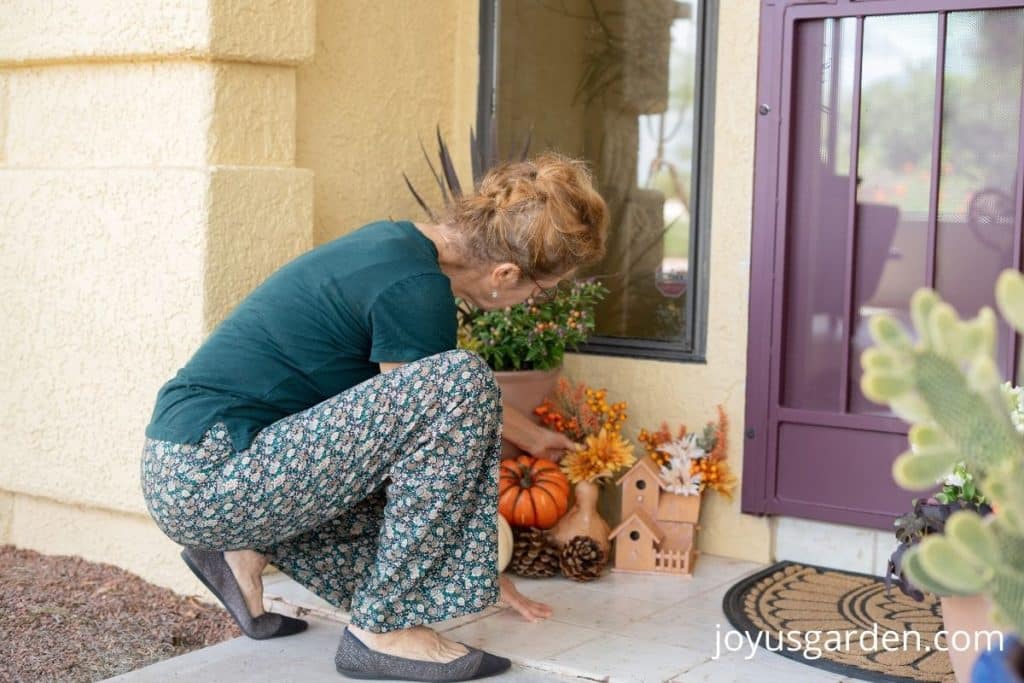 3. Place gourd, pumpkins, pinecones, and birdhouses under the taller pot. We ended up dry brushing the birdhouses and gourd with a terra cotta colored paint (they were pinkish-gold from a previous display) at the last minute.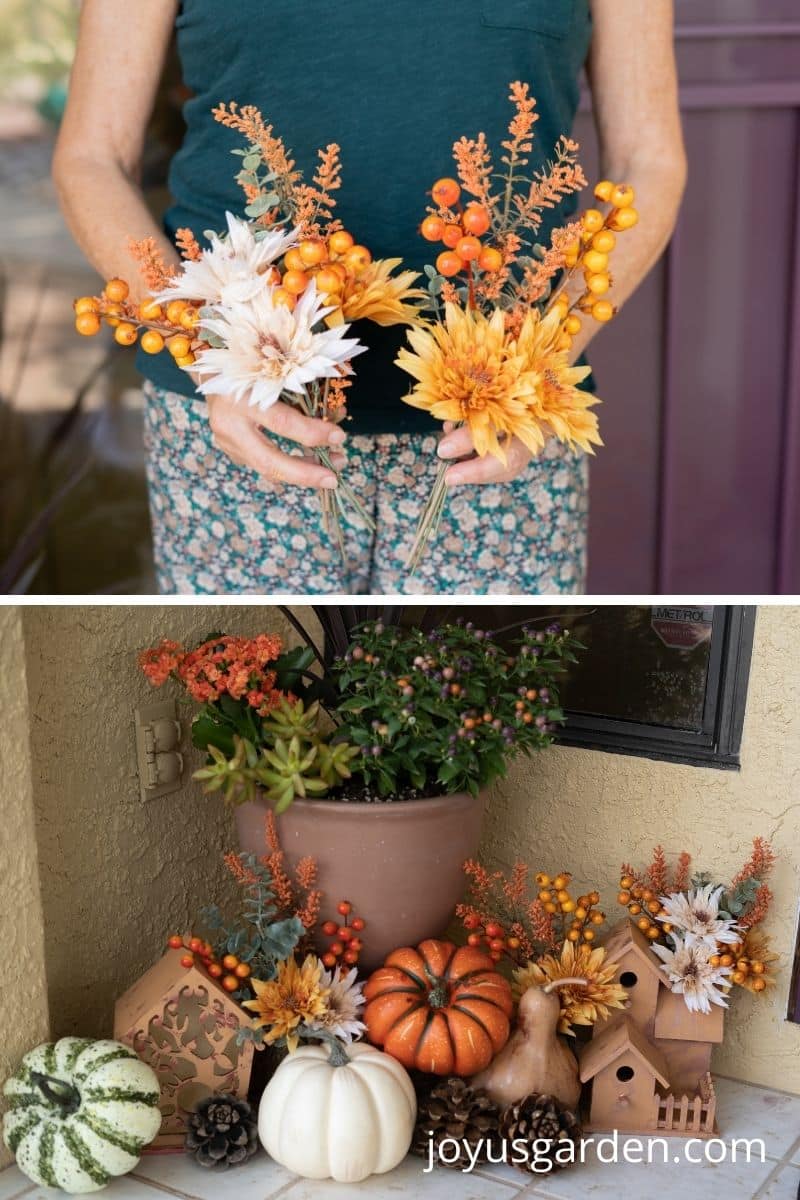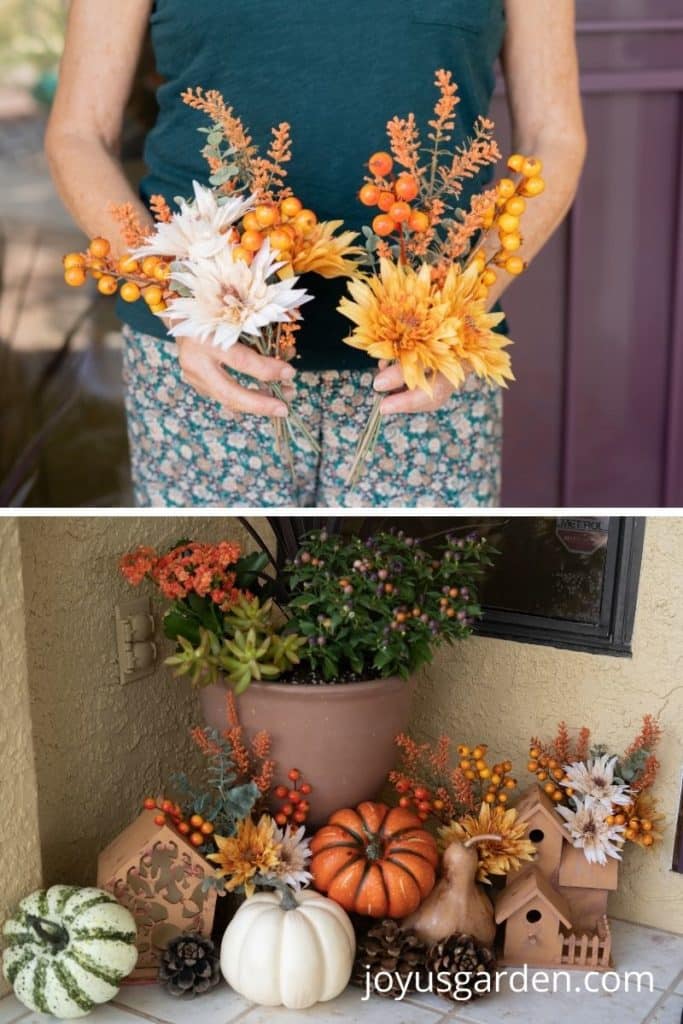 4. Fill in the extra space with some extra flowers and berry clusters from your wreath DIY made into 3 small bouquets to tie everything together.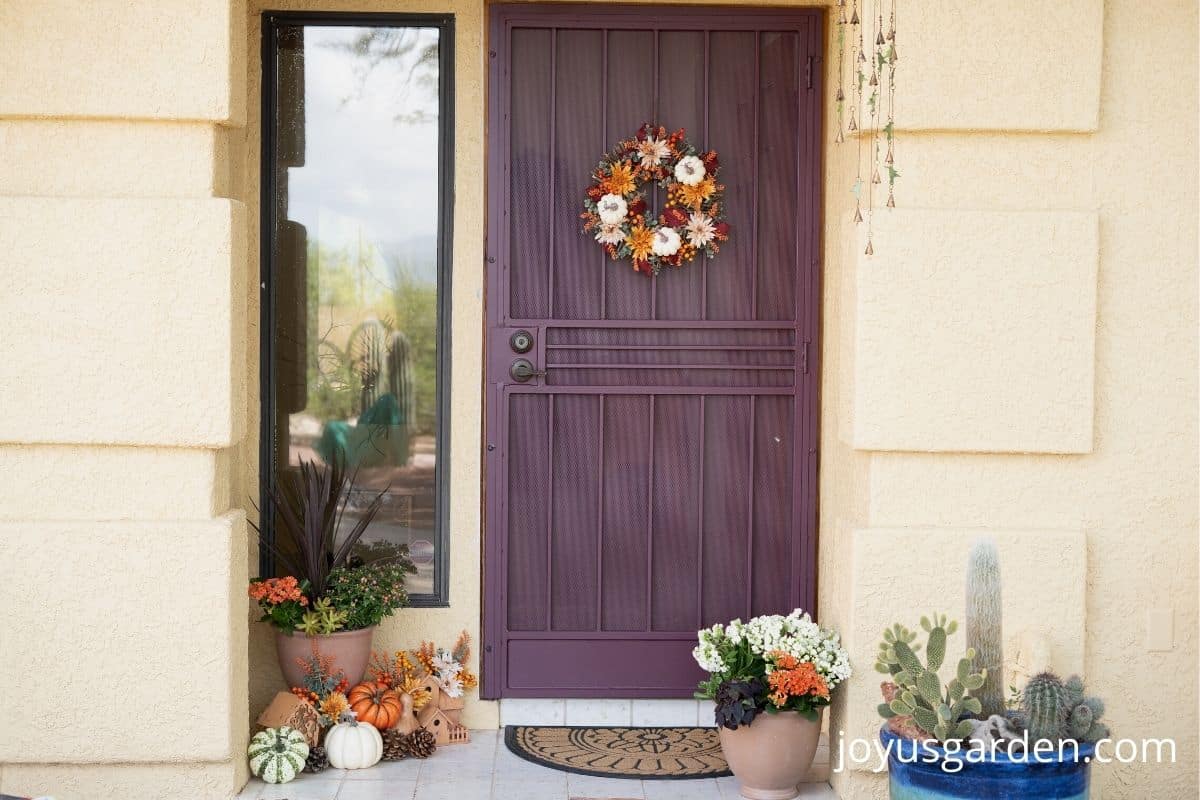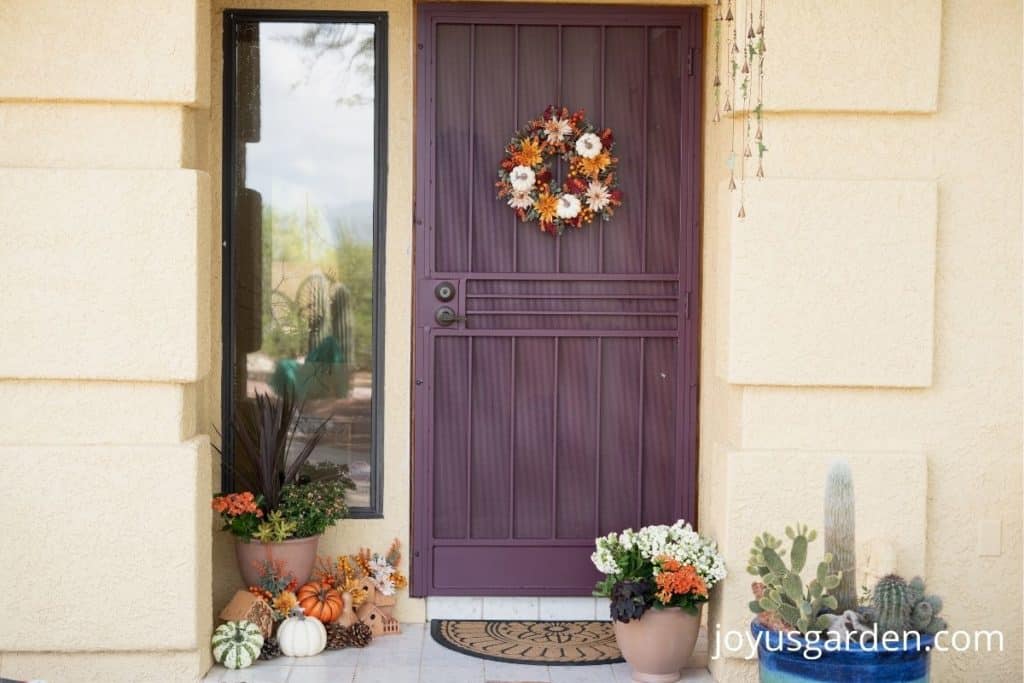 FINI!
Hope you enjoyed these Fall front porch DIY's and inspirations as much as we did putting them together. We have a lot more planned coming up for the Holidays, so stay tuned.
Happy Fall,
Nell and Brielle
Want More Fall Decorating Tips? Check These Out!
This post may contain affiliate links. You can read our policies here. Your cost for the products will be no higher but Joy Us garden receives a small commission. Thank you for helping us spread the word & make the world a more beautiful place!
About the Author
Latest Posts
Nell, the founder of Joy Us garden, was born into a gardening family and grew up in Connecticut's countryside. After living in Boston, New York, San Francisco, & Santa Barbara, she now calls the Arizona desert home. She studied horticulture & garden design, working in the field all her life. Nell is a gardener, designer, blogger, Youtube creator, & author. She's been gardening for a very long time & wants to share what she's learned with you.