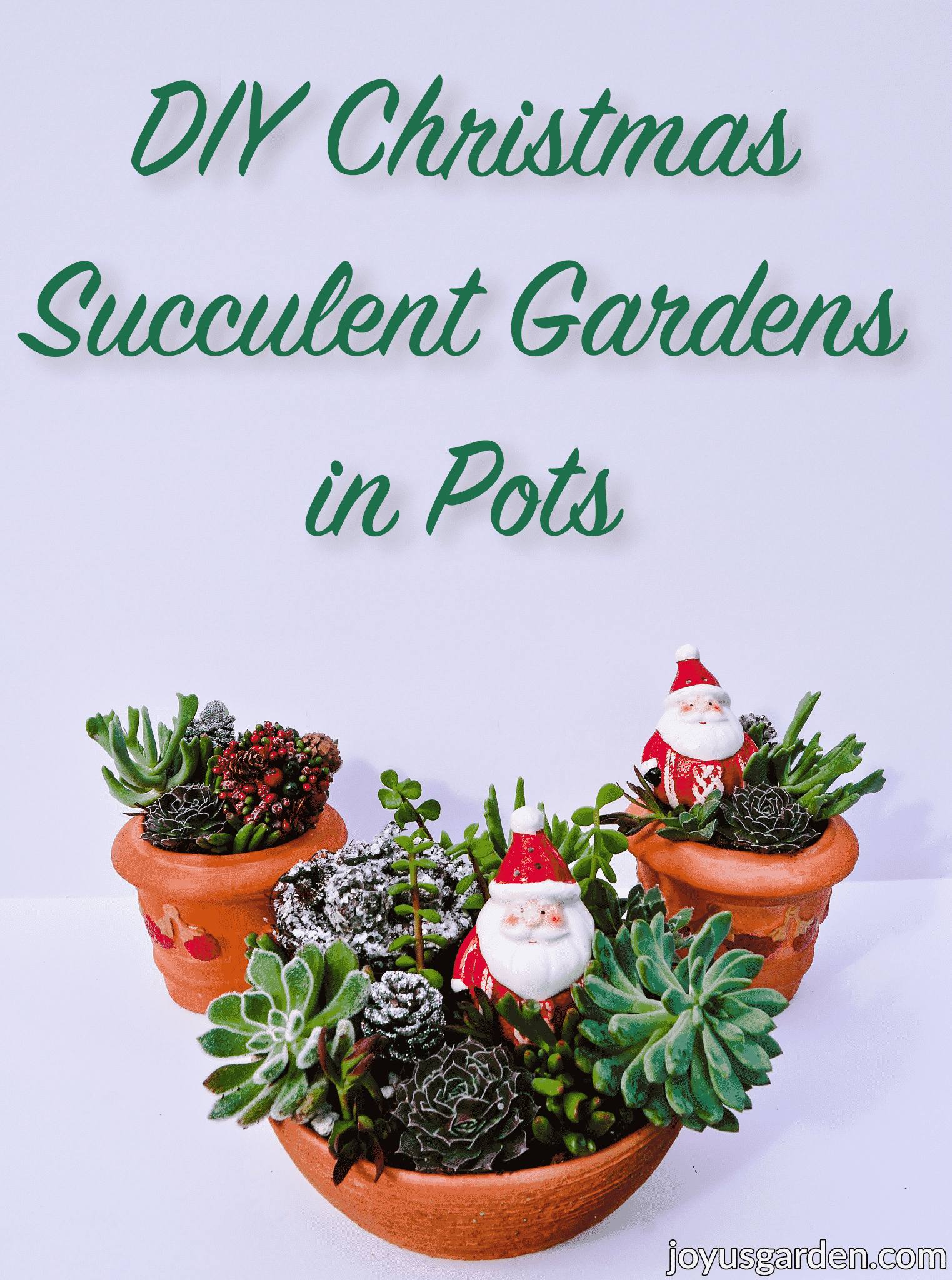 These festive succulent gardens are fun to make, fun to give, and look lovely on a table or buffet. Here's a step-by-step on how to make these Christmas succulent arrangements with all the steps plus instructions on how to care for them.
Need some Christmas succulent ideas? If you're like me, you have lots of glittery, sparkling decorations but love to have a few things "au naturel" around the house when the holidays roll around.
For my gardens, I choose terra cotta pots and decorations in red, silver, and crystalline. My home is casual and surrounded by plants both indoors and out. I love that "gardeny" clay pot looks even for Christmas. Combine them succulents, then even better.
The pots and decorations are your choice. Maybe ceramics or baskets are more appealing to you. And the decoration possibilities are endless now in terms of theme and color. Jewel tones, gold & silver, white & red, blue & silver, snowmen, angels, nutcrackers, cones, balls, and the list goes on.
I painted the red & gold detailing on the smaller embossed terra cotta pots. The paper you see inside the bowl is to cover the drain hole so the mix doesn't fall out.
Materials Used for Christmas Succulent Arrangements
6″ terra cotta pots. I painted the detailing on these pots in red & gold. Purchased at EcoGro here in Tucson.
8″ terra cotta bowls. Purchased at EcoGro.
2″ succulent plants. 19 were purchased at Green Things. The 7 reddish rosettes with tags were purchased online from Mountain Crest Gardens. I've never purchased from them before & was impressed with the plants & the speediness with which the order arrived. Their website is very helpful in that you can see "hardy succulents", "indoor succulents", pastel succulents, trailing succulents, etc. categorized out. I ordered from both MCG & the Succulent Source without them knowing I'm a content creator. This way, I could honestly give you my opinion.
Succulent cuttings. Purchased online from the Succulent Source. This company offers wedding accessories, guest favors & trays of assorted plants. I liked that I could order specific cutting types rather than a random assortment because I didn't want any pastels for my gardens. The cuttings were small but their size is indicated on the site. The thing I didn't like is that they use styrofoam peanuts for packing – yuck.
Ornamentation. I collected the pine cones & glittered them. The Santa salt & pepper shakers were purchased at Steinmart here in Tucson. The rest came from my collection.
Succulent & cactus mix. I make my own – you can find the recipe here. You can find online options here.
Paint, paintbrush. The gold is Deco Art In Glorious Gold & the red is Modern Masters in Metallic Red.
Small trowel, screwdriver. The trowel is for arranging the plants & the screwdriver is for getting the cuttings in.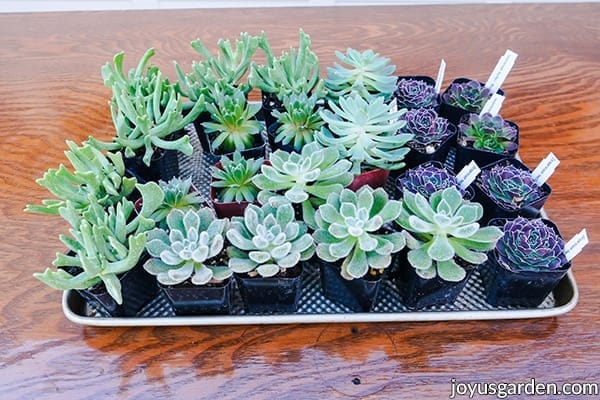 A variety of sweet little 2″ succulents. I think these are wonderfully suited for Christmas gardens.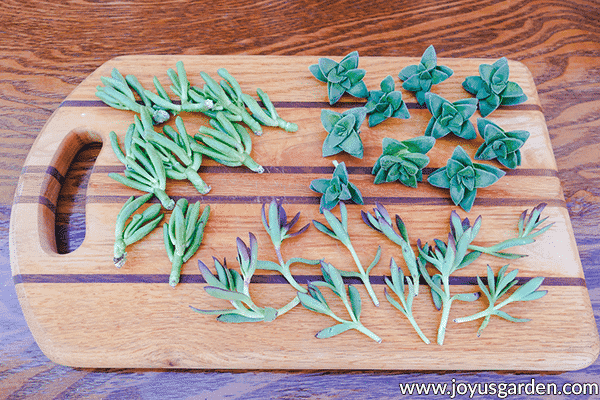 The cuttings. Small but they worked great as a fill.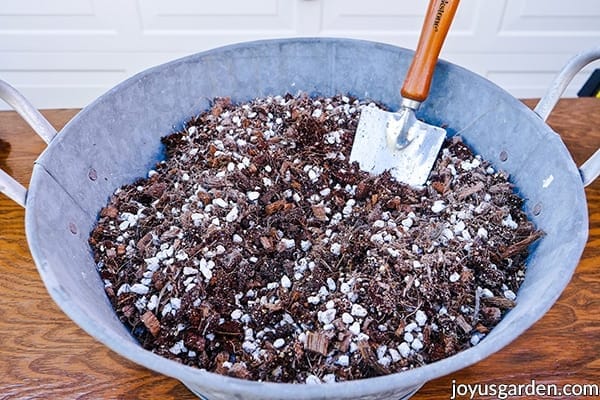 A bowl full of succulent & cactus mix. I go through it quite fast so I always have the ingredients on hand so I can whip up a new batch.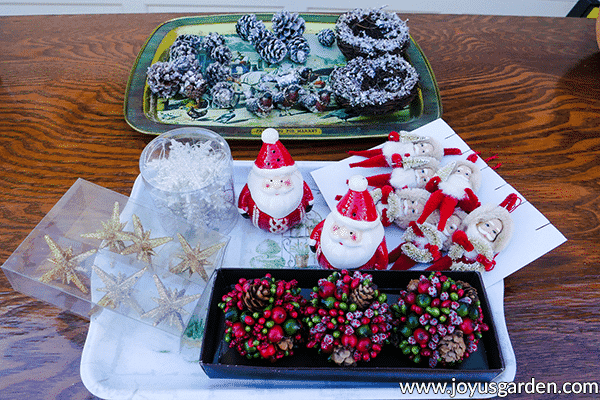 The ornamentation. I didn't use it all but wasn't sure what path the decorating was going to take until I got into it. You know how that goes!
How to Make Christmas Succulent Gardens Pictured Here
This is best seen in the video right below but I'll give you a brief outline of what I did here:
Gather all materials needed at your work table. This makes it so much easier once the creating begins.
Put the succulent & cactus mix in the pots to the desired height. I put a layer of paper over the drain holes to keep any from spilling out.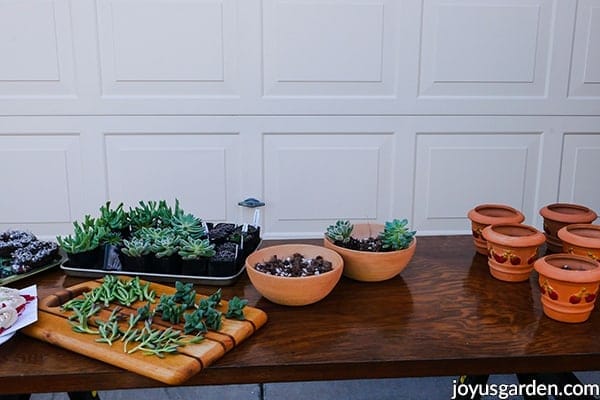 The start of the arranging.
Arrange the plants in the pots. I had no idea what I was going to do & just went with it. You'll be surprised at how easily & beautifully they come together. With the smaller pots, I pinched the root balls a bit to get them to fit into the pot. No worries, succulents don't have an extensive root system & grow just fine a little tight in their pots.
Get your larger ornamentation in the pot. You want to do this now to make sure it all fits in.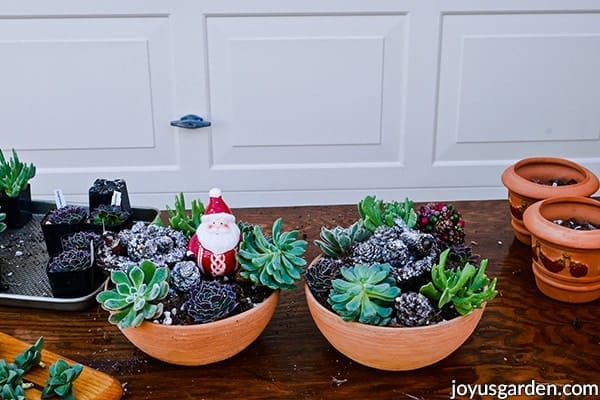 The plants & larger ornamentation in place.
Top off with succulent & cactus mix.
Fill in with succulent cuttings & small ornamentation.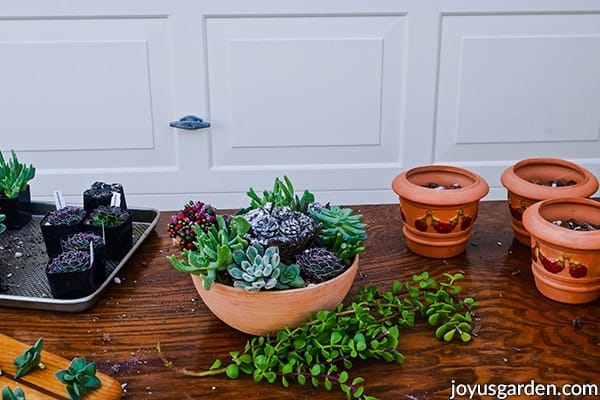 1 of the bowls with the cuttings in. At the last minute, I decided to take some cuttings off my Elephant's Food for a different texture & a little height.
In case you like to watch the steps:
Cost to Make 7 Succulent Arrangements
Two Terra cotta bowls = $14.00
Five Terra cotta pots = $12.50 (got these on sale)
2″ Succulent plants = $57.00 (19 plants from Green Things) + 30.00 (7 plants from Mountain Crest Gardens)
Succulent cuttings = $30.00 (30 cuttings)
Succulent & cactus mix = approximately $2.00
Ornamentation = approximately $35.00
Total: $180.50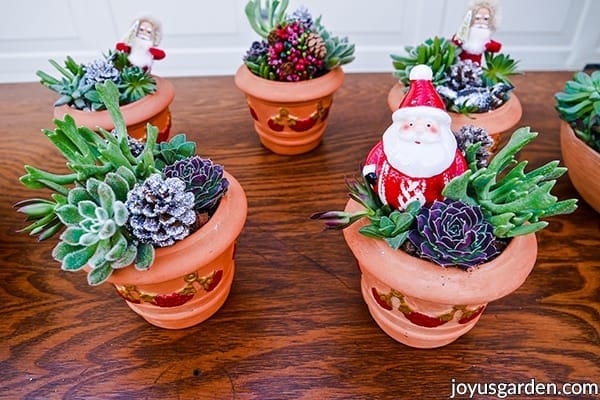 The smaller gardens all made up. I ended up giving 2 of them away.
Caring for Your Christmas Succulent Arrangements
Now that you've made your beautiful gardens, you'll want to keep them alive. I watered the plants the day before I made these gardens. The mix was slightly moist so I let them settle in for a week before giving them a light watering.
Preferred light exposure: They need bright, natural light to do their best. They won't be happy in low light or in a sunny, hot window.
Watering: The worst thing you can do is water these gardens too often. You want to keep yours on the drier side. They're planted very tightly & this helps to hold the moisture in.
I probably won't water mine again for 3-5 weeks. Succulents store water in their leaves, stems & roots so they rot out easily. By the way, I have a small watering can with a long skinny neck which is what I use to water mine (lightly!).
Be sure to keep them away from heaters, heating vents & cold drafts.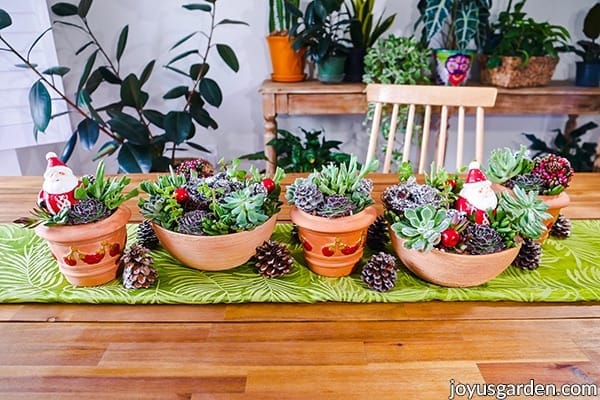 Arranged with glitter cones on the dining room table. I just ordered soy tea candles to stagger around so it'll all sparkle at night. Gotta love a living centerpiece!
Once the holidays are over, you can remove the decorations and add in a few more succulents. I plan on repotting them into 1 pot because I have enough pots, indoors and outdoors, to take care of.
These Christmas succulent arrangements would be beautiful on your hallway or dining table, make wonderful gifts, and are a fun project to do with kids. They're an easy DIY and each one will be unique depending on what plants and ornamentation you choose. The holidays are fast approaching – you best get your succulent decorating groove on!
Happy creating, happy holidays,

---
Here are additional DIY ideas to get you in a festive mood:
This post may contain affiliate links. You can read our policies here. Your cost for the products will be no higher but Joy Us garden receives a small commission. Thank you for helping us spread the word & make the world a more beautiful place!
About the Author
Latest Posts
Nell, the founder of Joy Us garden, was born into a gardening family and grew up in Connecticut's countryside. After living in Boston, New York, San Francisco, & Santa Barbara, she now calls the Arizona desert home. She studied horticulture & garden design, working in the field all her life. Nell is a gardener, designer, blogger, Youtube creator, & author. She's been gardening for a very long time & wants to share what she's learned with you.