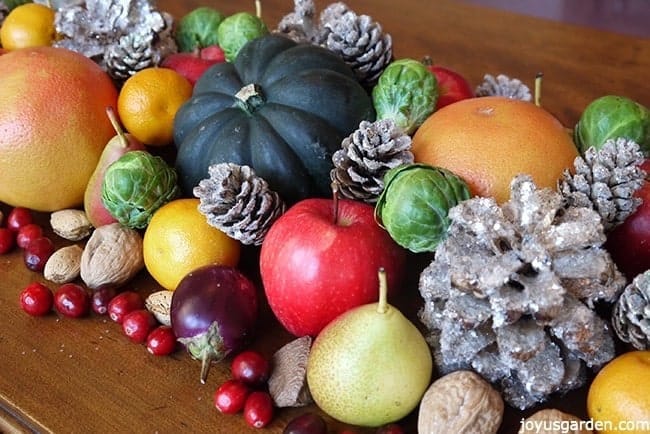 This festive time of the year is all about gathering, being grateful, decking the halls … and eating. So many tables to adorn in so little time. I love decorating my own table with simple homemade elements, and if the ingredients come from nature, even better. I want to share with you a last minute Christmas centerpiece idea with 2 options which is so easy to make.
And, it's mostly edible! I love making these kind of arrangements and there's no better time than the holidays to adorn your table with a beautiful centerpiece … that you can eat. A big part of the fun is the adventure of shopping to pick out all the bounty. The ingredients that make up this piece are: fruits and vegetables, nuts and glittered cones. The 2nd more "gussied up" version had greenery foraged from my garden, Christmas balls and flowers.
This centerpiece which your family & friends will love comes together in no time:
For the basis of the centerpiece I used: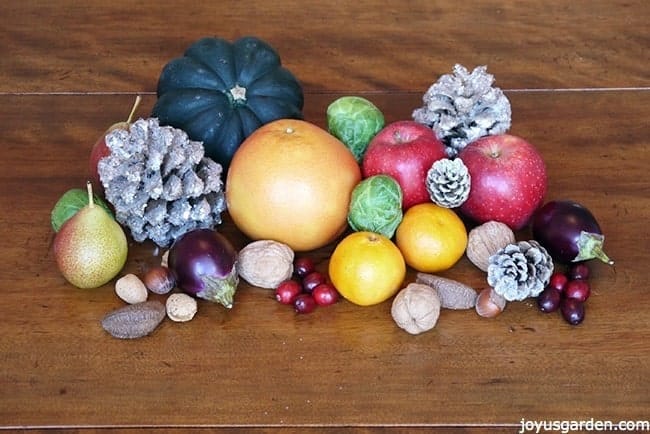 acorn squash
pink grapefruit
mandarin cuties
forelle pears
gala apples
Indian eggplant
brussel sprouts
cranberries
mixed nuts – walnuts, filberts, almonds & Brasil nuts
The steps to putting this together are simple – you'll see:
1- Shopping & picking out your bounty, fun indeed!

2- Arrange the larger ingredients which I like to stagger down the center of the table. I like to have a focal point, for this it's the acorn squash.

3- Add in the medium sized ingredients. Be sure to look at the centerpiece from both sides, unless of course it's against a wall.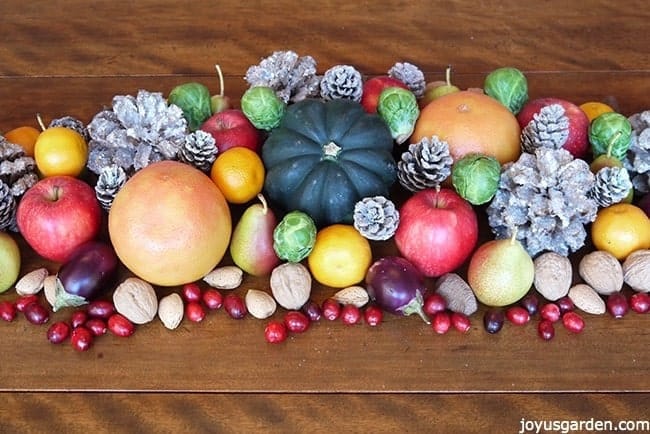 4- Adorn the edges with the cranberries & mixed nuts.
For the gussied up version: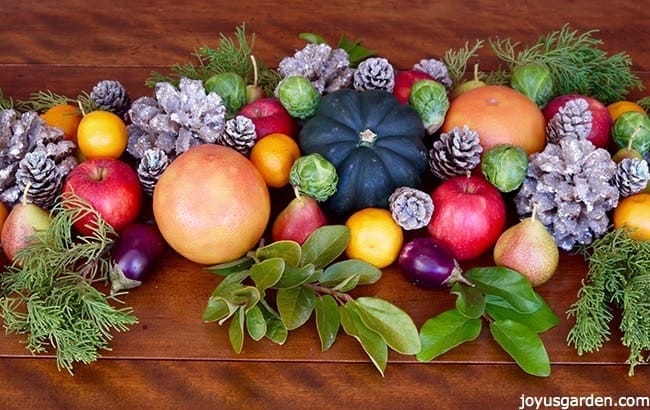 1- Remove the cranberries & mixed nuts. Add in pieces of longer lasting foliage.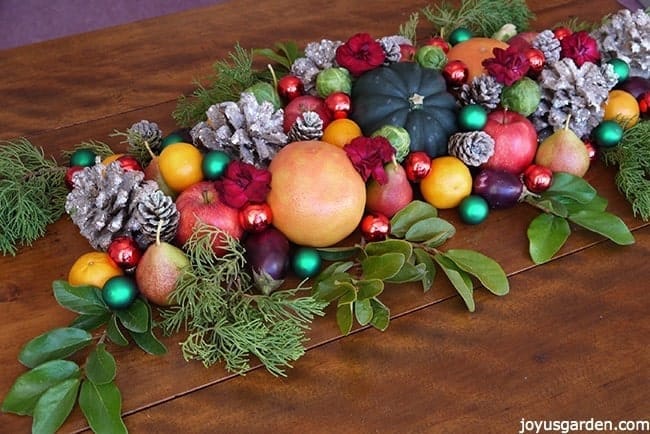 2- Flowers & Christmas balls are tucked in.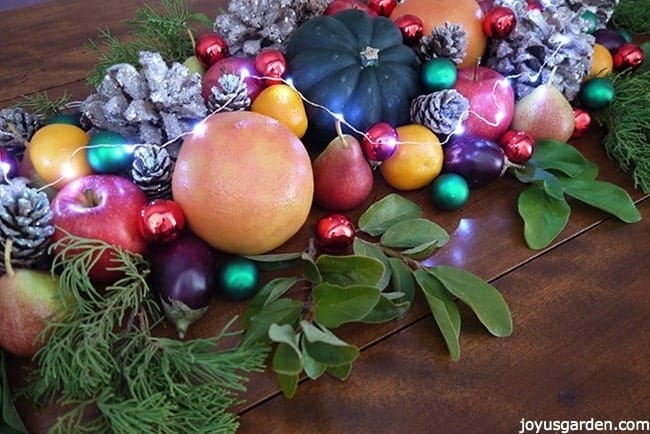 3- A string or 2 of fairy lights (battery operated) add an even more festive touch for evening dinners or parties.
You can make this centerpiece up well before your event and it'll last and look great for at least a week or two. I used ingredients which you should be able to find too although you might have to make a substitution or 2. There's something so wonderful and rewarding about a Christmas centerpiece which looks fabulous and is edible. So much better than that dry ole fruitcake!

Wishing you a festive & yummy holiday season,

Here are additional DIY ideas to get you in a festive mod:
This post may contain affiliate links. You can read our policies here. Your cost for the products will be no higher but Joy Us garden receives a small commission. Thank you for helping us spread the word & make the world a more beautiful place!