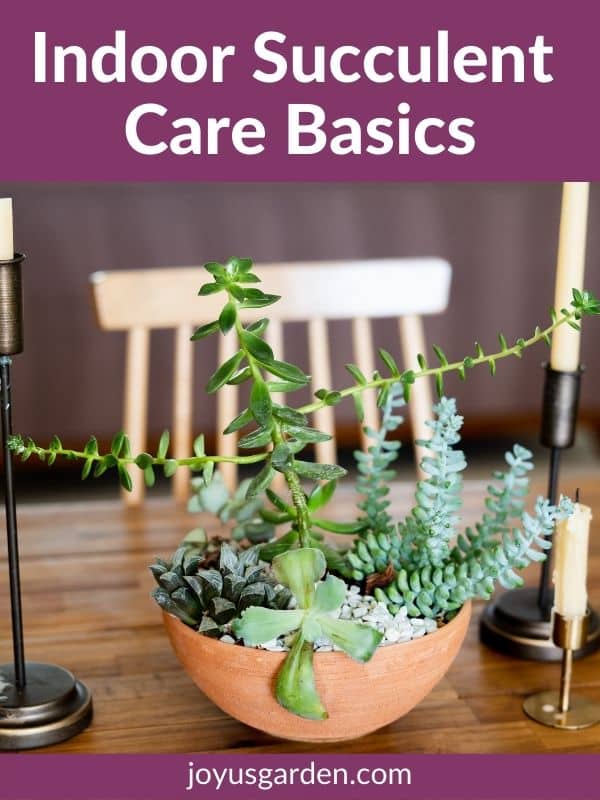 Succulents are ideal houseplants for beginners and anyone who desires low-maintenance greenery in their homes. Succulent care is relatively easy but newcomers still have a lot of questions. Let's go over indoor succulent care basics and answer your FAQs.
Indoor Succulent Care: FAQs
Do all succulents do well indoors?
No, some succulents do better indoors than others. The list of ones that have done well indoors over time for me are in this post on Choosing Succulents Indoors.
Where should succulents be placed indoors?
In as much bright, natural light as possible. Full sun is fine as long as you keep them out of hot, sunny windows, like other indoor plants, succulents can burn.
Low light conditions aren't what succulents like. They'll do okay for the short term but not for the long run.
How do succulents grow for beginners?
Great. Care of succulents is very easy as long as you don't water them too often or have them in enough light.
What succulents grow best indoors?
These are the tried and true succulents that thrive indoors: String Of Bananas, Aloe Vera plant, Haworthias, Christmas Cactus, Hens and Chicks, Burro's Tail Sedum (be careful, their leaves fall off in a heartbeat!), Flowering Kalanchoes, Calandivas, Jade Plant (there are different varieties to choose from), Elephant Bush, Gasteria and Panda Plant.

Jade Plants and Aloe Vera are the most popular succulents to grow as indoor succulents but they need a high light exposure to do well.

If you're into experimenting, you can try different succulents and see if they work in your home. With plants, you never do know!
There are specs of white on my succulents. What do I do?
That is most likely mealybugs. Succulents are very susceptible to them. To see what they look like and what to do about them, check out this post on Mealybugs. You can read more in Problems Growing Succulents Indoors towards the end.
Get any pests under control as soon as you see them. Be mindful to look in the crevices where the leaves meet the stems as well as under the leaves as pests tend to hang out here. 
Can I put my succulents outdoors for the summer?
Yes, your succulent plants will do just fine. Just be sure to keep them out of hot, direct sun because they'll sunburn.
If you get a fair amount of rain during the summers, they'll get too much water and "mush" out. Make sure to protect them under an overhang or covered porch.
Be sure to bring them back indoors before the 1st cold snap. And, give them a good spraying (water is usually fine) prior to get rid of any pests that may try to hitch a ride into your comfy home.
Why are my succulents leggy?
There are 3 main reasons. Either they're reaching for the light (which means they need more light), it's their growth habit, and/or it happens with age.
How often should I fertilize my succulents?
Succulents aren't needy when it comes to fertilizing.
When I plant or repot my succulents, I add in a little compost and worm compost. They seen to like this natural way of feeding.
I also feed mine 3 times a year with Eleanor's or Liquid Kelp in early spring, early summer, & mid-summer. I'm in a warm, sunny climate (the Arizona desert) so once a year might do it for yours.
Do all succulents bloom?
As far as I know, yes. My Pink Aloe is currently in bloom and my Haworthias bloomed a few months ago. It's not common for them to bloom indoors unless the light levels are to their liking.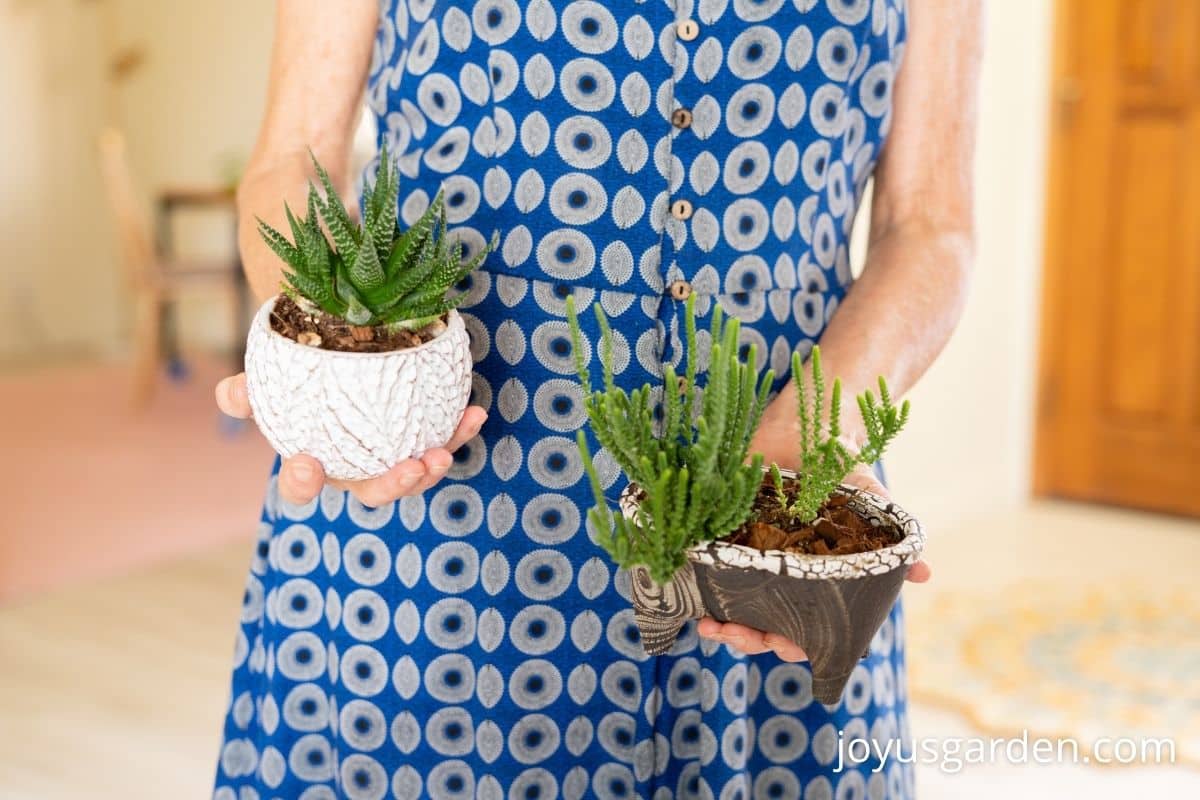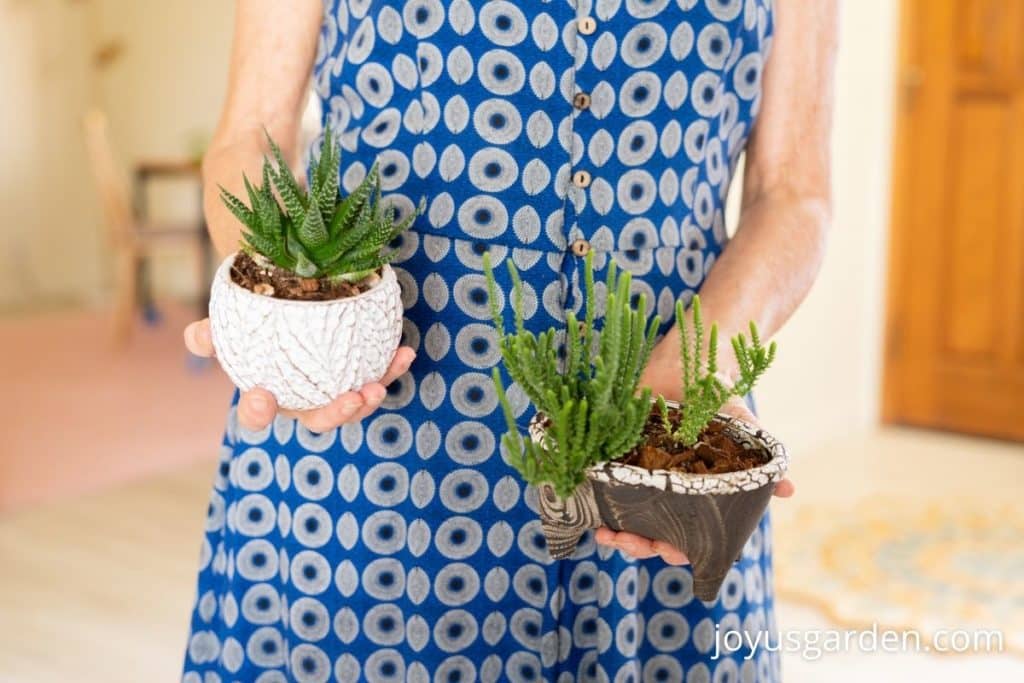 Succulent Pots
What are the best pots for succulents?
I love the look of succulents in terra cotta and ceramic pots. I recommend that the pots have drainage holes to prevent the soil from staying wet.

In terms of size, the smaller the succulent and root ball, the smaller the pot to use.

Here's more on Choosing Succulent Pots
What do you put on the bottom of a succulent pot? What do you put in the bottom of a planter for drainage?
If your pot has enough drainage holes (1 is fine for a small pot) then nothing is needed.
In other cases, you can use something like small rock or clay pebbles to increase the drainage or prevent the roots from touching any water building up in the pot. How deep a layer depends on the size of the pot and the size of the succulent.

Cover the drainage holes with something like 1 layer of newspaper if they're large and/or there are a lot of them. This keeps to keep the light mix from falling out before it settles in.

Do you have a succulent in a pot without drainage holes? Here's what you need to know Succulents in Pots With No Drainage Holes
Do succulents need pots with drainage holes? Can you plant succulents in pots with no holes?
They will grow just fine without drainage holes if with proper care.
I've grown them without drain holes, but for no longer than 3 years.
Succulents do best with good drainage so I'd recommend planting in a pot with them, especially if you're a beginning succulent gardener.
Do succulents need deep pots?
In most cases, no. A deep pot means more soil mass. Too much moisture can lead to root rot.
Exceptions would be a Pencil Cactus or other large Euphorbia will because they grow tall and need a bigger base.
Do succulents do better in small pots?
Small succulents do fine in small pots, especially the slower growing ones.

Here's our full guide on: Planting Succulents In Small Pots
Can succulents grow in shallow pots?
They sure can. Especially the ones that grow slower and stay more compact.

Are you looking to plant a succulent in a shallow container? Here's how to do it Planting Succulents In A Shallow Container
How big does my succulent pot need to be?
It depends on the type and size of the succulent. In general, you go up 1 pot size when planting or repotting.
If the succulent is in a 2″ or 3″ grow pot then a 4″ or 5″ pot is fine.

You'll most likely need to repot your succulents at some point in time as they grow. The growing season of spring and summer is the optimal time to repot.
Do succulents like to be crowded?
Succulents do just fine growing tight in their pots. At some point they'll need to go into a bigger pot (1 size up) or have their soil freshened.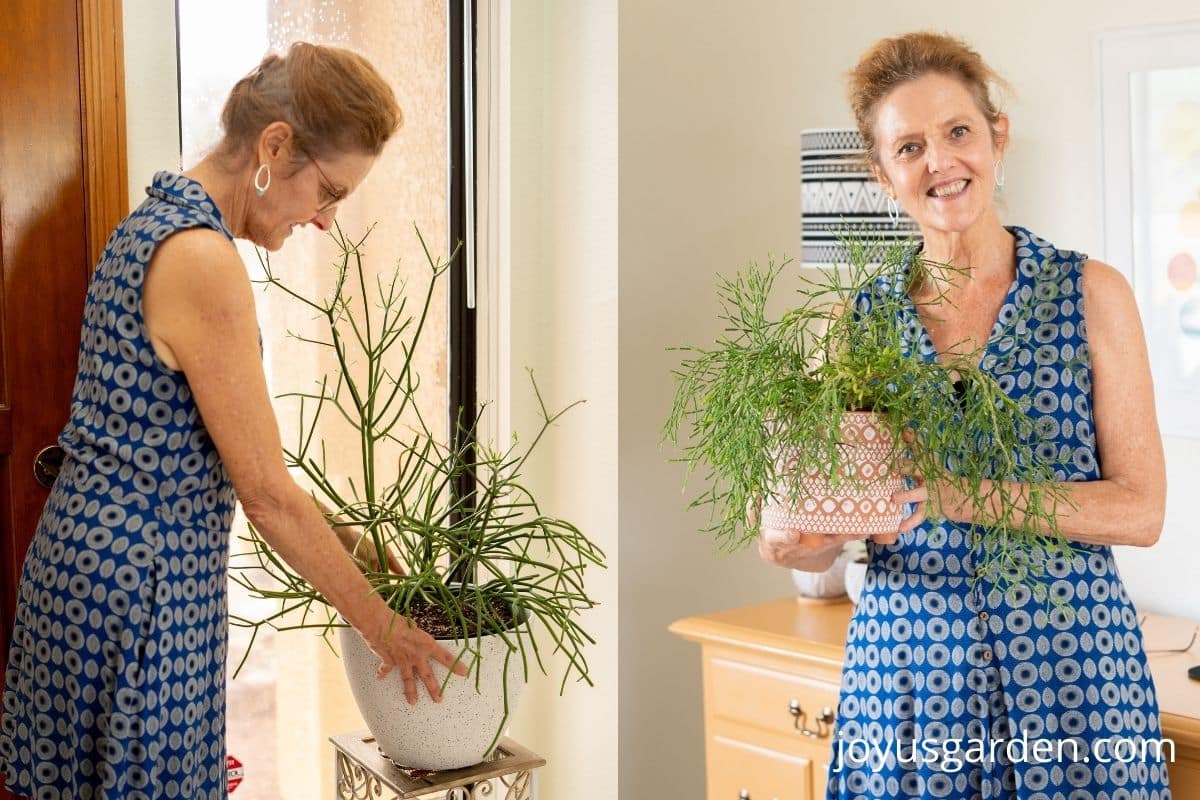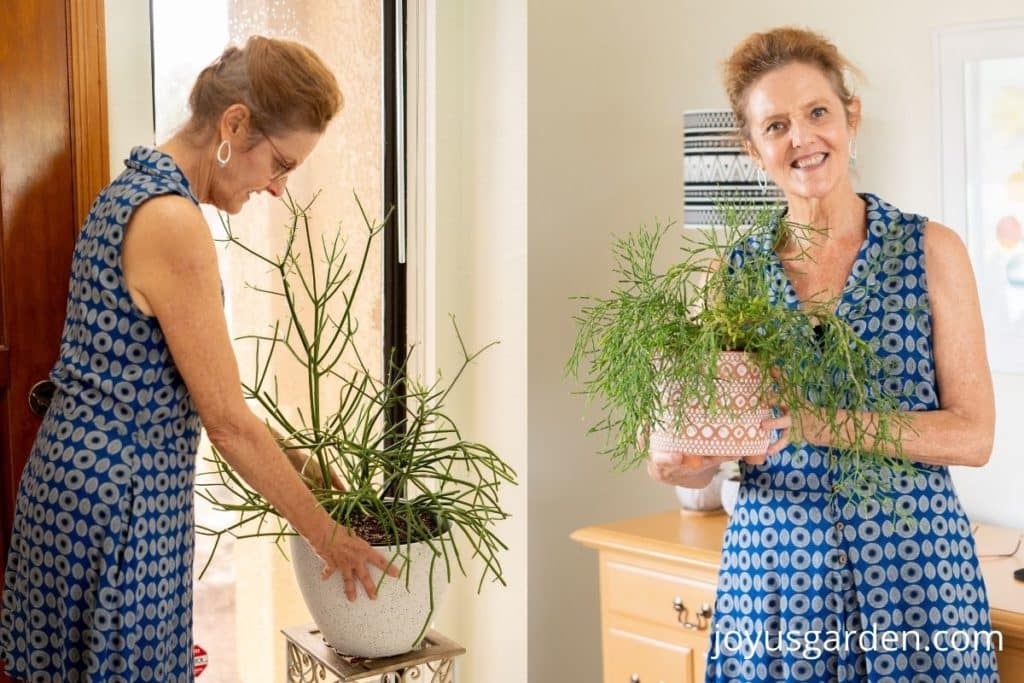 Watering Succulents
How often should indoor succulents be watered?
This is 1 of the most important parts of indoor succulent care. It's hard to answer this question because so many variables come into play.

This guide to Watering Indoor Succulents will make it clearer.

In the cooler, darker winter months be sure to give your succulents less water. They don't need to be watered as frequently at this time of year.
Why are my succulents turning brown?
If the leaves are brown and mushy, it's from too much water. Sunburn is another common cause.
Why are my succulents turning yellow?
They're most likely not getting enough water or not enough sunlight.
Do succulents like to be misted?
No, they don't need it, they are low humidity plants. I keep the leaves of my succulents dry. Use the spray bottle on your humidity loving tropical houseplants!
Is tap water safe?
Unless your tap water is high in minerals, it's fine. Just know that softened water can be problematic over time.
I have a reverse osmosis system in the kitchen of my new home so that what I use.
Should you water your succulents every day?
No way, they'll rot out in a heart beat, if left in soggy soil! Let the soil dry out in between waterings.
In the winter, water even less frequently.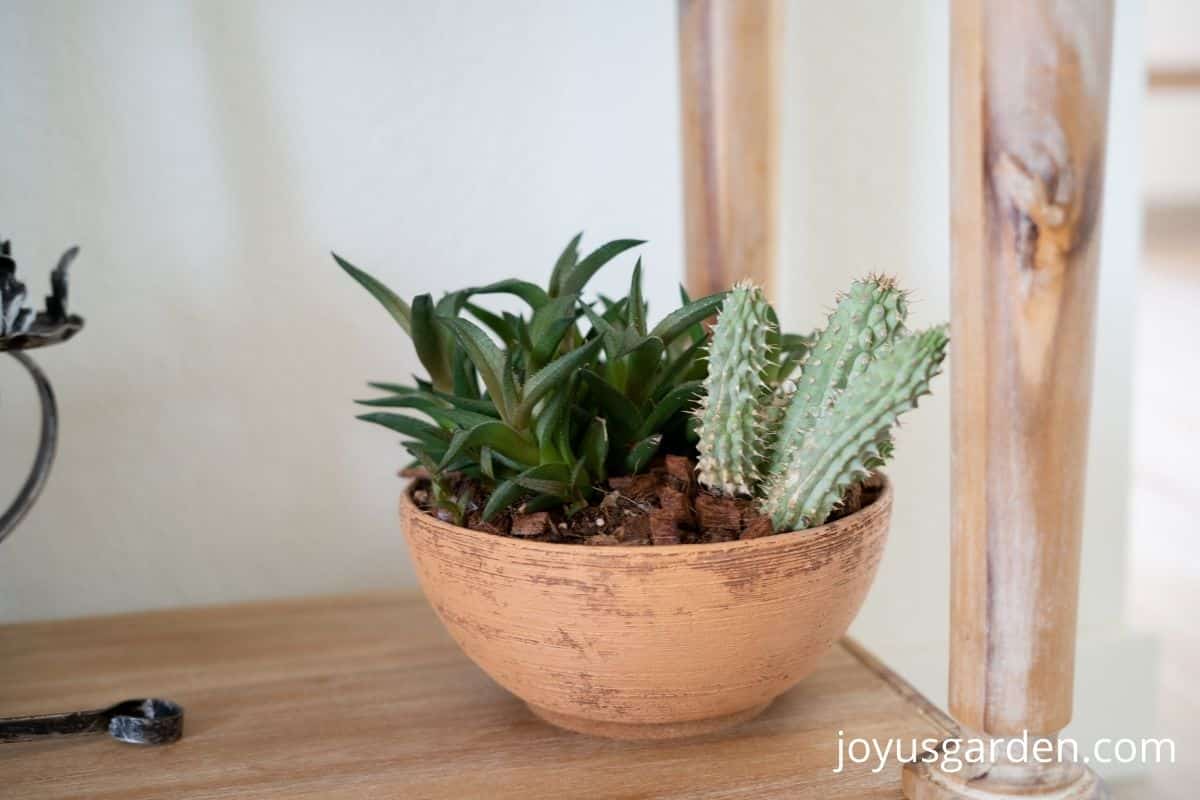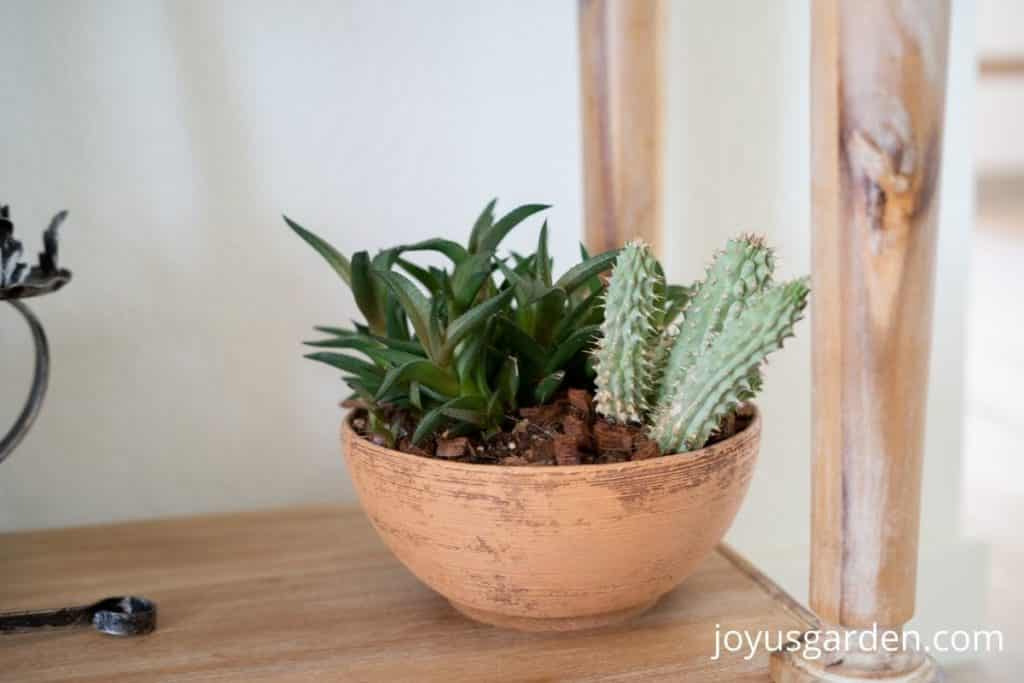 Repotting/Soil
How often do succulents need repotting?
Most have smaller sized root system. Their roots grow more horizontally than vertically and will be fine slightly tight in their pots.
Jade Plants are used as bonsai specimens and grow for a long time in the same pots.
In general, I repot them every 4-5 years.
Do succulents need to be repotted when I bring them home?
I usually don't unless the grow pot is cracked, the soil mix looks old or bad, or I'm planting them in a succulent garden.
When is the best time to repot succulents?
I repot my succulents, and other plants, in spring and summer. Sometimes into early fall because I'm in a warm climate (Tucson, AZ).

Should I repot my succulent?
Succulents can grow slightly tight in their pots. At some point, yours will need repotting as it's a part of indoor succulent care.
Reasons for repotting include: for a soil mix refresh, the roots are so crowded the plant is showing stress or it's unable to uptake water, the succulent is out of scale with the pot, or it has fallen.
Can you repot winter succulents in winter?
It's not the optimum time. I avoid repotting my succulents in winter unless they really needs it.
Can you use regular potting soil for succulents?
You can but I don't recommend it. Most potting soils are on the heavier side. Succulents prefer a light potting mix that is well drained and well aerated.

I use a mix that is formulated for fleshy succulents and cacti. Here's the DIY recipe in case you're interested.
If you only have 2 or 3 succulents and limited storage space, then potting soil with added pumice or perlite to lighten it up is fine.

Check out the soil mix recipe we use! This Succulent Soil mix is well aerated and fast draining.
What is the best soil for succulents?
One that is light, well aerated, and drains well. You want all the excess water to drain out.
I make a chunky mix that my succulents, growing both indoors and outdoors, grow well in.
Succulent Mix Recipe.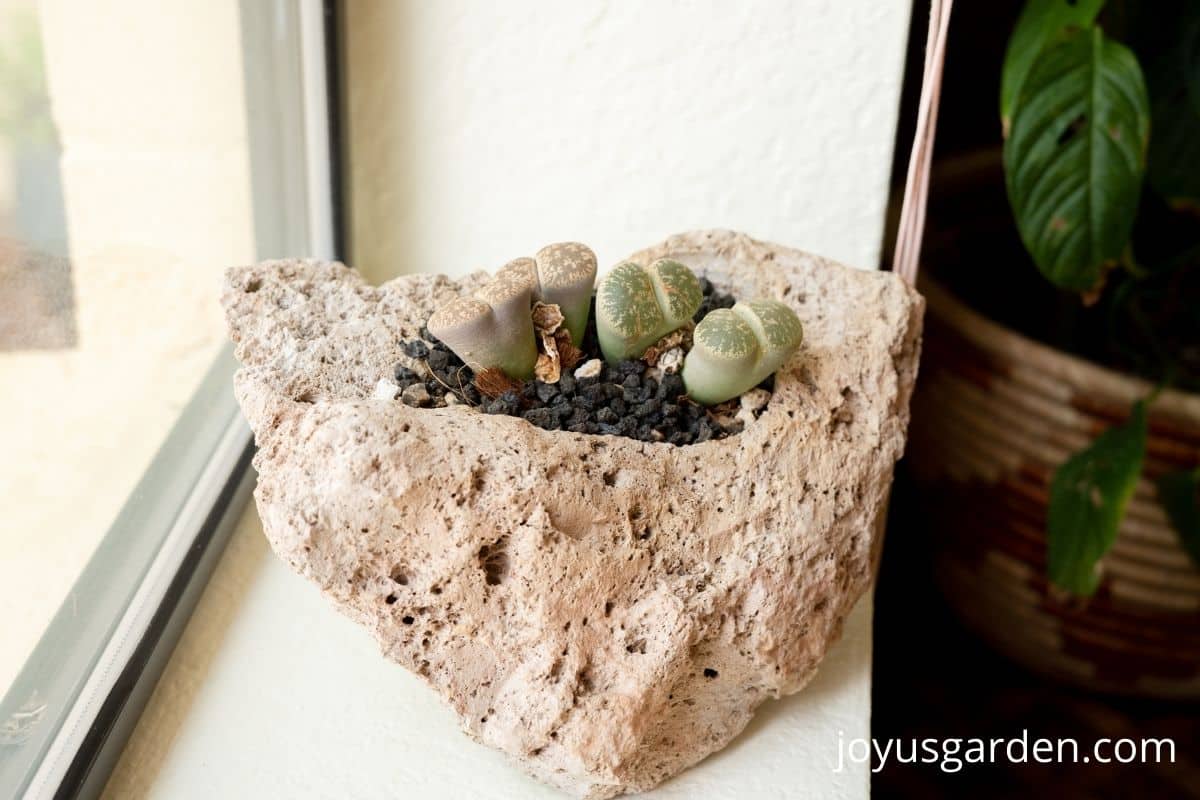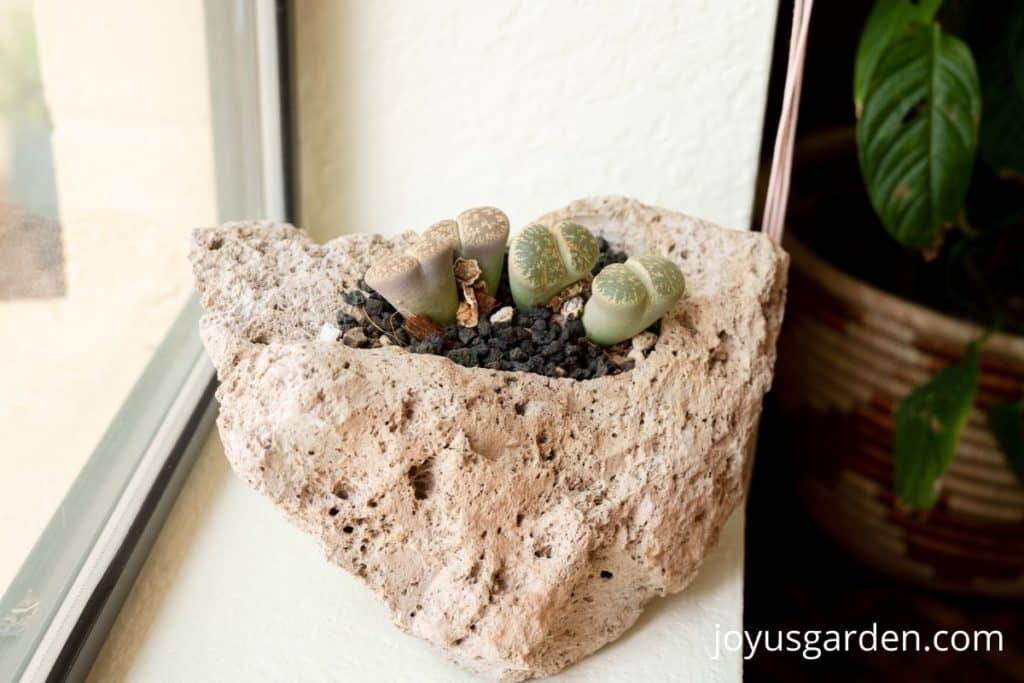 Propagation
What is the fastest way to propagate succulents?
By division. Via stem cuttings is next. Leaf cuttings and seeds are the slowest.

The more the merrier, here's a helpful guide on Propagating Succulents
When is the best time to propagate succulents?
Just like repotting, spring and summer are the best times. If you're in a climate with warmer winters, early fall is fine too.
Should I pull dead leaves off my succulents?
A few brown or dead lower leaves are normal. I either break or cut them off.
Dead leaves ruin the look of my precise succulents!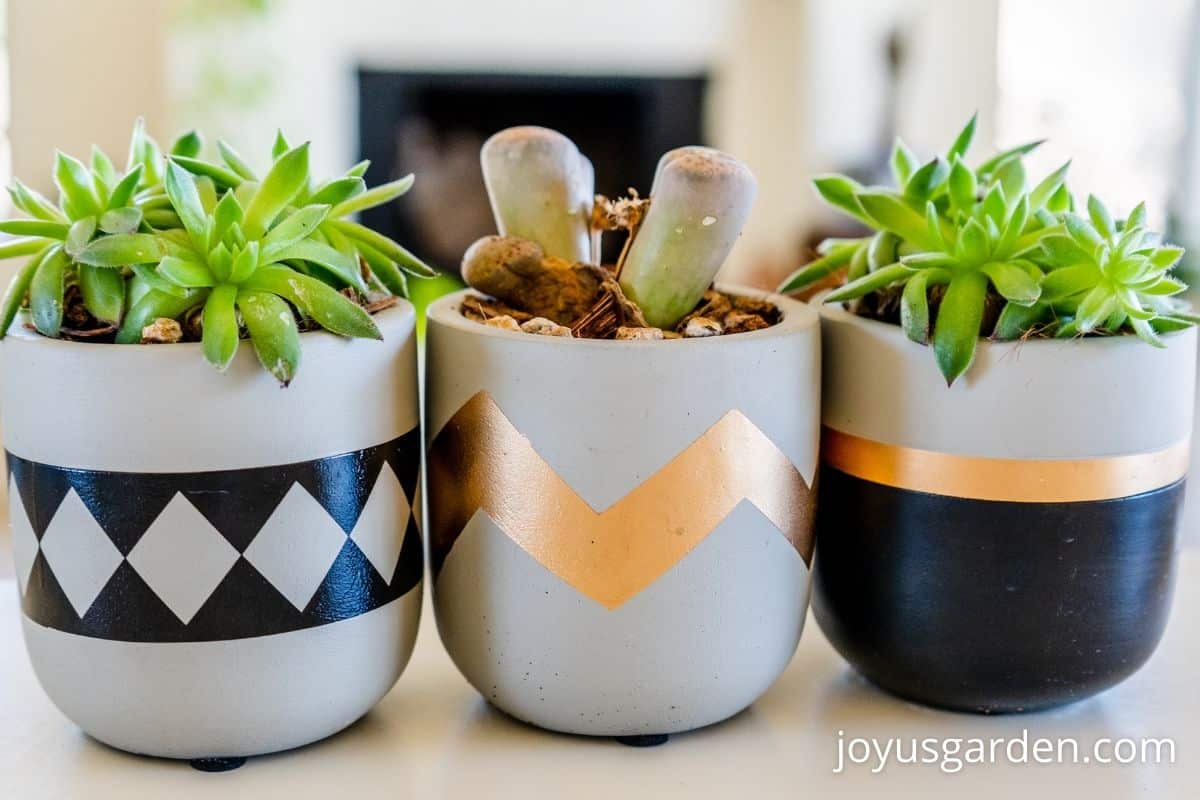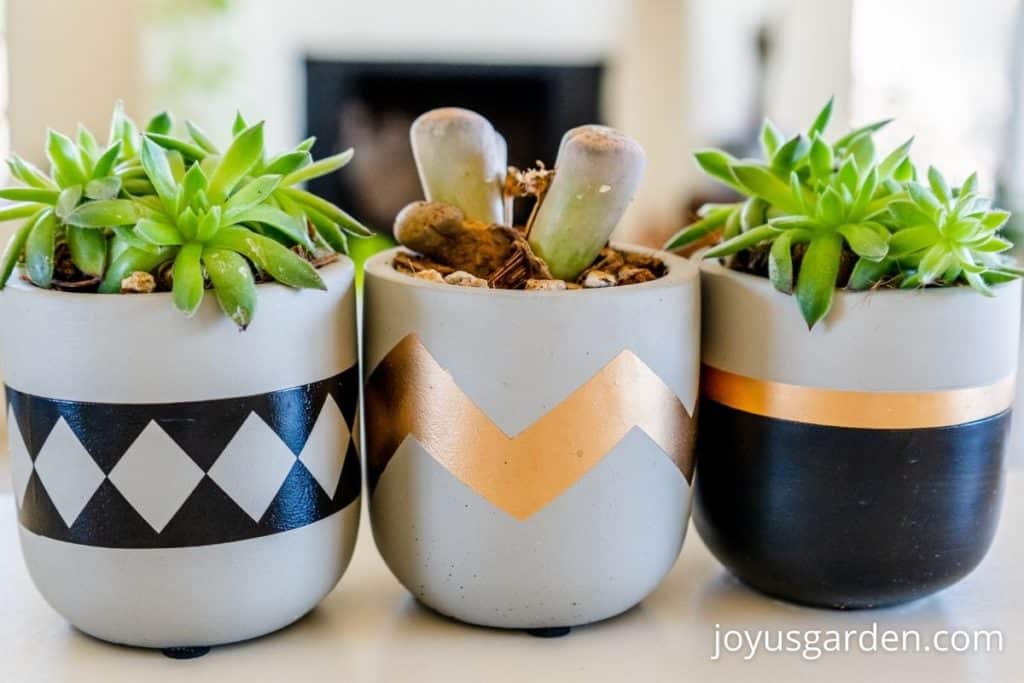 Exposure
How much light do succulents need?
They do best in natural, bright light – a moderate to high light exposure.
Some succulents do well in indirect light and lower light conditions, not low light or no light!
Can a succulent get too much sun?
Yes. Their fleshy leaves, stems, and roots are full water. They'll burn in hot direct sun, especially if in a window that gets much sunlight. Full sun is fine, as long as it's indirect sunlight.
Can Jade Plants be grown in low light?
No, Jade Plants need high light. Variegated Jades need a little less light and can be grown indoors in moderate light.
Can Aloe Vera live in low light?
They can live in low light for a short period of time only. They do much better and will actually grow in moderate to high light.
Are succulents good in low light?
No. There are succulents that tolerate lower light conditions indoors but no low light.
They'll probably look okay for 3-6 months. If growing for the long haul, they need bright, natural light.
How do I know if my succulents need more light?
The leaves will turn pale, they'll look stunted, and/or they'll be leaning towards the light source.
I hope this answered your questions about growing succulents and indoor succulent care. They're low maintenance and easy to keep alive if you have them in enough light and let them dry out between waterings.
Happy gardening,

Want to learn more about succulents indoors? Check out these guides!
This post may contain affiliate links. You can read our policies here. Your cost for the products will be no higher but Joy Us garden receives a small commission. Thank you for helping us spread the word & make the world a more beautiful place!
About the Author
Latest Posts
Nell, the founder of Joy Us garden, was born into a gardening family and grew up in Connecticut's countryside. After living in Boston, New York, San Francisco, & Santa Barbara, she now calls the Arizona desert home. She studied horticulture & garden design, working in the field all her life. Nell is a gardener, designer, blogger, Youtube creator, & author. She's been gardening for a very long time & wants to share what she's learned with you.