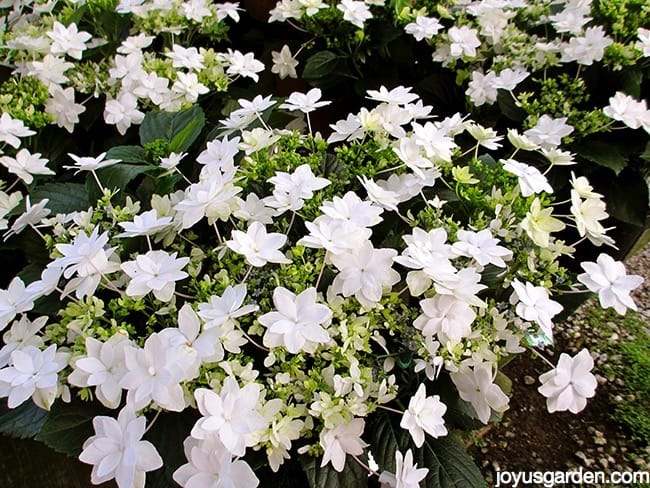 Looking to decorate your home with something other than Poinsettias for the holidays? Here's a list of Christmas plants and flowers.
I happen to like Poinsettias. Their big, showy colored leaves always put a big smile on my face during the holiday season.
But I know for a fact that many people don't want to have anything to do with them, much less have them in their homes at Christmas time. The good news is, there are other choices.
Christmas Plants and Flowers
Do you not like Poinsettias? I have you covered with 13 flowering plant alternatives to the quintessential blooming plant for Christmas.
You'll find a wide range of plants, most of which come in a wide range of colors.
You should be able to find festive flowers at your local florist, garden center, supermarket, or big-box stores like Home Depot, Target, or Lowes.
If not, then check online from all the many sources and order yourself some blooming holiday cheer.
1. Cyclamen
Cyclamen flowers tend to open slowly but the foliage is so lovely and interesting.
2. Christmas Cactus
I remember these distinctly from my childhood and they're still very popular. Christmas Cactus makes a long-lasting houseplant and will bloom again for you next year.
3. Phalaenopsis Orchid
Phalaenopsis Orchids are a lovely choice, as their flowers are on tall stalks and tend to be long-lasting. Cymbidium Orchids are another choice if you can find them.
4. Azaleas
I worked for a florist/event company in San Francisco for 5 years. They sent out a lot of white and red azaleas during the Christmas season.
5. Guzmanias (Bromeliads)
Bromeliads give you much more of a modern feel but a word of warning, cats love to chew on them!
6. Neoregelias (Bromeliads)
Also modern in feel and much lower than their relatives above. These are pretty as an underplanting.
7. Kalanchoes
Kalanchoes have lots of colorful blooms which cover the plants, & because they're succulents, they can take the wintertime dry air in our homes.
8. Begonias
These are Rieger Begonias which are oh so floriferous. Be careful not to overwater them or mist their leaves because they're susceptible to mildew.
9. Hydrangeas
The white as well as the green Hydrangeas were popular with some of my clients in the San Francisco Bay Area. For big blooms, they're hard to beat.
10. Anthuriums
Anthuriums, with their glossy green leaves & shine flowers, really give you a tropical feel. There's a deep red variety which is very eye-catching.
11. Paperwhite Narcissus
Paperwhites are often sold as bulbs which you plant yourself, usually in pebbles, rocks or glass chips. It takes anywhere from 3 to 5 weeks after planting for them to bloom. They can also be planted in soil.
12. Amaryllis
Amaryllis are another popular seasonal bulb & have large, beautiful trumpet-shaped flowers. They bloom within 6-8 weeks of planting & although traditionally seen growing in soil, can also be started in pebbles, rocks or glass chips too.
13. Mixed Gardens
The blooming plants I've mentioned above can all be used in mixed gardens. Although this 1 pictured isn't a holiday garden, I'm sure you can just imagine a cyclamen, azalea & begonia in here to create some living holiday cheer.
I just hand to sneak this 1 in here. If you have other eye-catching blooming plants in the pot, like these Cymbidium Orchids, the Poinsettias are not the star of the show.
In case you're reading this & you do like the Christmas Flower, I've done a video & post with 6 Poinsettia Care Tips for you.
No matter what beautiful Christmas plants you choose, I wish a wonderful, colorful, and joyous holiday season!
Cheers,

Here are a few DIY ideas to get you in a festive mood:
This post may contain Amazon affiliate links. You can read our policies here. Your cost for the products will be no higher but Joy Us garden receives a small commission. Thank you for helping us spread the word & make the world a more beautiful place!