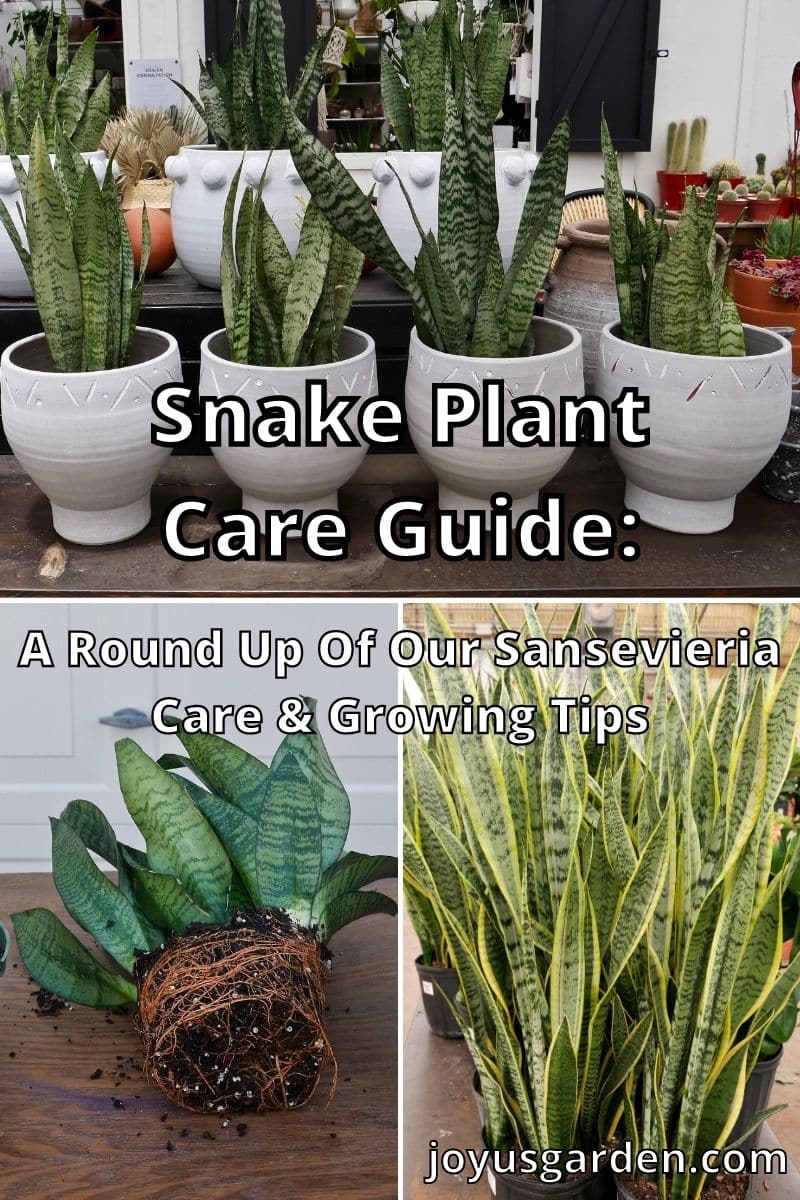 Snake plants, which you may know as Sansevierias or Mother-in-Law's Tongue, have become very popular in the houseplant community. These are one of the best beginner's houseplants for anyone who can't keep their own plants alive. Use this go-to Snake Plant Sansevieria care guide whenever you need tips about growing, repotting, and propagating.
When it comes to durable plants, Snake Plants are at the top of the list. They can grow indoors or outdoors (in the right climate), in your living room, or on a balcony, and they can thrive in just about any environment. The notoriously dry air in our homes doesn't seem to bother them at all!
Some Of Our General Houseplant Guides For Your Reference:
Snake Plant Care Guide
In general, Snake Plants are low maintenance, easy to grow, and a perfect choice for beginners. Below is a round-up of posts showing you ways to care for and grow a Sansevieria. It's at all hard to do but there are a few key points to know. Snake Plants come in a variety of leaf forms, colors, and variegations. I have 7 of them in my home and appreciate the fact that they can handle the dry air in my home here in Tucson like champs. Plus, unlike my myriad of tropical houseplants, they require just the occasional watering.
Snake plants work fabulously as houseplants. In fact, they're one of the easiest ones to manage and keep alive. You'll love how simple it is to grow and care for Sansevieria. Hint: go easy on the watering.
We commonly get questions on social media on how to care for snake plants. This guide answers the 10 most frequently asked questions we get about caring for Snake Plants.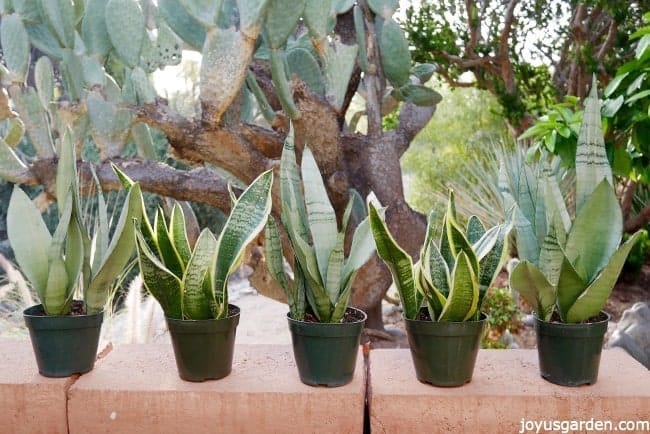 After you've grown Snake Plants for a while, you can obtain even more through propagation. There are a few ways to propagate plants and Sansevierias are no different. Over the years, I've found division to be the best and easiest method.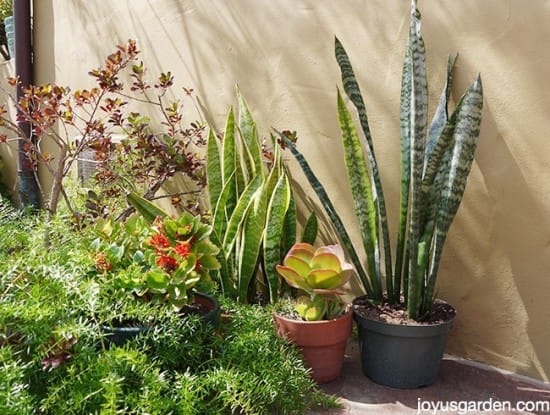 I tend to propagate by leaf cuttings more often than division. This method takes time but it isn't hard to do. Once the leaf cuttings have been planted, they're on the way and there's not much to do.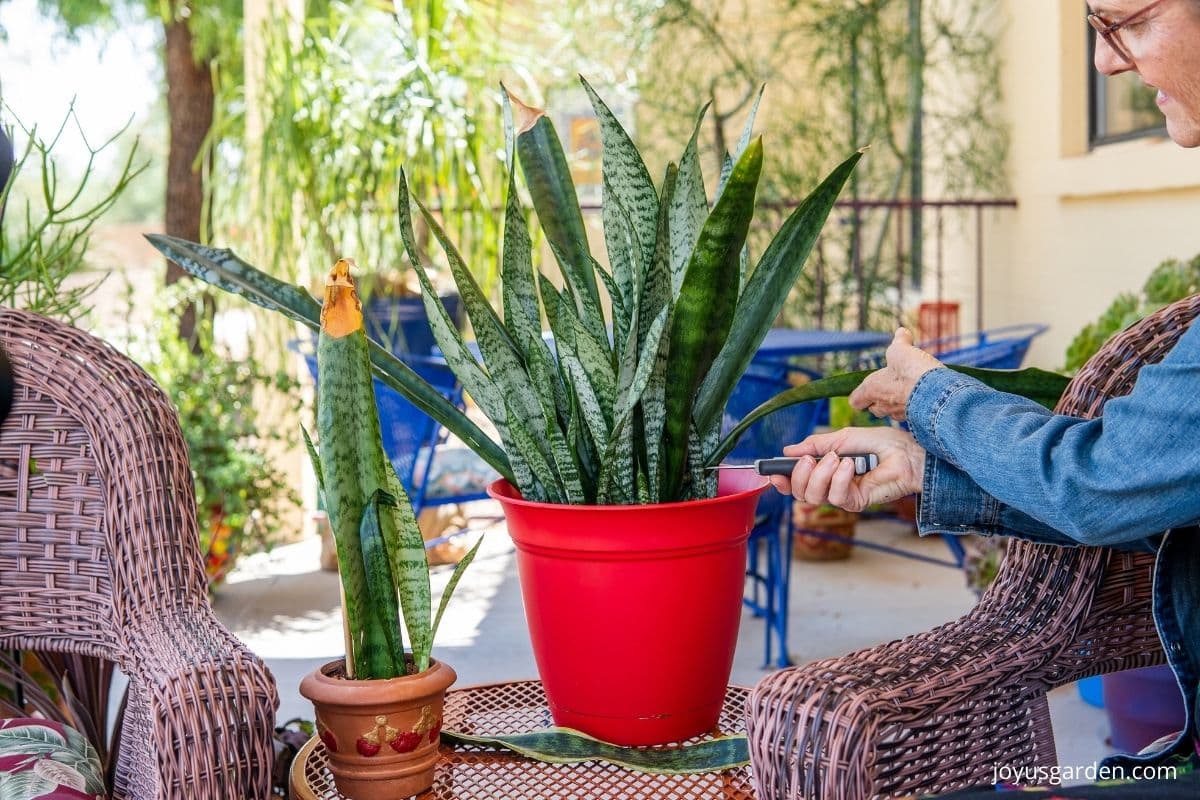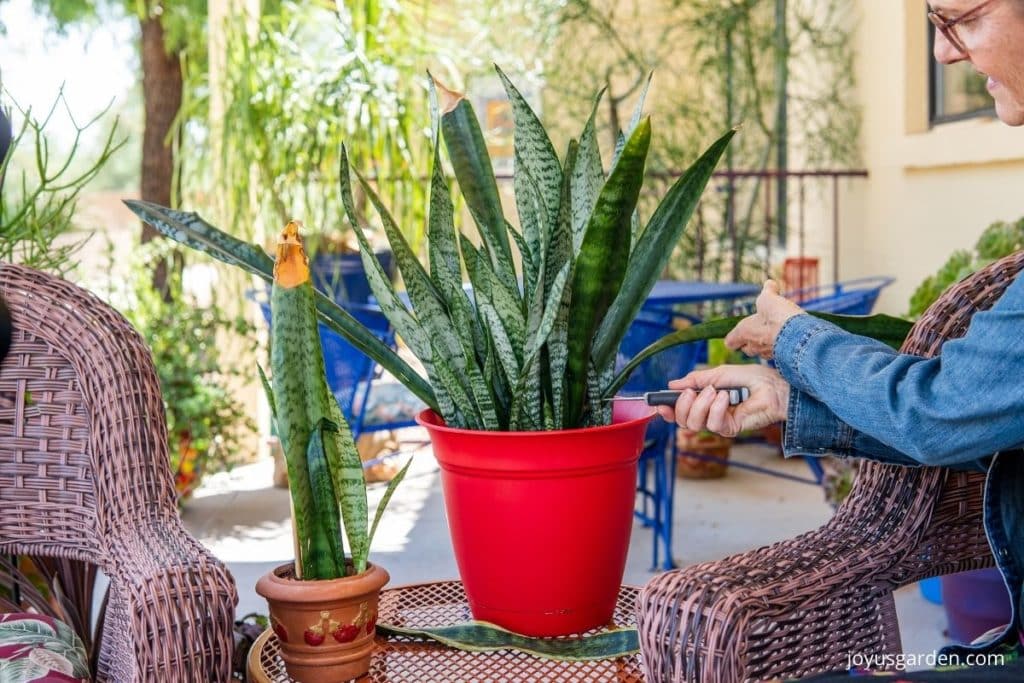 Over the years, you may need to move your plants into a different pot as the roots grow. When I repot my Snake Plants, I use a special planting mix. You can learn more about how I repot the plant with its roots intact into a new pot. Hint: Sansevierias like to grow a bit tight in their pots so don't rush to repot them.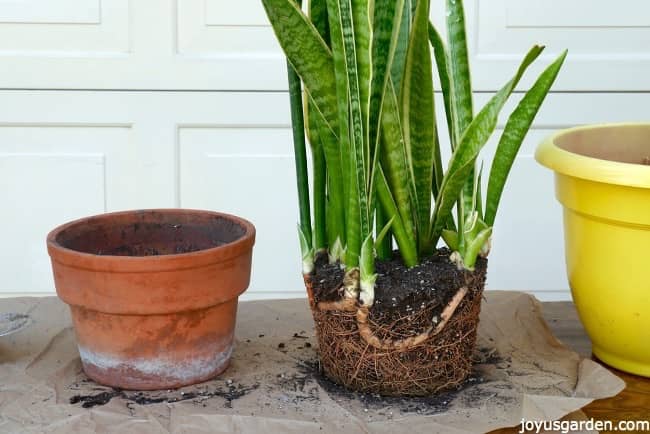 From time to time you may find your Snake plant leaves falling over. This is especially true with the taller growing varieties. I'll explain to you what causes it and how I've fixed it when it's happened to my Snake Plants.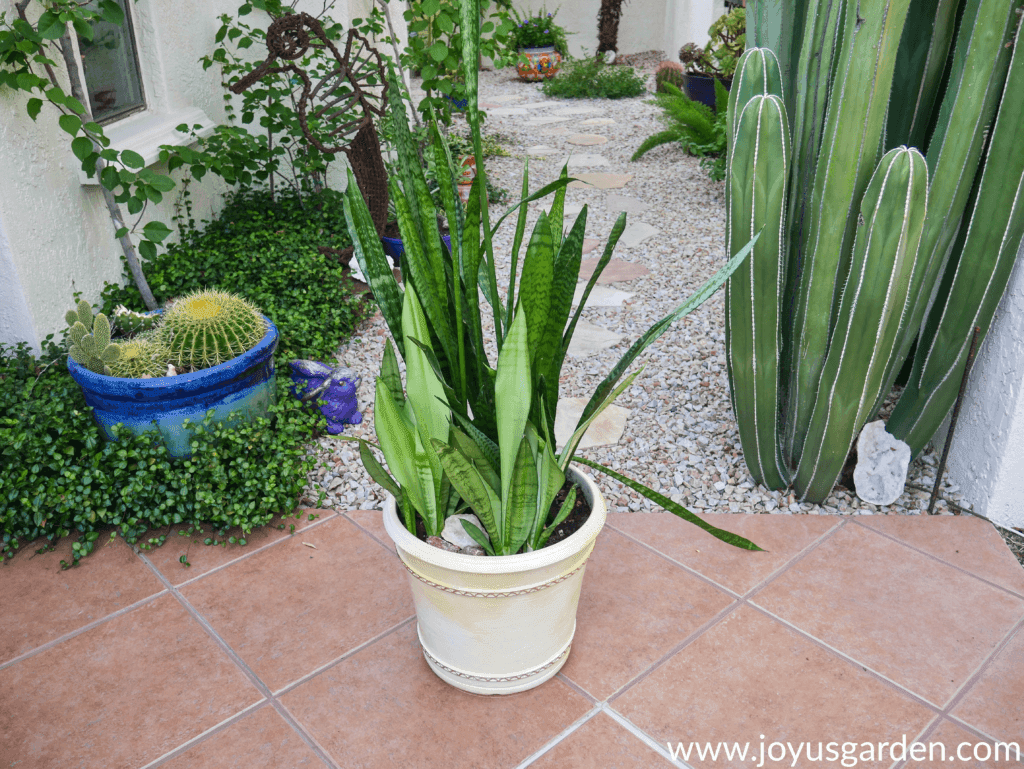 Bird's Nest Sansevieiras are as cute as can be. See how to repot a Sansevieria Hahnii including the soil mix to use and the steps to take.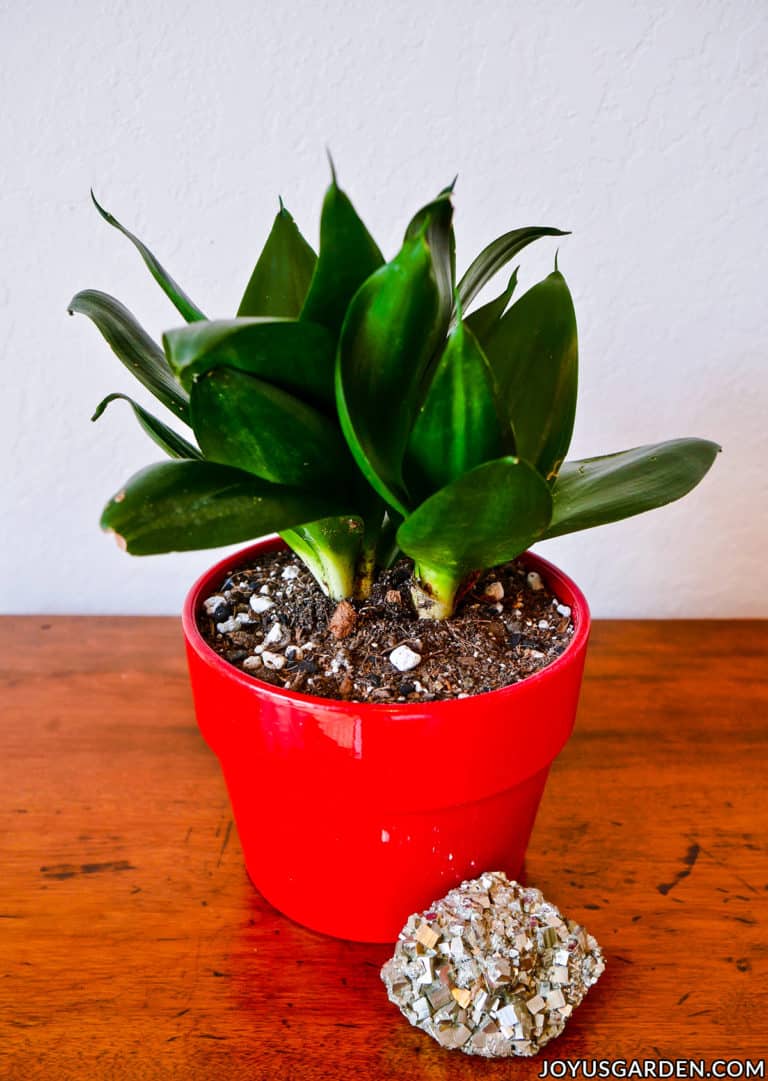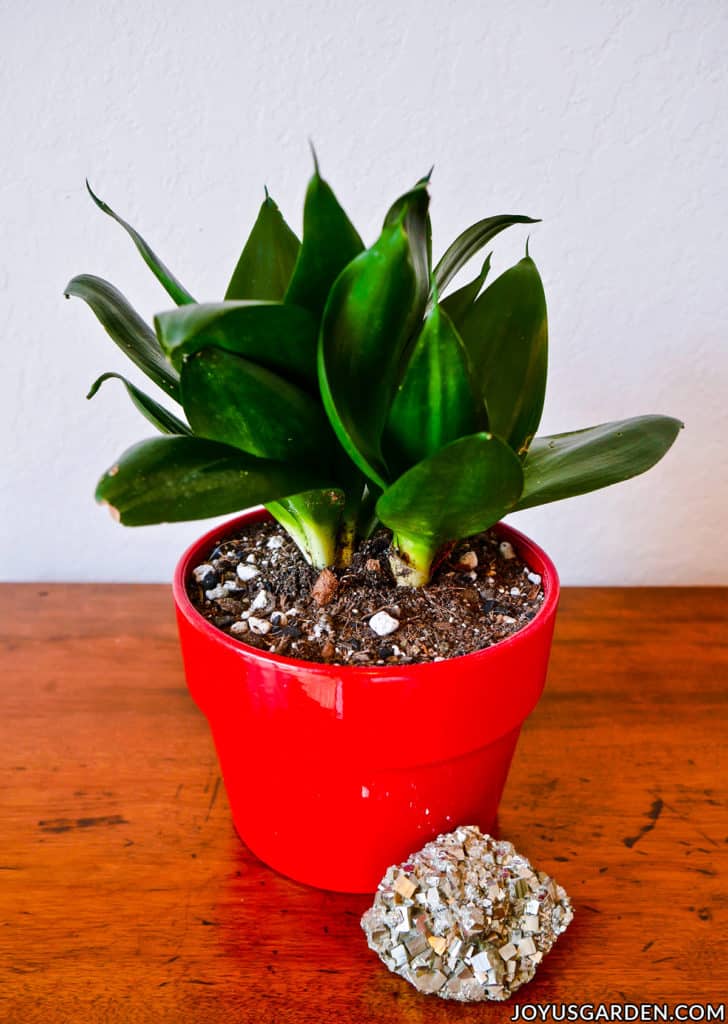 Sansevierias can grow well in small plants which is good news! There are all sorts of adorable small pots out there that can decorate an office desk or coffee table.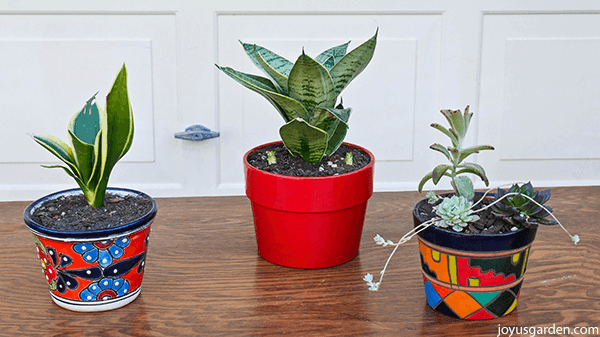 Did you enjoy this Snake Plant (Sansevieria) care guide? Learn more about these plants too!
This post may contain affiliate links. You can read our policies here. Your cost for the products will be no higher but Joy Us garden receives a small commission. Thank you for helping us spread the word & make the world a more beautiful place!
About the Author
Latest Posts
Nell, the founder of Joy Us garden, was born into a gardening family and grew up in Connecticut's countryside. After living in Boston, New York, San Francisco, & Santa Barbara, she now calls the Arizona desert home. She studied horticulture & garden design, working in the field all her life. Nell is a gardener, designer, blogger, Youtube creator, & author. She's been gardening for a very long time & wants to share what she's learned with you.