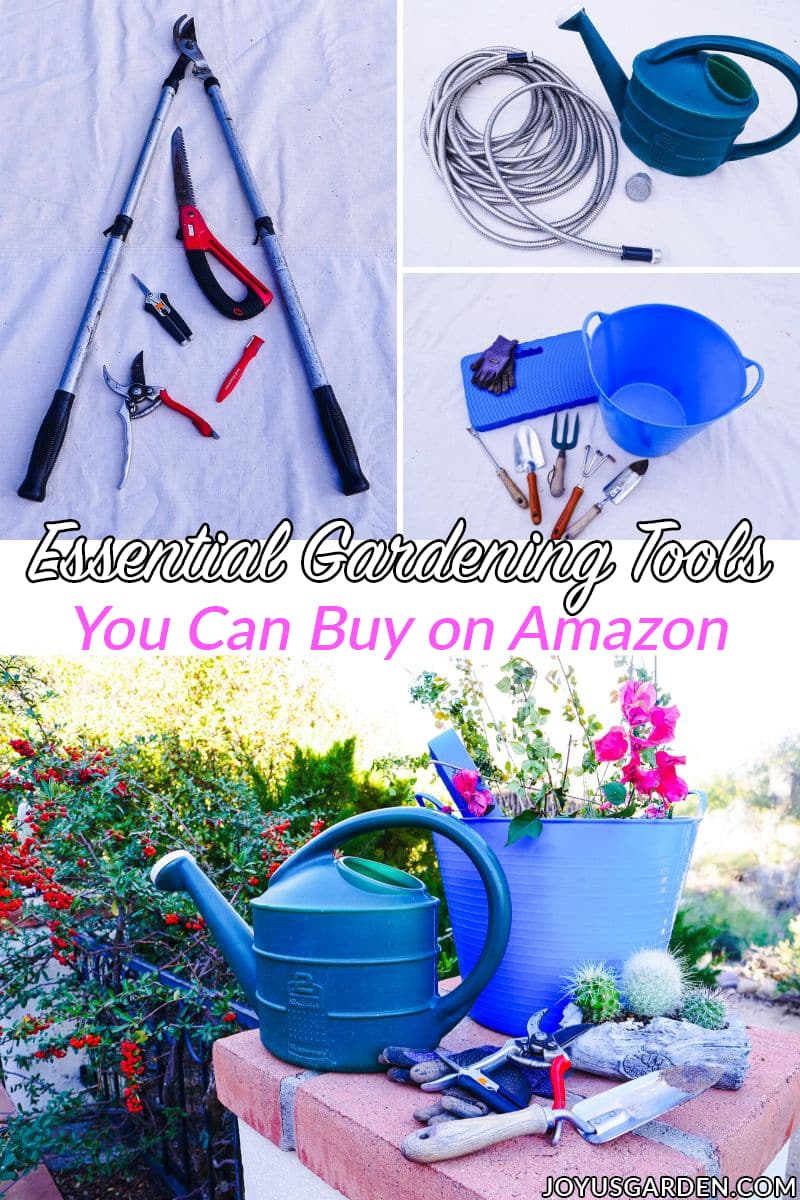 You need the right tool for the job! Gardening is no different. Here are the best gardening tools I use which you can buy on Amazon.
"The best investment is in the tools of one's own trade." Benjamin Franklin, who penned that quote, certainly knew what he was talking about. And of course, this applies to working (or playing!) in the garden.
The Best Gardening Tools for Beginner's
I'll begin by saying that I didn't buy the majority of these tools on Amazon. For me, almost nothing comes close to a trip to the garden center or nursery—it makes me downright giddy. Most were bought in California and are ages old.
I was a professional gardener/garden designer in San Francisco (I used a lot of different gardening tools!) and brought them with me to Santa Barbara to use in my own garden. Many were given away but I brought the essentials with me when I moved to Arizona a few years ago.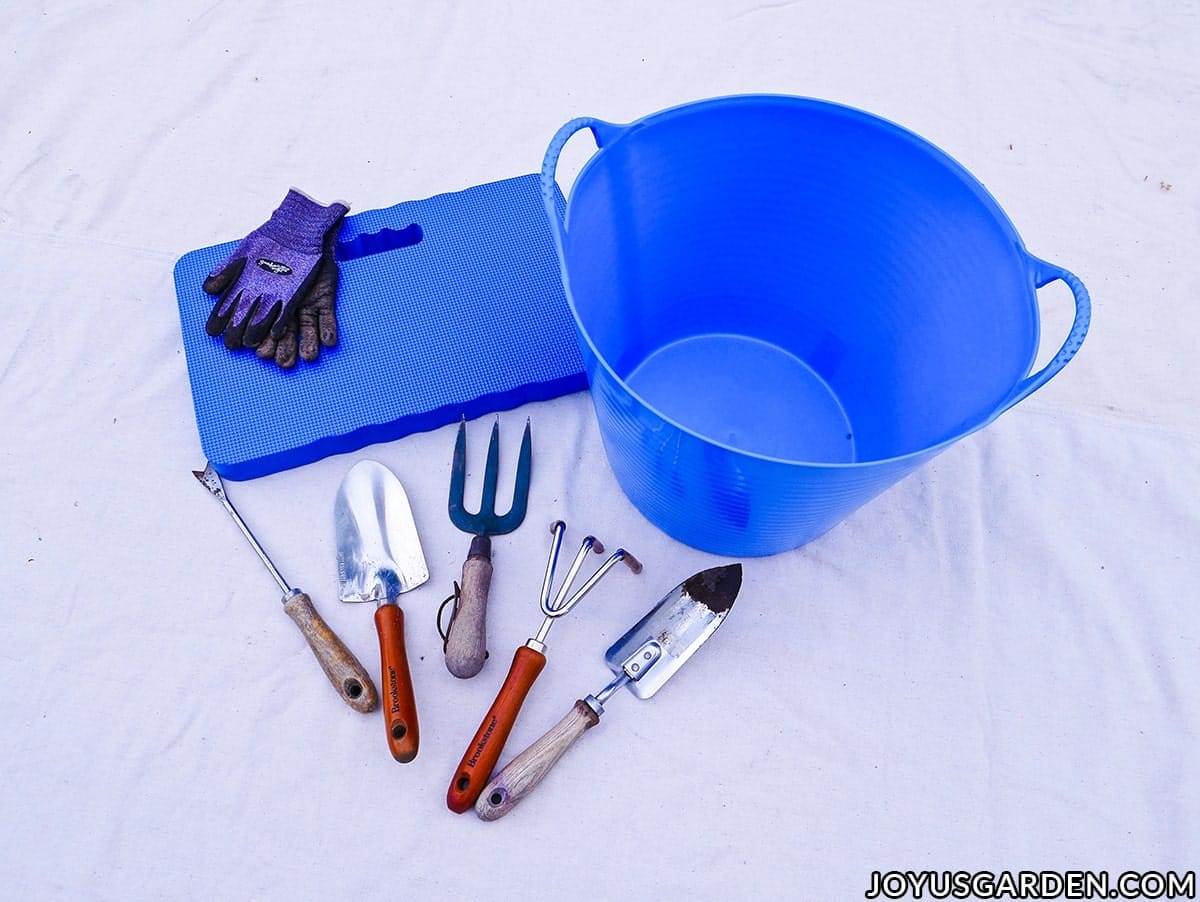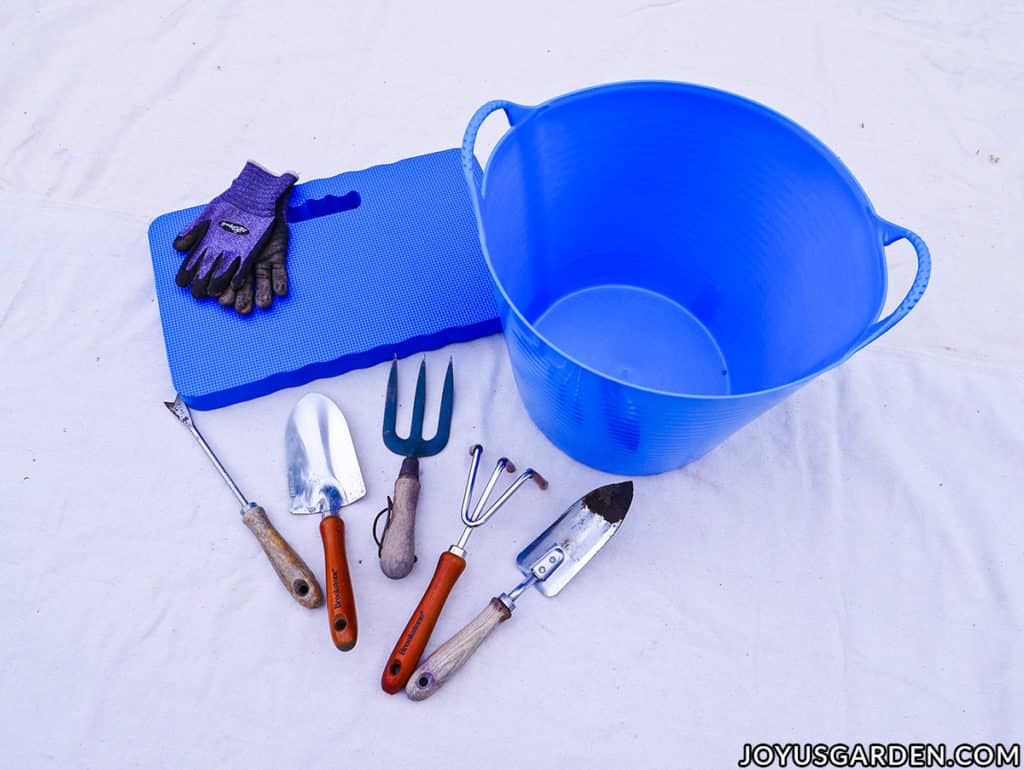 Now that I live in Tucson, my garden is smaller with way fewer plants. I wanted to share my essential gardening tools with you because spring is on the way. And if you're new to this wonderful passion/past time/hobby, I hope you find these suggestions to be helpful.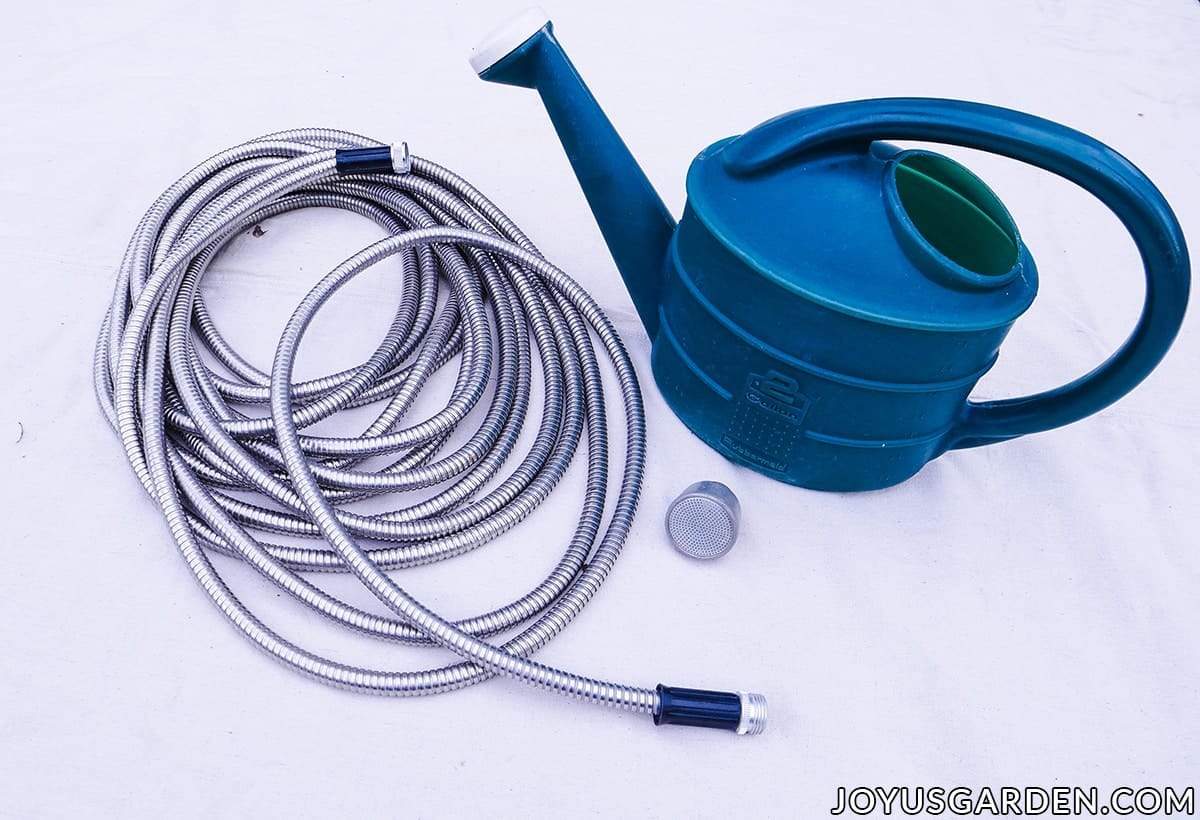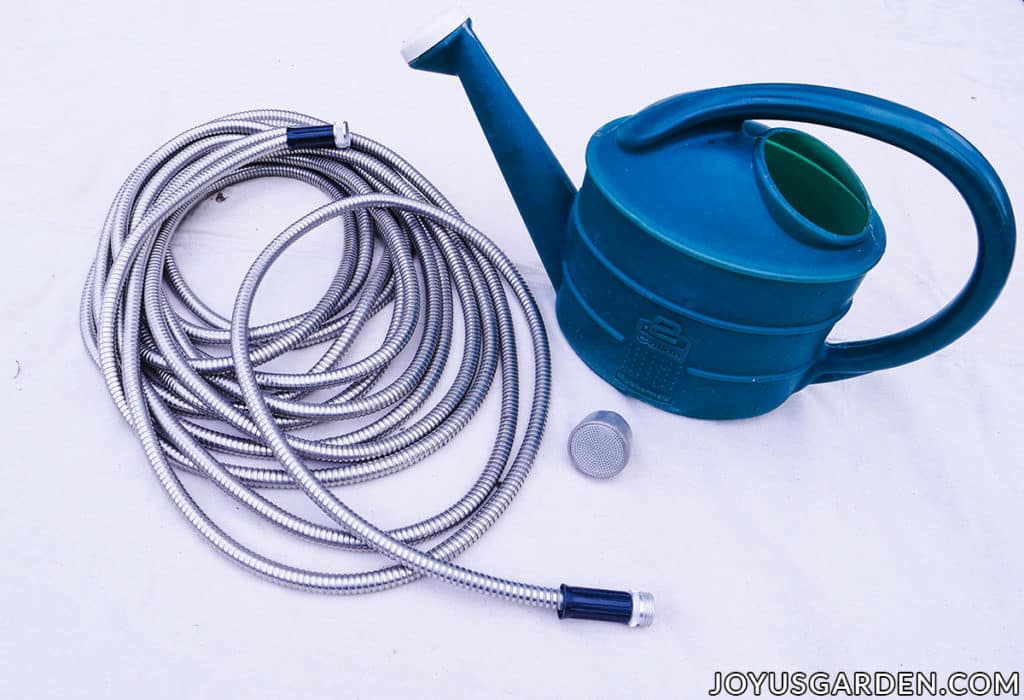 Good tools, when properly cleaned and stored, will last a very long time. I buy the majority of what I use (food, plants, soils, amendments, etc) locally, but Amazon sure is convenient. If you live in an area without garden centers, big box stores and hardware stores, this will help you out.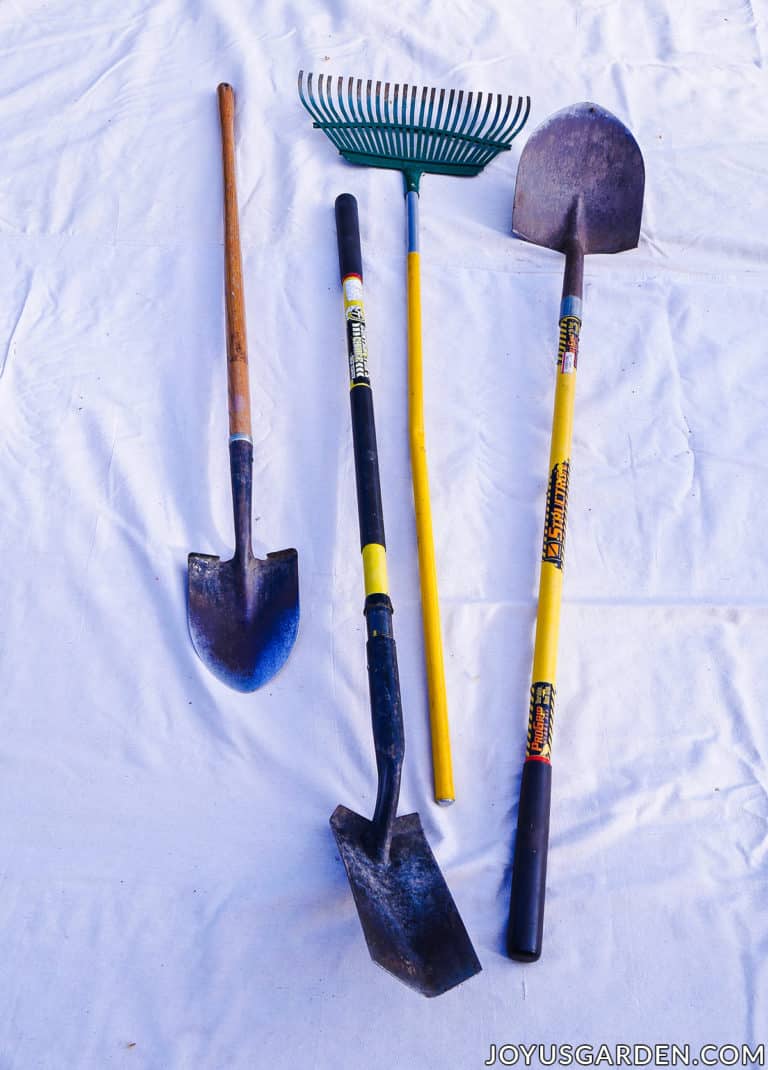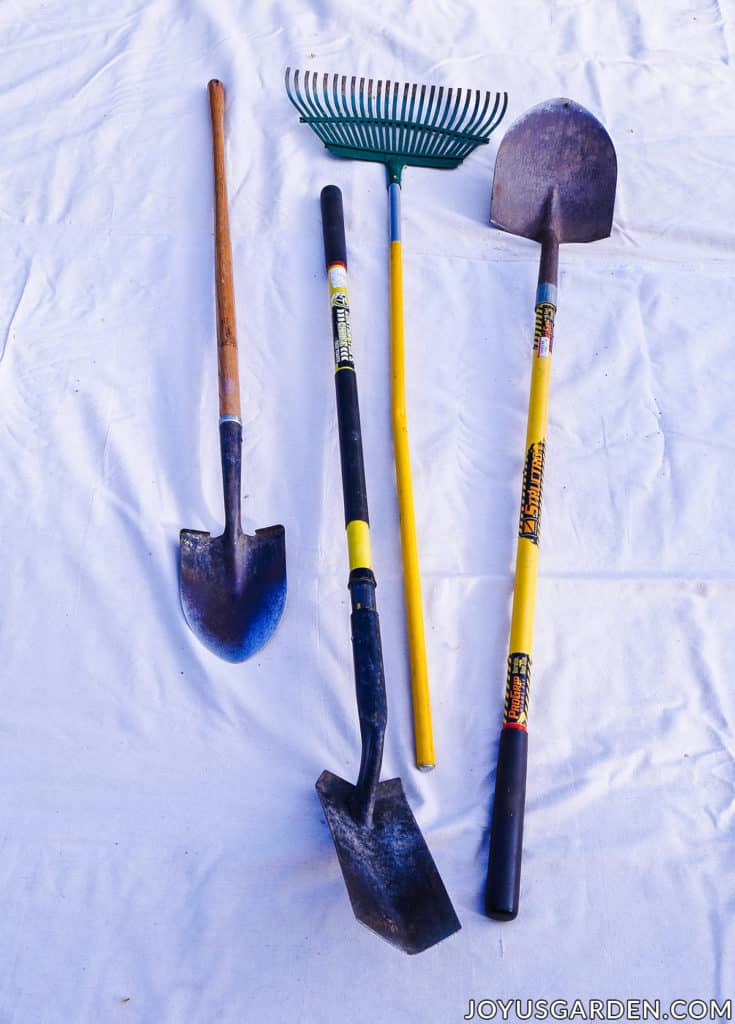 I've had some of these tools so long that the model has been discontinued or the brand has gone bye-bye. These tools are the ones I'd repurchase again, or if I had to buy them on Amazon, would be the replacements.
My Essential Gardening Tools List
The first 5 are the tools I use for gardening the most.
I flippin' adore these! They're the gold standard for professional gardeners. I bought these at Berkeley Horticultural Nursery in 1997. They're now 23 years old and still going strong!
All the parts are replaceable but I haven't had to replace any. I could replace the plastic coating for the handles but just haven't gotten around to it.
This is another pruning tool I use on the regular. It's great for snipping finer stems like herbs, flowers & succulents. Mine is an older model and these you see here are the updated version.


Clean, sharp pruners are a must. This tool is so lightweight and easy for me to use. I have my pruning tools professionally sharpened every year or 2, depending on the use. This handy little tool fills in just fine in between.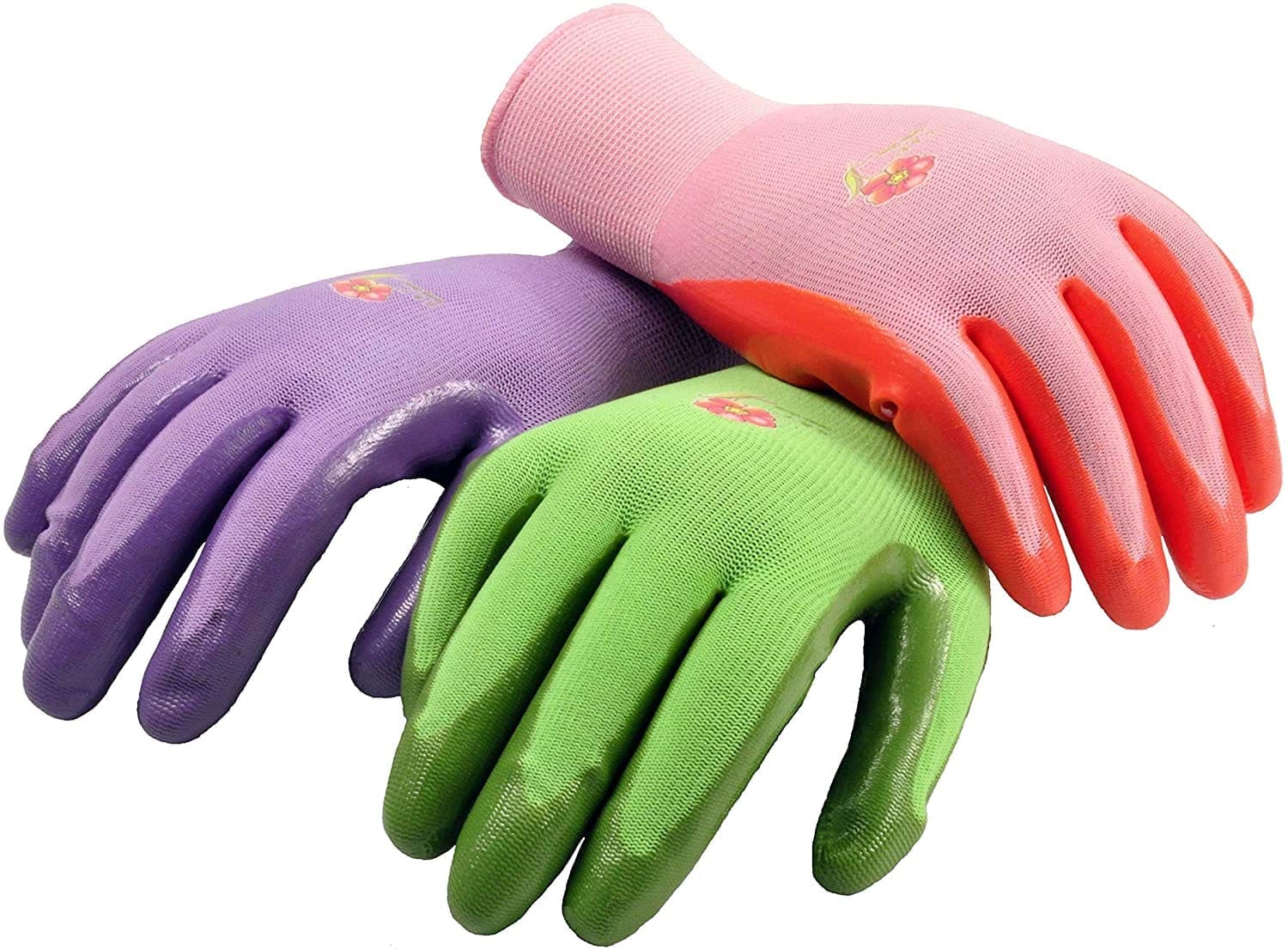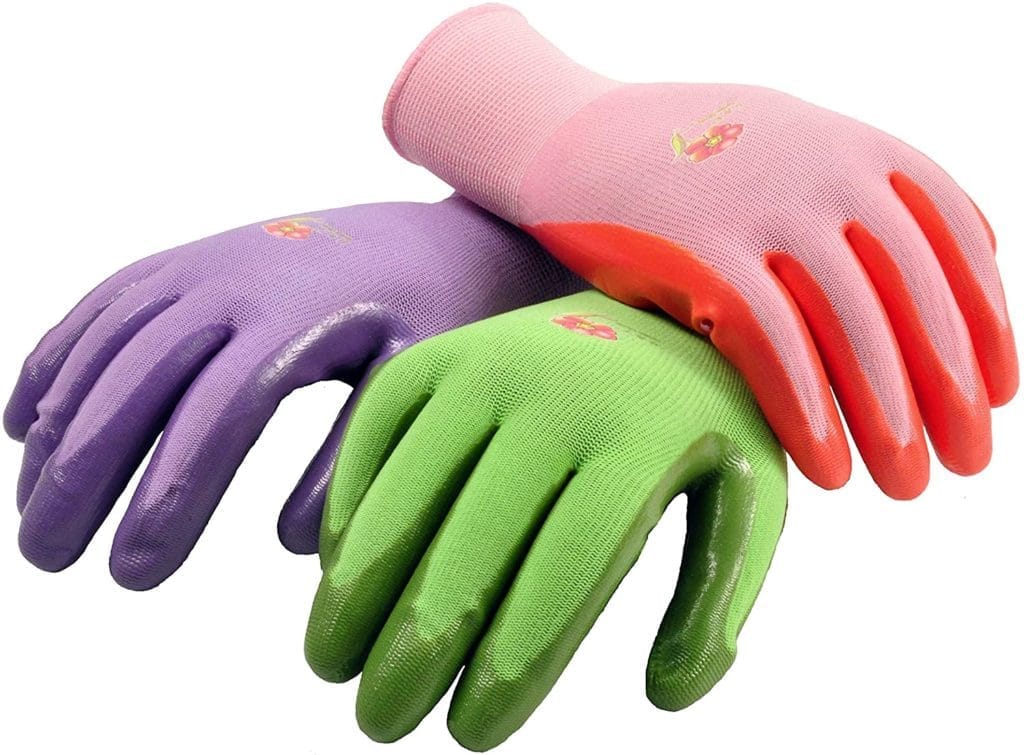 Now, you could say that these aren't a tool but because I use them so much, I say they are. I love these because like other knit gardening gloves, they're lightweight and allow for ease of hand movement.
The bottoms are coated with PVC which provides extra strength. I've also used these gloves which are very similar to the ones pictured.
When I was a professional gardener, I would send clippings flying all over the place. Now that I'm a home gardener, I like to keep my mess as contained as possible. This is great for collecting all your trimmings and weeds.
You can also use it for hauling around small plants, harvesting produce, or mixing up blends like this DIY Succulent & Cactus Mix. I also use it when I'm composting instead of hauling a 40 lb. bag around. They come in a variety of shapes, sizes and jazzy colors.
I had a smaller, thinner kneeling pad for years but it blew away in the middle of an extremely windy night along with the Tub Trug. Both this and the Tub Trug I purchased not too long ago on Amazon.
Let's face it, knees are boney and I like to protect mine when weeding, planting, pruning, and/or composting. This 1 is extra big and thick yet very light and easy to carry around.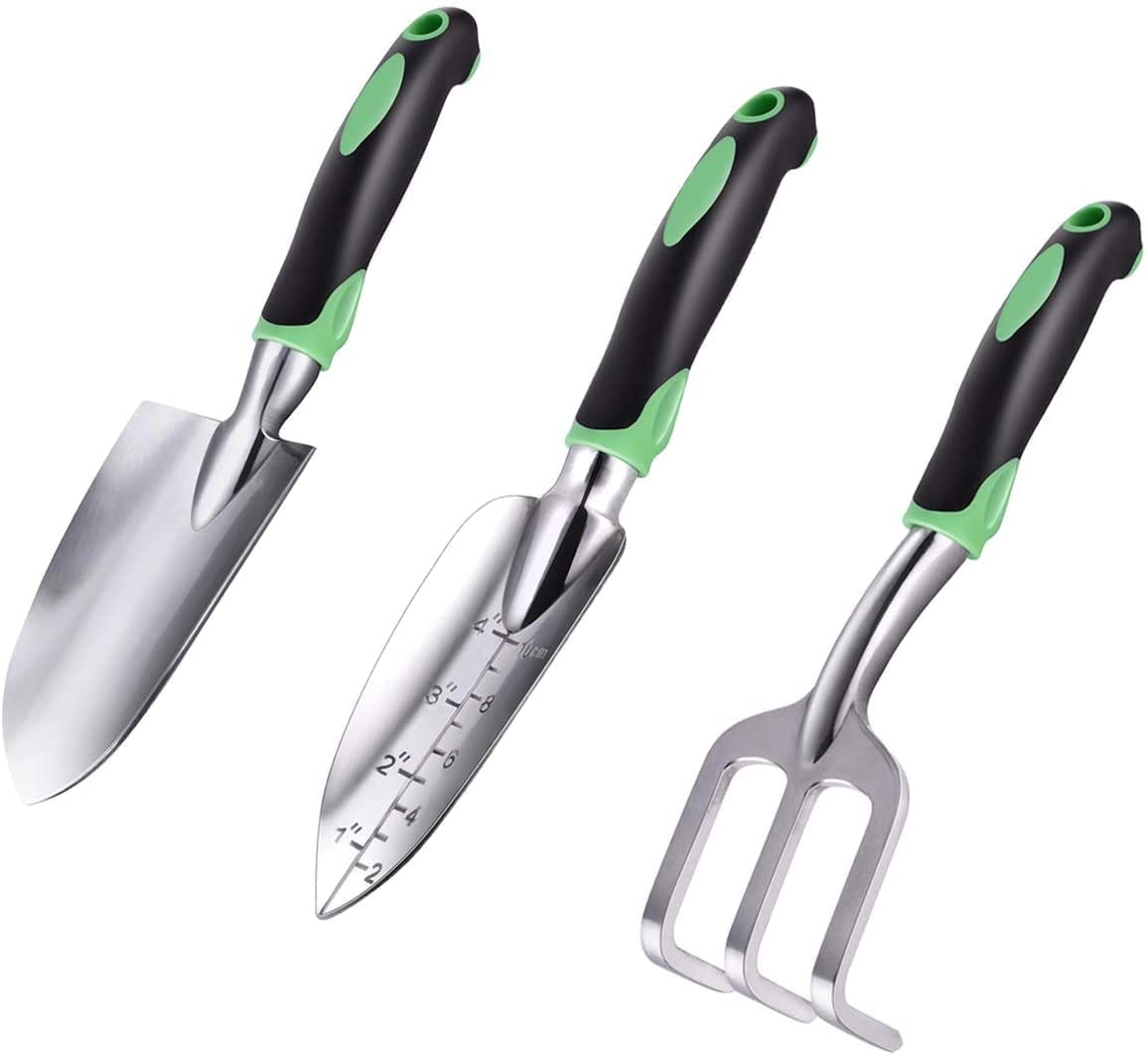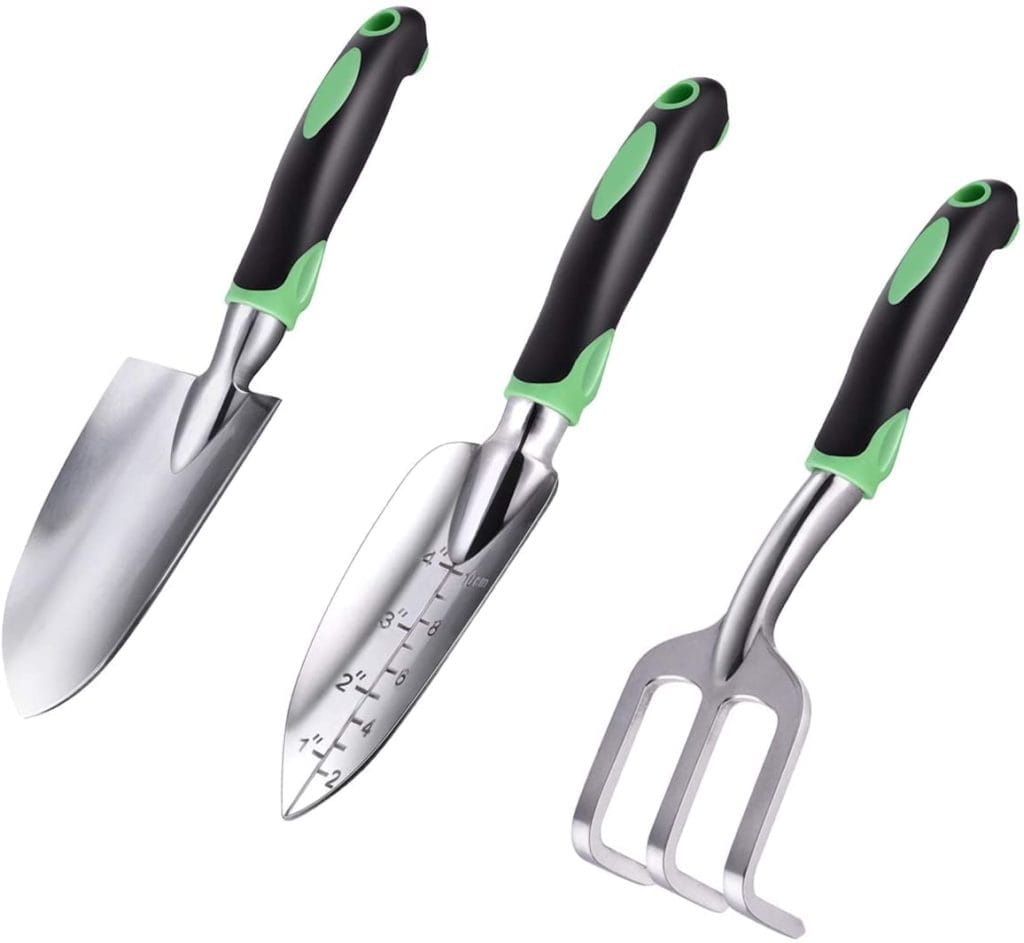 These are great for all kinds of gardening, especially in containers. Even if your garden is on a deck or balcony, you'll find these to be quite useful.
My various hand tools are pieced together from various sets but I like the 1 above because it has a narrow pointed trowel (which I use often!) and a weeding fork. This toolset, also with soft ergonomic handles, is another option.

My loppers are so old and have been used so much that the brand name has worn off. I bought them at Orchard Supply Hardware so I believe they are their brand. These are a necessity if you have trees and shrubs on your property as they cut right through those larger branches.
Mine have telescopic handles (meaning they extend) which I find quite handy. You can find loppers with different types and sizes of blades depending on what your needs are. The 1 up above is a good basic model and cuts branches up to 1.5″ in diameter.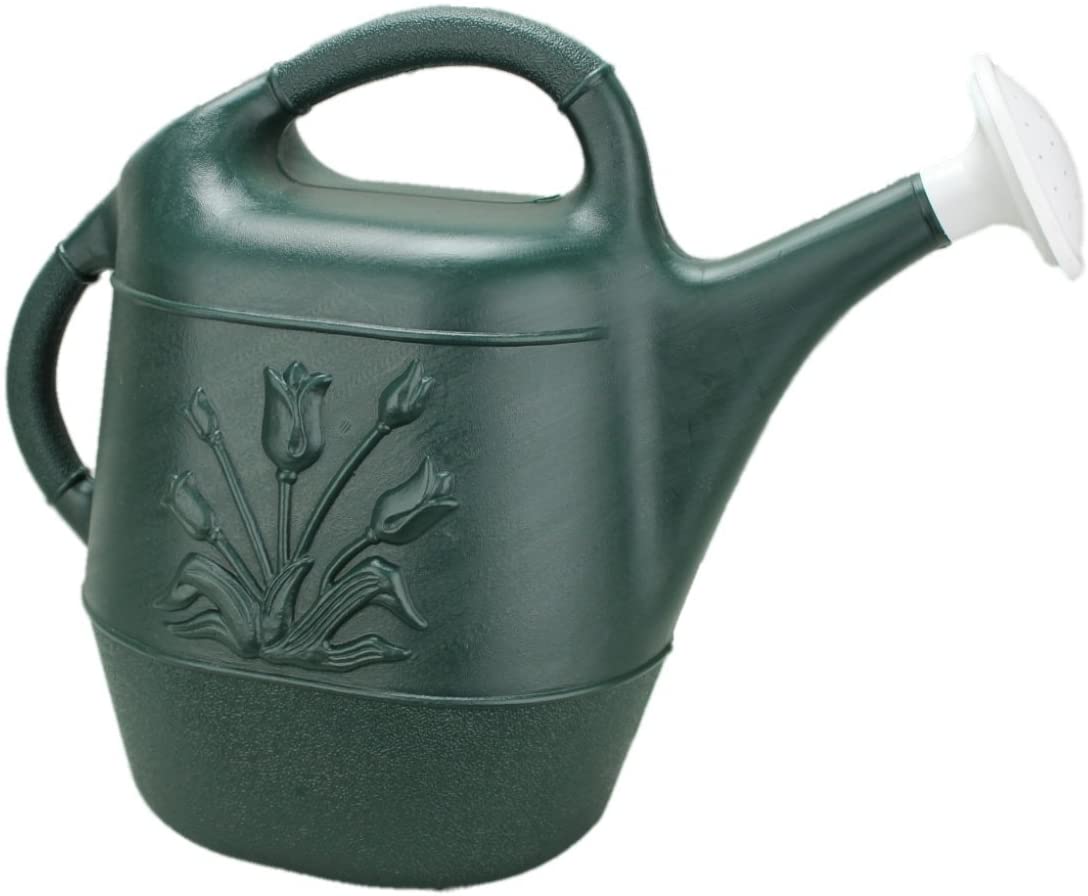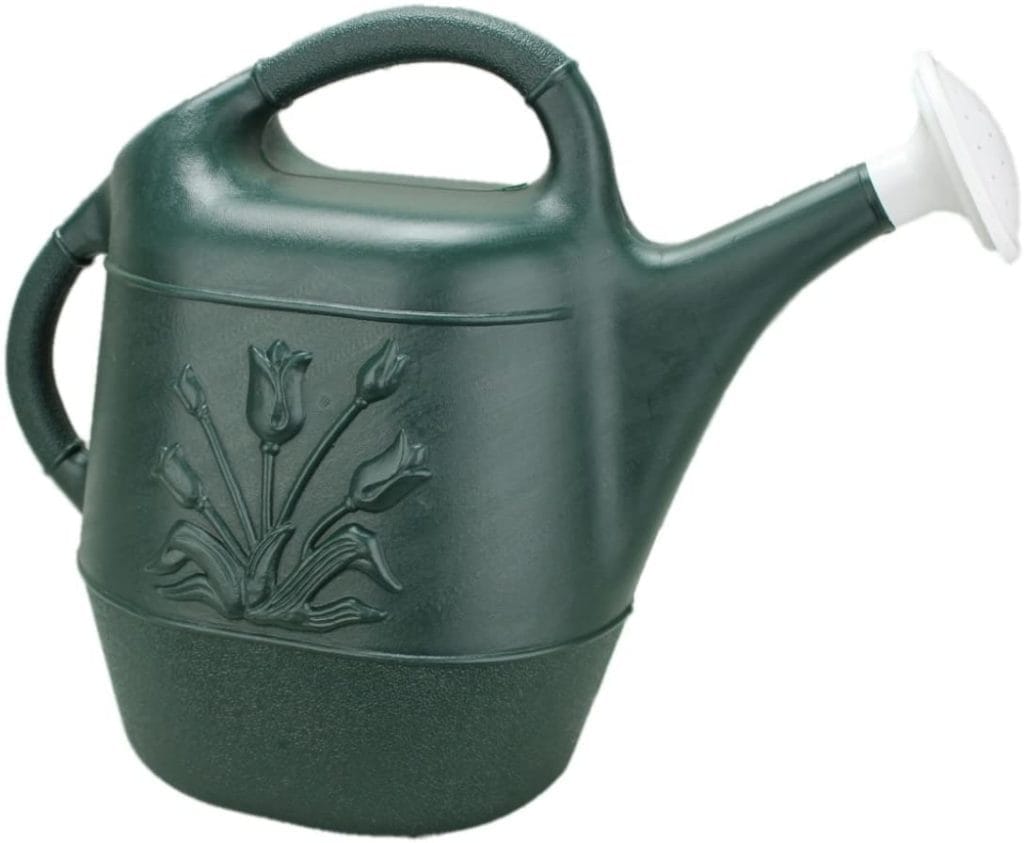 This is a must-have for watering container plants and those newly planted in the garden. It's also great for those times when you don't feel like hauling along the hose.
It's sturdy and this 2-gallon size holds a good amount of water. The nozzle unscrews if you want a more concentrated flow of water rather than a gentler shower.
I can't tell you how many clients' garden hoses I struggled with. They were heavy, kinked, and in general a pain to haul around and roll up.
This Forever Steel Hose is light as can be and rolls up like a dream. Just know that the flow coming out of it doesn't have a lot of pressure. Most of my garden is on drip but I use this to supplementally water my pink grapefruit, lemon and photinia.
This Flexilla Hose has better pressure, is heavy-duty yet lightweight and very popular.
I don't use this often now that I have a smaller desert garden. I'm including it because your property may be more vegetated.
They're great for cutting branches which your pruners and loppers can't. We also used them for scoring and cutting off the very bottoms of tangled and extremely bound root balls.

Let's face it, shovels are necessary for digging. I bought mine (an older model) over 25 years ago and despite the fact it's pretty beat up, it gets the job done.
They come with different handle sizes and different blade shapes. The 1 pictured above is a good, all-around shovel with a 57″ length. I also own a trench digging shovel and a floral shovel but rarely use them anymore.
Rake | $39.95
I used a rake a lot when I was a gardener to clean up the "pruning carnage". You'll find this useful for the same, and if you live in a climate with a lot of deciduous trees and shrubs, it'll be a necessity.
These last 2 essential gardening tools were given away when I moved. When you make a long-distance move, you pair down and take what you need. I did use them quite a bit so that's why I'm including them here. By the way, I love Japanese tools!
The blade, 1 side smooth and the other serrated, is super sharp. I found this handy for digging, scoring, and loosening root balls, cutting thick roots, and planting bulbs.
My garden here in Tucson gets very few weeds because it doesn't rain very often. If yours has a lot of weeds (especially in the spring), you'll find this very sharp tool to be very handy. It cuts through crabgrass in no time!
This is me showing off my gardening tools:
I have many other items in my Amazon shop. Be sure to check it out.
I had other gardening tools but just wanted to include the ones I used most often here. What's on your gardening tools list? Have I missed anything?
Tools used for gardening are pretty easy to come by. Are there others that you consider to be essential gardening tools? Please let us know!
Happy gardening,

Looking for more Gardening essentials? Check these out:
This post may contain affiliate links. You can read our policies here. Your cost for the products will be no higher but Joy Us garden receives a small commission. Thank you for helping us spread the word & make the world a more beautiful place!