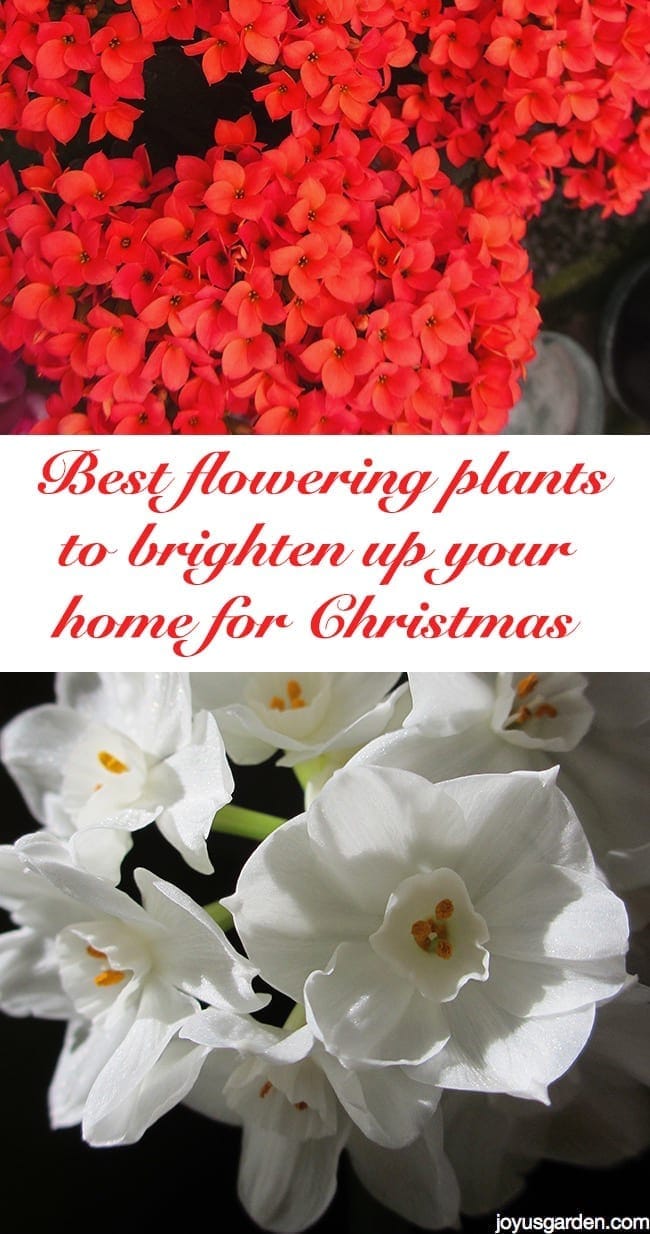 Are you looking for some blooms to brighten up your holiday season? These beautiful flowering plants for Christmas are sure to do just that.
Flowers always add a welcoming feel to any home. What better way to usher in the holiday season and the upcoming year than with an array of gorgeous blooms. Some of the plants you'll see are more conventional and others might take you by surprise.

Flowering Plants For Christmas: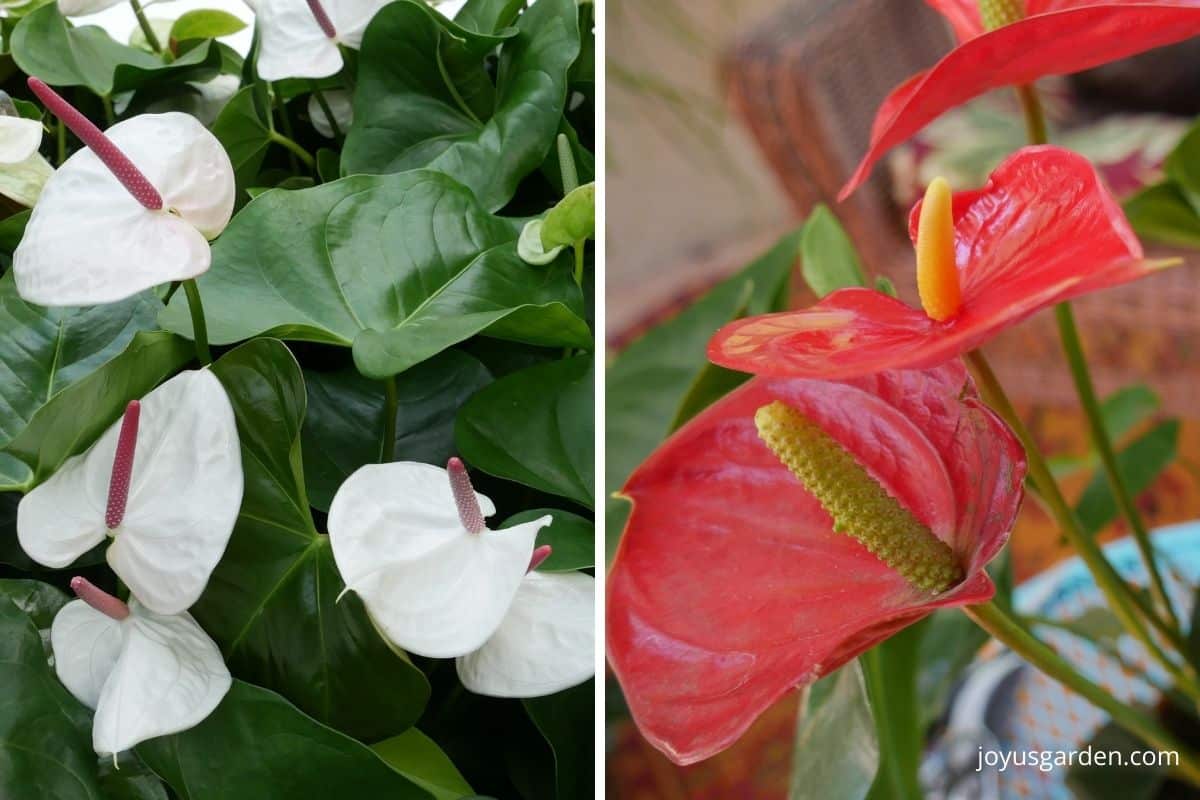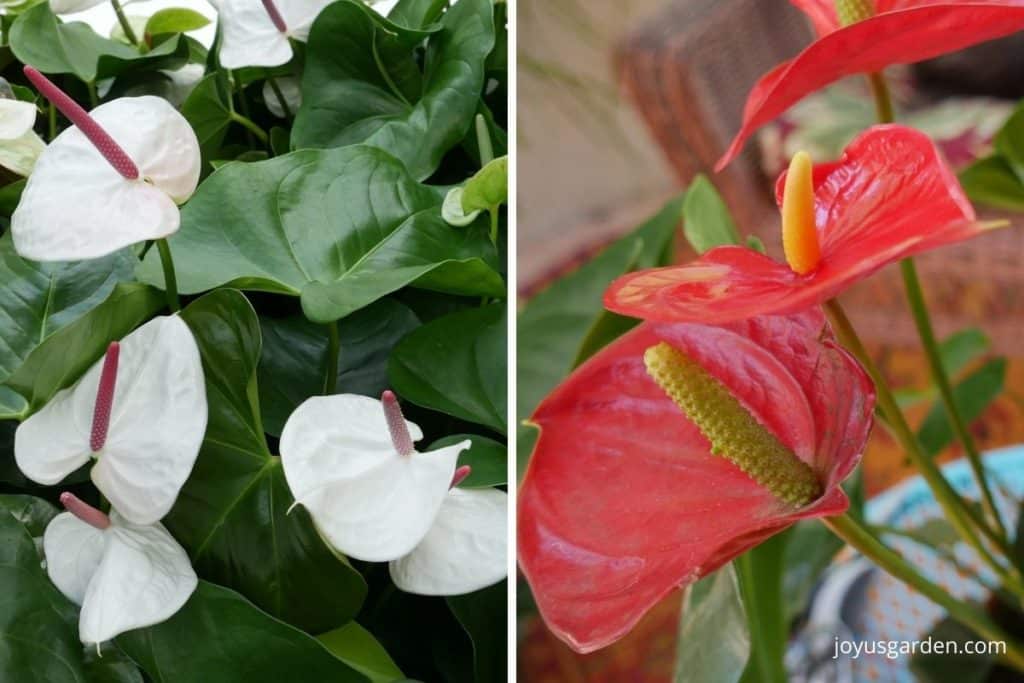 ANTHURIUMS
Anthurium plants, with their glossy green leaves and shiny flowers, really give you a tropical feel.
This bright red variety is very eye catching and the one most commonly seen for sale. You can also find these tropical plants in pink, white and green.

PAPERWHITE NARCISSUS
These flowers seems to have their own inner sparkle. Just look at the petals up close and you'll see what I mean.
We used to grow Paperwhites at the beginning of the new year to brighten up dark winter days. These beauties are easy to grow from bulbs and the perfect to compliment a modern, clean festive look.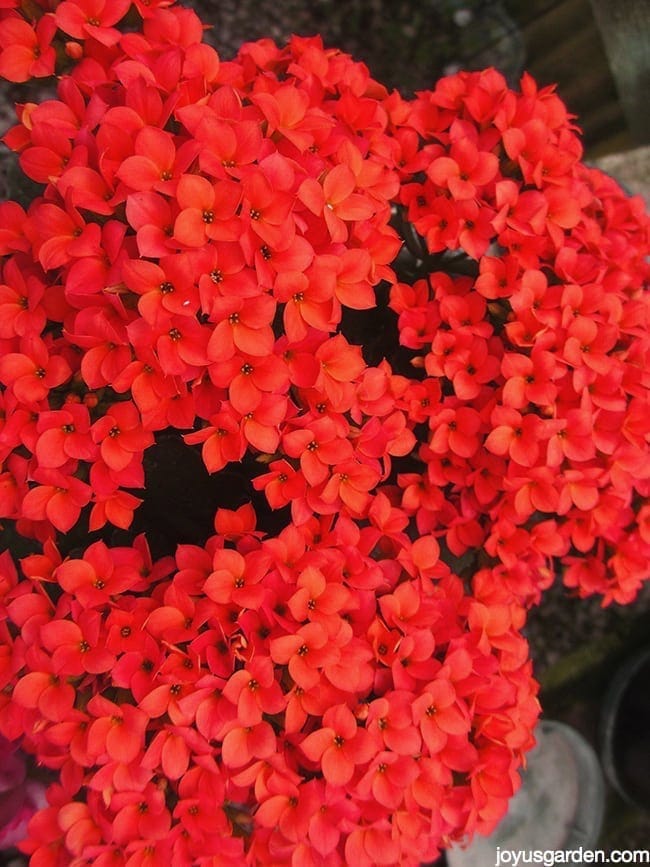 KALANCHOES
Red and green is a Christmas classic combo so red Kalanchoes will fit just right into your decor.
Kalanchoes (and Calandivas) have lots of colorful blooms which cover the plants and are long lasting. Because they're succulents, they can handle the winter dry air in our homes just fine.

CYCLAMEN
These are popular bedding plants in coastal California for the winter season. Cyclamen flowers tend to open slowly but the foliage is so lovely and interesting.
They come with white, red, pink, rose, or violet flowers. The mini Cyclamens are delightfully fragrant by the way!

CHRISTMAS CACTUS
I remember Christmas Cactus distinctly from my childhood and they're still extremely popular. We grew them in our greenhouse and they'd come into bloom right around Thanksgiving.
Christmas Cactus are actually a long lasting, attractive houseplant and will bloom again for you next year. They come in an array of colors now, even yellow.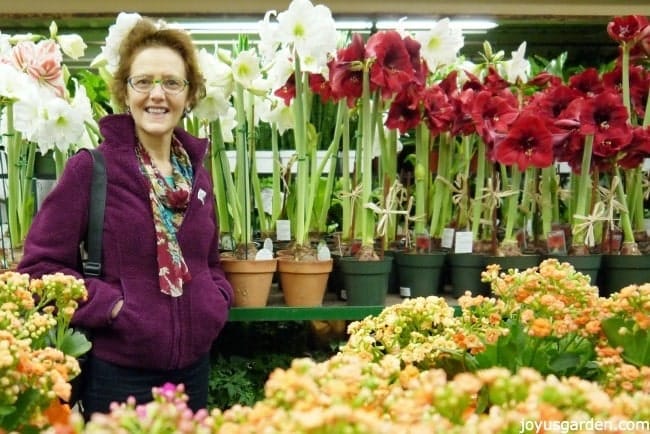 AMARYLLIS
Amaryllis are another popular seasonal bulb and have large, beautiful trumpet-shaped flowers. They put on quite the show when in bloom.
They flower within 6-8 weeks of planting and although traditionally seen growing in soil, they can also be started in pebbles, rocks or glass chips.

SHOOTING STAR HYDRANGEAS
These pure white flowers will add a fun touch to any space. Their unconventional way of growing reminds me of a clear starry night.
They also come with pink or blue flowers but the white ones are sold at holiday time.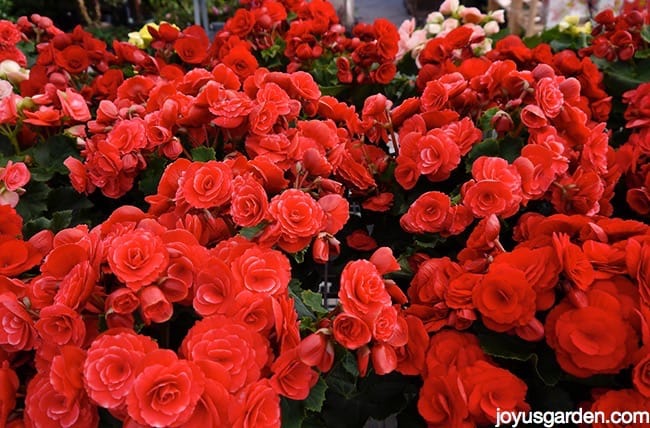 BEGONIAS
These are Rieger Begonias that are oh so floriferous. Be careful not to overwater them or mist their leaves because they're susceptible to mildew.
They really put on a show when in full bloom. You can find them in white, pink, yellow, orange, and red.

PHALAENOPSIS ORCHID
Phalaenopsis Orchids are a lovely choice, as their flowers grow on tall, graceful stalks. Their blooms tend to be very long lasting. Now you can readily find them at stores like Trader Joes, Lowes, Home Depot, and Safeway.
Cymbidium Orchids are another lovely choice, if you can find them.

GUZMANIA BROMELIADS
Bromeliads give you much more of a modern feel if that's what you're looking for. These, like orchids, have very long lasting flowers.
Guzmanias are the ones you want because their blooms are the showiest. A word of warning: cats love to chew on them. Don't worry about your pets though, because they're non-toxic.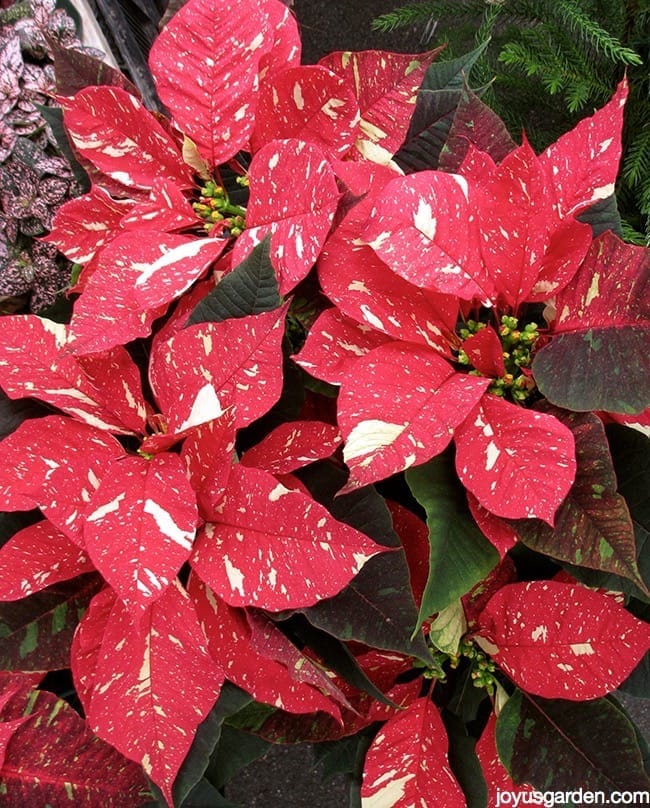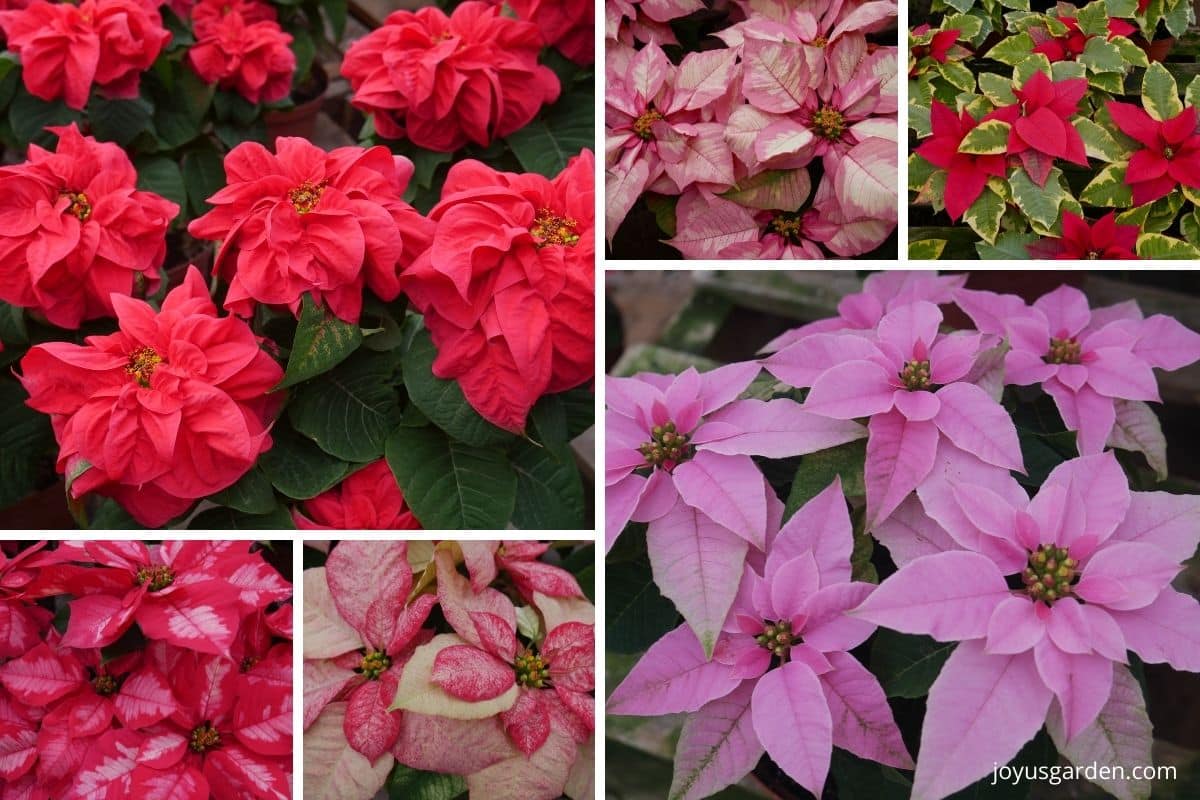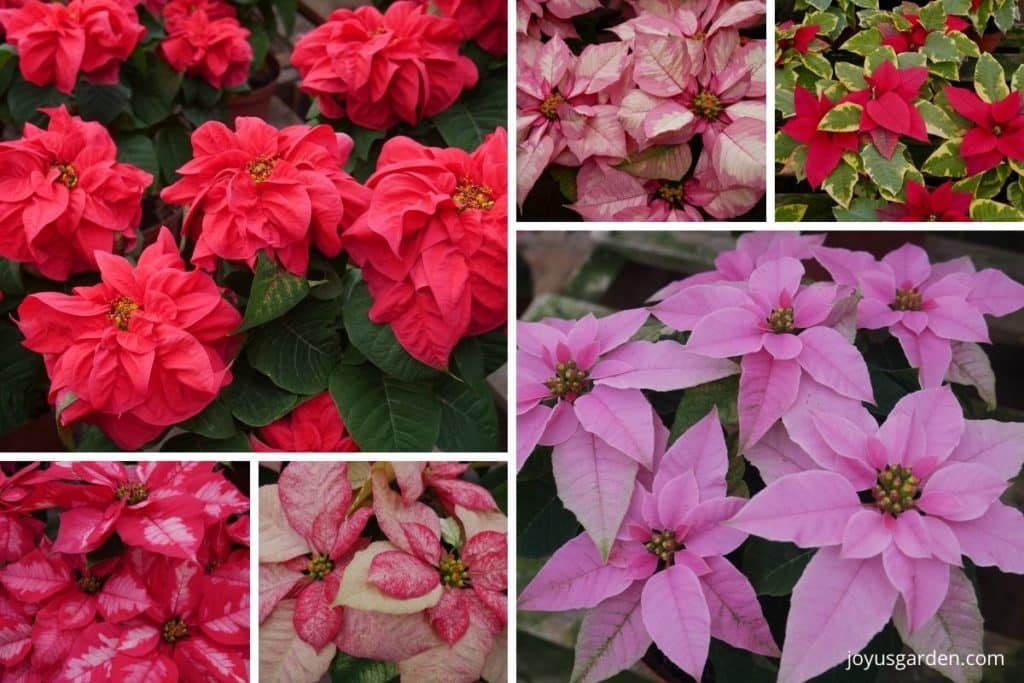 That's Poinsettia Shimmer Surprise on the top. The collage shows some of the varied Poinsettia varieties on the market now.
POINSETTIA SHIMMER SURPRISE
This Poinsettia variety has it all: a star shape with a jazzy pattern in red and white. I call this 1 a living piece of modern art.
There are so many varieties of Poinsettias on the market now in varied flower, foliage, and plant size. You can find them with many patterns and color combos – something for every Poinsettia lover!
White, ivory, yellow, green, pink, rose, yellow, and red are the colors the growers now offer.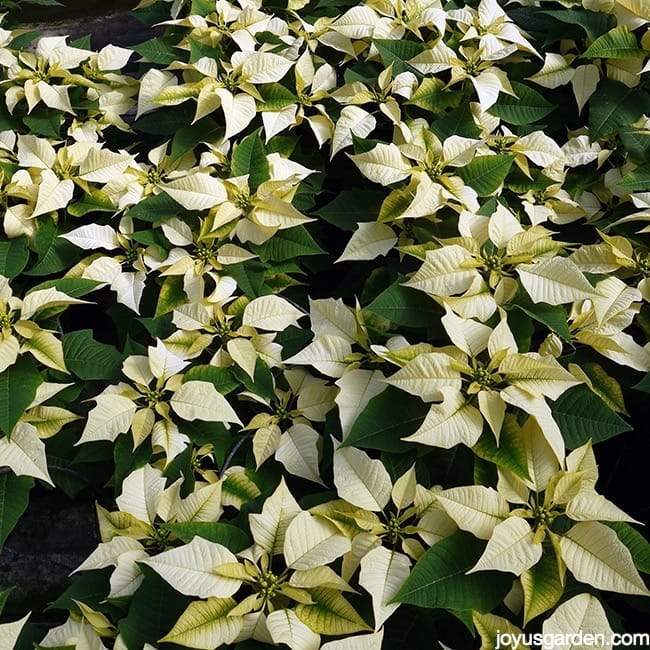 WHITE POINSETTIAS
There are many varieties of white Poinsettias. They are a such a sweet reminder of the Star Of Bethlehem.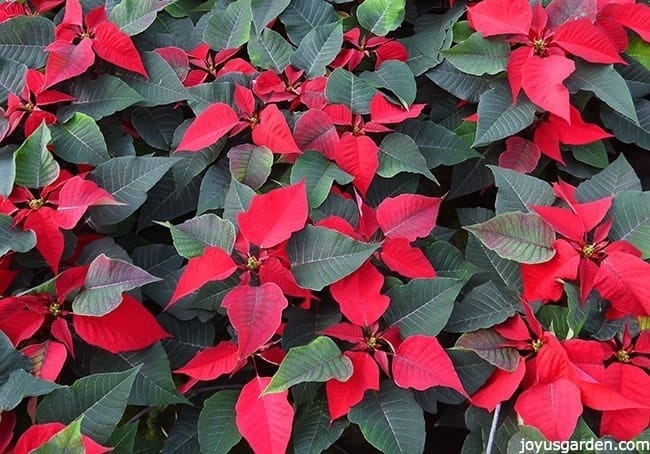 RED POINSETTIAS
This festive blooming list wouldn't be complete without traditional red Poinsettias.
Some love them and some would never buy them. Either way they need to be considered because you see them everywhere this time of year. Here's a list of blooming plants for Christmas besides Poinsettias, just in case!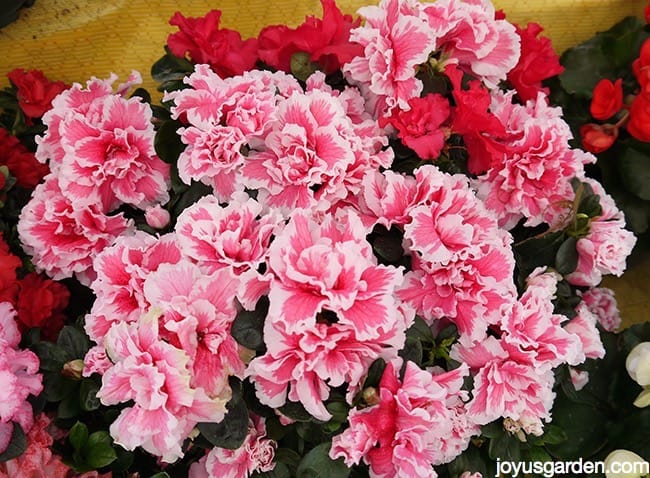 AZALEAS
I worked for a florist and event company in San Francisco for 5 years that sent out a lot of white and red azaleas during the Christmas season.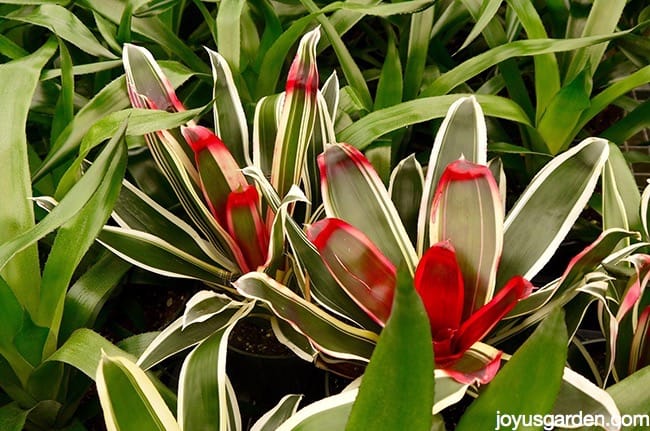 NEOREGELIA BROMELIADS
I included this one as a bonus. It made the list of flowering plants for Christmas because of the foliage, not the blooms.
They add a modern tropical feel to your indoor environment. Neoregelias are pretty as an underplanting and make long lasting houseplants if the conditions are right.
Some Of Our General Houseplant Guides For Your Reference:
Hope these beautiful Christmas plants bring you joy during this wonderful holiday season!
Have a joyful holiday,

Here are additional DIY ideas to get you in a festive mood:

This post may contain affiliate links. You can read our policies here. Your cost for the products will be no higher but Joy Us garden receives a small commission. Thank you for helping us spread the word & make the world a more beautiful place!