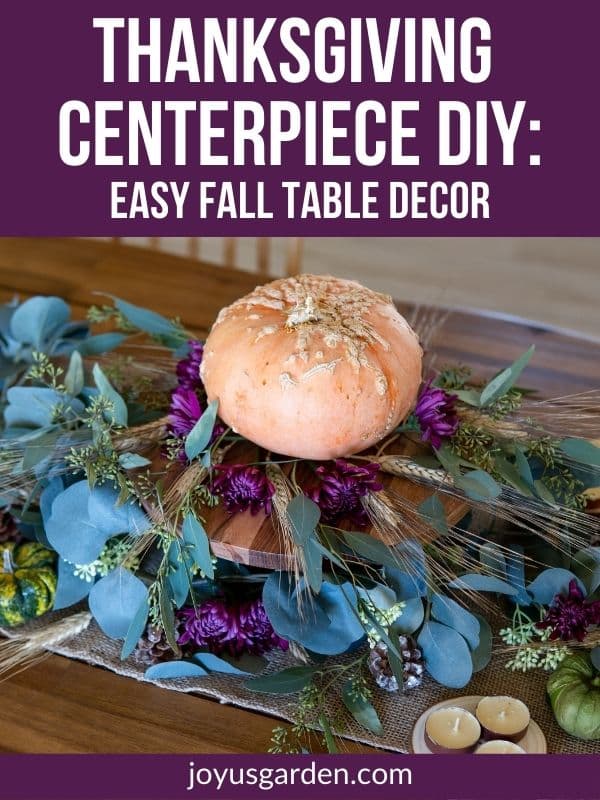 I'm going to show you how to put together a quick, last-minute Thanksgiving centerpiece DIY that's a perfect addition to your fall decor.
The point of this centerpiece is to use things you already have and to purchase affordable, natural elements because they smell amazing and help you bring the outdoors in while you enjoy your Thanksgiving meal.
There is no need to find materials by running around to every store in town. In fact, you can make this easy centerpiece two days before Thanksgiving if that's all the time you have.
I wanted to use walnuts in the shell, baby apples, little artichokes, tiny pears, and/or small persimmons. I couldn't find any of them when I was shopping for this fall centerpiece diy in mid-October so I went to 2 stores and got what I could. And, I'm very happy with how this Thanksgiving table decoration turned out even if it wasn't what I envisioned.
The eucalyptus garland is artificial and I also use it as part of my Christmas decor. The cake stand is new and will be used in my new kitchen and for other centerpieces. We love re-use here at Joy Us garden!
It's pretty easy to find fresh materials and fall items at your local grocery stores like Trader Joe's. During this festive season, many of them will sell wheat bundles, mums, foliages, berry branches, mini pumpkins, and gourds.
Do you need more Thanksgiving centerpiece ideas and inspirations? Here are 37 Elements To Inspire Your Thanksgiving Tablescape.
Note: This post was originally published 10/20/2021, and was updated on 09/15/2022
How to Make Your Own Thanksgiving Centerpiece DIY
Easy Thanksgiving Centerpiece Video Guide
These tablescapes are really easy to make but there's one thing that you should really think about when you're making them: they should be long and low. Make sure that you can see over your beautiful Thanksgiving centerpiece because you want to be able to easily share food with and see your loved ones across the dining room table!
You want to determine the shape and structure of your centerpiece before you shop. Do you want it to run the length of the table or part of the table? I'm not using placemats, but if you are, be sure to leave enough room for them, glasses, plates, and anything else you're using for place settings.
Use colors you like that go with your home decor and ones you find pleasing. Options are all white / white & green / all green / copper, orange & white/ coral & grey / grey & orange / jazzy jewel tones / orange & white / white & terra cotta / white, gold & purple / all gold / gold & copper / neutrals / burgundy & green.
Materials:
Little Pumpkins
Wheat
Seeded Eucalyptus
Gourds
Pinecones
Table Runner and Garland
If you'd like, select a festive table runner that compliments your Thanksgiving dinner table. I put the runner on the table along with the cake stand and have the garland going around and running almost the length of the table.
I've left a little space on each end of the table so there is room to place salt and pepper, butter, gravy, cranberry sauce, or whatever small dishes will fit.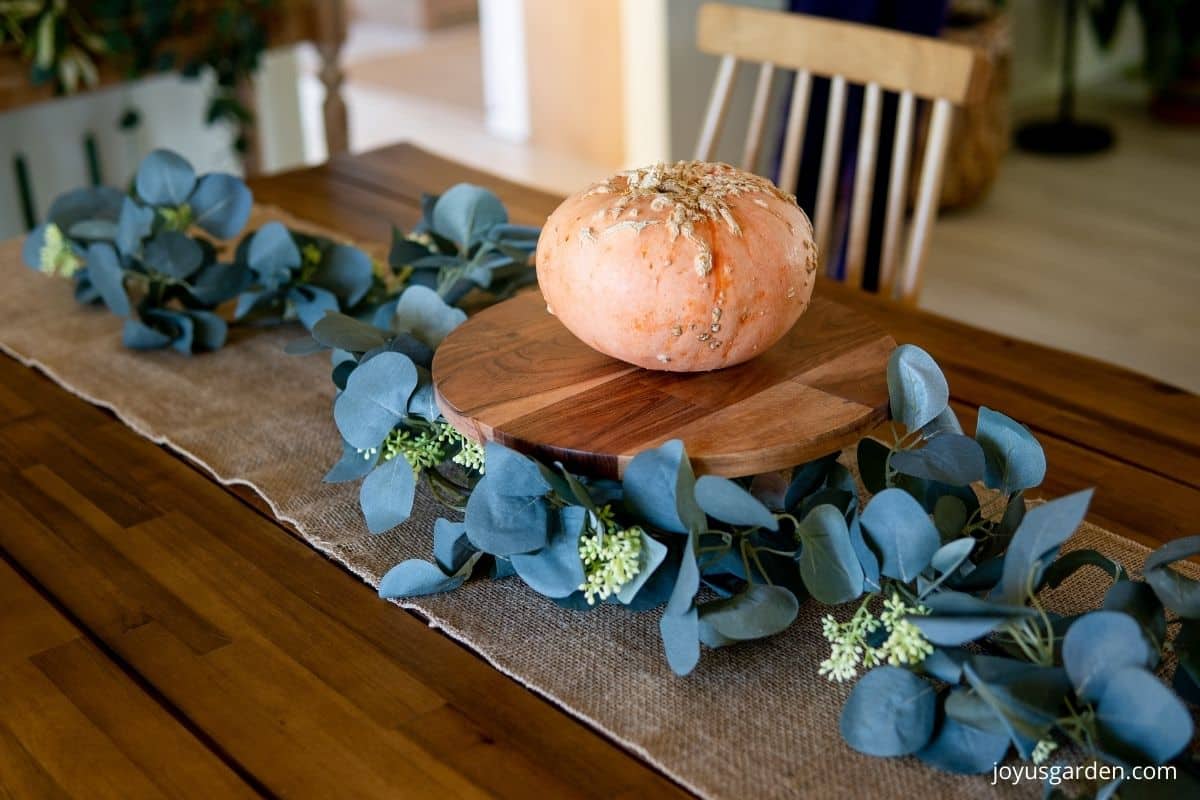 Cake Stand
Pick an item that will help you display the focal point of your centerpiece in the center of the table. A wooden bowl, glass bowl, small serving tray, or low vase would work well also.
In the pictures here, you can see a wooden cake stand which I decorated with a small peanut pumpkin purchased at our Tucson farmers market, along with fresh eucalyptus and wheat stalks from Trader Joe's.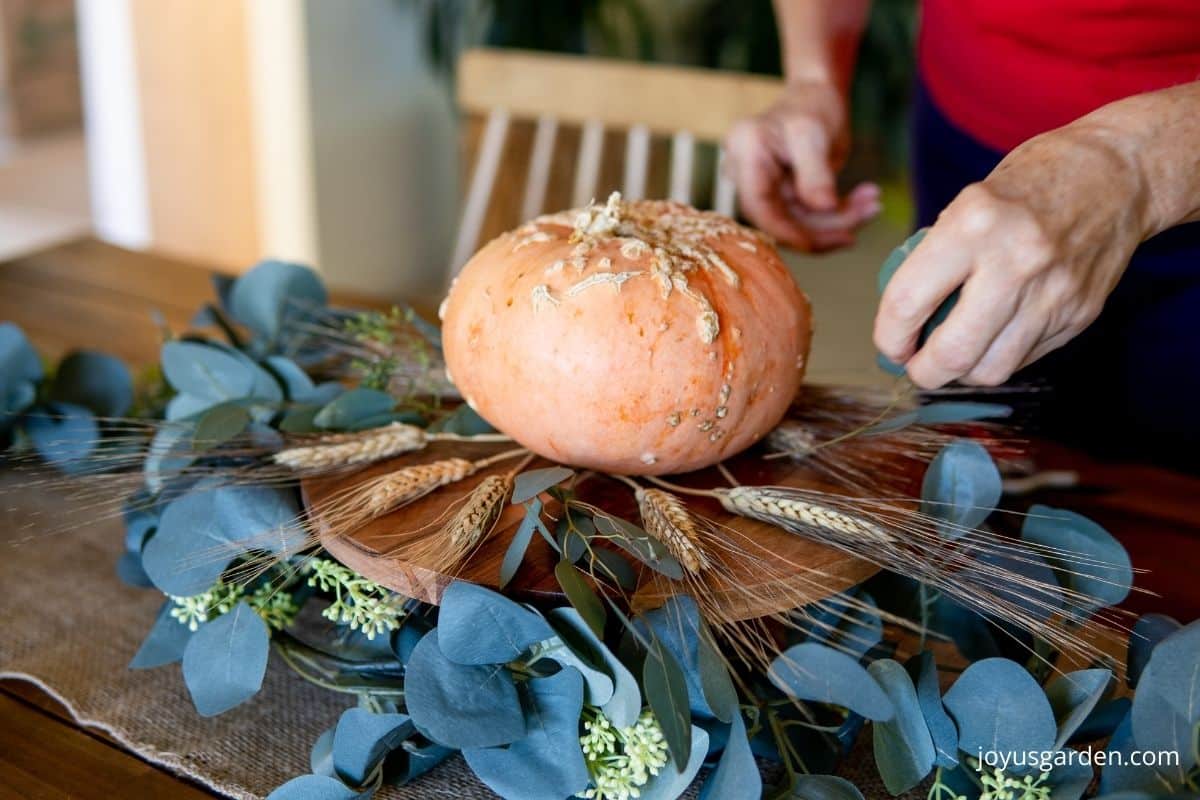 Natural Elements like Wheat and Eucalyptus
I used all sorts of natural elements to adorn the cake stand and you can leave it partially exposed or cover it completely. The eucalyptus dries beautifully, You can do these steps well ahead of time if you'd like because as we know, Thanksgiving Day can be very hectic!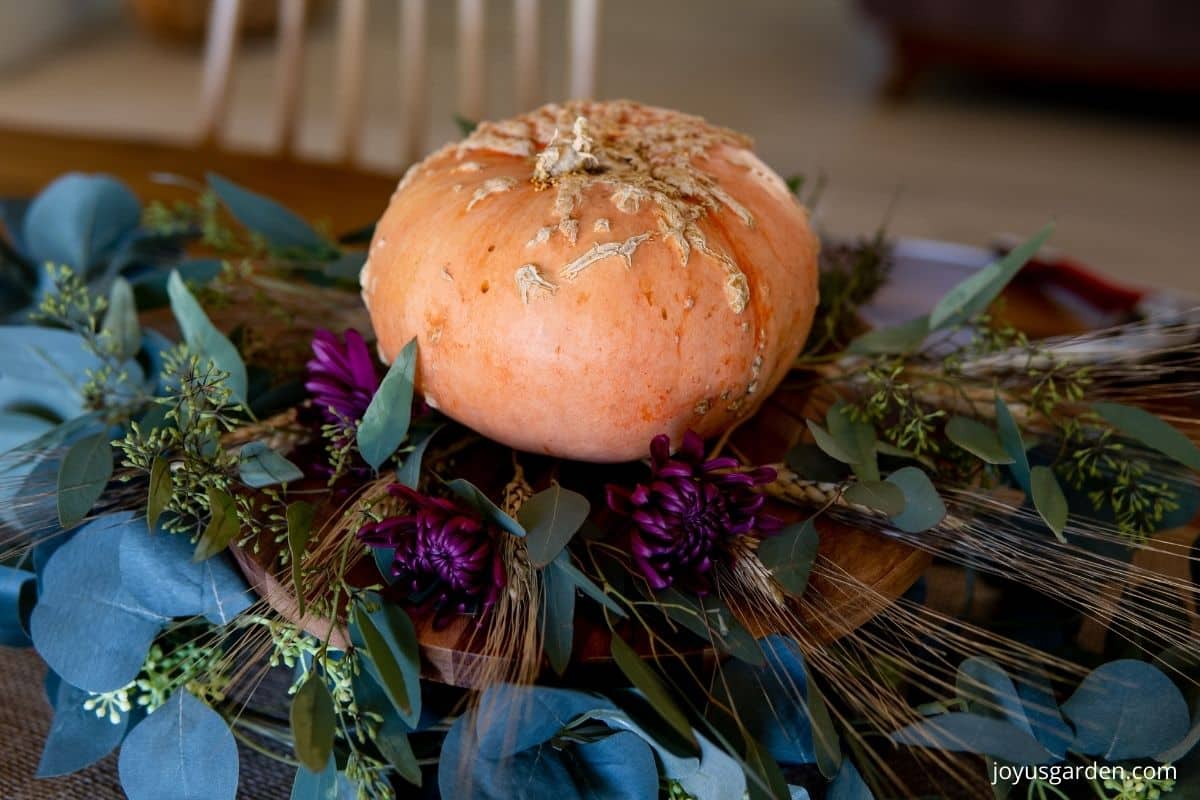 I also purchased a couple of bunches of fresh flowers which I placed in small plant cups that I bought years ago to make simple, yet beautiful floral centerpieces. I tucked some of the deep plum mums into the cake stand too. I also have 2 stems of protea in each which is very long-lasting too.
Looking for more fall inspiration? Here are 28 Fall Readymade Natural Natural Wreaths, Autumn Decorating Ideas For The Fall Season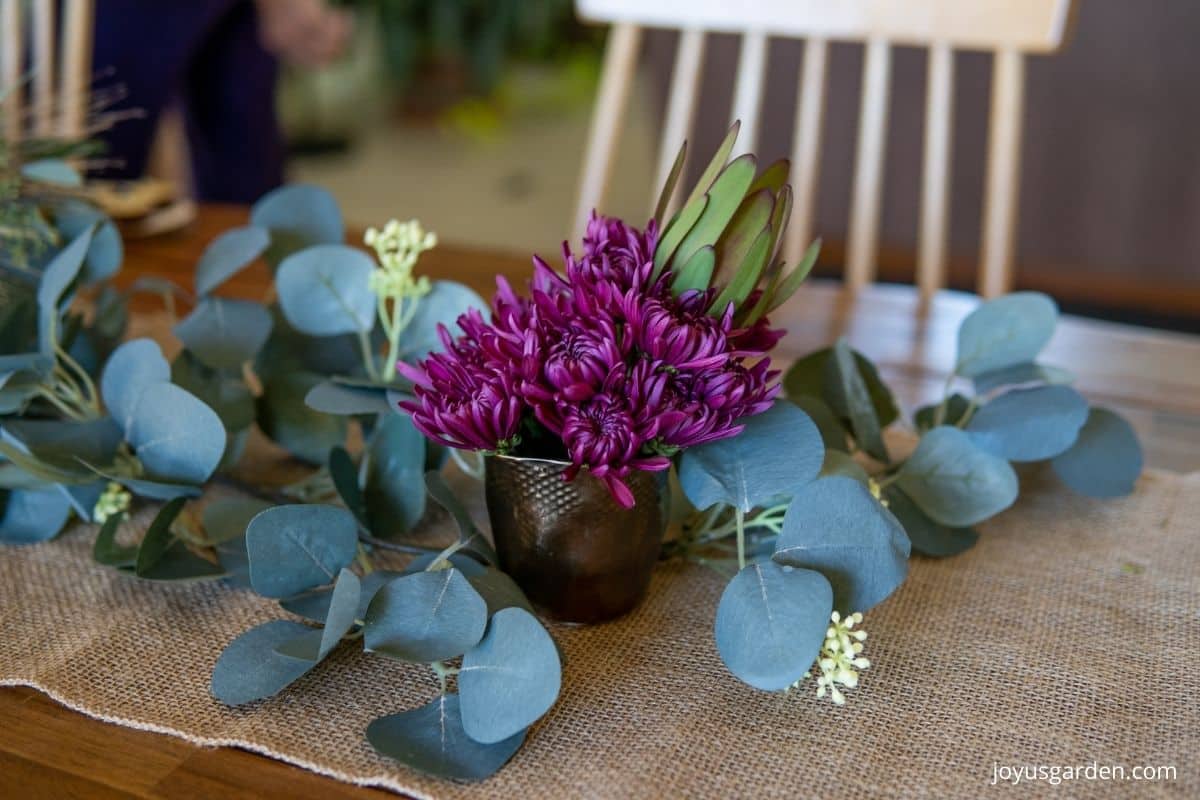 Candles
The next step here is adding in some candles. I purchased ivory votive candles in metal cups. The cups of these tea lights were silver. I painted them very quickly in fall tones so they would match my autumn color scheme.
I purchased some small slabs of wood that are actually used for making Christmas tree ornaments. They work perfectly as candle holders.
Taper candles are another great option along with the popular flameless pillar candles.
Pumpkins and Gourds
Now it's time to place the gourds. I chose them in shades of white and ivory, and of course, we got a couple of white pumpkins too. They add a lovely, seasonal touch to the centerpiece. Faux pumpkins are readily available in many colors (or you can spray paint them) so they're a good, reusable option for your beautiful centerpiece too.
Pinecones
Finally, we're ready to add the finishing touches. I have some pine cones that I glittered years ago. They're a great way to add in a little shimmer that I don't mind at all, especially when the tea candles are lit.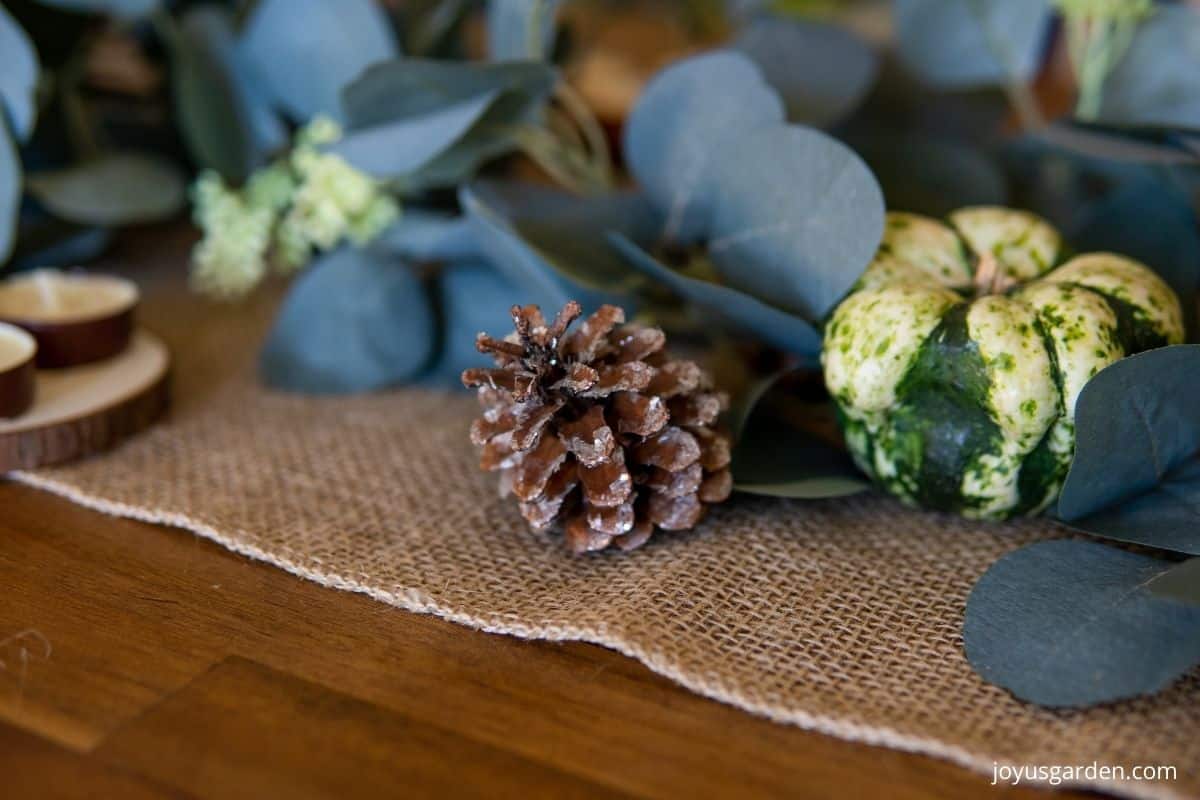 What Does Our Last Minute Thanksgiving Centerpiece Look Like?
As you can see, this fun project was put together at the last minute, but it's so warm and welcoming! Many of these items can be used over and over again. Fresh flowers, pumpkins, and vegetables are affordable additions to an autumn centerpiece.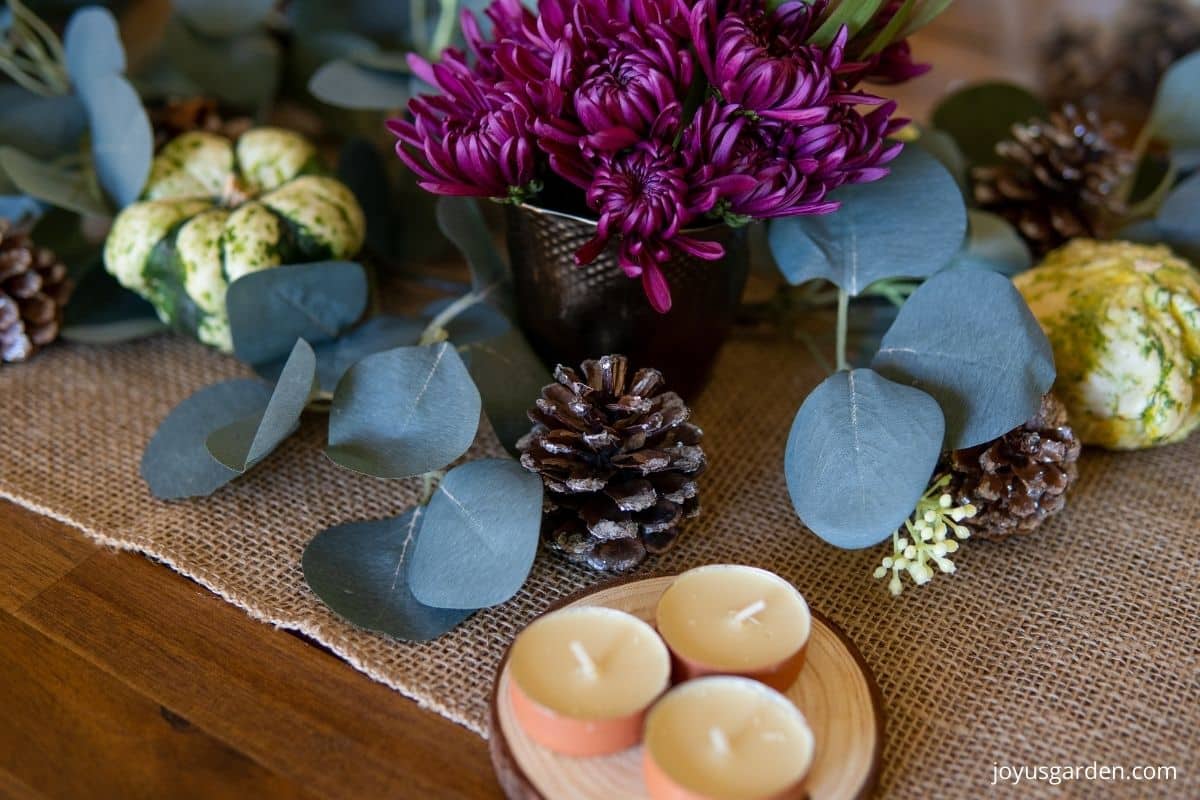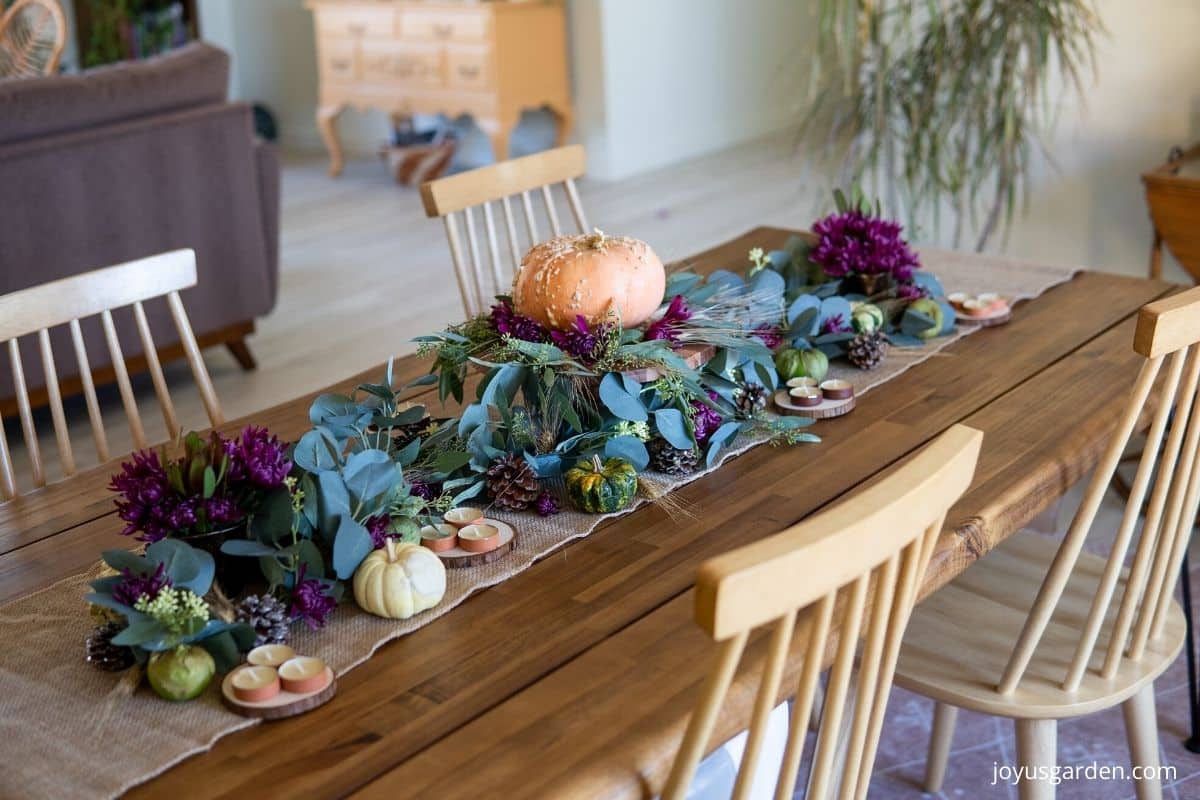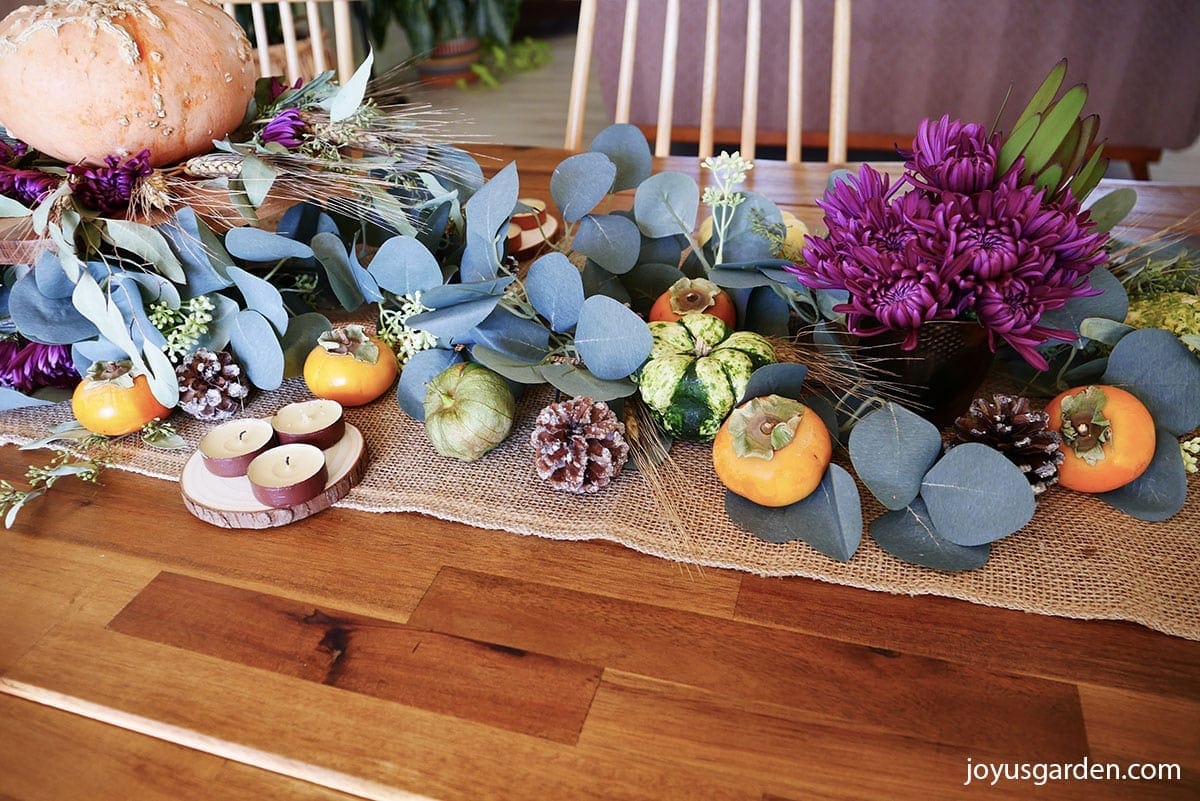 Where To Buy Thanksgiving Centerpiece Materials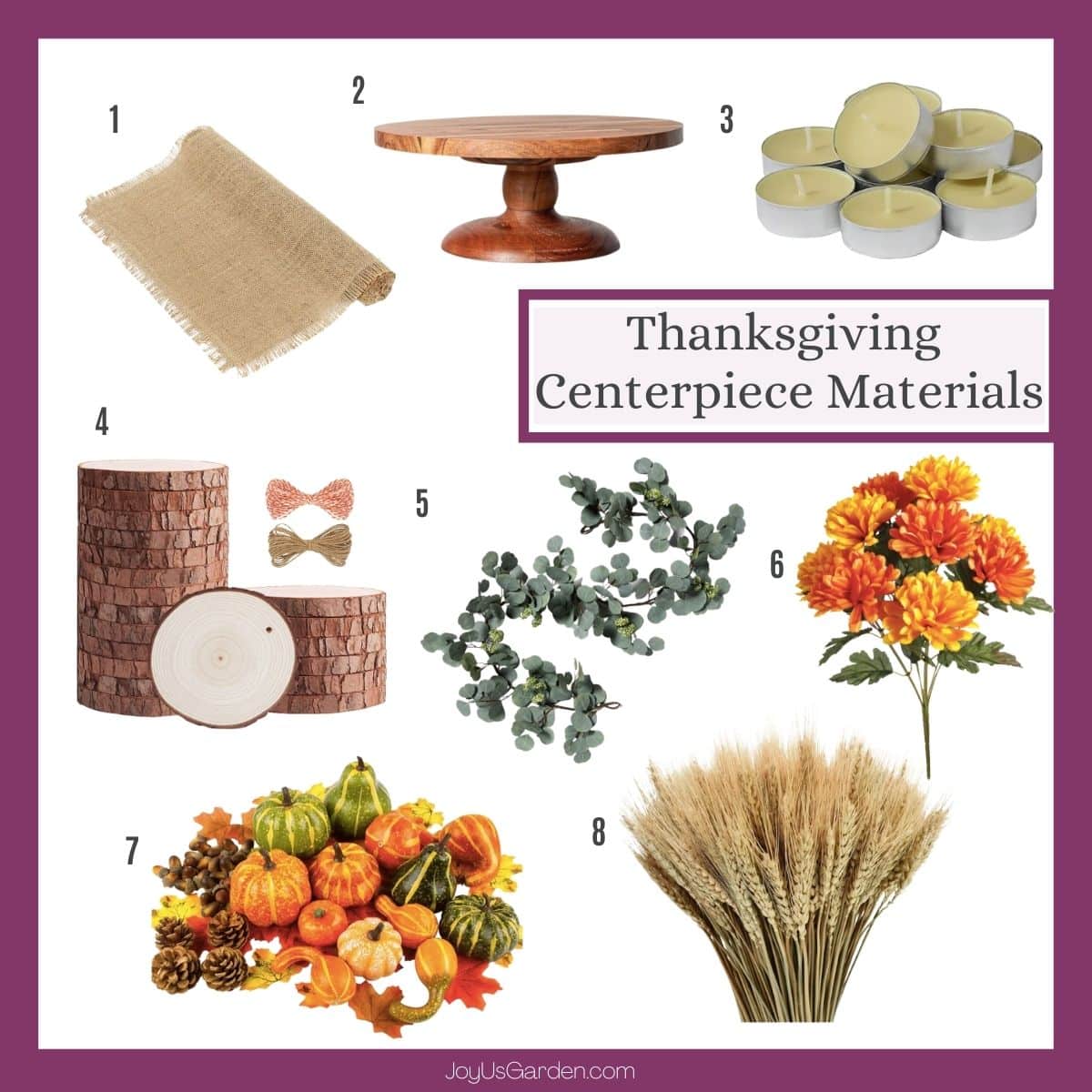 1. Table runner // 2. Cake stand // 3. Candles // 4. Wood Slabs // 5. Eucalyptus garland // 6. Mums // 7. Mini Pumpkins // 8. Wheat Bundle
I want to leave you with some decor options for making gorgeous diy Thanksgiving centerpieces. You could use pomegranates, apples, pears, artichokes, peppers, persimmons, nuts in the shell, fall leaves, mums, roses, carnations, orchids, fall berries, foliages, cinnamon sticks, moss balls, gourds and pumpkins in other colors, and mini mason jars and glass vases.
We want to wish you a very happy holiday season and enjoy your holiday table and Thanksgiving dinner.
Happy Thanksgiving!