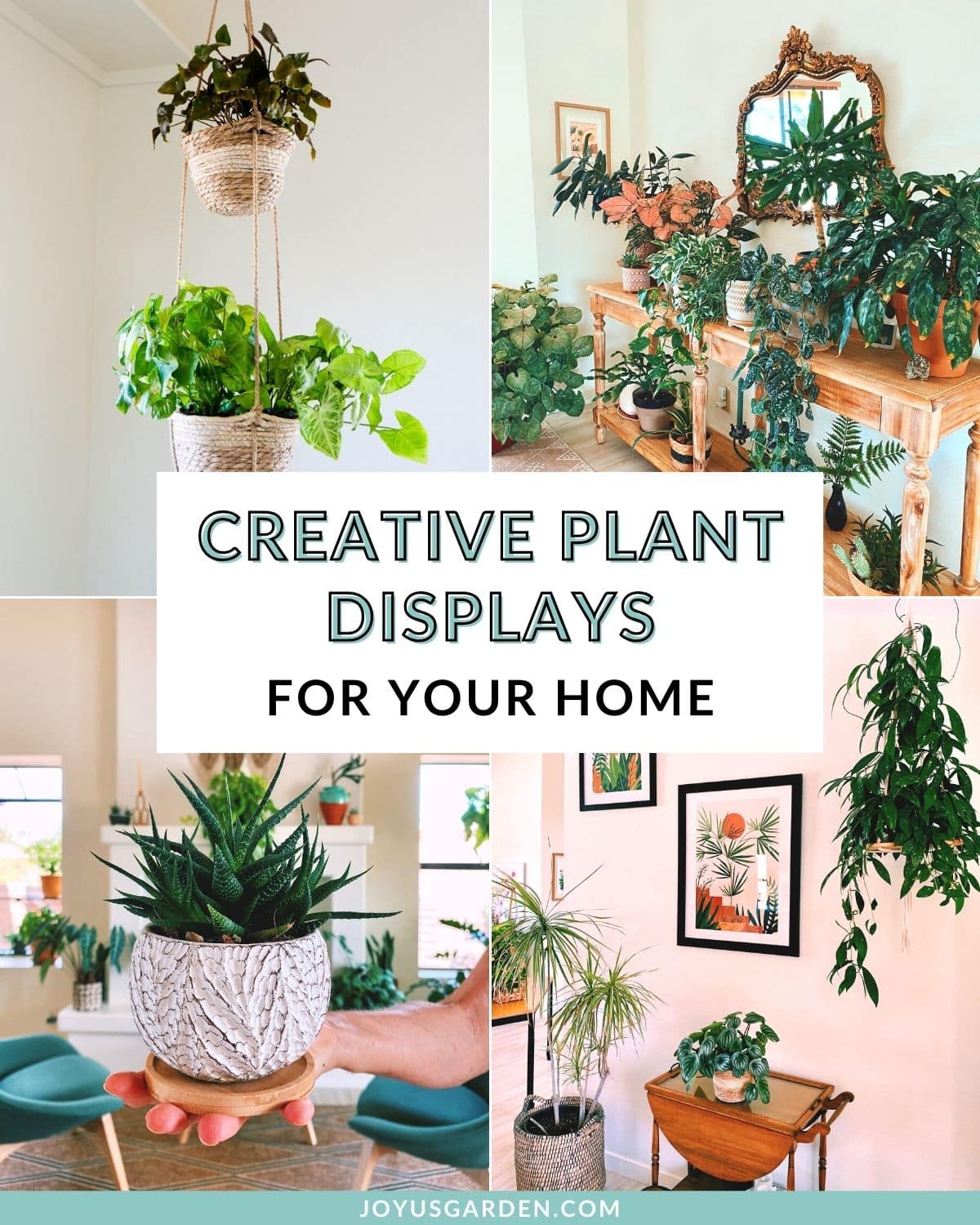 Houseplants can instantly bring life to your home, adding softness and natural beauty to every corner of the room. With a bit of ingenuity, you can create beautiful and creative indoor plant displays that showcase all your favorite foliage.
In this blog post, we'll share some top tips on creating stunning displays for houseplants – including recommendations on display styles, pot colors, placement ideas, and much more. You'll see – decorating with plants indoors is fun!
Essential Tools for Houseplants
1. Hanging Baskets
My Arrowhead Plants have thrived in these hanging plant baskets for five years now. I have them in the corner of my kitchen, and they look so good. They're a great way to save space and add a touch of greenery to any room.
You can mix and match different types of plants, creating a beautiful display that adds dimension and texture to your rooms. I also have this hanging shelf, this hanging shelf, and these hanging baskets.
I recommend using lightweight soil mixes for hanging baskets and not over-watering the plants. You can also easily create your own hanging basket by reusing old containers or buying a hanging planter from your local store or online. Get creative and have fun with different shapes and sizes!
2. Tabletop Baskets
Decorate your plants with these boho-style plant baskets. We like the rustic feel of these baskets. They are the perfect decor to add more natural elements to your home.
You can place them on a table or shelves, adding an earthy and rustic touch to your indoor plant displays. They're lightweight and easy to move around. These baskets are suited for smaller plants like peperomias, anthuriums, and bromeliads.
3. Large Floor Baskets
Wicker storage baskets are another great option for displaying your plants. They add a cozy and natural touch to any room, and the neutral color pairs well with any plant.
Mix and match different sizes to create a visually appealing display. I also have this basket, this basket, and this basket. Can you tell I love baskets?!
4. Terrariums
Terrariums are miniature gardens enclosed in glass containers, perfect for displaying small plants. They are great for those who do not have much space but still want to add some interest and greenery to their home.
You can buy pre-made terrariums or create your own terrarium displays using different types of containers, such as a glass jar or fishbowl. They're also great if you want to make a fairy garden. The possibilities are endless with these little plant displays.
5. Entryway Tables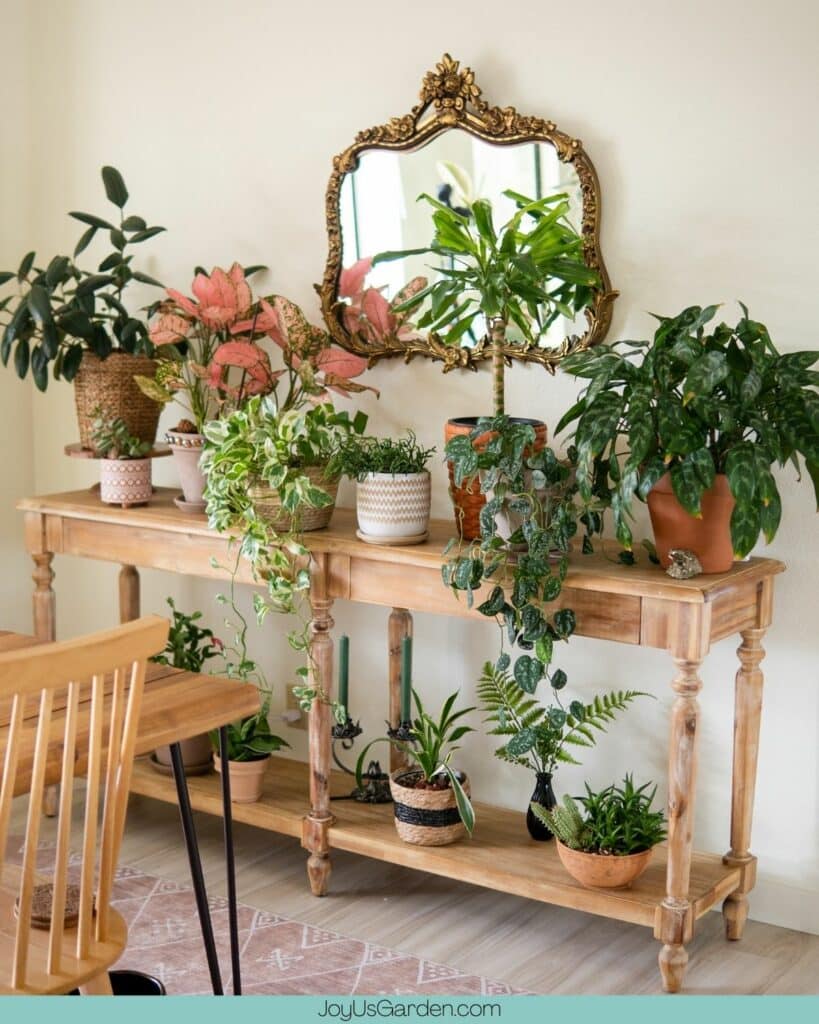 One of my favorite ways to display plants is by placing a few potted plants on an entryway table. Not only does this add a welcoming touch to your home, but it also creates a beautiful focal point that can be easily changed and updated.
I recommend using a variety of plants for added interest and playing with different pot colors and textures. You can also add some decorative elements like candles, vases, or books to add some character to your plant display.
Here are some classic terra pots and a selection of other pots for you to shop.
7. Colorful Pots
Don't be afraid to add some color to your indoor plant displays with bright and vibrant pots! They're well suited for displaying your favorite easy-care succulents.
This is an easy way to add personality and fun to your home decor. You can also use different patterns and designs, creating a playful and unique display.
The pot doesn't have to match the plant, either. Mismatching can add an exciting and eclectic touch.
8. Cement Pots
If you prefer a more modern and industrial look, consider using cement pots for your plant displays.
They have a sleek and minimalistic appearance that adds elegance to any room, allowing your plants to take center stage. You can find them in various sizes suited for small tabletop plants like the sweet Haworthia pictured here and other succulent plants.
9. Cement Log Planter
This log planter has a beautiful log look that will enhance the appearance of any plant or item that it holds. I love how my cacti look in it.
You can learn how to create and care for a cactus arrangement here.
These add a natural and organic element to any display. Another similar option would be pumice pots.
10. Animal Pots
Use animal-themed pots for your plant displays for a whimsical and fun touch.
You can find them in various shapes and sizes – from elephant-shaped succulent planters to panda bear pots. I also have this cheery cat planter alongside the giraffe planter – they add a playful and unique element to my kitchen!
11. Face Pots
These small pots are well-suited for displaying succulents in your home. I love the subdued yet artistic touch they add to my home office.
Plus, they have a unique feature – cute little faces on each one! These are sure to bring some personality into your home. We have you covered with this selection of head planters and face pots.
12. Rattan Plant Stands
Plant stands are a must-have for any plant enthusiast. They not only elevate your plants, but they also add interest and height to your displays.
You can find plant stands in various sizes, heights, styles, and materials, from modern metal designs to classic wooden ones. Play around with different heights and groupings for a visually appealing display.
This single plant stand (pictured in the right-hand bottom of the collage above) beautifully shows my Green Congo Philodendron.
13. Terracotta Pots
This white and terra cotta planter comes in a set of two. My Easter Cactus looks great in it!
And, of course, we can't forget the classic terracotta pot. These timeless planters are perfect for any plant display and come in various sizes to fit your needs. You can also paint or decorate them yourself for a personalized touch.
We love the way Aloe Vera and Snake Plants look in them!
14. Air Plant Cradles
Air plants are a trendy and low-maintenance option for plant displays. These cute air plant cradles provide a unique and eye-catching way to display your air plants. Hang them in groups or mix them with other types of plants for an interesting contrast.
15. Wall Shelves
Wall shelves are another great way to create unique, eye-catching indoor plant displays. Mix and match different-sized shelves and add trailing vines and hanging plants for a dynamic look. These are great if you're short on floor space or have a large wall where you want to create an accent.
Use shelves to showcase your favorite plants and create a green oasis on your walls. You can even purchase shelves that hang directly in your windows – the perfect choice for plants that need a lot of light. Just keep them out of south or west windows because any plant will burn up against the hot glass.
16. Ottomans
Ottomans may be an unusual choice, but they add a fun and unexpected touch to your home decor. You can put potted plants or mini herb gardens on them. Not only does it look beautiful, but it's also functional!
These ottomans are handcrafted from lightweight yet durable rattan, giving your space that boho, laid-back vibe.
17. Art Prints
Another unique way to display plants is by incorporating them into your wall art. Beautiful art prints featuring favorite houseplants create a botanical and artistic display in your home. This adds an interesting and unexpected element to any room.
These art prints from Society6 are currently on sale. I love how the colors blend so well with my indoor plants. The garden landscape of these prints is such a beauty to look at.
How to Display Plants Without Looking Cluttered
Start by identifying the spaces in your room that receive adequate light – these will be your prime plant-display areas.
Next, consider the size of your plants. Large plants like Monsteras or Fiddle Leaf Figs can stand alone as statement pieces, while smaller plants like succulents or air plants can be grouped together for a lush, mini-garden effect.
Variety is key here. Mix and match different types of plants, pots, and display options.
For instance, you can use a tall plant stand for a trailing vine, while a terrarium can sit beautifully on your desk or an entryway table.
Wicker baskets or rustic wood planters can add an earthy touch to a corner of your room, and colorful pots or whimsical animal pots can infuse fun and personality into your space.
Don't be afraid to hang plants from ceiling hooks or place them on a bookshelf. Wall shelves also display multiple plants without taking up floor space.
And finally, remember to rotate your plants periodically to ensure all sides receive equal sunlight and to avoid overly dense spots.
Some Of Our General Houseplant Guides For Your Reference: Guide To Watering Indoor Plants, Beginner's Guide To Repotting Plants, How to Clean Houseplants, Winter Houseplant Care Guide, Plant Humidity: How I Increase Humidity For Houseplants, Buying Houseplants: 14 Tips For Indoor Gardening Newbies
Conclusion
We hope these creative indoor plant displays have inspired you to create beautiful plant displays in your home! Don't forget to experiment with different styles, colors, and plants until you find the perfect combination for your space.
With thoughtful planning and creativity, you can create a beautifully green space in your home without it looking cluttered. Happy decorating!
Nell & Miranda
This post may contain affiliate links. You can read our policies here. Your cost for the products will be no higher but Joy Us garden receives a small commission. Thank you for helping us spread the word & make the world a more beautiful place!