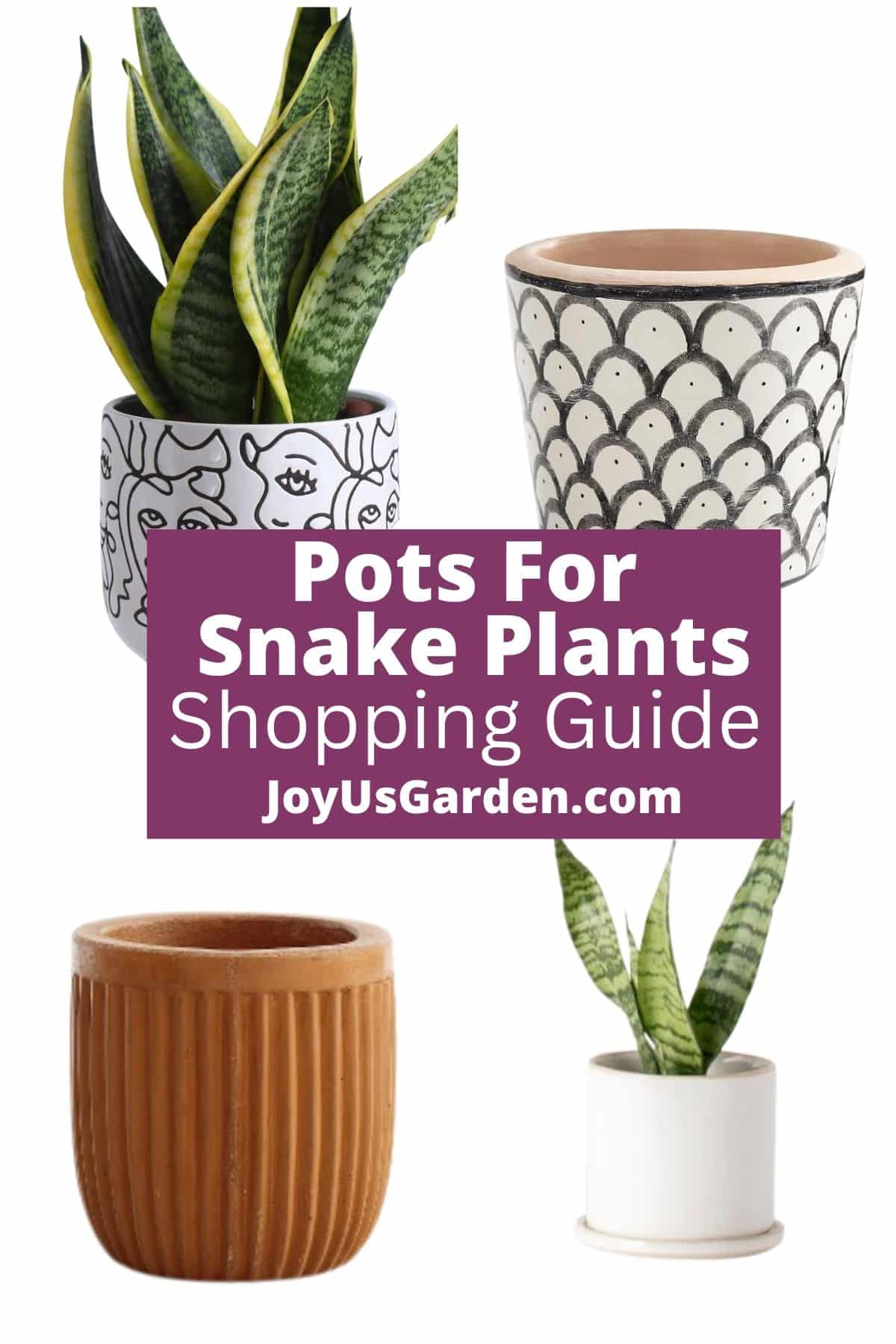 Snake Plants are one of the most popular and top three houseplants searched on our website. We hope this selection of pots for Snake Plants we've picked out is helpful and makes your shopping easier.
We love the look of Snake Plants in terra cotta and clay pots. It's a match made in heaven. That being said, they're not fussy when it comes to pot material. The best choice of pot for yours is the one that suits your fancy and is the appropriate size for the plant.
All of ours are growing in nursery pots placed inside decorative pots like the ones you see below. This makes it much easier when it comes time for repotting.
The best time for repotting is during the growing season, spring through early fall. You want to make sure the potting soil has proper drainage and aeration to ensure healthy root growth. If you're directly planting your Snake Plant in a decorative pot, make sure it has drainage holes on the bottom so the water can easily flow out.
In regards to Snake Plant pot size, bigger is not better. Snake Plants like to grow somewhat tight in their pots. If yours is growing in a 4″ nursery pot, then repotting into a 6″ pot size would be best. A 6-8″ decorative pot would be what you want unless it narrows significantly at the top and/or bottom.
We've done lots of care, repotting, and propagation posts on the beloved Snake Plant. You'll find them scattered throughout this post. Now, let the shopping begin!
4-6 Inch Pots For Snake Plants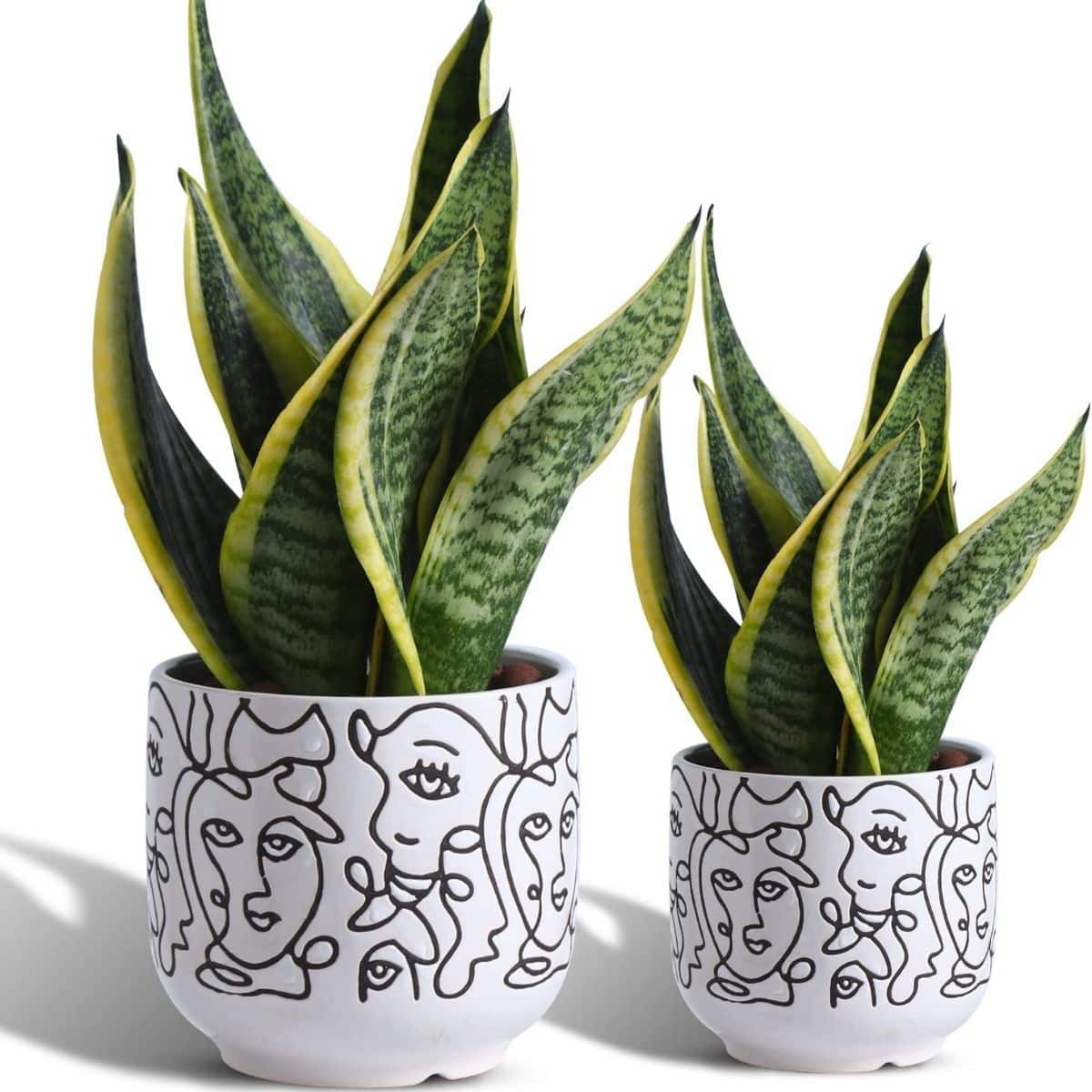 Ceramic Planters 2-Pack
This cool face plant container has drainage holes at bottom of the pot to help discharge excess water, making it for snake plants. If you're looking for a new pot with an artsy flair, try this one.
Buy At: Amazon $25.99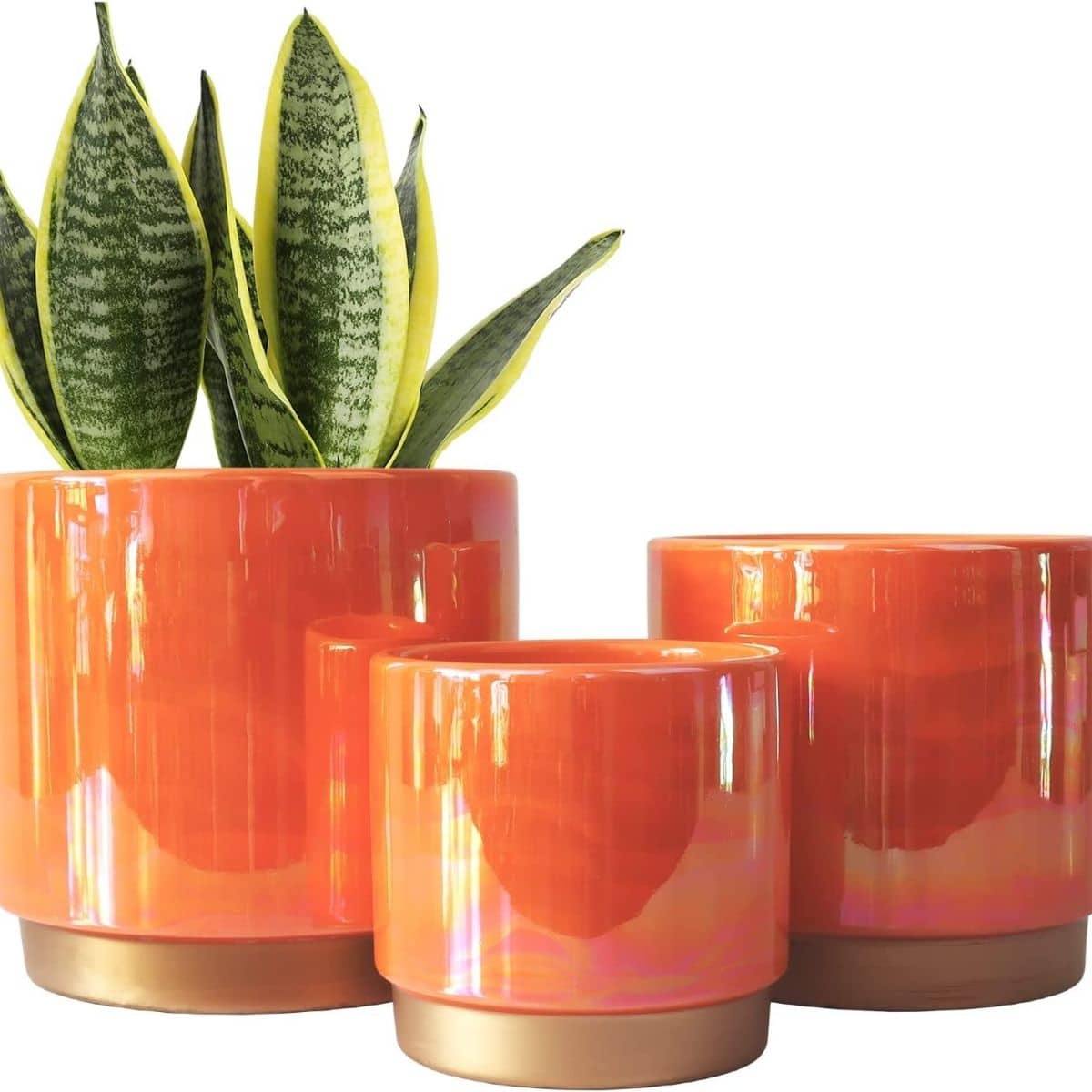 Rainbow Pearl Glaze Planter
The color of these rainbow pearlescent glazed ceramic pots is lovely. It has large drain holes which will help with avoiding root rot. Making this a good choice for a mother-in-law's tongue plant.
Buy At: Amazon $30.99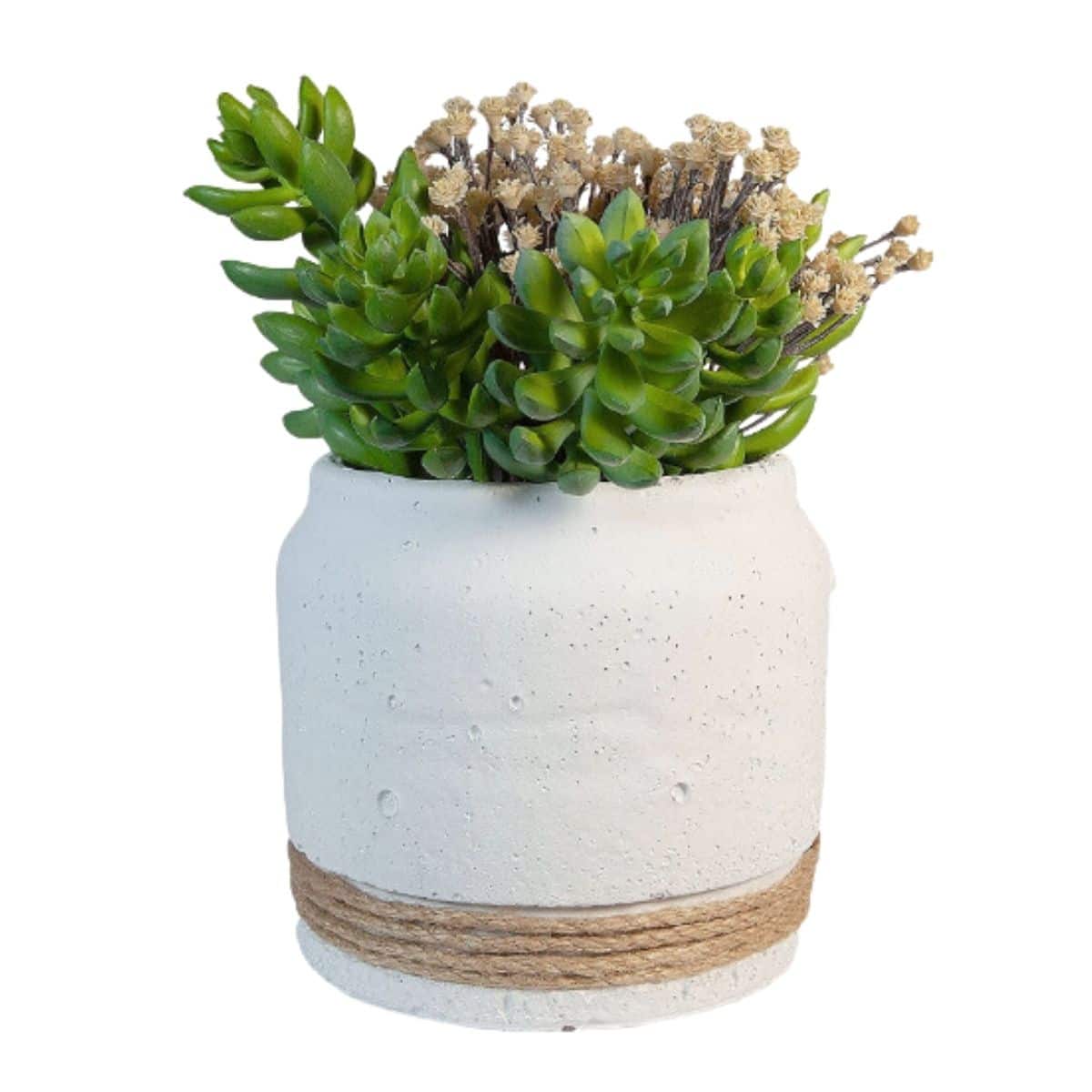 Cement Modern Planter Pot
We love this modern cement planter with the addition of a jute rope for added texture. It has a very lived-in look making it the perfect pot for rustic or vintage-style decor.
Buy At: Amazon $19.99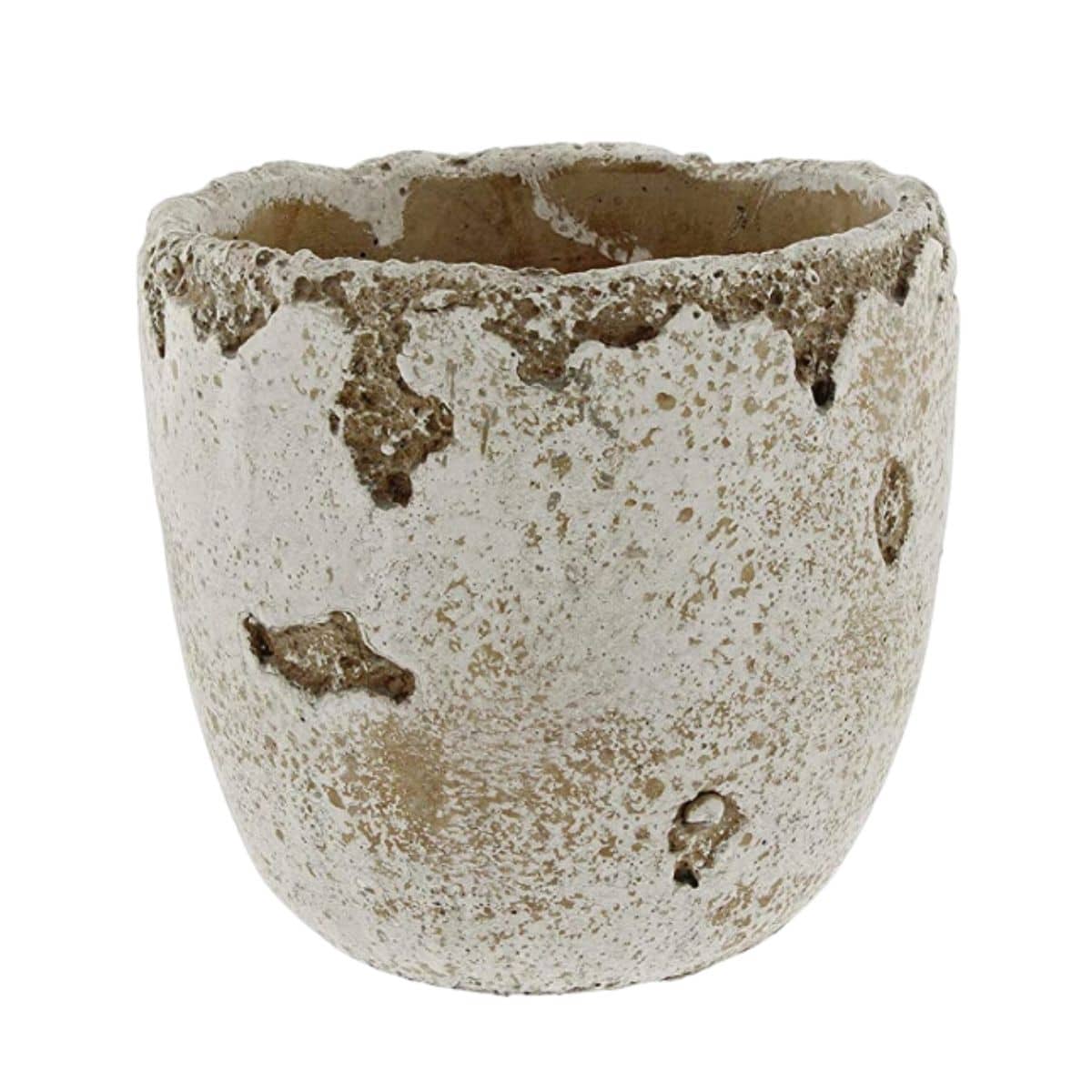 Distressed Weathered Cement Planter
Made of cement stone with a distressed, weathered finish this is a fave of ours. Go out and get yourself a new plant and style it up with this stone planter.
Buy At: Amazon $18.95
There are many types of Snake Plants, this post covers 5 Awesome Types Of Snake Plants Plus Care Tips.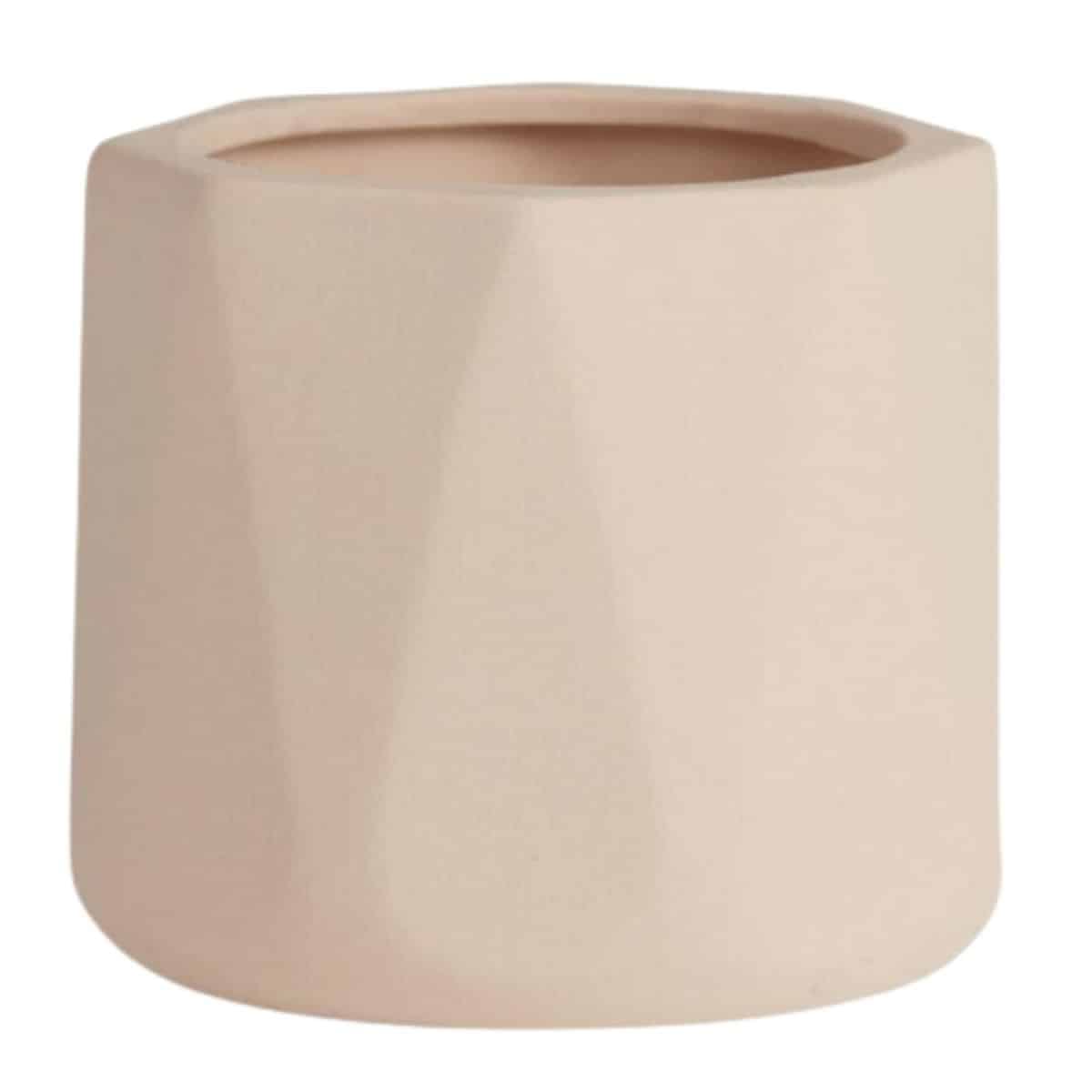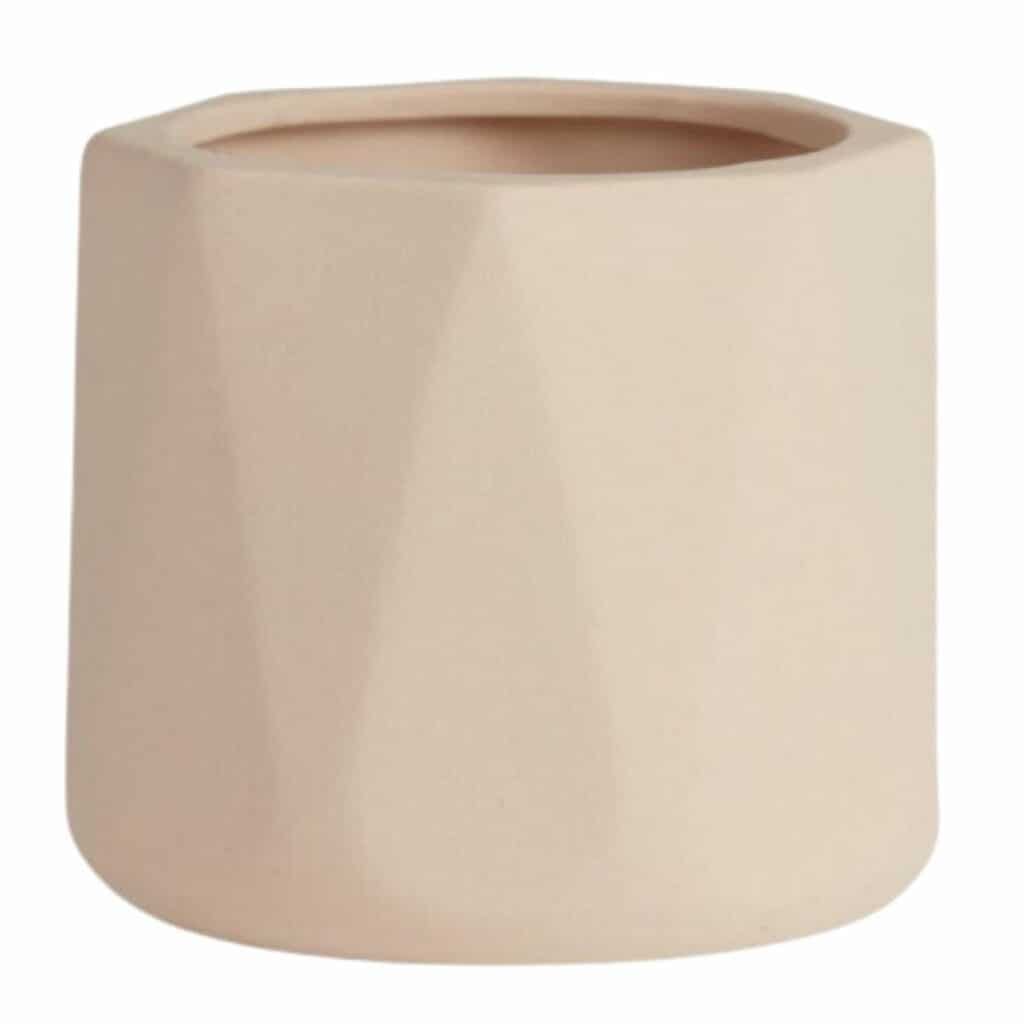 Natural Ceramic Faceted Planter
With a natural hue and faceted shape, this ceramic planter is equally modern and rustic. This is a good quality planter that would make for a lovely snake plant pot.
Buy At: World Market $11.99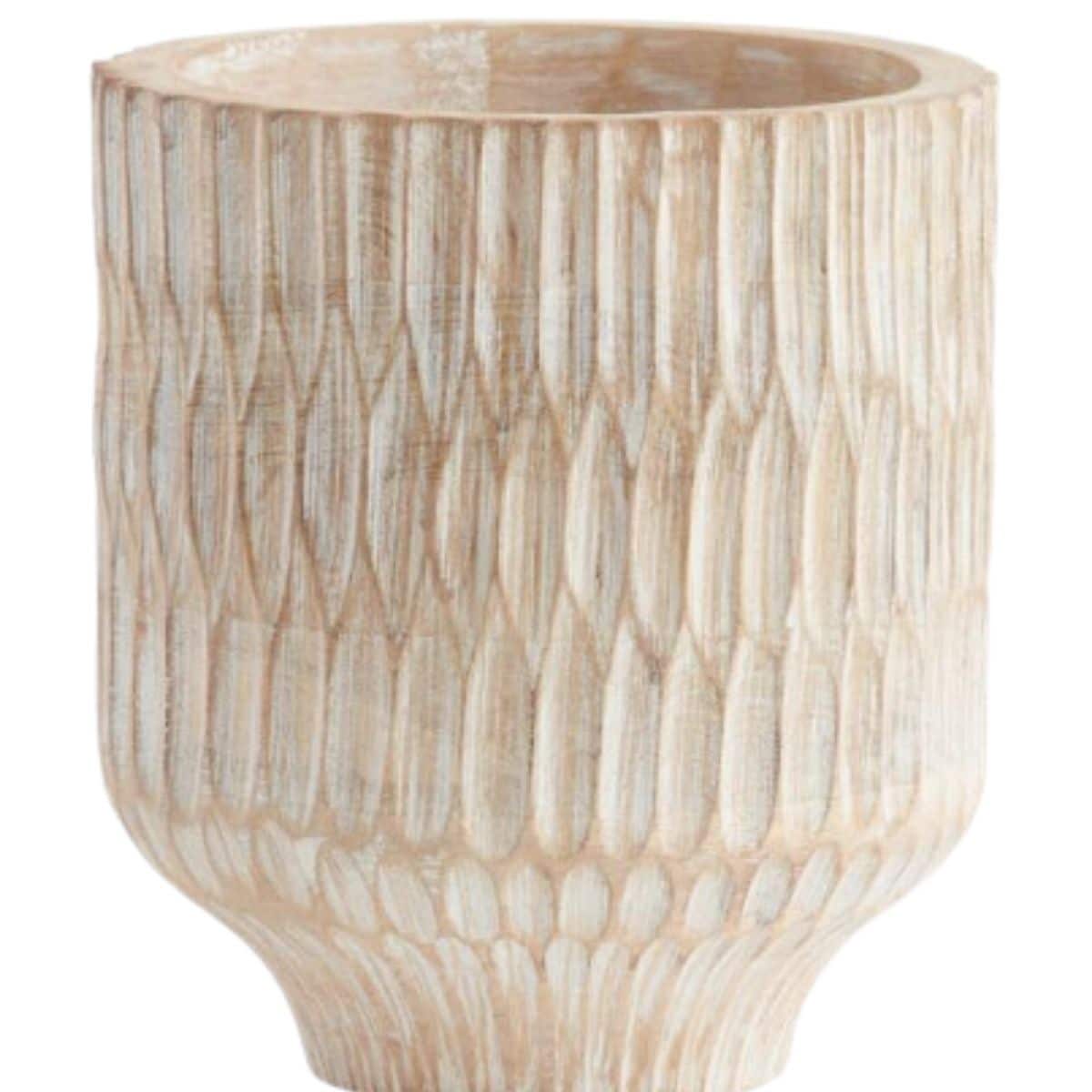 Natural Carved Wood Planter
Artisans in India carved this wood planter from mango wood, a prized hardwood for its unique colors. How beautiful! These wooden pots are utterly unique and make a great addition to your home decor.
Buy At: World Market $14.98
6-8 Inch Pots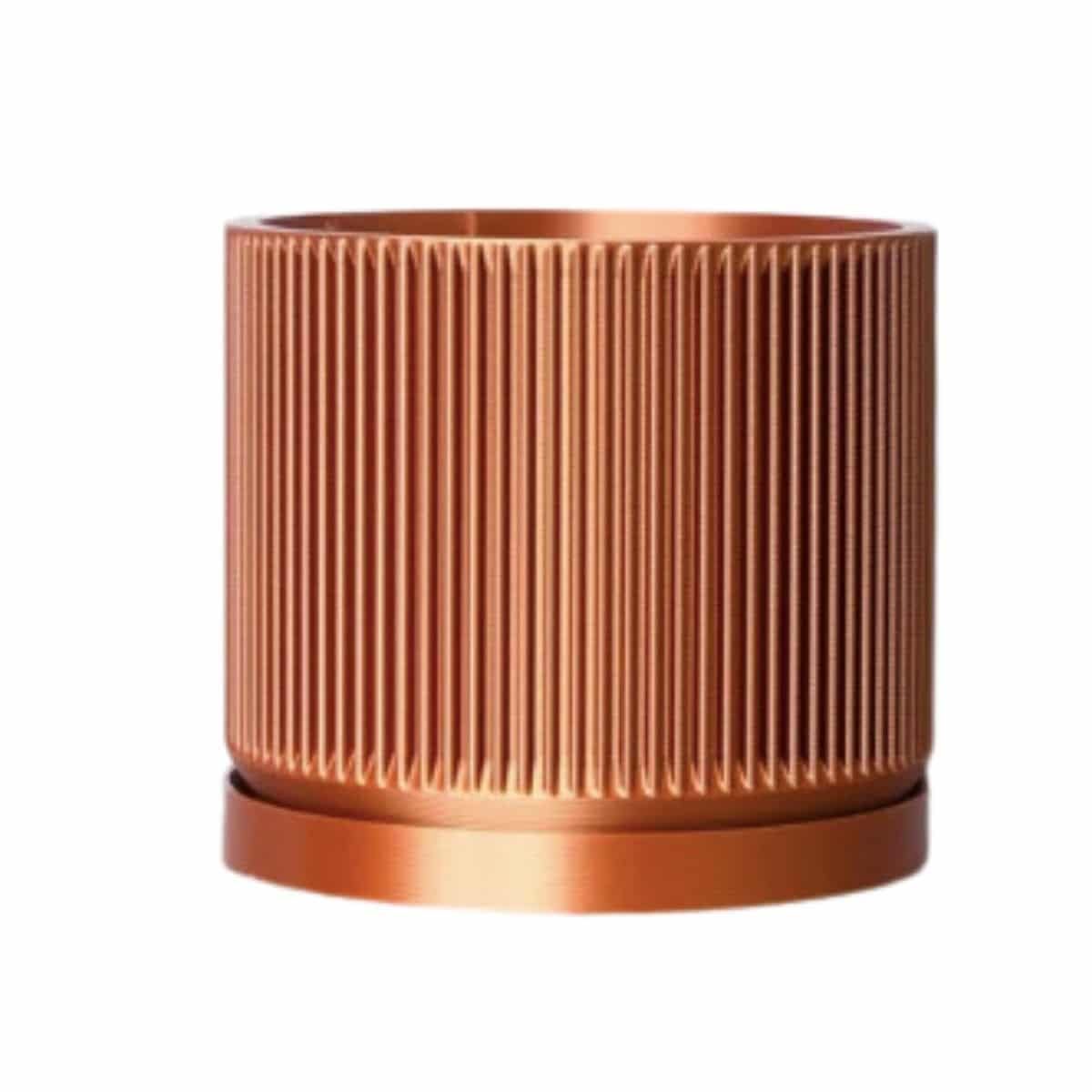 Copper Gravity Planter
The copper color of this pot is gorge! You can choose what size pot you need it ranges in size from a small pot size (4in) to a larger pot size of 8in. Whatever size you decide to go with your new pot will make a lovely addition to your home.
Buy At: Etsy $29.32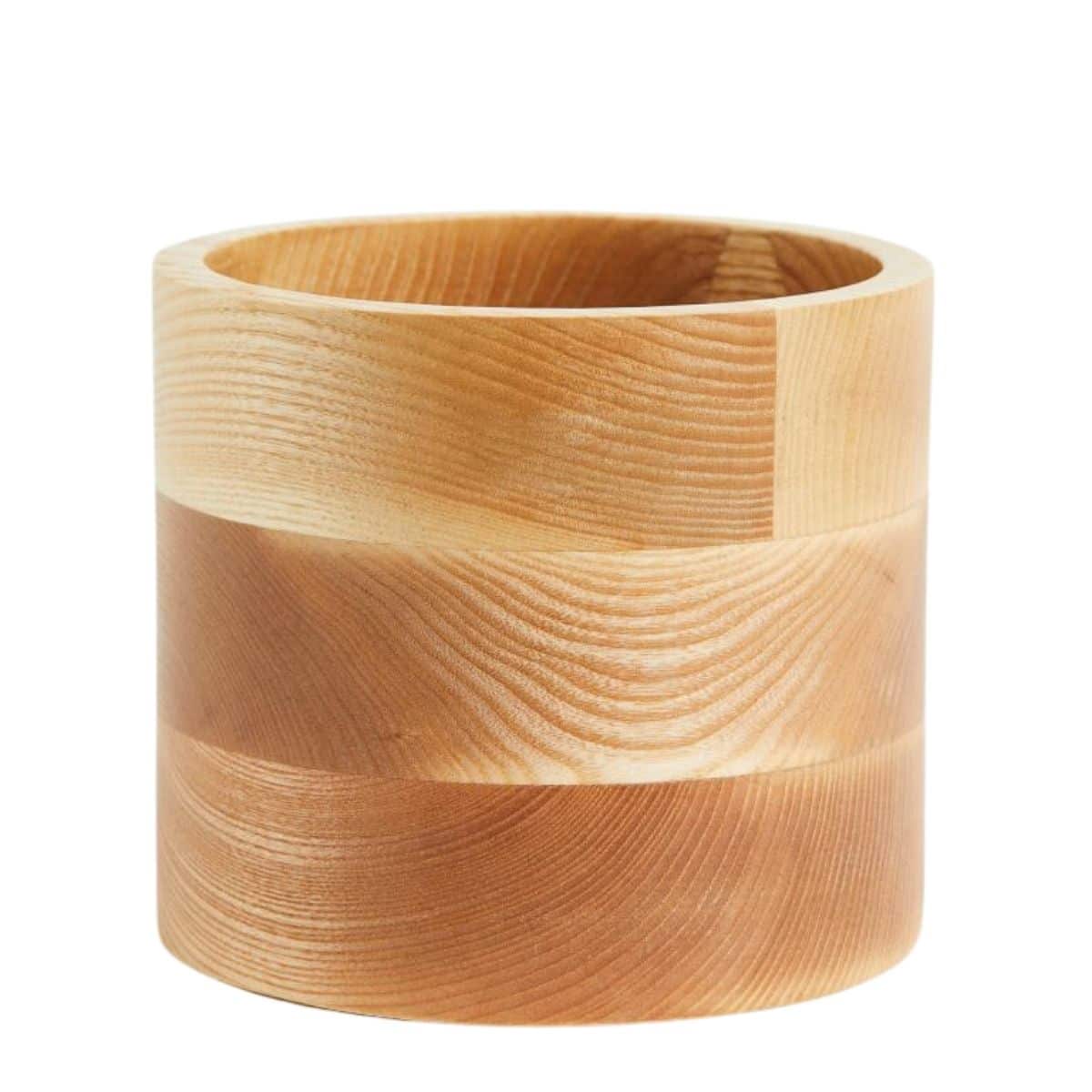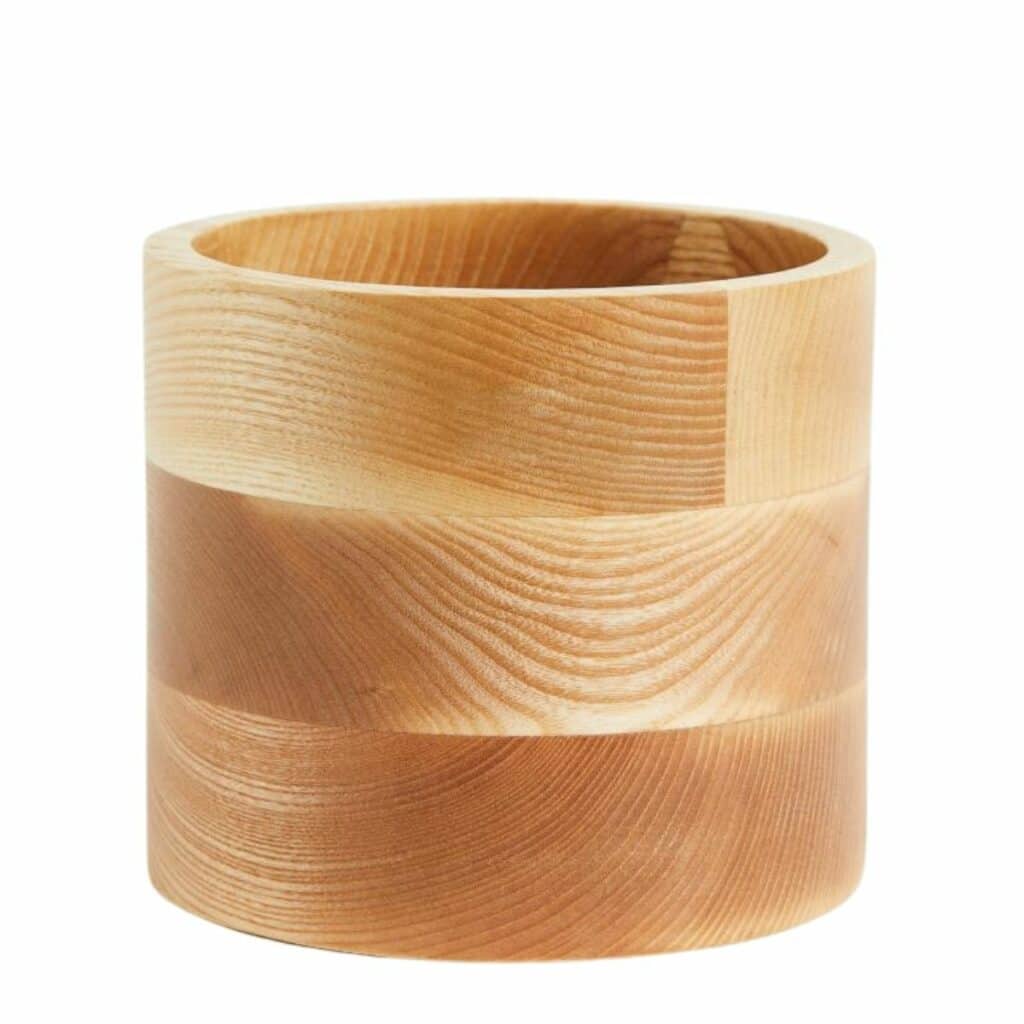 Wooden Plant Pot
This mango wood pot is a 6-inch pot size making it just the right pot size for a 4-5 inch snake plant in a grow pot. This natural-looking pot would make an awesome gift for the plant lover in your life.
Buy At: H&M $24.99
Did you know you can propagate Snake Plants via leaf cuttings? This propagating guide will show you how.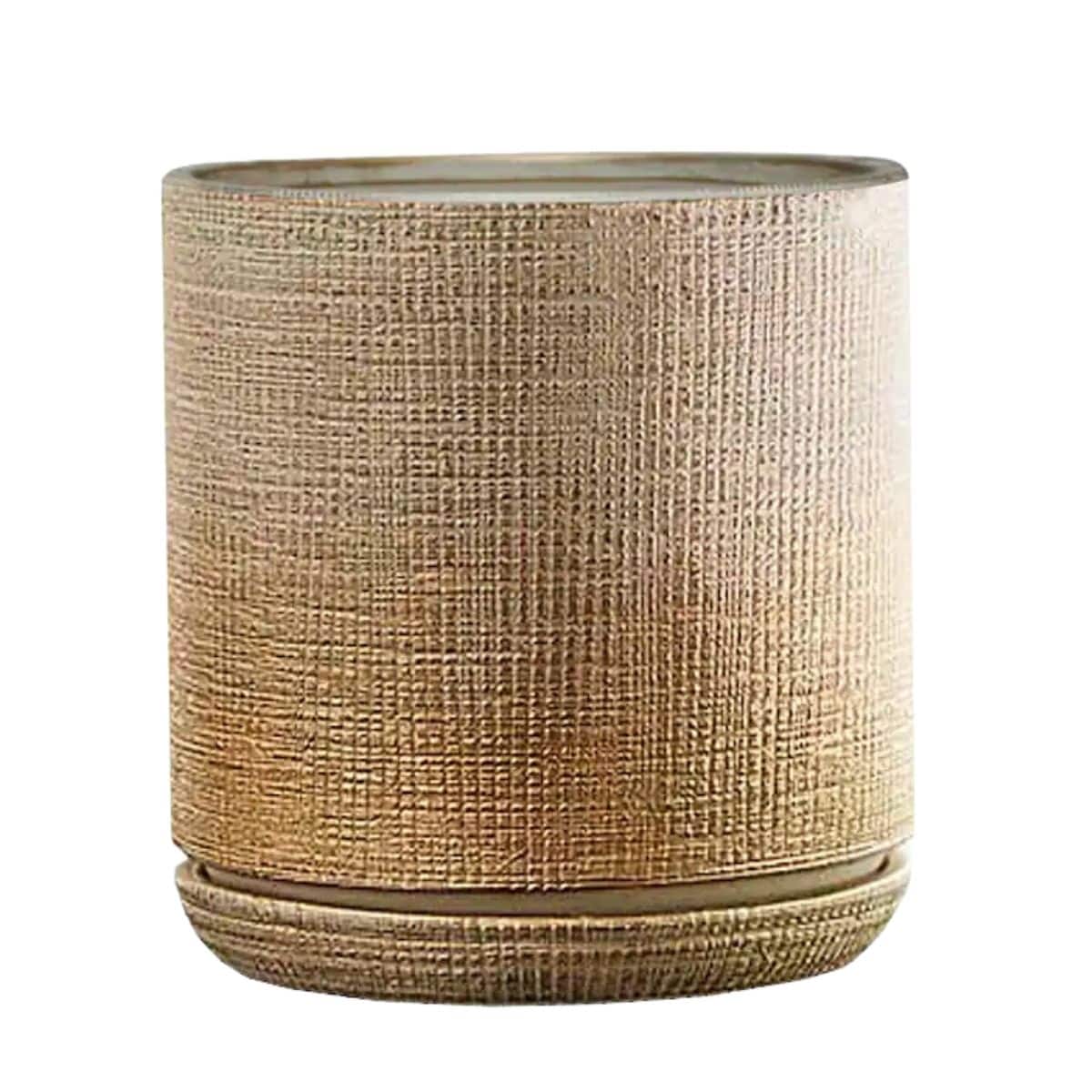 Gold Ceramic Indoor Pot
Snake plants are one of the easiest plants to take care of and that's one reason why we love them. As long as they don't get too much water and succumb to root rot, you should have no problem keeping them alive. So give them a lovely home in this gold ceramic plant pot.
Buy At: Home Depot $12.47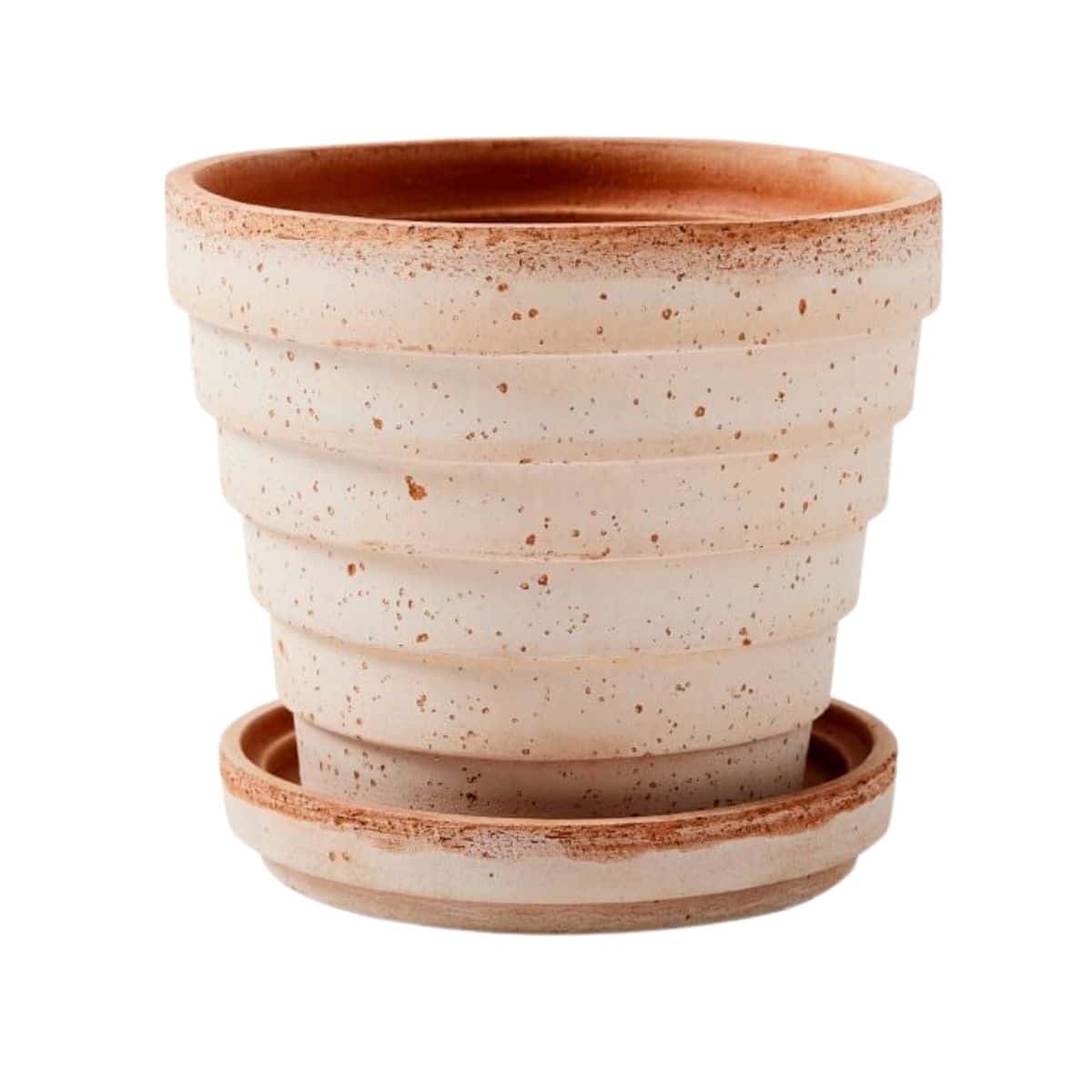 Bergs Planets Tabletop Planter
The timeless style of terra cotta pots makes for the best pots to match any decor or style. We especially like that the neutral tone of this pot will look good with many varieties of Snake Plants. Get yourself a variegated snake plant and give it a happy home in these terracotta pots.
Buy At: West Elm $24.65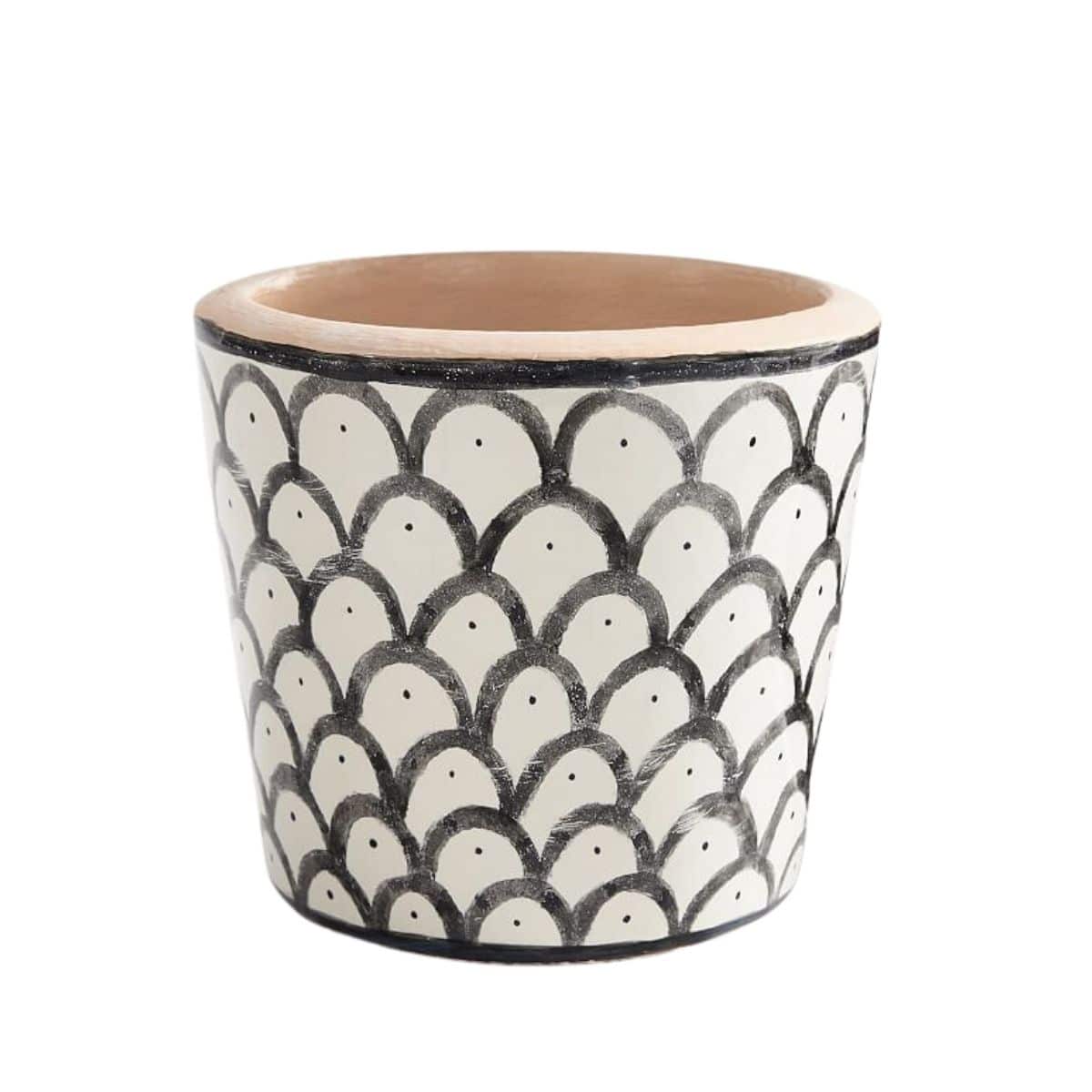 Marrakesh Terracotta Planters
Inspired by traditional Moroccan textiles, this pot will transport your home decor a world away. Embellished with hand-painted motifs, these terracotta planters add boldness and style.
Buy At: Pottery Barn $18.99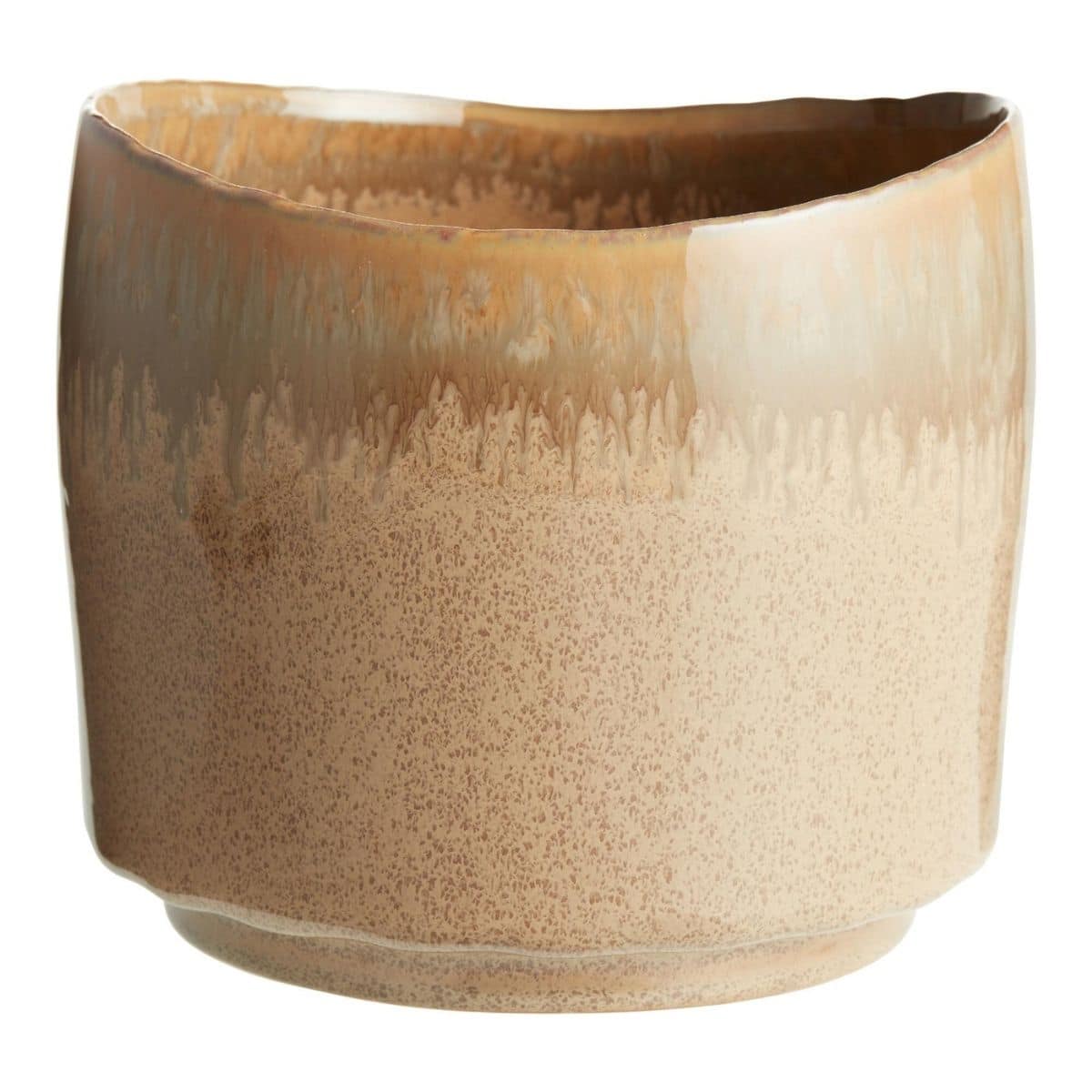 Tan Ombre Glaze Ceramic Planter
Handcrafted with an organically shaped rim, this vessel is one that any green thumb will adore. Its earthy palette of tan with hints of brown and olive green brings beauty to bohemian homes.
Buy At: World Market $24.99
Have a Snake Plant that needs repotting? This guide covers How To Repot Snake Plants Plus The Soil Mix To Use. Just in case it's a very large Snake Plant that needs repotting, click here.
8-10 Inch Pots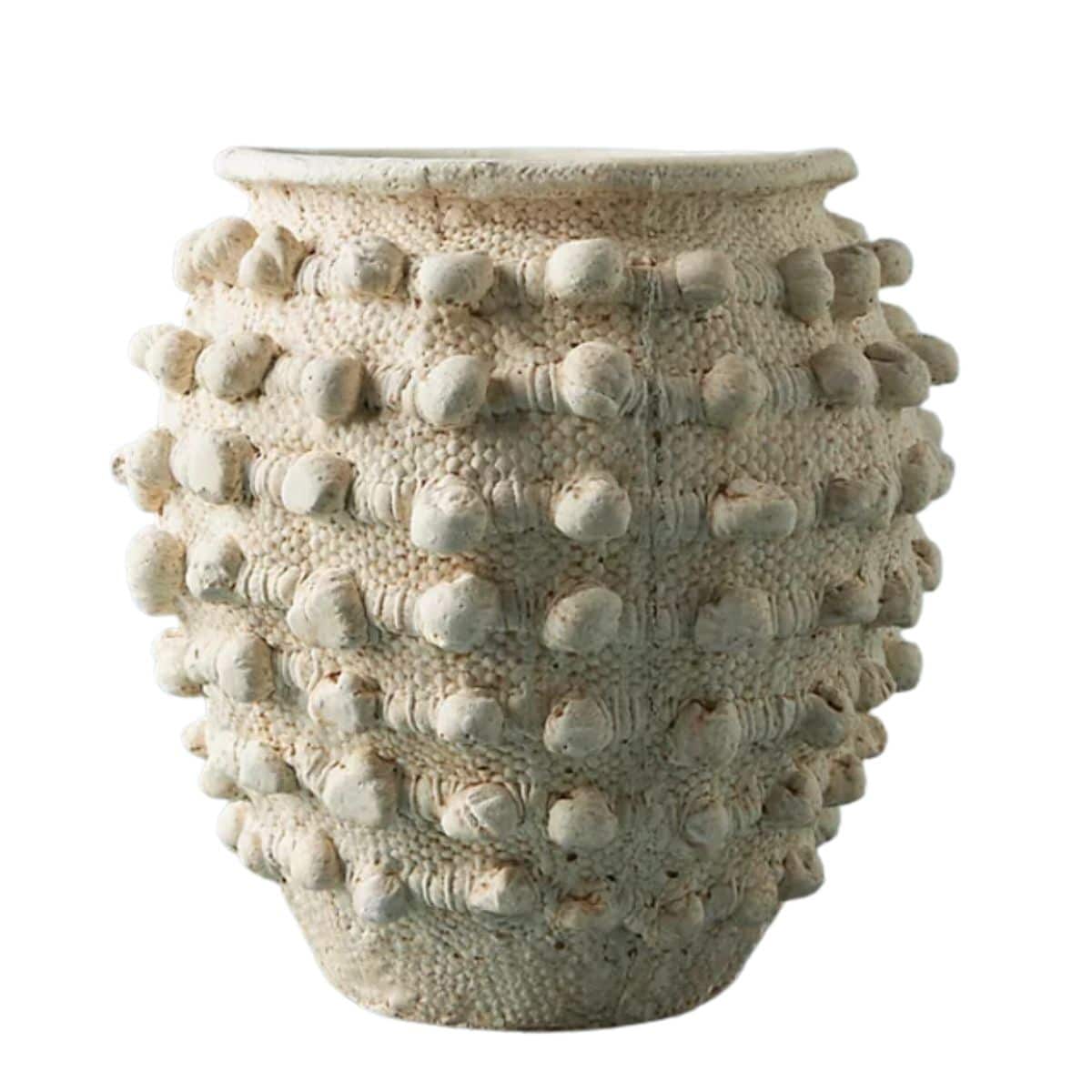 Minka Textured Pot
Textured baubles instantly elevate this hand-painted cement vessel – it's the perfect pick for elevating your plant game. This one comes in a variety of sizes. If you give your Snake Plant the right growing conditions it can call this new pot home for a long time.
Buy At: Anthropologie $34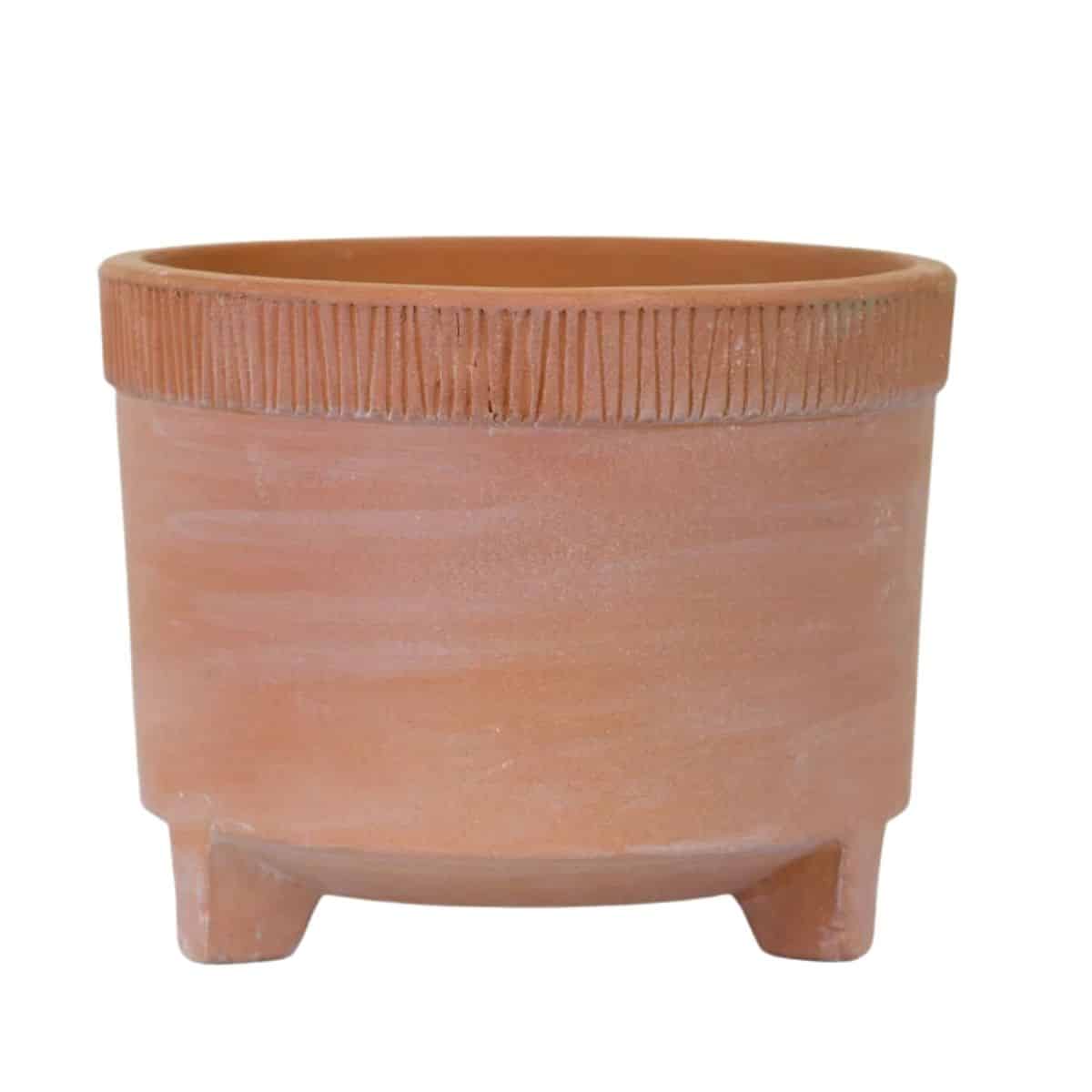 Better Homes & Gardens Clay Planter
This footed planter is a great choice if you are looking for classic terracotta clay pottery. The cylindrical shape makes it easy to drop in a new plant without getting your hands dirty, that's a win for us.
Buy At: Walmart $14.97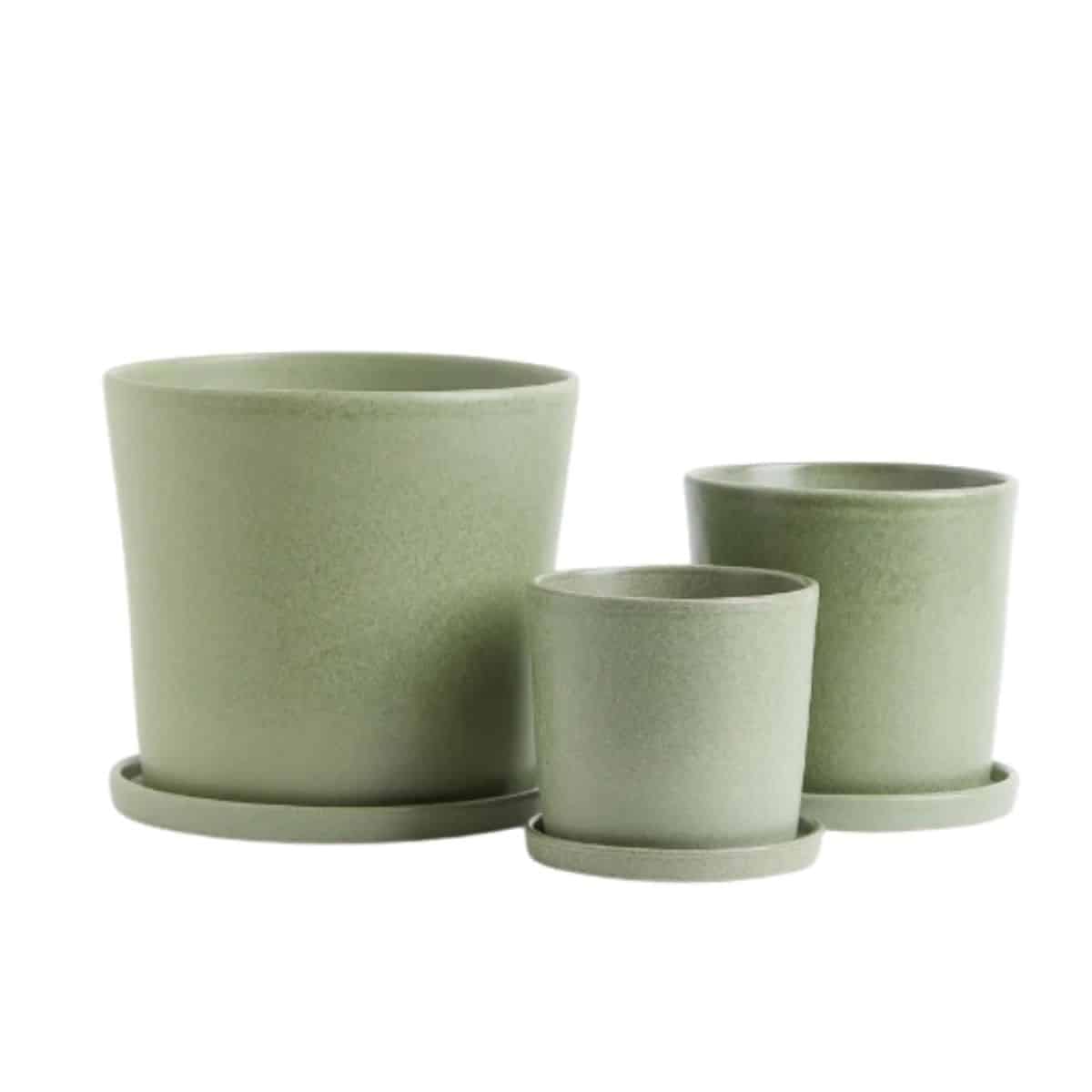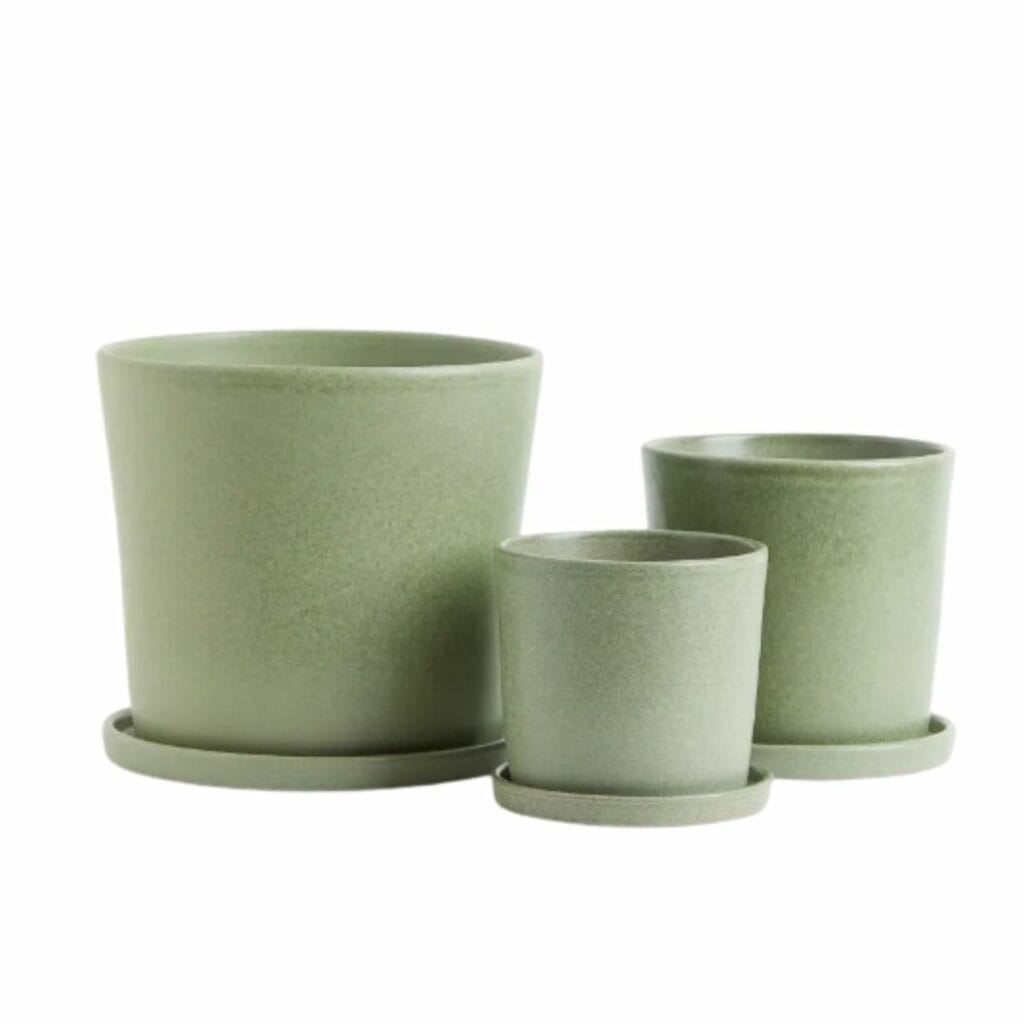 Glazed Terracotta Plant Pot and Saucer
We are such fans of the varieties of colors these pots come in. We're particularly partial to the mint green though. With so many sizes and colors of these pots that you can choose from, we think it makes for one solid choice. Plus, they come with saucers!
Buy At: H&M $39.99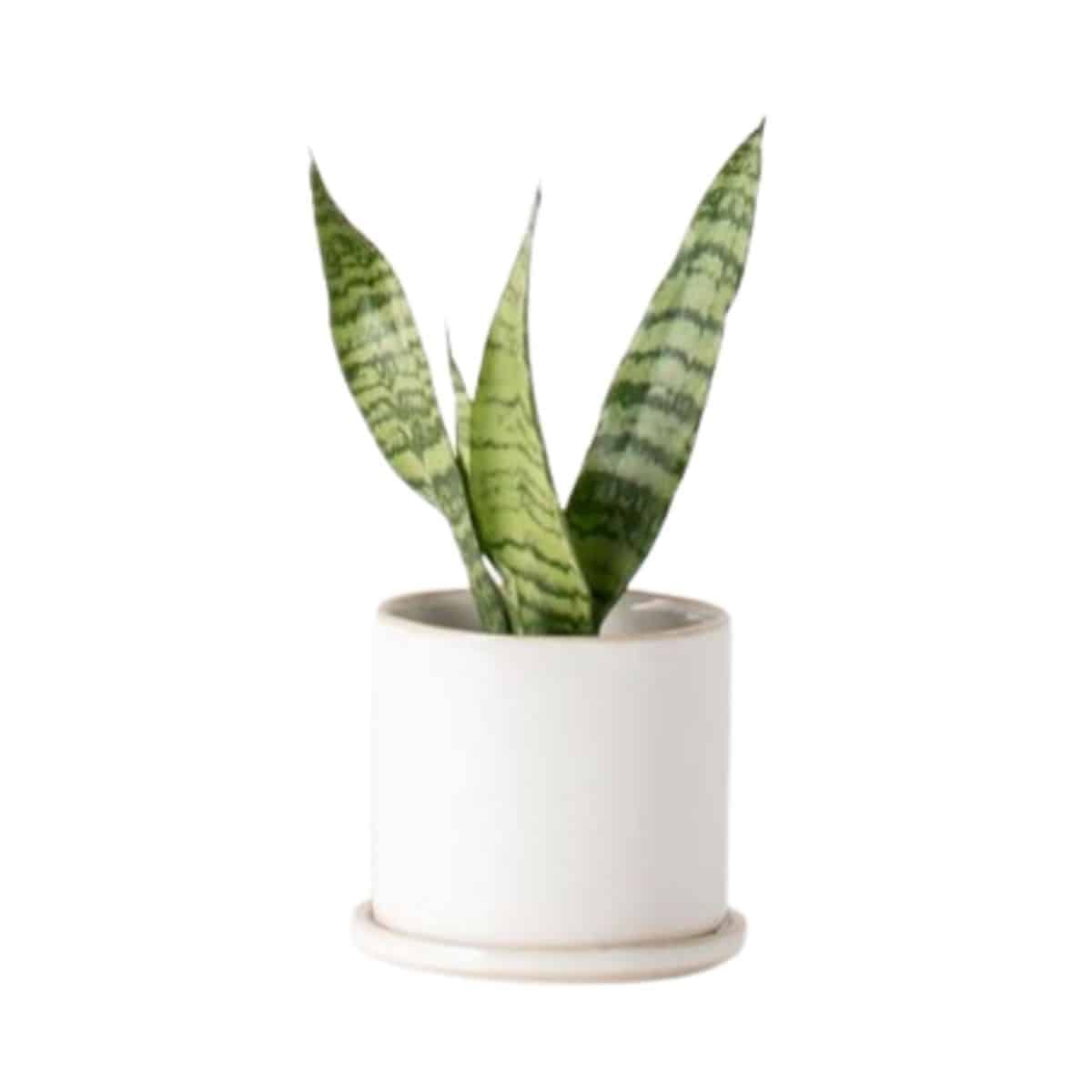 Minimal Stoneware Planter
This stoneware planter is minimalist in design and very sleek looking. Available in 4 sizes, you have a range of options. We like to place the plastic planters (grow pot) right into the pot to help with good drainage.
Buy At: West Elm $82
Snake Plant leaves tend to fall over, read more about Snake Plant Leaves Falling over here.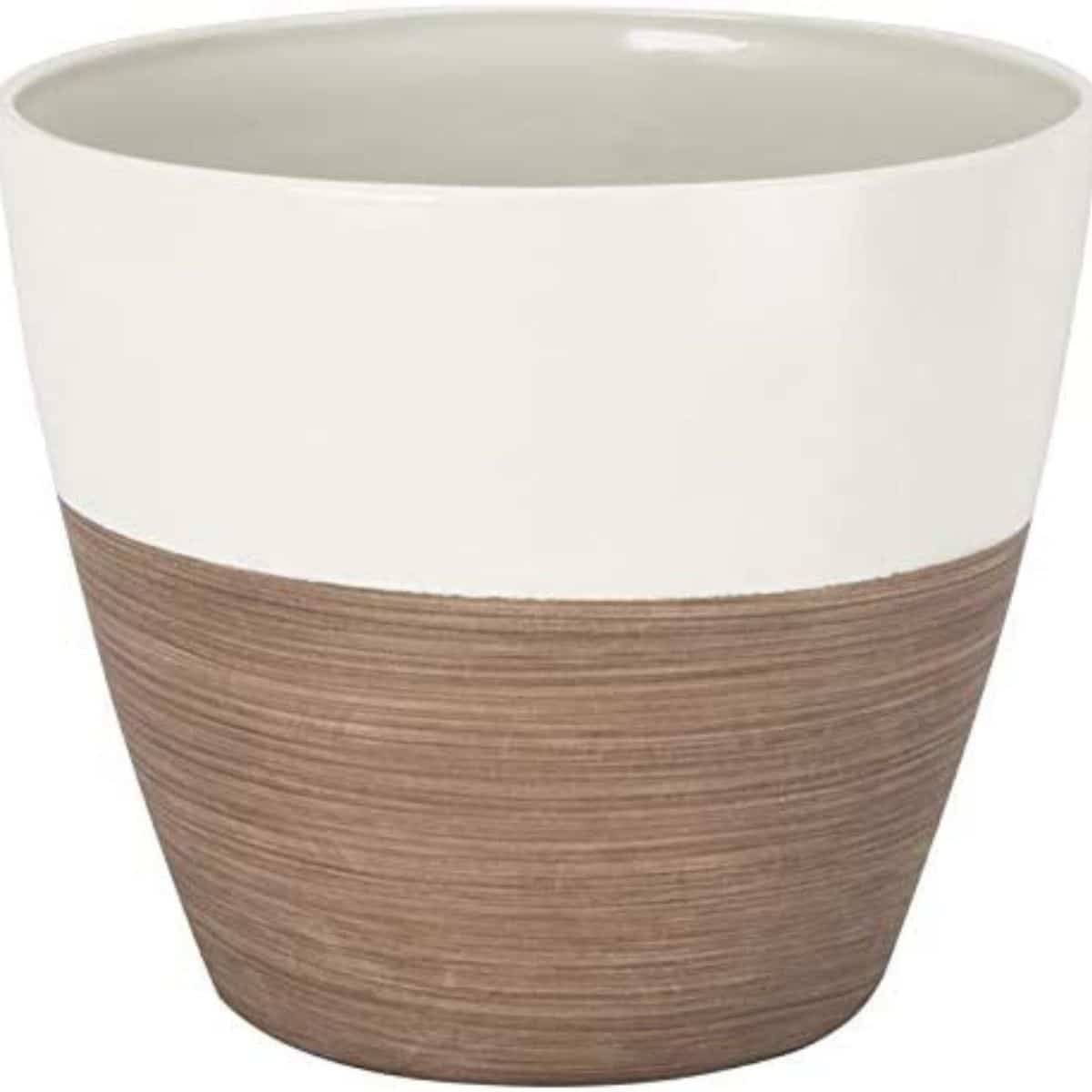 Ivory & Wood Planter
This plant container is made to last with heavy-duty resin and is described as not breaking or cracking.
Buy At: Amazon $17.95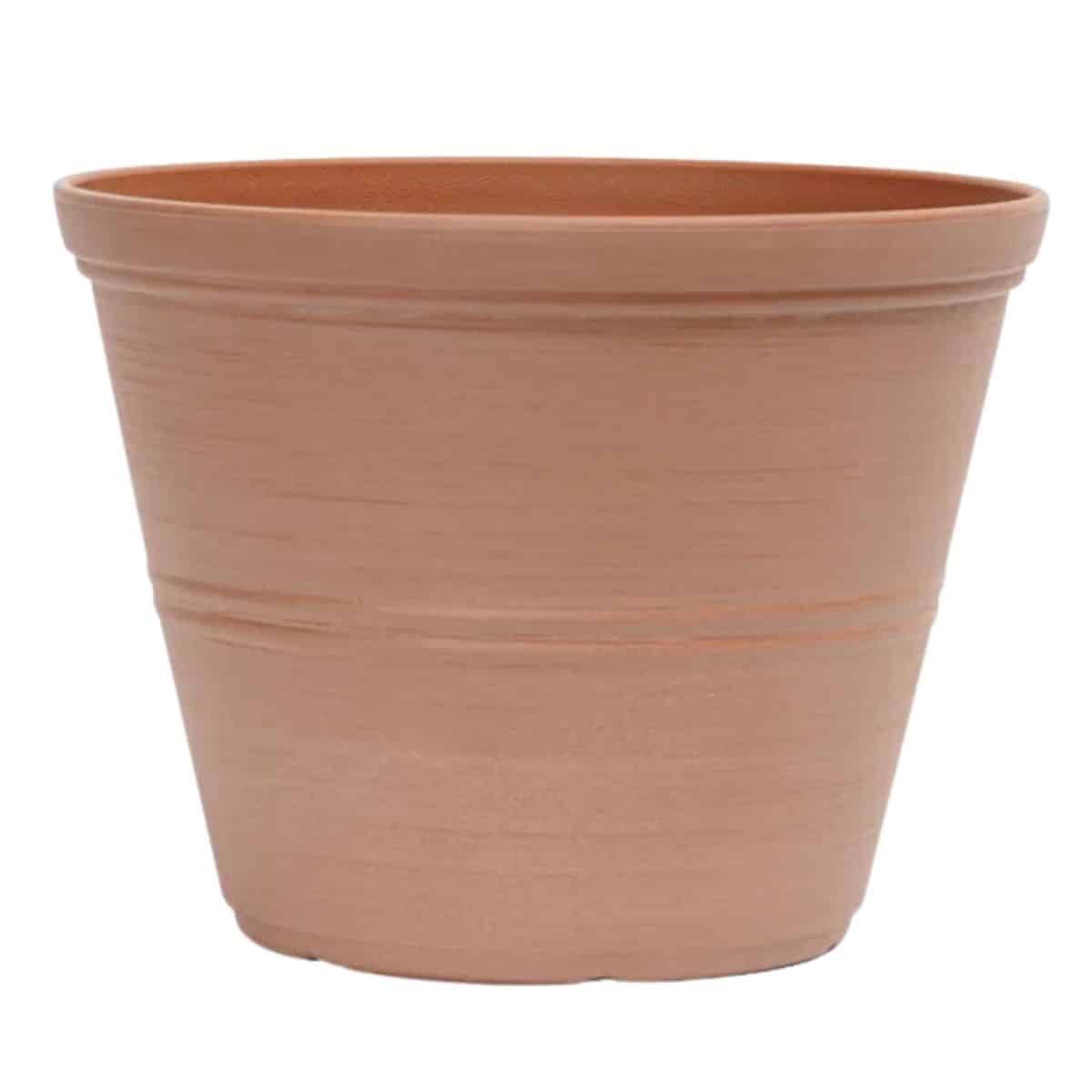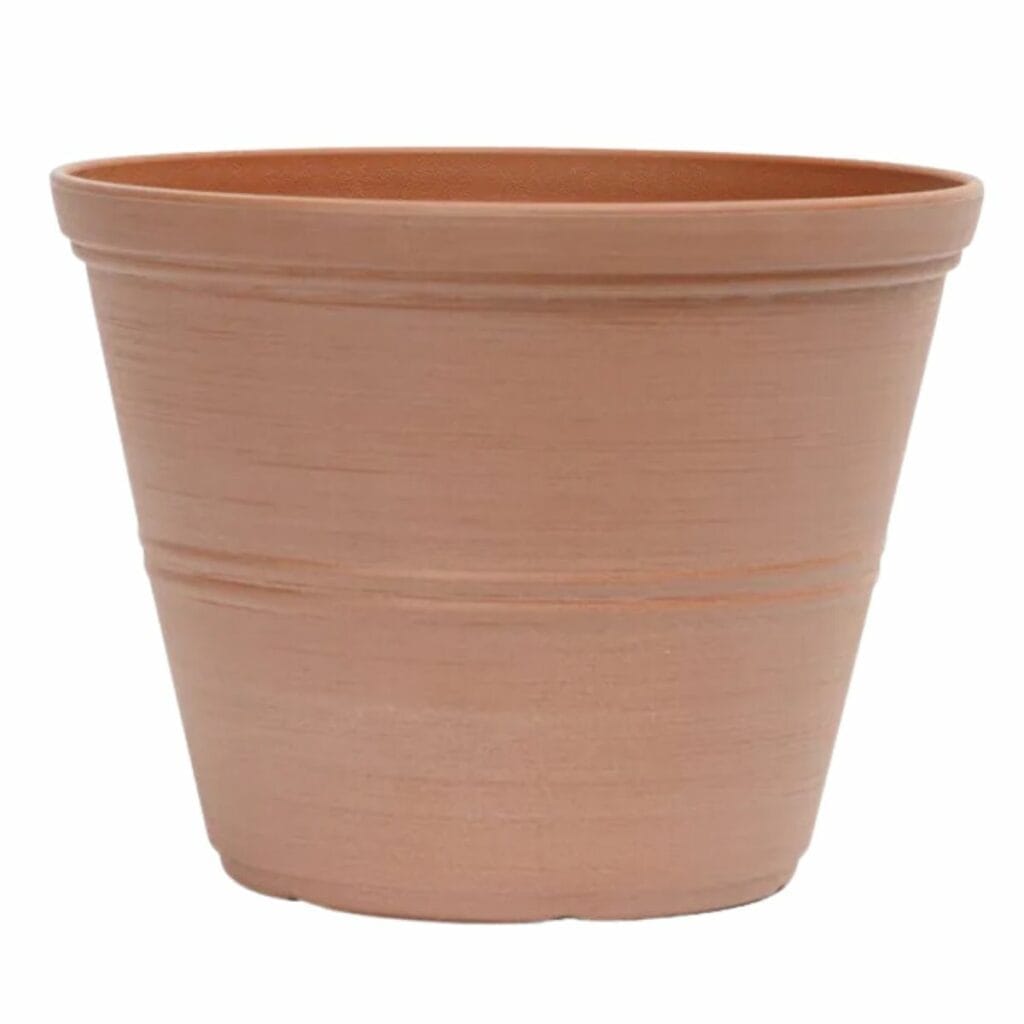 Palermo Peach Terra Cotta Plastic Planter
Plastic pots don't need to look flimsy and cheap. This pot has a nice terra cotta color and is available at a great price.
Buy At: Home Depot $3.98
10-12 Inch Pots For Snake Plants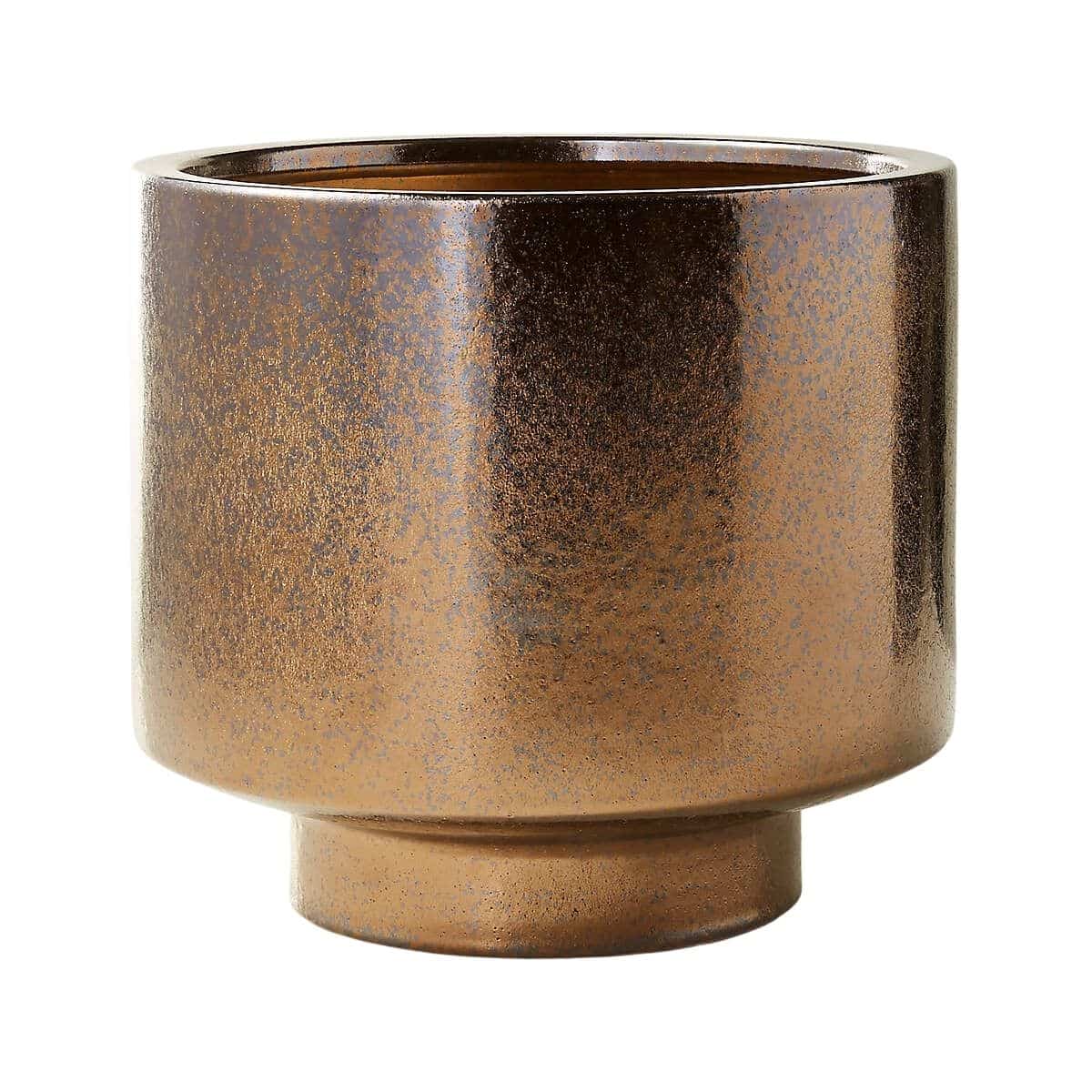 Metallic Bronze Planter
A bronze glaze crackles and shines on this pot. Reactive glaze behaves differently on each piece of earthenware, making each planter unique. How elegant would a Sanke Plant look in this!
Buy At: CB2 $59.95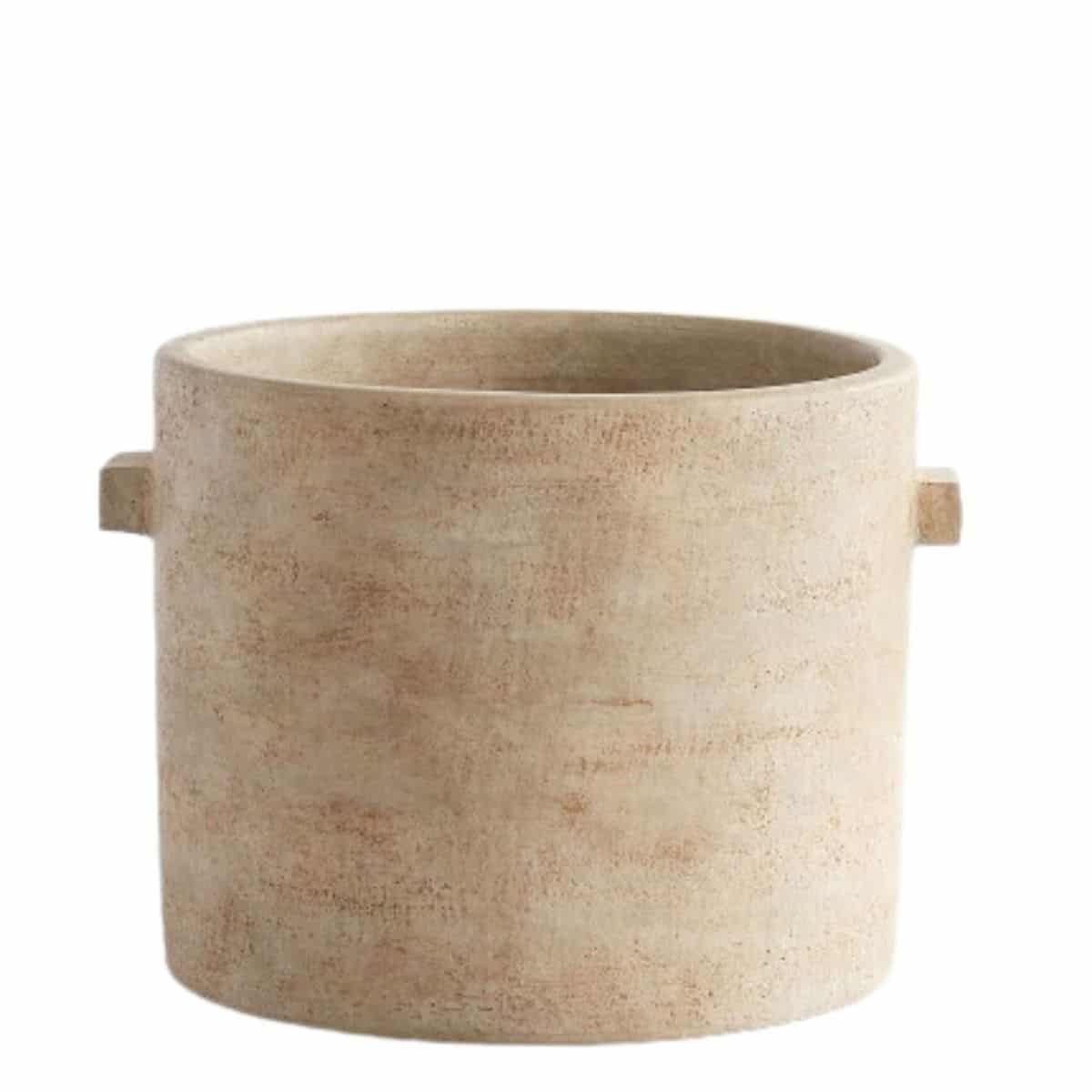 Maya Terracotta Planter
With their weathered, concrete-inspired finish these handcrafted terra cotta pots have the aesthetic of stone found around old homesteads or country gardens. This would fit in wonderfully with earthy home decor.
Buy At: Pottery Barn $99
Snake Plants are diehard houseplants and perfect for beginners. Visit our Snake Plant Care Guide for more on growing these wonderful plants.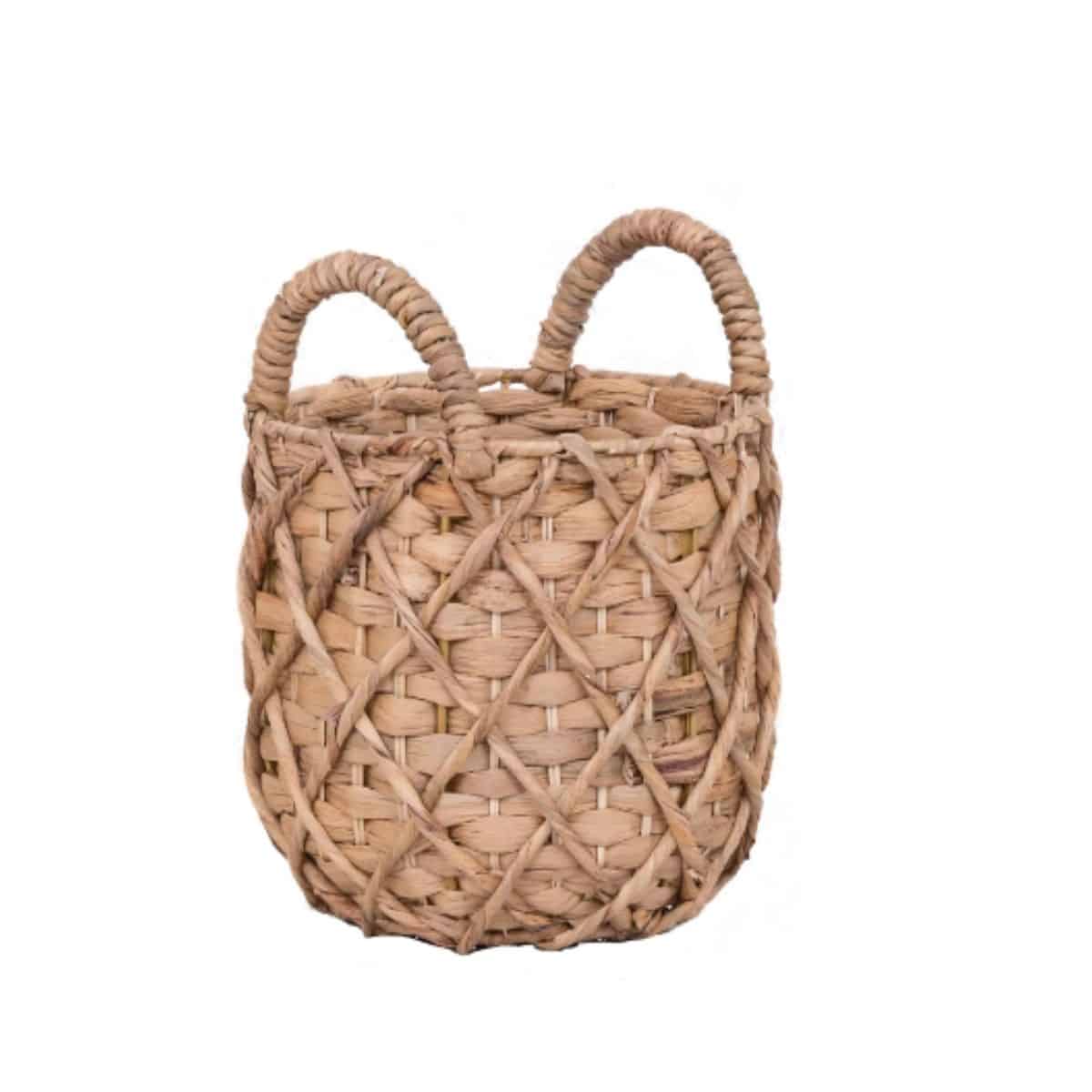 Natural Hyacinth Basket Planter
The hyacinth fibers bring texture to your space. The flexible wrapped handles allow for easy lifting.
Buy At: Walmart $15.97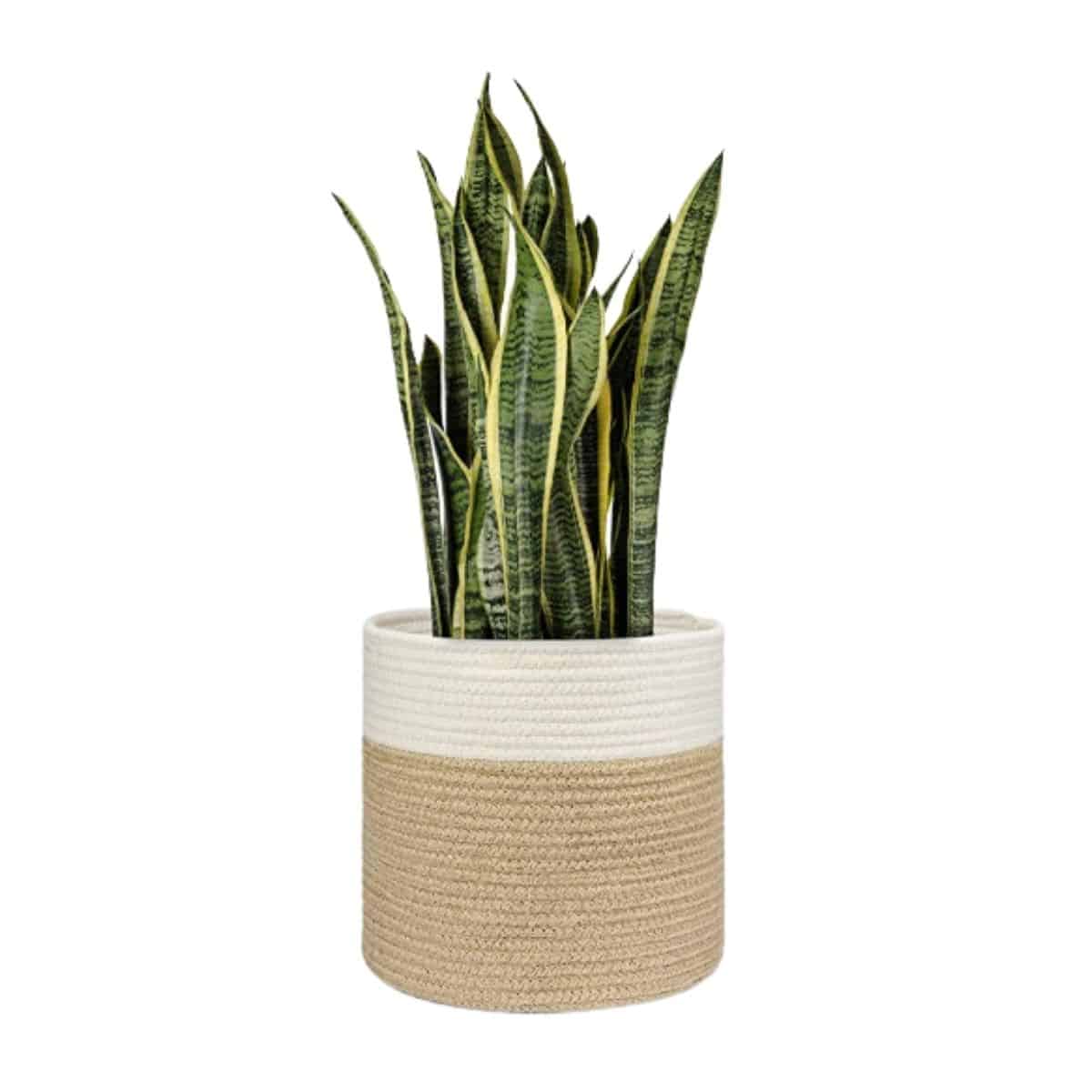 Jute Rope Plant Basket
This cozy beige-bottom hand-woven jute rope basket adds a stylish touch to your favorite large plant for your home or office.
Buy At: Amazon $17.99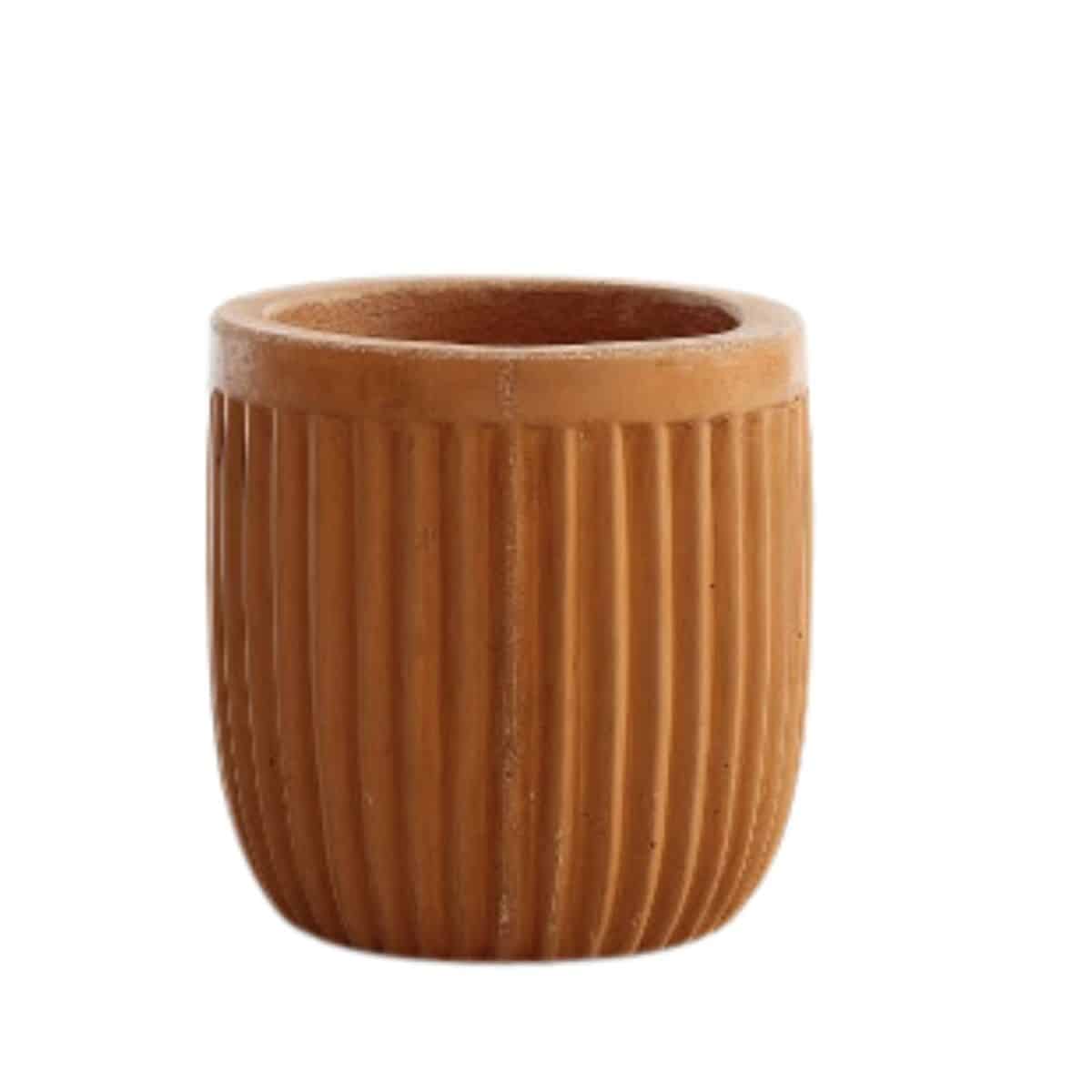 Concrete Fluted Planters
With graceful curves and a timeless design, we love its enduring style and minimalist form. These concrete pots, have a fluted design offering intriguing visual dimension.
Buy At: Pottery Barn $79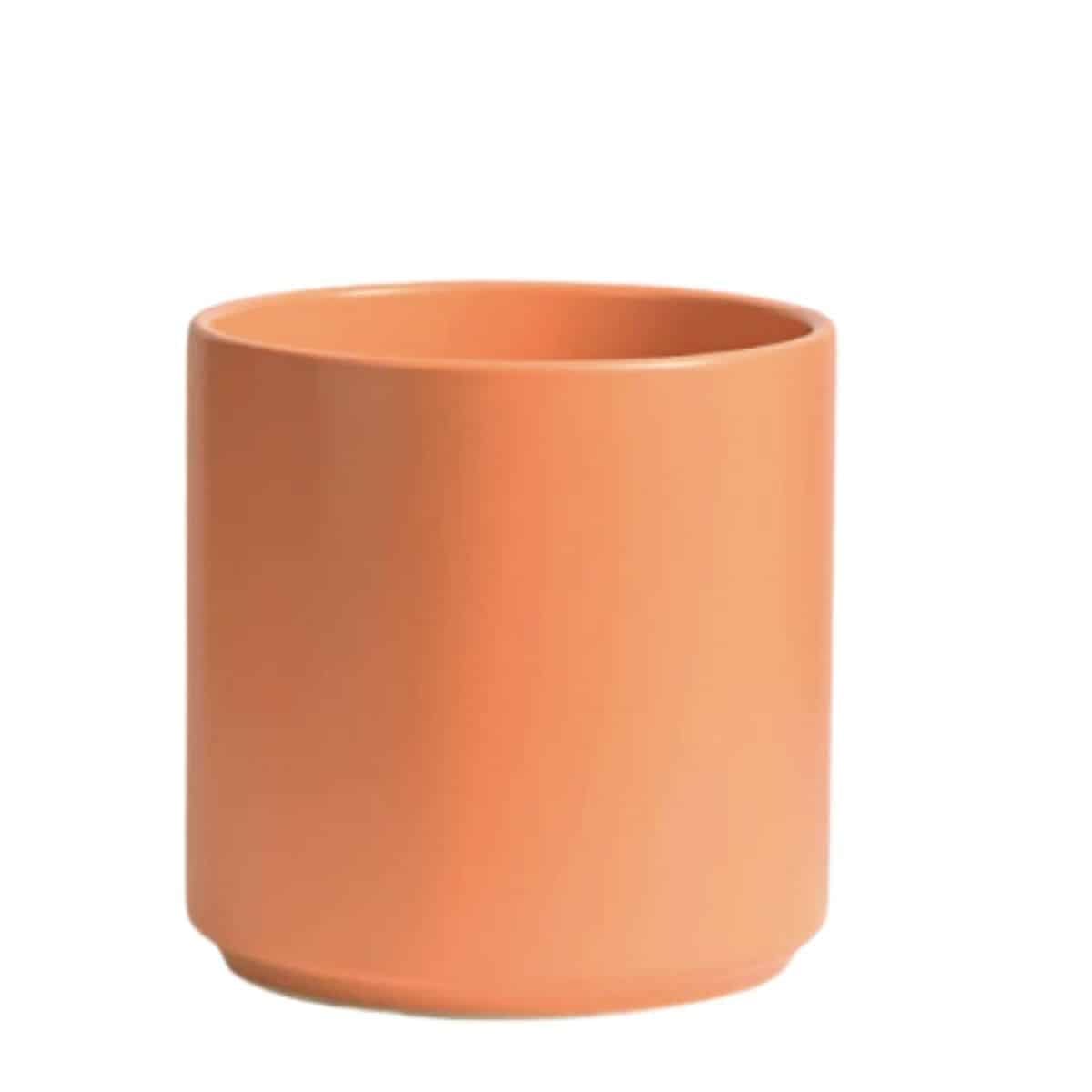 Melon Ceramic Planter
Highlight your favorite houseplant with this modern twist on the classic planter with its peach tone. This one comes in other colors too. Perfect when you need deep pots and large openings.
Buy At: Amazon $67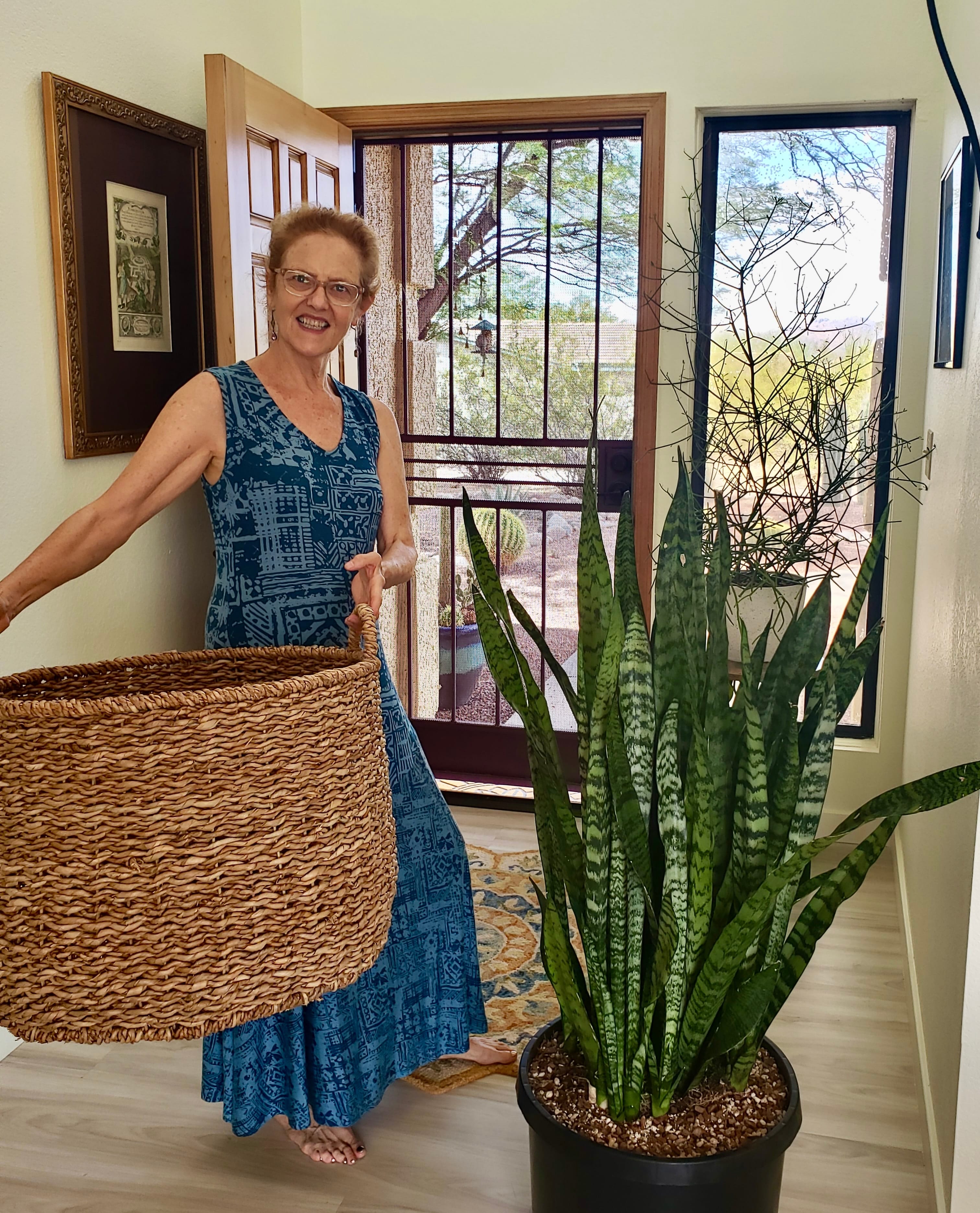 Curious about growing Snake Plants? We answer your Snake Plant Care questions here.
We hope you find this shopping guide helpful and that you've found a pot (or 2!) to love.
Happy Gardening,
-Cassie
This post may contain affiliate links. You can read our policies here. Your cost for the products will be no higher but Joy Us garden receives a small commission. Thank you for helping us spread the word & make the world a more beautiful place!
About the Author
Latest Posts
Nell, the founder of Joy Us garden, was born into a gardening family and grew up in Connecticut's countryside. After living in Boston, New York, San Francisco, & Santa Barbara, she now calls the Arizona desert home. She studied horticulture & garden design, working in the field all her life. Nell is a gardener, designer, blogger, Youtube creator, & author. She's been gardening for a very long time & wants to share what she's learned with you.