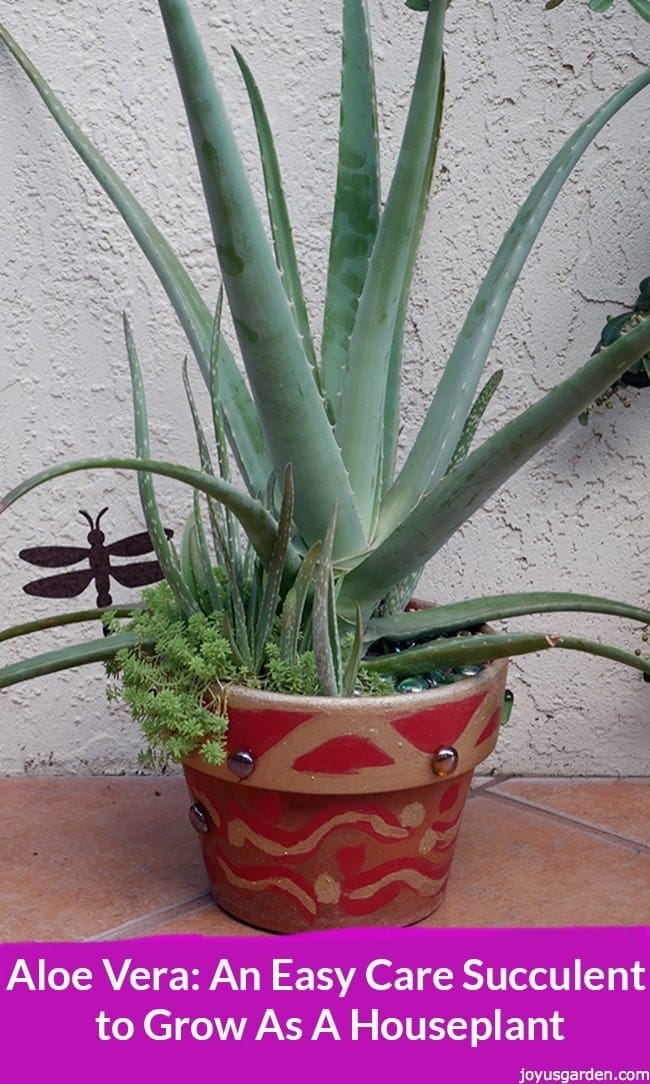 Aloe vera – oh how we love and need you! Most often simply called Aloe, it's a great plant to have around your home. This succulent is truly a plant with a purpose and is very handy to have in the kitchen or bathroom. This Aloe vera plant care guide will keep yours in tip-top shape.
Aloe vera has been used throughout the centuries for its healing properties. I grew mine outdoors in Santa Barbara and do the same here in Tucson. When I lived in colder climates (many moons ago) I grew it indoors. Aloe is very easy to grow indoors and l summarize a few important care points at the end.
Note: This post was published on 9/15/2017 & was updated on 1/25/2023 with new images & more info.
Aloe Vera Plant Care & Growing Tips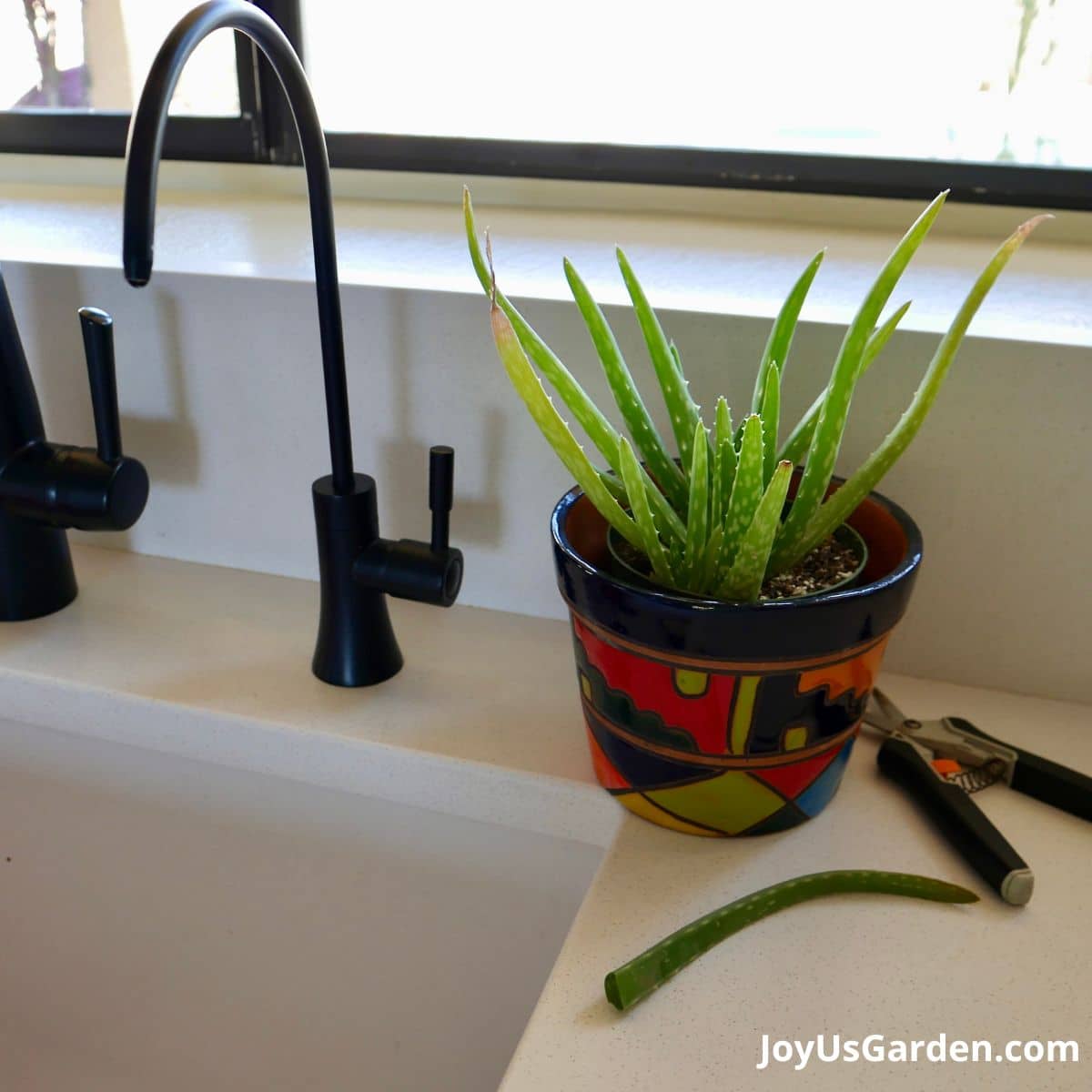 Botanical Name: Aloe barbadensis Miller Common Names: Aloe vera, Medical Aloe, Burn Plant
Size
Aloe is most commonly sold in 4″ and 6″ pots. It'll most likely max out at 18″ x 18″ when grown as a houseplant.
Outdoors is different. I have a large Aloe vera plant growing outdoors year-round next to my covered patio and it's 3′ x 4′. I need to repot and divide it this spring before it splits the pot open!
Growth Rate
Aloe grows slowly to moderately indoors. It needs a good amount of sunlight to do well and produce pups (these are the baby plants that grow off the mother plant).
Light/Exposure
This succulent needs lots of bright, natural light to grow successfully indoors and for those leaves to get nice and plump. A south or west exposure where it receives indirect sunlight in your home is best. If you have a dark home or apartment, this plant will be a no-go.
It can be close to a west-facing or south-facing window (over 2′ away), but not right in it. You don't want it near or touching hot glass. Rotate the plant every 3-6 months to make sure the light it's receiving is even on all sides.
If your Aloe isn't getting enough light, it'll let you know. The plant will start to look leggy and weak (sometimes causing the leaves to fold over) and the leaves will start to pale. Then you know it's time to move it to a spot with more light.
In winter you may have to move your Aloe to a sunnier spot as the light levels are lower and the days are shorter. In summer be sure to keep it out of any hot, sunny windows because that can burn the leaves.
Here we Answer Your Questions About Growing Aloe Vera Indoors.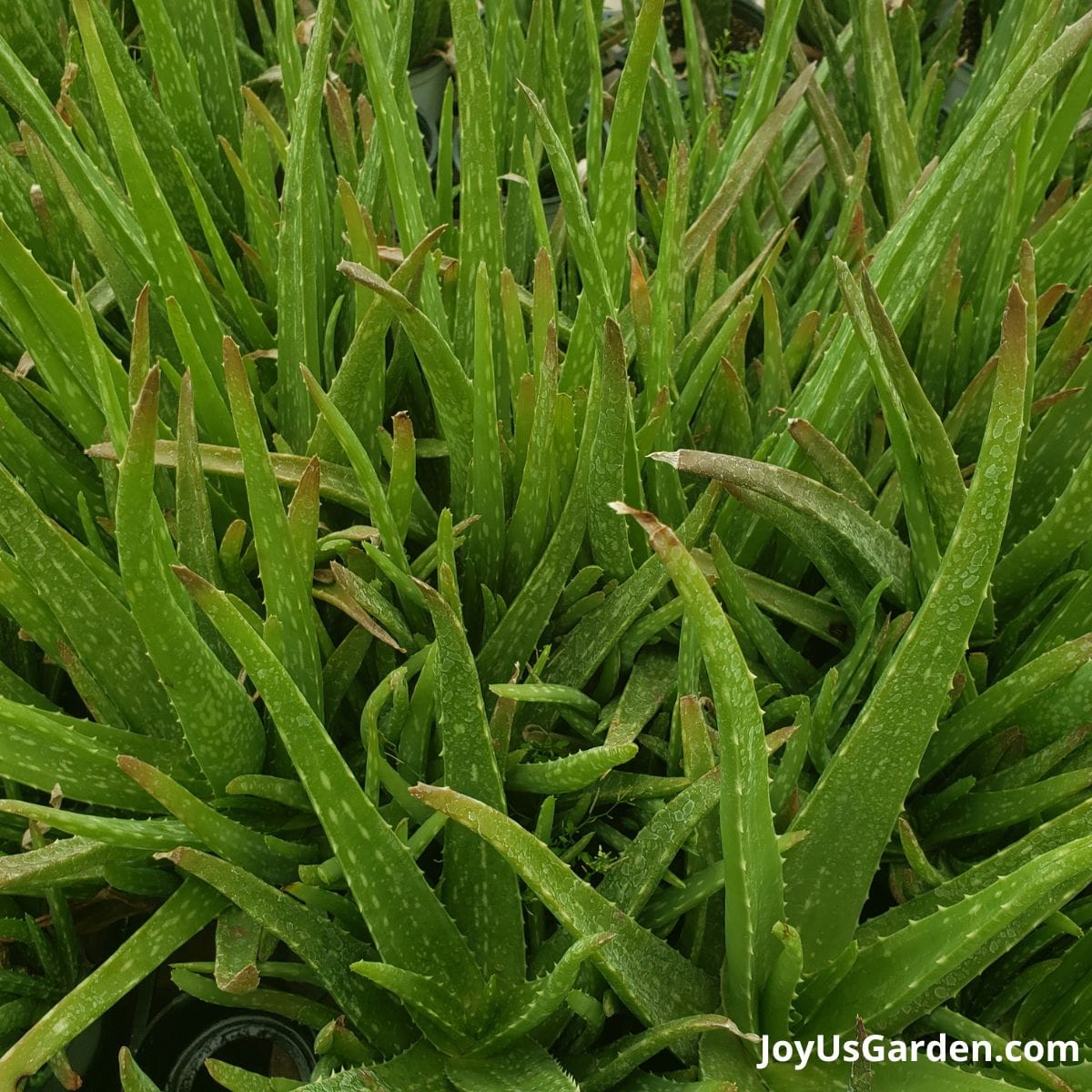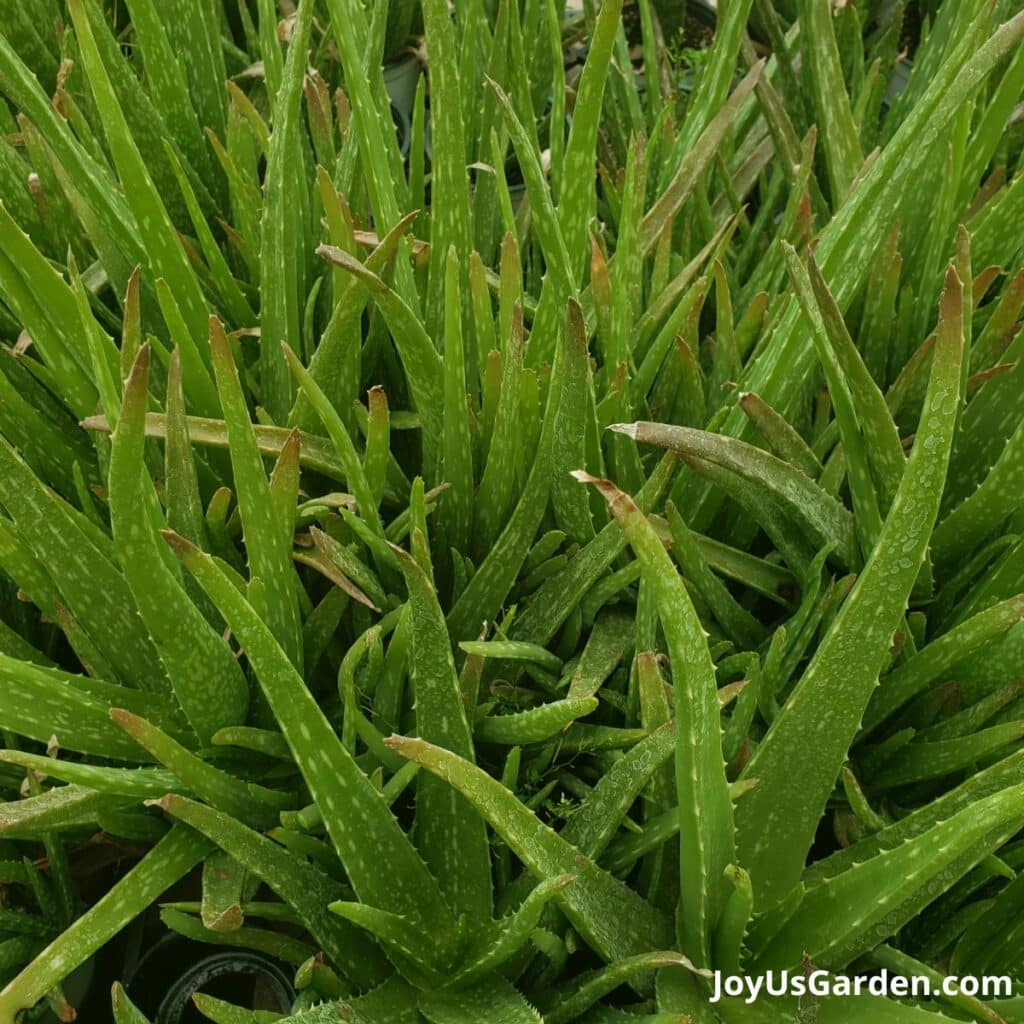 Are you having issues with your Aloe Vera? Here are 5 Reasons Why You May Be Having Problems Growing Aloe Vera Indoors.
Watering Aloe Vera Plants
In regards to watering, easy does it when it comes to frequency. This fleshy succulent stores water in its leaves and thick roots. As a general rule, you want to water your Aloe vera every 2-4 weeks, depending on the temperature of your home, the amount of sunlight, the composition of the soil, and the pot size.
Water it thoroughly (perhaps by taking it to the sink) and make sure all the water drains out. Having a drainage hole or holes on the bottom of the pot guarantees this.
You never want your Aloe to sit in a saucer full of water so make sure to empty out any that has collected. Water again when the soil is dry or nearly so.
The smaller the pot or the warmer or drier your conditions, the more often you'll need to water. In winter, like with all houseplants, water less often.
Tropical houseplants appreciate misting and spraying. There's no need to mist or spray your Aloe Vera. It doesn't need it.
With this plant, it's best to water less often than more often. If your Aloe begins to smell, then it's rotting out. Dark, transparent spots or crimping at the base of the leaves are also signs of root rot caused by excess water.
This Guide To Watering Succulents Indoors will give you a lot more info.
Temperature
Aloe is very adaptable to temperature. It'll grow better and faster in warmer temps, but it'll tolerate cooler just fine. As I say, if your home is comfortable for you, it'll be so for your indoor plants too.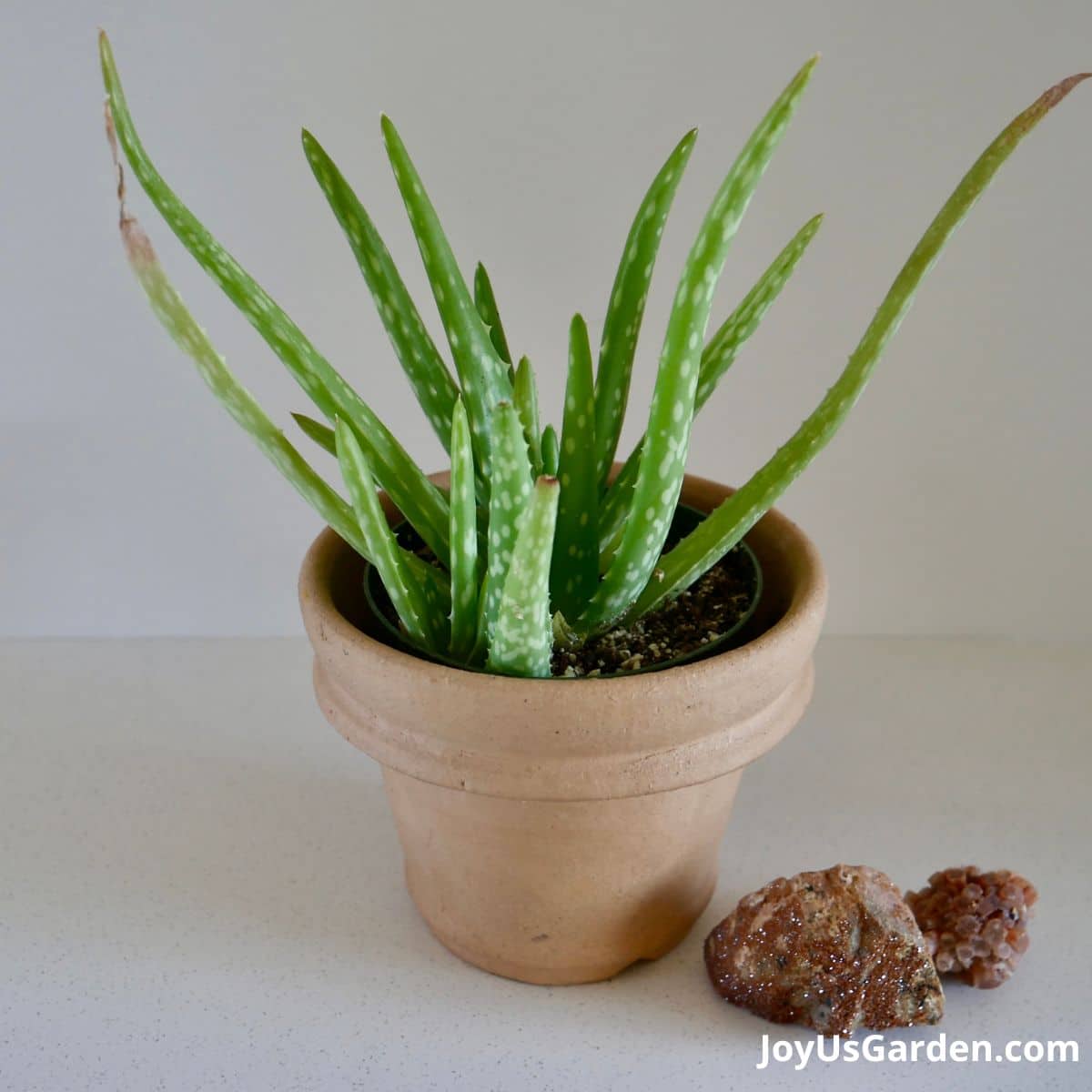 Humidity
Lack of humidity in our homes can be a problem for other houseplants, but not Aloe vera. It handles drier air just fine. You may see some brown leaf tips appear as your plant grows but this is just a reaction to the dry air.
Avoid misting your Aloe vera – it doesn't need it and excessive could cause rot. If the leaves have gotten dirty and dusty, you can spray them off with water once or twice a year. Just avoid doing this in winter.
Here's an Aloe Vera Care Guide if you're interested in growing outdoors as well as indoors.
Fertilizing
Aloe vera isn't fussy or needy in regard to fertilizing. It would appreciate a feeding once a year in spring or early summer. I sprinkle a thin layer of worm compost on all my container plants, indoors and out.
You could also use a balanced houseplant fertilizer, Maxsea, kelp or fish emulsion. If you think it needs a boost, you could feed it 2 or 3 times per year throughout spring and summer at half strength the recommended amount.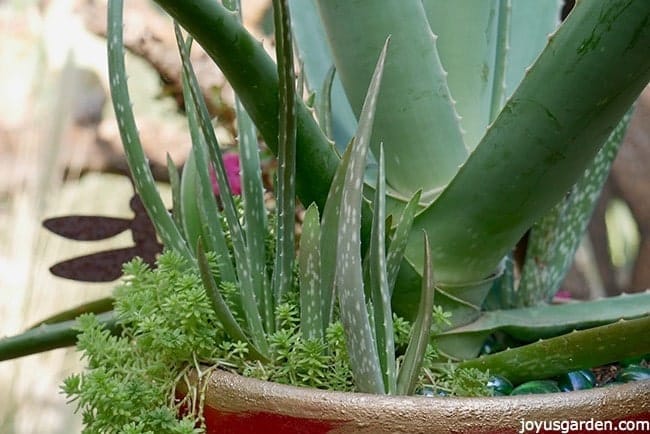 Propagation
It's very easy to get a new plant, or 2 or 3, once your Aloe starts to grow and produce babies. This is easiest and best done by removal and division of those pups. These are the small plants that grow off the base of the mother plant.
It's best to wait until the pups are a good size before you remove them. This way the roots are much better formed which insures better survival.
It can also be done by seed but that's much more time-consuming. I've been told that propagation by leaf cuttings is a no go but I plan on experimenting with that real soon.
Interested in propagating your Aloe? Check out How To Remove Aloe Pups From The Mother Plant and How To Plant & Care For Aloe Pups.
Repotting/Transplanting
Anytime is fine to repot or transplant an Aloe vera but try to avoid the winter months if you can.
Don't rush to transplant your Aloe vera because it actually produces pups more readily when slightly potbound. Every 3-5 years will be fine, or when you see the roots coming out the drain hole.
This plant gets heavy as it grows so it can be a challenge to repot a large one. The larger it gets, the heavier it gets because those large leaves store a lot of water as well as the gooey aloe vera gel.
Here are posts and videos with details on Planting Aloe Vera in Pots and A Guide To Repotting Succulents.
Aloe Vera Soil
As with any succulent, the water needs to drain out and the roots need to go almost dry before watering again. A lighter mix won't hold too much water and allows the excess to drain out. This greatly lessens the chance of the soil staying too wet which eventually leads to root rot.
A succulent and cactus soil mix is best used because it ensures good drainage and aeration.
If you think your mix needs the drainage and lightness factors elevated, then, by all means, add pumice, perlite, or lava rock. Some people like to add coarse sand (horticultural grade) to the mix which can also be used as a top dressing just like the lava rock.
For an Aloe vera houseplant, you can also use regular potting soil but perlite or pumice must be added in to aerate and amend the drainage. When using a potting soil blend, back off on the watering frequency because it's most likely a heavier mix.
There are many choices of commercial succulent mixes on the market which you'll find in the post below.
Here's an in-depth post on Succulent Soil that you may find useful. I use this DIY Succulent and Cactus Mix Recipe for all my succulents (Aloe vera included) both indoors and outdoors.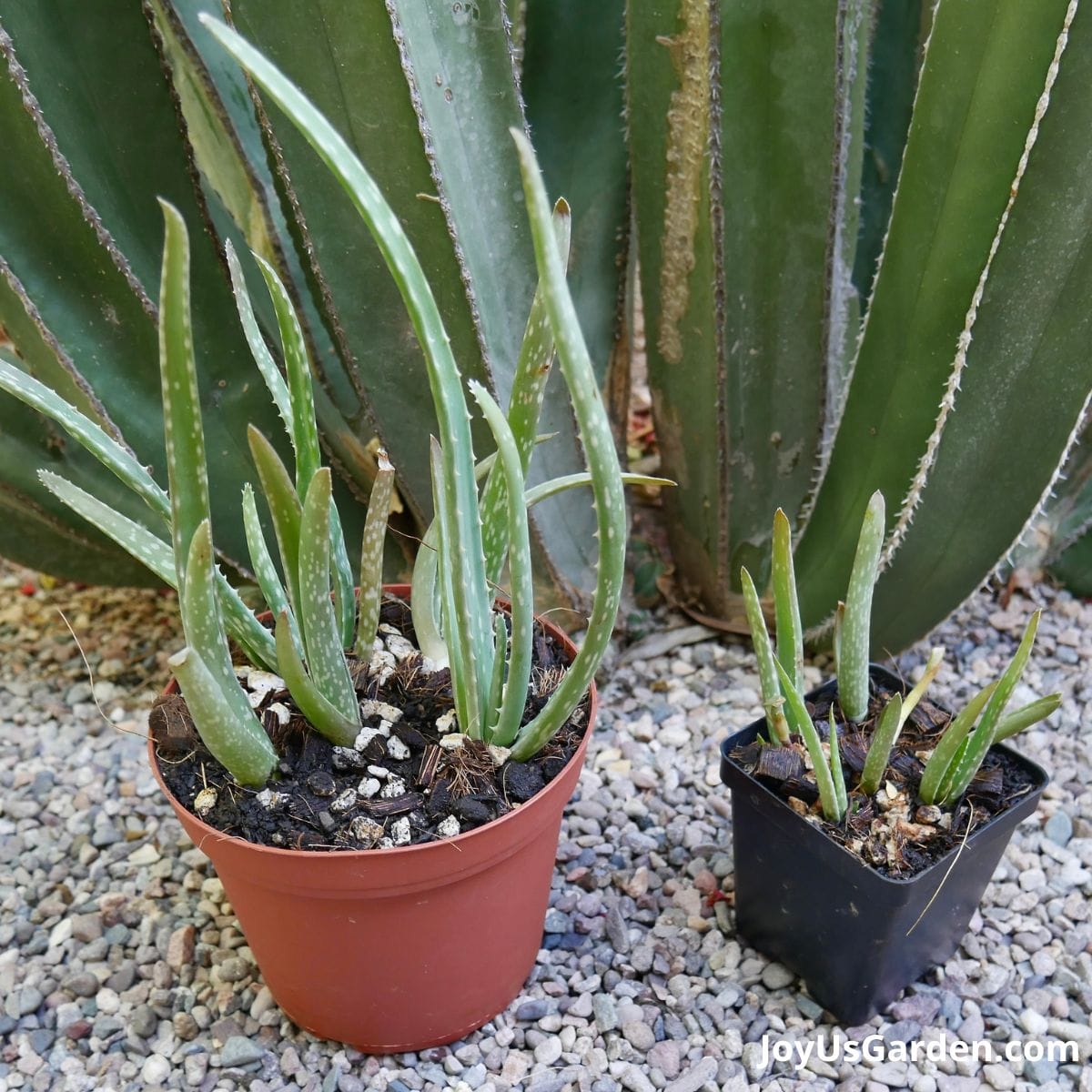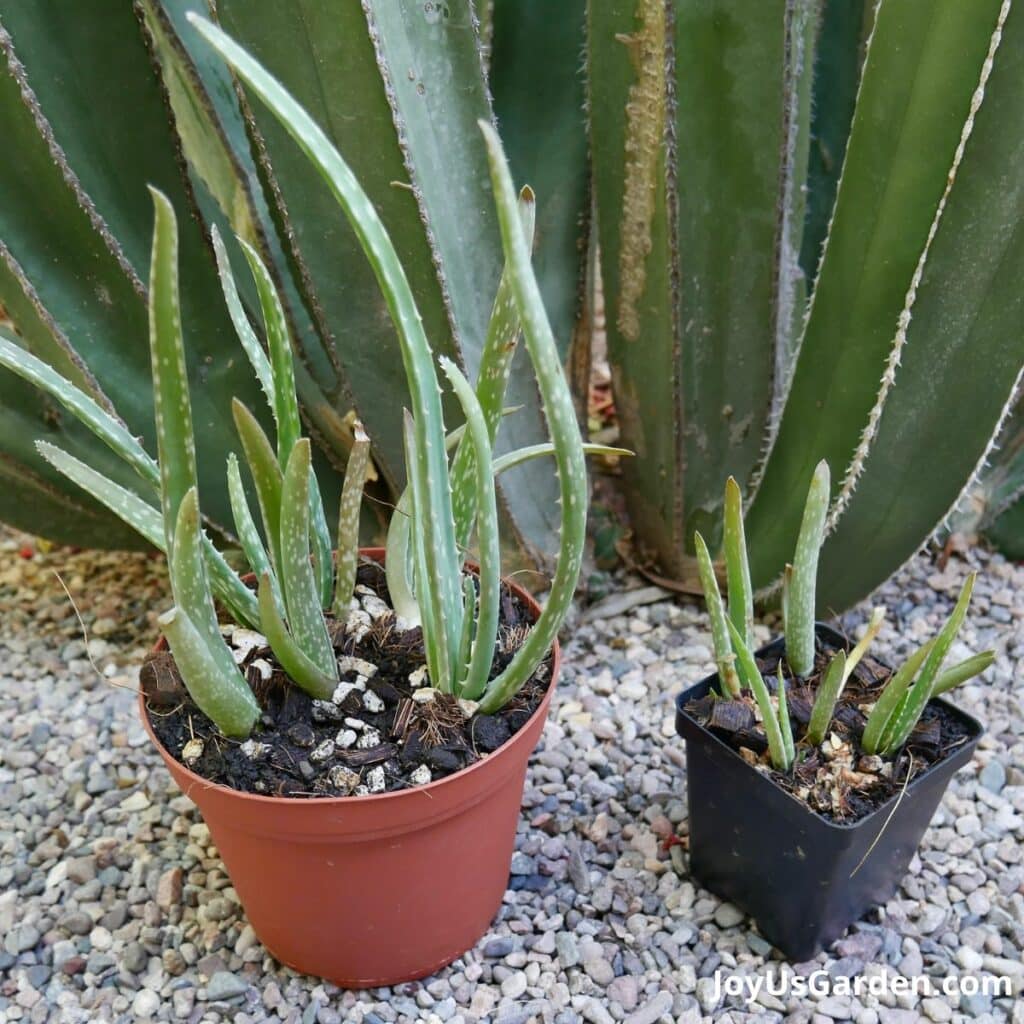 Type/Size Of Pots For Aloe Vera Plants
Aloe vera is a versatile plant when it comes to pot preference. I've seen it planted in many different types of pots. Pot type doesn't matter as much as having well-drained soil. Because Aloe likes dry conditions, it's best to have drainage holes at the bottom of the pot so the excess water doesn't build up and can freely drain out.
Aloe veras do just fine in plastic, fiberglass, or ceramic pots but I think terra cotta suits them to a T. It's just such a great combo.
The root ball of an Aloe Vera gets quite robust and strong as it grows. At some point, your plant will need a new pot. Plus, as those leaves get bigger and more full of gel, the plant gets a lot heavier and will need a larger pot to serve as a bigger base.
Aloe vera, in the houseplant trade, is generally sold in 4″ and 6″ pots. Here in Tucson and in Santa Barbara where I used to live it's also sold in 1-gallon and 5-gallon pots in the landscape trade.
In regards to size, small pots are fine for a while. Use your judgment here. If your 4″ Aloe vera has gotten way out of scale with its pot, moving it into an 8″ pot would be a good idea.
Pests
My Aloe veras in Santa Barbara always got orange aphids late in spring or early in summer. I just hosed them off. Mealybugs can also be a problem because they love to hang out in the crevices of the leaves.
There's a mite specific to aloes called the aloe mite, but I haven't heard of one getting infested indoors. Mine here in Tucson hasn't been attacked by anything and that goes for the Aloe veras I grow as houseplants.
It's best to spring into action as soon as you see signs of pests. Here's How To Control Aphids Naturally and How To Get Rid Of Mealybugs.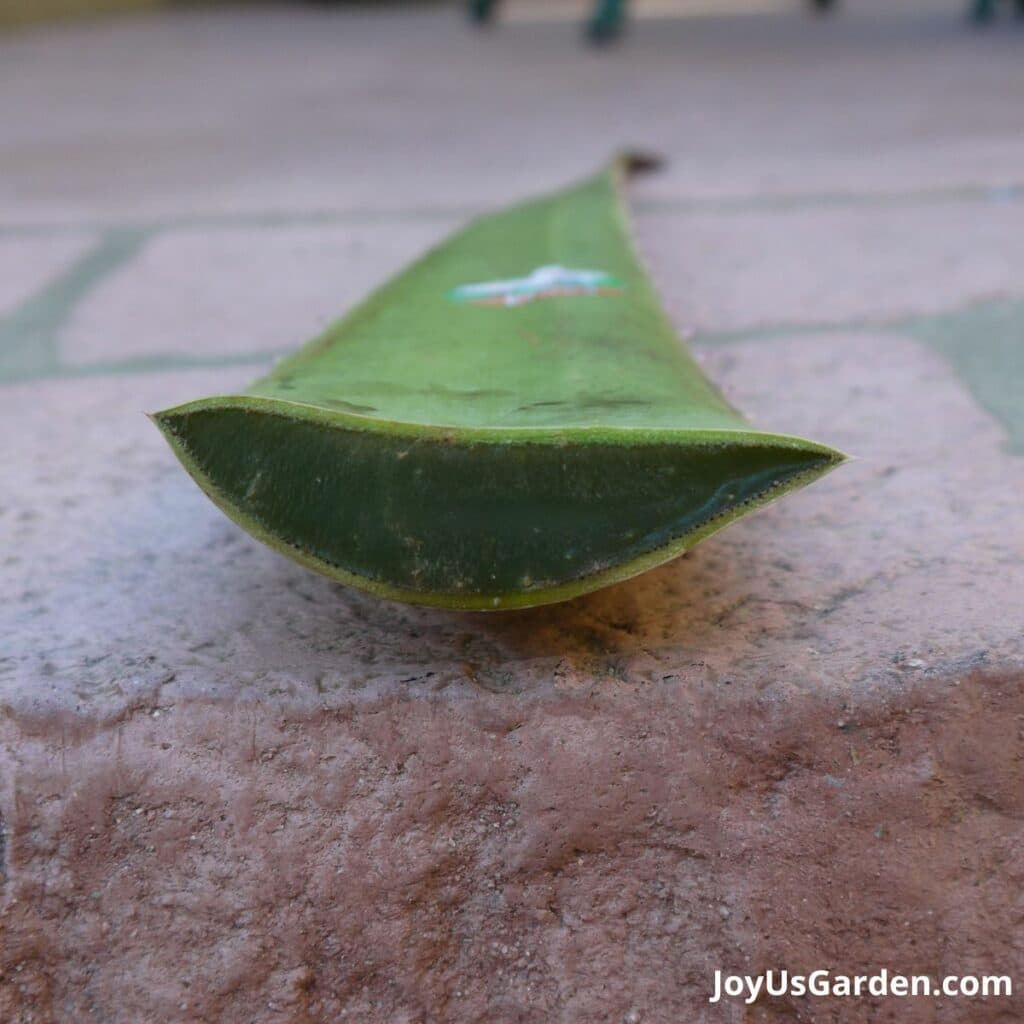 Harvesting Aloe Vera Leaves
Related to Aloe vera plant care is how useful their leaves are. I always take the whole leaf off, all the way back to the base or main stem. Do this with a clean, sharp knife for a clean cut. Remember, this plant grows slowly so you may have to wait a while before you reap the benefits.
You can cut just a part of the leaf off but you'll wind up with a big scab on the end. I think removing the whole leaf looks so much better.
Uses For Aloe Leaves
There's a lot of info out there on the net regarding how to use Aloe vera. They are considered to be medicinal plants and are also very popular when it comes to beauty and skincare.
Here's how I use the fleshy leaves: for minor burns and skin irritations, as a hair mask, as a facial moisturizer, as a shave gel, and occasionally in smoothies. I do none of these on a daily basis but always find aloe to be extremely beneficial when I do.
Tucson is hot for five months out of the year. I like to keep aloe leaves in the refrigerator ready to use. The cool gel feels oh-so-good on warm skin!
Once your plant grows, you'll want to check out this post on How To Cut, Store, and Use Aloe Vera Leaves.
Flowers
Yes, Aloe vera plants flower but only as they get older. Mine growing outdoors has produced yellow flowers on tall stems in late spring every year as it's aged. I've never had one bloom indoors by the way. It's not a common occurrence but if you give it a sunny spot in your home, it may have a better chance.
Aloe Vera Plant Care Problems
Oh yes my friend, there's sometimes the bad with the good! Aloe is very tough but there are a few things that can make it unhappy and perhaps lead to its demise.
One of the problems is rot, which I touched on in the watering and soil points above. Due to overwatering, the leaves start turning soft and pale, fold over, and eventually turn to total mush. And, you could see black spots on the leaves caused by a fungal disease.
If you see the leaves turning shades of yellow, brown, or red, this is due to environmental stress. It could be due to temps being too cold, the sun being too strong and hot, the pot being too small, or too little water.
This post is old (at least 10 years!) but you can read what caused my Aloe To Stress and what I did about it. Here are 5 Reasons You May Be Having Problems Growing Aloe Vera Indoors.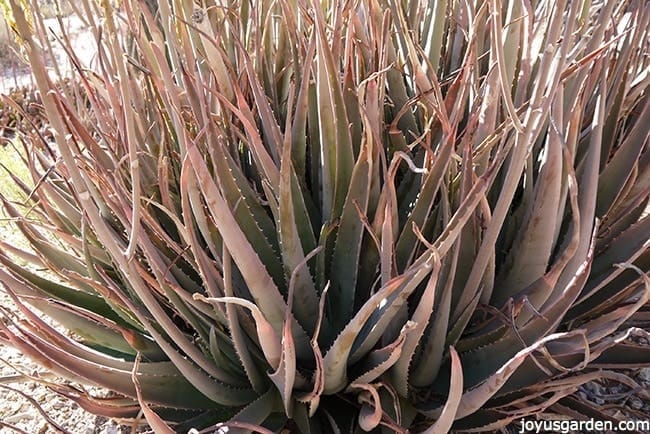 Aloe Vera Plant Care Video Guide
Important Tips For Aloe Vera Plant Care
Aloe vera plant care is easy. It's a great plant to have in your home for many reasons. Here are the most important points for growing aloe vera successfully:
Aloe vera needs bright light, around 6 or so hours a day. Keep it out of sunny windows because the heat from the sun coming through the glass can cause it to burn.
Don't overwater this plant by doing it too often. Let it go dry before watering again. It's a succulent after all!
Rotate the plant every 3-6 months so it gets light evenly on all sides.
Make sure the soil mix has excellent drainage. A succulent and cactus mix is best to use.
Aloe will do best in pots with at least one drain hole.
If you put your Aloe outdoors for the summer months, just be careful it doesn't get too much rain because it could "mush out".
Have more questions? Check out these Answers To Your Questions About Aloe Vera Care Indoors.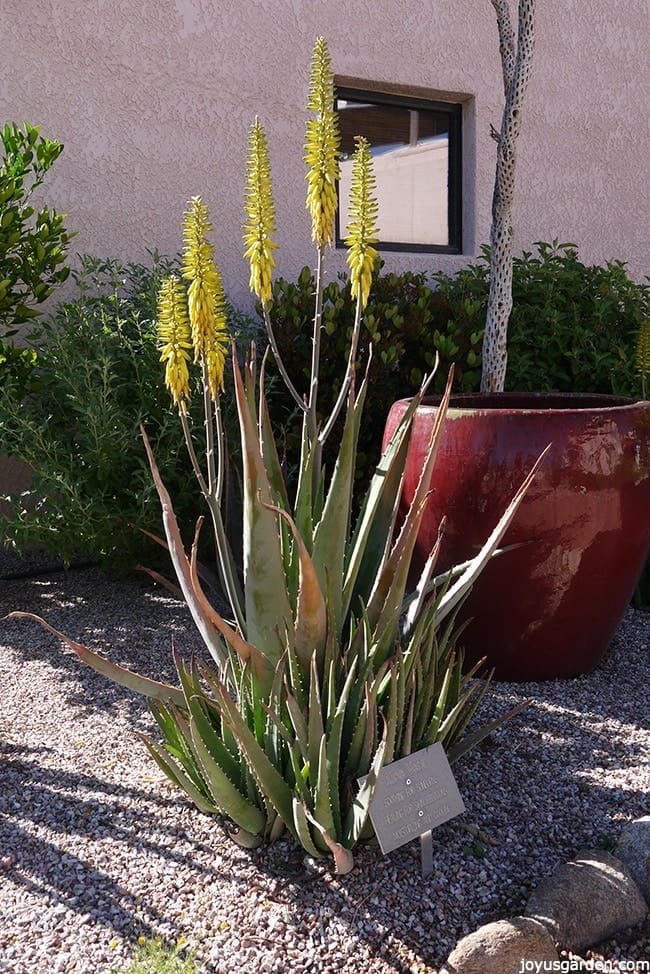 Aloe Vera Plant Care FAQs
How often do you water Aloe vera indoors? What is the best way to water an aloe vera plant? Do you water Aloe vera from top or bottom?

I can't give you an exact schedule because there are many variables involved. Simply put, you want to water your plant again when the soil has dried. Watering too often will lead to root rot.

I'll give one answer to the last two questions. I've always watered an Aloe vera plant from the top with room-temperature water during the day.
Do Aloe plants need direct sunlight?

They need a lot of natural light to do well indoors. Full sun is fine as long as it's not receiving direct, hot sun. This could burn the leaves. Near but not in a west or south window is fine.
Why are my Aloe vera leaves turning brown? Should I cut the brown tips off my aloe plant?

The leaves of a plant change color due to environmental stress. If your Aloe leaves are turning brown a few reasons could be the soil is too dry or too wet, the temperatures are too hot or too cold, or too much hot sun.

My large Aloe Vera growing outdoors has brown tips because of the dry air here in the desert. I don't cut them off because I don't like the look of blunt-cut leaves. If they're really bothering you, you can take them off.
What does an overwatered aloe plant look like?

Due to overwatering, the leaves start turning soft and pale, fold over on themselves, and eventually turn to total mush. A well-draining soil and drainage holes on the bottom of the pot will help to prevent the chance of overwatering.
Should you mist aloe vera?

No, this isn't part of Aloe Vera plant care. Aloe vera foliage doesn't need it.
How far should aloe be from a window?

It depends on the exposure and your climate zone. An indoor Aloe plant can burn if growing in a hot sunny window so if the exposure is south or west, 2-5′ is fine. In most climates, next to an east window is fine. A north exposure will most likely not provide the light needed to grow Aloe indoors.

I live in Tucson, AZ which is one of the sunniest cities in the world so I definitely keep my Aloe vera out of south or west windows from May through October!
How do you fix an overwatered aloe vera plant?

You may or may not be able to save it. Take it out of the wet mix, shake off all of the soil you can, and then replant it in fresh, dry succulent and cactus mix. Let the plant settle in for 5-7 days (maybe more) before watering again.
Can an Aloe vera plant grow in water?

I've been working in the plant industry for over 45 years now and I've never seen an Aloe vera growing in water. If you want a plant that grows in water, then check out Lucky Bamboo.
Isn't it about time for you to get an Aloe vera plant or 2? If you can't find them locally, then be sure to check out this source online. I hope this Aloe vera plant care guide has helped you out!
Happy gardening,

This post may contain affiliate links. You can read our policies here. Your cost for the products will be no higher but Joy Us garden receives a small commission. Thank you for helping us spread the word & make the world a more beautiful place!
About the Author
Latest Posts
Nell, the founder of Joy Us garden, was born into a gardening family and grew up in Connecticut's countryside. After living in Boston, New York, San Francisco, & Santa Barbara, she now calls the Arizona desert home. She studied horticulture & garden design, working in the field all her life. Nell is a gardener, designer, blogger, Youtube creator, & author. She's been gardening for a very long time & wants to share what she's learned with you.