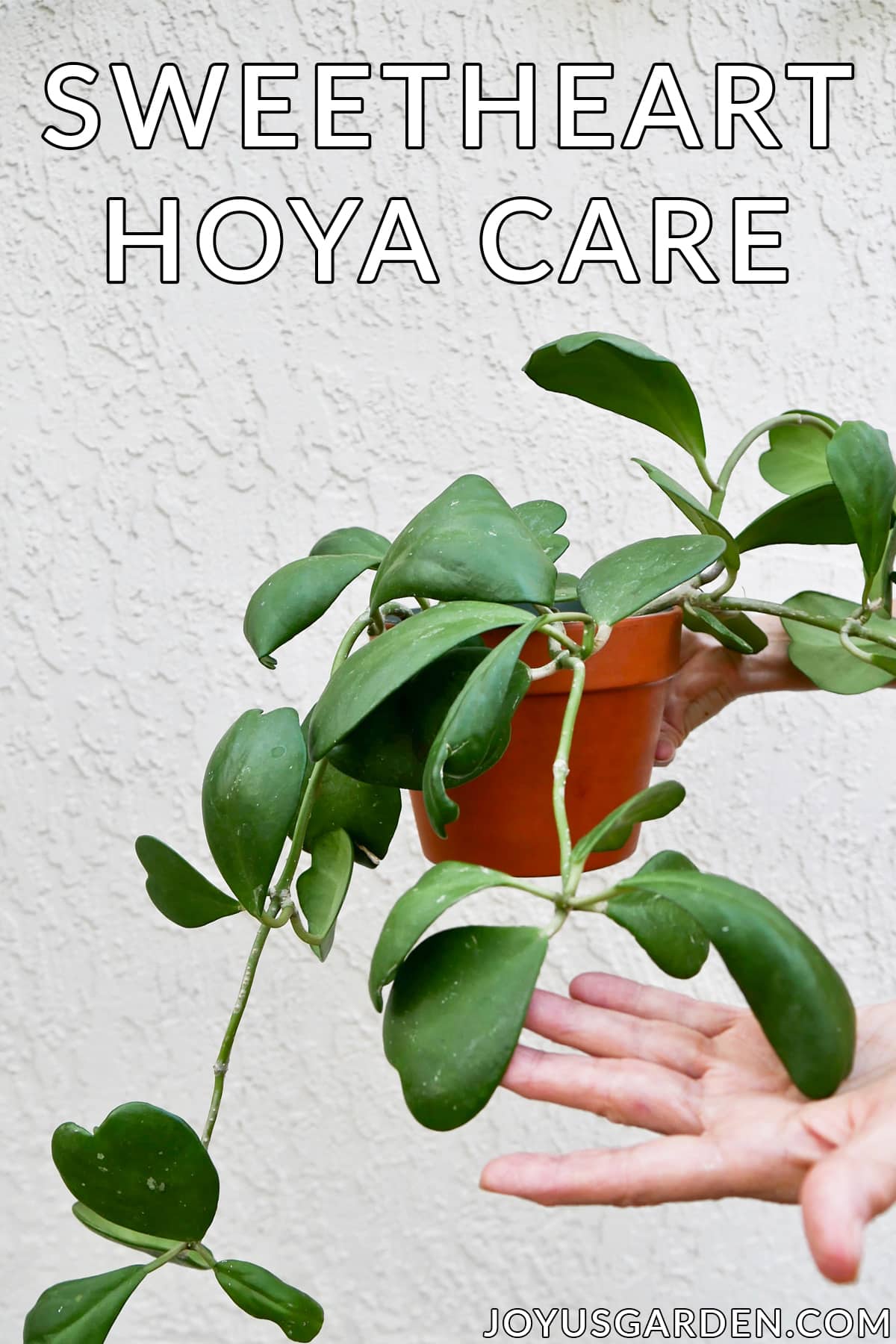 A Sweetheart Hoya, with its heart-shaped leaves, is a beautiful easy-care houseplant. Here are Hoya Kerrii care tips plus good things to know.
The Hoya Kerri is such a sweetheart of a plant that it has multiple common names. You may know it as Sweetheart Hoya, Hoya Hearts, Valentine Hoya, Heart-Shaped Hoya, Wax Heart Plant, Love Heart Plant or Lucky Hearts Plant. Wow, that's a lot of names for 1 plant! This succulent vine is a beauty and I want to share with you what I've learned about caring for and growing a Sweetheart Hoya as a houseplant.
Around Valentine's Day, you may have seen a single Hoya Kerri leaf in a small pot for sale. The reason this plant has so many common names is because of marketing. Yes, it's true, a novelty item needs many catchy names!
I live in the Sonoran Desert where all my Hoyas do well despite the dryness and heat. There are also variegated forms of this plant if that's a look you like.
Uses
Hoya Kerriis are commonly used as tabletop plants (sitting on a table, shelf, buffet, credenza, etc) or as hanging plants. You can also train them to grow on a trellis or bamboo hoops.
Growth Rate
Slow to moderate. My 3 other Hoyas (all of the H. carnosas) grow faster. If you have a single leaf growing in a small pot, don't expect any growth. More on that under "Propagation".
Size
They're most commonly sold in 4″ and 6″ grow pots. I bought mine in a 6″ pot with a hanger. I saw them one time for sale in 8″ pots. And, you can buy a single leaf in a small pot if you want a cutesy plant.
They can grow to 10′ long but as a houseplant, it's slow going.
Some Of Our General Houseplant Guides For Your Reference:
Talking Hoya Kerrii care on my side patio:
Sweetheart Hoya Care & Growing Tips
Light
A Sweetheart Hoya needs bright, natural light to do its best. Mine sits on a floating shelf in my kitchen next to a sliding glass door with an east exposure. There's also a skylight nearby. We get ample sunshine all year long in Tucson so that's the sweet spot for mine.
If you're in a less sunny climate then a south or west exposure is fine. Just keep it out of hot, sunny windows and direct afternoon sun otherwise your Hoya will burn.
In the darker winter months, you might have to move yours to a location with more light. If the light levels are too low, your Hoya will grow even slower.
Here's a post on Winter Houseplant Care which will help you out.
By the way, Hoyas need as much light as possible to bloom indoors. That's where a bright exposure comes into play.
Watering
I water my Sweetheart Hoya when it dries out. Hoyas are succulent-like with those fleshy, waxy leaves. In the summer mine gets watered every 7 – 9 days. In the winter I water it every 14 – 21 days.
Yours might need to be watered more or less frequently than mine depending on the pot size, type of soil it's planted in, the location where it's growing, and your home's environment.
My guide to Watering Indoor Plants will shed some light on this subject.
Although many Hoyas are vines and shrubs in nature, some are epiphytic just like bromeliads and orchids. In short, Hoyas don't like their feet to be consistently moist. It's better to underwater them than to over water.
Temperature
If your home is comfortable for you, it'll be so for your houseplants too. Just be sure to keep your Hoya Kerrii away from any cold drafts as well as air conditioning or heating vents.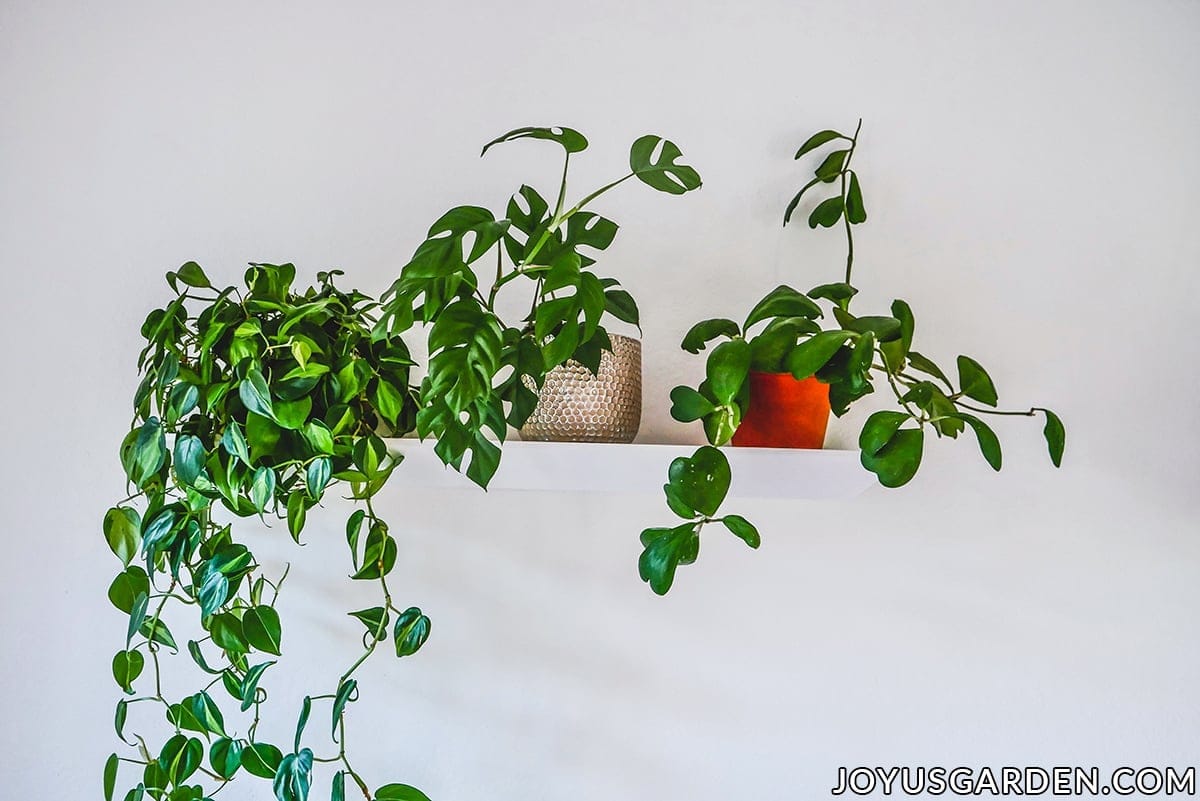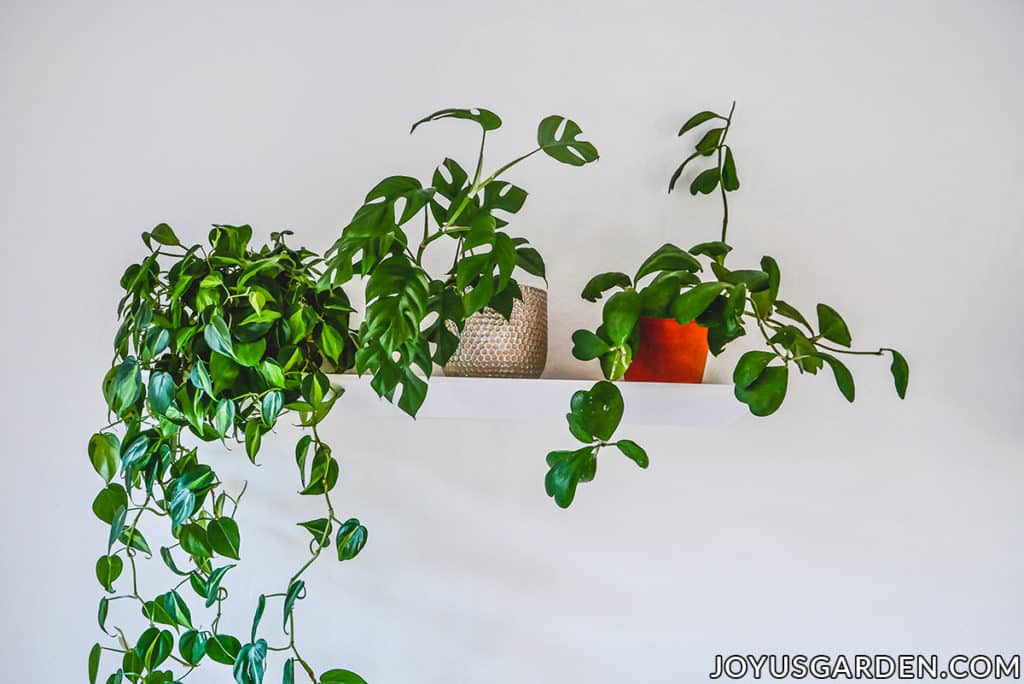 Humidity
Hoyas are native to tropical Southeast Asia, a humid climate. Despite this, they do just fine in our homes which tend to have dry air. Here in hot, dry Tucson mine is growing beautifully.
I take mine to the kitchen sink every other week and give it a good spray to temporarily up the ante on the humidity factor.
If you think yours looks stressed due to lack of humidity, then fill the saucer with pebbles and water. Put the plant on the pebbles but make sure the drain holes and/or the bottom of the pot aren't submerged in any water. Misting a couple of times a week will help too.
Soil/Repotting
The most important thing is to make sure the soil mix is rich and fast draining. 
Repotting is best done in spring or summer; early fall is fine if you're in a warm climate.
Regarding transplanting and repotting, don't think your Hoya Kerrii will need it every year. Like Orchids, they'll bloom better if slightly tight in their pots so leave them be for a few years. In general, I repot mine every 4 or 5 years.
Need more details on this? I've got you covered with this post and video dedicated to Hoya Kerrii Repotting.
I've done a general Guide To Repotting Plants geared for beginning gardeners which you'll find helpful.
Training
You can let your Hoya Kerri trail and do its thing, or you can train it to grow up a trellis or some type of topiary form or over bamboo hoops.
I Trained My Hoya carnosa variegata to grow over bamboo hoops a few years ago. It's not hard to do and it's a look I happen to like.
Pruning
You can prune your Sweetheart Hoya to control the size, make it bushier, thin it out, remove any dead growth, or if you want to propagate it.
If yours has flowered, don't prune off too many of the short stalks from which the flowers emerge. That's what they bloom off of next season. In other words: a hard pruning (which is sometimes necessary) will delay the flowering process.
Propagating
Here's an entire post I've done on Propagating Hoyas. It's not hard at all to do because a Hoya Kerrii, like other Hoyas, has tiny roots starting to emerge off the stems.
Here's the condensed version of the post above: I've had great success with 2 of the methods – propagating by stem cuttings in water and layering.
For layering, you simply take a softwood stem of the plant (which is still attached to the mother) and pin it into a pot filled with light mix like my DIY Succulent & Cactus Mix. Make sure the mix is thoroughly moistened before pinning the stem and keep it moist throughout the rooting process.
As I said above, most times you'll see little roots appearing on the stems and that's what you want to get on top of the mix. For cuttings in water, make sure 1 or 2 nodes are submerged at all times.
Regarding those single-leaf plants you buy in small pots, don't expect any growth.
In the video, you'll see a single-leaf Hoya obovata that I propagated almost 2 years ago. Even though I got a piece of the stem, there's been no growth at all. It looks good and has firmly rooted but there's been zero growth activity.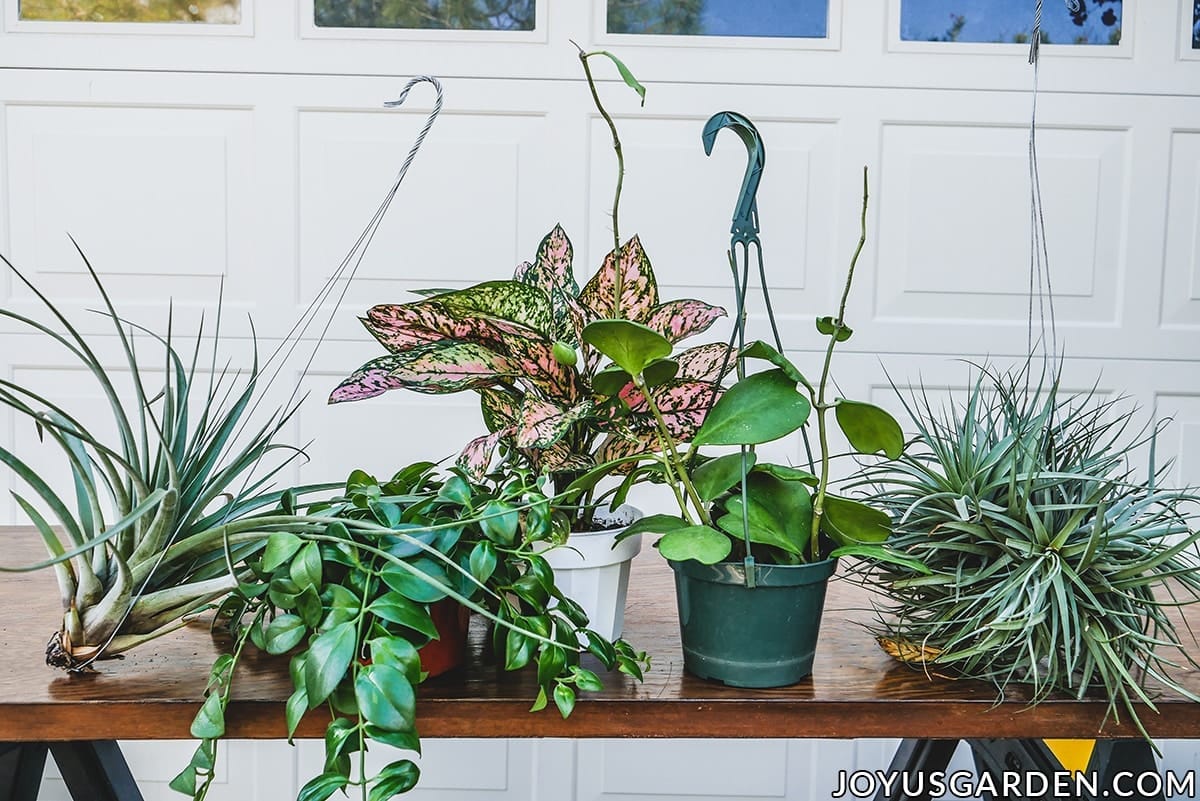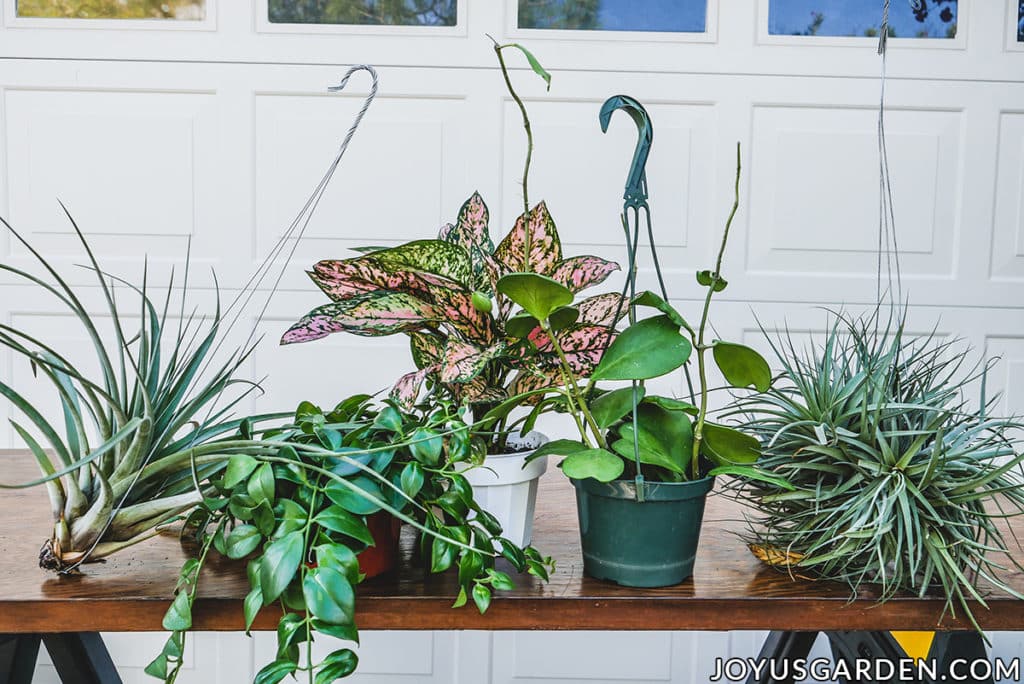 Feeding/Fertilizing
This is How I Feed My Indoor Plants, including all my Hoyas.
Whatever you use, don't fertilize houseplants in late fall or winter because that's their time for rest. Over-fertilizing your Hoya Kerrii will cause salts to build up and can burn the roots.
Be sure to avoid fertilizing a houseplant that is stressed, ie. bone dry or soaking wet.
Pests
When grown indoors, a Sweetheart Hoya can be susceptible to Mealybugs. These white, cotton-like pests like to hang out in the nodes as well as under the leaves. I simply hose them off with water as soon as I see them.
Also, keep your eye out for Scale and Aphids. It's best to take action as soon as you see any pests because they multiply like crazy and can spread from plant to plant.
Pet Safety
Sound the trumpets! Sweetheart Hoyas are non-toxic. I consult the ASPCA website for this information.
Just know that if your pet chews on the leaves or stems, it could make them sick.
Flowers
Saving the best for last – Hoya Kerrii flowers are beautiful! Their intriguing waxy, star-like blooms are creamy-white with dark pink centers.
How often they bloom seems to depend on age, and the conditions they're growing in. And, as I said in "Pruning", don't cut the old flowers stems off; let them remain on the plant.
Indoors they take longer to bloom. If yours has never flowered, it's most likely not getting enough light or it's not mature enough.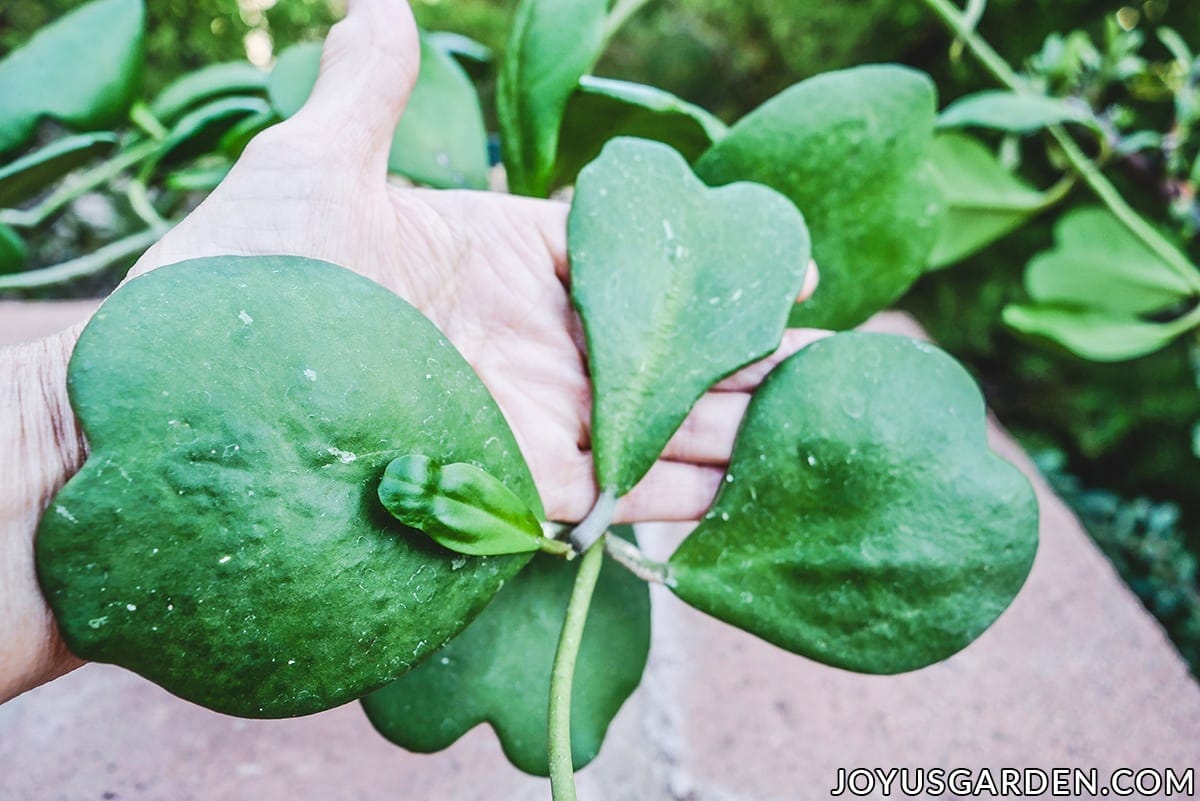 Will a single heart Hoya grow?
A single leaf will stay alive but it won't grow.
How do you make a Hoya bushier?
If your Hoya is getting leggy, you can tip prune (aka pinch prune) on a regular basis (roughly every 6 months) to keep it bushier.
Do Hoyas need full sun?
Hoyas like bright natural light but no direct hot sun. A moderate or medium exposure is where they do best.
How often do Hoyas bloom?
In my experience, they don't bloom on the regular and will do it when they please.
My Hoya carnosa variegata growing on my side patio bloomed 3 times when I lived in Santa Barbara. Here in Tucson, that Hoya (along with my other Hoyas), has never flowered.
Do Hoyas climb?
Yes they both climb and trail.  In their native tropical forests, they climb up other plants.
Why are the leaves on my Hoya turning yellow?
This is commonly a watering issue.
In summary: The 3 most important things to note when growing a Hoya Kerrii are; it grows best in bright, natural light, it likes to be kept it on the dry side, and that the mix it's growing in is well-drained.
The Sweetheart Hoya is not only beautiful and unusual looking, but it's as easy as can be to care for. I just might have to get myself a variegated one!
Happy gardening,

Here are more gardening guides just for you!
This post may contain affiliate links. You can read our policies here. Your cost for the products will be no higher but Joy Us garden receives a small commission. Thank you for helping us spread the word & make the world a more beautiful place!
I'm a life-long gardener who still to this day gets giddy at the thought of a trip to one of the local nurseries. Yes, I actually studied landscape and environmental horticulture and the practical experience I have garnered through the years has served me well. Childhood memories of chicken manure "tea" still float through my olfactory senses to this day. I have always been an organic gardener and always will be. From the Earth … To the Earth. I was born and raised in rural, bucolic Litchfield County, Connecticut and now joyfully live a few blocks from the ocean in beautiful Santa Barbara, California.