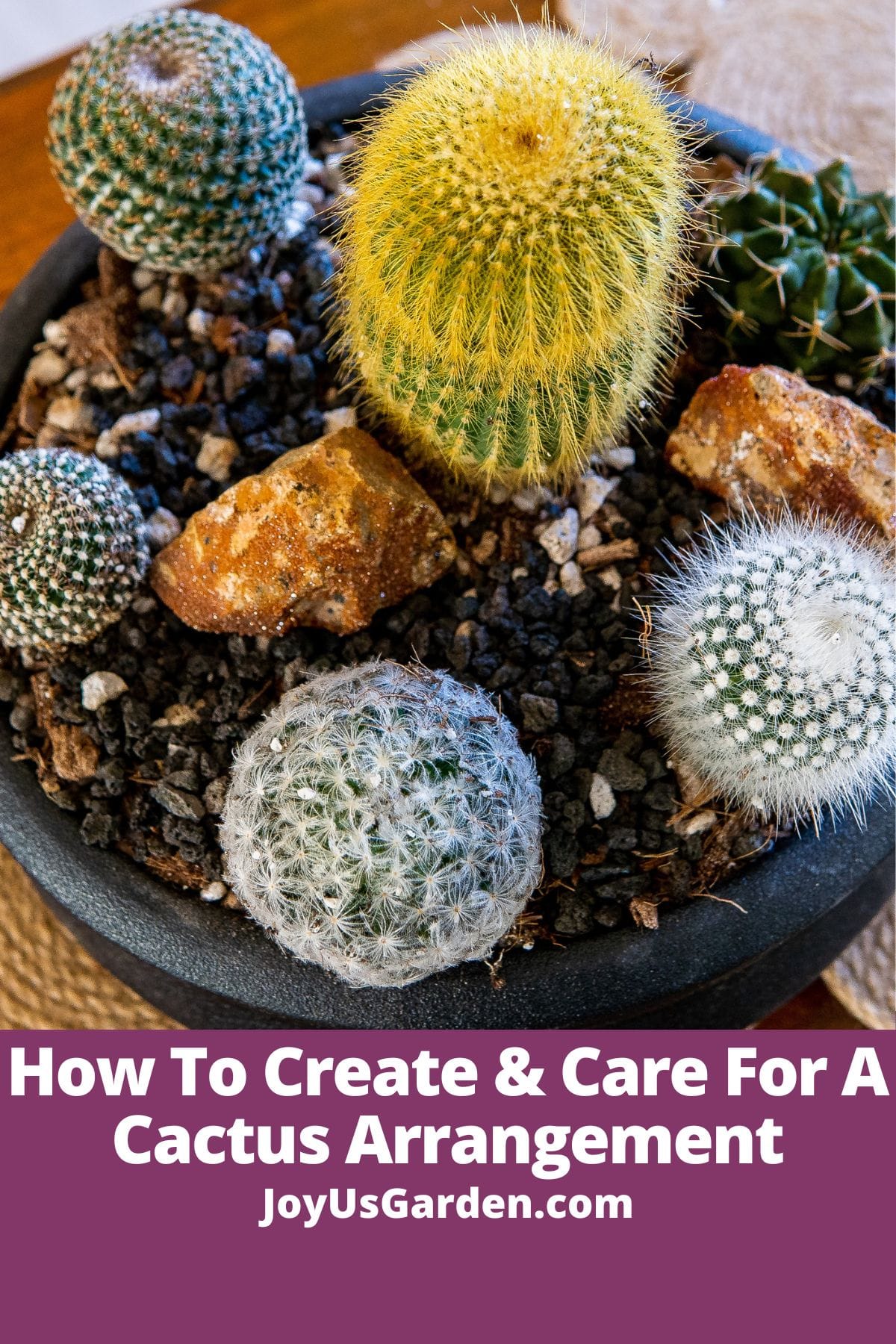 Cactus gardens are fun to make and a creative way to create an indoor desert garden. This highlights creating a cactus arrangement in 2 different shallow containers including materials, soil mix to use, steps to take, care tips, and other things good to know.
Sometimes one cactus plant in one pot just isn't enough! This is open to interpretation, but I consider an indoor cactus arrangement to be multiple plants in one container. Cacti, unlike some Fleshy Succulent Plants, grow slowly so they're great to combine and use in bowls and dish gardens.
You may know an indoor cactus arrangement as a cactus garden, cactus bowl, cactus dish garden, or a cactus planter.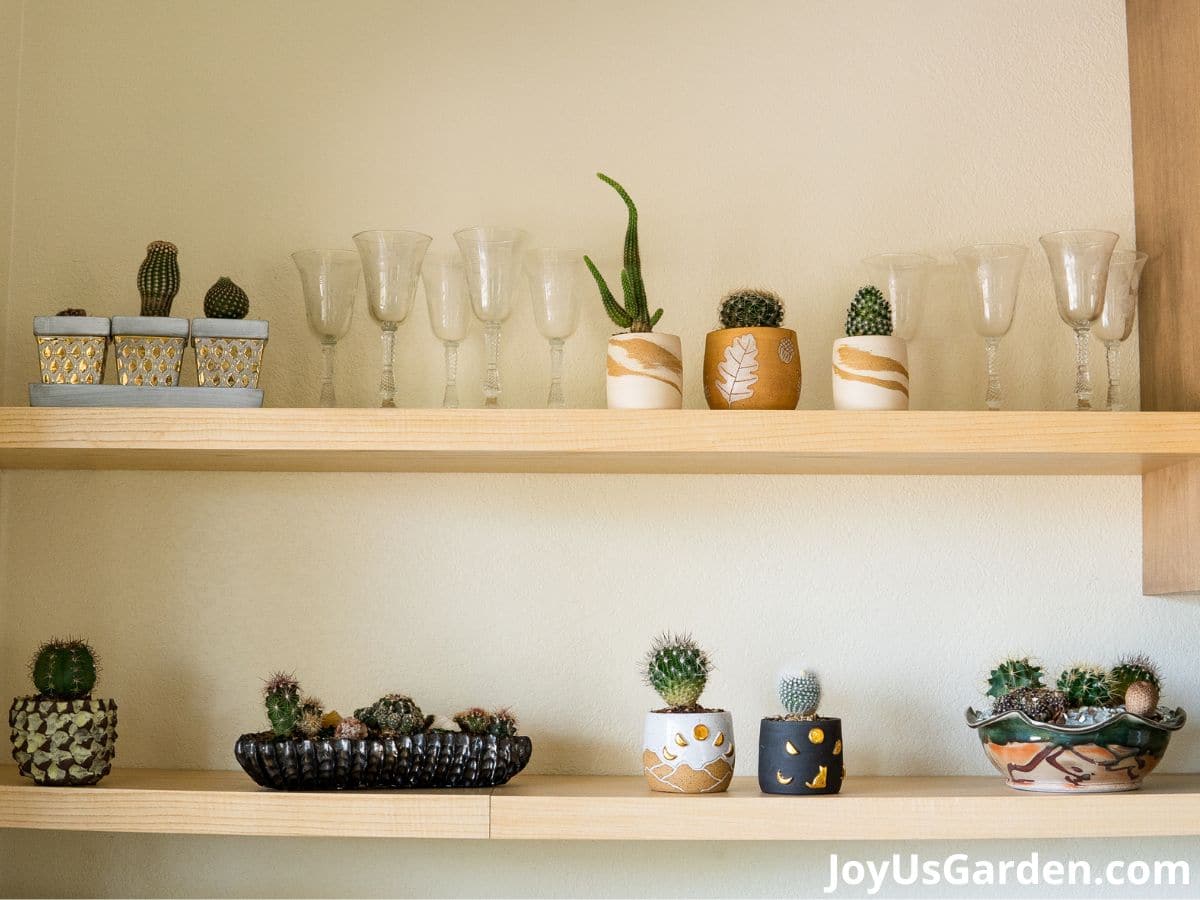 Whatever you call a cactus arrangment, the key point to know about growing cacti as indoor plants is that they need high light and infrequent watering.
Creating A Cactus Arrangement
Small Indoor Cactus Plant Selection
Cactus for the interior trade are commonly sold in 2″, 3″, or 4″ grow pots. These little cacti are easy to plant (especially those in 2″ & 3" pots) and work with.
When planting a cactus dish garden, choose cacti that are pleasing to you're eye and go well together. I created 3 different arrangements ( I made 1 of them after the video was filmed) with different sizes and different shapes of cacti. 2 were made with low cacti and the other with taller.
As far as choice goes, I've spoken with different growers and nurseries that sell cacti here in Tucson (I live in the land of cacti big and small!) as to what cacti do best. The consensus is if you have enough sun and light, any small cacti you choose should do well as they have similar needs.
The different types of cactus plants that you'll see in this post and in the series were bought from Eco Gro, Tucson Cactus and Koi, and Bach's Cactus Nursery.
At the end of this post, you'll find a collage with 4 sources to buy cacti online if you don't have a nursery or store that sells them in your area.
Other helpful cactus posts: Indoor Cactus Care, A Guide To Cactus Soil Mix, Repotting Cactus Indoors, Small Pots For Cacti, Growing Cactus Indoors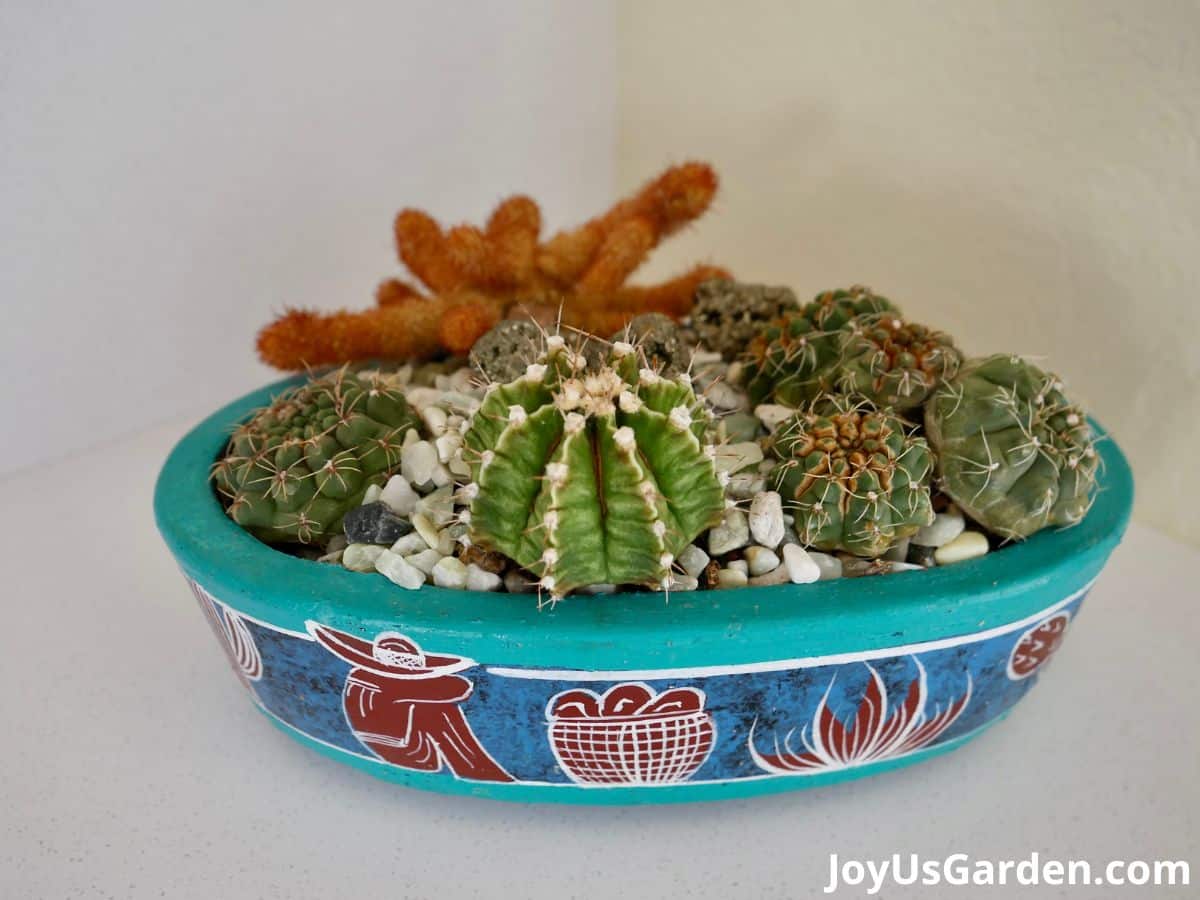 Cactus Planter Ideas
I like to use shallower planters, bowls, or dishes for my cactus gardens. Anywhere from 2.5" – 6″ deep seems to be the sweet spot, depending on what size and how many succulents you're planting.
The cactus bowls I used for this project are 2.5", 3", and 3.5" high.
There are many different planters and shallow containers on the market you can buy. They're available in an array of materials, shapes, colors, and styles. I've found the majority of mine at garden centers and nurseries here in Tucson because I like to shop locally and support other small businesses.
I recommend having one drainage hole or multiple on the bottom of the container. Multiple drainage holes work best if the container is wider in diameter and/or length.
I prefer to plant in terra cotta pots, clay pots, or ceramic pots when it comes to cacti because I like the look.
Are you looking for a cactus bowl planter? We've made your shopping easier with this round-up of Cactus Bowls for your Cactus Dish Garden.
When To Plant A Cactus Arrangement
The best time for planting a cactus arrangement is spring and summer. Early fall is fine too if you're in a climate with mild winters like me.
In general, I leave all my houseplants alone in the winter months in regard to planting, pruning, and propagating.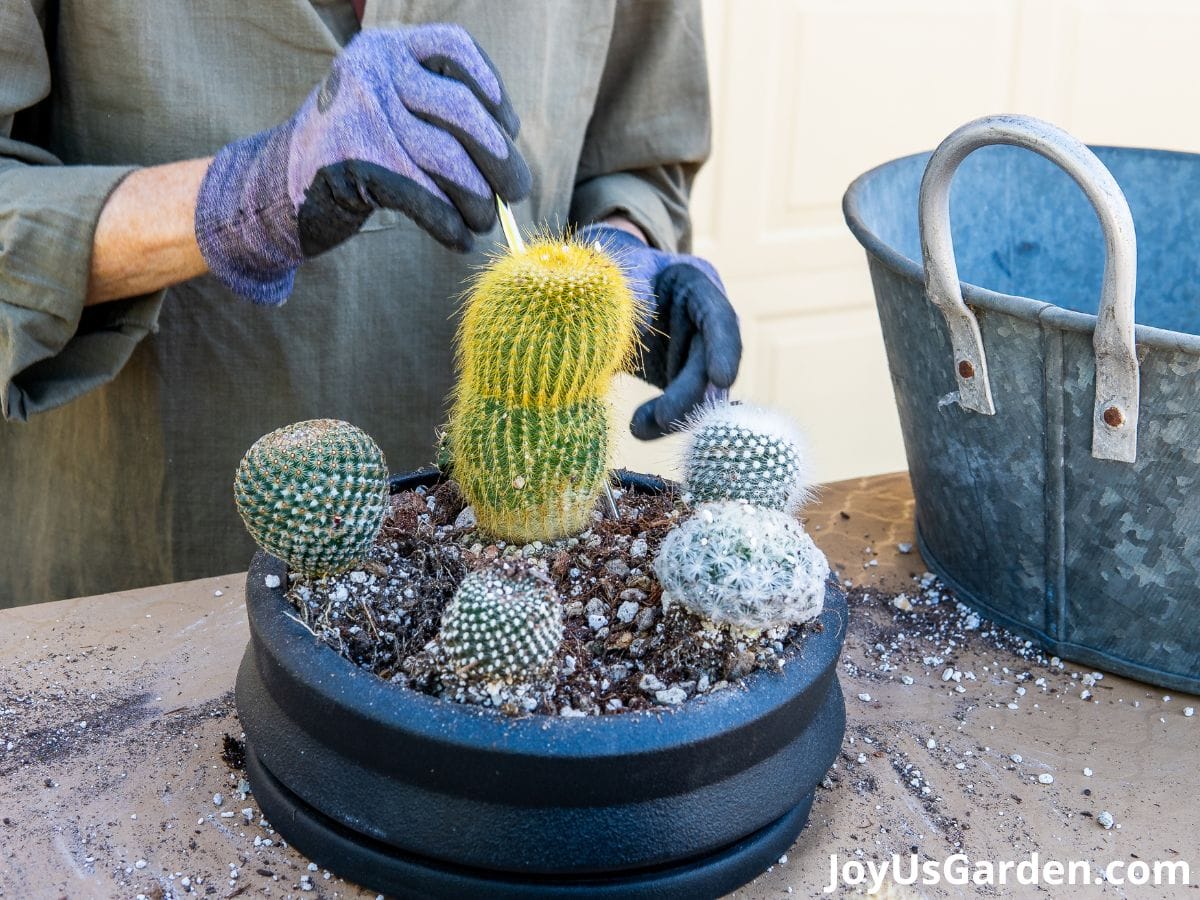 Cactus Potting Mix
Cacti in any sized or shape pot, whether it be a large pot or a shallow bowl, do best in a special potting mix. Regular potting soil is generally too heavy for planting cacti. I just did a post and video guide about Cactus Soil Mix so you can refer to that for all the details.
I've been using this DIY Succulent and Cactus Soil Mix Recipe for 3 years now. My cacti growing indoors and outdoors in pots all do well in it.
If you don't want to make your own or can't find any cactus mix at your local garden store, you can buy it online. Below are some options for you.
Brands of cactus soil I've used that are available online include Dr. Earth, EB Stone, Bonsai Jack, and Tanks'. I haven't used these other popular choices but they get great reviews: Superfly Bonsai, Cactus Cult, and Hoffman's. As you can see, these mixes all contain different components so it's just a matter of choice.
To sum it up, the mix you use should be well aerated and light, and most importantly have good drainage. It should not hold too much moisture or excess water, especially when planting in a shallow succulent planter.
Cactus Garden How To Video Guide
How To Plant An Indoor Cactus Garden
It's a good idea to watch the video above. You can see me making a cactus bowl and I explain all the steps.
My secret weapon for planting a cactus arrangement and not having a multitude of spines in my fingers and hands is to use kitchen thongs. Those, along with something like a chopstick and/or bubble wrap, are just the tools needed to place and arrange the small cacti.
Do you love fleshy succulents? Are you interested in how to plant an Indoor Succulent Garden? This gives you all the details plus there's a how-to video as well.
Decorating Your Cactus Arrangement
You can leave it as is, or add a bit of topdressing and adornments like small pebbles, glass chips, sand, etc. You can also add decorative elements like figurines or anything your heart desires!
All 3 of mine have some topdressing, but it doesn't completely cover the top of the soil. If the decorative layer is too thick, this could increase the chance of the soil staying too wet. You want the soil to dry out between waterings.
I used clear glass chips, colored pebbles, and black lava rock to cover a bit of the top of the cactus mix of my arrangements. When I attend the Tucson Gem Show, I buy small pieces of minerals like pyrite, rose quartz, and other pretty things to embellish my potted gardens indoors and outdoors. My cactus gardens are the recipients of some of those too.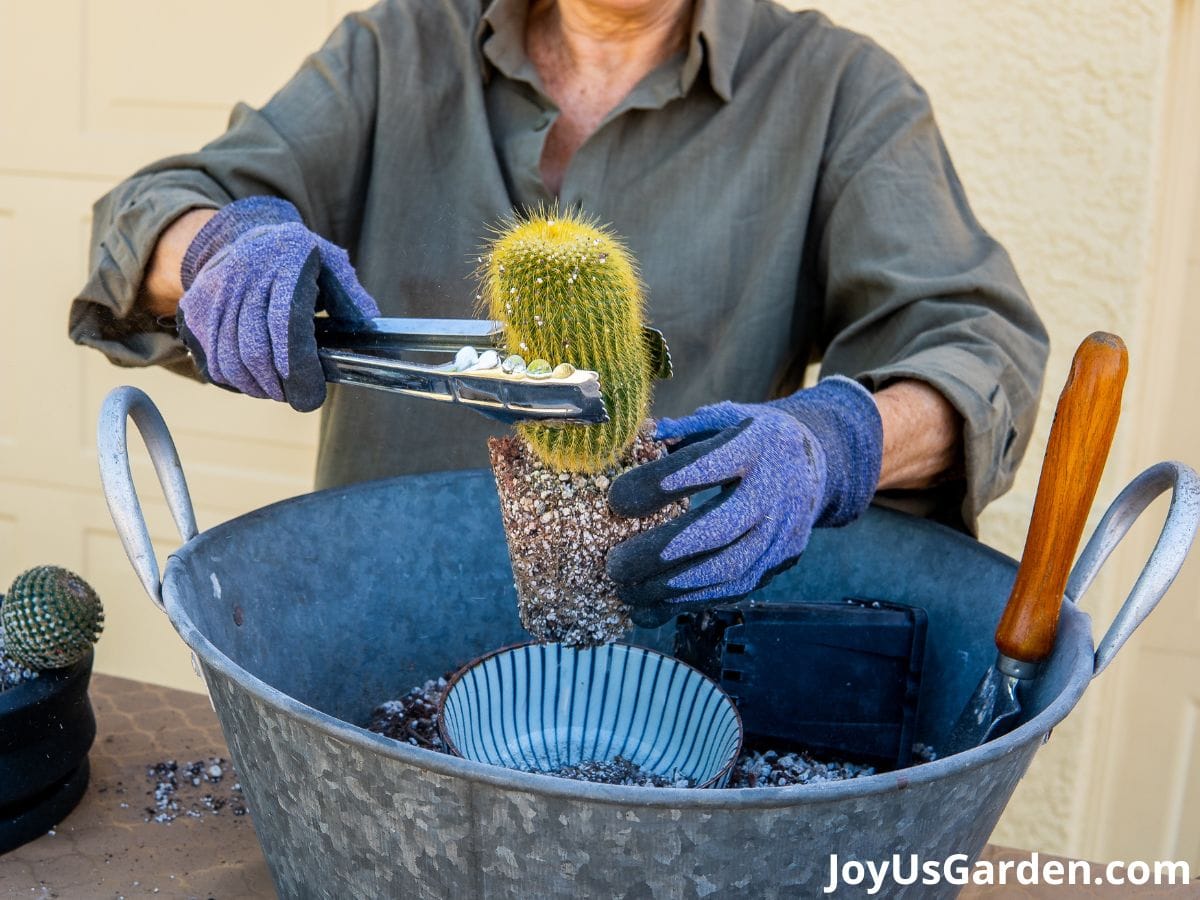 Indoor Cactus Arrangement Care
Right after repotting, I put the cactus arrangement in the bright, sunny spot it's going to grow in. I leave it be and let it stay dry for about a week before watering.
Cacti in bowls require minimal care. This is basically the same as for cacti in larger pots except for 1 difference.
I water cacti in a shallow container a bit more often than those growing in a large container. The soil mass is much less, they're planted quite tightly, and they tend to dry out faster.
Here's how often I water the cacti in individual pots and in gardens on the floating shelves in my kitchen: every 2-3 weeks in the warmer summer months and every 3-5 weeks in the winter months. You can get an idea of the sizes of the pots in the photo at the top of this post.
I find using a small watering can with a narrow spout works best. I also use this bottle with a long neck for getting into tight spots in between the plants. This makes it very easy to control the amount of water going into the soil mix.
There are 3 essential things to know in regards to growing cactus indoors. 1) They do best in bright natural light, a high light exposure. 2) Full sun is fine as long as they're not in prolonged direct sun. Even cacti can burn if up against the glass in hot, sunny windows. I keep 1 of my older cactus gardens on a window sill, but it only receives early morning sun. 3) The soil needs to thoroughly dry out in between waterings.
Here's much more info on Indoor Cactus Care.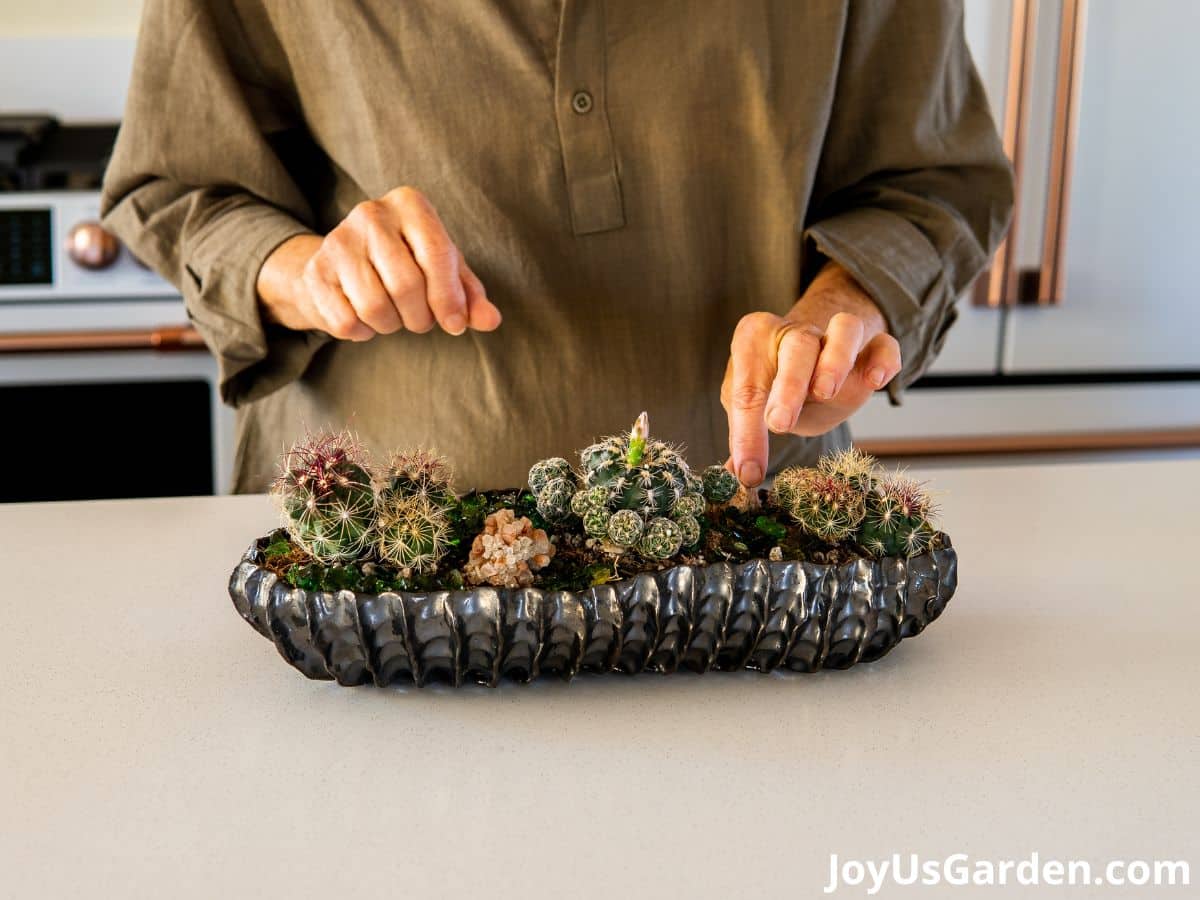 Indoor Cactus Arrangement FAQs
Do cactus need deep pots? Do cactus prefer shallow pots?
Unless you're planting a large cactus, no, it won't need a deep pot. Small cacti do fine in a shallow container or small pot.
What is the best soil mix for cactus?
Cactus love dry conditions. They do best in a mix that's specially formulated for succulents and cactus. You want it to be well aerated and fast draining so all the water can flow right out.
Cacti are subject to root rot, and it the soil stays too wet and doesn't dry out, they'll turn to mush in no time.
Can you plant different cactus together?
You sure can. I used many different types of cacti for my pots and bowls and love the look of all of them.
Can a mini cactus garden grow outdoors?
I have 4 growing outdoors year round here in Tucson. If you put yours outdoors for the summer, just make sure it gets a lot of light but not too much rain. In an extremely humid climate, it could be a challenge growing 1 outdoors.
Will mini cactus grow?
Cacti bring new meaning to "slow growing". They will grow, but it'll take years. Don't expect to see anything significant for a while. The advantage is, that you can plant them close together and they won't crowd each other out any time soon!
What do you plant your mini cactus in?
You can plant them individually in small pots, or plant them together in a bowl or dish.
How do you water a cactus arrangement?
I use a small watering can with a long spout or a squeeze bottle. That way, I can water the soil and not the cacti.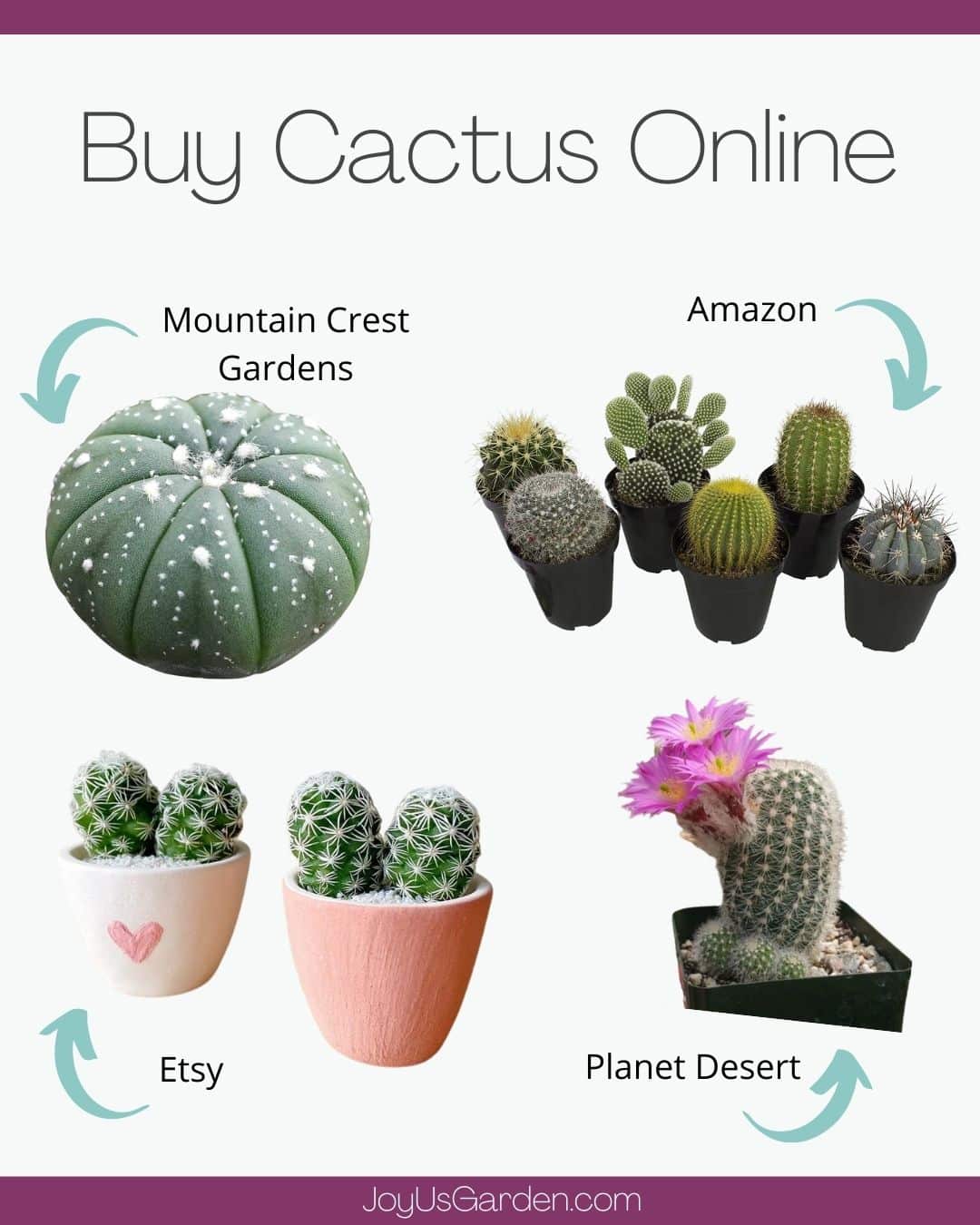 1. Mountain Crest Gardens: Astrophytum // 2. Amazon: Variety Pack // 3. Etsy: Mini Cactus // 4. Planet Desert: Echinocereus
Cactus arrangements are a great addition to any home and also make a perfect gift for someone who likes their plants a bit out of the ordinary. I hope these cactus garden ideas have inspired you to make your own cactus garden!
Happy gardening,

This post may contain affiliate links. You can read our policies here. Your cost for the products will be no higher but Joy Us garden receives a small commission. Thank you for helping us spread the word & make the world a more beautiful place!
About the Author
Latest Posts
Nell, the founder of Joy Us garden, was born into a gardening family and grew up in Connecticut's countryside. After living in Boston, New York, San Francisco, & Santa Barbara, she now calls the Arizona desert home. She studied horticulture & garden design, working in the field all her life. Nell is a gardener, designer, blogger, Youtube creator, & author. She's been gardening for a very long time & wants to share what she's learned with you.