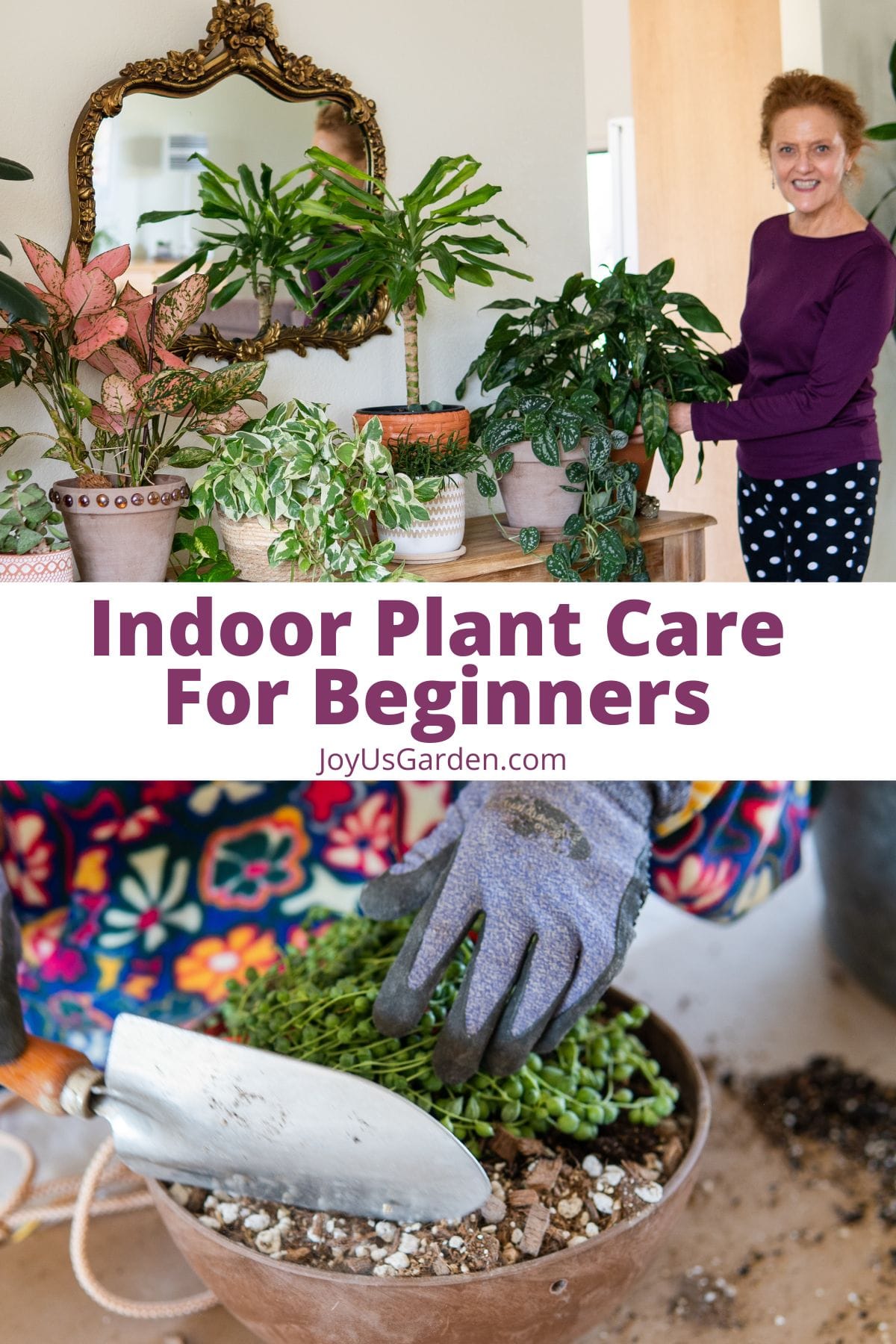 We love houseplants and the happiness they bring into our homes. In order to keep them alive and growing, there are fundamental things you should know. We're sharing the basics of indoor plant care so you keep them healthy and looking good.
Many of us have been known to buy a new houseplant or two on impulse. We see them perfectly displayed walking into Trader Joe's and we can't help but grab one or two from the shelves.
Then after a few weeks in our home, they start to shrivel up or go limp. This can be avoided with a little research on the different needs of the type of plant we're bringing home.
For beginning indoor gardeners there are a few rules of thumb to keep in mind. We'll be going over the points here so that the next time you purchase a new plant it can be around for the long haul.
What Do Indoor Plants Need?
In a nutshell, light, water, and air. You want to make sure you're providing the right amounts for whatever new green baby is being brought into your home.
The good news is that the majority of indoor plants are not complicated to care for. These plant care tips are meant to help you understand the basic needs of most house plants. We'll also guide you on what to choose to help you create your own indoor garden.
After you read through these indoor plant care tips, you'll have the basics on getting plants to grow and thrive in your home.
We briefly cover the points in this post. Be sure to click on the links for more helpful information.
Note: This post was published on 12/14/2021. It was updated on 12/10/2022 was more info & new images.
We have many recommendations based on different lifestyles including pet-friendly houseplants, easy-care floor plants, easy-care office plants for your desk, and plants for frequent travelers if you're out of town for weeks at a time.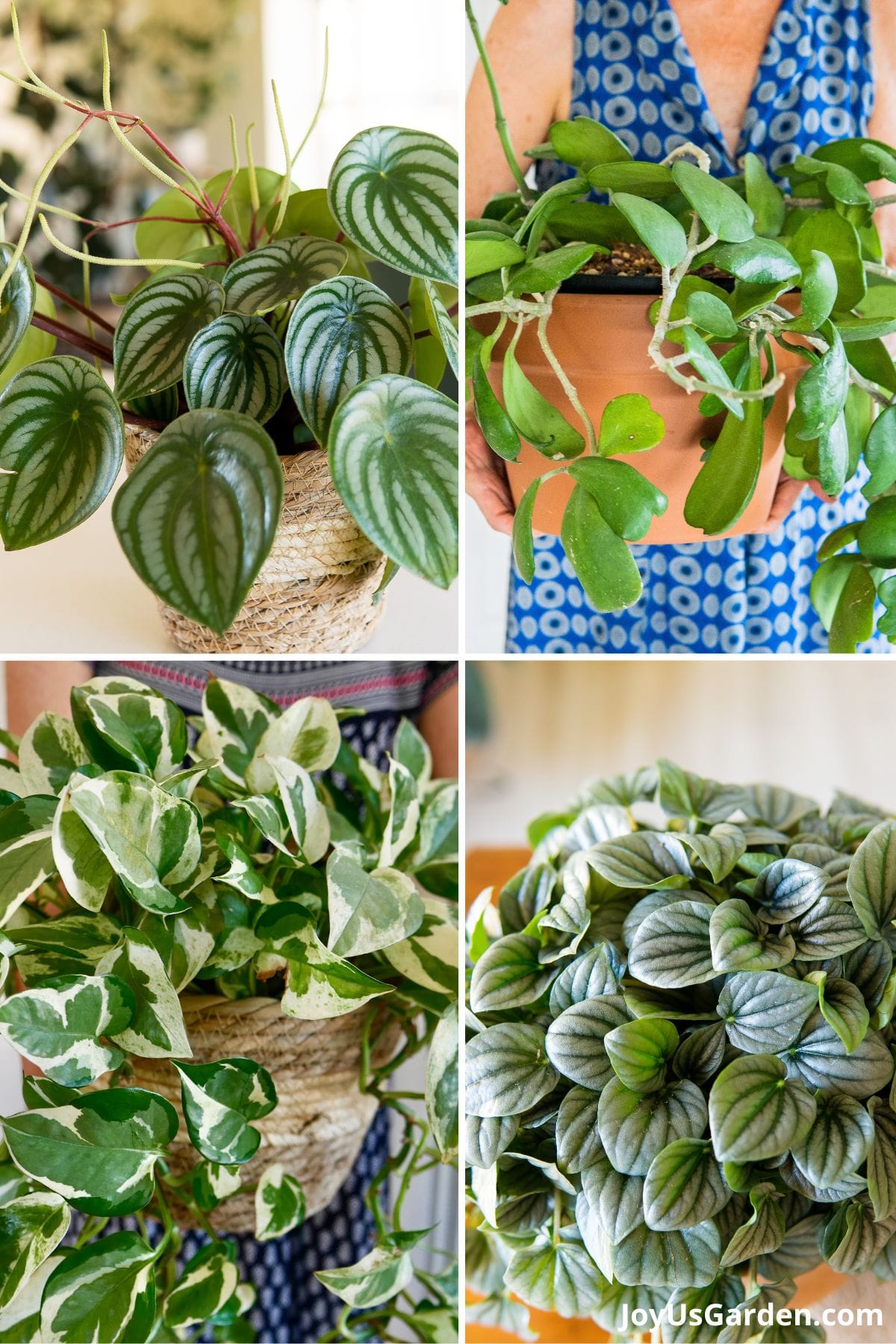 Indoor Plant Care Tips
1) Buy Houseplants That Fit Your Lifestyle & Your Home's Environment
Successful plant care starts with the right plant in the right place. It's important to understand that not every plant out there is a good fit for your home and your lifestyle and that's okay. There are many indoor plants on the market to choose from and new ones are being introduced each year.
Start with a tried and true easy-care plant. Once you've kept that one alive and healthy for a good period of time and your horticultural confidence has grown, move on to more. A word of warning though: indoor plants become an addiction!
I'd recommend starting with a 6″ plant rather than a 10″ or 14″ one. They're much less expensive and you and your wallet won't feel as bad if it ends up hitting the compost pile.
There are a variety of plants out there and while many have similar needs, you should still do plenty of research before you make a purchase. Some plants are tried and true, and others are quite plainly put we've learned over time that others are a crap shoot!
If you're new to houseplants, you might be confused as to where to start. Here are 14 tips that will help when you're trying to buy houseplants. As a starting point, here's a list of 15 easy-to-grow houseplants plus where to buy plants online for you.
2) Choose The Right Pot
If you're planting directly into a pot like a grow pot or terra cotta pot, you'll want to purchase ones with drainage holes. This is a hole(s) located on the bottom of the pot which allows the excess water to drain out so you won't have to deal with root rot.
When it comes to decorative pots like ceramics, baskets, etc it's a matter of taste, decor, and budget. There are so many different pots on the market now that sometimes it can be hard to choose.
This doesn't have much to do with indoor plant care but your plants will look better and make you happy when sitting in snazzy pots!
If you're placing the grow pot inside of a decorative pot, make sure it's slightly bigger so the grow pot can fit inside. You may have to raise it up a bit so it doesn't sink down too far.
We always recommend using saucers and/or mat rounds under whatever containers you choose to protect your tables and floors.
We have guides on choosing pots for succulents as well as tabletop pots and hanging planters for houseplants. Plant baskets give a casual vibe. Plus, they're lightweight and easier to move.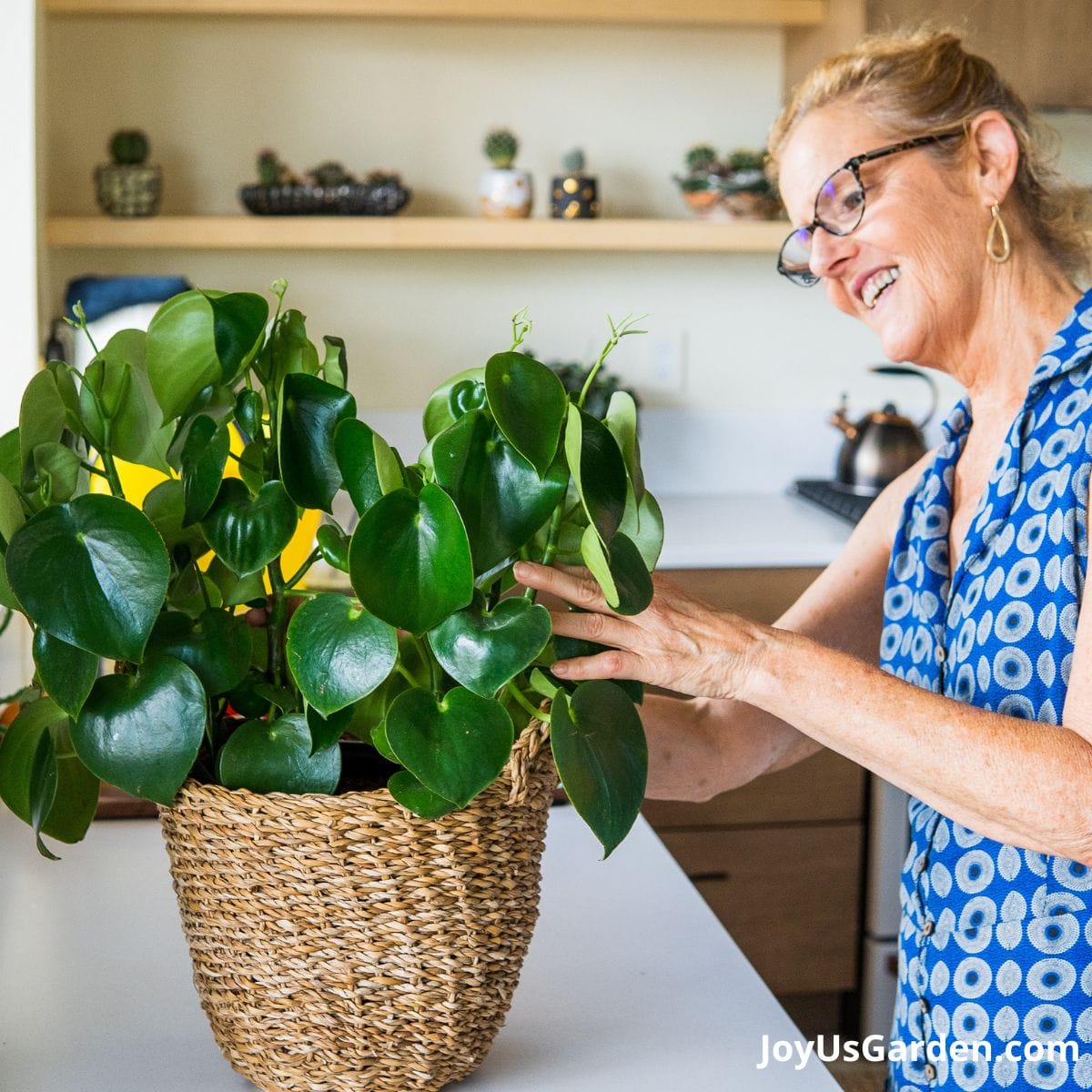 3) Choose The Right Spot In Your Home
Every indoor plant has different light requirements.
Light exposure is very important when it comes to a plant's growth and survival. Too much or not enough light can eventually lead to its demise. Some plants require plenty of sunlight, others prefer partial sunlight, and some will tolerate lower light conditions.
High light exposure is fine for many, but just know that most houseplants will burn in the direct, hot sun. In lower light conditions some indoor plants will survive but know you won't see much if any growth.
If your plant is sitting next to a wall, then rotate it every few months so it gets light evenly on all sides.
Do you not have a lot of natural light in your home? Check out our favorite Low Light Houseplants here.
4) Winter Care Is Different
Speaking of light exposure, you may have to move your plants to brighter spots in the winter months. I live in the Arizona desert with an abundance of sunshine so my plants get the light they need all year long.
If you live in a climate with darker winters, moving a plant or 2 might be necessary (just be sure to keep away from cold drafts). Light is such an important factor in the survival and health of a plant, so don't hesitate to move them when needed.
Another key point of winter houseplant care is to back off on the watering frequency. If you water your plants every 7 days in summer, most likely every 10-14 days will be the sweet spot in winter.
Here are more details on Winter Houseplant Care for you.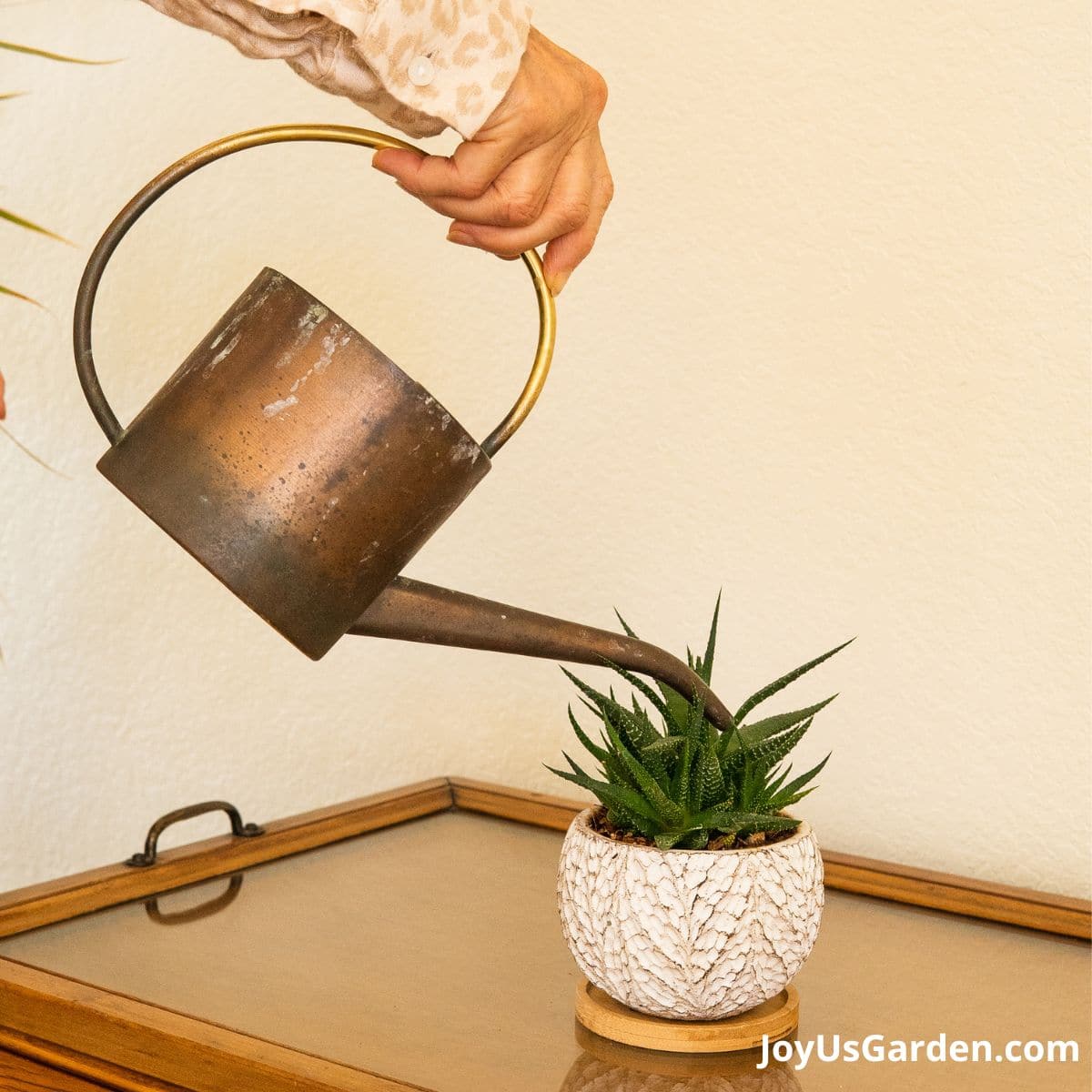 5) Don't Overwater Your Plants
This is another important point. If you've purchased houseplants before and feel like they don't last long or have droopy leaves after a few weeks, then you may have given them too much water.
It can be tricky when you're a beginner to find the balance between too much water and not enough. Overwatering is the likely culprit for most indoor plants not making it. And, what I mean by overwatering is watering too often so go easy on the liquid love!
As mentioned previously, it's good to purchase pots with drainage holes and monitor the soil moisture levels. Having a soil mix with good drainage is a crucial component of houseplant care.
I recommend a moisture meter if you're unsure. I use this on all my floor plants before watering them because the roots of most plants go deep into the pots.
You want to check to see what your plant's specific watering needs are. Some plants require watering less often than others. Take pot size into consideration too. A 4″ plant will need watering a bit more often than one in an 8″ pot.
As I said in point #4, back off on the watering frequency in the winter months.
I've done posts and videos on the care of numerous houseplants. I never give advice to the readers or viewers on how exactly often to water their plants because there are so many variables and factors that come into play. Instead, I share how often I water my plants and they can adjust.
Watering indoor plants is a loaded subject! Here's a post on How to Water Indoor Plants to help you out.
6) Fertilize Your Plants When Needed
Houseplants can benefit from regular feeding. Even if you only have 2 or 3 houseplants, at some point they'll appreciate some nourishment.
Fertilizing indoor plants keeps them healthy and helps them to grow strong. Just like anything, too much can be a bad thing so don't fertilize too often and/or use more than the recommended amount. The roots will eventually burn.
I feed my plants starting in early spring through the summer months and into early fall because we have a long growing season here.
More info waiting for you on How To Fertilize Indoor Plants.
7) Clean The Leaves
Cleaning houseplants is a part of indoor plant care. The cleaning of foliage should be done naturally.
Sometimes your plants need a little bit of extra care that requires some cleaning. It's a good idea to wipe off and/or spray the leaves because they can get dusty.
It's best to do it once or twice a year so they can breathe and respire. This is hard for them to do if there's a bunch of dust or dirt coating the leaves!
I like to do this once or twice a year because not only is it better for the plants to be clean, but they look a lot better too.
Clean plants are happy plants. Here's more on How to Clean Houseplants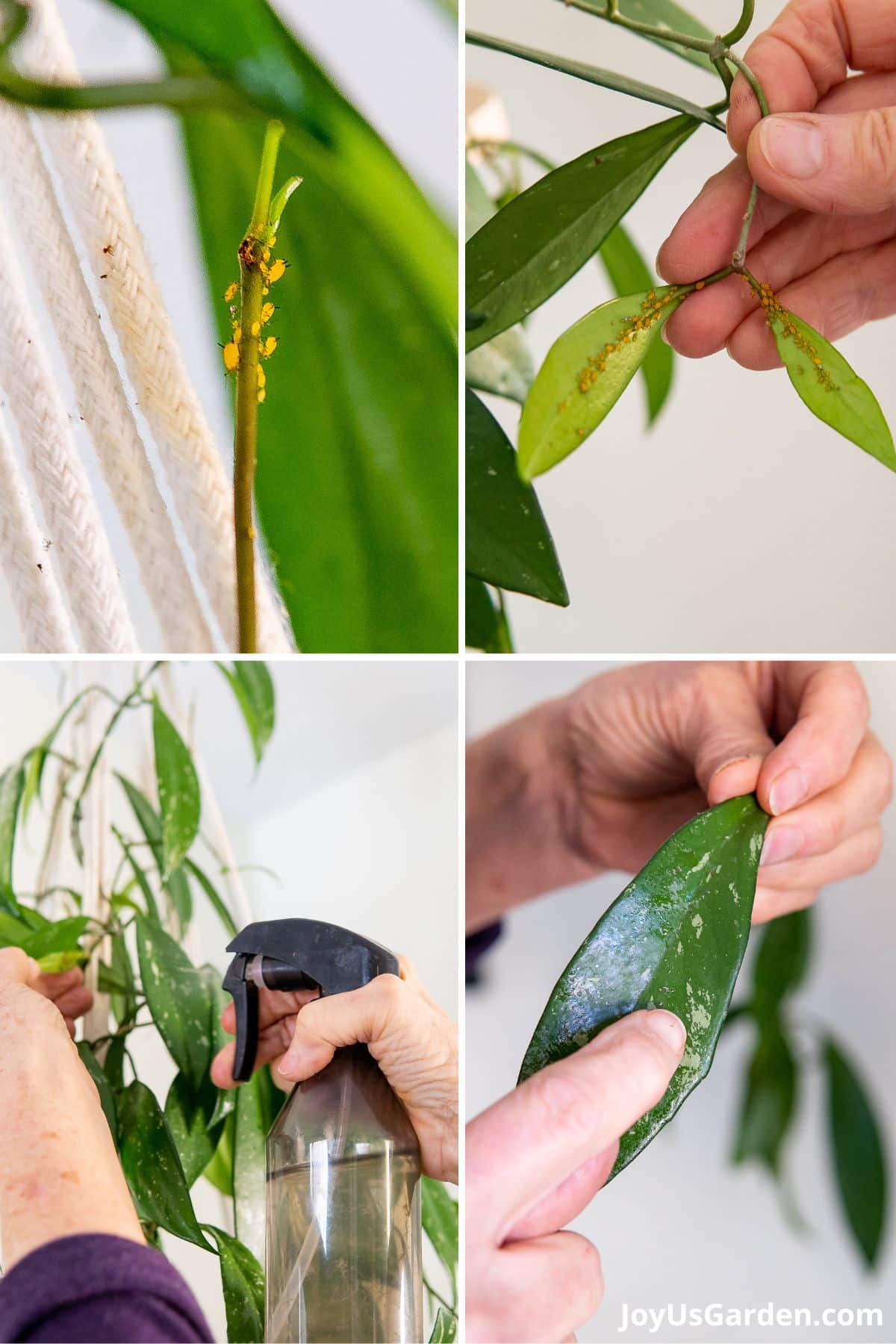 8) Keep Your Eye Out For Plant Pests
Houseplant pests can harm your plants. Just know that your plants will probably experience an infestation at one time or another. They slowly suck the sap out of a plant which over time weakens it, stunts the growth, and deforms the flower.
There are a few ways you can get rid of them, and one of our preferred methods is using a homemade spray. Mix 1 tablespoon mild dish soap or Dr. Bronner's, 1 tablespoon vegetable oil, and 1 cup water. This works on mild infestations.
This is important: Control these pests as soon as you see them. Once the infestation gets bad, they're very hard to get rid of. Your plant may not recover so take action early on.
Be sure to treat the undersides of the leaves and in the nodes because these are areas pests like to hang out in.
Interested in what these pests look like? We've done posts on spider mites, white flies, mealybugs, aphids, scale, and thrips as well as how to get rid of aphids naturally.
9) Monitor The Humidity Levels
The telltale signs that indoor plants need more humidity are dry leaves, dry tips, and/or dry edges.
From all that I've read, subtropical and tropical houseplants prefer a humidity level of around 50%. Many of our homes are below that level.
I live in the desert and use this gauge to monitor the humidity levels. It's inexpensive and lets me know if I have to run the humidifiers at night.
More details on How to Increase Humidity for Houseplants.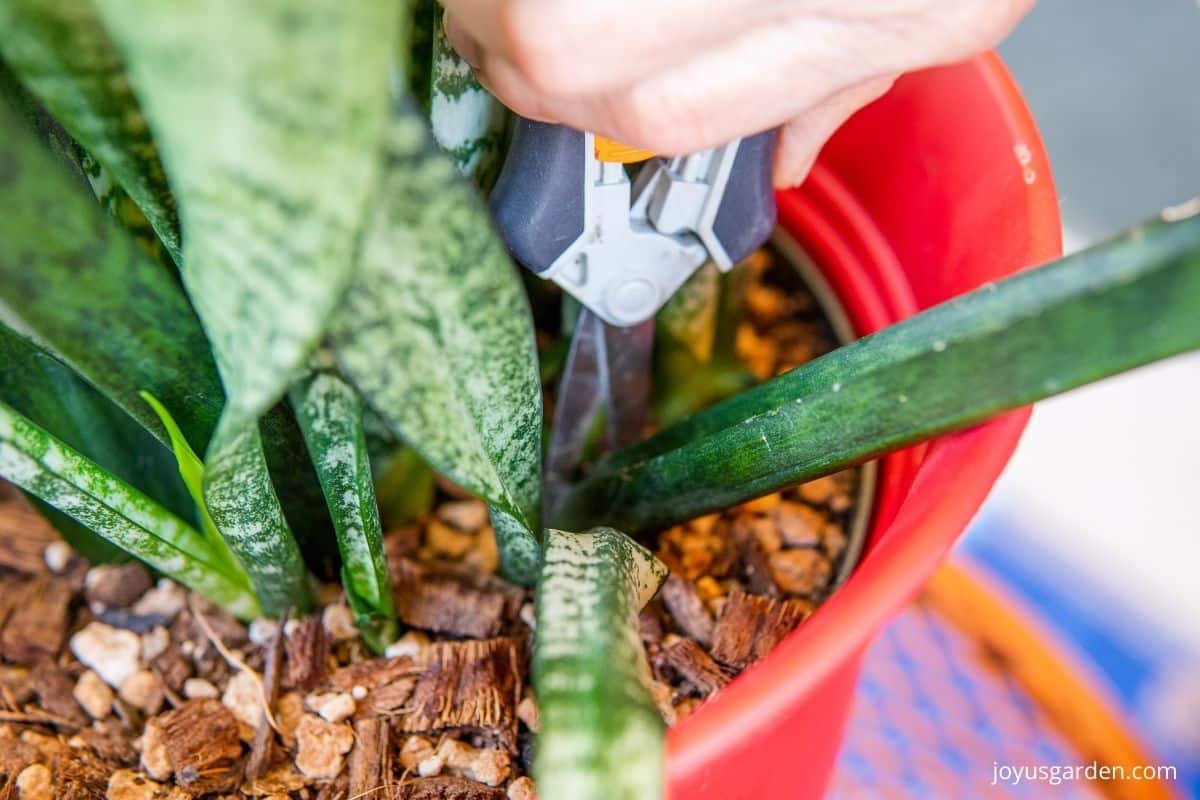 10) Prune When Needed
Spring and summer are the best time to prune indoor plants. If you live in a climate with temperate winters like me (Tucson, AZ), then early fall is fine too.
There are different reasons for pruning plants like removing a dead leaf, controlling growth, or propagating. Some plants require little to no pruning, and others more.
I cover pruning, along with propagating, in each individual indoor plant care post which you can find in our "Houseplants" section or via searching by plant name on our website.
Speaking of propagating, it's a fun perk of having plants. As long as you're pruning, why not propagate? Along with leaf and stem cuttings, division (dividing a plant into 2 or more plants) is another method of propagation.
If for some reason you have to prune and/or propagate your indoor plant in winter, no worries. Just know it's not the optimum time. For the most part, I leave my houseplants be in the colder months when it comes to pruning and propagating.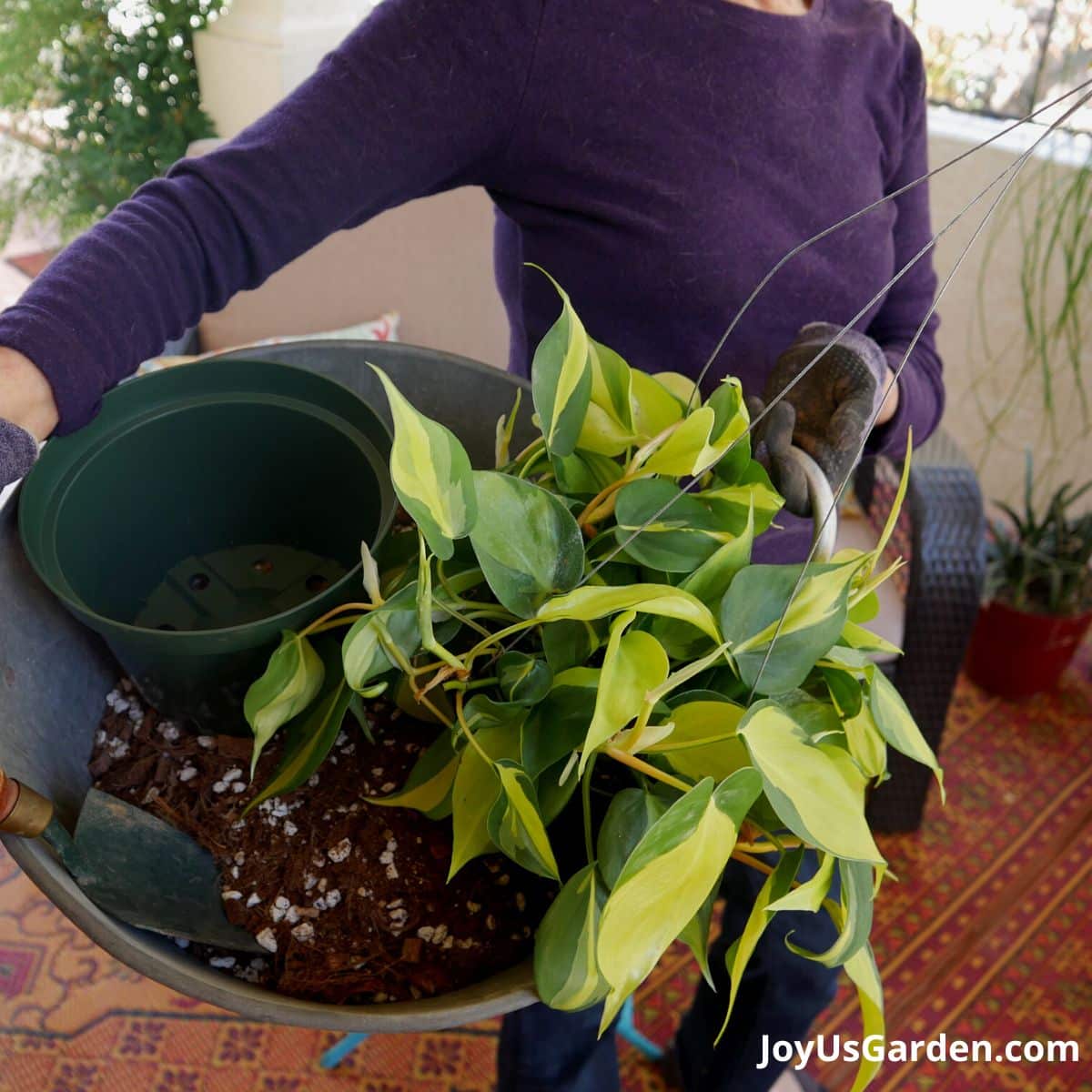 11) Repot Your Plants When Needed
Repotting is part of indoor gardening. As your plant grows larger, so will the roots. Over an extended period of time, all plants appreciate and will do better in fresh soil.
Every plant's needs are different so do some research on the plants you've purchased. A loose, general rule is to go up 1 pot size (for instance from a 4″ pot to a 6″) and to repot every 2-5 years.
Soil mix is important so be sure to choose a good one that says its formulated for indoor plants on the bag.
Some plants like to grow tight in their pots like snake plants, succulents, orchids, and bromeliads. They won't need repotting as often.
Here's a Beginner's Guide To Repotting Plants you might find helpful. I cover repotting and soil (different plants have different potting soil mix preferences) in the care posts and in individual posts in the "Repotting" section.
Some Of Our General Houseplant Guides For Your Reference: Guide To Watering Indoor Plants, Beginner's Guide To Repotting Plants, How to Clean Houseplants, Winter Houseplant Care Guide, Plant Humidity: How I Increase Humidity For Houseplants, Buying Houseplants: 14 Tips For Indoor Gardening Newbies
Bottom Line
We hope these indoor plant care basics will help you on your way to becoming a seasoned houseplant gardener. If you're feeling the green thumb, be sure to check out our plant care guides for houseplants, indoor succulent care, and growing cactus indoors. Follow us on Instagram and Pinterest for more gardening tips!
Happy gardening,

This post may contain affiliate links. You can read our policies here. Your cost for the products will be no higher but Joy Us garden receives a small commission. Thank you for helping us spread the word & make the world a more beautiful place!
About the Author
Latest Posts
Nell, the founder of Joy Us garden, was born into a gardening family and grew up in Connecticut's countryside. After living in Boston, New York, San Francisco, & Santa Barbara, she now calls the Arizona desert home. She studied horticulture & garden design, working in the field all her life. Nell is a gardener, designer, blogger, Youtube creator, & author. She's been gardening for a very long time & wants to share what she's learned with you.