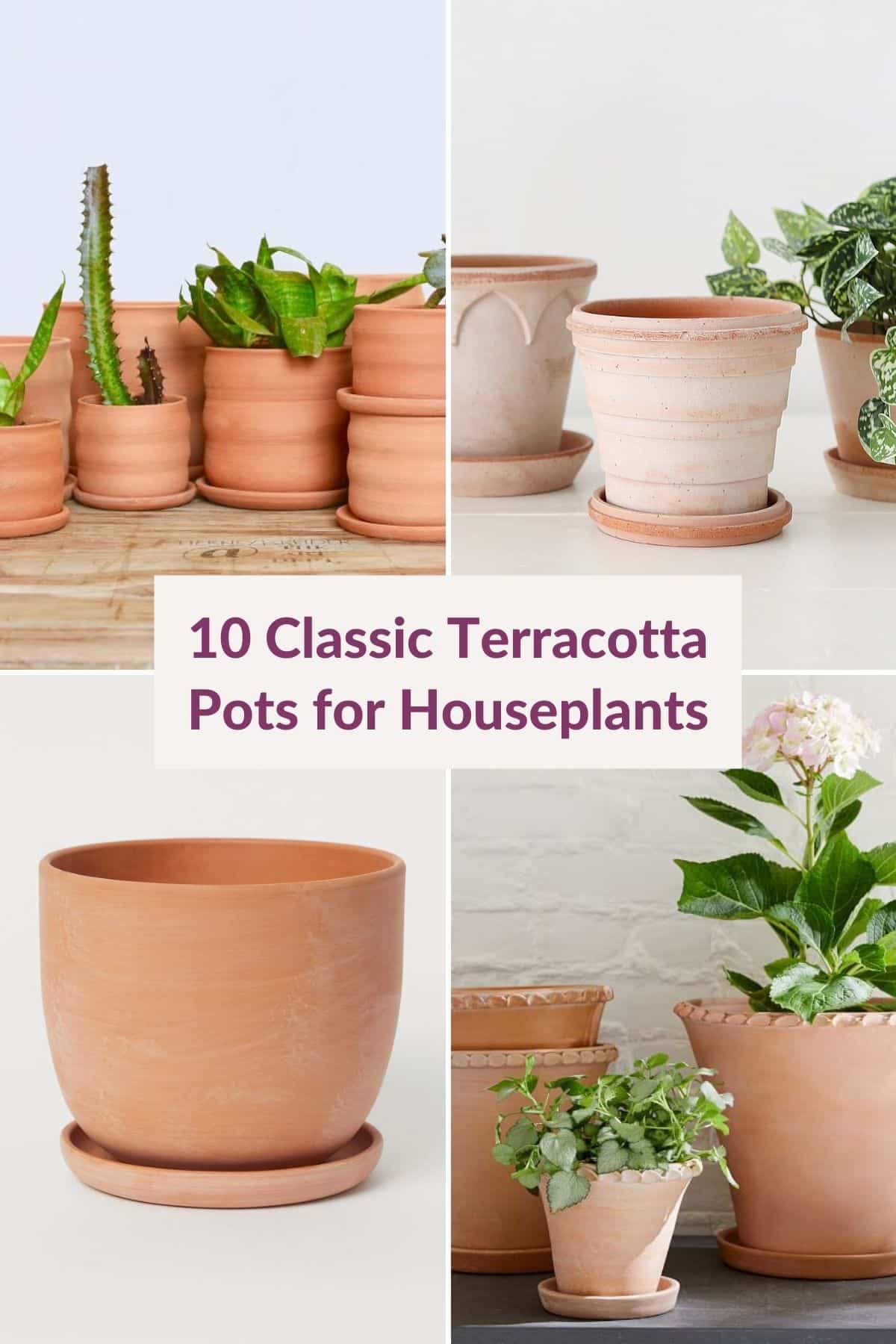 Here is everything you need to know about classic terracotta pots and how you can use them to display small houseplants in your home.
Making a choice on the best pots to buy online for your new plant babies isn't a walk in the park—sometimes, it becomes tiresome because of all the choices. These 13 pots are suited for indoor plants in 4″ to 8″ grow pots.
Whether you are a beginner or an experienced plant lover, it's important to know that selecting the right plant pot will affect plant growth and maintenance.
But there's one selection where you can never go wrong. Classic terracotta pots! With these essentials, you'll be able to appreciate these timeless pieces of pottery for your indoor plants.
Note: This post was published on 3/5/2022. It was updated on 1/5/2023 with new products.
Note: Houseplants do fine in terracotta because it's porous and allows the air to flow. However, salts from water and/or fertilizers can build up over time and discolor the pot. Most of my plants in terracotta are in grow pots placed inside the terracotta pots. This keeps the pot looking new. My succulents, snake plants, and cacti are directly planted in.
What Are Terracotta Pots?
The word Terra cotta translates to "baked earth" in Italian, and you could say that terracotta pots are made from baked clay from the Earth.
These classic beauties boast their warm neutral colors, most typically red/orange, that accentuate any plant that grows within them.
Pros of Terracotta Pots
There are plenty of reasons why terracotta pots make a great choice, but here are a few quick examples with more details below:
Their natural and classic look blends into almost any setting, both indoors and outdoors
They can also be easily painted or personalized to any desired vintage look
They're great for plants due to their porous nature, which aids proper drainage and the spread of plant roots
Terracotta pots possess excellent heat retention and repellent properties
They are more comfortable moving from one place to another than concrete or stone pots
They are eco-friendly—Broken pieces can be used for mulching, edging, or improving drainage.
Note: Terracotta containers are an excellent option for snake plants, aloe vera, kalanchoe, guzmania, cacti, succulents, and other plants that prefer drier soil. Terracotta pots are great for cooler climates too.
High-Quality Material
Made of top-quality clay, terracotta pots are baked at high temperatures, terracotta planters are porous enough to allow air and water to flow through them.
This stimulates root growth, which results in healthier plants by staving off root rot and disease caused by overwatering.
Durability
Terracotta pots are baked at higher temperatures, making them more durable. The clay becomes more rigid and less porous. Look for an even, reddish-brown hue with thick walls for a high-quality pot that will last for years.
Size and Shape
These terracotta pots come in a wide selection of varying sizes and shapes and are you'll find some suitable for plants in 4″, 6″, or 8″ grow pot sizes
A great choice for succulents or small-to-medium-sized plants of any type
Smaller pots best suit tabletops and are lighter in weight, while large pots are great accents indoors or outdoors on a patio
Drainage Hole and Saucer
Select terracotta pots that come with a drainage hole. This will help remove excess water and prevent your houseplants from being overwatered.
The Finish
The pots come ready to paint, seal, or customize to your liking.
Easy to Clean
Use a durable brush to remove dry dirt in and around the pot
Mix 1 part white vinegar by volume to 3 parts water and soak for 30 minutes
Soaking will clean off any fungus or dirt layers on the pot
If you're interested in learning how to decorate your home with houseplants, check out these articles for inspiration: How to Style Plants on a Table, and Our Favorite Indoor Succulent Planters.
Cons of Terracotta Pots
On the other hand, there are a few downsides to using terracotta pots that you should be aware of.
They're pretty fragile, so if not careful, they can crack if frozen or dropped when moving them
Plants that prefer dry soils thrive well in terracotta pots. Most aloe vera, cacti, and other succulents are good examples
Unglazed terra cotta pots are so porous that one may need to have a more frequent watering regime for smaller pots. This depends on your situation and personal preferences.
Here are some of our houseplant guides you may find helpful: Guide To Watering Indoor Plants, Beginner's Guide To Repotting Plants, 3 Ways To Successfully Fertilize Indoor Plants, How to Clean Houseplants, Winter Houseplant Care Guide, How to Increase Humidity for Houseplants.
Buy Now: Classic Terracotta Pots for Houseplants
These two matching pots contain drainage holes which include detachable saucers that will make it easy for you to drain excess water. They have a classic and round design, yet they can add an urban look to your home.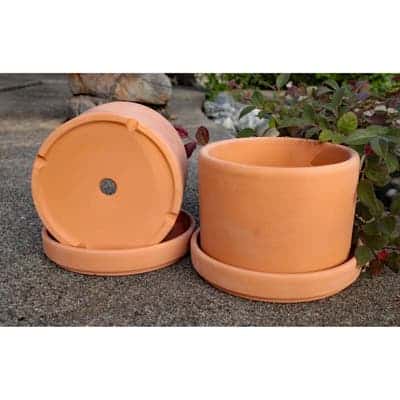 6'' in diameter, conical in shape perfect for displaying herbs, flowers, vines, and other small to medium-sized houseplants. It also blends well both in indoor and outdoor settings.
These planters have a modern handmade wavy design that's irresistible to the eye. They make a perfect blend for your indoor jungle.
With this pot, you can see a bit of a rustic design that adds a textural feel to your urban jungle. It's great for showing off a wide range of greenery and flowers!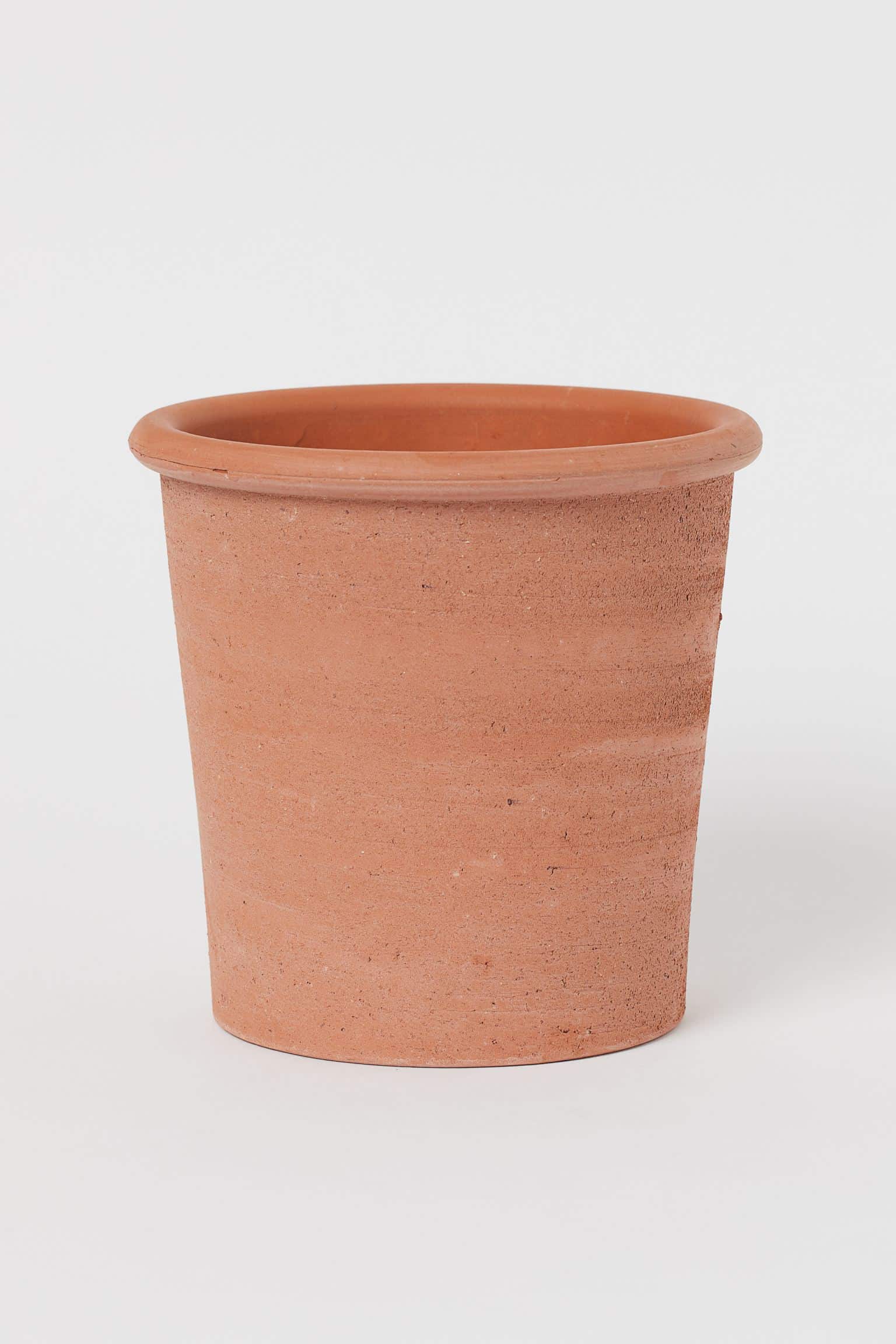 When purchasing any plant pot, a matching saucer comes in handy as a perfect companion. This design is simple yet adds some texture with a subtle white-washed look.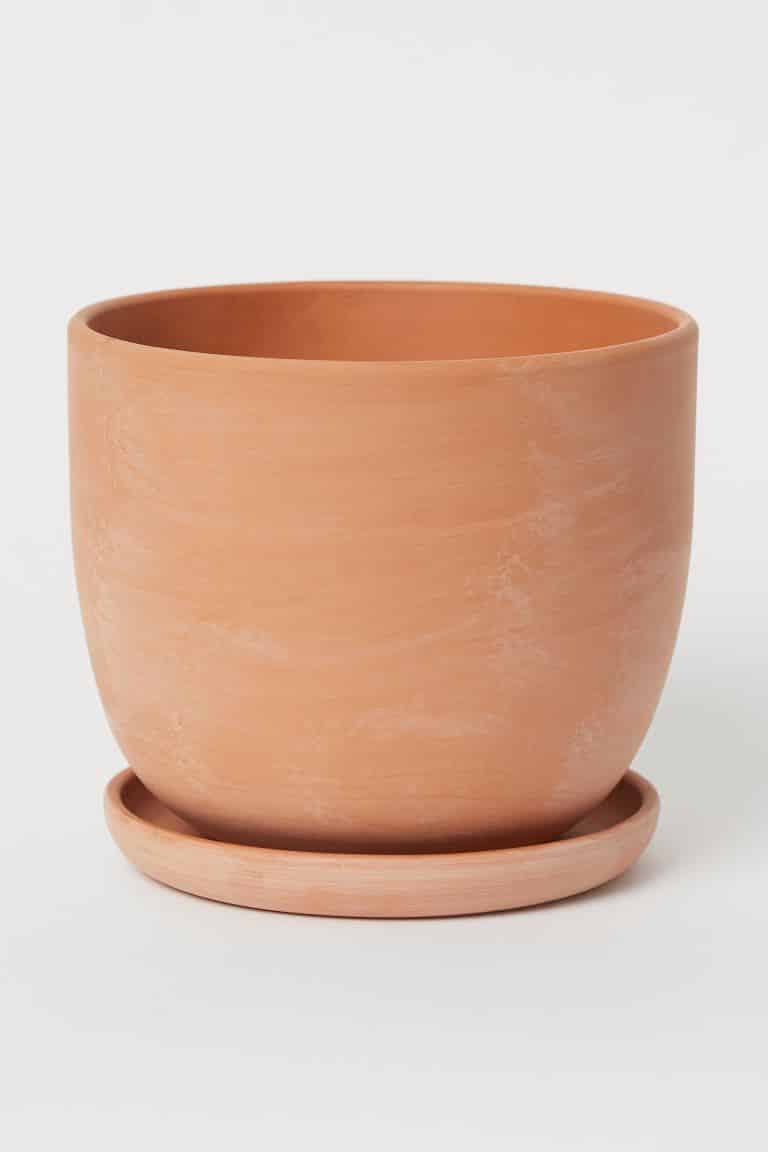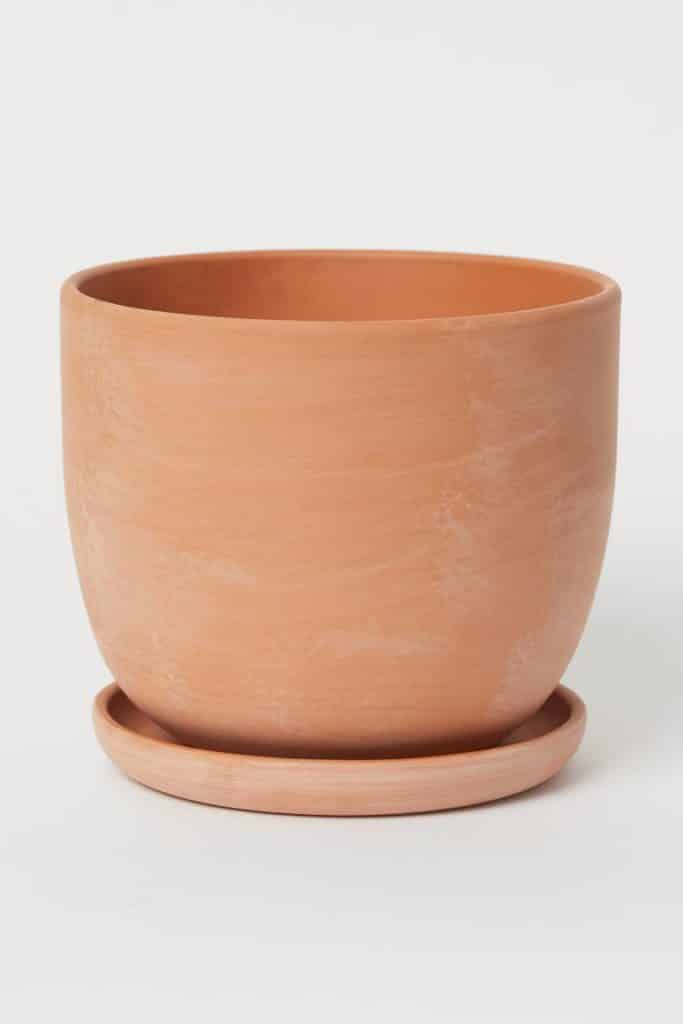 Get back to basics with this classic terra cotta planter. Simple and uncomplicated in its design, it's the perfect vessel for greenery as well as vibrant, flowering plants.
These planters come with a naturally smooth matte finishing with a warm color. They're perfect for minimalist decor! Perfect size for small cacti, succulents, and magical when grouped with other pots.
These flower pots made of terracotta, allow air and water to pass through the pot more easily. Sold in a pack of two, for the double the plant love.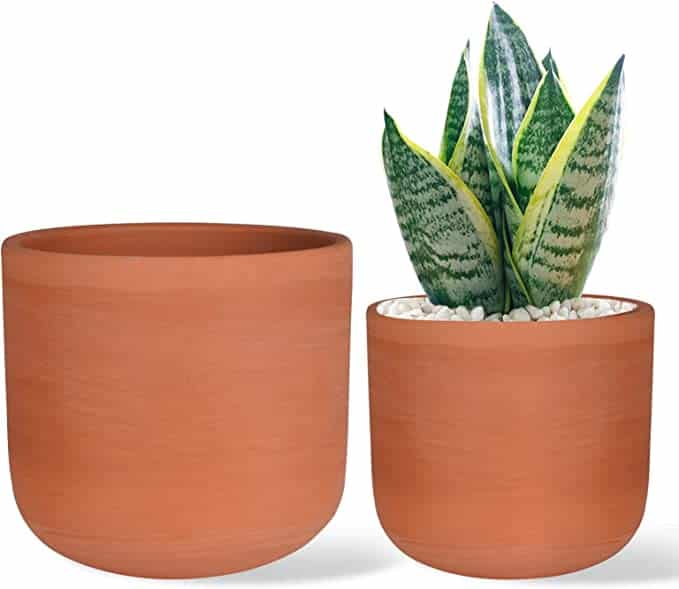 These high-quality handmade terra cotta pots are made with a beautiful warm orange color. Choose a tropical plant to bring some lush greenery into your space. The pots come ready to be painted or customized to your desired piece of art.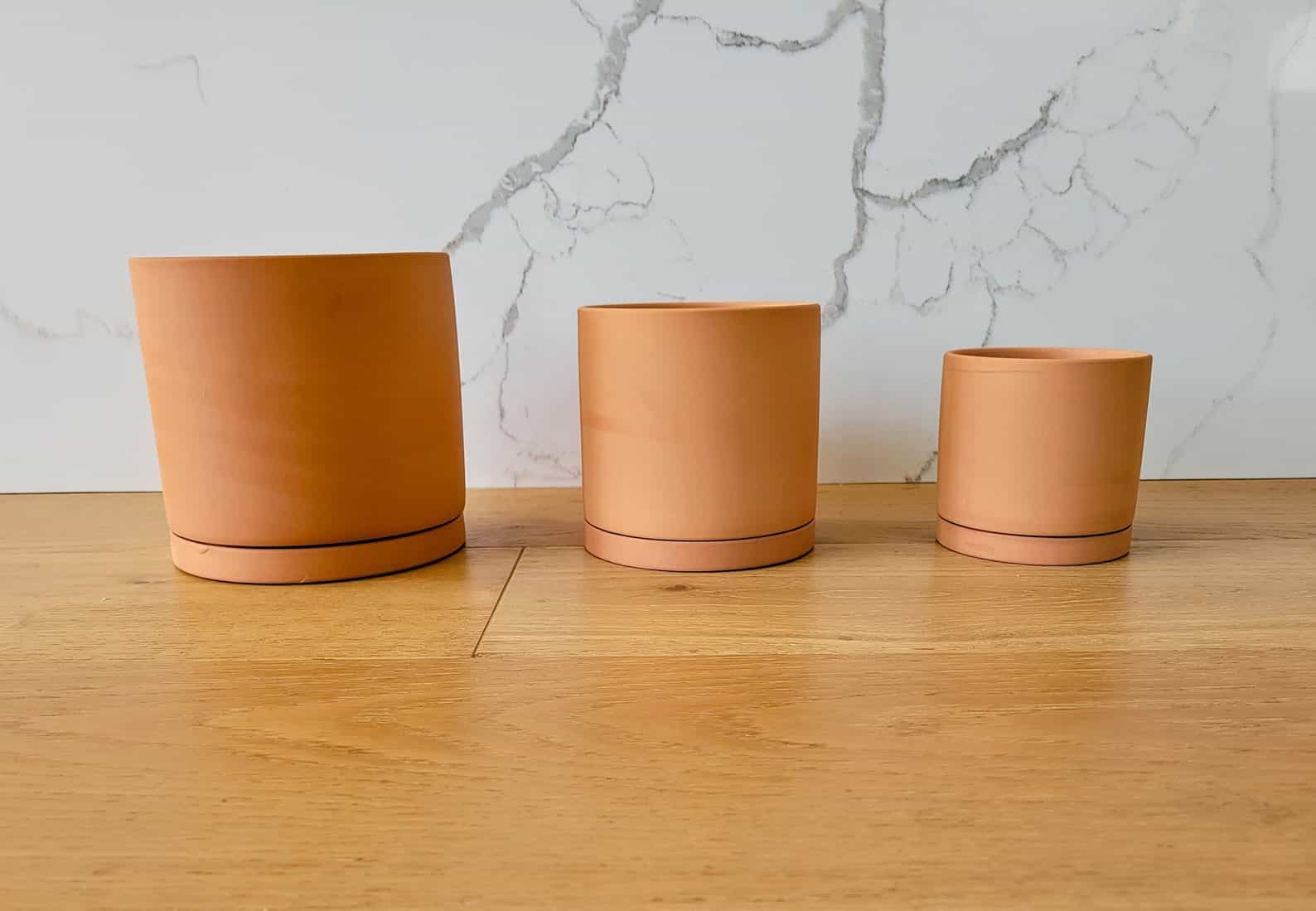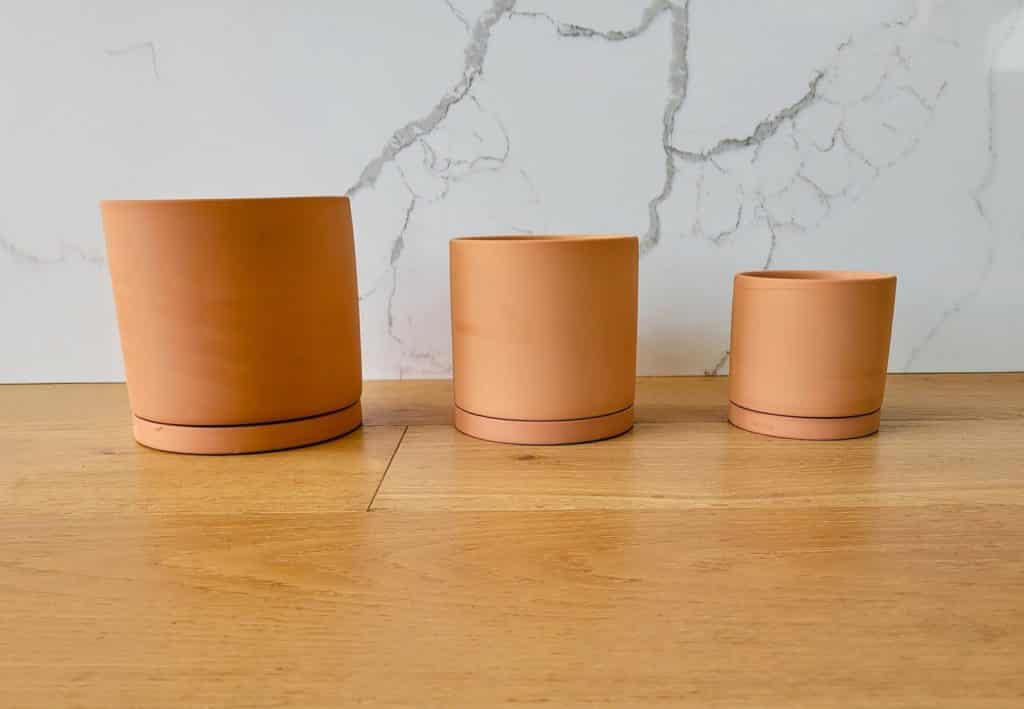 This masterpiece collection celebrates and preserves artisan handcrafted traditions around the world making it worth your penny! Features a drainage hole at the bottom and a saucer providing your plant with proper drainage.
Made of top-quality clay and baked at high temperatures each Terracotta Pot features great durability. Sold in a set of 4, what a deal!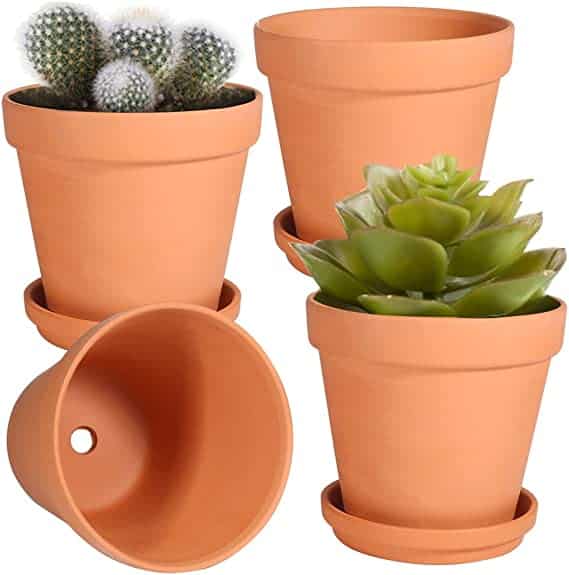 The Valentina planter pot has been crafted from quality terracotta and molded into a minimalist design. Over time, the fire-glazed natural material will form a lovely patina color. As a porous material, the terracotta will enable your plant's roots to breathe.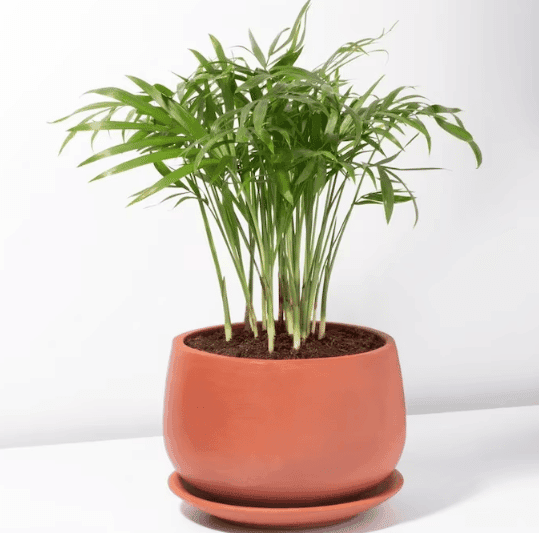 The natural red clay is beautiful and will match well with any surroundings. This sturdy clay pot is versatile when it comes to what plant you want to plant inside it.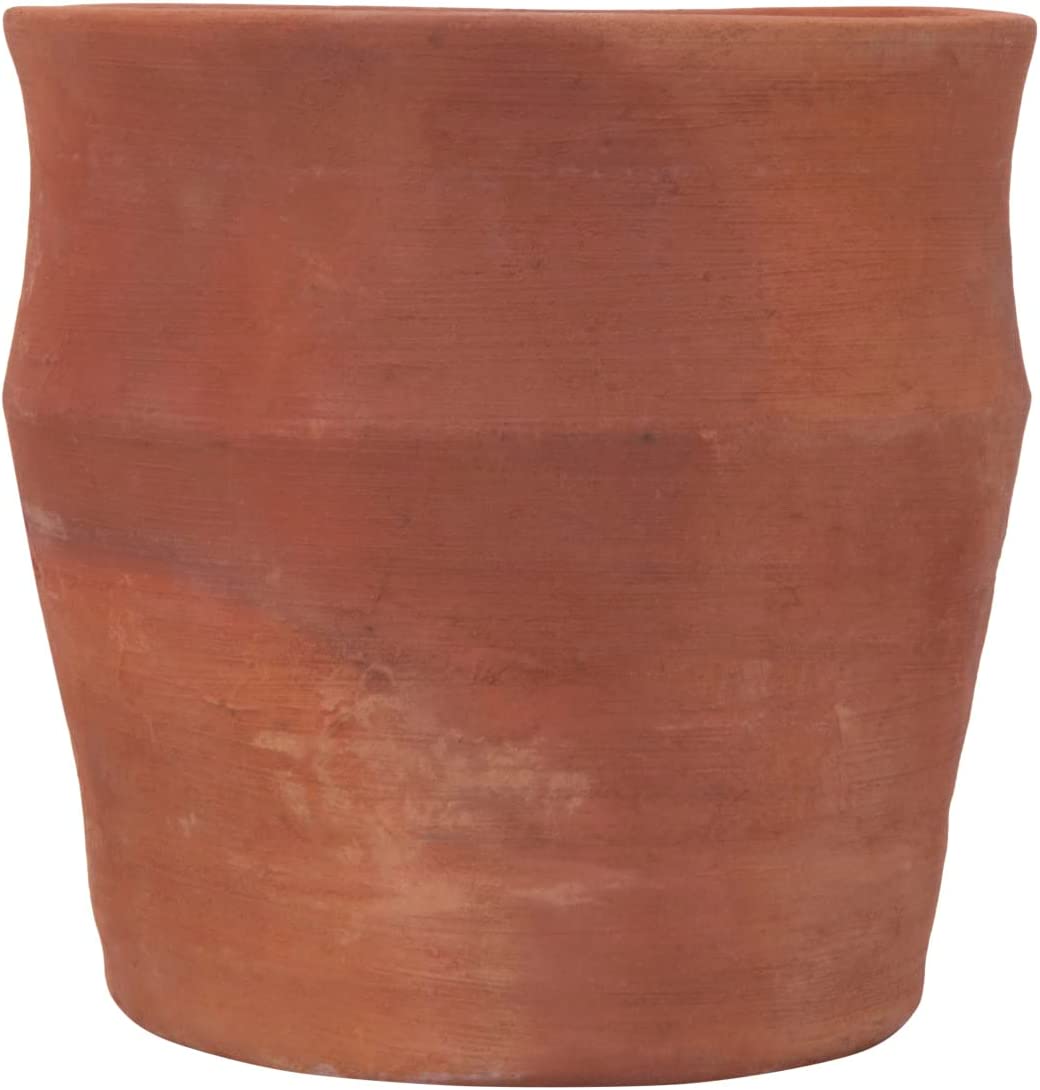 FAQs: Classic Terracotta Pots for Houseplants
Are terracotta pots suitable for houseplants?

Absolutely but there are some important factors that you should consider. It depends on where you live, what conditions you are in, and what plants you keep in terracotta pots.

Generally, the porosity of terracotta is great for plants directly planted in that need good drainage and are prone to root rot. It's also a good option for indoor plants that need to be brought inside in cold weather because terracotta can be used indoors and outdoors.

If you don't want to directly plant in terracotta, you can keep your houseplant in its grow pot and sink that inside the terra cotta pot.
Do plants grow better in terracotta pots?

This depends on the type of plant. If it prefers dry soil like most succulents and cacti, terracotta is a good choice. The pots absorb water and release excess moisture from the soil more quickly.

Terracotta pots are porous and roots appreciate that.
Can you drill holes in terracotta pots?

It's best to buy a pot with a drainage hole/holes if possible. I've drilled holes in them a few times with no cracking or breaking. Soak the bottom of the pot in water and use a diamond drill bit.
Do plants in terracotta dry out faster?

Most classic terracotta pots are unglazed. This makes them more porous. So yes, they do.
Can you paint terracotta pots?

Yes, you can easily paint unglazed terracotta. I've used spray paint, acrylic paint, and house paint.
Do terracotta pots change color?  

Yes, unglazed terracotta pots change color as they age. I've found this to be true when the pots are outdoors and with indoor plants are directly planted in terracotta.
Are ceramic pots better than terracotta pots?
This is a matter of taste and opinion. It's like asking if gold cabinet hardware is better than silver cabinet hardware!
Houseplants look great in classic terracotta pots and now you have a few to choose from!
This post may contain affiliate links. You can read our policies here. Your cost for the products will be no higher but Joy Us garden receives a small commission. Thank you for helping us spread the word & make the world a more beautiful place!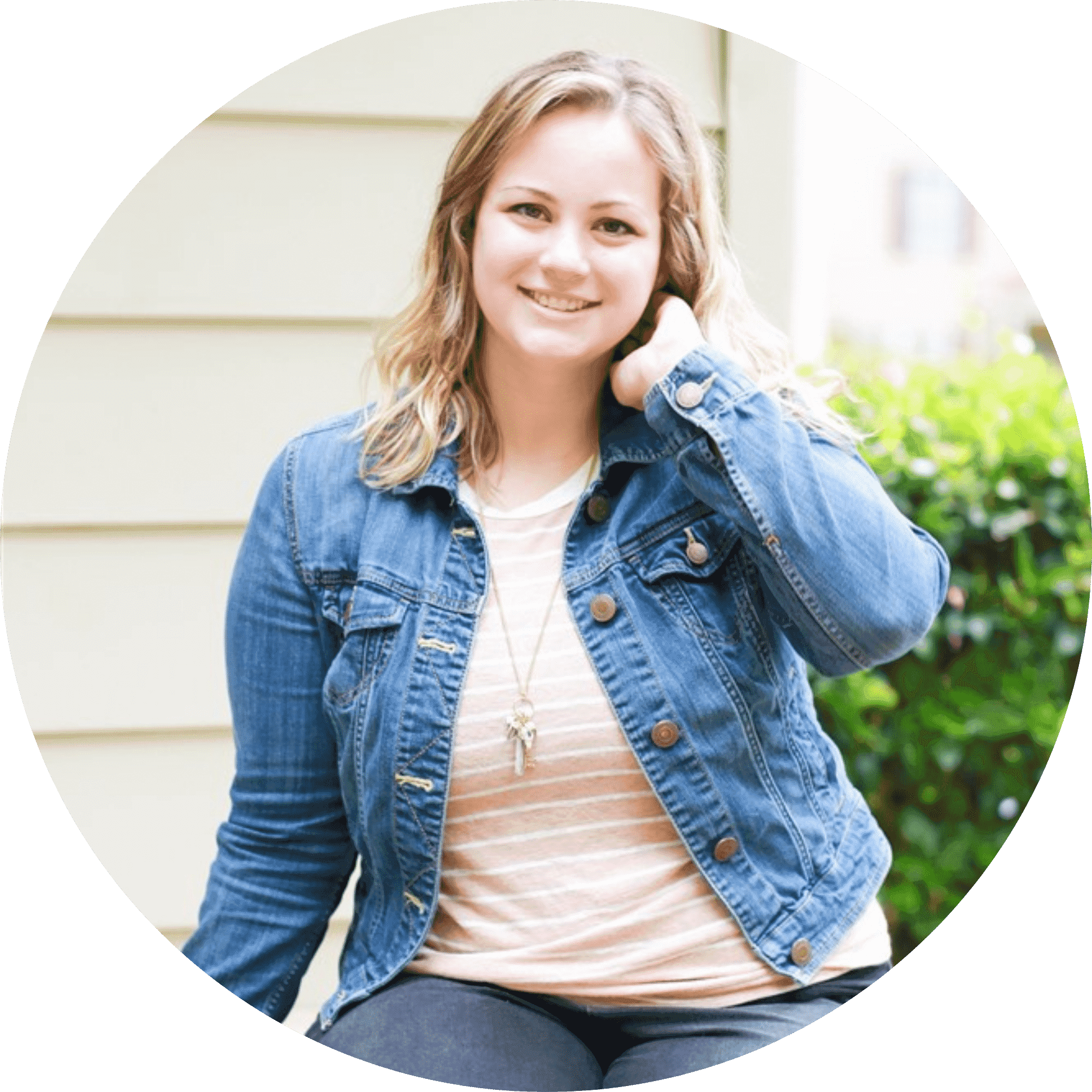 About the Author
Miranda is a content manager for Joy Us Garden. In her free time, she enjoys hiking with her dog, reading a good book, or critiquing a new movie or TV show. Check out her marketing blog here.