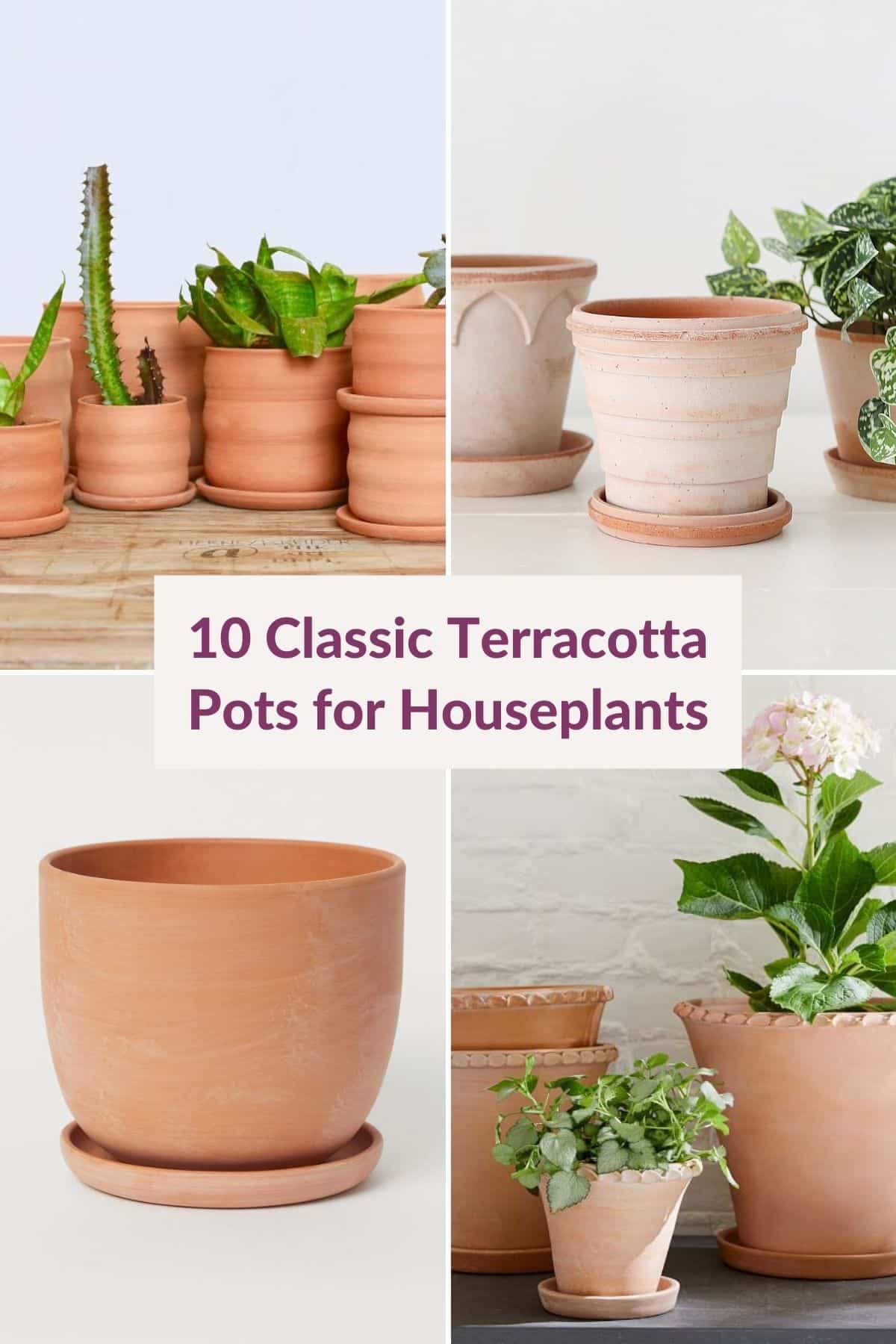 Here is everything you need to know about classic terracotta pots and how you can use them to display small houseplants in your home.
Making a choice on the best pots to buy online for your new plant babies isn't a walk in the park—sometimes, it becomes tiresome because of all the choices. These 13 pots are suited for indoor plants in 4″ to 8″ grow pots.
Whether you are a beginner or an experienced plant lover, it's important to know that selecting the right plant pot will affect plant growth and maintenance.
But there's one selection where you can never go wrong. Classic terracotta pots! With these essentials, you'll be able to appreciate these timeless pieces of pottery for your indoor plants.
Note: This post was published on 3/5/2022. It was updated on 1/5/2023 with new products.
Note: Houseplants do fine in terracotta because it's porous and allows the air to flow. However, salts from water and/or fertilizers can build up over time and discolor the pot. Most of my plants in terracotta are in grow pots placed inside the terracotta pots. This keeps the pot looking new. My succulents, snake plants, and cacti are directly planted in.
What Are Terracotta Pots?
The word Terra cotta translates to "baked earth" in Italian, and you could say that terracotta pots are made from baked clay from the Earth.
These classic beauties boast their warm neutral colors, most typically red/orange, that accentuate any plant that grows within them.
Note: Terracotta containers are an excellent option for snake plants, aloe vera, kalanchoe, guzmania, cacti, succulents, and other plants that prefer drier soil. Terracotta pots are great for cooler climates too.
High-Quality Material
Made of top-quality clay, terracotta pots are baked at high temperatures, terracotta planters are porous enough to allow air and water to flow through them.
This stimulates root growth, which results in healthier plants by staving off root rot and disease caused by overwatering.
Durability
Terracotta pots are baked at higher temperatures, making them more durable. The clay becomes more rigid and less porous. Look for an even, reddish-brown hue with thick walls for a high-quality pot that will last for years.
Size and Shape
These terracotta pots come in a wide selection of varying sizes and shapes and are you'll find some suitable for plants in 4″, 6″, or 8″ grow pot sizes
A great choice for succulents or small-to-medium-sized plants of any type
Smaller pots best suit tabletops and are lighter in weight, while large pots are great accents indoors or outdoors on a patio
Drainage Hole and Saucer
Select terracotta pots that come with a drainage hole. This will help remove excess water and prevent your houseplants from being overwatered.
The Finish
The pots come ready to paint, seal, or customize to your liking.
Easy to Clean
Use a durable brush to remove dry dirt in and around the pot
Mix 1 part white vinegar by volume to 3 parts water and soak for 30 minutes
Soaking will clean off any fungus or dirt layers on the pot
If you're interested in learning how to decorate your home with houseplants, check out these articles for inspiration: How to Style Plants on a Table, and Our Favorite Indoor Succulent Planters.
Here are some of our houseplant guides you may find helpful: Guide To Watering Indoor Plants, Beginner's Guide To Repotting Plants, 3 Ways To Successfully Fertilize Indoor Plants, How to Clean Houseplants, Winter Houseplant Care Guide, How to Increase Humidity for Houseplants.
Buy Now: Classic Terracotta Pots for Houseplants
FAQs: Classic Terracotta Pots for Houseplants
Houseplants look great in classic terracotta pots and now you have a few to choose from!
This post may contain affiliate links. You can read our policies here. Your cost for the products will be no higher but Joy Us garden receives a small commission. Thank you for helping us spread the word & make the world a more beautiful place!