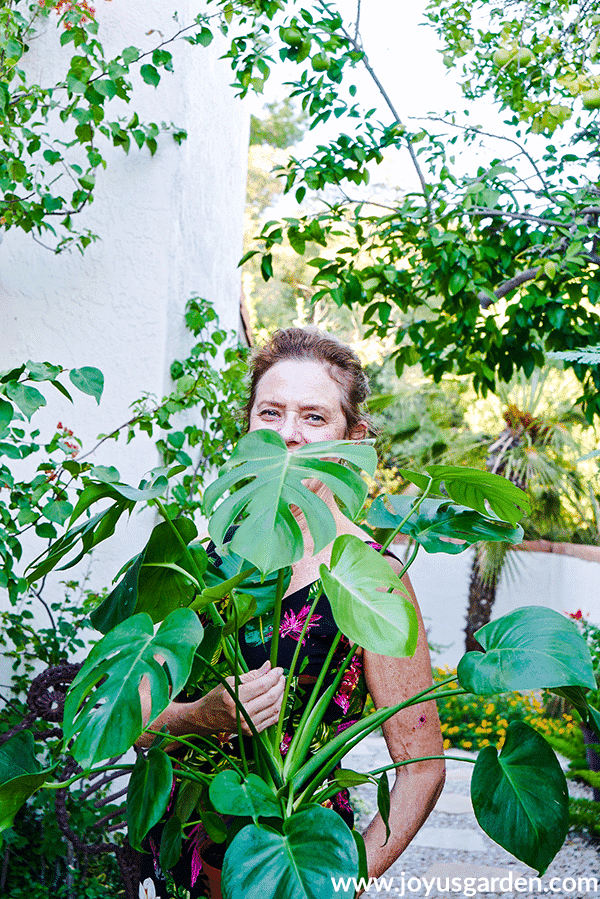 Hello flip flops, coconuts and fruity drinks with umbrellas! If you want your home to have a tropical feel then plan on picking up 1 of these plants. The leaves are big and it spreads as it grows. This is all about Monstera deliciosa care including tips and things good to know so you can keep your leafy beauty thriving and looking good.
These plants were popular years ago but fell out of the limelight. Now they've come back with a vengeance and rightfully so. There are many species and varieties of Monsteras on the market. You basically care for them all the same except for the variegated ones which need a bit more light to keep their beautiful markings.
The common names for this plant are: Monstera, Swiss Cheese Plant, Split Leaf Philodendron, Cut Leaf Philodendron & Mexican Breadfruit.
Oh, that gorgeous foliage!
Some Of Our General Houseplant Guides For Your Reference:
Uses
They're tabletop plants when young. As they grow, these Monsteras not only get taller but they get wider. Mine is currently growing in a 6″ grow pot & stands 22″ tall & 24″ wide. It's quite young & already takes up quite a bit of the table!
As they grow, they become floor plants. Widthwise, just know that they need space.
Size
They're commonly sold in 6″, 8″, 10″ & 14″ pot sizes. Because the leaves are so big, the larger the pot size, the wider the plant is. The tallest I've ever seen 1 in a home is 6′ tall by roughly 4′ wide.
Monsteras are classified as evergreen vines. You may see them trained to grow up a piece of wood or moss pole.
Growth Rate
Moderate to fast – these are vigorous & strong growers. I live in Tucson, AZ with a lot of sunshine & warm temps. for 7-8 months of the year. Mine grows fast.
Like all houseplants, the growth slows way down in the cooler months. And, the lower light conditions the slower the growth rate will be.
Close Relatives
I'm adding this in for fun because I also have these growing in my home & you may too. In the same plant family as the Monstera are the popular houseplants: pothos, anthurium, arrowhead plant, peace lily and Chinese evergreen.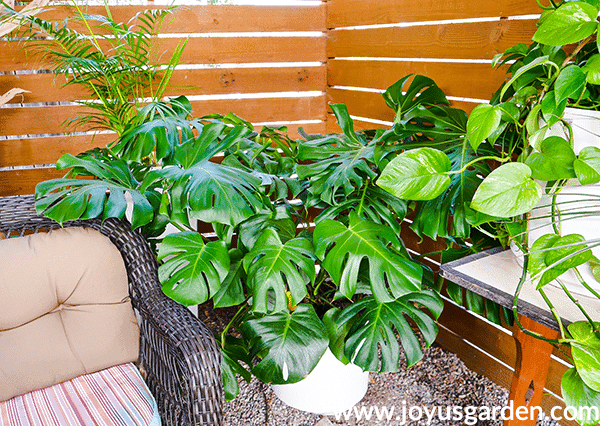 This Monstera isn't that tall but you can see how wide it is.
Monstera Deliciosa Care
Exposure
They prefer bright, natural light—what I would call a moderate exposure. Near but not in a window is good. They'll tolerate low light but will show little if any growth.
Monsteras are epiphytic just like orchids, bromeliads & all its relatives listed above. They grow up trees & along the ground under the cover of other plants. If the light is too strong (like a hot, west exposure close to a window) it'll cause the leaves to scorch which will show up as brown marks. Dappled sunlight is fine.
My Monstera grows in my east-facing dining room about 8′ away from a trio of windows. The room is filled with sunlight and my many plants in this room do really well.
If you have one of the variegated Monstera deliciosa, then it'll definitely need moderate light to bring out & keep the variegation.
You may have to move yours to a brighter spot as the light changes in the winter months. Rotate it if need be so the lights hits it on all sides.
Watering
I water my 6″ Monstera when the planting mix is 1/2-3/4 of the way dry. That tends to be every 7-9 days in the warmer months & every 2-3 weeks when winter comes around. Yours might need more or less – this guide to watering indoor plants & houseplant watering 101 post will help you out.
Monsteras have thick roots (& quite a bit of them) so be sure not to overwater yours. This will lead to root rot & the plant will eventually die.
2 things: don't water yours too often (it's an epiphyte after all) & back off on the frequency in the winter.
Temperature
If your home is comfortable for you, it'll be so for your houseplants too. Monsteras prefer it on the warmer side in the growing months & cooler in the winter when it's their rest time. Just be sure to keep them away from any cold drafts as well as air conditioning or heating vents.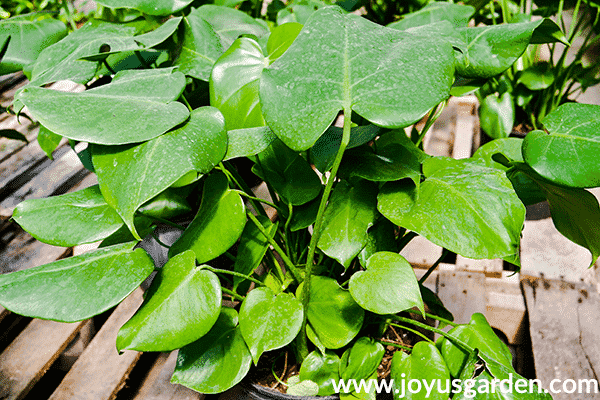 This Monstera deliciosa doesn't have many slits &/or holes in its leaves. I've been told that the leaves are predestined from their start to be how they are. I've also read they slit as they age so I'm not sure which is true. I'll be sure to keep any eye on mine as it grows & let you know!
Humidity
Like all tropical plants, Monsteras love it. They're native to the rainforest regions after all. If the leaves of yours are showing tiny brown tips, that's a reaction to the dry air in our homes. Even though I live in hot dry Tucson, mine isn't showing any brown tips.
I have a large, deep kitchen sink with a faucet water filter. As I said, every other time I water my Monstera I take it to the sink, spray the foliage & leave it in there for an hour or so to temporarily up the ante on the humidity factor. Plus, it keeps the dust from building up on the foliage with can hinder the foliage breathing process.
I have a diffuser on a table filled with plants that my Monstera sits on. I run it a few hours a day. This seems to work here in the dry desert.
If yours look stressed & you think it's due to lack of humidity, fill the saucer with pebbles & water. Put the plant on the pebbles but make sure the drain holes &/or the bottom of the pot isn't submerged in water. That's what I do with mine & this helps also.
Misting the plant a few times a week is another option.
Fertilizing/Feeding
I give most of my houseplants a light application of worm compost with a light layer of compost over that every spring. Easy does it – a 1/4? layer of each is plenty for smaller sized plants. I go up to 1/2 – 1″ layers for larger pots. You can read about how I worm compost/compost feed right here.
I give my Monstera a watering with Eleanor's vf-11 in late spring, mid-summer & at the end of summer. We have a long growing season here in Tucson & houseplants appreciate the nutrients this plant food provides. Once or twice a year might do it for your plant.
Whatever houseplant food you use, don't over-fertilize your plant because salts build-up and can burn the roots of the plant. This will show up as brown spots on the leaves.
Avoid fertilizing a houseplant that is stressed, ie. bone dry or soaking wet.
Avoid feeding or fertilizing your houseplants in late fall or winter because it's their time for rest.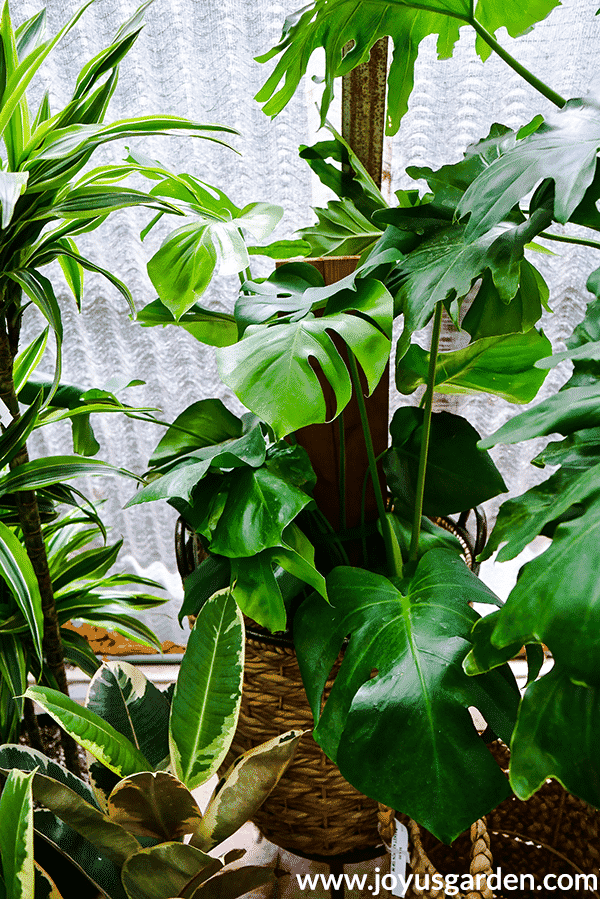 You can train your Monstera to grow up a piece of wood like you see here.
Repotting/Soil
Like all epiphytes, Monstera deliciosas like to grow slightly pot bound. That being said, this plant is a vigorous & fast grower so you'll need to repot it every 2-3 years depending on how it's growing.
My plant is wider & heavier in relation to its grow pot size. It tipped over & fell off the table so I put it inside a heavy ceramic for anchoring. It's now early October & I'll be repotting my Monstera next spring so I'll share that with you. It's in a 6″ pot now & will go up to an 8″ grow pot.
As for soil, this plant likes a rich mix with a good amount of peat in it. I'll use 1/2 potting soil & 1/2 coco coir.
I'm partial to Ocean Forest because of its high-quality ingredients. It's a soilless potting mix & is enriched with lots of good stuff but also drains well. Epiphytes needs excellent drainage because they grow on other plants, not in the ground.
I use coco coir instead of peat moss because it's much more environmentally friendly. The Prococo Chips/Fiber block is what I use but this is similar.
Pruning
You'll need to prune a Monstera to train it or to propagate it. A few of the lowest leaves stay quite small so I usually prune those off at some point.
These plants get straggly & rangy in low light so you may need to do some pruning to shape them.
As your Monstera gets grows & gets dense, you can prune a leaf or 2 off to be used in a flower arrangement. They're quite long-lasting!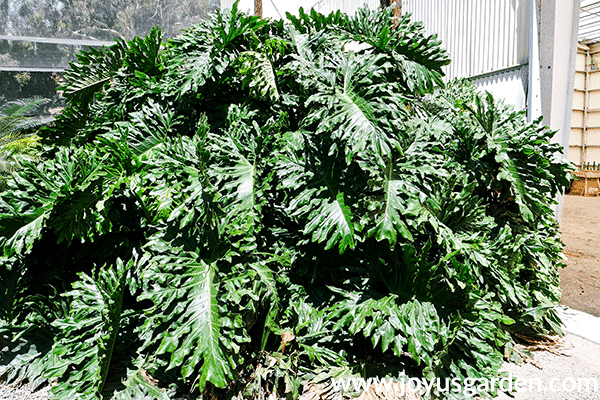 This is a Philodendron selloum growing at Rancho Soledad Nurseries. Some people get them confused with the Monstera deliciosa. They're both in the same plant family.
Propagation
A Monstera is a snap to propagate. You'll see roots coming out of the nodes on the stems. Those are the aerial roots used for anchoring their stems to other plants when growing in nature.
To propagate by stem cuttings, prune a stem right below a node & aerial root(s). Make sure your pruners are clean & sharp. They can then easily be put in water or a light mix to further root.
My Monstera is young. I'll wait until the stems grow & more aerial roots are produced before propagating it.
Another method of propagating a Monstera is by division.
Pests
My Monsteras have never gotten any pests. They can be susceptible to mealy bugs, scale & spider mites so keep your eyes open for those. Pests tend to live inside where the leaf hits the stem & also under the leaves so check these areas from time to time.
It's best to take action as soon as you see any pest because they multiply like crazy. Pests can travel from houseplant to houseplant fast so make you get them under control pronto.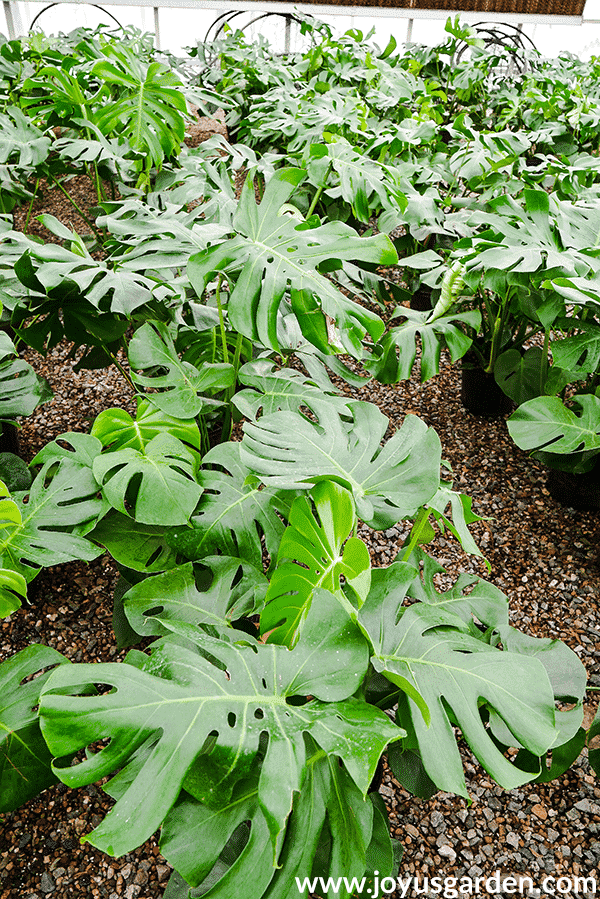 Monsteras are very popular these days. I saw a lot of them both in 6″ & 10″ grow pots when I was at the Plant Stand in Phoenix.
Safe For Pets
A number of plants in the Araceae family, such as Monsteras, are considered to be toxic to pets. I consult the ASPCA website for my info on this subject to see in what way the plant is toxic. Here's more info on this for you.
Most houseplants are toxic to pets in some way & I want to share my thoughts with you regarding this topic.
Flowers
Monsteras do flower and produce fruit but it rarely happens when they're growing indoors.
Common Questions about Monstera Deliciosa Care
How do you make a Monstera grow up? It will grow up over time. It needs a means of support that those aerial roots can cling on to. You can train it to climb up a moss pole or piece of wood.
How do you keep a Monstera small? I've never tried. Monsteras have a vigorous growth habit, large leaves & get big over time. You can tip prune yours as it grows to contain the growth. There are many other indoor plants which stay small or are easy to keep small so another plant might be an option.
Can you cut back a Monstera? I've lightly pruned 1 to keep it in shape but I've never cut 1 all the way back. I'm thinking you could aggressively cut 1 back by 1/2 to 1/3 if yours has gotten out of shape or is rangy.
Does a Monstera like direct sunlight? A Monstera likes bright natural light but no hot, direct sun hitting its gorgeous leaves. Filtered sun or a bit of morning sun are fine.
Why is my Monstera plant turning yellow? There are a number of reasons leaves on a plant could be turning yellow. If it' an occasional leaf (especially the lower ones), that's just the natural growth habit. Most common reasons are: over or under watering, a nutrient deficiency or lack of light. Over watering (i.e. watering too often) is usually the issue!
When should I water my Monstera? I can tell you when I water mine with success. I wait until the mix it's growing in is 1/2 to 1/3 of the way dry & then I water. In summer it's every 7-9 days. In the cooler, darker winter months I let the mix go almost dry so it's about every 3 weeks.
Should I mist my Monstera? Monsteras love humidity so mist away. Just don't let the leaves stay wet for too long when the temps are cool.
Can you divide a Monstera plant? You sure can. I could divide my plant into 3. I'd use a sharp clean knife to cut the stems apart & would make sure each stem had roots growing off of it.
Can I cut off the aerial roots of a Monstera? Yes you can. The aerial roots are how the stems attach to another plant as they climb. If you want your Monstera to grow up, then leave them on so they can grow into that moss pole or piece of wood.
Can a Monstera grow outdoors? It can grow outdoors in the garden or in a container in the warmest climates. You can bring your Monstera outdoors in the summer but make sure it isn't exposed to any direct, hot sun.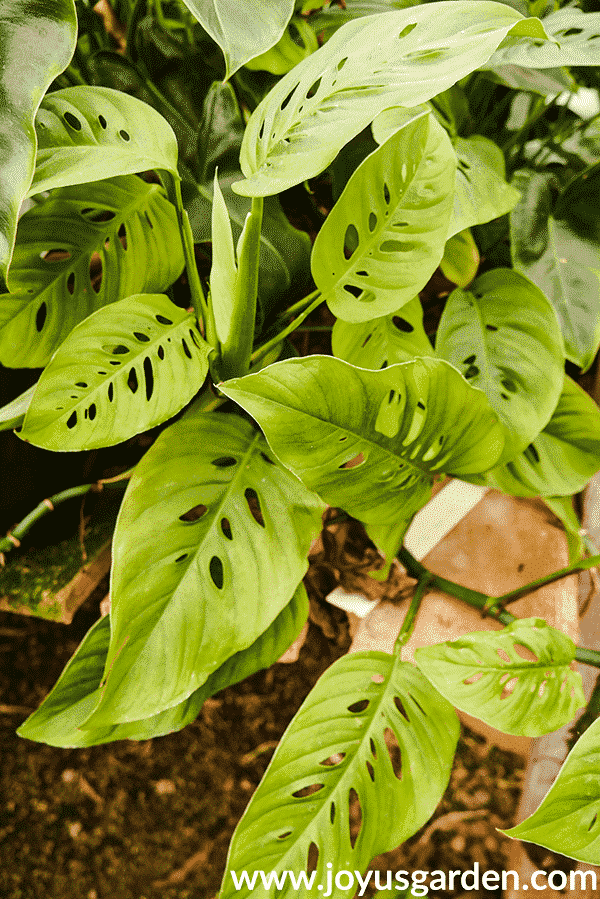 This is a Monstera adansonii in its young form. It's commonly called Swiss Cheese Vine.
To sum it up: Monsteras will "jungle up" your home, especially as they grow. The leaves get larger with age and the plant will get wider as well as taller. They're easy to care for and easy to find. To have 1 thrive, keep it in moderate light and water when the mix it's about 1/2 dry.
Enjoy your Monstera!
Happy gardening,

---
Here are some more useful houseplant care guides!
You can find more houseplant info in my simple and easy to digest houseplant care guide: Keep Your Houseplants Alive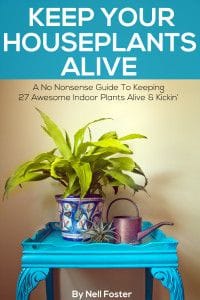 ---
This post may contain affiliate links. You can read our policies here. Your cost for the products will be no higher but Joy Us garden receives a small commission. Thank you for helping us spread the word & make the world a more beautiful place!