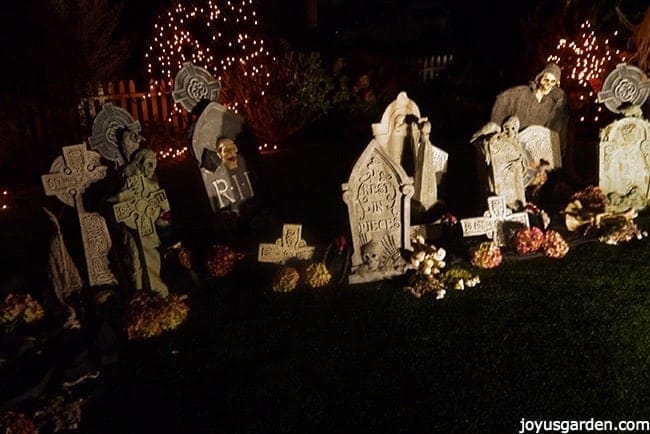 It's time to get your goblins and ghouls out – Halloween is fast approaching! I've done a large decorating job in the San Francisco Bay area for 2o years now and the graveyard scene steals the show from all the other displays in the front yard. It's spooky but not too scary and is a delight to all who see it, especially at night. There are many, many photos taken in this Halloween graveyard!
The props have been collected and used for years. They've been purchased from wholesale display houses as well as retailers. Each year a bit is added and each of the displays is slightly different. Although you can't find exactly what's been used in this display, I've gathered a group of similar pieces so you can create your own spooky graveyard too.
Basic supplies you'll need:
fishing line. green wire &/or covered wire. wire cutters. scissors. foundation stakes or wooden plant stakes. exterior extension cords. hammer.
Where to buy Halloween graveyard props: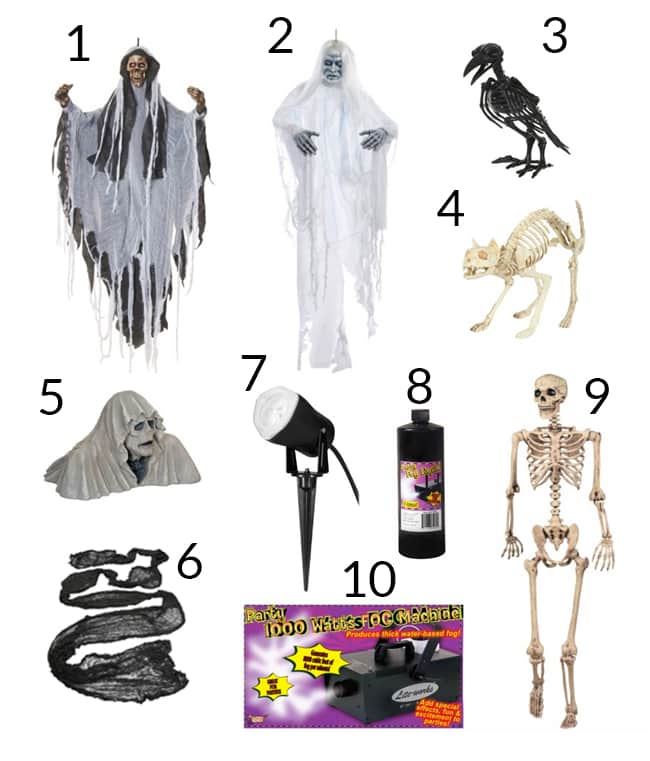 1- HANGING DEM BONES PROP / 2- WHITE SHADOW GHOST HANGING PROP / 3- 8″ BLACK SKELETON CROW /4- SKELETON CAT / 5- RISING GHOST / 6- HAUNTED CLOTH / 7- LED CLEAR SPOT LIGHT / 8- FOG LIQUID QUART / 9- LIFESIZE POSEABLE SKELETON / 10- FOG MACHINE
Things to think about when creating your Halloween graveyard:
*How big do you want it to be.
*How long will it stay up for – 1 day & 1 night or a few week. This will determine how you construct it.
*Hand in hand with above, the weather will determine materials you use.
*Will your graveyard be displayed for just a season or the long haul.
*Do you want it to be spooky or downright scary.
*Buy a variety of headstones, just like you'd see in a regular cemetery.
* Fishing line is essential to a job like this – we went through 3 rolls of it!
* Have plenty of covered wire &/or green wire on hand too.
* If necessary, map the electrical before you start connecting. The display I did has a lot plugged in which needs to be figured out in advance. There is only so much which can be plugged into an outlet.
* Put all your things electric on exterior timers – it saves you having to plug and unplug them every evening. Plus, it saves energy.
* Tatter and slit your ghosts & ghouls even more than they already are – that way they'll really flutter in the wind!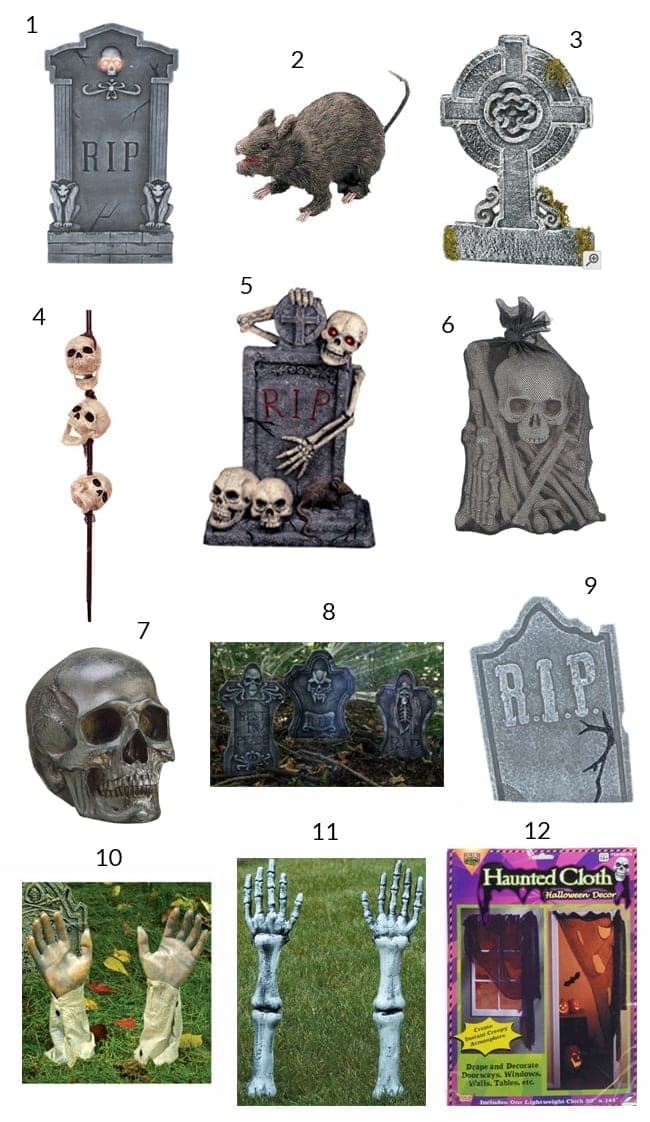 1- 36" TOMBSTONE / 2- RAT / 3- MOSSY CELTIC CROSS TOMBSTONE / 4 – 44″ SKULL TOTEM / 5- DELUXE FIBERGLASS TOMBSTONE / 6- BAG OF BONES / 7- SKULL / 8- THREE PIECE TOMBSTONE KIT / 9- CROOKED STONE TOMBSTONE SET / 10- GROUNDBREAKER PAIR / 11- SKELETON ARM LAWN STAKES / 12- HAUNTED CLOTH
Be sure to position some of your gravestones at an angle & have some appear as though they've fallen on the ground. This makes the graveyard look older & creepier!
The graveyard scene that you see here and in the video takes a little doing because the lawn is artificial and everything must be attached to platforms. You can use foundations stakes or plant stakes, hammer them directly into the ground and attach your gravestones and ghouls to them with wire or fishing line. The headstones I use are made out of a variety of materials including styrofoam, fiberglass, resin and plastic. I throw in some faded hydrangea flowers for that "Mortitia Addams" touch.
You can see the steps I took to create this spooky graveyard here:
"As the sky grows dark & the moon glows bright, as strange creatures & critters appear in the night, as goblins growl & the werewolves whine, hope that Halloween sends a chill up your spine!"
Wishing you a delightfully spooky Halloween,

A head's up: this post contains affiliate links. Please see "Policies" below.