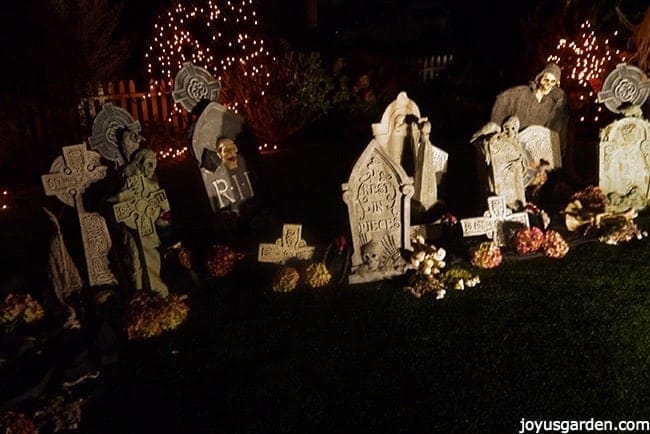 It's time to get your goblins and ghouls out – Halloween night is fast approaching! I did a large decorating job in the San Francisco Bay area for 23 years and the Halloween cemetery scene steals the show from all the other displays in the front yard. It's spooky but not too scary and is a delight to all who see it, especially at night.
It's the first thing you see when you enter the front gate so it makes for quite the spooky entrance. The lady of the house has a big Halloween party every year and gobs of trick-or-treaters visit so there are many, many photos taken of and in this DIY Halloween graveyard!
The Halloween graveyard props have been collected and used for years. They've been purchased from wholesale display houses as well as from retailers.
Each year a bit is added and each of the displays is slightly different. Although you may not be able to find exactly what's been used in this display, I've gathered a group of similar pieces so you can create your own spooky graveyard too.
Note: This post was first published in 2016, was updated on 8/21/2021, & again on 8/25/22 with new links so you can create your own Halloween graveyard scene!
Halloween Graveyard Ideas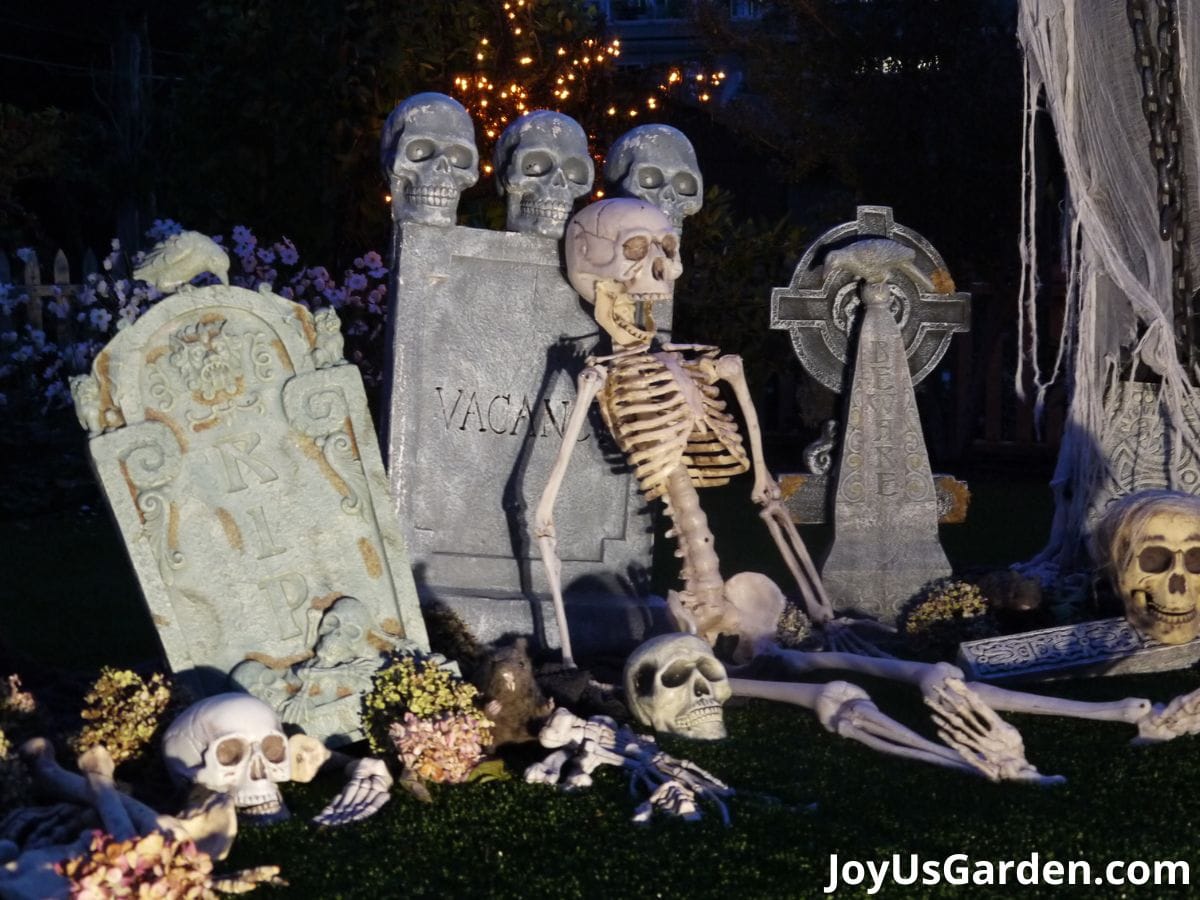 More spooky inspiration: Halloween Front Porch Decorations Reused Each Year To Create A New Look, Halloween Yard Decorations: Delightfully Scary Decor Ideas
Step By Step Instructions To Create Your Own Halloween Graveyard
Gather all your materials close to the site. Lay similar Halloween yard decorations in groups so you can see what you're working with. It's been packed away for a year after all!
Place Halloween tombstones (mixed up randomly as you'd see in an old cemetery so it looks like the real thing) on the ground.
Secure the tombstones to the ground, some upright and some at angles. I would also place 2-3 of them on the ground like they'd fallen over.
If any are hanging, arrange the ghouls or skeletons (we'd use shepherd's hooks for this) behind or amongst the gravestones.
Arrange ghouls or skeletons on the ground.
Fill in with skulls, hands, smaller skeletons, rats, birds, etc…
Border it all with a Halloween fence to complete the look.
Note: When the display comes down, we'd store like items in boxes together. This makes it easier when installation time rolls around next year. And, make sure to dry everything before packing away. If not, some of your Halloween props might mildew and be "funky" when you open them up next year.
Tools & Supplies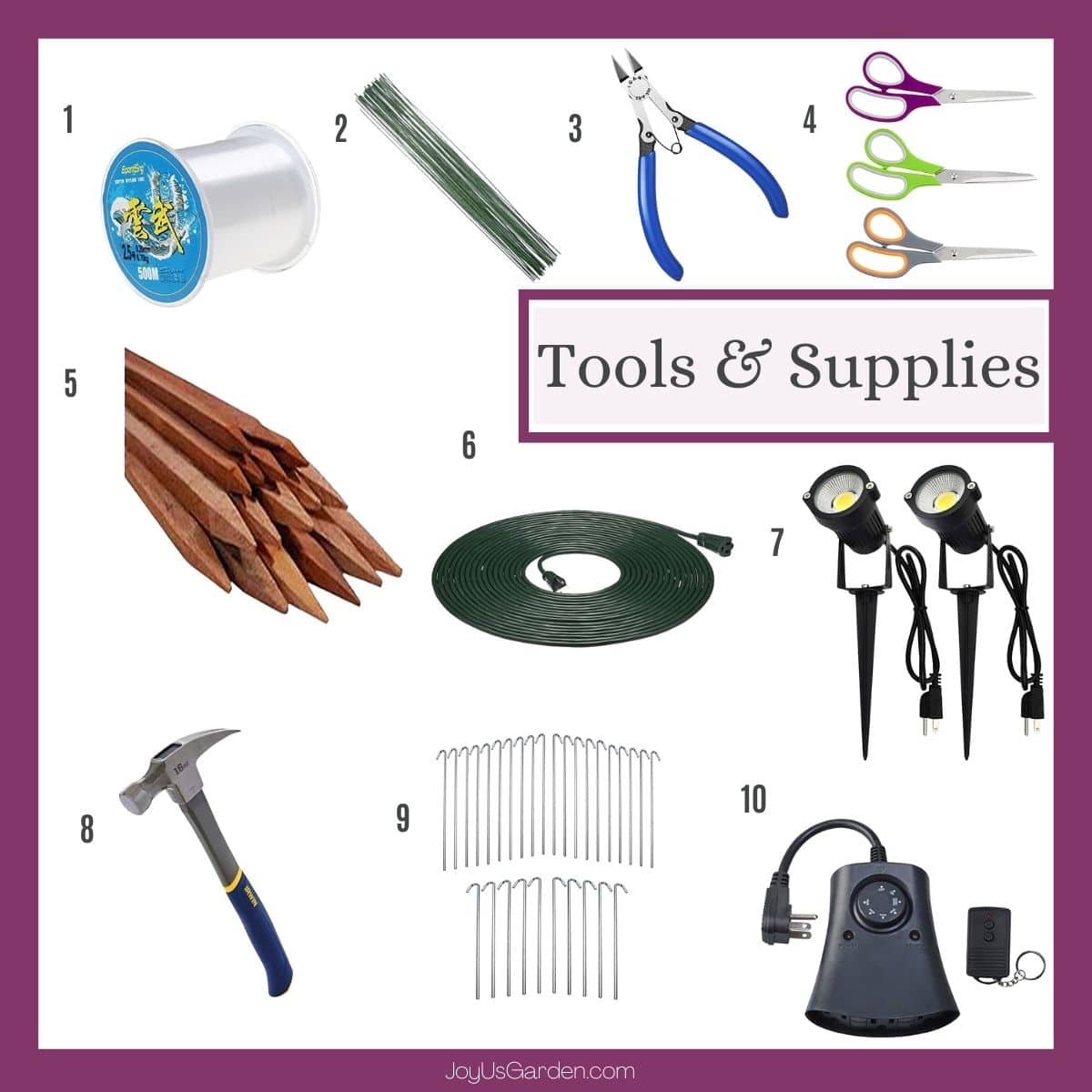 1- Fishing Line // 2. Wire // 3. Wire Cutters // 4. Scissors // 5. Stake // 6. Extension Cord // 7. Spotlight // 8. Hammer // 9. Steel Pegs // 10. Timer
Halloween Graveyard Decor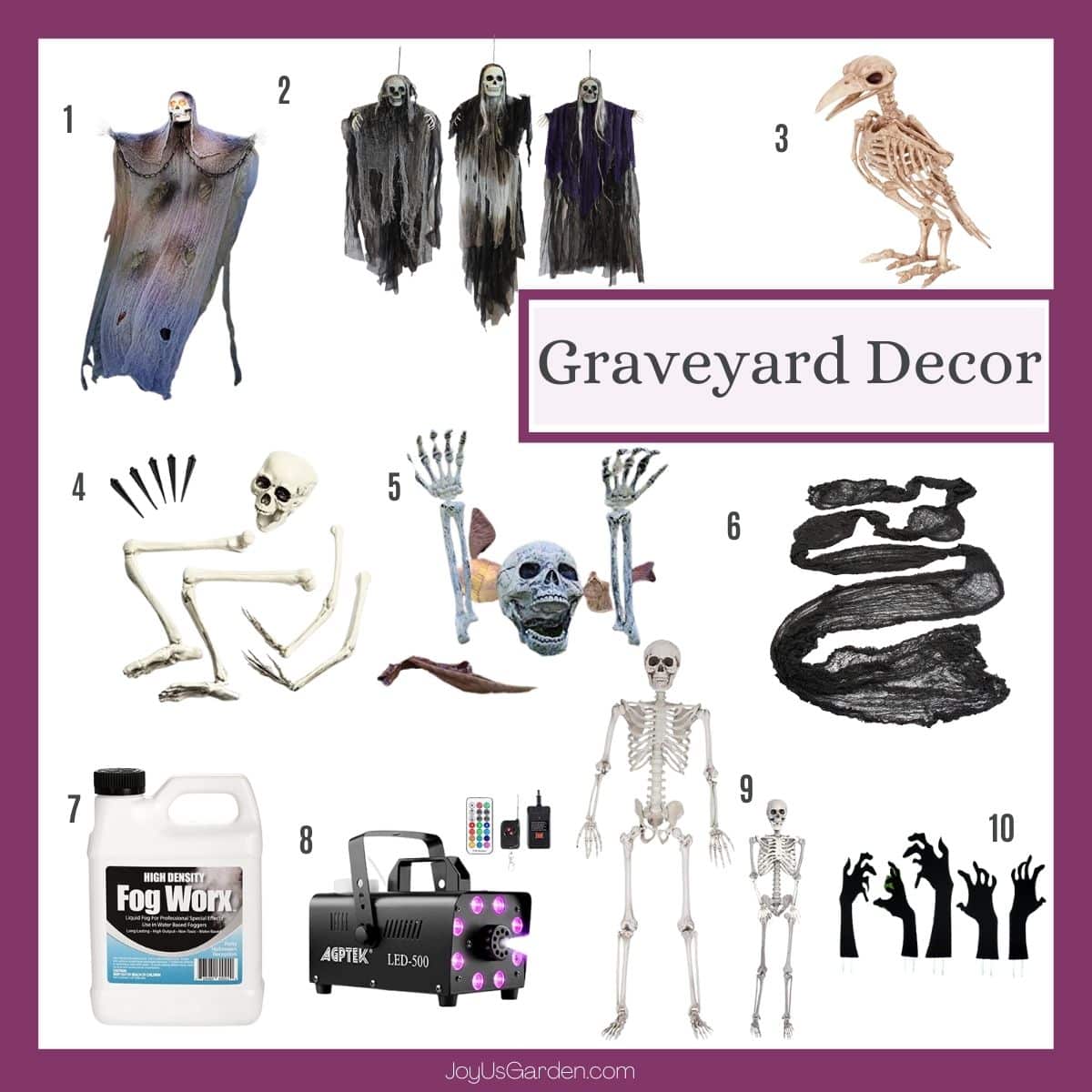 1. Skeleton Grim Reaper // 2. Hanging Ghost // 3. Skeleton Vulture // 4. Skeleton // 5. Skeleton Stakes // 6. Haunted Cloth // 7. Fog Juice // 8. Fog Machine // 9. Life Size Skeleton // 10. Silhouette Hands
Cemetery Decor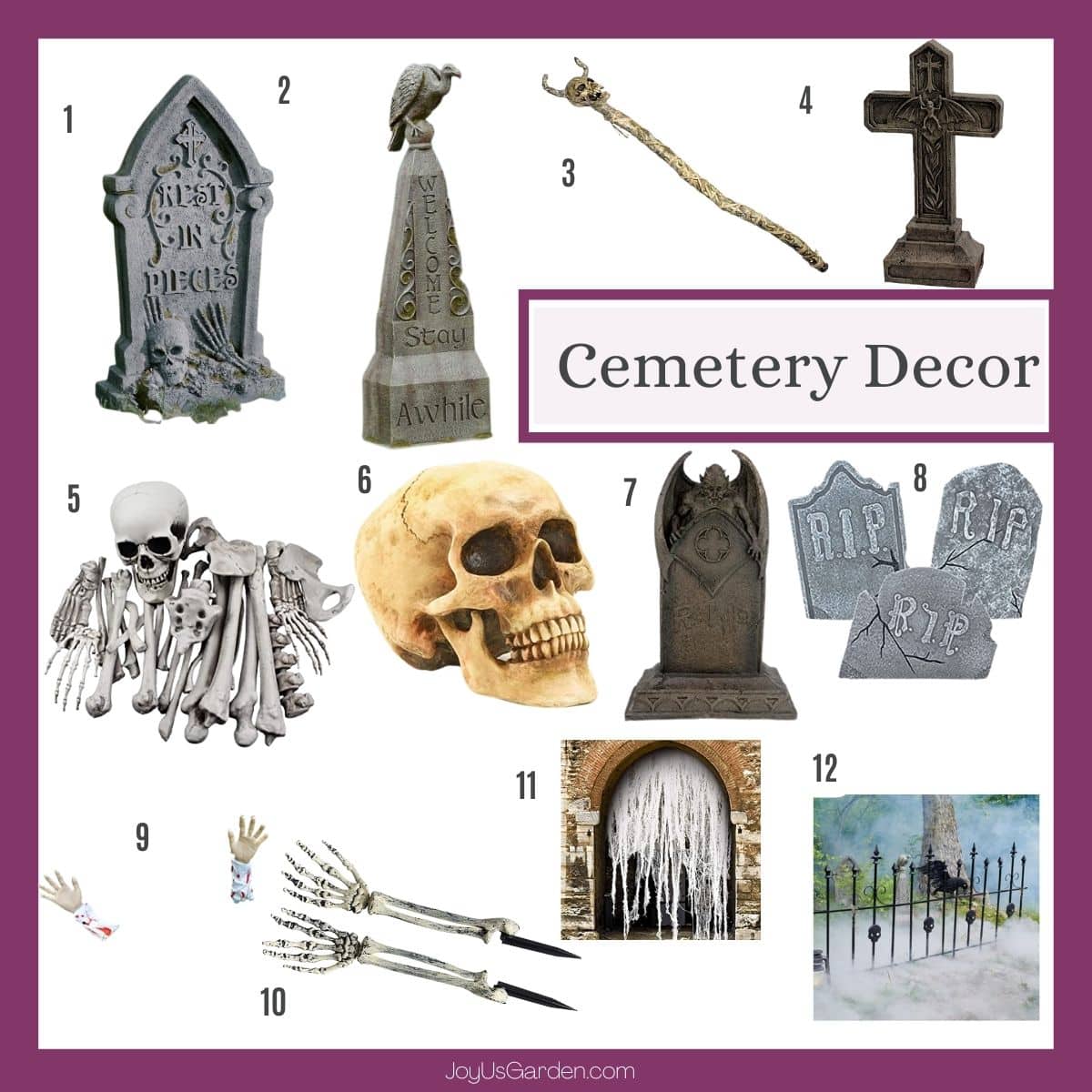 1. RIP Tombstones // 2. Welcome Tombstone // 3. Totem // 4. Cross Tombstone // 5. Skeleton Bones // 6. Skull // 7. Demon Tombstone // 8. Tombstone Set // 9. Bloody Arms // 10. Skeleton Arms // 11. Creepy Cloth // 12. Cemetery Fence
Tombstones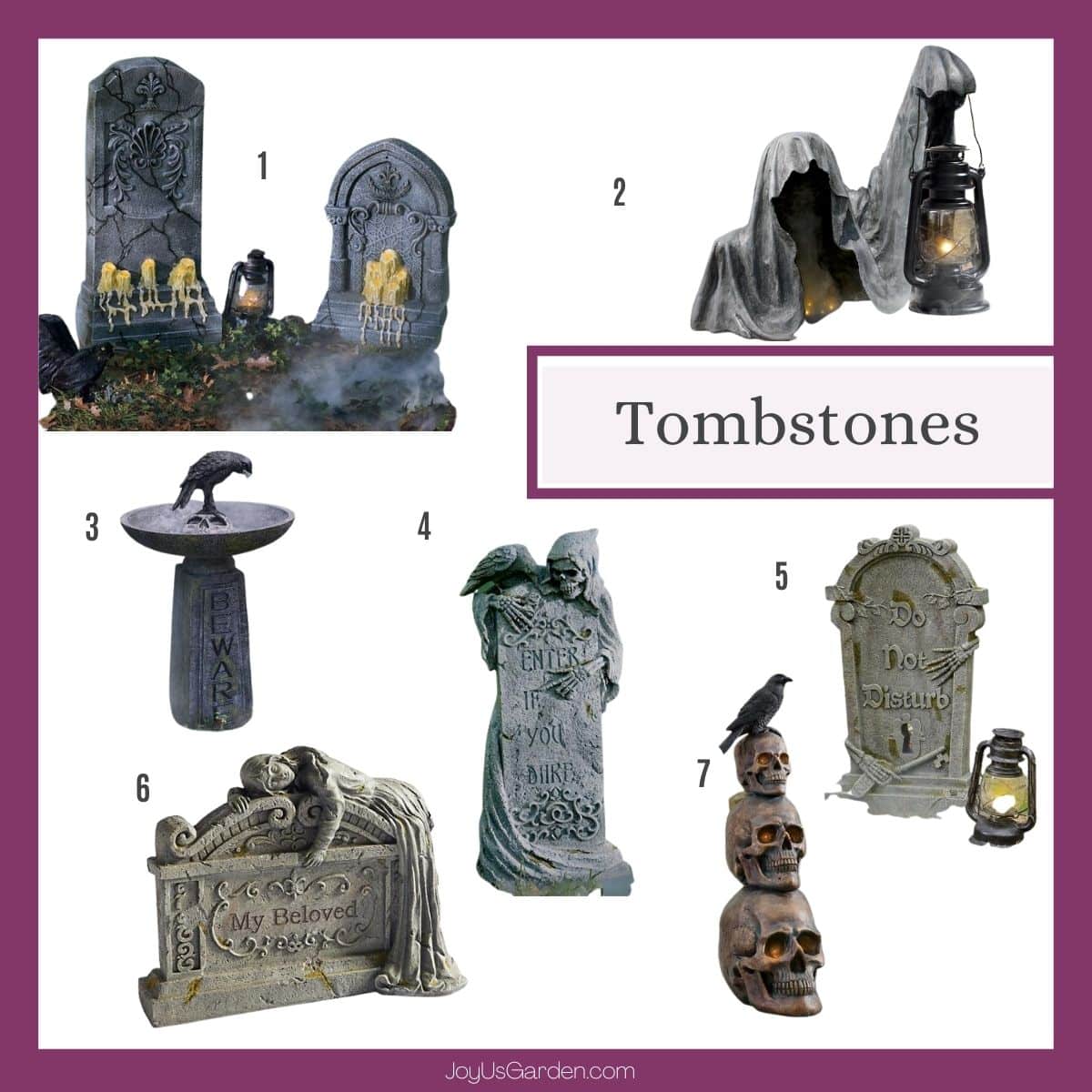 1. Candle Tombstone // 2. Reaper Tombstone // 3. Bird Bath Tombstone // 4. If You Dare Tombstone // 5. Do Not Disturb Tombstone // 6. My Beloved Tombstone // 7. Stacked Skull Tombstone
Step By Step DIY Halloween Video Guide
More spooky inspiration: Halloween Front Porch Decorations Reused Each Year To Create A New Look, Halloween Yard Decorations: Delightfully Scary Decor Ideas
Things to think about when creating your Halloween graveyard display
*How big do you want it to be? My client has a big front yard so hers takes up a lot of room. Yours may be smaller and more compact. Also, the amount of storage space you have will factor in too.
*How long will it stay up for? Will it be one day and one night or a few weeks? This will determine how sturdily you construct it. This graveyard stays up for 3-4 weeks and is a few blocks from the Pacific Ocean. Materials need to be well anchored because of the wind.
*Hand in hand with the above, weather will determine the materials you purchase. I prefer using plastic or composite gravestones, skulls, bones, etc (rather than styrofoam) because they're longer lasting. The styrofoam gravestones are lighter and cheaper but do tend to mark up easily (a little gray or black paint covers them up). The cloth ghouls have weathered the elements just fine.
*How long your graveyard will be displayed? Will it be just a season or the long haul? If it's for one season, then you need to buy all your materials at once for an effective display and can get away with cheaper materials. For the long haul, you can buy new, sturdier materials each season and expand your display.
*Will it be spooky or downright scary? Because 100's of kids came to see this display, we kept it spooky.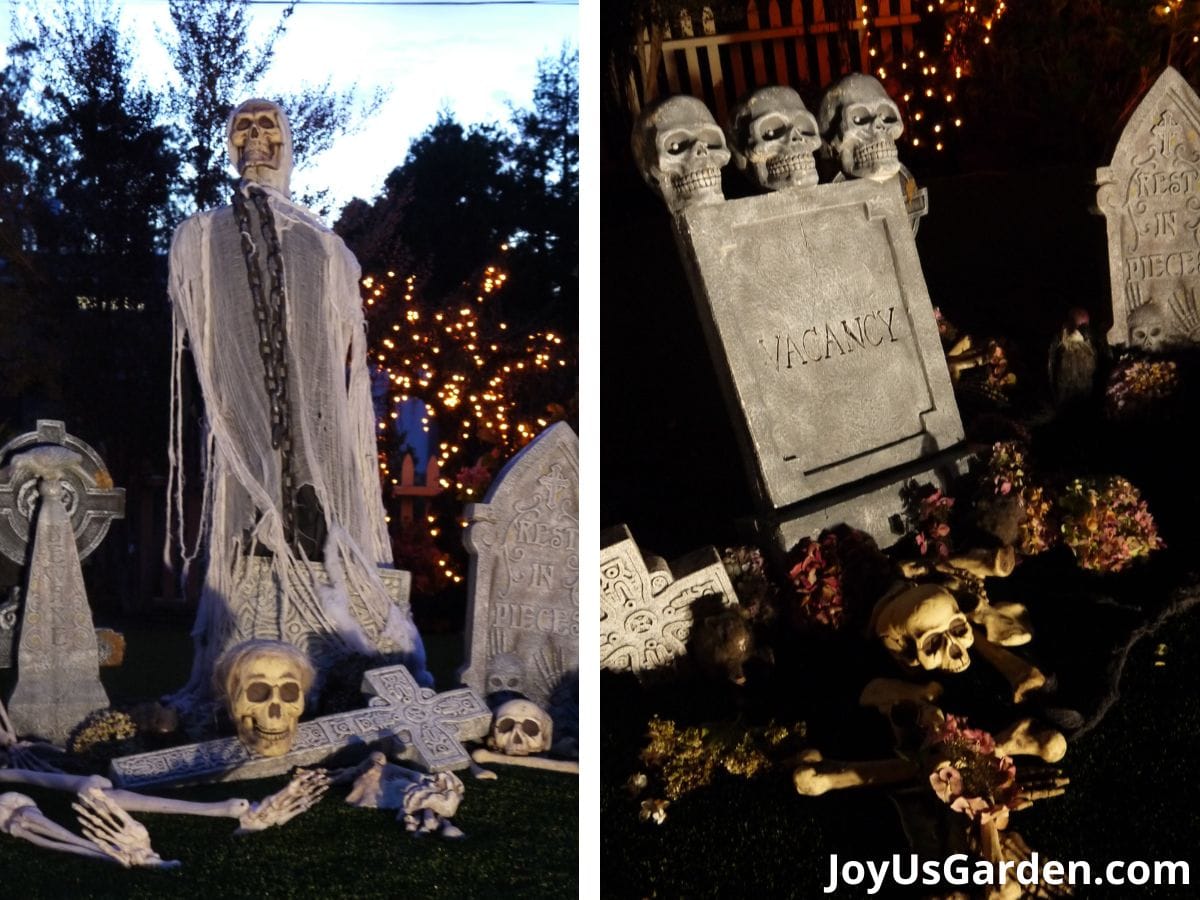 *Buy a variety of gravestones, just like you'd see in a regular cemetery. I grew up in New England and there were a few very old cemeteries in the town where I lived. The gravestones were quite diverse!
* Fishing line is essential to a job like this especially if your display is up for the long haul and/or you're in a windy area. We'd go through a roll of it.
* Have plenty of covered wire and/or green wire on hand too along with wire cutters. We used a lot of wire too.
* If necessary, map the electrical before you start connecting. This display we did (including the front porch, walkway, and garden areas) had multiple things plugged in that need to be figured out in advance. We used A LOT of extension cords. There is only so much which can be plugged into one outlet.
* Put all your things electric on exterior timers – it saves you having to plug and unplug them every evening. Plus, it saves energy.
* Tatter and slit your ghosts and ghouls even more than they already are – that way they'll really flutter in the wind. We'd also rub some on dirt to rough them up a bit. And, those beat-up ghouls look just fine on the ground!
*Be sure to position some of your Halloween tombstones at an angle and have some appear as though they've fallen on the ground. This makes the graveyard look older and creepier!
*Creepy cloth along with skeletons, a zombie hand or 2 and some skeleton animal props added in here and there adds a haunted effect.
* The fog machine is optional but a thick fog is an extra spooky touch on Halloween night!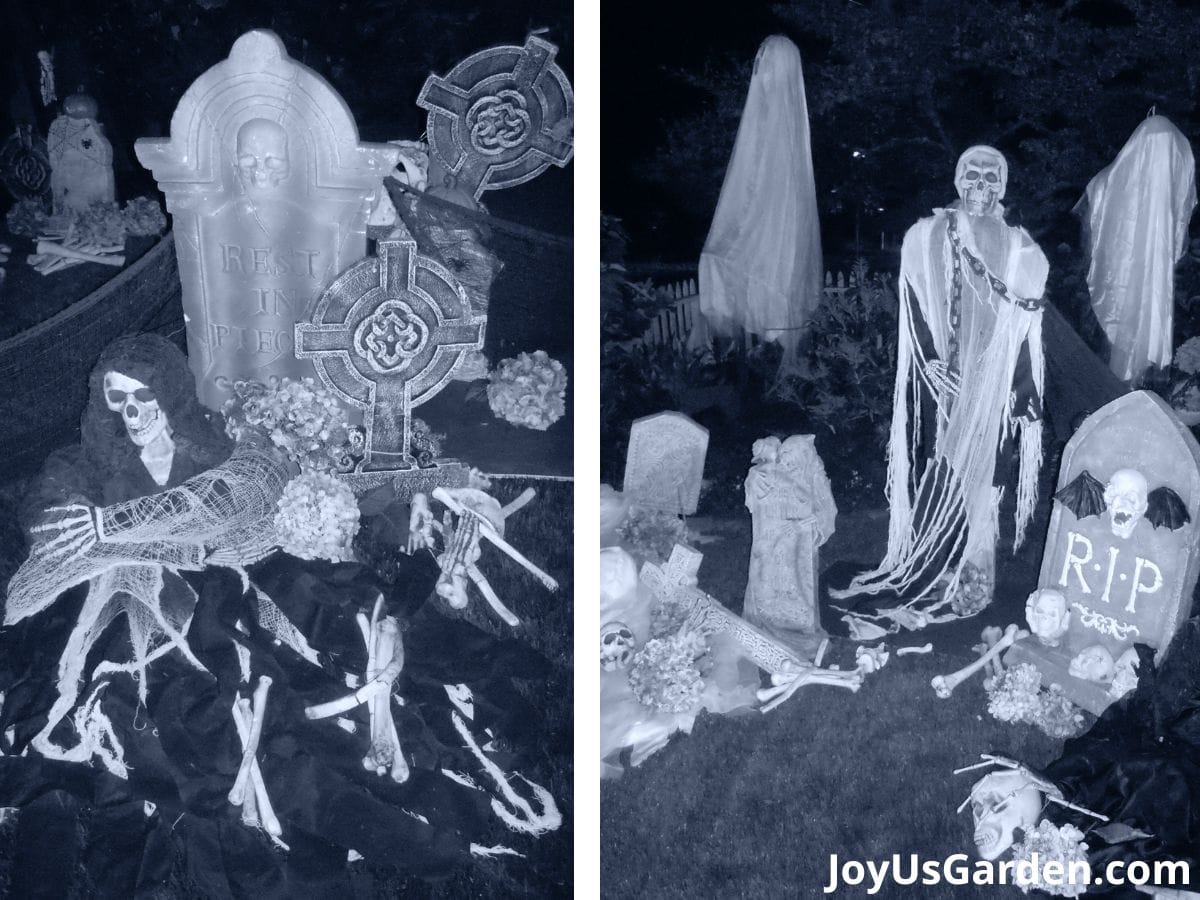 The Halloween graveyard scene that you see here and in the video takes a little bit of time to construct because the lawn is artificial and everything must be attached to platforms. You are most likely doing yours on the lawn so the foundation stakes or plant stakes, can be hammered into the ground. You can then attach your gravestones and ghouls with wire or fishing line.
The headstones I used are made of various materials including styrofoam, fiberglass, resin, and plastic. I'd throw in some faded Hydrangea flowers for that "Morticia Addams" touch.
Want More Fall Decorating Tips? Check These Out! 5 Porches That'll Welcome Fall To Your Home, Fall Readymade Natural Wreaths, Thanksgiving Centerpiece Ideas With Natural Elements
"As the sky grows dark and the moon glows bright, as strange creatures and critters appear in the night, as goblins growl and the werewolves whine, hope that Halloween sends a chill up your spine!"
We hope these spooky Halloween graveyard ideas have inspired you.
Wishing you a delightfully spooky Halloween,

This post may contain affiliate links. You can read our policies here. Your cost for the products will be no higher but Joy Us garden receives a small commission. Thank you for helping us spread the word & make the world a more beautiful place!