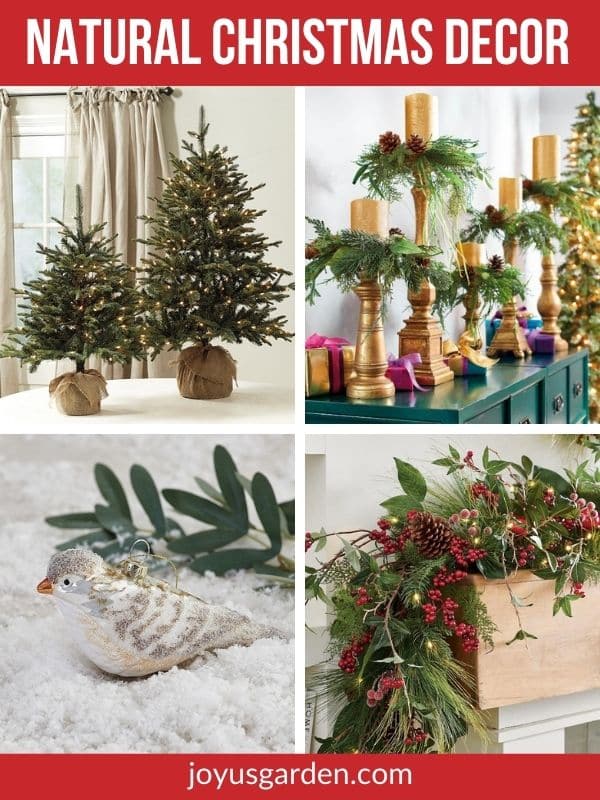 Even though we're all about plants and gardening here at Joy Us garden, we get down right giddy when the holiday season rolls around. We want to share these natural Christmas decorations we've found online to help make yours even more festive, warm, and cozy.
This Christmas decor with natural elements that you see here is all artificial. This way, it lasts and looks good throughout the entire season. If you want that wonderful holiday aroma, put some fresh grreenery in a vase or oil in a diffuser. Nell's favorites for this time of year are Holiday Spice and Winter Pine.
As much as we appreciate jazzy jewel tones and bright colors, this nature inspired holiday decor is what we prefer. We think of it as bringing the outdoors in to turn our homes into a beautiful winter wonderland.
Pine cones fit in wonderfully with these natural decorations and we love to tuck them into everything here and there. If you can't collect any, here's a source to buy them. Tip: Glitter your cones for a little sparkle and/or snowy effect. This guide to Glittering Pine Cones 4 Ways will be useful.
Are you looking for a wreath? Here are quite a few choices of Natural, Simple Wreaths for the holiday season.
We're sharing natural Christmas decorations from Grandin Road, Ballard Designs, Amazon, Target, and Etsy. Something for budget and decor!
We appreciate the beauty of nature, and want to wish you a warm and wonderful holiday season!
Nell & Brielle
This post may contain affiliate links. You can read our policies here. Your cost for the products will be no higher but Joy Us garden receives a small commission. Thank you for helping us spread the word & make the world a more beautiful place!
This post may contain affiliate links. You can read our policies here. Your cost for the products will be no higher but Joy Us garden receives a small commission. Thank you for helping us spread the word & make the world a more beautiful place!
Grandin Road Christmas Decor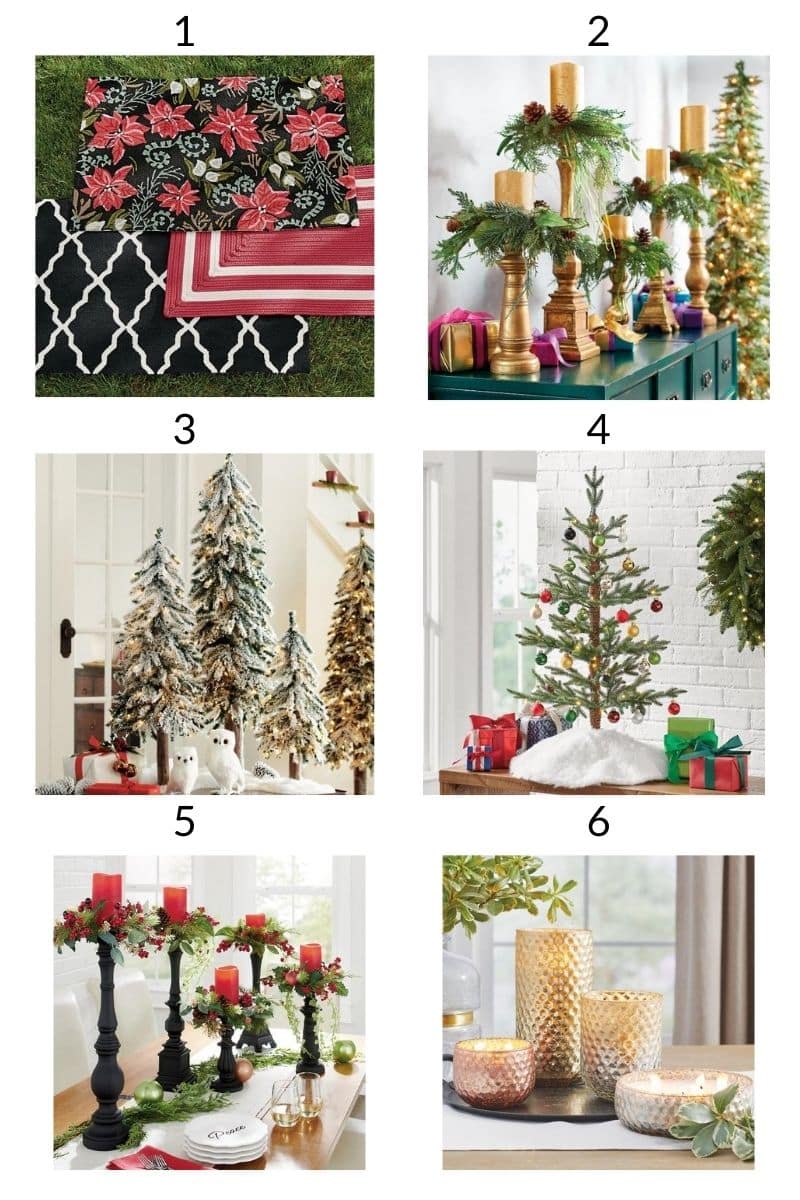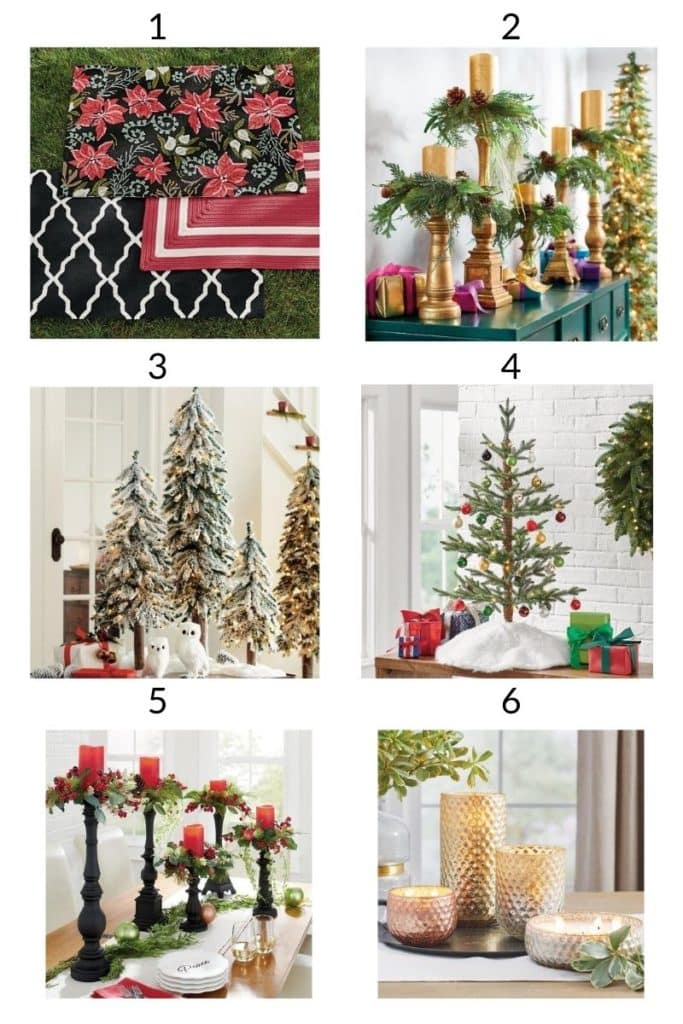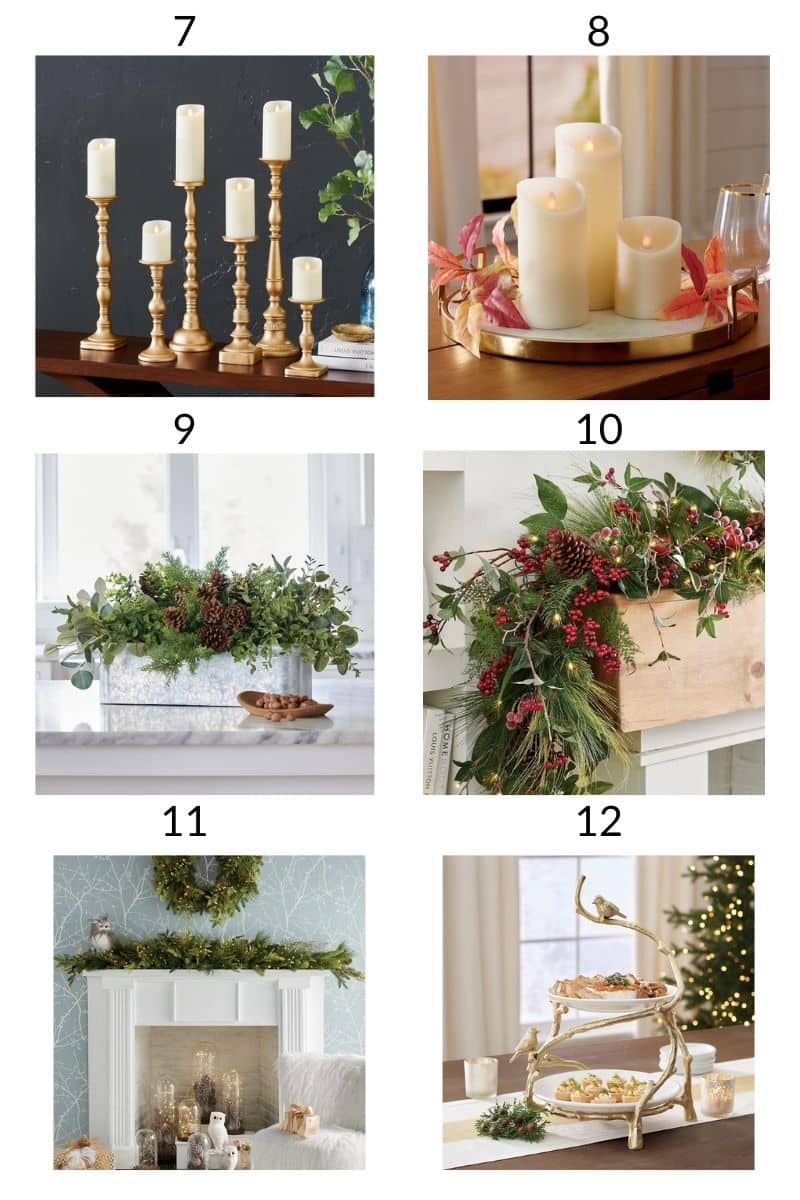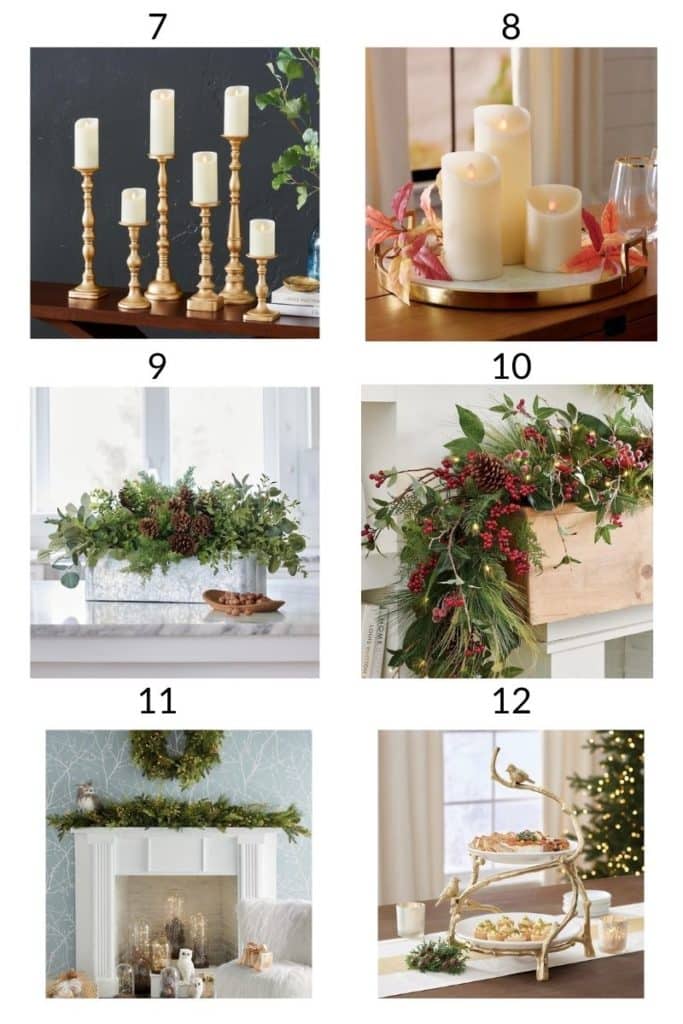 1. Poinsettia Hooked Door Mat – Great your guests with this festive doormat featuring the most iconic Christmas flower, the poinsettia.
2. Natural Candle Rings, Set of 5 – This set of nature-inspired candle rings will spice up any centerpiece or mantel display.
3. Pre-Lit Flocked Alpine Trees, Set of 3 – These mini Christmas trees look adorable grouped together as a winter forest display.
4. Charlie Cordless Tree – Who else loves the simplicity of a "Charlie Brown Christmas Tree"? There's something so sweet and magical about a sparse looking Christmas tree that really adds to the holiday spirit. (Buy the ornaments you see on the tree here.)
5. Winter Berry Candle Rings, Set of Five – Add more greenery to any pillar candle display with these nature inspired candle rings. The red berries on these really pop!
6. Honeycomb Glass Candles – Each of these mercury glass candles not only look beautiful, but they all also have different holiday scents too.
7. Chateau Candlesticks – These vintage inspired candlesticks will add so much charm to your Christmas decor.
8. Flicker Flame Battery-Operated Candle – Get that warm and cozy candle look without the fire hazard. These fake candles are perfect since their flame flickers and they have a "melted wax" look at the top.
9. Garden Farmhouse Centerpiece – Embrace the farmhouse Christmas vibes with this faux greenery centerpiece that measures over 2 feet long.
10. Winter Berry Cordless Garland – These frosted red berries make this garland feel warm and wintery at the same time.
11. Breckenridge Cordless Mantel Swag – This swag is thick with faux alpine flora and pre-lit to make any mantel sparkle.
12. Gold Oak Branch Two-Tiered Server – This nature inspired serving plate doubles as a centerpiece by adding ornaments, candles, and greenery.
Amazon Christmas Decor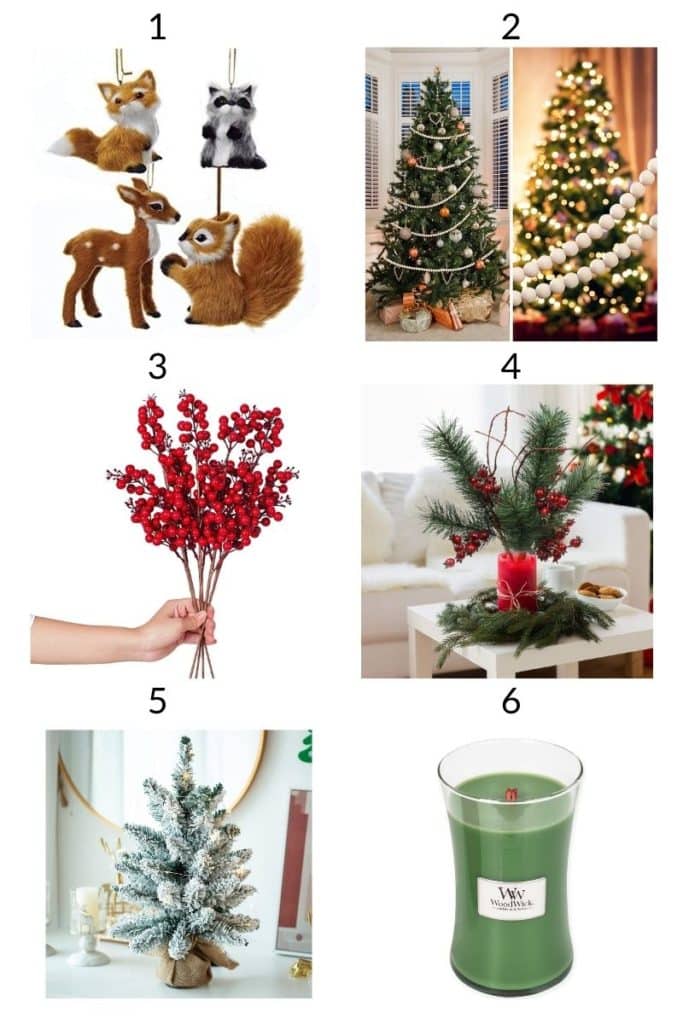 1. Plush Forest Animals Christmas Ornament Set – These adorable forest animals will make any tree feel more alive.
2. Wood Beaded Garland – Lightwood is such a natural and beautiful look especially for the Holidays.
3. Artificial Red Berry Stems – These red berry stems will help fill out any tree, garland, centerpiece, or wreath and make them pop.
4. Artificial Greenery Pine Branches – If your tree is looking a little thin and dull, pop a few of these faux pine branches in to fill it out.
5. Small Flocked Christmas Table Tree – This mini Christmas tree is perfect for any desk or office space to brighten it up.
6. WoodWick Evergreen Hourglass Christmas Candle – This wooden wick candle will give you all the coziness of a crackling fireplace in no time (and with no mess).
Ballard Designs Natural Christmas Decor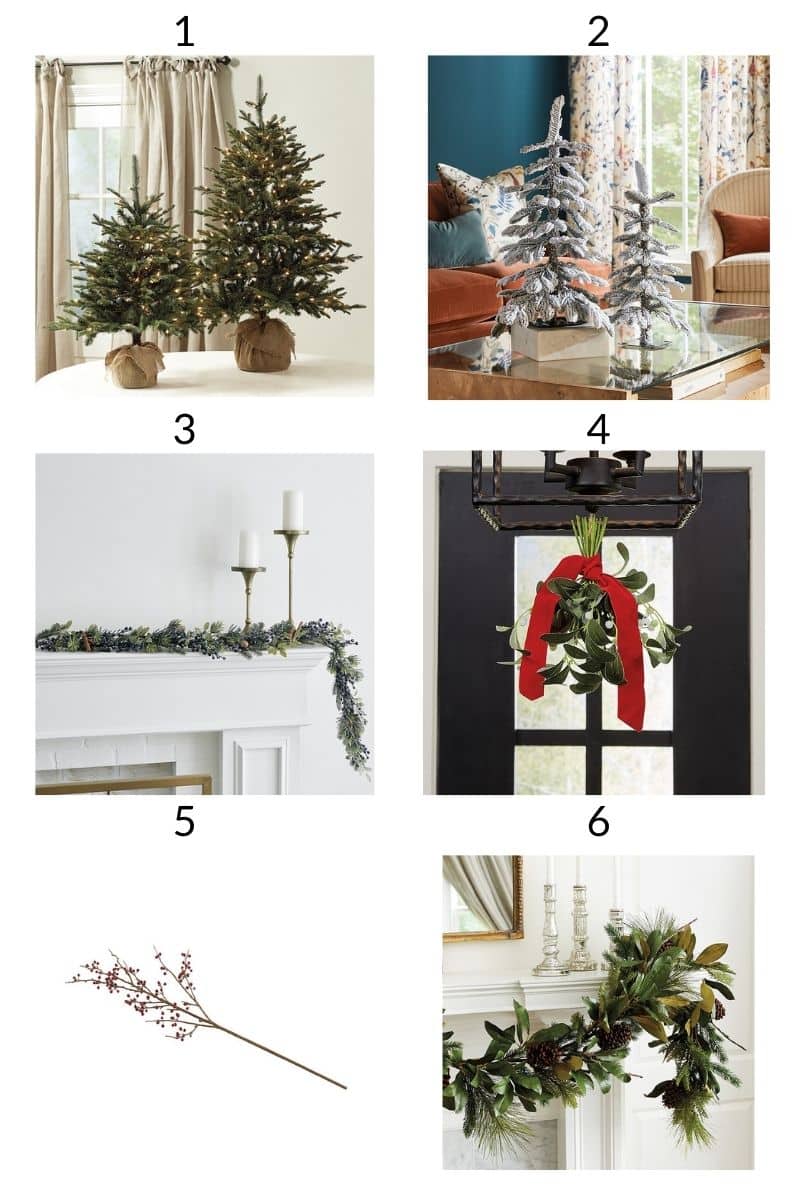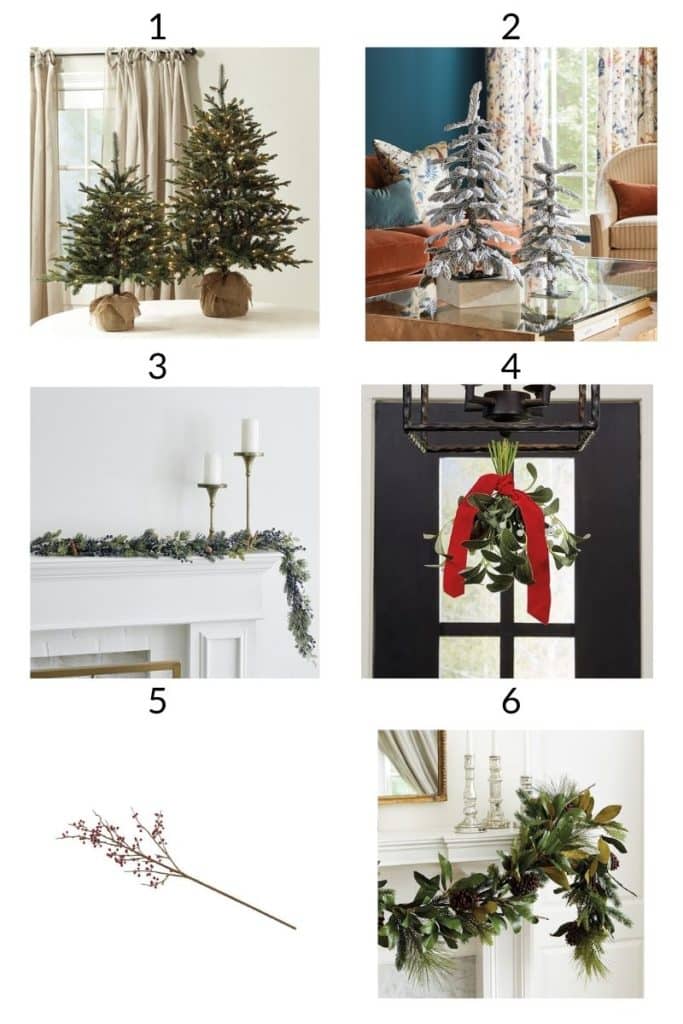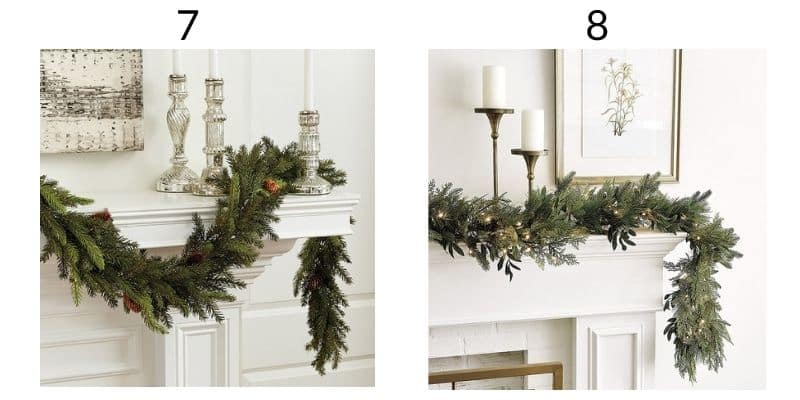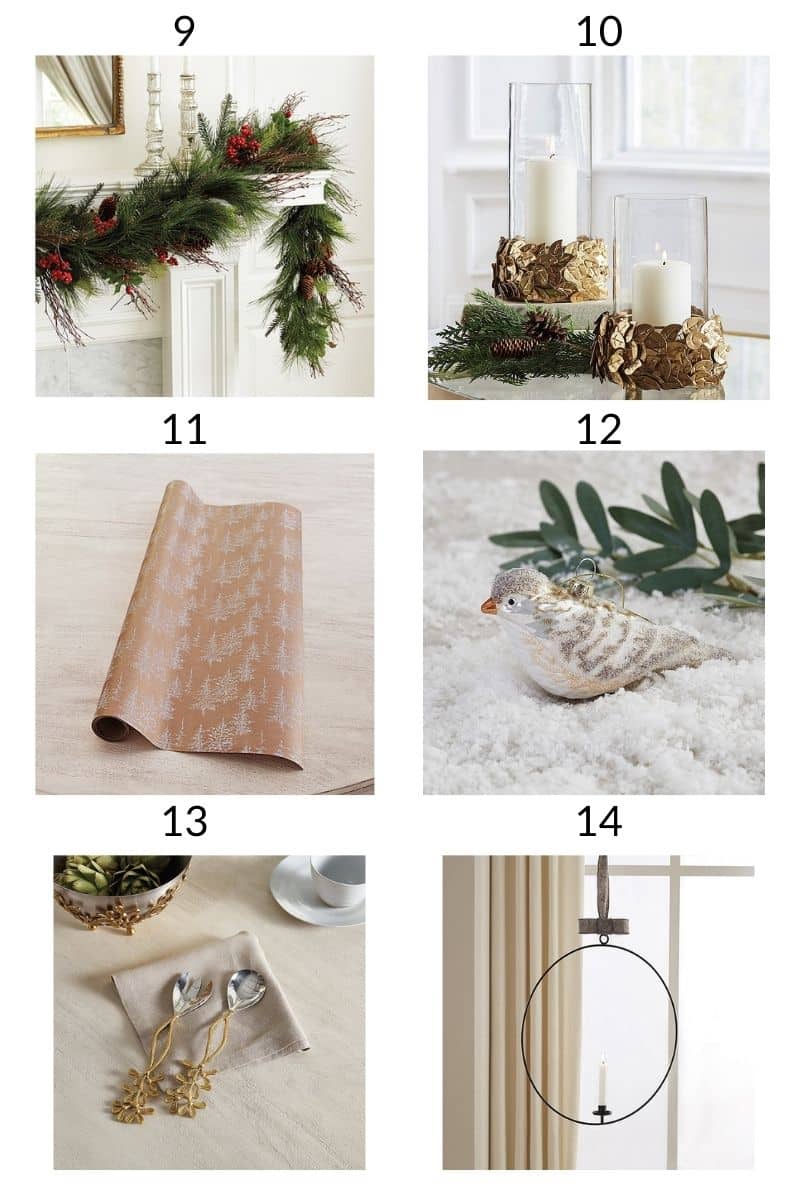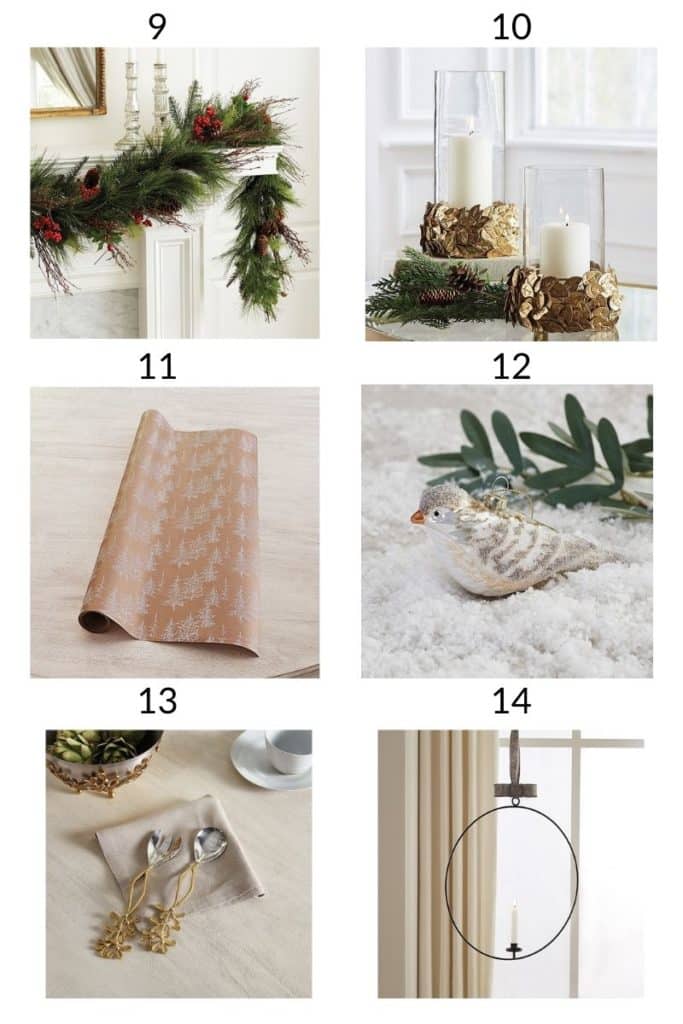 1. Suzanna Kasler Frasier Fir Tabletop Tree – You can buy this tree in two different sizes, 3 feet or 4 feet. Their hand-finished branches and abundant lights will brighten up your space for the holiday season.
2. Alpine Mini Christmas Tabletop Tree – These mini Christmas trees are heavily flocked and are perfect for small spaces.
3. Frosted Blueberry Holiday Garland – These frosted blueberries in this garland add a new and surprising element to a very traditional holiday decor piece.
4. Mistle Bunch – Spread the love this Christmas by hanging this faux mistletoe in your home.
5. Suzanne Kasler Artificial Berry Stems Red – Bright red berries add the perfect pop of color to any centerpiece, Christmas tree, or floral arrangement.
6. Pine and Magnolia Garland – This mixed greenery garland is gorgeous on top of any mantel.
7. Angel Pine Garland – This traditional looking garland is a great addition to any home for the holidays.
8. Prelit Mixed Cedar Holiday Garland – Add more light to your home this year with this prelit mixed greenery garland.
9. Mixed Pine and Berry Garland – Nothing's better than pine branches, real pine cones, and berries to warm up your house for Christmas.
10. Leaves Decor Hurricane Lamp – These gold candle holders are the perfect addition to any tablescape.
11. Winter Trees Unique Luxury Christmas Wrap – Mix luxury and nature by wrapping your gifts in this gold glittered kraft wrapping paper.
12. Snowy Bird Ornament – This sweet, little bird ornament will make your tree sparkle with its glitter painted feathers.
13. Mistletoe Salad Tongs Serving Set 2 Piece – Elevate your holiday dinner party with this set of festive mistletoe serving tongs.
14. Candle Wreath – How cool is this candle wreath? It's a simple way to add more light and holiday decor in any window or above a table.
Target Christmas Decor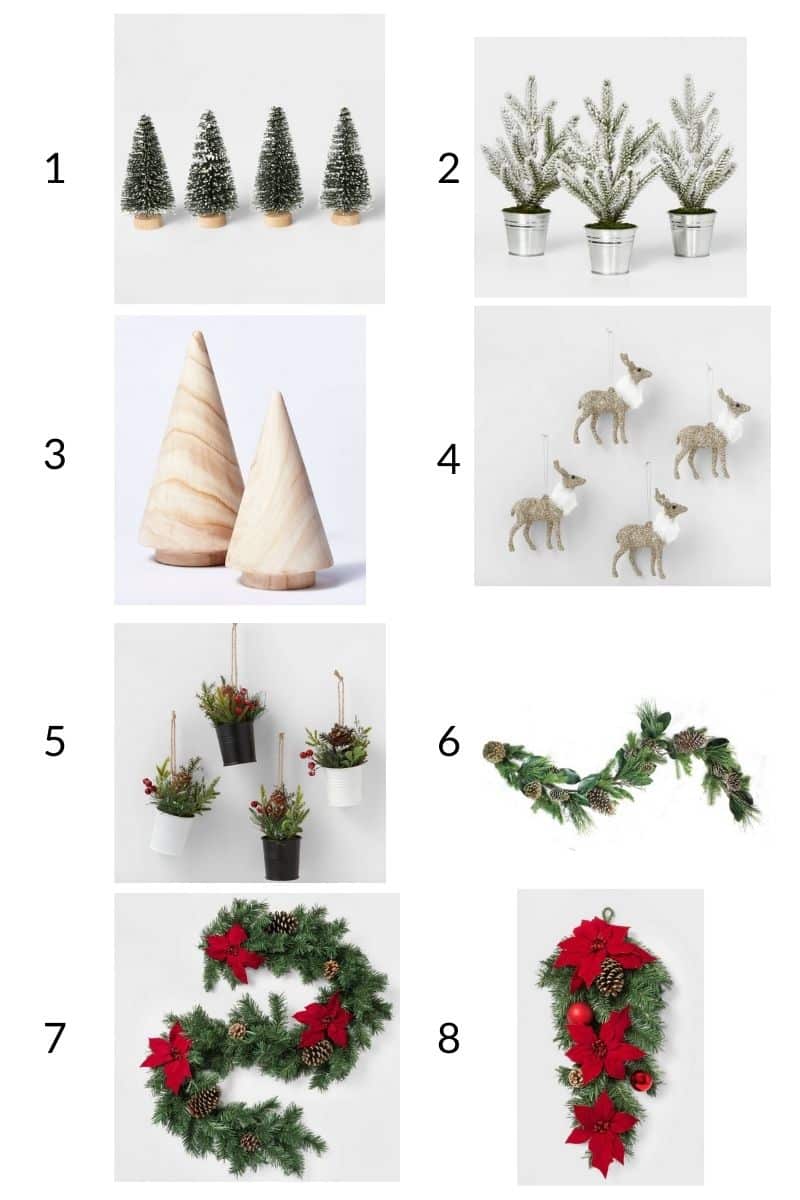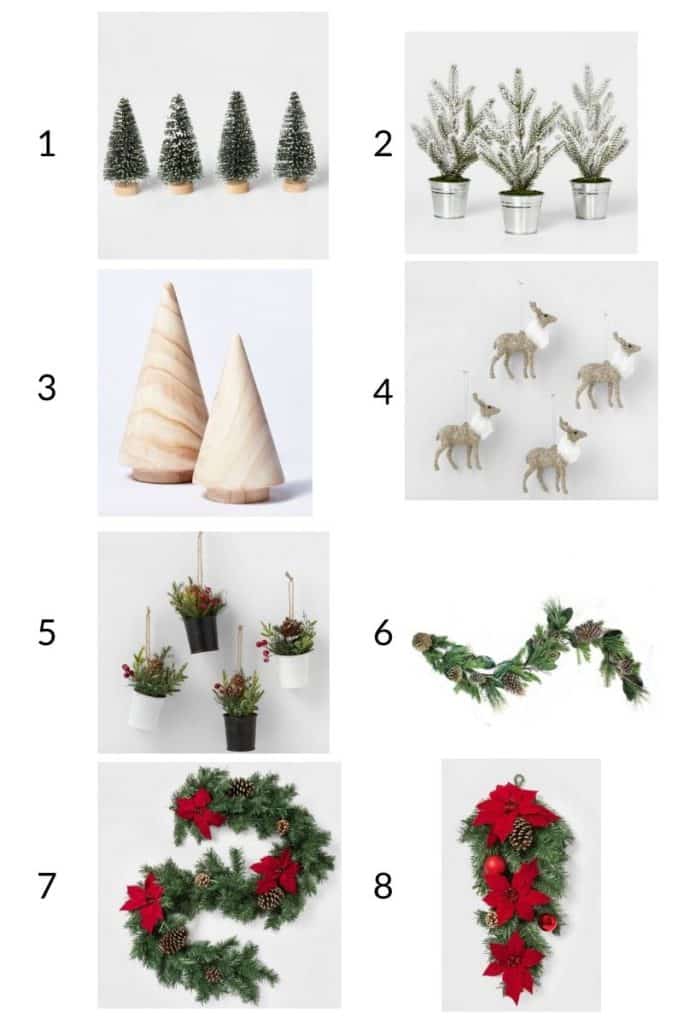 1. Flocked Bottle Brush Christmas Tree Set – Bottlebrush Christmas trees are a simple way to bring more natural elements into your home decor for the holidays.
2. Flocked Mini Tree in Galvanized Bucket Silver – Galvanized buckets give any home decor a polished but rustic look. Paired with flocked Christmas trees, these are perfect for any corner of your home.
3. Wooden Tree – These supernatural Christmas trees are cute and fun.
4. Glitter Deer with Fur Scarf Christmas Ornament Set – Forest creatures make the perfect Christmas ornament, especially when they have glitter on them.
5. Greenery in Metal Bucket Christmas Ornament Set Black White – Add even more greenery to your Christmas tree with these cute ornaments.
6. Northlight Monalisa Mixed Pine with Large Pine Cones – Mixed greenery and pinecones will make your home feel cozy and help bring some nature indoors during the colder months.
7. Christmas Red Poinsettia and Ornaments Artificial Pine Garland – This garland pairs two Christmas classics for a beautiful tradition and natural look.
8. Christmas Unlit Red Poinsettia and Ornament Artificial Pine Swag – Nothing's more christmassy than pine and poinsettia!
Etsy Christmas Ornaments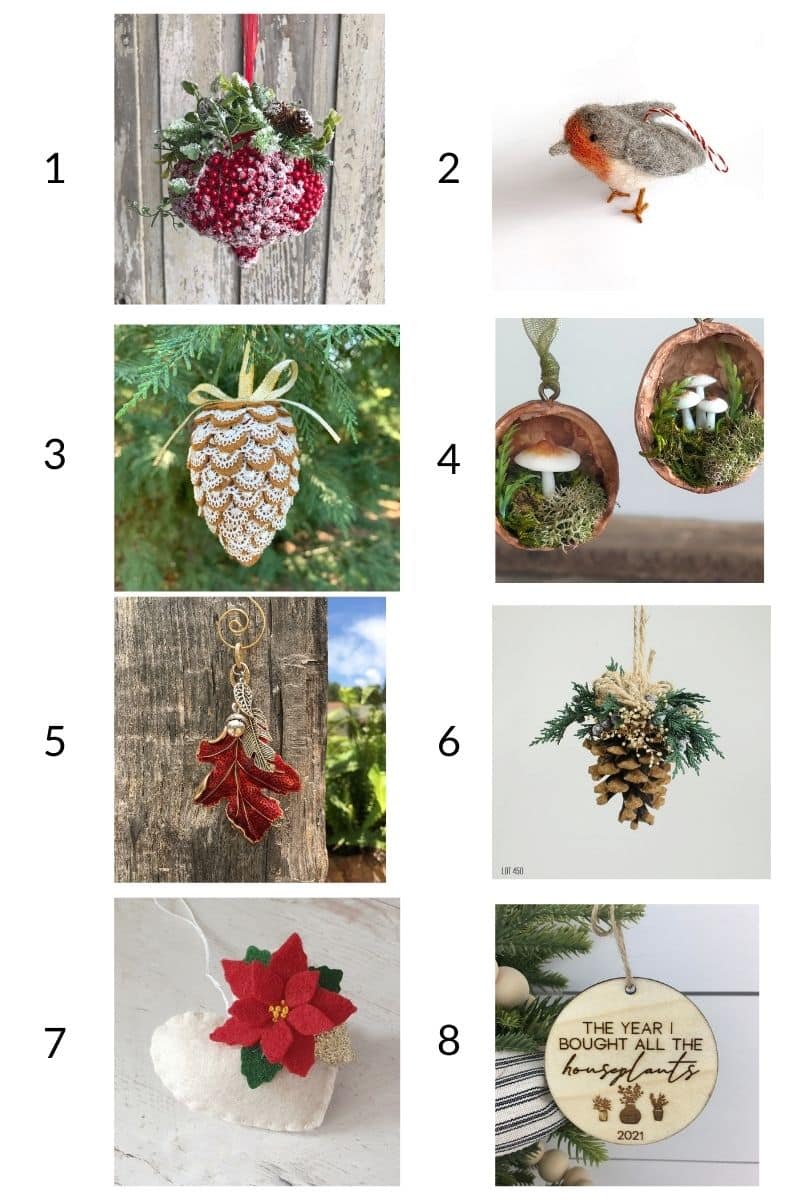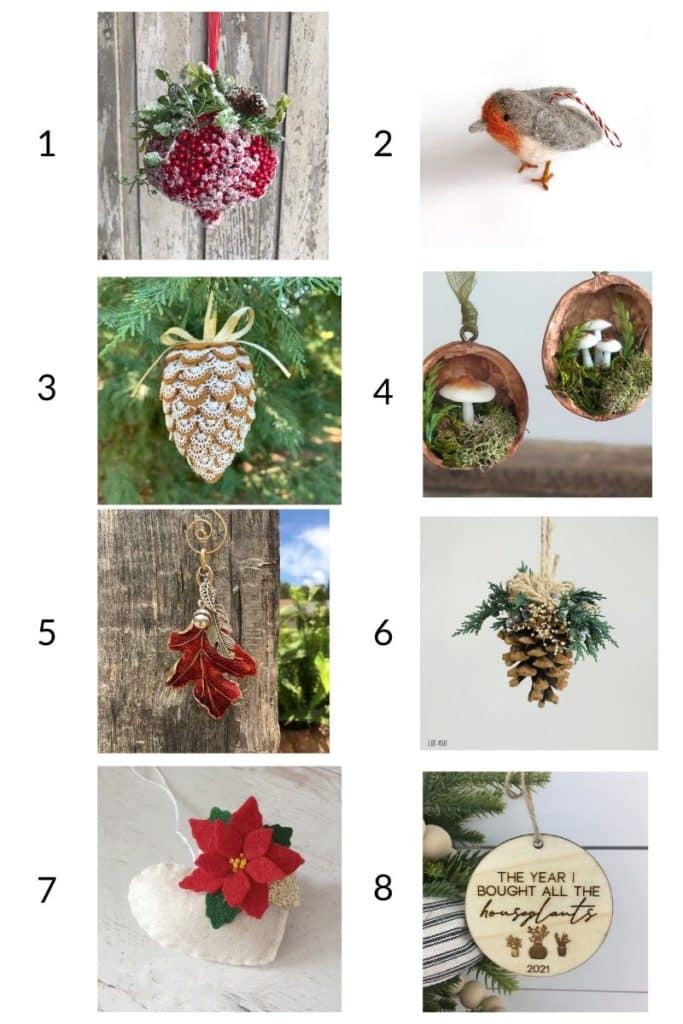 1. Christmas Berry Ball Ornament – This frosted berry ornament is so festive with its greenery and mini pinecone.
2. Tufted Bird Christmas Ornament – This bird ornament will look so cute perched in your Christmas tree.
3. Frosted Felt Pinecone Ornament – This felt pinecone ornament is darling and perfect for households with small children (or cats) who might play with low-hanging ornaments.
4. Mushroom Terrarium Ornament – These mini mushroom ornaments are so dainty and whimsical.
5. Forest Leaf Christmas Ornament – If you're an avid hiker, this is the perfect Christmas ornament for you. This ornament is meant to look like a fallen leaf you would find on the forest floor and it's gorgeous.
6. Pine Cone Ornament – This little pine cone ornament is a great way to bring more natural elements to your Christmas tree decor.
7. Poinsettia Christmas Flower Heart Ornament – This heart-shaped ornament with a felt poinsettia is so cute and festive.
8. Funny Christmas Ornament – Who else bought way too many houseplants this year?
We love nature, plants, flora, and fauna here at Joy Us garden. Hopefully you find this rond-up of natural Christmas decorations to be helpful.
Happy decorating!
I'm a life-long gardener who still to this day gets giddy at the thought of a trip to one of the local nurseries. Yes, I actually studied landscape and environmental horticulture and the practical experience I have garnered through the years has served me well. Childhood memories of chicken manure "tea" still float through my olfactory senses to this day. I have always been an organic gardener and always will be. From the Earth … To the Earth. I was born and raised in rural, bucolic Litchfield County, Connecticut and now joyfully live a few blocks from the ocean in beautiful Santa Barbara, California.