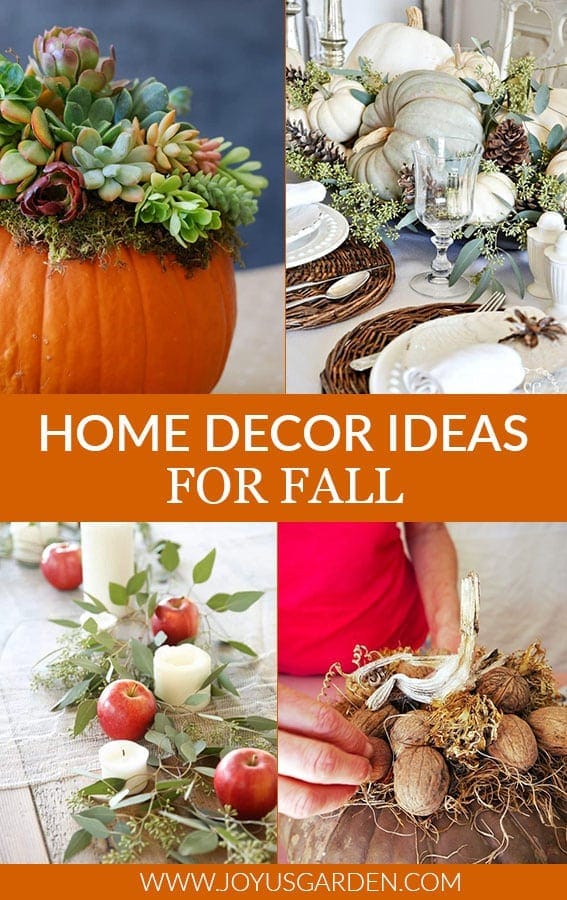 Autumn is a beautiful time of the year, but it can also be quite expensive when you start buying decorations to spruce up your home. We'd love to help you with the inspiration, so here's a list of fall decorating ideas we've discovered.
So, instead of breaking the bank this fall season, why not try these 23 easy and budget-friendly ideas to give your home a cozy and festive feel?
It's that time of year already! Are you ready for the changing colors in the leaves? The smell of fresh autumn in the air? We know you may be anxious to start making your home look like fall.
Here are some common natural elements you can purchase to create DIY fall decor ideas at home!
Hay bales
Corn husks
Mums and kalanchoes
Twigs and branches
Fall florals
Indian corn and corn stalks
Leaves, acorns, and pine cones
Orange pumpkins and miniature pumpkins
23 Fall Decorating Ideas With Natural Elements For Your Home
Once late August hits, everyone has Halloween and Thanksgiving on their minds. Orange, yellow, and brown colors will start to cover every store, and the smell of spices will fill the air. Here, we're sharing some indoor and outdoor decor ideas.
This post may contain affiliate links. You can read our policies here. Your cost for the products will be no higher but Joy Us garden receives a small commission. Thank you for helping us spread the word & make the world a more beautiful place!
1. White & Green Pumpkins with Eucalyptus
Green and white is still a super popular color combo for fall. We love pairing pinecones and seeded eucalyptus with anything.
They can stand independently like in the fall centerpiece above, but why not go the extra mile and throw in some greens, acorns, berries, and other autumn goodies? It's all about that extra touch!
2. Fall Table with Apples and Eucalyptus
We absolutely love this super simple fall table with apples and eucalyptus. You can recreate this look in a snap so it would be a great last-minute centerpiece for Thanksgiving dinner.
All you need are white pillar candles, eucalyptus stems, and apples. You can add a few sprigs of fall flowers to make it extra special.
3. Table Runner with Mini Pumpkins
You can easily make this adorable 5-minute pumpkin table runner just by picking up some supplies from the grocery store. It's one of the easiest fall decorating ideas on this list and a fun and budget-friendly way to add a touch of charm to your table!
3. Fall Mantel Display
Let's go for more green and white, this time with a pop of orange. The colors are super soothing and subdued, and the candles make everything cozy and warm.
This fireplace mantel display is also great for those who may not have a lot of room to store decorations. Add a few items, and your mantel will look like a masterpiece.
4. Indian Corn Wreath
You have to check out this DIY corn wreath! It's like the epitome of autumn vibes with its amazing texture and color. And guess what? It's super easy to make – you can whip it up in 30 minutes or less!
All you need are some mini corns and some super glue.
Are you looking for a fall wreath to buy? Check out these Readymade Natural Fall Wreaths to grace your front door, your walls, or above your fireplace.
5. DIY Wheat Wreath
It's easy to recreate this awesome DIY wheat wreath with a straw base in just a couple of hours. It's such a fun project and will definitely add a touch of nature to any of your walls this fall.
6. Pumpkin Succulent Harvest Decor
Succulents and pumpkins really do complement each other visually. And what makes you think fall more than pumpkins? We love how the succulents adorning a pumpkin add a modern touch to this classic fall decor idea.
7. Simple Non-Traditional Pumpkin DIY
Looking for a different way to decorate a pumpkin? Then check out this simple, unusual pumpkin DIY using walnuts and Spanish moss in natural/neutral tones. It's easy; there's no maintenance and'll last a few months.
8. Natural Butternut Vases
When plenty of butternut squashes are around in the fall, their colors bring warmth and richness to our surroundings. The deep jewel tones of the fresh flowers in these squash vases make us feel cozy and comfortable, capturing the essence of autumn.
9. Real Leaf Wall Art
Check out this adorable leaf wall art which would be wonderful decor for your living room or front hallway. You can use vibrant autumn colors or keep it simple with a monotone look. It's a super fun and easy DIY project, perfect for kids too!
10. Fall Table Decoration with Succulents and an Orchid
Grace your home with this non-traditional, beautiful fall table decoration using orchids, succulents, and seasonal elements, including white pumpkins, pomegranates, sweetheart pears, magnolia cones, and more.
11. Kalanchoes
Kalanchoes are long-lasting blooming houseplants (longer lasting than a floral arrangement!) readily available at nurseries, home improvement, and grocery stores.
They're commonly found in red, orange, yellow, and white, which would fit right in with almost any fall color scheme. You can use them to grace your kitchen counter, dining table, buffet, or coffee table.
12. Painted Pumpkins DIY
Painted pumpkins are an easy and fun way to decorate for the fall season. You can match them with any color scheme, use craft paint or a paint pen, and add some texture with stencils or stamps.
We can think of many color combos in addition to orange and white to add warm tones or vibrant fall color to your home.
13. DIY Succulent Mini Pumpkins
This creative way to decorate mini pumpkins is super simple and fun! You only need some succulents, a few mini pumpkins, moss, clipping shears, and a hot glue gun. A grouping of these would look great as a low centerpiece on your dining table.
14. DIY Pumpkin Candle Holders
These DIY pumpkin candle holders are seriously a breeze to make. Just grab some heirloom pumpkins, and voila – you've got yourself a stunning centerpiece for your fall table! Top the pumpkins with taper candles for a cozy evening glow.
15. Fall Porch Planter
This fall planter is easy to make and a great project for beginners. Simply fill a pot with soil, add some mums and pumpkins for height and texture, and accessorize with ribbons or other fall items. Plus, it's budget-friendly and will liven up your fall porch decor!
16. Decorating White Pumpkins with Leaves
Create a unique way to decorate your pumpkins this fall! All you need are some white pumpkins, tree leaves, and glue. Simply stick the leaves all over the pumpkin until it is completely covered for a beautiful autumn look.
The white and bronze color combo is quite striking!
17. Fall Organic Dough Bowls
This amazing dough bowl is perfect for your fall decor. You can fill a large wooden bowl with all sorts of things – pumpkins, gourds, acorns, foliages, berries – to bring a touch of nature into your home.
18. Pumpkin Floral Centerpiece Tutorial
Create a beautiful centerpiece with this gorgeous pumpkin floral tutorial. All you need are light pastel pumpkins, fresh blooms, succulents, foliage, and a bit of creativity to make your Thanksgiving table look amazing!
19. Five-Minute Fall Leaf Garland
This simple and easy five-minute seasonal garland will look great in your home. All you need are some branches, twine, scissors, and a bit of imagination to make it come to life.
Fall Front Porch Ideas
Transform your front porch into a cozy and inviting fall sanctuary with these timeless ideas. Embrace the warm hues of autumn by adorning your porch with rustic pumpkins, vibrant fall foliage, and charming seasonal decorations. Create a welcoming ambiance with cozy seating arrangements, soft blankets, and flickering candlelight.
20. Pumpkin Fall Front Porch Steps with Mums
Line the steps of your front porch with orange pumpkins and seasonal mums for a gorgeous autumn display. To add extra warmth to the display, layer some blankets over your chairs or bench and place a few candles nearby. It's perfect for any fall evening!
21. Fall Front Porch with Hay Bales & Pumpkins
Welcome your guests with this outdoor fall display of hay bales, pumpkins, and colorful mums. It's the perfect way to greet visitors this season. Add some ornamental grasses and twinkling lights, and it'll look like something out of a fairytale!
22. Fall Front Porch with Succulents
Once again, we've got that lovely green and white combo going on! This chill front porch decor is perfect for giving guests a warm welcome. We love the combination of succulents, pumpkins, and hay bales. It's modern and unique yet classic enough for any aesthetic.
23. Front Porch with Rocking Chairs and Mums
Rocking chairs are so cozy for any outdoor spaces, so if you have room on your front porch, add one of two. This porch display also includes orange mums in wicker baskets, but you could also use bushel baskets or terra cotta pots.
We really love the grapevine wreath adorned with Chinese Lantern garland.
Conclusion
In conclusion, there's no limit to how much warmth and charm you can bring to your home during the changing seasons.
Incorporating any of these fall decorating ideas using natural elements not only celebrates the beauty of autumn but also showcases your bit of creativity.
Whether you choose to spruce up your front porch, mantel, or dining room table, each idea is a testament to the endless possibilities of the fall season.
So go ahead, embrace the spirit of autumn, and let your creativity shine!
Note: This post was originally published on 8/2019. It was updated on 9/2022 & again on 8/23/203 with new ideas & inspirations.