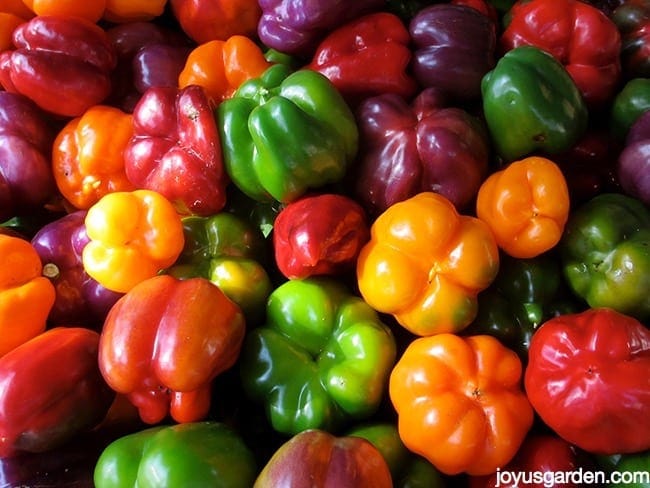 Fall has officially arrived! I love this time of year at our Santa Barbara Farmers Market because the summer produce is still abundant but the fall and winter squashes are starting to make an appearance. Tomatoes fresh from the farm and kabocha squash anyone?
Peppers, like the ones you see above, love our warm temps and sun filled days that are signaled on by late summer lasting well into fall here along the central coast of California. They run the gamut from sweet to off the charts hot. Oh the colors – what a kaleidoscope!
Lucy and I were busy as buzzing bees last week filming videos for our Youtube channel. She came up from Laguna Beach and we spent 4 days in the garden and at the craft table, she behind the camera and me in front of it. The results of the fruits of our labor: 23 videos coming your way in the near future. Needless to say, I was mildly exhausted the next day.
This week I'm busy writing blog posts in preparation for my trip up to the San Francisco Bay Area next week. It's Halloween decorating time and I do a job up there every year which takes 3 to 4 days to install. Time to pull those ghouls and goblins out of storage.
Here are a few of my musings for you this weekend:
I'm over 50 so I love this quote from Sophia Loren: "There is a fountain of youth: It is your mind, your talents, the creativity you bring to your life and the lives of the people you love. When you learn to tap this source, you will have defeated age." Thank you Sophia, time to get that fountain fired up!
Sometimes we just can't buy organic so this diy fruit and vegetable wash will come in handy. There's also a chat of the "Dirty Dozen" and "Clean 15" for your reference.
Speaking of the "Dirty Dozen", you'll want to wash your cucumbers well before slicing them up for this refrigerator pickles recipe. And, they're a breeze to make.
I love anything pumpkin – bring on the orange. This caramel pumpkin sheet cake sounds amazingly good and comes together with no fuss at all.
If you clinked on the Halloween link above, then you know I love this holiday. These black chain lights that look like rusty metal would be frighteningly fun to hang from the ceiling or around your doors. They're good to use indoors or out, a real plus.
If you're ever in beautiful Barcelona, then be sure to visit the wild and wonderful Parc Guell. It's 1 of the major works of Gaudi so it's totally whimsical and playful.
Enjoy your weekend!

ps. The Monarchs are hatching here now – this pic was taken in my back yard.