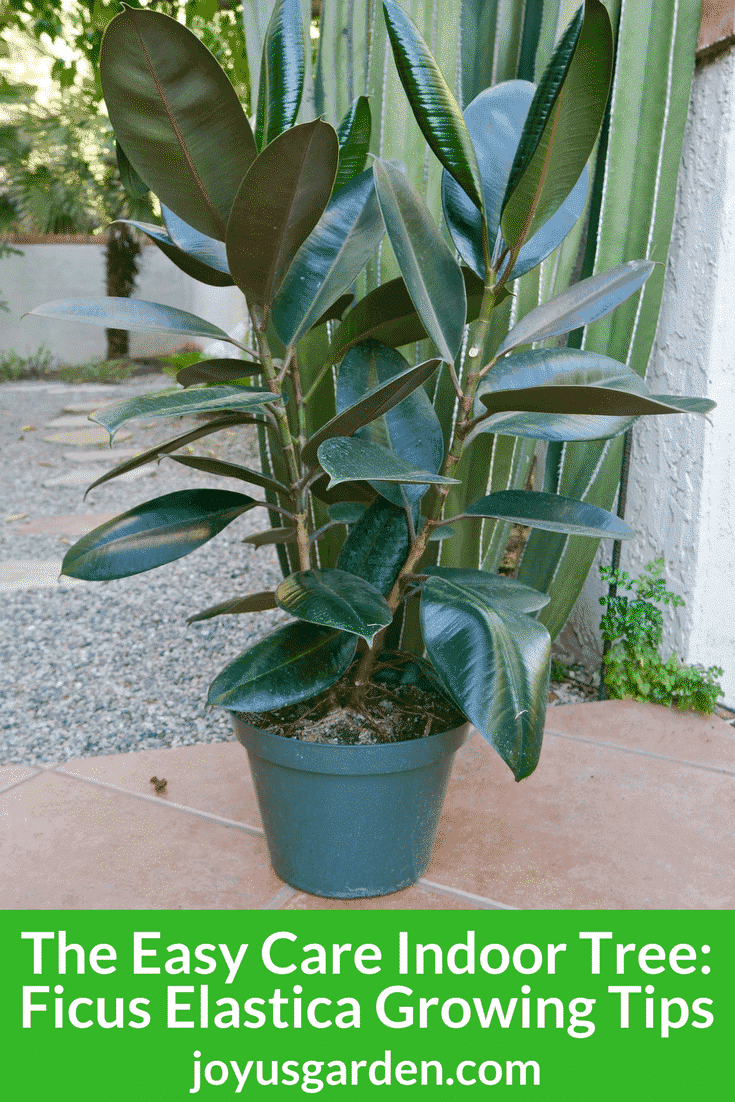 Want an easy-care indoor tree with large, glossy leaves? These Rubber Plant care and growing tips will keep yours looking great.
After spending quite a few years in the interiorscaping biz, I found the Rubber Plant to be the easiest of the ficus trifecta (which includes the Fiddleaf Fig and Ficus Benjamina) to maintain and keep alive. It's been slightly pushed aside and I think now's the time for the Ficus elastica gets the attention it deserves. That's why I want to share these Rubber Plant growing tips with you.
The Rubber Plant is also known as Ficus elastica and Rubber Tree.
The Ficus benjamina, or Weeping Fig, drops leaves like it's fall every day. The Ficus lyrata, or Fiddleleaf Fig, is revered in the groovy design world but we know many find it a challenge to grow. I've found that both of these plants do best in higher light conditions and are much more temperamental than the Rubber Plant.
You have a choice of varieties in foliage color when it comes to the Ficus elastica goes if plain medium green isn't your thing. The ones I've seen are decora (that's mine), robusta, variegata, ruby, and black prince.
Some Of Our General Houseplant Guides For Your Reference:
Rubber Plant Care and Growing Tips
Size
Rubber Plants are usually sold as floor plants. Mine was growing in a 10″ pot and I repotted it into a 15″ pot last year (more on that below). It now stands 6′ from the ground.
Growing in their native environments, Ficus elasticas can get 60-80′ tall. Yes, it's definitely a tree!
I bought a small one in a 6″ pot last year when I was in San Diego. It sits on a plant stand at the moment but will become a floor plant in a year or 2.
Growth Rate
When in the desired exposure and getting the care they like, I've found Rubber Plants to have a moderate to fast growth rate. This is especially true in late spring and summer when houseplants do the majority of their growing.
Exposure
The Rubber Tree is a medium to a high light indoor plant. Mine grows in my office in an east/south exposure where a trio of windows gives it a good amount of bright natural light all day. It sits about 5′ away from the windows.
Be sure yours doesn't get too much direct, hot sun or it could burn.
Because it's in a corner, I rotate it every 2 months so it gets light on all sides.
Don't even try this plant in low light – it'll be a no go.

In the greenhouse taking pictures for our houseplant care book. Ficus elastica burgundy, variegata & ruby lined up in rows ready to be shipped out.
Watering
In the summer I water my Rubber Plant every 7-8 days because the sun is usually shining every day here in the Sonoran Desert. In the winter I back off on the watering frequency to every 14-21 days. Plants need to rest at this time of year plus the light levels and temps tend to be lower.
You'll have to adjust the watering frequency according to the pot size, soil mix, and your growing conditions. You basically want a happy medium with this plant – not bone dry but not soggy wet.
This guide to watering indoor plants will give you more information as well as this guide to winter houseplant care.
Temperature
As I say in regards to houseplants: if your home is comfortable for you, then it'll be the same for your plants. Just be sure to keep yours away from any cold drafts as well as air conditioning or heating vents.
Fertilizer
I use worm compost & compost to feed all my houseplants in early spring. Worm compost is my favorite amendment & am currently using Worm Gold Plus. You want to apply these sparingly indoors; easy does it.
If combos aren't your thing, you might prefer a balanced liquid organic fertilizer. You can use this 1 outdoors too so when it comes to your houseplants, dilute it to half strength. Use this in spring & maybe again in late summer but don't overdo it because too much fertilizer causes burn.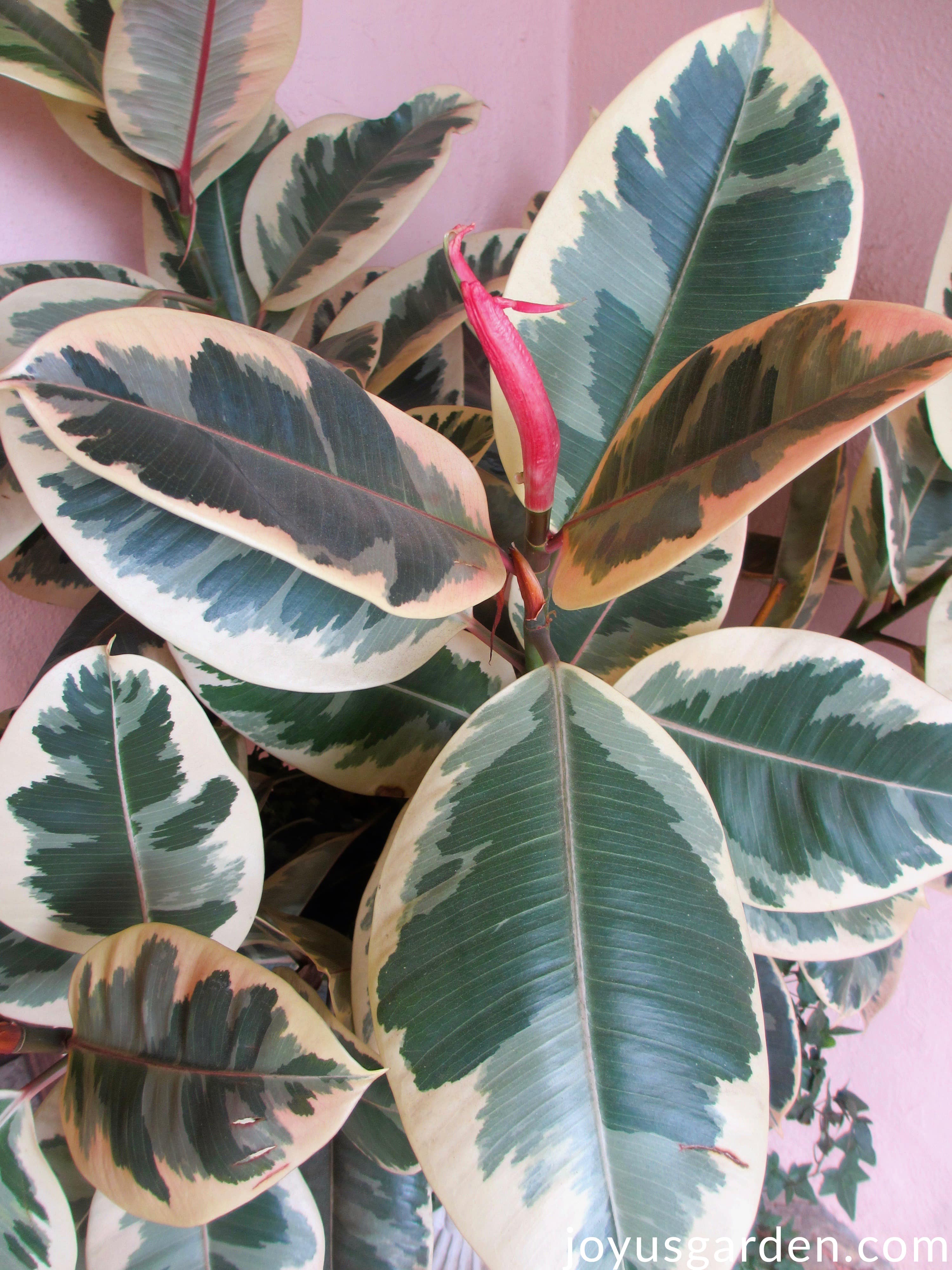 The cream & green leaves of the Variegated Ficus look like they've been painted on.
Soil
Use a good organic potting soil when repotting this plant. You want it to be enriched with good stuff but also to drain well. I'm partial to Happy Frog because of its high-quality ingredients. It's great for container planting, including houseplants.
Repotting/Transplanting
The faster your Rubber Tree's growing & the taller it's getting, the more often you'll need to repot it. That might be every 2 years or every 4 years, depending on the size pot it's currently in.
I'm going to be repotting mine in a few months so I'll do a post & video for you. It doesn't matter if the new pot is 2″ bigger or 6″ bigger; the roots of this tree need room to grow & spread.
Propagation
For me this is the fun part – more plants, please! The way I like to propagate this fabulous houseplant is by air layering. I've always had success with this method & show you how to do it on my very tall & narrow Ficus elastica "variegata". Here's how you prune off & plant the air layered portion.
Air layering takes about 2 months but it's a very effective way to propagate this indoor tree. Rooting softwood cuttings (the top 6″ or so of growth) in a propagation mix is another way. With the air layering, you can get a taller plant from the get-go.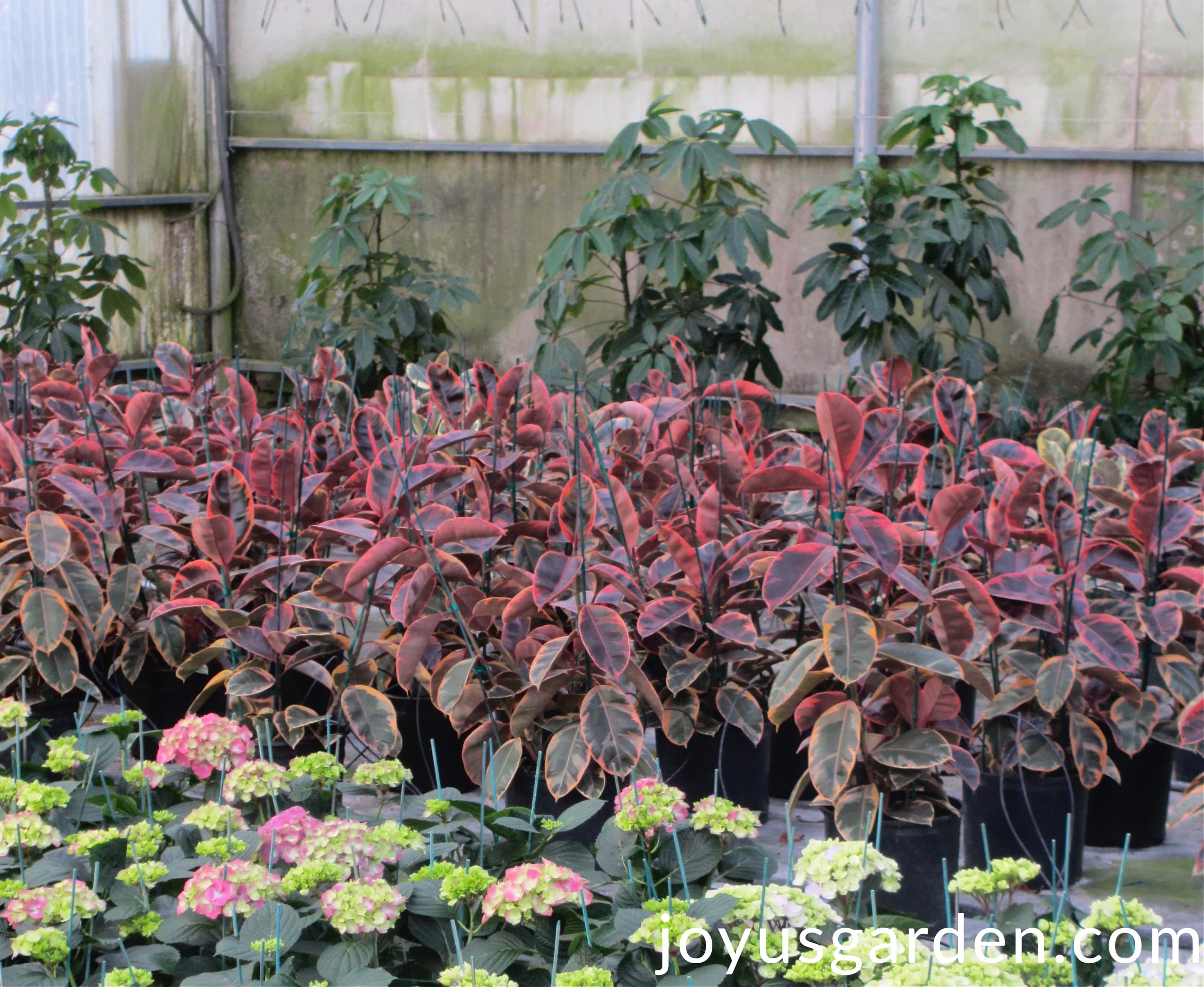 Fans of pink unite! Please let me introduce you to Ficus elastica ruby.
Pruning
Pruning is a big part of Rubber Plant care as yours grows talller. This might be necessary to control the size of this tree which not only grows tall, but wide. Make clean cuts right above a growth node. Avoid pruning in the winter months if you can.
And of course, make sure your pruners are clean & sharp.
Pests
This ficus, like other houseplants, is susceptible to scale, mealy bugs & spider mites. The links will help with identification. My best advice: keep your eye out, catch them early on & take action.
Pets
The Rubber Plant emits a white sap when pruned or broken. It's irritating to their innards & skin so keep your cats & dogs away from this 1 if you foresee a problem. My kitties don't mess with my plants so it's not a concern for me.
Good To Know About Rubber Plant Care
Don't be concerned about the dried up roots at the base of the trunk. Those are aerial roots which are how this plant grows in nature.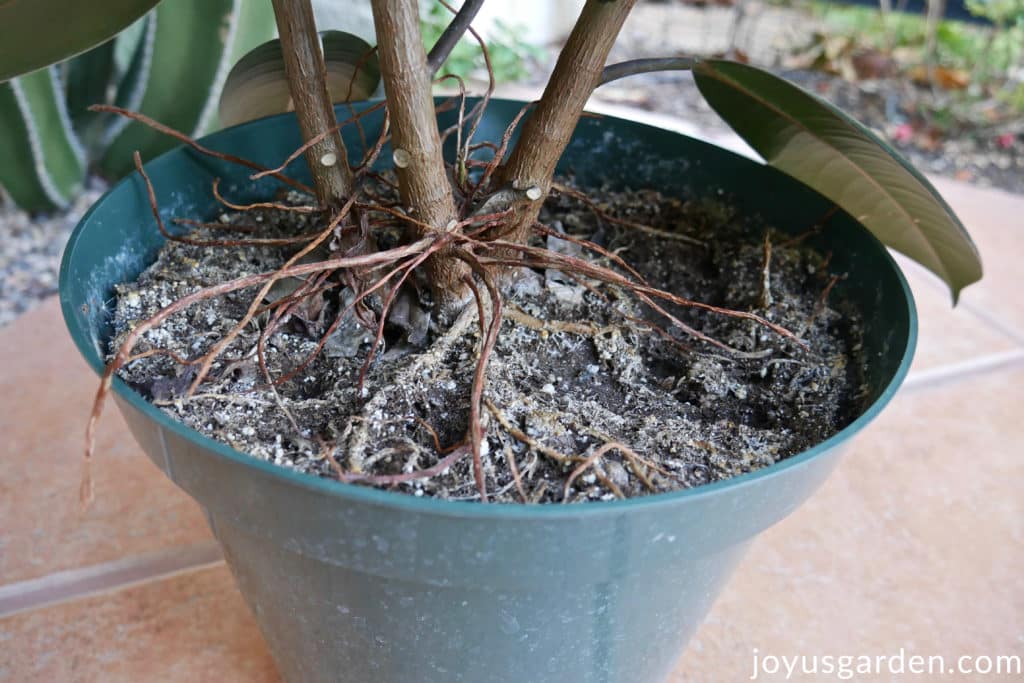 You can see those dried roots here. They don't bother me at all but cut them off if you'd like.
Salt burn can appear on the edges & tips of the leaves over time due to water quality &/or over-fertilization.
The sap can be irritating to we humans also. Be sure to keep it away from your face & wear gloves & long sleeves when pruning or handling a Rubber Plant if you think it'll affect you.
Those glossy, extraordinarily large leaves can get dirty fast. Mine still has some of the white spots from the growers still on it that I haven't gotten off. This plant really benefits from a good cleaning which is best done with a soft, slightly moist, lint-free cloth. I clean mine twice a year.
Saved the best until last: for its size, the Rubber Tree is a great value. It's inexpensive because it grows fast.
If you have the natural light and space for this plant to grow, then here's the indoor tree for you. Rubber Plant care is easy if you follow these guidelines. I'm getting a Ficus elastica "ruby" for my bedroom because why not have some pink vegetation in the boudoir.
Do you have a favorite Ficus? I do like the Ficus Alii but the Rubber Plant is mine hands down!
Happy gardening,

We have more plant care guides just for you!
You can find more houseplant info in my simple and easy to digest houseplant care guide: Keep Your Houseplants Alive.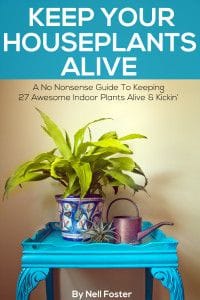 This post may contain affiliate links. You can read our policies here. Your cost for the products will be no higher but Joy Us garden receives a small commission. Thank you for helping us spread the word & make the world a more beautiful place!
I'm a life-long gardener who still to this day gets giddy at the thought of a trip to one of the local nurseries. Yes, I actually studied landscape and environmental horticulture and the practical experience I have garnered through the years has served me well. Childhood memories of chicken manure "tea" still float through my olfactory senses to this day. I have always been an organic gardener and always will be. From the Earth … To the Earth. I was born and raised in rural, bucolic Litchfield County, Connecticut and now joyfully live a few blocks from the ocean in beautiful Santa Barbara, California.