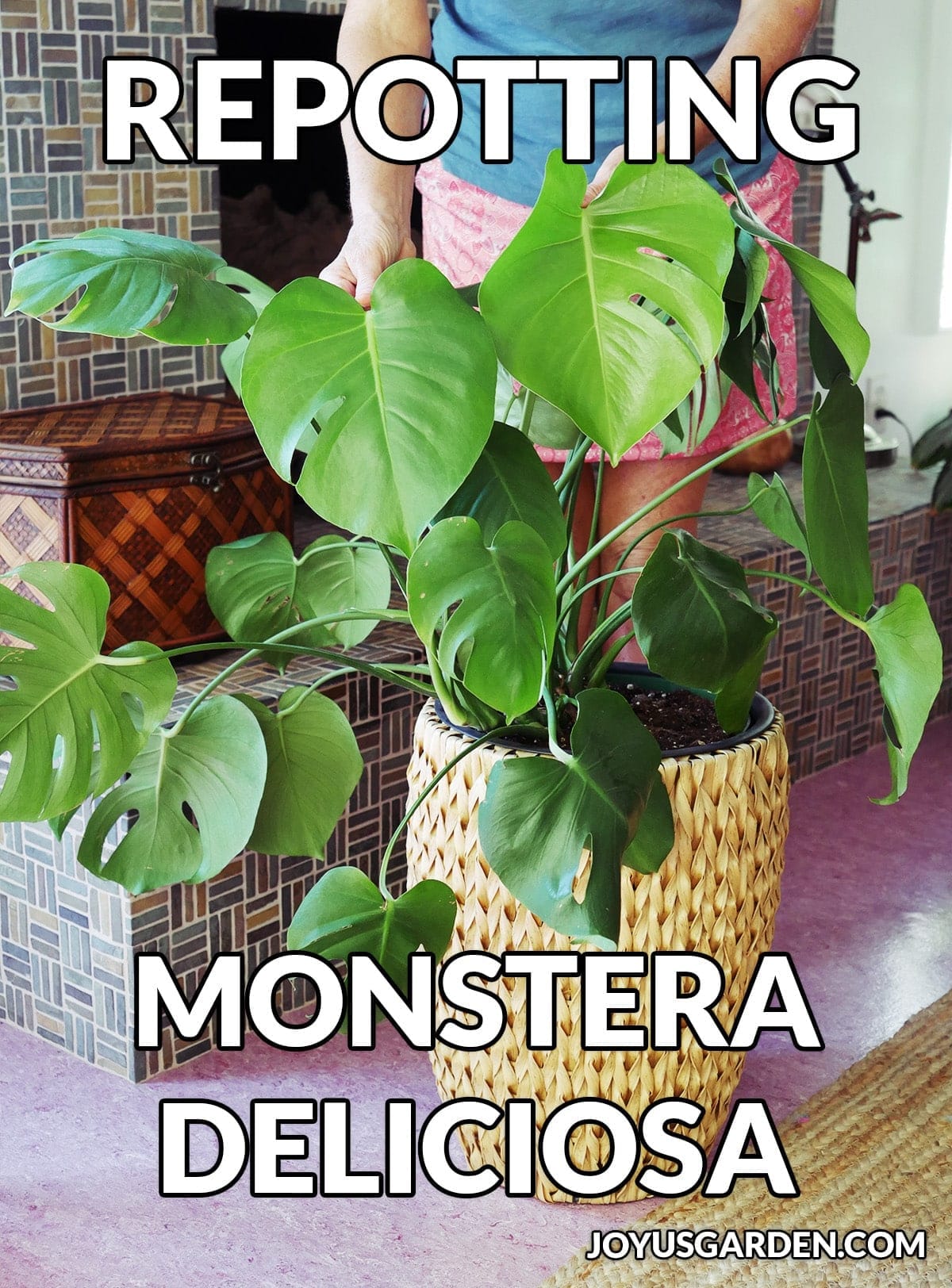 Monstera deliciosa (Swiss Cheese Plant) is a fast-growing houseplant. Learn about repotting Monstera deliciosa, including the mix to use, when to do it and steps to take.
Monstera deliciosa, aka Swiss Cheese Plant, is a very popular houseplant with a vigorous growth habit. It has a tough and extensive root system that appreciates room to grow.
With that in mind, you'll need to repot your Monstera at some point. This isn't hard to do, especially when the plant is smaller. You may need to add some type of support for it to grow up (more on that towards the end) as it grows larger. Mine doesn't need any support yet but it will, probably next year.

Some Of Our General Houseplant Guides For Your Reference:
What Time of Year to Repot Monstera Deliciosa
Spring, summer, and into early fall are good times for repotting Monsteras. If you live in a climate where winter comes early, then spring and summer are best. Here in Tucson fall is mild – I repot up until the end of October.
It's best to avoid repotting in winter if you can because plants like to rest during this time. By the way, I repotted this one in mid-April.
Related: I've done this general Guide To Repotting Plants geared for beginning gardeners which you'll find helpful.
Soil Mix to Use When Repotting Monstera Deliciosa
Note: This is the optimum mix to use for a Monstera. I have a lot of plants (both indoors and outdoors) and do a lot of repotting. Plus, there's a garage to store all the bags of materials in. If you have limited space, I give you a few alternative mixes down below which consist of fewer materials.
Monsteras like a mix rich in peat (I use coco fiber which is similar but a more sustainable alternative to peat moss) and compost which is well-drained. They grow on the bottom of the tropical rainforest floor and this mix mimics the plant materials which fall on them from above and provide the nourishment they need.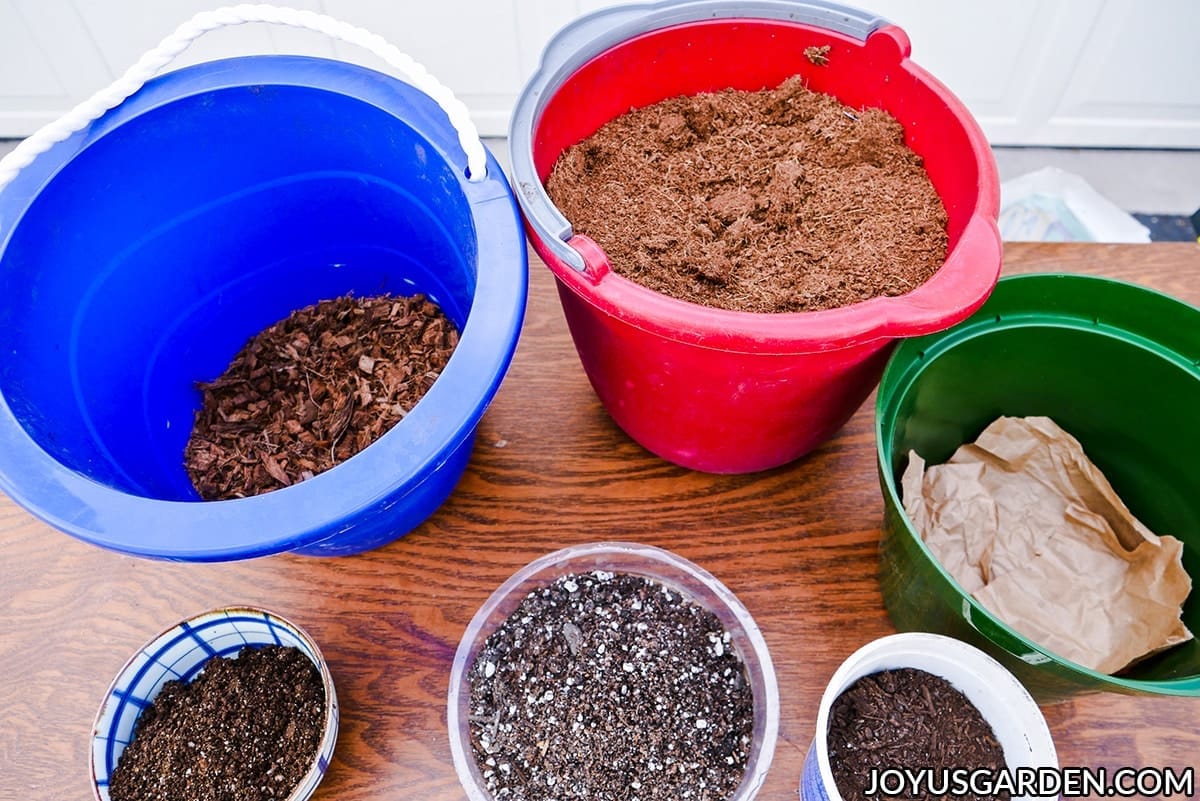 This is the mix I used with approximate measurements:
Related: How I Feed My Houseplants Naturally With Worm Compost & Compost
Alternatives mixes: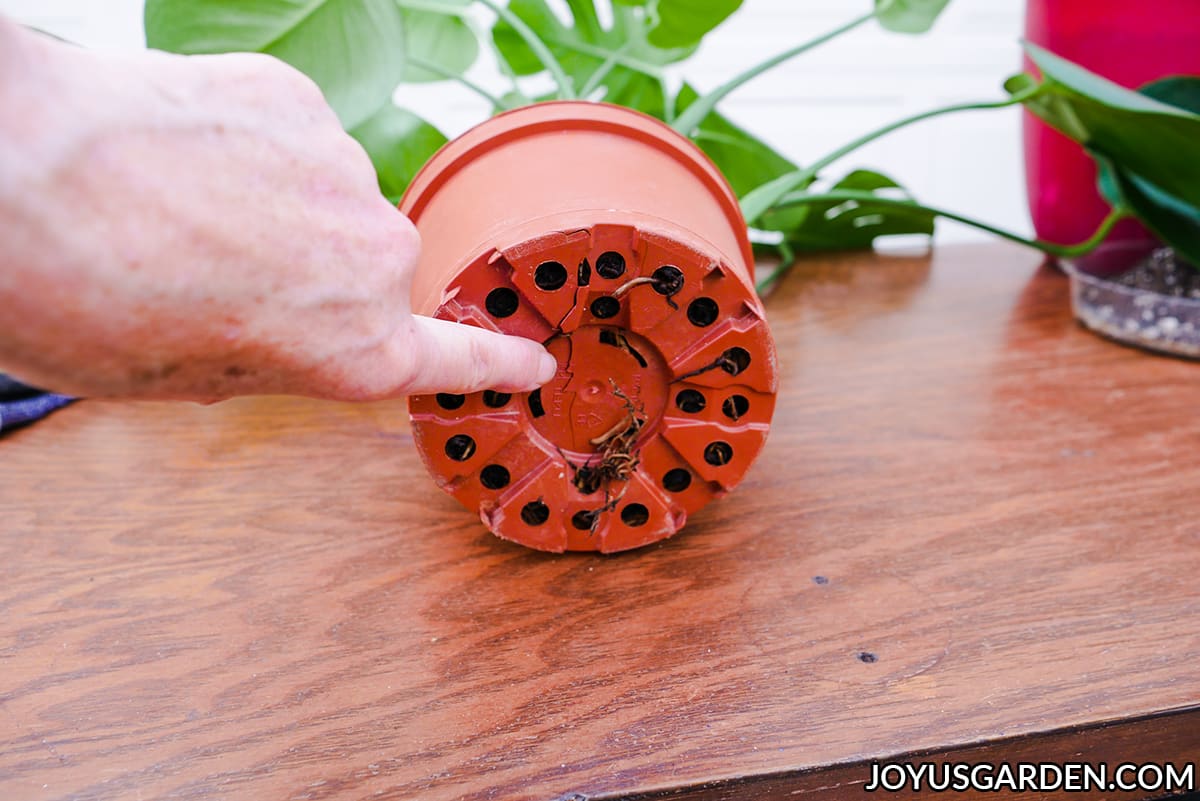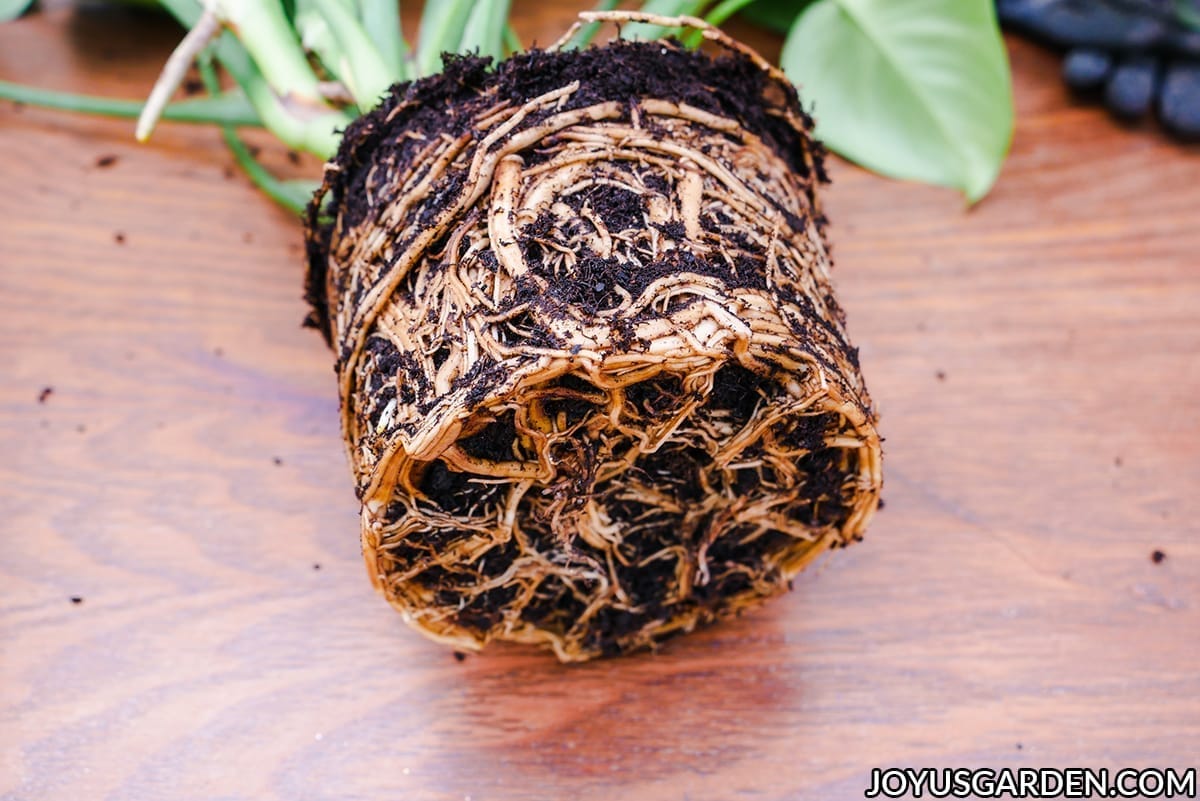 Pot Size
Monsteras can grow tight in their pots but will eventually do and grow better with a larger pot size.
You can go up 1 pot size if you'd like; for instance from a 6″ pot to an 8″. Because mine was growing so fast (it loves the warm weather here in Tucson) and the bottom of the pot was cracked, I decided to give it plenty of room. Mine went from a 6″ to a 10″ grow pot.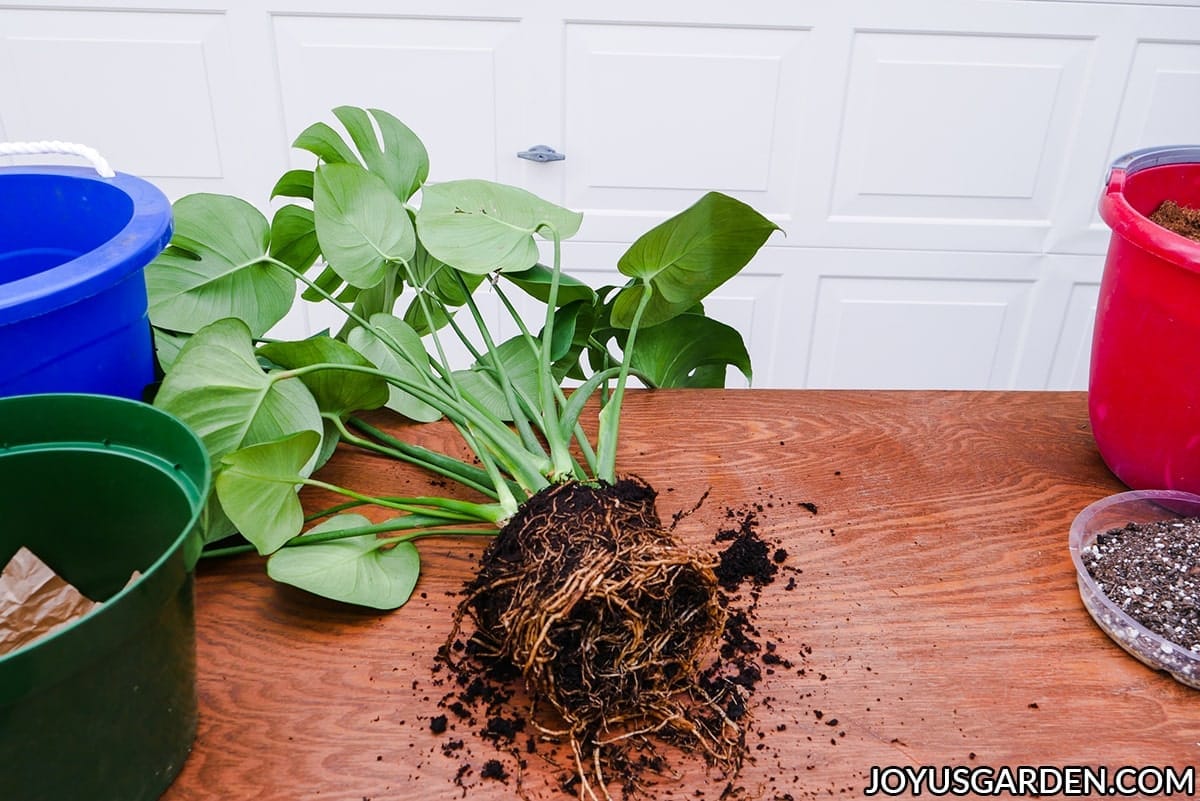 How to Repot Monstera Deliciosa
I water the plant 2 days before repotting. A dry plant is stressed so I always water my houseplants 2- 4 days before repotting. I find that if I water the day of, the soil can be too soggy making the process a bit more messy than it already is.
To get the Monstera out of its pot, I turned it on its side and gently pressed on the grow pot. You may have to run a knife along the edge to the root ball to loosen it. I've also cut grow pots if the root ball is tight and won't pull out.
Gently massage the roots to loosen so you can pull them apart a bit. The roots will find their way out of the tangled root ball eventually but this gives them a head start.
Put enough the mix in the pot so that the top of the root ball is about 1/2″ below the top of the pot.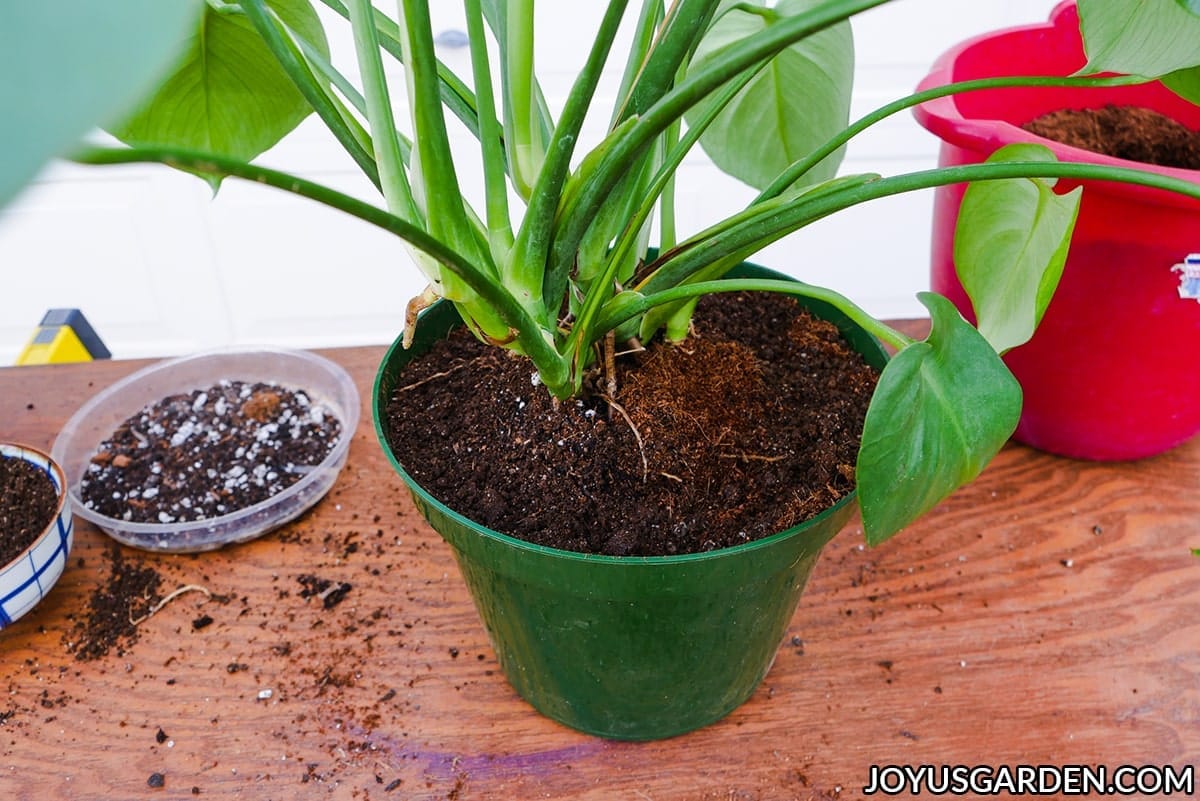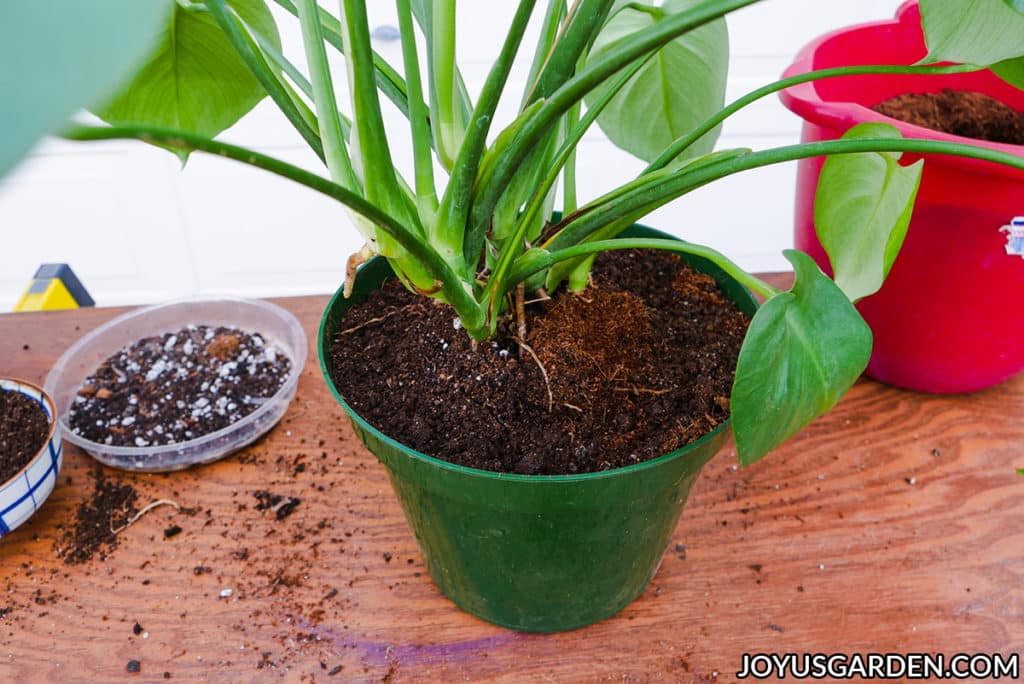 Fill in around the root ball with the mix. I tamped the soil down between the root ball and sides of the pot to get the plant to stand up straight.
Top with 1/4″ layer worm compost.
Watch me repotting my Monstera for more tips:
After Care
It's simple. Water your Monstera well after the repotting/transplanting. I put mine back in its bright spot in the living room where it had been growing by the sliding glass doors.
You don't want to let the soil completely dry out while the plant is settling in. How often you'll water yours depends on these factors: the mix, the size of the pot, and the conditions it's growing in.
It's hot now in Tucson so I'll probably water my newly repotted Monstera every 7 days until the weather cools. I'll see how fast it's drying out in the new mix and bigger pot but once a week sounds about right.
In the winter it'll be every 2-3 weeks, maybe even less frequently. I'll see how fast it's drying out. Just remember, even though the top of the soil is dry, it could be wet further down where the m
Related: Monstera Deliciosa Care & Growing Tips
Related: A Guide to Watering Indoor Plants
Related: Winter Houseplant Care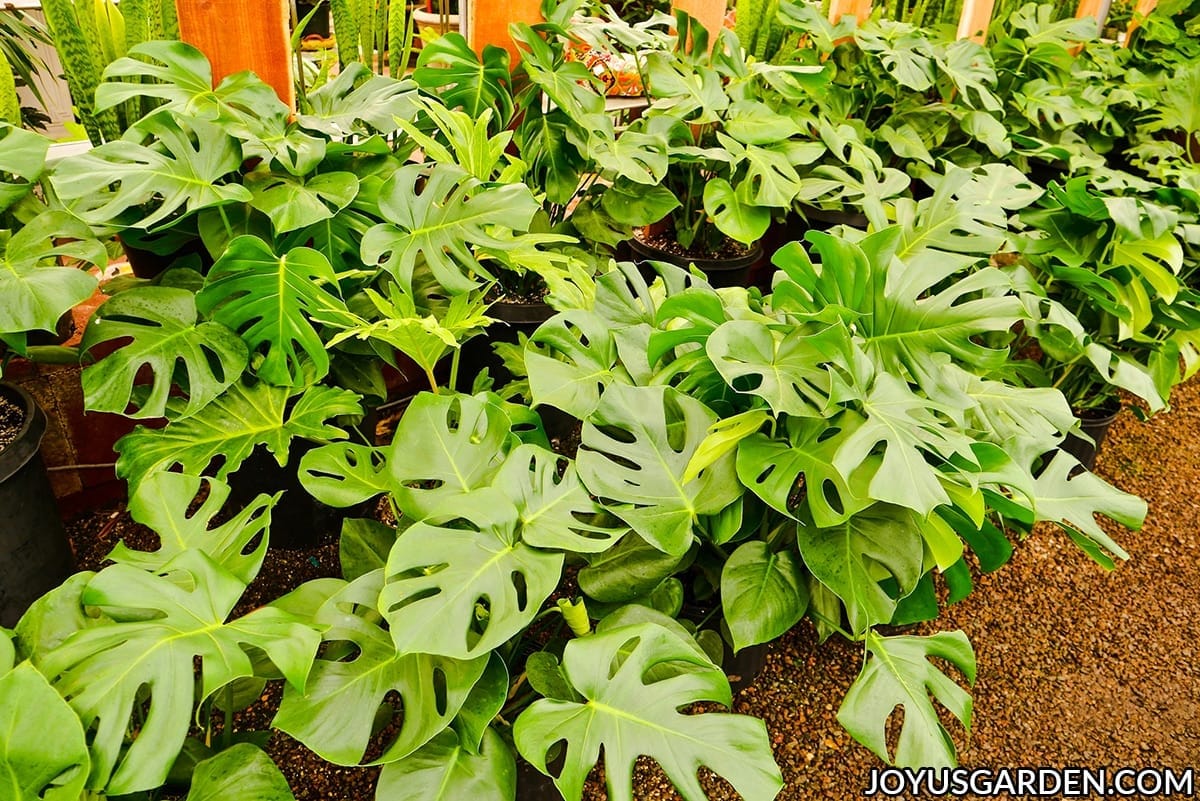 When Does a Monstera need Repotting?
I do it when the roots are showing out the bottom. Although they don't mind growing tight in their pots, they'll uptake water and nutrients better if their root can spread out and grow.
I'll probably repot mine in a year and a half or so. For you, it maybe every 2-3 years (this time frame is a good general rule) depending on the conditions your Monstera is growing in.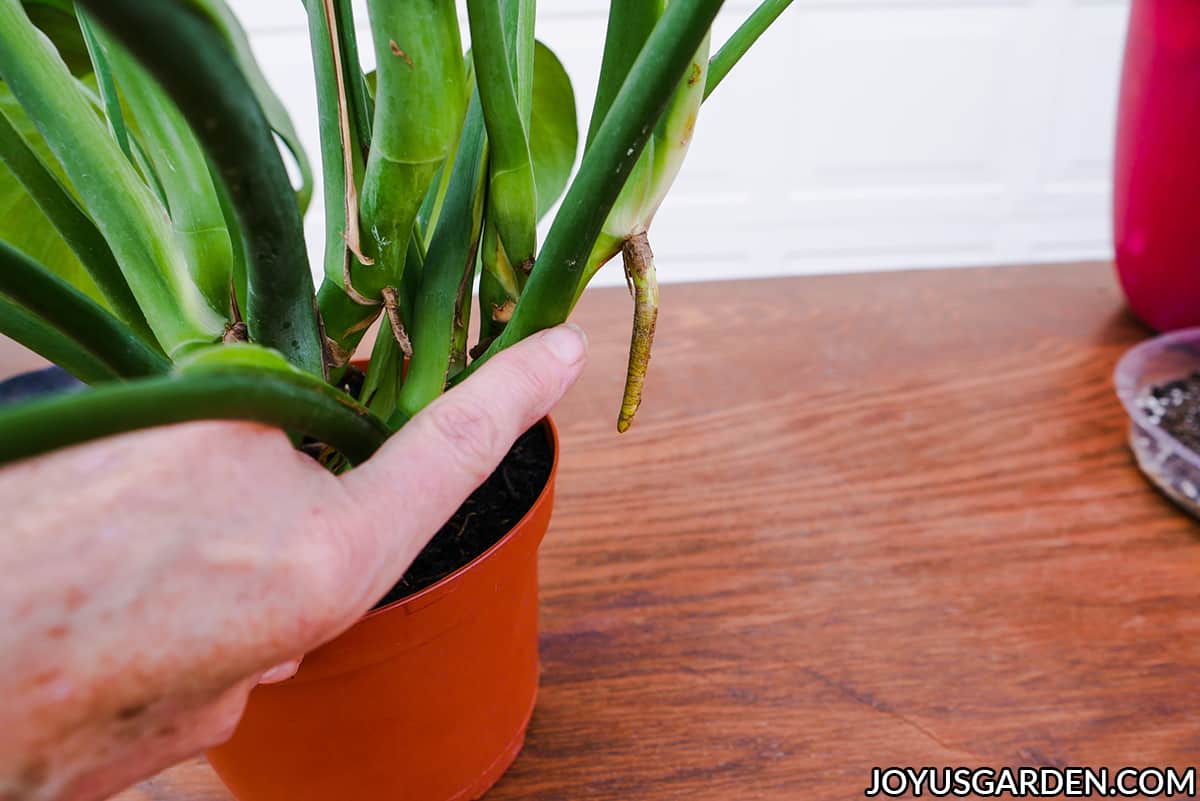 Does a Monstera Plant Need Support?
When growing in their natural environments, Monsteras grow to 50′ tall. They start out in the ground and eventually spend a part of their lives growing up trees. That's what the aerial roots (see pic above) are for – they grab onto the bark so the plant can climb.
Even in our homes, those roots will eventually need something to grab onto as the plant takes off and grow upwards. Otherwise, the stems which are getting longer and heavier will flop. Mine didn't need it this go-round, but the next time I repot (or maybe before), it will.
Many people use a moss pole, but I'm going to try to find a rough slab of wood for mine to grow up. Or, maybe I'll forage the desert for a sturdy piece of cholla wood and use that. I don't expect to repot this plant for at least a year and a half but I better start looking for that means of support soon!
I love my Monstera and it's happy as can be to be repotted with room to grow. Just follow these guidelines (especially if you're a beginning gardener) and your Swiss Cheese Plant will thank you!
Happy gardening,

Other houseplant repotting guides you may find helpful:
This post may contain affiliate links. You can read our policies here. Your cost for the products will be no higher but Joy Us garden receives a small commission. Thank you for helping us spread the word & make the world a more beautiful place!