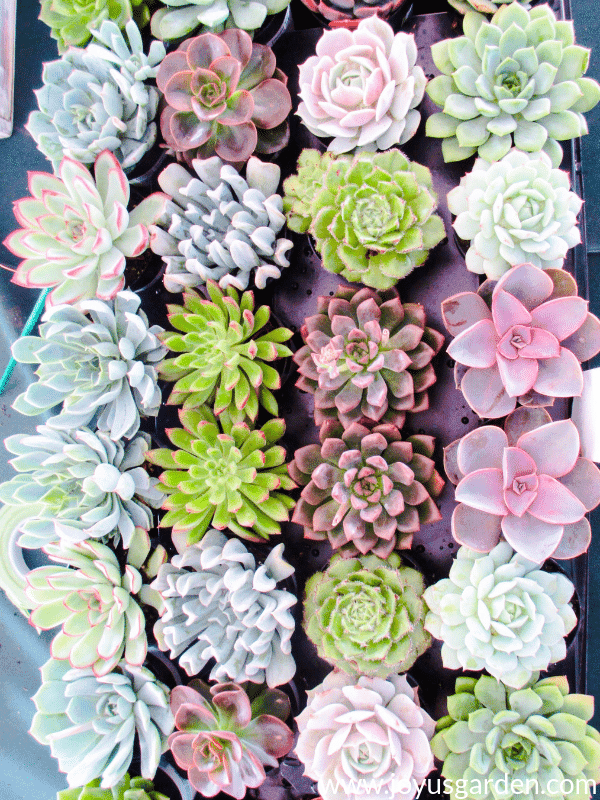 If you've read any of my posts then you know I love succulents. Yes it's true, both fleshy succulents and succulents with spines have a place in my garden and home. Over the years I've planted and repotted many succulents all of which have survived and taken hold. Here's how I transplant succulents in pots.
Check out my video on transplanting succulents in pots:
Hint: don't be hesitant to transplant &/or move them! The main reason succulents transplant so easily and readily is that their root balls tend to be smaller and resilient. Sometimes they aren't easy to transplant (especially the ones with spines) but they don't mind being moved and root in just fine.
Although I had a garden full of succulents when I lived in Santa Barbara, this post and video are all about transplanting, repotting or planting (whatever you wish to call it!) succulents in pots.
This is the planting you'll see me put together in the video below. The Variegated Aloe & Cat's Tail Euphorbia were new plants, the Haworthia came from my Santa Barbara garden, & the Optunia Joesph's Coat was in the pot next to my kitchen sliding glass door.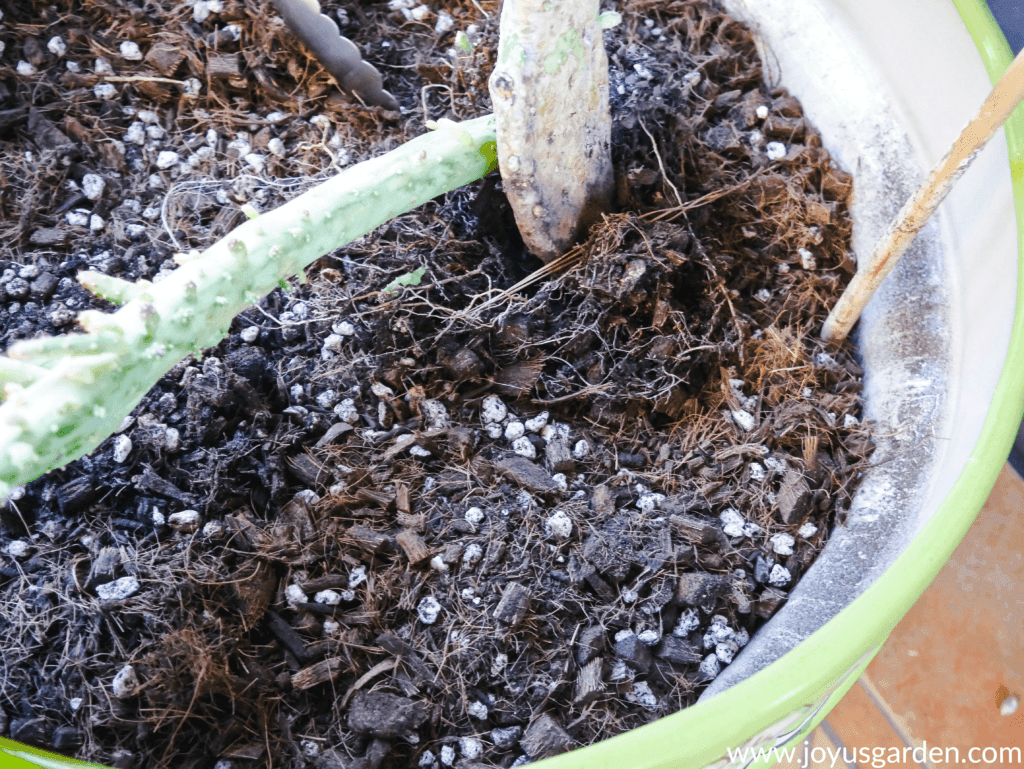 Not the most interesting picture I've posted but I wanted to show the size of the roots coming off the 3′ Optunia. Not extensive at all.
Important things to know about how to transplant succulents in pots:
The plant & its requirements for sun
Most succulents with spines & needles (like cacti) can take full, hot sun. Fleshy succulents do best in "cooler", less intense sun. When I lived in SB (along California's coast) my succulents grew fine in full sun. Here in Tucson, my fleshy succulents need to grow in bright shade or they'll burn. All do best with protection from the hot afternoon desert sun.
The location
This ties directly with the above. You don't want to grow cacti in the shade indoors or outdoors nor do you want to grow fleshy succulents in hot sun.
My Pencil Cactus, which was on the covered side patio, had grown to over 12′ & was about to hit the ceiling. It blew over a few times & needed staking. I moved it to the back garden (we can still see it when on the patio) in a shaded corner so it can grow away as it please.
Indoors, most succulents require high light to do their best.
The soil mix
This is important – more details below. Here's a recipe to make your own succulent & cactus mix.
The best time of year to plant succulents
Spring & summer are the best times to plant/transplant/repot succulents. I live in a climate with warmer winters so early fall is fine. If you transplant your succulents in winter, they won't die. Just know it's not the optimum time so you might want to wait until spring.
The soil mix for succulents:
I use a locally produced organic succulent & cactus mix available only in the Tucson area. It's very chunky, drains well & is comprised of pumice, coconut coir chips & compost. I also add in a few generous handfuls of compost when planting & top the pot with 1/8″ of worm compost.
Note: I now make my own succulent & cactus mix. Here's the recipe.
I usually add in more worm compost & compost but now it's late in the year. I will topdress with more worm compost & compost in early spring. You don't need to add compost or worm compost to your mix but it's how I feed all my container plants, both inside & out. You can read about it here.
I recommend that you use straight succulent & cactus mix or 1/2 succulent & cactus & 1/2 potting soil.
If you use any potting soil, back off on the watering frequency because it's a heavier mix. With cacti, don't use potting soil.
Succulent & cactus mixes really vary depending on the brand.
Many people have a mix that they prefer & use on a regular basis & it works for them. What's most important the mix drains well.
If you think your mix needs the drainage & lightness factors elevated, add pumice or perlite.
Succulent mix/additive options to purchase online:
Bonsai Jack (this 1 is very gritty; great for those prone to overwatering!), Hoffman's (this is more cost effective if you have larger containers but you might have to add pumice or perlite), or Superfly Bonsai (another fast draining 1 like Bonsai Jack great for indoor succulents).
Note: Epiphytic Cacti, like Christmas Cactus, Hatiora & Ripsalis, like a bit of coco coir & orchid bark added to the mix.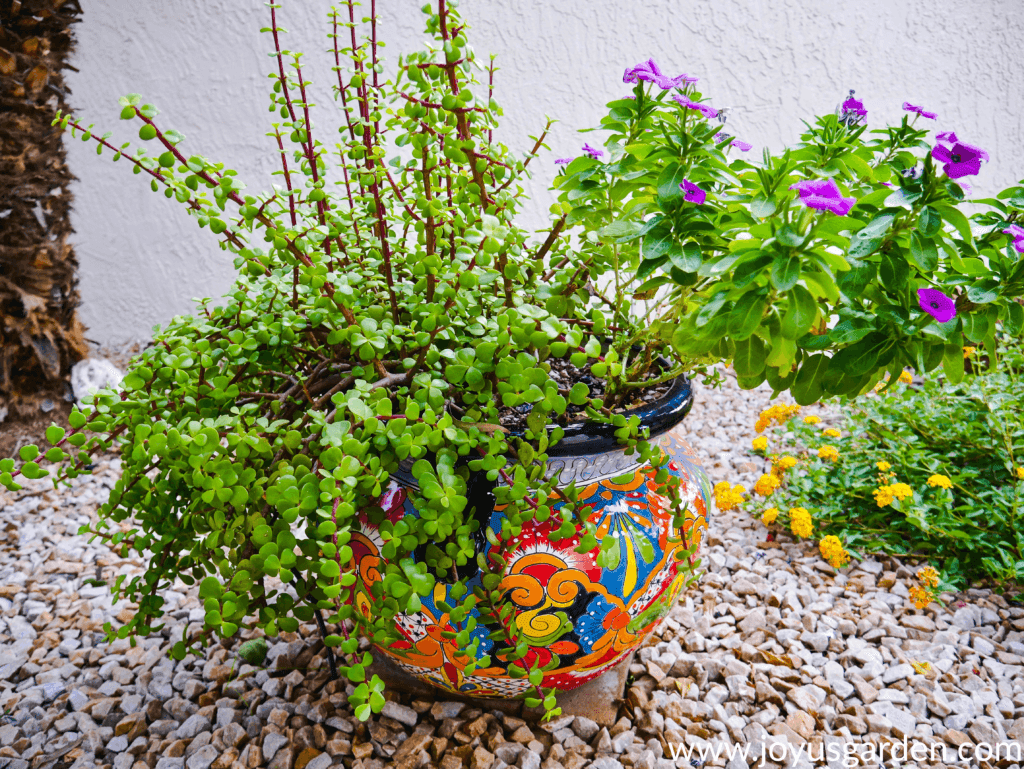 This Elephant's Food (which was looking sad & neglected) was left in a back corner of the garden by the previous owner. I transplanted it into this gorgeous Talavera pot this April. It's grown quite a bit & I've pruned & shaped it up. It's 1 fleshy succulent which can handle quite a bit of hot desert sun.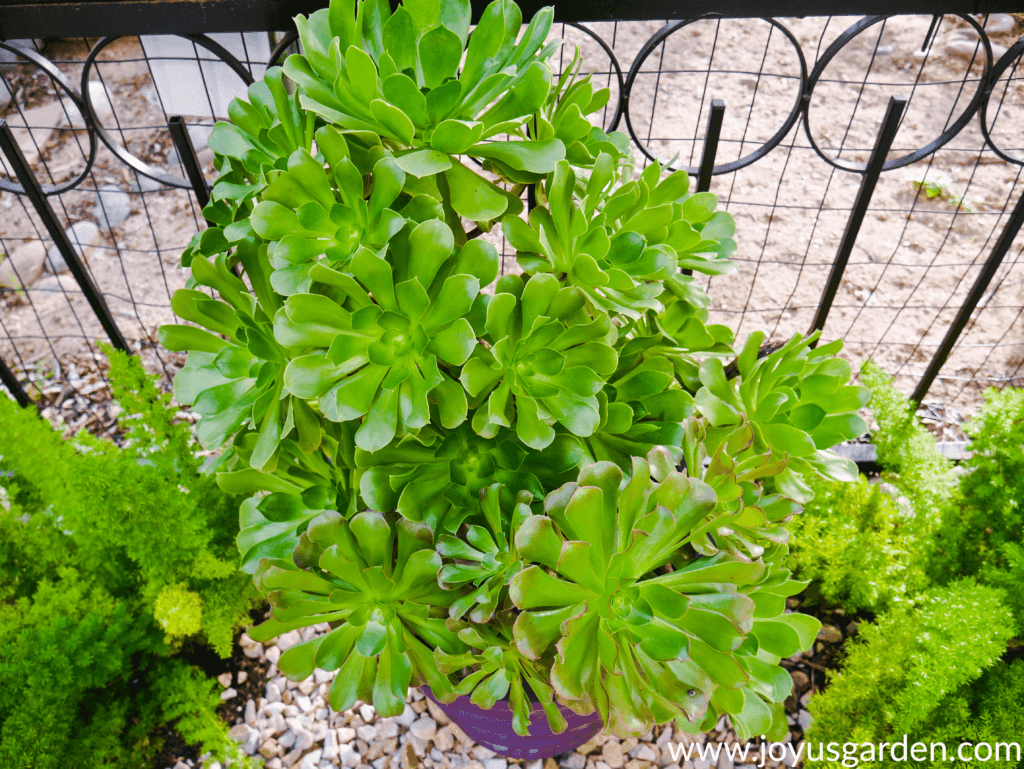 I brought these Aeoniums with me as cuttings when I moved from CA to AZ. They sat in a very shallow planter for about 1- 1/2 years & I finally transplanted them back in the summer. You can read all about planting them here.
Transplanting succulents indoors:
Many of you grow succulents indoors. I have 3 smaller pots growing as houseplants (that number will increase I'm sure!) but most of mine grow outdoors. I follow all of the what I've said above but back off on the amount of compost & worm compost added. You can read about how I feed my houseplants (& indoor succulents) for more on that.
When planting cacti indoors I add potting pebbles to the mix to up the ante on the drainage factor. Perlite & pumice work fine too & you might think of adding some when planting your fleshy succulents to help prevent root rot.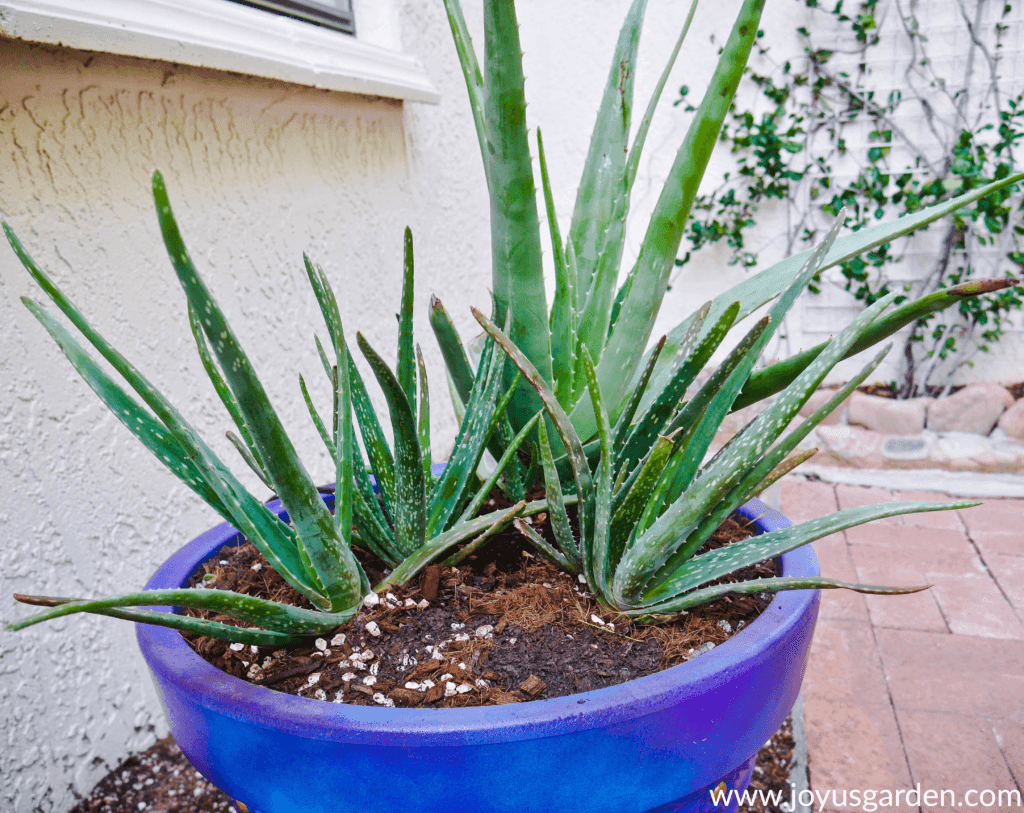 The Aloe vera mother plant produced the 2 babies in the front. I just planted these Aloes a few weeks ago & they're already pretty firmly rooted in.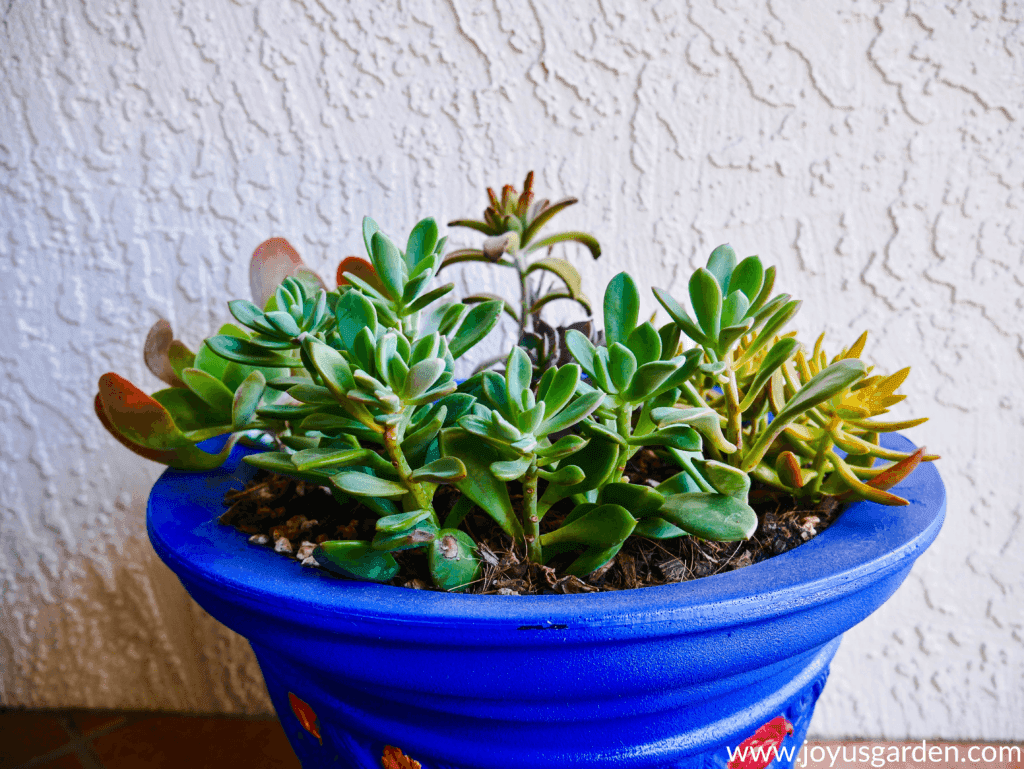 These were all cuttings I brought from my SB garden. This past year I cut these succulents all the way back because they were getting too tall & leggy. This happens to some succulents over time – just cut them back, heal the cuttings off & plant.
When to repot succulents:
Don't rush to transplant them. Depending on the type of succulent, the environment, the pot size they're in & the mix they're growing in, every 3 to 8 years is fine. They'll appreciate some fresh mix by that time.
Most succulents don't need repotting very often because their root systems are small, they don't root deep & can grow crowded just fine. Succulents aren't needy when it comes to fertilizing & feeding. I have 6 cacti growing outdoors in a low bowl with a 7″ opening & 3″ height – they're doing just fine. I will transplant 2 of them soon because they're getting too tall & it's time for fresh mix.
I typically repot my succulents soon after I buy them to get them into the mix I'd like them to be growing in. Another reason for transplanting is that they're outgrowing the pot.
Taller growing succulents, like my Pencil Cactus & Euphorbia trigona rubra, will need repotting more often. As they grow tall, they'll need a bigger base to support them.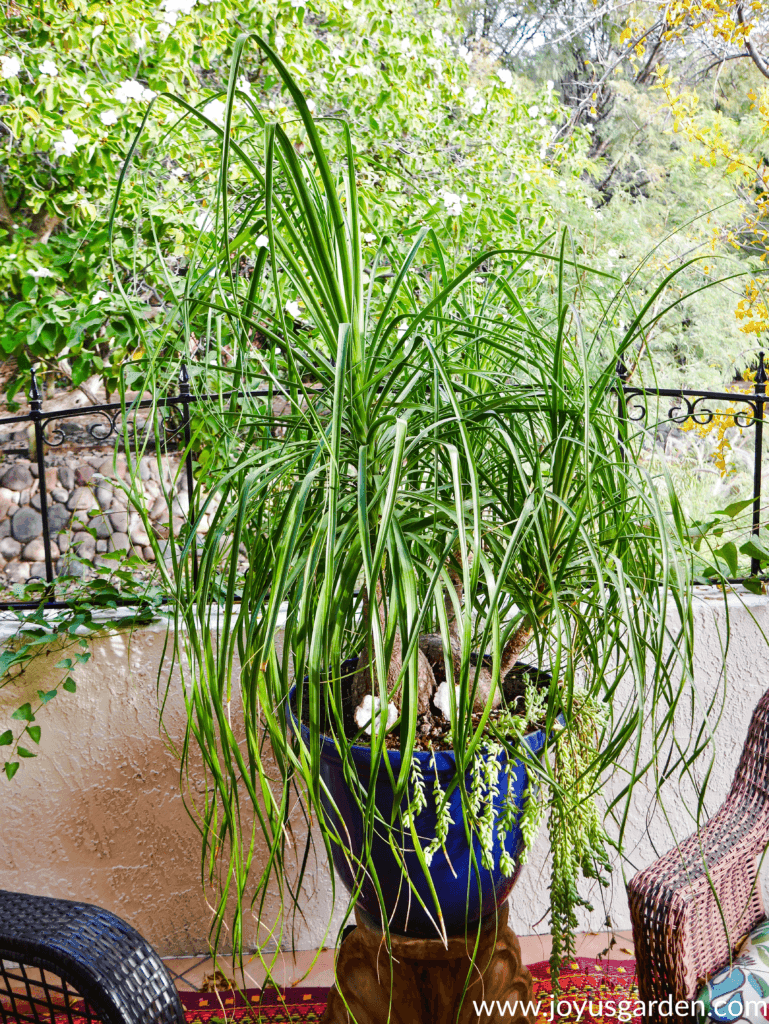 I love this 3-headed Ponytail Palm which I bought in a 6″ pot at the Santa Barbara Farmers Market about 8 or 9 years ago. It's been transplanted 4 times. You can see how planted it in this big blue pot here. I can see it from my living room & dining room which is why it gets center stage on the side patio!
I've been planting and moving succulents for years and they don't seem to skip a beat.
If you're a person on the go, then succulents are the ticket for you. I'm really getting into cacti now that I've moved to Tucson because they're "look ma, no maintenance" in this hot, dry climate. But oh those spines make working with them a challenge. Thank goodness for pasta tongs – they're my secret weapon for planting cacti!
Much more for you on everything succulents here.
Happy gardening,

Love Succulents? You Might Also Enjoy:
How To Care For and Propagate Burro's Tail
Fishhooks Senecio: An Easy-Care Trailing Succulent
String Of Pearls Scented Plant Flowers and Making Them Bloom
Growing a String of Bananas Houseplant
How To Work With Hanging Succulents Without All The Leaves Falling Off

This post may contain affiliate links. You can read our policies here. Your cost for the products will be no higher but Joy Us garden receives a small commission. Thank you for helping us spread the word & make the world a more beautiful place!
About the Author
Latest Posts
Nell, the founder of Joy Us garden, was born into a gardening family and grew up in Connecticut's countryside. After living in Boston, New York, San Francisco, & Santa Barbara, she now calls the Arizona desert home. She studied horticulture & garden design, working in the field all her life. Nell is a gardener, designer, blogger, Youtube creator, & author. She's been gardening for a very long time & wants to share what she's learned with you.