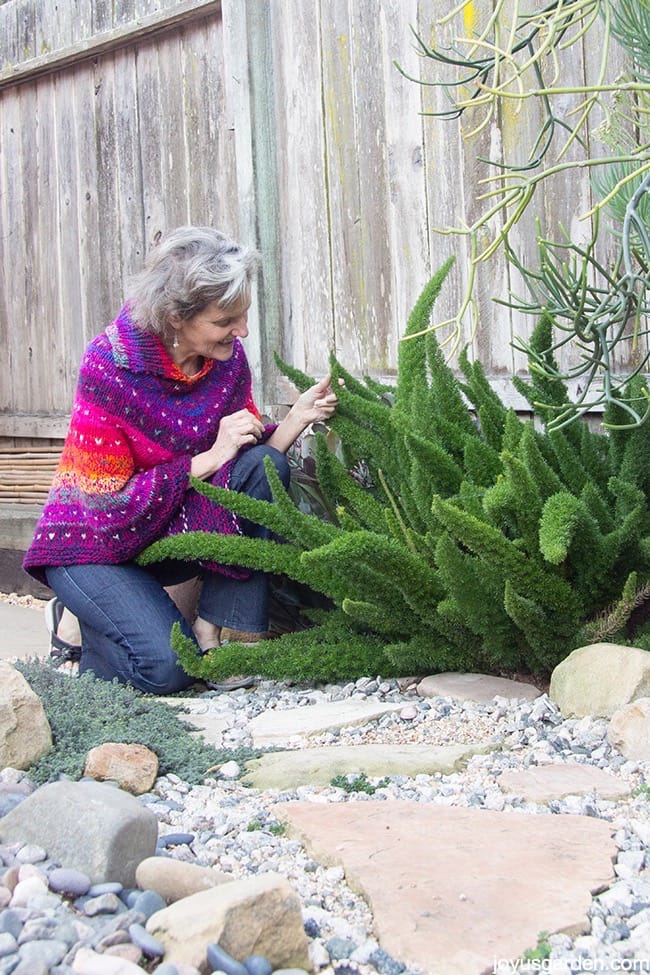 I've loved these tough yet attractive ferns ever since I saw a small 1 in a hanging pot in a greenhouse at the Brooklyn Botanic Garden many, many moons ago.
These sculptural, artsy plants have an edgy feel and definitely aren't delicate so no need to tiptoe around them.
Despite the confusing fact that this evergreen perennial has 2 common names, Myers or Foxtail Fern, it's very easy and not at all confusing to care for.
This is not the post and video I planned on doing this week but sometimes technology, or more specifically a glitch in technology, gets in the way and you have to shift gears … ya know what I mean?
However, I'm most happy to write about the Asparagus densiflorus "Meyersii", for those of you who geek out on botanic names, anytime because it makes me happy. It's easy on the eyes and requires almost zero attention from me – a winning combo in my horticultural book.
Plus, as it ages, the fronds (stems) gets a bizarrely delightful, twisting form and it reminds me of Medusa's serpent filled head.
How to Care for a Foxtail Fern (Myers Fern)
I typically call this plant the Myers Fern. If you prefer to call it Foxtail Fern, it's all good. Regardless of what you call it, here I am in my back yard taking care:
Here are some tidbits I've learned along the way about the Myers Fern & want to share with you:
Exposure
Here on the coast of California, these ferns take full sun. As you go inland, partial shade is best so be sure to keep them out of the strong afternoon sun.
Watering
Myers Ferns aren't considered to be drought tolerant but neither do they require huge amounts of water. They have a tuberous root system which stores water so be sure not to keep them too wet. They prefer to be slightly moist, not dripping wet & the top few inches of soil can actually dry out between waterings.
USDA Hardiness Zone
They grow best in zones 9-11 & will show damage if the temps go below 20 – 25 degrees F.
Oh the shape – this delightful fern loves to spread & twist!
Soil
They are said to grow best in slightly acidic soil. However, the soil in my back yard is not on the acidic side & my Myers Fern is doing just fine. Plants can be that way, sometimes they stretch the limits.
Fertilizer
I'd skip the fertilizer & just use a nice, rich organic compost.
Size
Mine is now 3′ x 4′ tall so be sure to give it room to grow. The root system is not for the faint of heart, & you can read about it in "propagation" below.
Pruning
My Felcos aren't well acquainted with this plant because it rarely needs pruning, maybe once a year. As it's grown I've had to trim a few fronds (stems) off the walkway but that's about it. The Myers Fern grows so densely that the older growth will sometimes crowd out & smother the younger growth which eventually turns brown. I leave it because it's so insignificant – I have so many plants growing year round that I can't be that picky in the garden!
Propagation
You can propagate this plant from seed which comes from the red berries it produces but division is by far the easiest way to do it. I had planted 1 in a mixed container planting for a client & noticed after a few years that the Impatiens I planted that season weren't doing well at all. It turns out that the Myers Fern's extensive root system, with all it's tubers attached, had completely taken over the pot & was actually wrapping around itself. The plant looked fine but the Impatiens with their finer, much less competitive roots were loosing the battle.
What I did will give you an idea as to how tough this plant is. I wanted to save my client's pot so it was a bit of a struggle to get the fern out. Even after I completely pried it away from the sides, the bottom wasn't budging at all. I finally got it out & ended up sawing it into thirds. My client now has 3 Myers Ferns growing in her garden which were all doing fine & growing like crazy last time I saw them. Those tuberous roots are stubborn but boy are they resilient!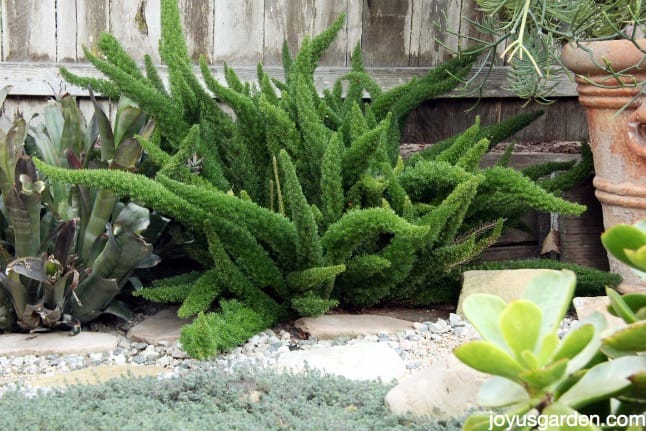 I love the color of this fern, plus, it looks great year round.
Flowers
Mine blooms in late winter into spring. The flowers, which are tiny & white, are followed by green berries which eventually red towards fall.
Pests
Mine has never gotten any. The Myers Fern is not known to be prone to any pests or diseases which makes me give it another star.
Uses
In garden beds, rock gardens, containers, hanging baskets (its close relative the Sprengeri or Asparagus Fern is used more for this) & indoors as houseplants. I've never grow 1 as a houseplant but I imagine it would appreciate being outdoors in the warmer months. Here in Santa Barbara they're often times seen planted in sidewalk beds growing alongside Birds Of Paradise. They're really quite striking when planted en masse.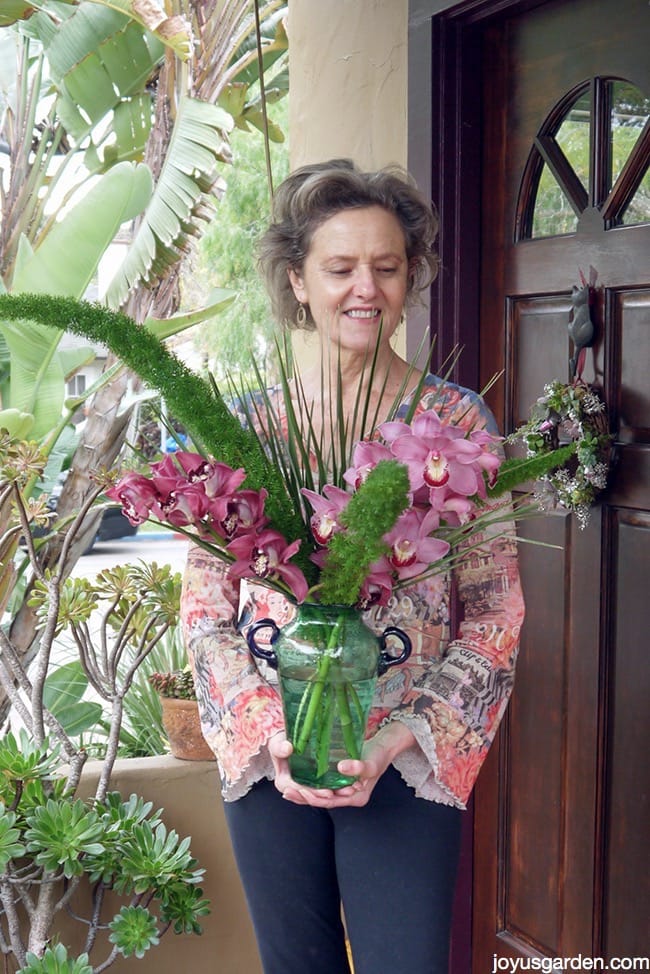 I love to use them in flower arrangements. Do you like their look too?
Other Things To Know
Their plumy spear-like stems are excellent to use in flower arrangements & can last up to 3 weeks without yellowing or dropping a leaflet. I always have a cut flower arrangement or 2 in the house & this my friend, is the main reason I prune my Myers Fern!
If you like arty plants with a bohemian twist that you can practically ignore, then the Myers or Foxtail Fern is for you. I now wish that I'd planted a row of them along that portion of the fence in my backyard but 1 will have to do for now. Hey, I could always dig it up and divide it but then again … I'd have to get Samson to do that!
Happy gardening,

You May Also Enjoy:
Roses We Love For Container Gardening
Ponytail Palm Care Outdoors: Answering Questions
The Best Tips For Growing Your Own Balcony Garden 
This post may contain affiliate links. You can read our policies here. Your cost for the products will be no higher but Joy Us garden receives a small commission. Thank you for helping us spread the word & make the world a more beautiful place!