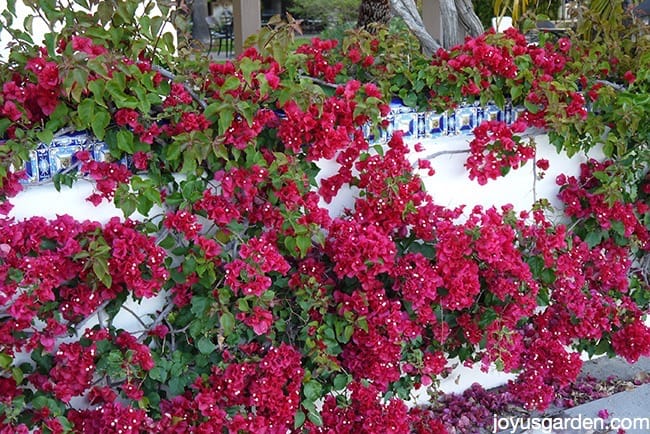 Let's be honest here, bougainvillea is not a plant I grew up with.  I thought it was some kind of exotic plant until I moved to Santa Barbara 10 years ago where it's found growing in some form or color on every block.  It's ubiquitous I tell you, yet in my opinion, it's a beautiful "weed".  I had no experience growing bougainvillea until a bought a house with 3 of them on the property.  The 1st winter they all of a sudden started loosing leaves so I had to ask the question: why are my bougainvilleas dropping lots of yellow leaves?
My Bougainvillea glabra, which you'll see in the video below, is a flowering machine.  It puts out a big show of magenta/purplish color off and on for 9 or 10 months out of the year.  It grows up and over my garage which sits at the end of a long, narrow driveway.  It gets a major "WOW" from anyone who sees it.  By the way, this is how I prune and trim my Bougainvillea to get that maximum bloom.
Here are a couple of leaves starting to turn yellow.  Even though the leaves are dropping, there are lots of flowers already open & lots soon to open.
My initial experience with the Bougainvillea leaf droppage issue had me scratching my head.  What was I not doing?  Or, was I be doing something I shouldn't be?  I did some reading and got some answers but the final confirmation of the cause came when I visited San Marcos Growers that February to pick up some plants for a client in the San Francisco Bay Area.  They are a large wholesale plant grower with an excellent reputation so with ears open wide, I listened closely to what they had to say.
Here's the scoop: Bougainvillea is native to coastal tropical areas.  It does great here in Santa Barbara where the winter temperatures rarely dip below the low 40's but the tropics we are not.  One of the causes for the leaves turning yellow (and yes, they turn completely yellow) is those cooler winter temperatures.  In our climate, though not at all extreme, Bougainvillea is semi-deciduous.  Not all the leaves fall off but maybe 1/2 of them.
See how my Bougainvillea glabra looks in the middle of winter:
The other reason why yellow leaves fall off of Bougainvilleas in winter is due to a prolonged dry spell.  The last few winters haven't been too cold here but they have been dry.  The lack of rainfall in the last 4 winters has brought on our drought (yes, a severe drought) conditions so the bougies just aren't getting the water they were used to.  After all, the tropics get a heck of a lot more rain than we do.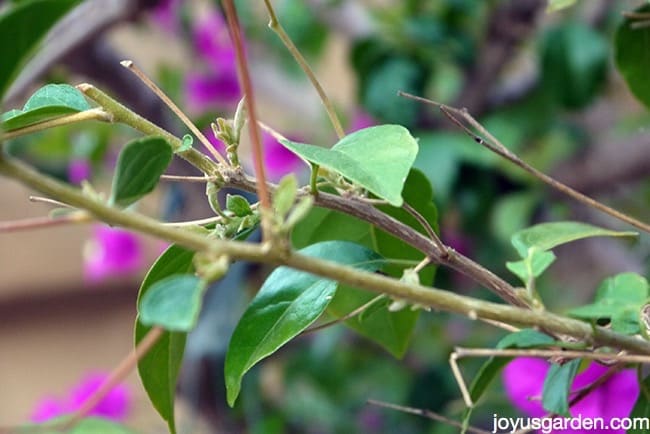 You can see the fresh new growth emerging where the leaves have fallen off.
It's interesting to me because I've noticed that some Bougainvilleas drop more leaves than others.  I've been told that some varieties tend to shed more than others do although I haven't delved too far into that topic.  What I've observed though is that Bougainvilleas in cooler, shadier, windier, etc parts of town shed more leaves than the ones in sunnier, more sheltered areas.  There's a huge hill behind my house that looks out over the ocean (blowing those cool winds!) and when I was taking my Jan/Feb walks up there a, 2 block long hedge of them had almost completely defoliated.  It has since started to leaf out like crazy now that the weather is warming.
As I say in the video, there are 2 things you can do about those yellow leaves falling off Bougainvilleas: #1 is to just let them be and  fall where they may, and #2 is to rake or sweep them up.  It's part of the natural cycle of the plant and because we don't get any colorful foliage displays at all in these parts, we'll take it as our version of fall!
Happy gardening,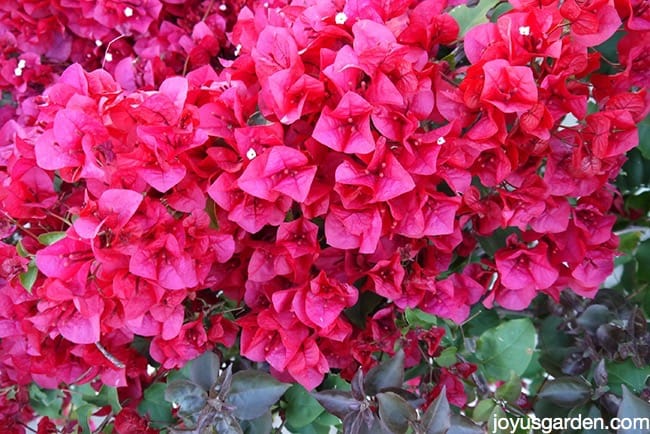 I'm including these 2 pics of Bougainvilleas in February just because they're so purdy!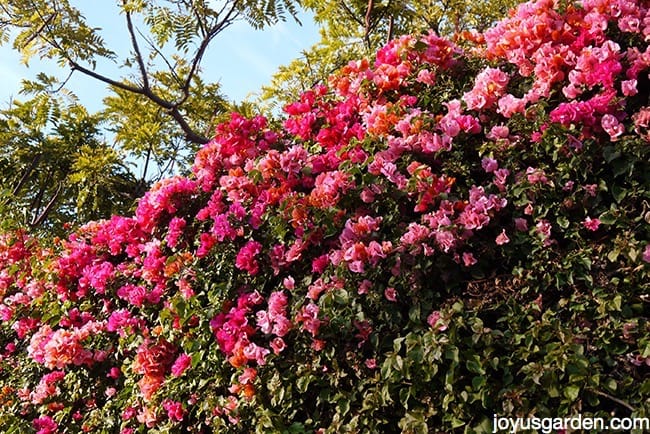 More bougainvillea care just for you!
This post may contain Amazon affiliate links. You can read our policies here. Your cost for the products will be no higher but Joy Us garden receives a small commission. Thank you for helping us spread the word & make the world a more beautiful place!