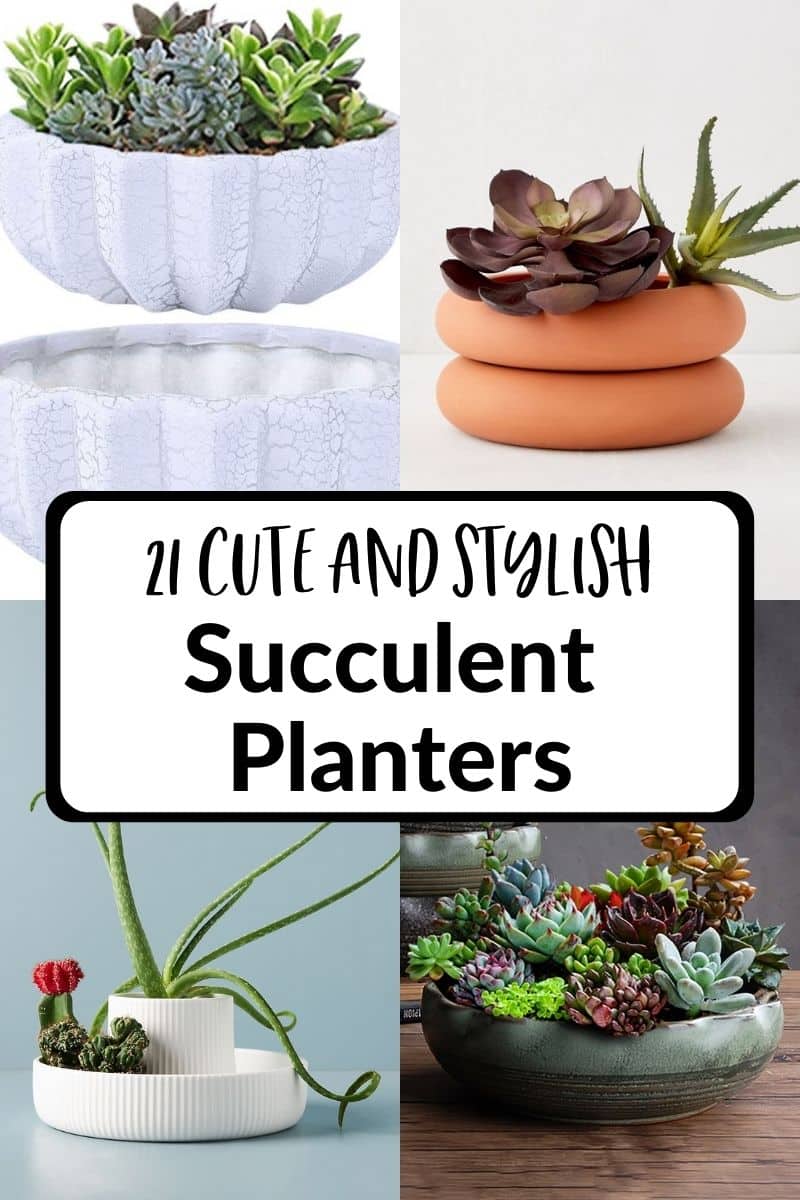 Succulent gardens are a beautiful way to bring greenery and life into your home or outdoor living space. In order to have a beautiful succulent garden, you need the perfect succulent planter. Here is a list of 21 of our favorite indoor succulent planters for your succulent babies.
Succulents have small root systems and can grow in shallow pots for a long time. It's best if the planter has a drainage hole (or 2 or 3) because succulent plants don't like to have their roots kept constantly wet.
They like to have the excess water drain out. If there's no drain hole, then put at least an inch or 2 layer of pebbles on the bottom of the pot and ease up on the watering amount and frequency.
These succulent planters that you see below come in a variety of different sizes and different shapes. They're great for planting succulents in groupings, especially small succulents.
It's important to know that succulent soil mix needs to have good drainage, be well aerated, and light. You'll be planting your indoor succulent garden and want the succulent soil to ensure optimum health and growth.
Many of these succulent planters are suitable for outdoor use too.
This post may contain affiliate links. You can read our policies here. Your cost for the products will be no higher but Joy Us garden receives a small commission.
Be sure to check out our Growing Succulents Indoors series for lots of care info.
Our Favorite Indoor Succulent Planters For Indoor Succulent Gardens:
Other related guides: 11 Gifts For Succulent Lovers & 28 Gifts For Cactus Lovers
1. Sempervivum heuffelii // 2. Sedum morganianum // 3. Sempervivum saturn // 4. Haworthia cooperi var. truncata // 5. Corpuscularia lehmannii // 6. Sempervivum tectorum // 7. Haworthia attenuata // 8. Echeveria Fleur Blanc // 9. Echeveria albicans
We hope you enjoyed shopping from this list of indoor succulent planters! If you purchase any of these planters, make sure to take a picture and tag us on social media @joyusgarden.
– Brielle