A Weeping Pussy Willow tree is a beautiful addition to a garden. Here are care tips, video included, to keep this small, attractive tree healthy and looking its best.
Tips for pruning of Weeping Pussy Willow have been surprisingly popular, to myself anyway, so I decided it was time to share everything I know about caring for this small weeping tree.
My client up in the San Francisco Bay Area ordered the 1 you see here from Wayside Gardens about 15 years ago which I planted and then maintained. It's not a plant commonly sold in those parts so I was very curious to see how it would do.
Although there were quite a few Pussy Willows growing around the pond on my childhood farm in New England, I didn't even know there was a weeping variety. Many times gardening is experimentation and I love weeping plants so I said "why not give it a go" – you know what I mean?
In short, the Weeping Pussy Willow tree of which I speak has been lovingly nicknamed "Cousin Itt" and is doing just fine. It has grown in width more than in height and turns into a massively foliated blob if not pruned a few times a year in our temperate coastal California climate.
These plants are tough and are actually pretty easy to maintain. And yes, when now left unpruned, Itt turns into the leafy version of the amusing character from the Addams Family.
Here I am with a soon to defoliate Cousin It:
Here's everything I've learned about caring for a Weeping Pussy Willow tree, whose botanic name is Salix caprea pendula:
Exposure
The Weeping Pussy Willow prefers full sun but will do fine in part sun as long as it's afternoon sun. The 1 that you see here is planted in a very sunny spot but it's right on the California coast so mornings can be foggy. Not enough sun equals poor flowering & a reduced growth rate.
Water
These plants like regular water & look much better if given an ample amount. The regular Pussy Willow (bush form) grows just fine alongside ponds & doesn't mind having its feet moist. Cousin Itt is on drip & is located at a part of the garden where the water flows down a hill & collects in this spot. Despite our California drought, Itt keeps on keepin' on!
Growing Zone
In accordance with the USDA Plant Hardiness Map, the Weeping Pussy Willow is recommended to be grown in zones 4-8. Zone 4 goes down to -24 degrees F. By the way, the 1 that you see here grows in zone 9b – 10a so sometimes you can push it a bit, depending on the plant & the low/high temperatures.
I planted Cousin Itt in spring but fall is fine too, just as long as it has time to settle in before a frost.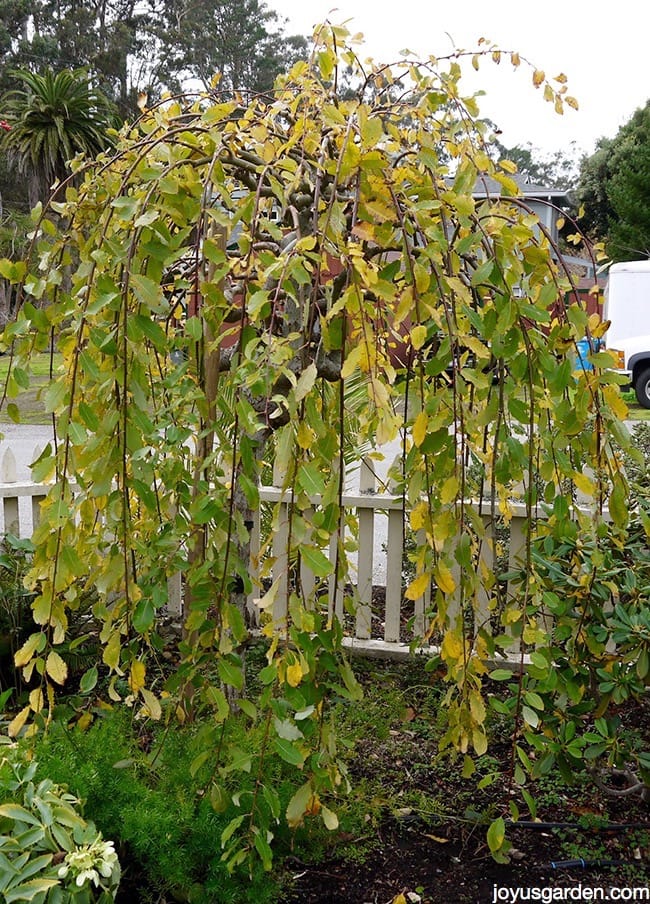 Soil
Simply put, the Weeping Pussy Willow isn't fussy about soil but prefers it slightly on the acidic side. You can amend the soil with leaf mold, coco coir &/or a good local compost – the plant will love you.
Feeding
I've never fertilized Cousin Itt but threw lots of leaf mold & coco coir into the hole upon planting. This garden gets a 2″ top dressing of a local, organic compost (over 10 cubic yards of it!) every 2 years which the Weeping Pussy Willow thoroughly enjoys.
Pruning
I love to prune & giving Cousin Itt a haircut is a creative challenge I actually enjoy. The best time to prune this plant is in the spring after it flowers. Because the 1 you see here grows in a temperate climate, it has to be pruned 3 times a year to keep it "de-blobbed".
I had to rescue it in 2011 from a really bad pruning job (a serious hack I tell you!) & because these weepers grow so vigorously & are so tough, it bounced back to its former self within a year or so.
I gave the Weeping Pussy Willow a year or 2 to get going before I pruned it. Here's how I go about pruning this plant now that's it's older & more established:
1) I remove all the sprouts coming off the trunk
2) Remove the branches & ones that cross over other branches
3) Thin out main branches to open the plant up
4) Remove some of the smaller branches which are growing upwards. If you don't want it to grow any taller, than remove all branches growing up. This plant is slowly getting taller because I leave some.
5) Remove some of the branches which grow laterally off the main branches. This branching tends to occur on the bottom half of the branches.
6) In all of the previous steps, be sure to take the branches you're pruning off all the way back to a main branch. Otherwise, you'll gets more lateral growth then you want.
7) I prune the branches up off the ground. Even though this causes lateral branching, I don't want it smothering all the poor unsuspecting plants below.
Flowering
These harbingers of spring are not only loved for their weeping form but also for their flowers. Pussy willows have catkins which are actually inflorescences of many tiny flowers.
The grey furry "pussies" (no dirty minds here please, we're talking plant parts!) are what we love to cut on long branches & put in a vase in spring; or for us, it's like winter. The masses of tiny yellow flowers will later emerge from those furry nodes.
Here are 2 reasons that your Weeping Pussy Willow may not be flowering:
1) Not enough sun OR
2) A late frost strikes after the catkins have started to appear & wipes out the flowering.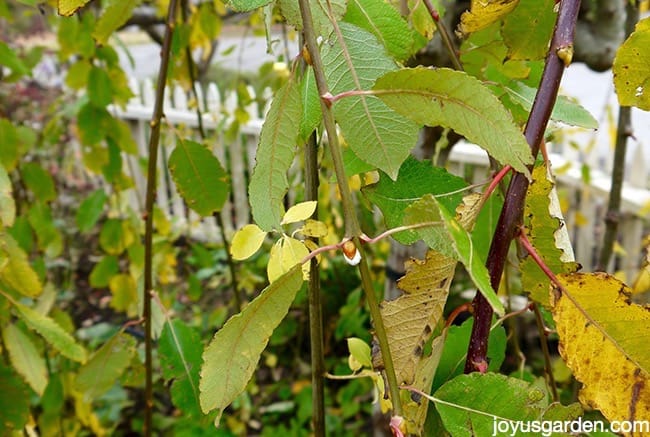 Size
Cousin Itt is already over 7′ tall. The width is about the same. I believe they max out at 8-10′ but I'll let you know in a few years!
Important To Know
1st to know: This plant is grafted (I show the graft in the video & also below). A Weeping Pussy Willow is grafted on top of regular Pussy Willow trunk. So, never completely cut below the graft because the plant will revert to the bush form.
2nd: The Weeping Pussy Willow is deciduous so don't worry when it starts to lose its leaves.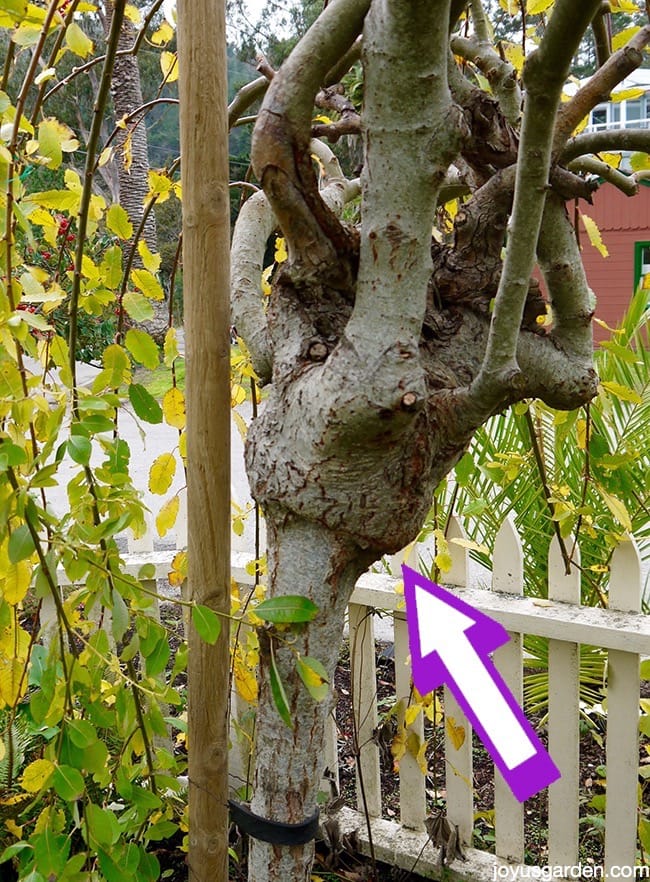 Weeping Pussy Willow trees are easy as pie if you don't mind doing a bit of pruning every now and then.
This 1 grows in a windy valley just 7 blocks away from the Pacific Ocean and blew completely over when it was about 7 or 8 years old. A few days later we uprighted it and added a bigger stake. It has a bit of a lean today but it's so full it's hard to notice. Cousin Itt is slightly off but very resilient I tell you!
Happy Gardening,

You May Also Enjoy:
Roses We Love For Container Gardening
Ponytail Palm Care Outdoors: Answering Questions
The Best Tips For Growing Your Own Balcony Garden 
This post may contain Amazon affiliate links. You can read our policies here. Your cost for the products will be no higher but Joy Us garden receives a small commission. Thank you for helping us spread the word & make the world a more beautiful place!