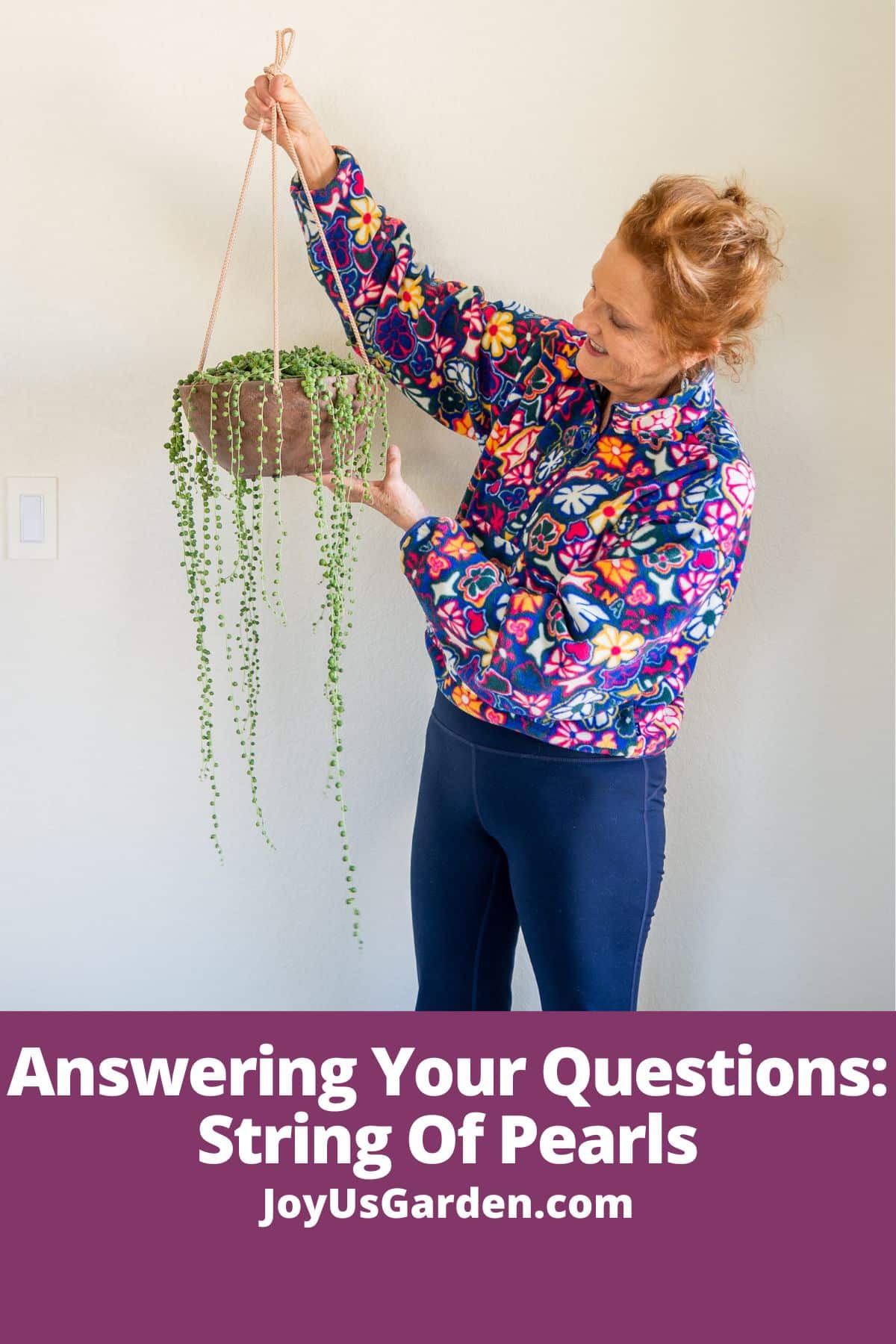 We get questions about String Of Pearls on a regular basis and have compiled those most frequently asked. The answers provided will be based on my experience of growing and caring for this plant indoors.
String Of Pearls is a fascinating hanging succulent and a very popular succulent houseplant. The long, thin stems full of beads give this plant a fun, boho feel. Everyone I know who sees this one says "cool plant!".
Beginning gardeners struggle with these so we wanted to help out. Instead of getting frustrated and giving up on trying to grow this plant take a look at our helpful tips. Something as simple as having it in the right amount of light or watering frequency can be exactly what you need to have a happy and healthy String of Pearls plant.
Botanical name: Senecio rowleyanus / Common names: String Of Pearls, String Of Beads
Our Q & A series is a monthly installment where we answer your most common questions on caring for specific plants. Our previous posts cover Christmas Cactus, Poinsettia, Pothos, String Of Pearls, Lavender, Star Jasmine, Fertilizing & Feeding Roses, Aloe Vera, Bougainvillea, Snake Plants.
Common Questions About String Of Pearls
1. EXPOSURE/LIGHT
Can String Of Pearls survive without sunlight? Can String Of Pearls go in direct sunlight? Can String Of Pearls survive in low light?
A String of Pearls plant can survive without sunlight for a short period of time but it won't grow and look its best. The optimum exposure is bright, natural light.
String of Pearls do not like direct sunlight and will burn if in a hot window.
String of Pearls can survive for a limited amount of time in low light but not for the long haul.
I have mine hanging in a large window about 2' away from the glass. It gets lots of light but no direct sunlight every day here in Tucson, AZ, and is trailing beautifully.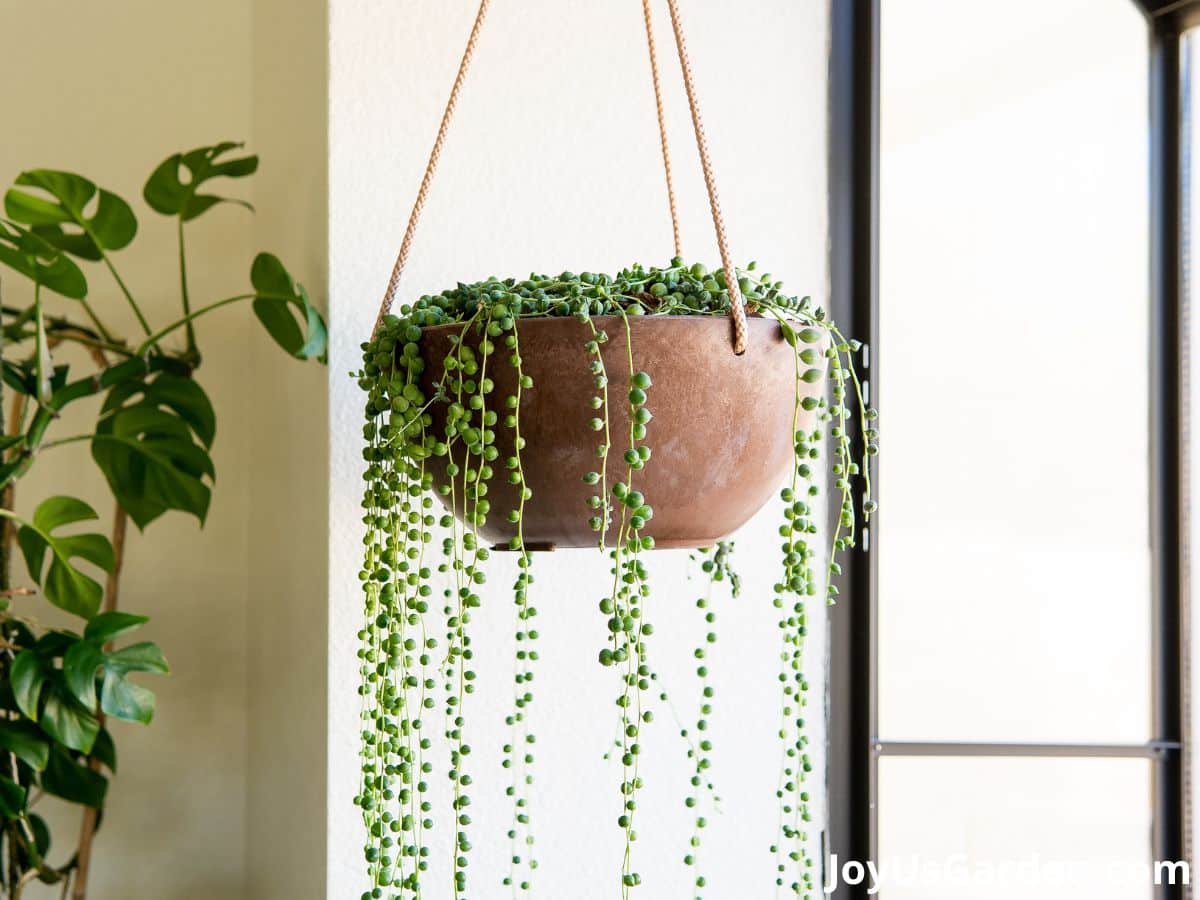 2. WATERING
How often should you water a String Of Pearls plant? How do I know if my String Of Pearls needs water? Can you overwater String Of Pearls? What does overwatered String Of Pearls look like? What is the best way to water String Of Pearls? Should I mist my String Of Pearls?
This is 1 of the top 3 questions about String Of Pearls care that I get. It's hard to give a frequency because there are variables involved. How often depends on the size of the pot, the composition of the soil mix it's growing in, and your home's environment. The best thing is to water when the soil mix is dry or nearly dry.
The pearls (aka leaves or beads) will look shriveled when they need water.
Yes, you can certainly overwater String of Pearls. Keep it too wet, and that'll lead to root rot.
One sign your String Of Pearls is overwatered would also be the pearls look shriveled. Instead of looking shriveled and dry, they look shriveled and squishy.
I have always watered her String Of Pearls plant from the top with room temperature water in the morning or afternoon. I'm not sure if the time of day makes a difference, but that's when I can best see the plant and the soil mix. You want to make sure the pot has drainage holes so the water can freely drain out.
You can mist your plant occasionally if desired but it's not needed. You can save the misting for your subtropical and tropical plants.
How I water mine: Once a week in the summer. My String Of Pearls grows in very bright light and I keep my house at 80-81F because I don't like the air conditioning too cold. Yours may not need it as often. I water every mine every 14 days or so in the winter months.
3. GROWING
Does String Of Pearls grow fast? How do you make String Of Pearls grow faster? Why is my String Of Pearls not growing? Why do I keep killing my String Of Pearls? How long do String Of Pearls live? How do you save a dying String Of Pearls plant? Why is my String Of Pearls splitting?
String of Pearls is a moderate to fast grower in bright light. Mine has grown about 10-12″ from mid-February thru mid-August. The lower the light, the slower it'll grow.
Giving it more light will speed up growth. It would also enjoy being fed 2x-3x during the growing season. I use balanced plant food, diluted to half strength. My current favs for succulents are Maxsea All-Purpose (16-16-16) and Foxfarm Grow Big (6-4-4). These are the two foods I use for all my other succulents growing indoors and outdoors.
If your String Of Pearls isn't growing, then it's not getting enough light.
If you keep killing your String Of Pearls plant, it's most likely growing in light that's too low, you're watering too often, or a combo of both.
The longest I've had one growing indoors is for 9 years. I had to cut it back after 5 years to encourage fresh new growth.
If you want to save your dying plant, you have to know what's causing it to die. The most common causes are lack of light, too much water, and the soil being too heavy. Refer to the 1st post in the pink box below for more details and reasons.
String Of Pearls usually splits from too much water because the pearls, which are full of water to begin with, get too full and open up.
Other helpful posts about String Of Pearls: 10 Reasons You May Be Having Growing String Of Pearls Indoors, String of Pearls: Fascinating Houseplant
4. REPOTTING
What is the best soil for String Of Pearls? How to repot String Of Pearls plant? When should I repot my String Of Pearls?
String Of Pearls does best in a succulent and cactus mix that is fast draining and well aerated. I make my own DIY succulent & cactus mix that I use for all my succulents indoors and outdoors.
Brands I've used that are available online include Dr. Earth, EB Stone, Bonsai Jack, and Tanks'. I haven't used these other popular choices but they get great reviews: Superfly Bonsai, Cactus Cult, and Hoffman's. These mixes all contain different components so it's just a matter of choice.
In terms of how to repot, it's best to read the post and watch the video. When it comes time to repot I always tie the long trails like ponytails and do it with care. Warning, the beads fall off very easily!
Spring and into summer is the best time for repotting. Into early fall is fine if you're in a temperate climate. Don't rush to repot your String Of Pearls every year because it's not needed. I repot mine every 4-7 years depending on how it's doing.
Full guide on repotting: String Of Pearls Repotting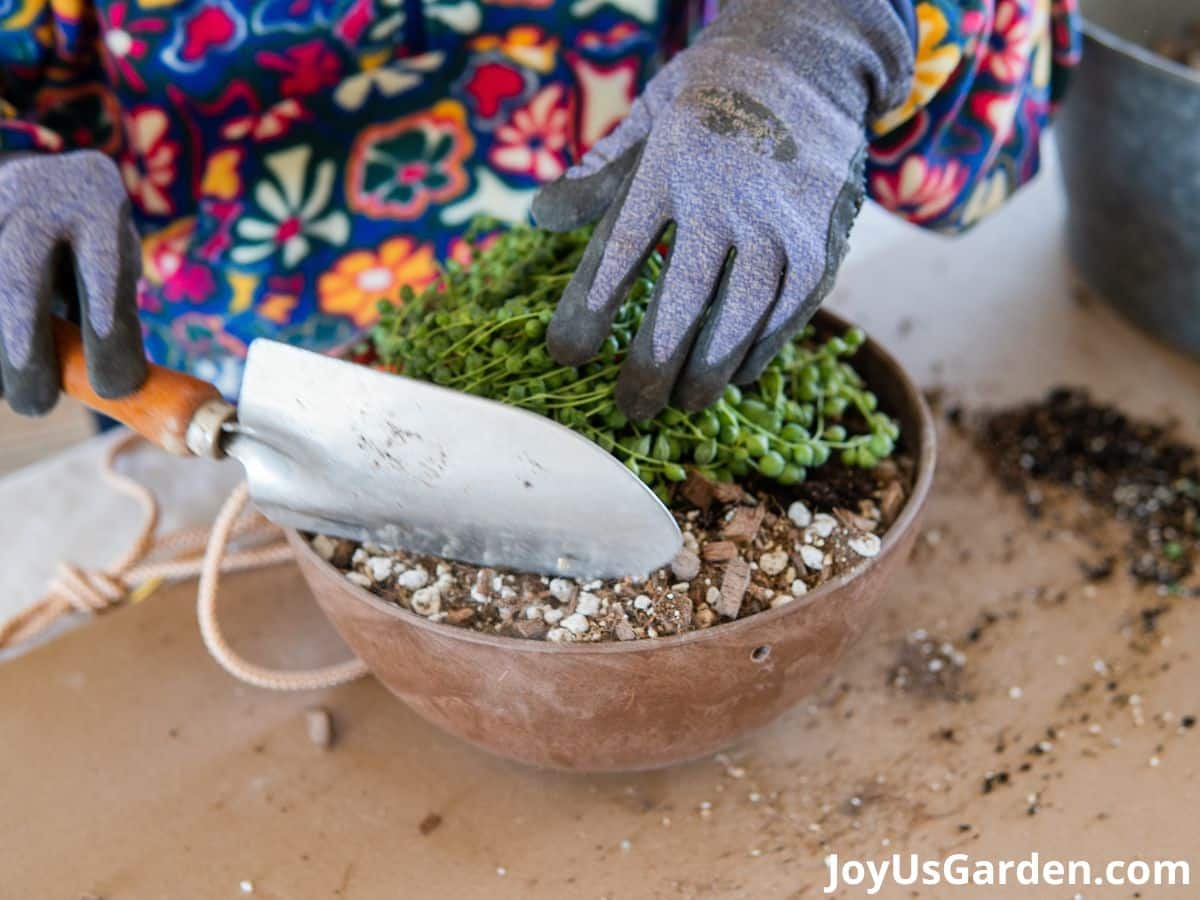 5. PRUNING
Should you prune a String Of Pearls? How do you make String Of Pearls fuller?
Yes, if it needs it, you certainly can prune String Of Pearls. A few reasons for pruning are to propagate, if it's getting too long, to encourage fullness at the top, or to take out dead or dying stems.
You can make a String Of Pearls fuller by tip pruning (if the plant looks good overall but just needs a bit of filling out at the top) or a more aggressive pruning (if the plant is getting thin on the stems and at the top).
6. PROPAGATING
Can you propagate String Of Pearls plant? Can you grow String Of Pearls plant from a pearl? How do you start String Of Pearls plant?
Yes, you can certainly propagate a String Of Pearls plant. You can do it by taking stem cuttings or the individual pearls with a piece of stem still attached.
Yes, you can grow String Of Pearls from pearls but it's a slow process of getting a plant. The rooting doesn't take long but for them to become a sizeable plant does.
The easiest way to start a String Of Pearls plant is by stem cutting. The fastest would be to divide the plant but that can be very tricky to do because of all those delicate stems. I've never divided a String Of Pearls because I'd be afraid of losing a good portion of the plant in the process.
More info: Propagating String of Pearls Made Simple
7. FLOWERS
Does String Of Pearls flower? What can I do with String Of Pearls flowers? How do I get my String Of Pearls to bloom?
Yes, they do bloom primarily in the winter months. The flowers are small, puffy, and white, with a delightful sweet/spicy scent. They are much more likely to flower outdoors on a regular basis in temperate climates versus indoors.
When the flowers start to turn brown and die, you can simply cut them off along with the dead flower stems.
It won't bloom if not getting enough light. You have a much better chance of getting yours to flower in bright natural light like the exposure mine is in.
Related: The Sweetly, Spicy Scented Flowers Of The String Of Pearls Plant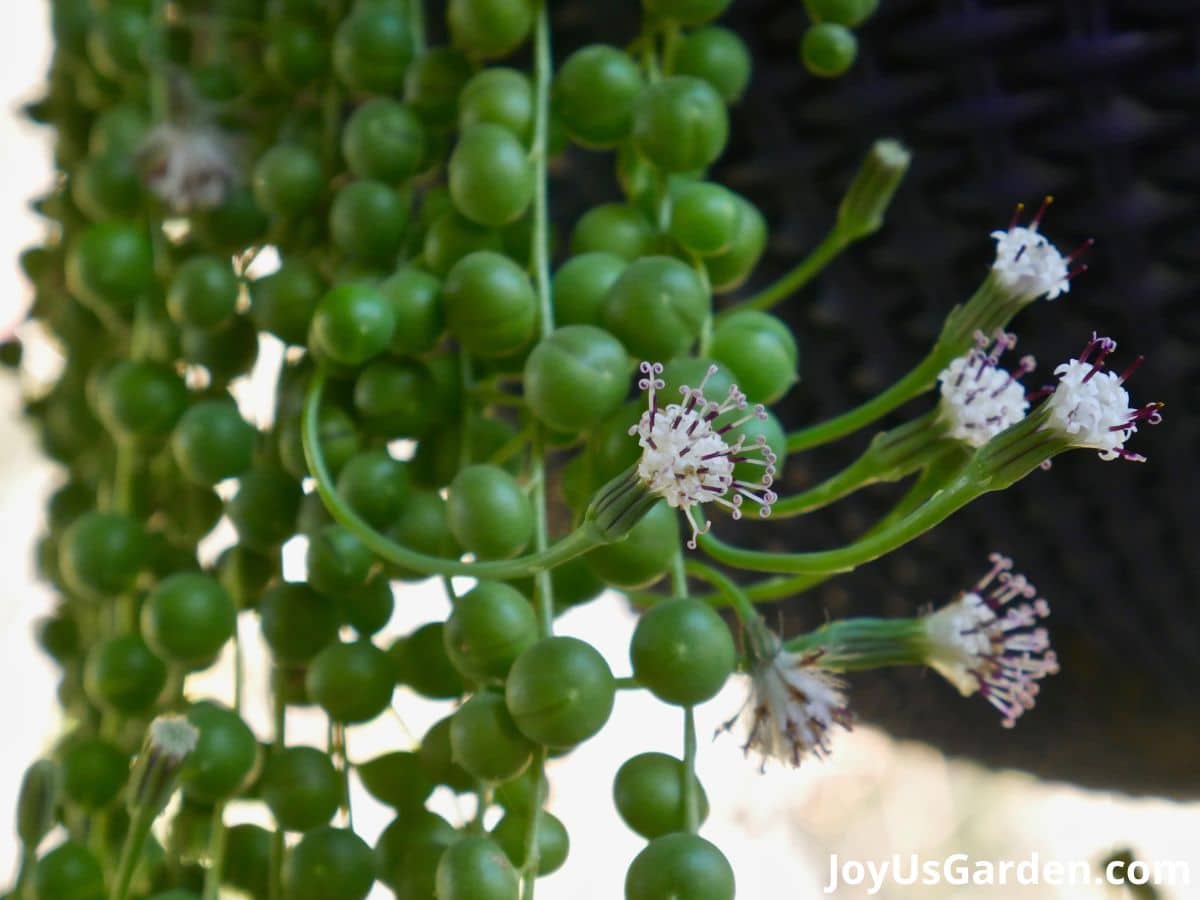 8. TOXIC
Is String Of Pearls toxic? Is String Of Pearls poisonous to humans? Where should I hang my String Of Pearls?
Like many plants, String of Pearls is considered to be toxic. I always consult the ASPCA website for this information and you should also for more details.
It is somewhat poisonous to humans and should not be consumed. In other words, don't eat the pearls! Fortunately, it is a hanging plant so it can be hung out of reach of dogs, cats, and children.
They look the best hanging so the beautiful trails can best be displayed. Hang your String Of Pearls in a spot where it receives lots of bright, natural light but not in direct, hot sunlight.
9. PESTS
What is the white stuff on my String Of Pearls?
That is most likely mealybugs. All succulents, that I know of, are susceptible to mealybugs. It looks like small white specks of cotton.
More info plus how to control them: Mealybugs & Aphids Plus How To Control Them
10. OUTSIDE
Can String Of Pearls be outside?
String Of Pearls can be grown outdoors year-round in a more temperate climate. I grew them outdoors in Santa Barbara (USDA zones 10a & 10B). I grew 1 outdoors in Tucson (USDA zones 9a & 9b) for 2 years but it eventually succumbed to the intense summer heat.
Yes, they can spend the summer outdoors in many climates. It's best under an overhang or covering as protection from the rain if you get a good amount of it. Also, keep it out of the direct sun.
More info: Tips For Growing String Of Pearls Outdoors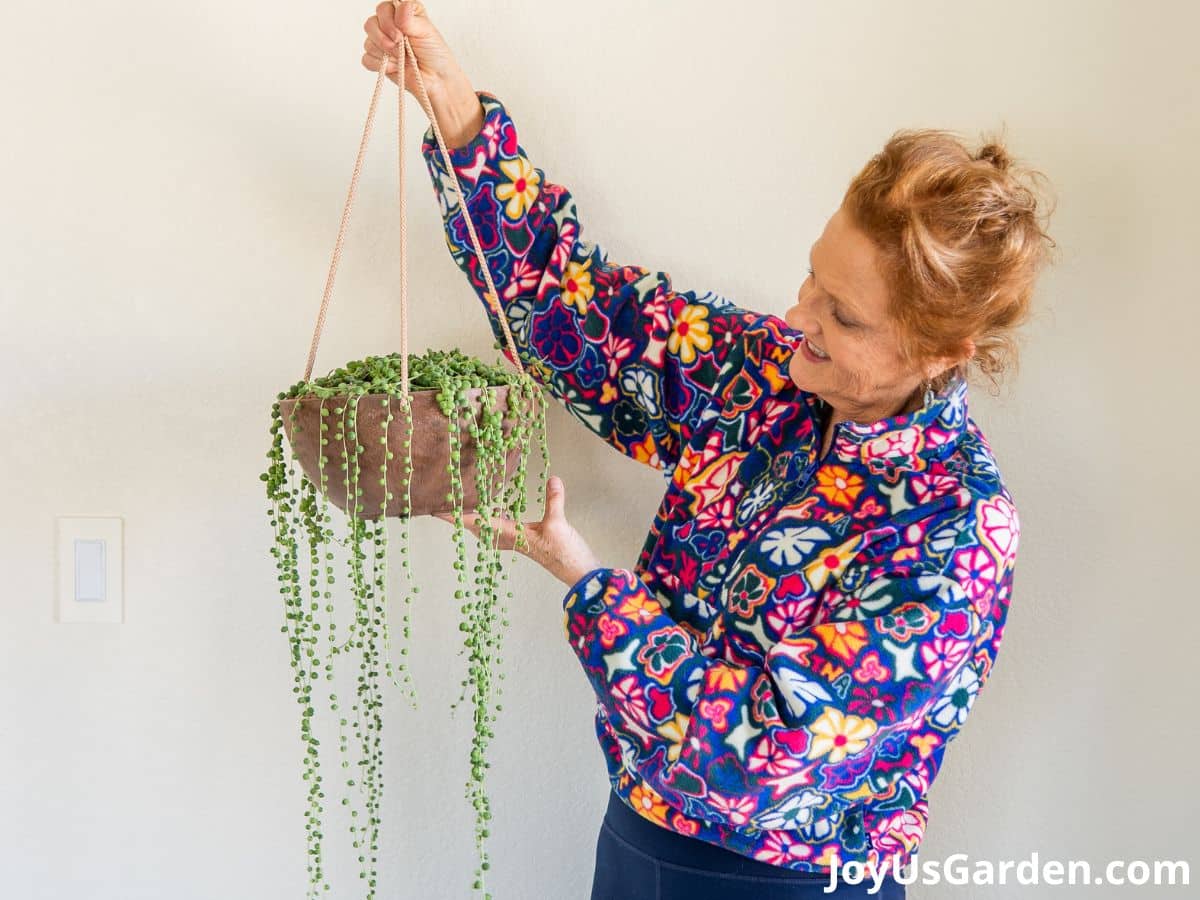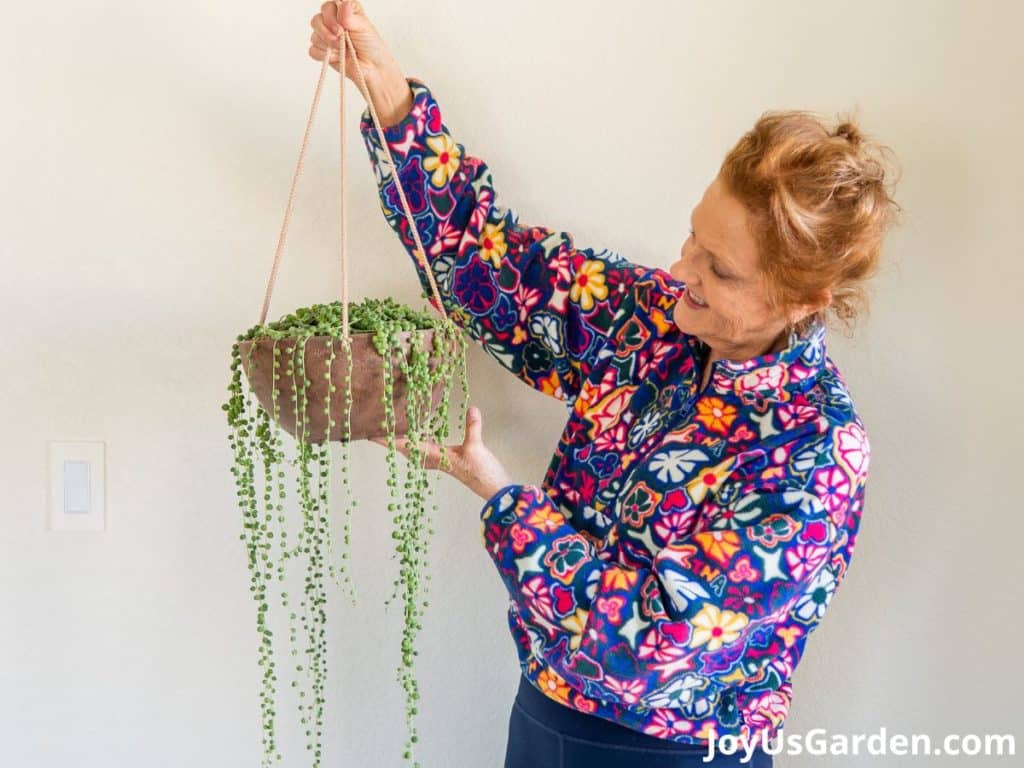 BONUS
Why are String Of Pearls so expensive? Where to buy a String of Pearls plant?
The String of Pearls stems are very fine so you need quite a few of them in a pot to make the plant look full. It's also delicate to ship and has to be packed carefully. A plant such as a Pothos has thick stems and is much easier to ship so it's much more readily available and less expensive.
String Of Pearls Q&A Video Guide
They are such cool-looking plant and we certainly think you should give them a try. If you can't find one locally, you can purchase a String of Pearls online at Mountain Crest Gardens, Planet Desert, and Etsy. These are all sources that I've bought from.
Hopefully, I've answered your questions about String Of Pearls care. This, along with all our posts, will make you more confident in growing a String of Pearls plant!
Happy gardening,

This post may contain affiliate links. You can read our policies here. Your cost for the products will be no higher but Joy Us garden receives a small commission. Thank you for helping us spread the word & make the world a more beautiful place!
I'm a life-long gardener who still to this day gets giddy at the thought of a trip to one of the local nurseries. Yes, I actually studied landscape and environmental horticulture and the practical experience I have garnered through the years has served me well. Childhood memories of chicken manure "tea" still float through my olfactory senses to this day. I have always been an organic gardener and always will be. From the Earth … To the Earth. I was born and raised in rural, bucolic Litchfield County, Connecticut and now joyfully live a few blocks from the ocean in beautiful Santa Barbara, California.