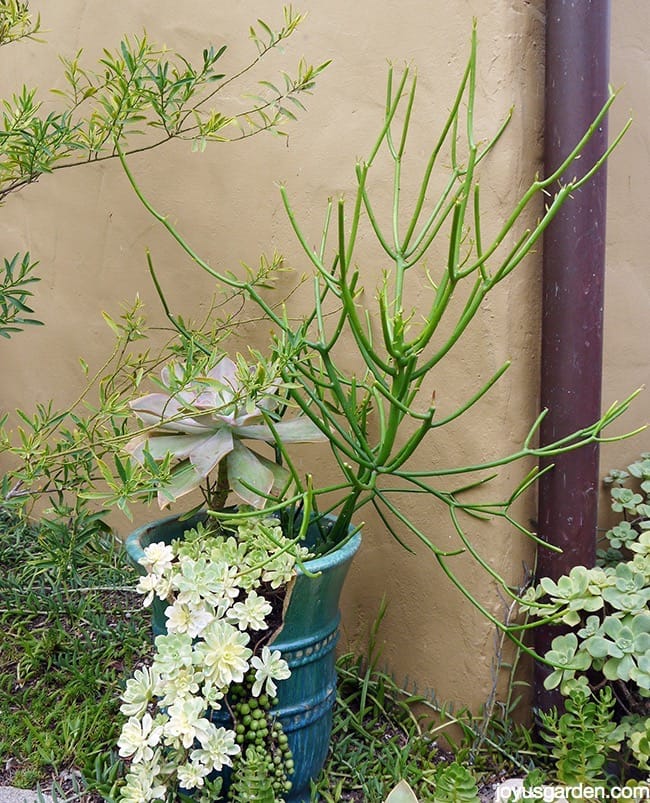 I love my Pencil Cactus & have had it for many years. It's easy as can be to care for in both the home & garden. 2 things are essential to keeping it happy, healthy & alive.
I've had my Pencil Cactus, or Euphorbia tirucalli, for a very long time now. It's not the original plant (you can hear about it's story in the video below) but a cutting that I took in San Francisco and traveled with me when I moved to Santa Barbara. I first laid eyes on it when I was installing the Macy's Spring Flower back in the late 80's and it was part of 1 of the window displays.
Now this was back before succulents became all the rage like they have been in the past 10 years or so. The show was full of rhododendrons, azaleas, hydrangeas and the like so the Pencil Cactus really turned my head. I ended up buying it when everything was taken down. It lived for years in my home in San Francisco and now in my garden here down south.
I'm in my back yard talking Pencil Cactus care:
So, I've grown it both as a houseplant and in the garden. Here's what I've learned about this succulent also called Milk or Pencil Tree:
Light: In the garden it takes full or partial sun. Mine gets full sun in the summer but in late fall & early winter is shaded by 2pm. Indoors this is a high light plant – it needs sun & all the natural light you can give it. Make sure it has a south &/or west exposure. If it's not getting light from all sides, then be sure to rotate it it every few months.
Water:  As I say in the video, you want the light to be high & the water to below.  Mine is in a very large terra cotta estate pot (28″ x 28″) & I water it every 1-2 months in the summer, giving it 2-3 big watering cans full at a time.  In your home, do the same – water it every month or so in the summer & maybe every 2 months in the winter, depending on a few variables.  This is a general guideline but I outline more specifics in this post on watering houseplants 101.  In terms of the Pencil Cactus, less liquid love is better.
Hardiness: In the great outdoors, it's hardy to 25 degrees F. And it can tolerate our home temperatures & lack of humidity just fine.
As you can see, the pot my Pencil Cactus is growing in is quite large. These plants are very heavy & as they grow larger, they need a substantial base.
Size: In its native environment in Africa, Pencil Cacti can grow to 30′ & that's why they're also can Pencil Tree. The branches start to flop as they grow tall & wide. Mine stands about 6′ right now & the tallest one I've seen was 15′ in the LA area.
Soil: Like all succulents, the Pencil Cactus needs a soil with excellent drainage. If it's in the ground, that might mean adding some loam to your soil. I got mine in bulk from a local landscape supply company. In pots, an organic cactus & succulent mix is the best thing to use. I always add worm castings & compost to everything I plant.
Fertilizer: Speaking of worm castings, this is what I amend with every spring by adding an inch layer to the top of all my pots. Pencil Cactus really don't need fertilizing, but if you want, use a balanced liquid houseplant food once a year in the spring.
They have a dense growth habit!
Pruning: I haven't pruned mine very much at all except to remove the dead & to take cuttings. This plant does need thinning. If your plant is in a pot, you don't want to prune too much off the base & leave all the growth at the top. They get top heavy & you plant could take a tumble.
Here's a BIG head's up: the plant emits a sap which is toxic & irritating to some so be sure to read this post & watch the video before pruning yours. My cat always paid no attention to my Pencil Cactus in my San Francisco home but because of the toxic sap, be sure to keep your eye on your pets around this plant.
Pests: Mine, or any that I've seen, haven't ever had any pest issues. Like most succulents, mealy bug could be an issue so keep your eye out for a white, cottony substance which usually appears in the nodes.
Transplanting: They get much harder to transplant as they get larger because of the weight issue. Also, watch out for that sap (see pruning) which could flow out if any branches break. They tend to grow fast so you may have to repot yours every 2 or 3 years.
These wacky yet wonderful plants are so very easy to grow if you give them 2 things: high light and low water. They are actually great for people who travel or tend to forget (not intentionally I'm sure, we know how that goes) about their houseplants. In the garden or in your home, the far out and fabulous looking Pencil Cactus doesn't like to be fussed over!
Happy (indoor or outdoor) gardening,
My what tiny leaves you have Mr. Pencil Cactus!