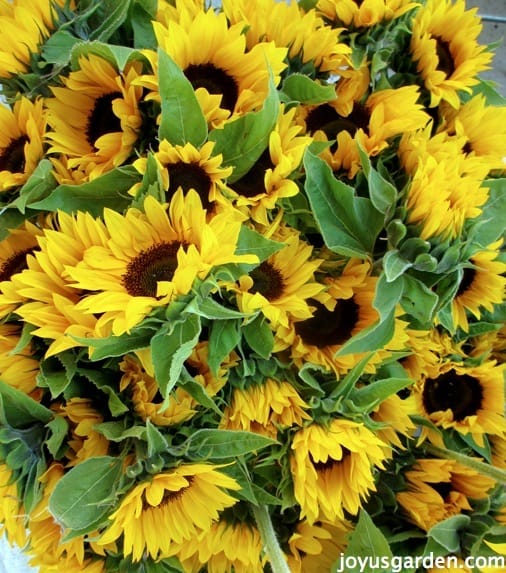 Greetings,
Goodness gracious, we're baking here in California again!  A trip to the beach is definitely in order later on this afternoon.  And, I have a mission with my visit to the shores of the Pacific – I need to find a good sized chunk of driftwood to use in a video.
Lucy will here from Laguna Beach next week for a filming marathon.  I'm going to do a video on creating a centerpiece with succulents from my garden & driftwood.  These pieces are very popular & I'm sure you've seen quite a few of them but it's always good to get a few more ideas.  Just like cooks, crafters & gardeners like to put their own twist on things.
Here are a few of my musings for you this weekend:
Oh Sunflowers – how cheery you are!  I took this picture at our Santa Barbara Farmers Market where you see them in abundance in summer & fall.  Here's more Sunflower goodness for you.
I don't live in a climate cool enough for bulbs, but that doesn't stop me from looking at them. I love this double narcissus Ice King – just gorgeous.
Having a bit of cocktail indecision? This mojito margarita might help you with that.
101 Cookbooks is 1 of the very 1st food blogs I started reading.  I love Heidi's photography, her travels & of course her recipes.
The Kitty Coleman Woodland Gardens on beautiful Vancouver Island is recognized as 1 of the world's finest informal gardens. There's something going on year round here & there are many other gardens to visit on the island.
Speaking of Vancouver Island, the Black Rock Resort is a beyond beautiful oceanfront property on the west side of the island to drool over.  Their tag line is: "set in nature, designed for comfort".  May I please have a week here?!
You never know how long whatever venue of social media will be around but for now, Youtube's dominating the world of online video. This article on Youtube's plans for 10 more years of domination is good news for creators like me but they can't sit back & rest on their laurels.  Other platforms are trying to reach that pinnacle too.
Here's a funny little quote by George Burns about staying in bed.
I saw the fun sculpture below named "Dali's Bird Of Paradise" by Morris B. Squire a few years ago at the San Diego Botanic Garden.  There are other gardens & nurseries in this area just north of San Diego so definitely check it out if you're in the area.
Have a wonderful weekend,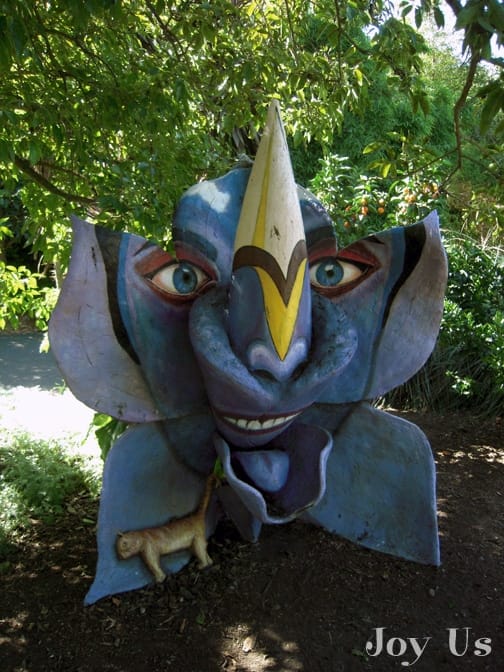 This post may contain affiliate links. You can read our policies here. Your cost for the products will be no higher but Joy Us garden receives a small commission. Thank you for helping us spread the word & make the world a more beautiful place!