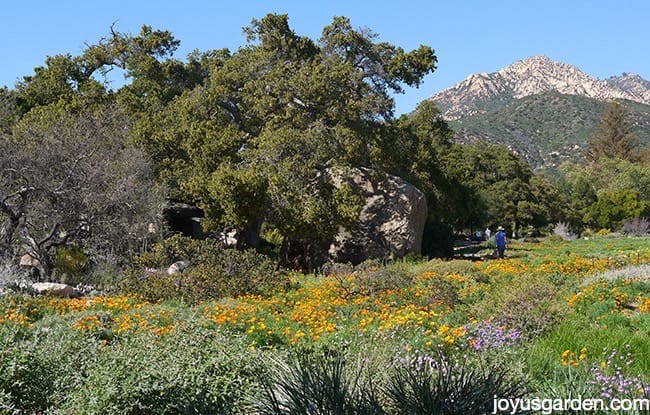 I went to the Santa Barbara Botanic Garden yesterday with my cousin who was visiting from LA. The sun was shining bright and many of the plants were blooming away. You can see the bright splashes of orange created by all the California Poppies putting on their show. It's a very different garden than others because it's considered to be a living museum dedicated to the research and conservation of California Native Plants.
It's set in a canyon with beautiful scenery and 1 part of the garden even has spectacular ocean views and you can see clear to the Channel Islands. Put it on your list to visit if you're ever in Santa Barbara – it's a great place to do a moderate hike so be sure to where comfortable shoes. By the way, late winter and early spring are great times to go because the native flower displays are at their best.
I'm moving in May so this weekend, and most others, will be spent cleaning out and organizing all the treasures I really don't need or want for donation, yard sale and to take with me. I don't mind a move every 10 years because it certainly weeds the clutter out. How did I collect so much in 10 years!
Here are some of my musings for this weekend:
It's Girl Scout cookie time & those colorful boxes are being sold in droves. I did not know this: there are only 2 bakers in the USA for all these cookies so they can vary in different parts of the country. Here you can see how the legendary cookies differ state by state.
Remember John Travolta's fabled drag race in Grease? This was shot in the viaduct beneath LA's iconic Sixth Street Viaduct Bridge along with many other movies & music videos. Well it's bye bye to the deteriorating structure & on to the new.
Of course I have to mention plants & this artwork broccoli is an AAS vegetable award winner which just became available to home gardeners. It has nice full crowns with tender stems & this plant does better in warmer temps than the other varieties of broccoli.
Oh be still my beating heart, I love orange. These African Sunset Petunias were an AAR award winner too & make a big mound of color in the garden. Combine them with purple & chartreuse & you have a major pop!
Beautiful island, beautiful garden. Picturesque Isola Bella in the Lake Maggiore region of Northern Italy is on my long list of gardens to visit.
I love salt & vinegar together & that little pucker it gives my mouth is a taste explosion. This recipe for crispy salt & vinegar fingerling potatoes is going into my digital "must make" file pronto.
Chocolate & quinoa together??? Billed as a superfood, this chocolate quinoa bark has lots of other good stuff in it too. Time to whip up a batch of it real soon but I think I'll add dried cranberries or dried cherries.
Now this doesn't appeal to me at all, but how does it sound to you? A chocolate peanut butter bourbon & bacon milkshake definitely won't be served in my house!
Enjoy your weekend,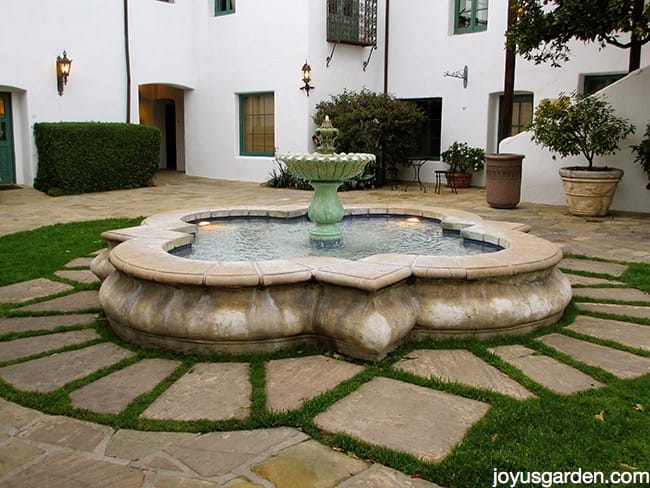 Santa Barbara has many beautiful fountains but currently they're turned off due to our drought here in California. Either they're left empty, or in the case of most, planted with succulents. This pic was taken a few years ago, back when the winter rains came.