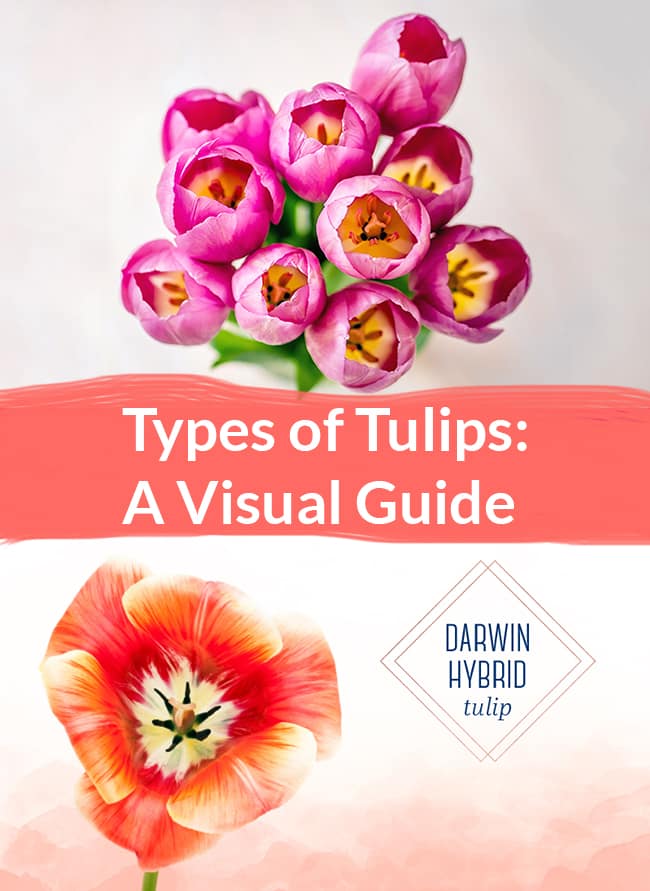 Tulips are one of the most popular spring flowers. Native to Eurasia and North Africa, they belong to the lily family. Cherished for their brightly colored, cup-shaped flowers, they are a classic flower to add to any home decor. The most popular being: single tulips, double tulips, parrot tulips, Darwin hybrid tulips and triumph tulips.
There are actually over 3,000 varieties of tulips, that belong to 14 main groups. To help you understand the differences, FTD created a guide below outlining the characteristics of each type.
14 Types of Tulips
Single early
Single early tulips are one of the first tulips to bloom. Their blooms open in cooler weather, right when winter is just disappearing, and tend to last longer. Their flowers have a distinct cup shape consisting of six petals.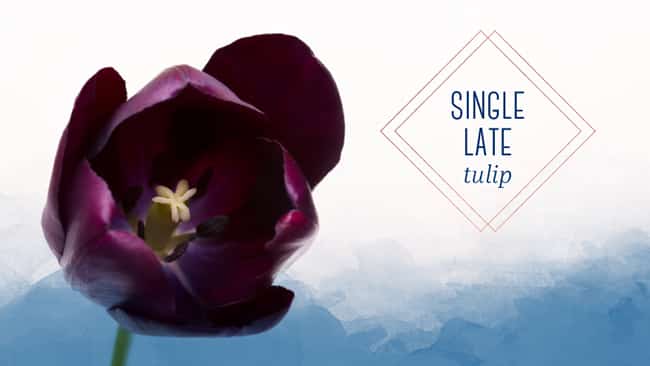 Single late
The single late tulip is one of the last to bloom, and is also the tallest variety averaging heights of 18 to 30 inches. Also known as the Mayflowering tulip, these tulips come in the widest variety of colors.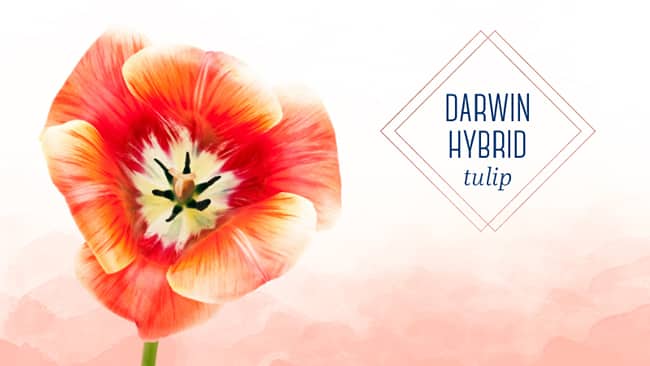 Darwin hybrid
Darwin hybrid tulips are a cross between Fosteriana and late-looming single tulips. Best known for its sturdy stems and large, pyramid-shaped blooms, they are the best variety for cut flowers.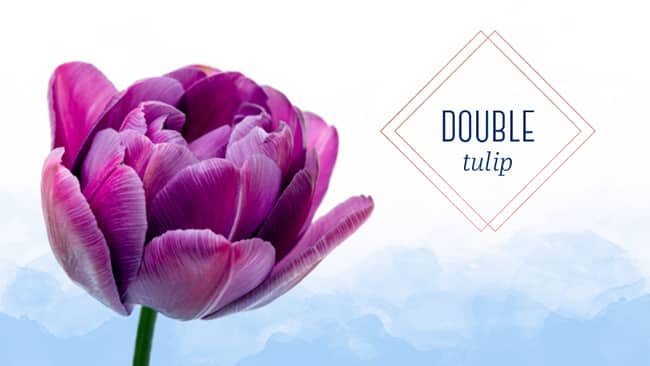 Double early and Double late
Also known as peony tulips, double tulips are known for their multi-layered blooms. They can either bloom in early or late spring, and have large blooms averaging 6-inches. During bloom season, the large blooms may require additional support from staked stems. Because they are sensitive to rain, it is advised to plant them in a sheltered area.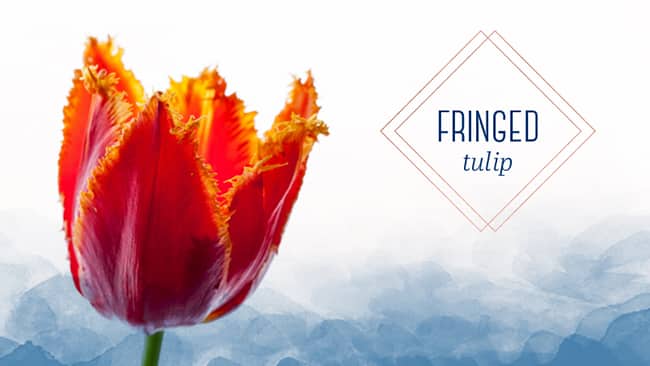 Fringed
Fringed tulips are known for their soft and frilly appearance. Also known as Crispa tulips, popular colors include pink, red, white and yellow.
Typically the fringe color contrasts with the petal giving them a striking appearance.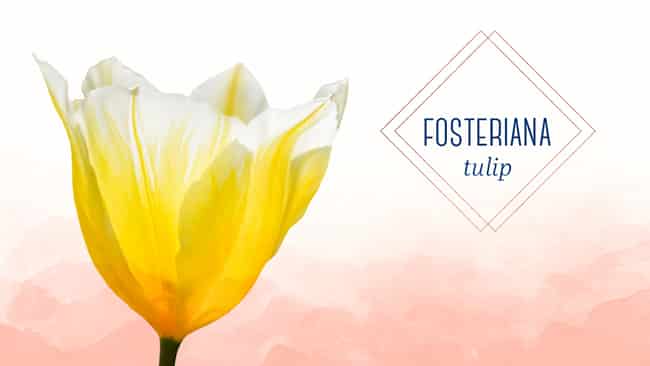 Fosteriana Tulip
Fosteriana tulips descend from the wild tulips found in the mountains of Central Asia. They have large bowl-shaped flowers that measure up to eight inches, earning them the nickname of "Emperor" tulip.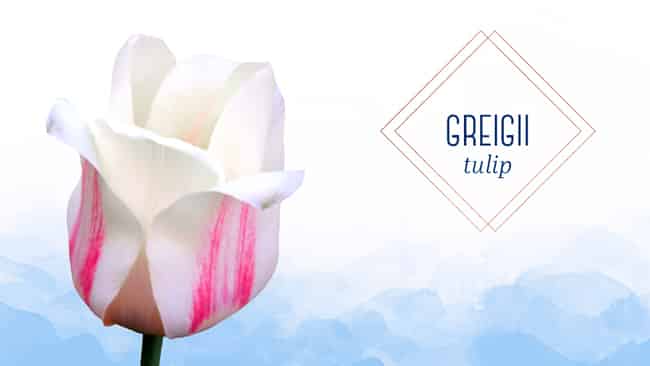 Greigii
Greigii flowers have bowl-shaped flowers that measure up to six inches across. Beneath the sunshine, these flowers can open up even wider.
Their maroon-streaked leaves are one of their most distinct characteristics. Also known as "Turkestan" tulips, they are mid-season bloomers.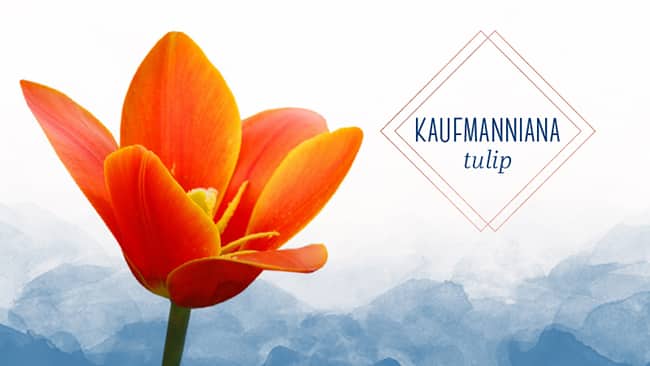 Kaufmanniana
Native to Turkestan, Kaufmanniana hybrids are one of the first tulip varieties to bloom.
Resembling waterlilies, they have pointed petals that open flat beneath bright sunlight. Thus they are also known as waterlily tulips.

Lily-flowered
Lily-flowered tulips are late spring bloomers. Their star-shaped flowers have long pointed petals that arch outwards. These uniquely shaped blooms come in a variety of colors with contrasting edges. They have tall stems ranging from 14 to 24 inches.

Parrot
The parrot tulip is one of the most popular types of tulips. Known for its exotic and feathery appearance, they have ruffled petals with streaks of contrasting colors that evoke the feathers of a tropical parrot.
They are available in a variety of colors including pink, red, orange, purple, yellow, green and white. Since they have longer stems and large blooms, they are considered to be one of the more delicate types of tulips.

Viridiflora
Viridiflora tulips are one of the longest blooming varieties. Also known as the green tulip, their most striking feature is the streak of green on their petals that contrasts to the base color. Most viridiflora tulips bloom in late springs and have stem heights that can reach 16 to 24 inches.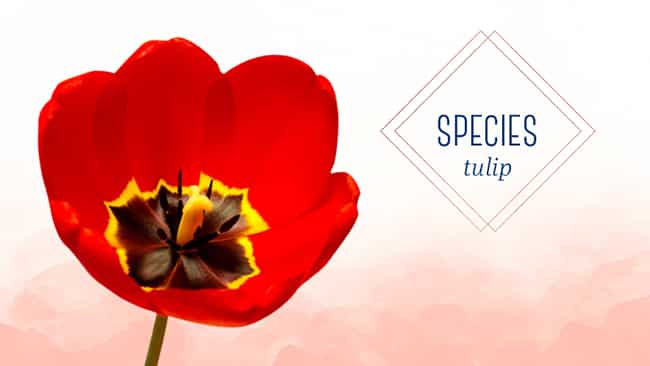 Species
Species tulips are descendants of one of the very first tulips. Also known as botanical tulips, they are native to the Mediterranean. Amongst the smallest types of tulips, they have stem heights that range from three to eight inches. Species tulips are also one of the longest lasting tulips and are the most perennial of all tulip varieties.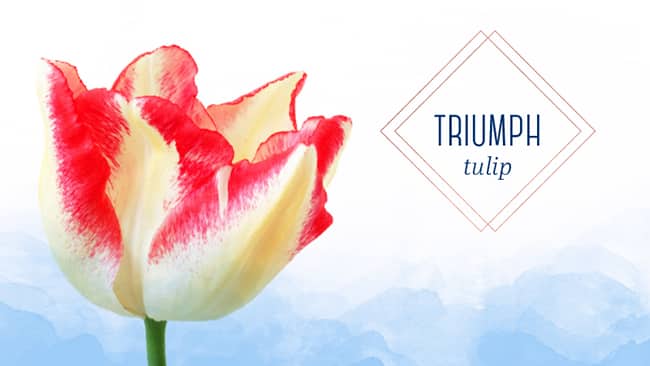 Triumph
Triumph tulips have sturdy stems with cup-shaped flowers. Able to withstand colder temperatures, they are midseason bloomers. A cross between Single early and Darwin tulips, they are available in almost every color including popular colors like pink and apricot. They are an excellent choice for cut flowers due to their long vase life.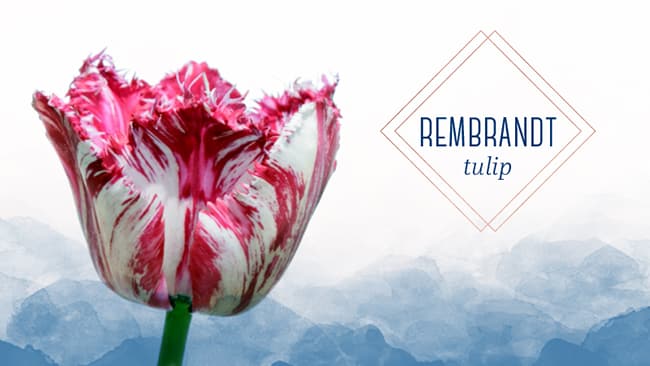 Rembrandt
Rembrandt tulips have deep purple streaks that were originally caused by a virus spread by aphids.
Today, they are intentionally bred to be this way and are one of the most striking varieties of tulips. One interesting fact about these tulips is that they are named after the famous Dutch painter!
Since there are so many different types of tulips, here is a handy guide to help you easily identify your favorite types. This infographic includes a list of each type's most distinguishing characteristics including bloom time, flower shape, and height.
You may also enjoy:
This post may contain affiliate links. You can read our policies here. Your cost for the products will be no higher but Joy Us garden receives a small commission. Thank you for helping us spread the word & make the world a more beautiful place!
I'm a life-long gardener who still to this day gets giddy at the thought of a trip to one of the local nurseries. Yes, I actually studied landscape and environmental horticulture and the practical experience I have garnered through the years has served me well. Childhood memories of chicken manure "tea" still float through my olfactory senses to this day. I have always been an organic gardener and always will be. From the Earth … To the Earth. I was born and raised in rural, bucolic Litchfield County, Connecticut and now joyfully live a few blocks from the ocean in beautiful Santa Barbara, California.