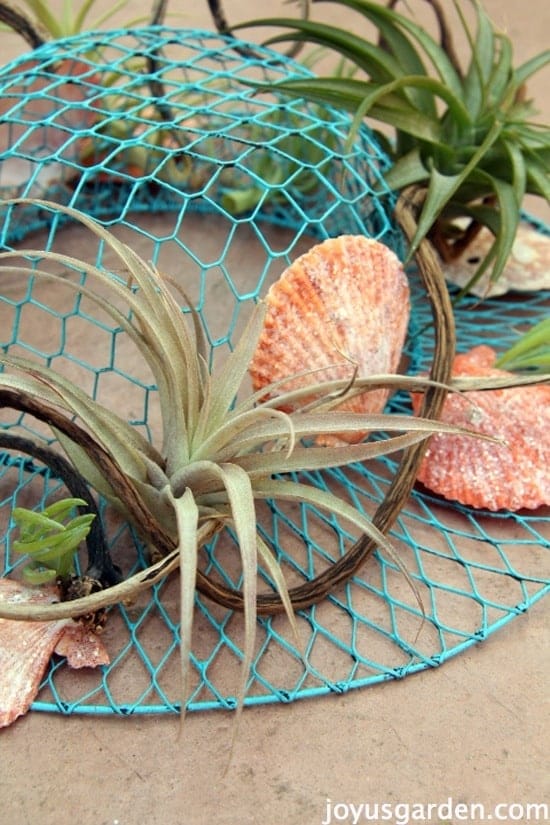 Get ready wire hat form because you will be painted and decorated in many ways throughout the years. For the first go round I decided to use silk flowers and butterflies which you can see right here. It's summer, the sun is shining and the Pacific is only seven blocks away so for round two I decided to transform the hat into a summer centerpiece, beach style. This would be great to use for any festive occasion or even as an accent piece in your home if you love the sea.
Here's the story on how I found the wire chapeau. I was going to visit a friend one evening and much to my delight, right alongside to where I parked, was a pile of free stuff. I found a few treasures, because after all, you know what "they" say about one man's trash and another man's treasure. Yup, so true. One of my finds was the wire hat form that you see below. What a groovy centerpiece for a summer party or bridal shower this will make, thought I. Gussied up of course.
The wire hot form was black but the paint had seen better days. It was half covered in ratty old silk flowers and faded ribbon so off they came. For this beachy, breezy project I decided to lighten the hat up. I'm on a furniture transforming kick these days and this cheery blue was left over from a side table I painted. I like to use every drop of paint I buy – no waste around here. Who knows what color I'll paint the hat next!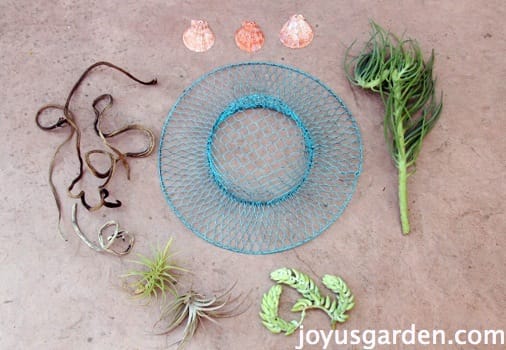 here's a sampling of the ingredients used
List of Ingredients:
* wire hat form
* air plants, I used 6 of them
* succulents, I used Senecio mandraliscae or Blue Chalk Sticks
* wacky sea sticks, these wash up attached to long pieces of kelp & when they dry, turn into these crazy sticks which are great for crafting
* floral wire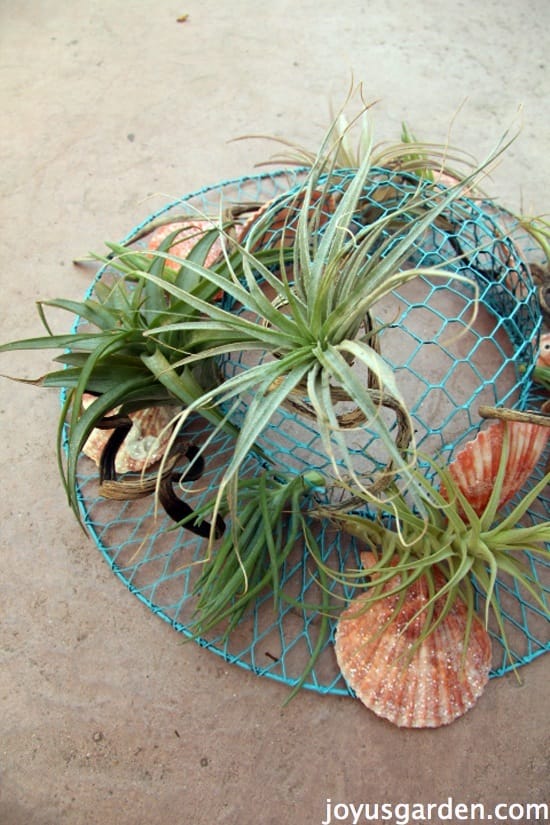 I wired on the sticks, shells & succulents. the air plants tucked in & held just fine without it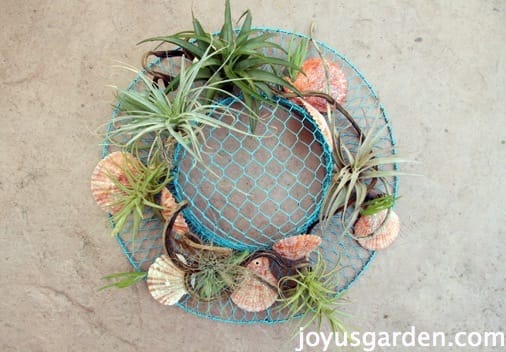 all done
After the party is over, you can enjoy this summer centerpiece creation in your home. It'll look good for years if you keep it in bright light but out of direct sun and give the air plants a spray once or twice a week. If you want more info on caring for air plants aka tillandsias then click here. I've done lots of crafting posts (most with videos) and you can check out a sampling of them by clicking on this page. Gee wiz … it's July already. I hope you're all enjoying the long summer days!
Do you want some air plants of your very own? Take a look at these air plant essentials!
This post may contain affiliate links. You can read our policies here. Your cost for the products will be no higher but Joy Us garden receives a small commission. Thank you for helping us spread the word & make the world a more beautiful place!