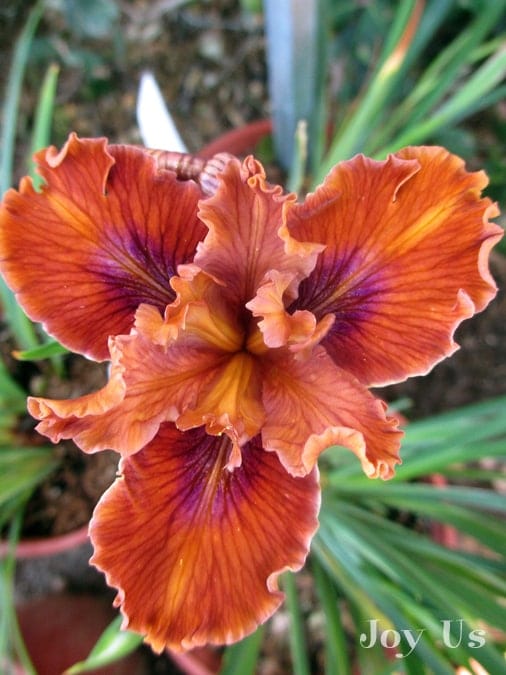 We are busy getting ready for Grow! A Garden Festival at the Los Angeles Arboretum taking place this coming weekend so our post on these beautiful Iris will be a shorter one. The Douglas Iris, their cultivars and the hybrids are California native plants. I saw them in full bloom at the Santa Barbara Botanic Garden on April 19 during California Native Plant Week. They were growing in a wide range of conditions – sun, part sun, shade, on slopes and by streams.
The most vigorous grower of all that I saw was the I.d. "Canyon Snow". It is rumored to be the most floriferous of all – evident by the picture below. It is also one of the most dependable selections and therefore available at many wholesale nurseries.
I referred to the book "California Native Plants for the Garden" to discover a few more facts about these plants as many were not named at The Garden. It turns out that only a few are sold by name and the rest usually lumped under the label "Pacific Coast Hybrid". Unless you buy them at bloom time it's hard to know what you're buying – your purchase may turn out to be a surprise! Browse through the pictures below and you'll see the wide range of colors and shades of their blooms.
This is Iris "Canyon Sunshine" (a SBBG Cultivar)
They are easy to grow but do not like extreme conditions like strong sun, intense heat or drought. Good drainage is a must. Cutaway the infloresence after blooming and likewise with the foliage all the way back to 2″ in the late fall to discourage rust (which the leaves are prone to). If you purchase a plant in the spring, it is better to keep it in the container and wait until late fall to plant it.
The pictures below are a few of the named PCH irises were for sale in the nursery at The Garden. This is a direct quote from the book I referenced above: "Many PCH irises are fussy garden subjects, having often been bred for gorgeous flowers at the expense of disease resistance".
Iris "Brown Velvet"
Iris "Lines That Rhyme"
Iris "Black Eyes"
Iris "Patrick's Halloween"
Well, this post turned out a little longer than expected! My take on these showy spring bloomers (April through June) is that they are best planted in woodland or naturalistic settings or with other native plants. The flowers, not the foliage, are what is their appeal!
This post may contain affiliate links. You can read our policies here. Your cost for the products will be no higher but Joy Us garden receives a small commission. Thank you for helping us spread the word & make the world a more beautiful place!