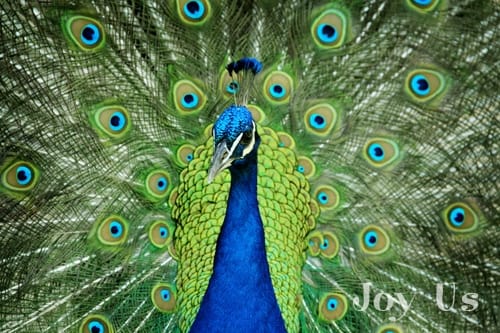 Punica granatum or Ornamental Pomegranate
I'm hot off the heels of Grow! A Garden Festival at the Los Angeles Arboretum, going on the Garden Lovers Tour here in Santa Barbara for National Public Gardens Day tomorrow and will be heading to the San Francisco Bay Area the day after that to work on a garden renovation – busy times indeed! I wasn't able to walk around the Arboretum too far past Ayers Hall and the Desert Garden so most of the plants you'll see in this post were for sale. Be sure to scroll all the way to the end – I've saved the peacocks for last!
Here are a few of the plants which caught my eye just steps away from Ayers hall where our booth was.
Beaumontia jeroniana or Nepal Trumpet Flower
Cacti and Succulents in the Desert Garden
Caesalpinia gilliesii or Yellow Bird of Paradise Shrub
Succulent Planter outside of Ayers Hall
Here's a sampling of some of the plants which were for sale – not all of them but just a few pictures which turned out decent enough to show to you! I have included the websites of the vendors I'm sure of in case you're interested in what you see.
Monrovia Growers
Rembrandt Pelargonium from Greenwood

I believe these were done by volunteers at The Arboretum
Flower of a Pitcher Plant from Mesa Exotics
Grapefruit Mint from Diane's Herbs
And now, I've saved The Arboretums most colorful residents for last. It is mating season for the peafowl so wild, vivid displays and quivering tail feathers were everywhere.
Shoplifters fleeing the scene!
This post may contain affiliate links. You can read our policies here. Your cost for the products will be no higher but Joy Us garden receives a small commission. Thank you for helping us spread the word & make the world a more beautiful place!