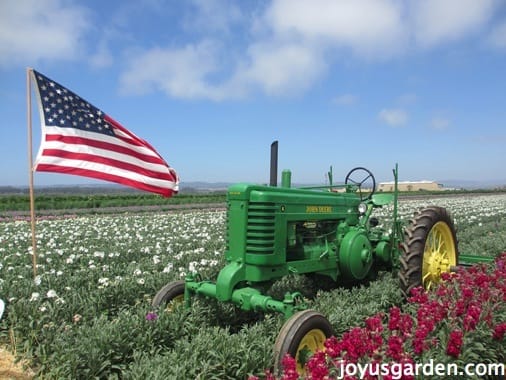 Last July I had an unexpected surprise when Debra Prinzing, author of Slow Flowers and advocate for American Grown Flowers, invited me to a luncheon hosted by Ocean View Flowers the very next day. Was I free?  Heck ya.  This delightful event was one of many that was a part of the California Association Of Flower Growers and Shippers' Fun n' Sun 5 day extravaganza.  Flowers and food – sheer bliss!
As I was driving up to foggy Lompoc the next morning I had no idea that we would all be having lunch smack in the middle of flower filled fields.  Not a little field with a couple of rows of flowers or someone's cottage garden.   We're talking grower's fields – miles and miles of flowers in full bloom grown for the cut floral trade.  Wowza!  So, grab a cup of coffee or a glass of wine because this post has lots of photos.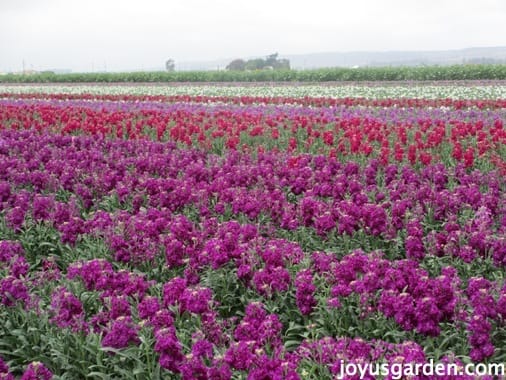 Here's what I'm talking about – miles of sweet/spicy stock.  I could have camped out in these fields for days.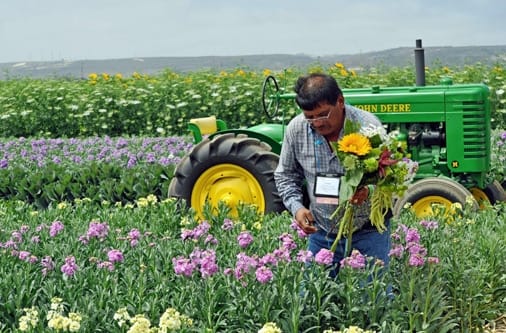 A bouquet fresh from the fields!
We'll start out in Ocean View's state of the art packing facility. The flowers sit here overnight and fans draw the moisture out so the flowers are dry when packed.  Nobody wants mildewy flower bouquets after all. Approximately 30,000 bunches are processed a day and it takes only 4-5 days from the time the flowers are cut to get to your table. Their 3 biggest crops are stock, larkspur and delphinium but they have 50 others offerings from artichokes on stems to love lies bleeding to rosemary.  Let the floral parade been – California Grown Flowers at their finest!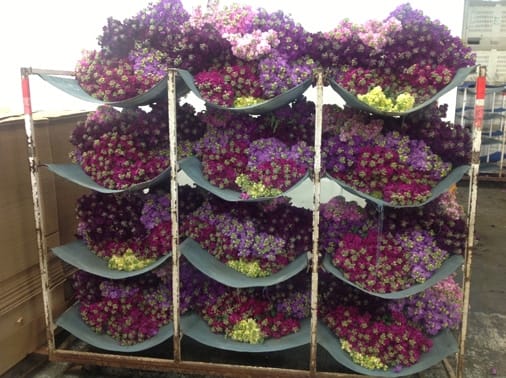 Stock anyone?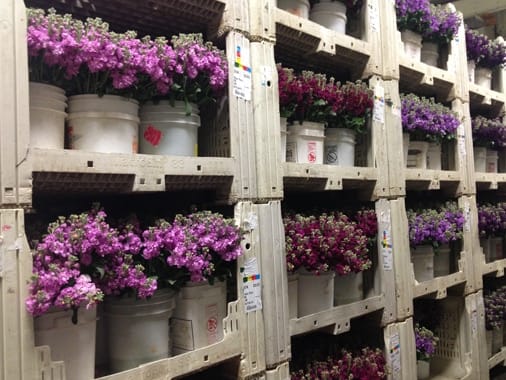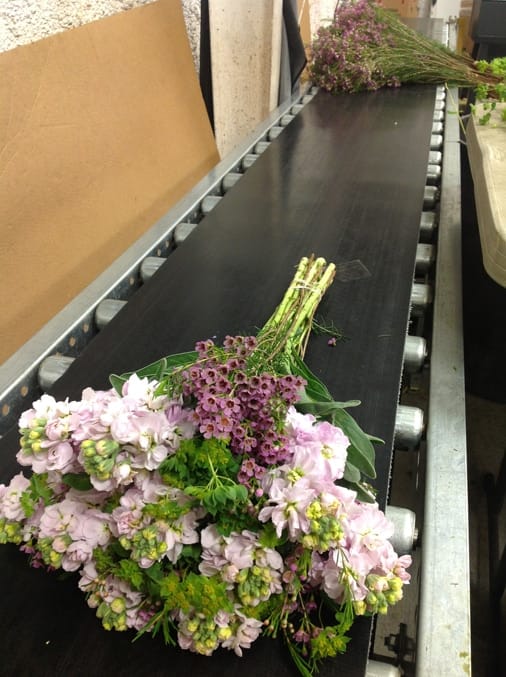 Mixed bouquets on their way to being packed.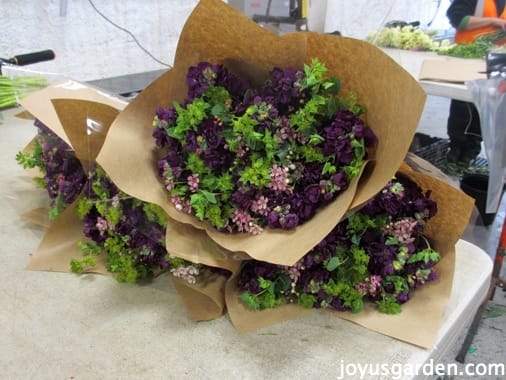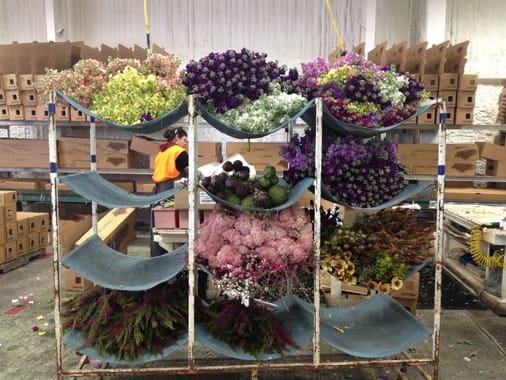 More floral goodness.
After the tour we drove over to one of the flower fields which was chock full of stock in many hues (they do offer it in 12 different colors after all).  A large area had been harvested so that the tent could be put up to hold a stage, the many dining tables and all the food stations.  Oh yes, the food was local and fresh as was the beer and wine.  The folks at Ocean View treated us well!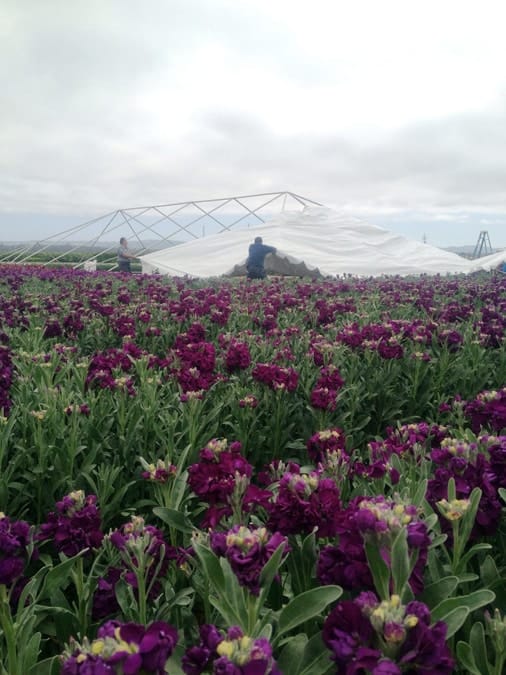 The tent going up.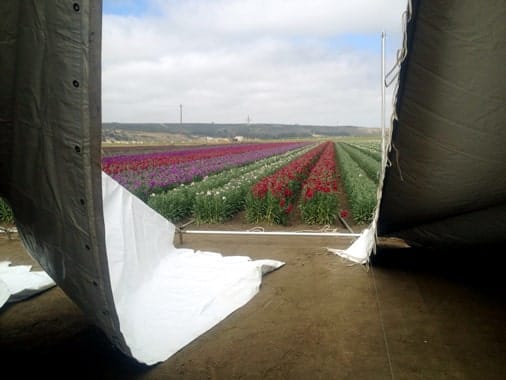 Rows of stock in every direction that you turned.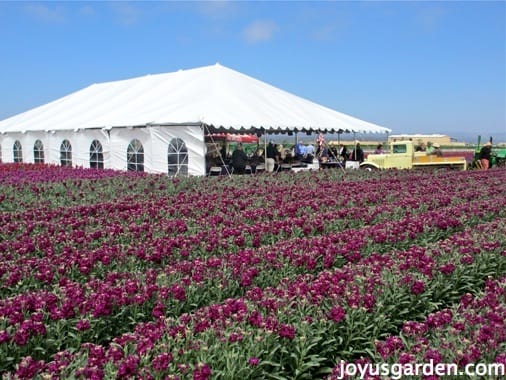 The sun came out & like an oasis the tent beckoned us.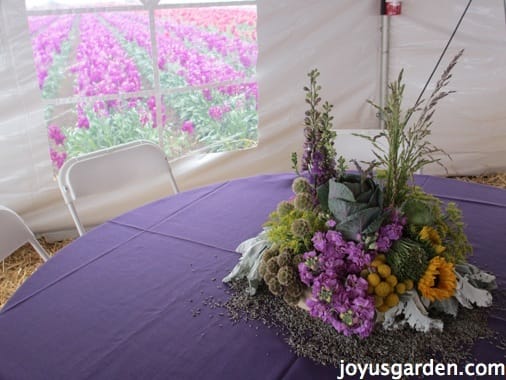 Looking out of the tent the view of the fields was surreal.  Van Gogh would have been in his glory!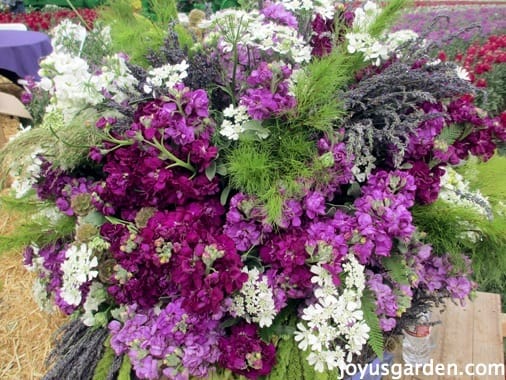 As you can see, their stock is just plain gorgeous.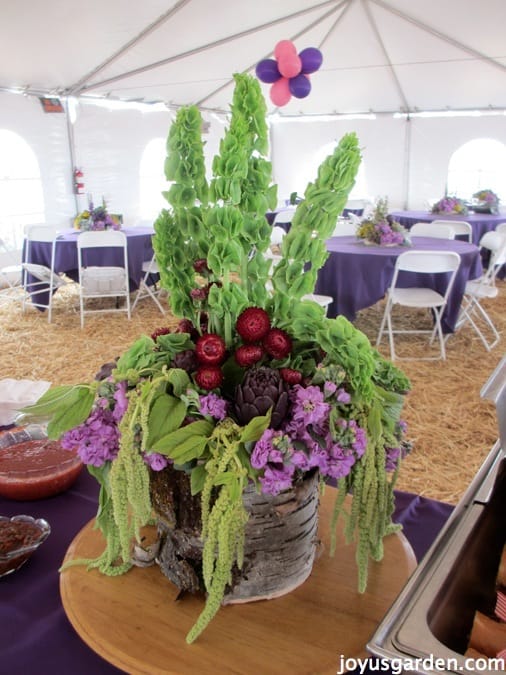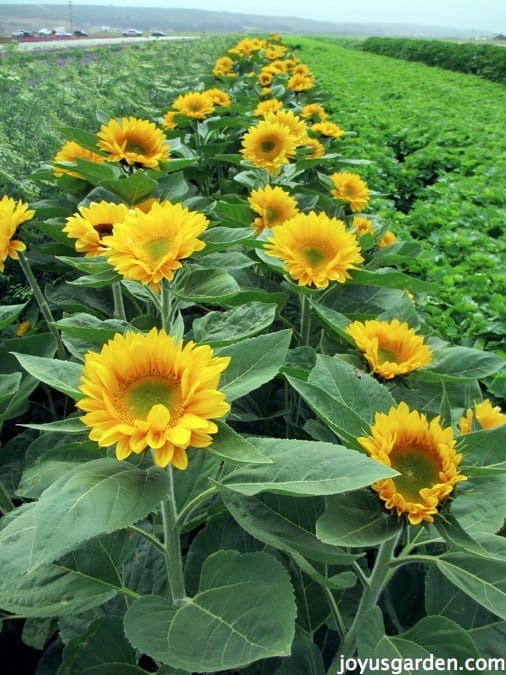 After lunch I wandered out back to another one of the fields where I found sunflowers & bells of Ireland.  The sunflowers were taller than me so I had to hold the camera up high to take this pic.
I shop at our Santa Barbara Farmers Market twice a week and am a big supporter of our local growers, both of produce and flowers.  I know, I know. It's easy for me to always have flowers in the house (which I do) because they're grown so close and are at my fingertips all year round.  The next time you go shopping for flowers try to buy American Grown.  The farmers will love you!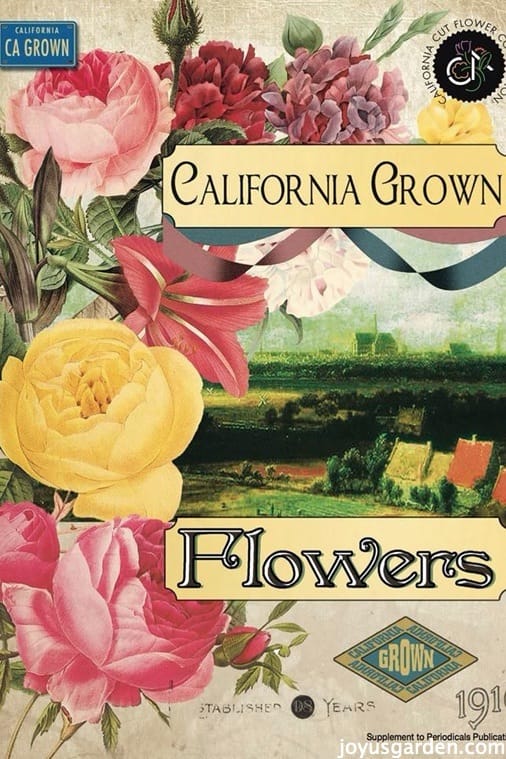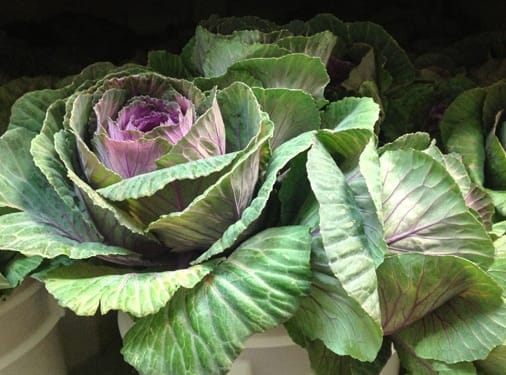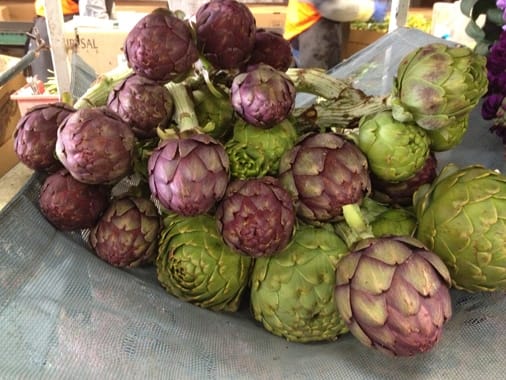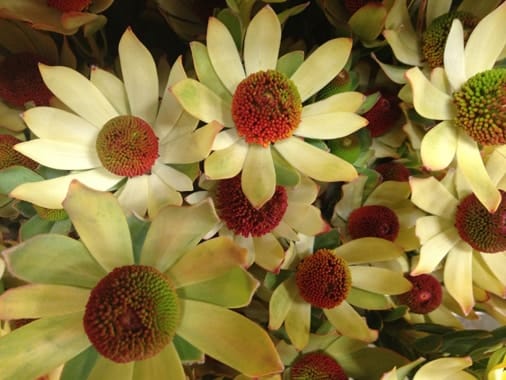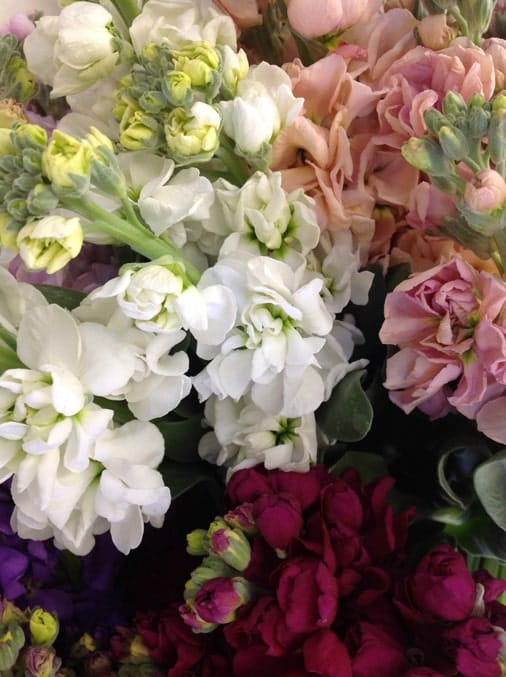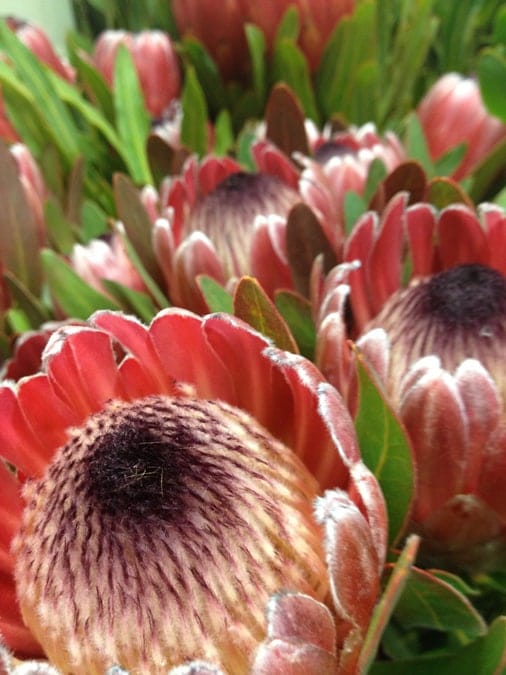 *note: the non watermarked photos were provided by Ocean View Flowers.
YOU'LL ALSO ENJOY
Santa Barbara Farmers Market Bouquets  
LINKS
Let Us Inspire You. Just Sign Up For Our Free Newsletter And You'll Get:
Tips you can use in the garden

Ideas for crafting and DIY

Promotions on our merchandise