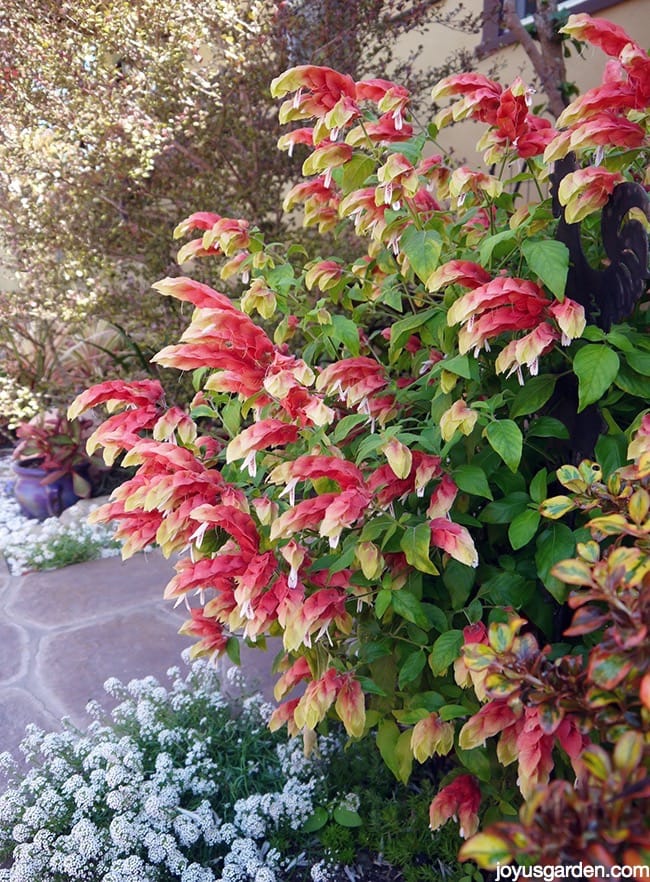 Even though I've been gardening for over 50 years (egads – that's a long time!) and have my tried and true ways of doing things, I do enjoy a little experimentation every now and then.  And yes, I must admit, I've sent a few plants to the green waste bin with my curious ways.  I inherited these 2 Shrimp Plants when I bought the house and have always pruned them in January. This year, I decided it was time for a Shrimp Plant pruning experiment.
Shrimp Plant, whose botanic name is Justicia brandegeeana, grows like the dickens.  They flower like crazy, almost non-stop here in Santa Barbara if the winter is drier and warmer and they aren't cut back.  They tend to get leggy over time and like any other plant which flowers madly , they need to be pruned down to rest and rejuvenate.  10 months of flowering is hard work after all!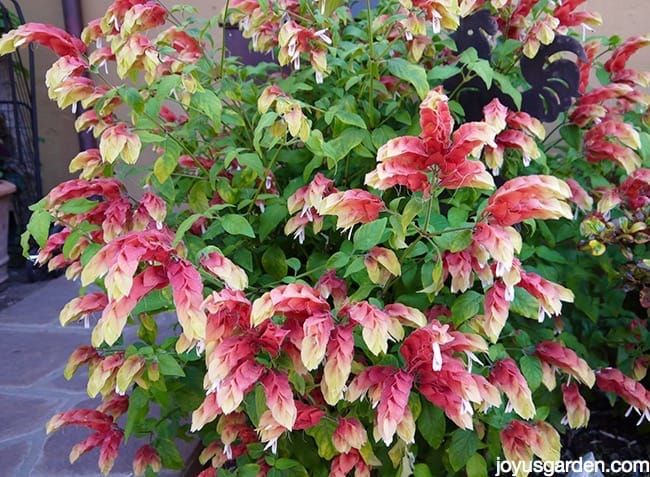 This is the Shrimp Plant I pruned back.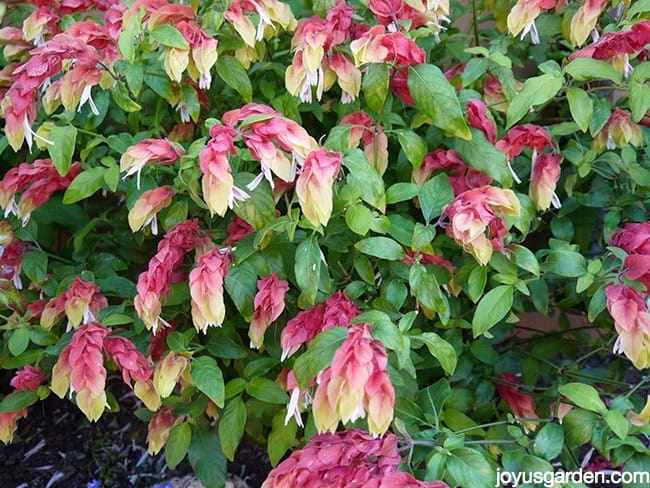 This is the other one I didn't prune back. These 2 photos were taken in mid-July. They don't look much different in these 2 photos, but in person & in the video they really do.
This winter was once again mild and dry so when the end of January rolled around, the shrimps were still blooming away. The foliage looked a little tired but the profusion of flowers was definitely a distraction.  I left them be until mid-March when I decided it was time for a little Shrimp Plant pruning test.  I pruned one of them back and left the other unpruned.  You can really see the comparison in the video below.
This video about how I prune my Shrimp Plants shows you exactly what I do. Don't judge – this was one of the very 1st videos I posted on Youtube a few years ago!  The pruning is very easy.  I basically take the stems down to 5-8″ from the ground leaving the ones in the middle a little taller.  This plant grows so densely and so fast that the middle stems usually crowd out the ones on the very perimeter.
Even though we are in the throws of an epic drought here in California, this sub tropical plant still looks great. I run my drip system every 7-9 days for 18 minutes so it doesn't get an abundance of water at all.  I'm stingy with water so it's survival of the toughest in my garden.
The hummingbirds adore this plant.  And, almost everyone who visits my home oohh's and aahh's over this plant when it's blooming.  As you can see, the flowers are very unique.  And yes, they do look like little shrimps!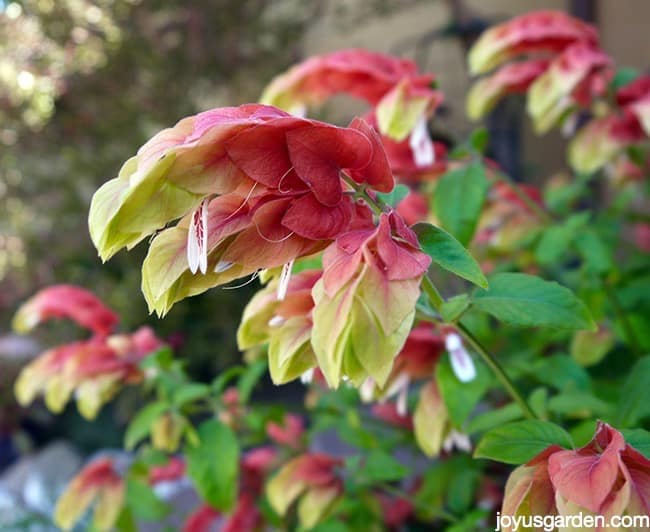 This plant is very appropriately named!
This post may contain affiliate links. You can read our policies here. Your cost for the products will be no higher but Joy Us garden receives a small commission. Thank you for helping us spread the word & make the world a more beautiful place!
I'm a life-long gardener who still to this day gets giddy at the thought of a trip to one of the local nurseries. Yes, I actually studied landscape and environmental horticulture and the practical experience I have garnered through the years has served me well. Childhood memories of chicken manure "tea" still float through my olfactory senses to this day. I have always been an organic gardener and always will be. From the Earth … To the Earth. I was born and raised in rural, bucolic Litchfield County, Connecticut and now joyfully live a few blocks from the ocean in beautiful Santa Barbara, California.