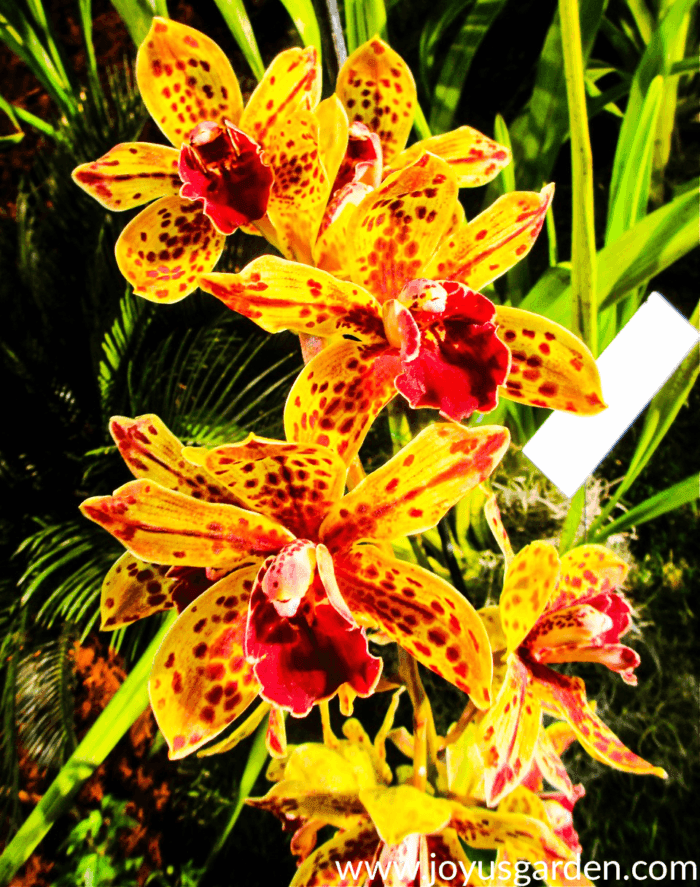 Beautiful, wonderful Cymbidium Orchids! I live in Santa Barbara, CA which has the greatest concentration of orchid growers in our country. The cymbidium season here is October through May so I always have a vase full of beautiful blooms in my house during these months. They last for weeks. Both the cut flowers and plants are even sold at our farmers' market.
These easy-care orchids thrive outdoors in our coastal climate with warm days and cool nights. I grow a few of my own and they repeat bloom every year. I'm going to share with you what they like, how I take care of mine and some tidbits I've learned from the growers.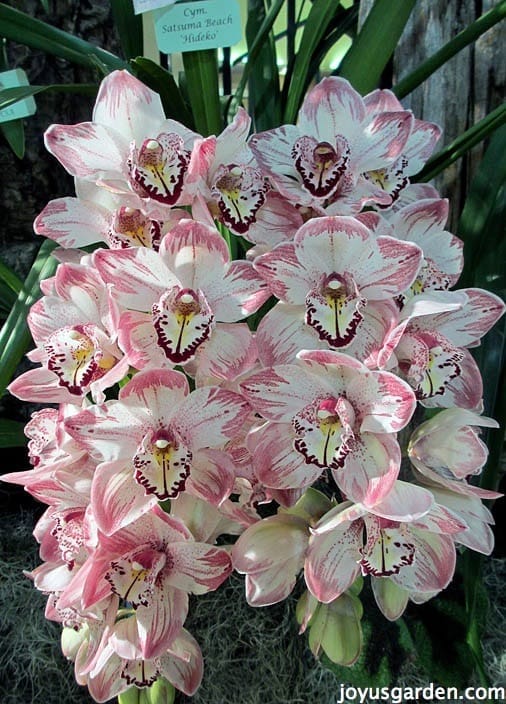 Light
Cymbidium orchids like bright light but not hot, burning sun. Be sure to protect them from the midday sun if that's an issue where you live. In the winter, however, they can take more sun.
Temperature
As I said above, warm in the day and cool at night is best. This is why they aren't the ideal houseplant orchid-like the popular Phalaenopsis. They don't like the low light of interiors nor the dry heat of our homes.
If the evenings are too warm, you won't get a good bloom set. They need those cooler temps to bring on those flower spikes. The lowest they can go is around 30 degrees but not for a prolonged period. Consistent temps below freezing will hinder the bloom too.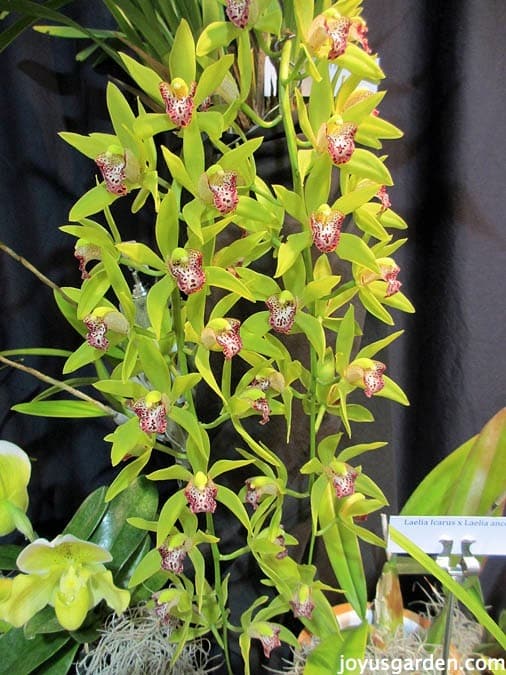 Watering
They don't like to completely dry out. Watering once a week is a good general rule but that will vary depending on what's going on climate-wise. These orchids do appreciate a little more water during their growing season. Be sure to use room temperature water. Of course, rainwater is what they love. If you're seeing brown tips on your orchid leaves it could be because there's too much salt in your water. You should use distilled water instead of from the tap.
Humidity
Outdoor humidity is fine except for hot, dry climates. They love the Central/Southern California coastal climates.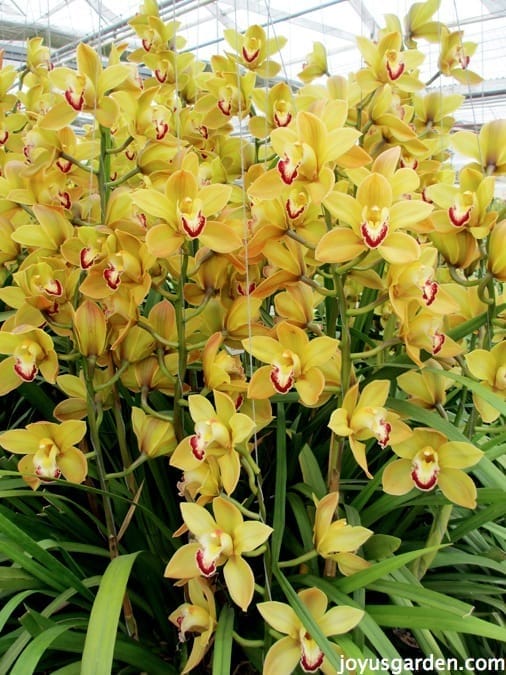 Fertilizer
The growers use a high nitrogen fertilizer at one time of year and a low nitrogen flower booster one at another time of year. I was talking to one of the growers about this and she said the timing must be spot on. She recommends a to use a balanced fertilizer, like 20-20-20 at reduced strength, year-round at monthly intervals. Once a month is fine – no more.
Repotting
The best time to do this is right after your Cymbidium Orchid has bloomed. As a rule, you don't need to do it more than every 2-3 years and they bloom best when tight in their pots. They like a slightly acidic mix so it's best to use a good one that is specially formulated for cymbidiums. This is one orchid that grows on trees or in the ground so the mix will differ from other orchids.
Good to Things to Know About Cymbidium Orchids:
Cymbidiums bloom best when pot-bound so don't rush to repot them unless they really need it. Only go up 1 pot size and be sure that pot is clean as these orchids are susceptible to bacterial infection. Be sure not to bury the bulbs (they're actually pseudobulbs) and don't cut off any of the roots which are sticking out of the top.
Make sure the pot has at least 1 drain hole as they hate to sit in water. Spread and loosen the roots a bit before repotting. Water well and make sure it thoroughly drains out.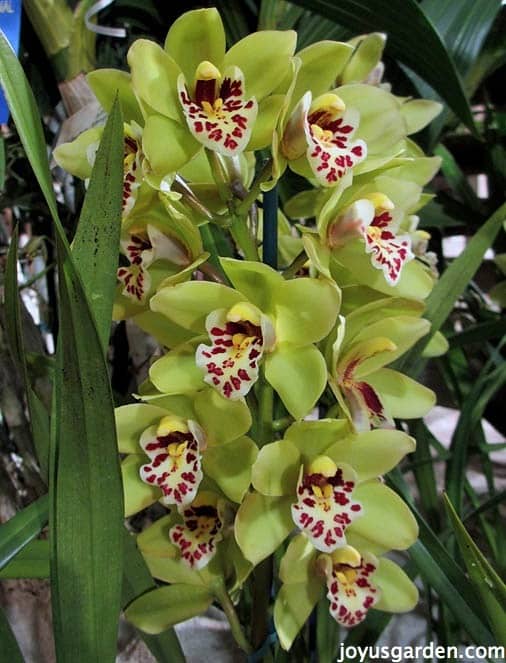 Remember, Cymbidium Orchids like bright light and cool evening temps to bloom. After yours has flowered, cut those stems all the way down to the base of the plant to get it to bloom again next year.
They're available in such a wide array of colors and patterns now that I want them all. I use restraint and visit the orchid greenhouses during the season to get my cymbidium fix. Orchid mania on the Central Coast of California!
This post may contain affiliate links. You can read our policies here. Your cost for the products will be no higher but Joy Us garden receives a small commission. Thank you for helping us spread the word & make the world a more beautiful place!