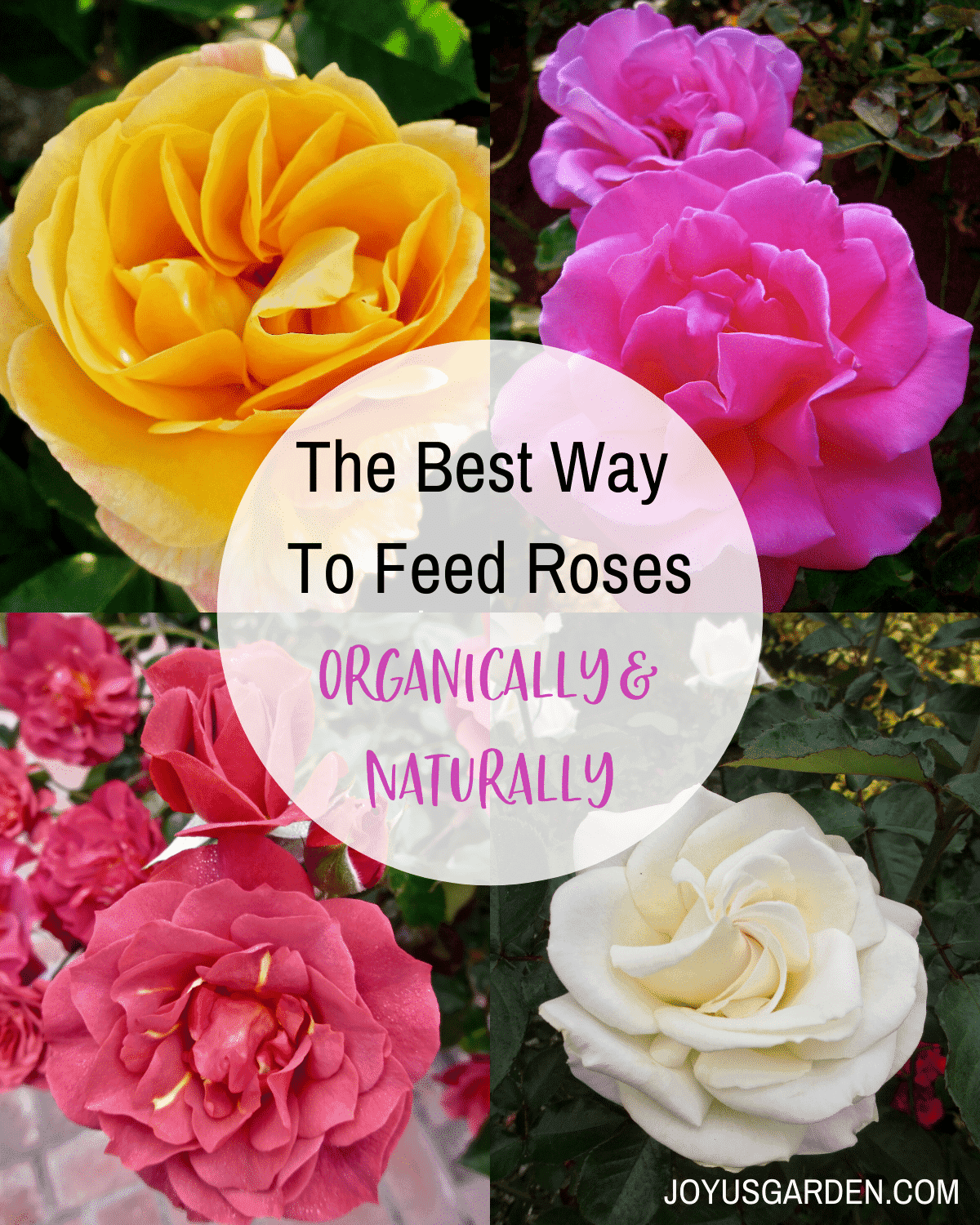 Oh, those beloved blooms, how we do love you roses! I don't fertilize many plants but roses are ones that do benefit from it. The best way to feed roses, in my humble horticultural opinion, is to do it organically. I want to share this DIY rose food so yours will be healthy and have beautiful blooms.
If you've been reading this blog for a while now, you know I always garden organically and naturally because I feel it's best for the plants, we humans, and the earth in general. The hundreds of roses that I maintained as a professional gardener always stayed healthy and floriferous – a winning combo.
Note: This post was previously published & was updated on June 18, 2020.
Should you fertilize roses?
Most roses bloom all season long and that takes quite a bit of energy to do. Not only do roses benefit from feeding, but also from pruning too.
I got a question from a reader in response to a comment I had made stating that I believed in amending and building up the soil with things like compost, worm compost, manure, etc more than I did in fertilizing.
It's not that I don't believe in fertilizers, I just don't believe in them for all plants. The exception to this is citrus, rhododendrons, azaleas, camellias, and roses. I found that these plants all benefited from a 1 time or ongoing dose of fertilizer.
Roses love feeding and ones that are fed on a regular basis are healthier. Healthy roses grow stronger which helps them rebound from pest infestations and better resist diseases and viruses. And that means better-looking plants and flowers.
This method of feeding is good for roses growing in the garden or in pots. It also works great for annuals and perennials.
Ready to feed roses?
DIY Recipe to Feed Roses
My DIY recipe to feed roses is very simple:
How much of this recipe you mix up depends on the size of the roses you're planting or the established ones you're feeding. Just follow the recommended amount on the rose and flower food box.
You can use this food for roses growing in the garden or in containers.
Be sure to work the fertilizer into the soil so it can reach the roots.
This blend activates and continues to do so with water. Be sure to soak it in well after planting or applying and water regularly.
Related: Answering Your Questions About Fertilizing & Feeding Roses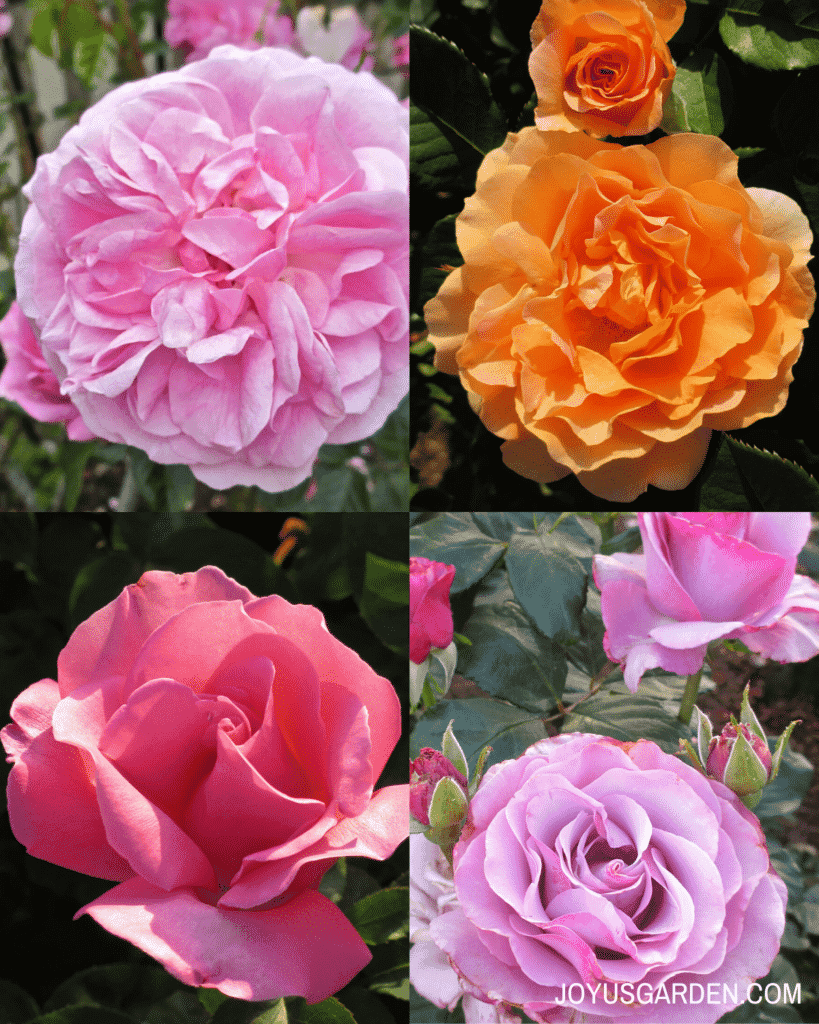 The brand I favored of the organic fertilizers was Dr. Earth followed by Down To Earth.
I also used E.B. Stone and Gardener & Bloome. Fox Farm Happy Frog is a great brand too but it was harder to find. The internet has changed all that and like everything else, you can order from the comfort of your back patio.
By the way, organic fertilizers take longer to work because they break down slower. This means they're effective for a much longer period of time. 
More on organic flower gardening: Organic Flower Gardening: Good Things To Know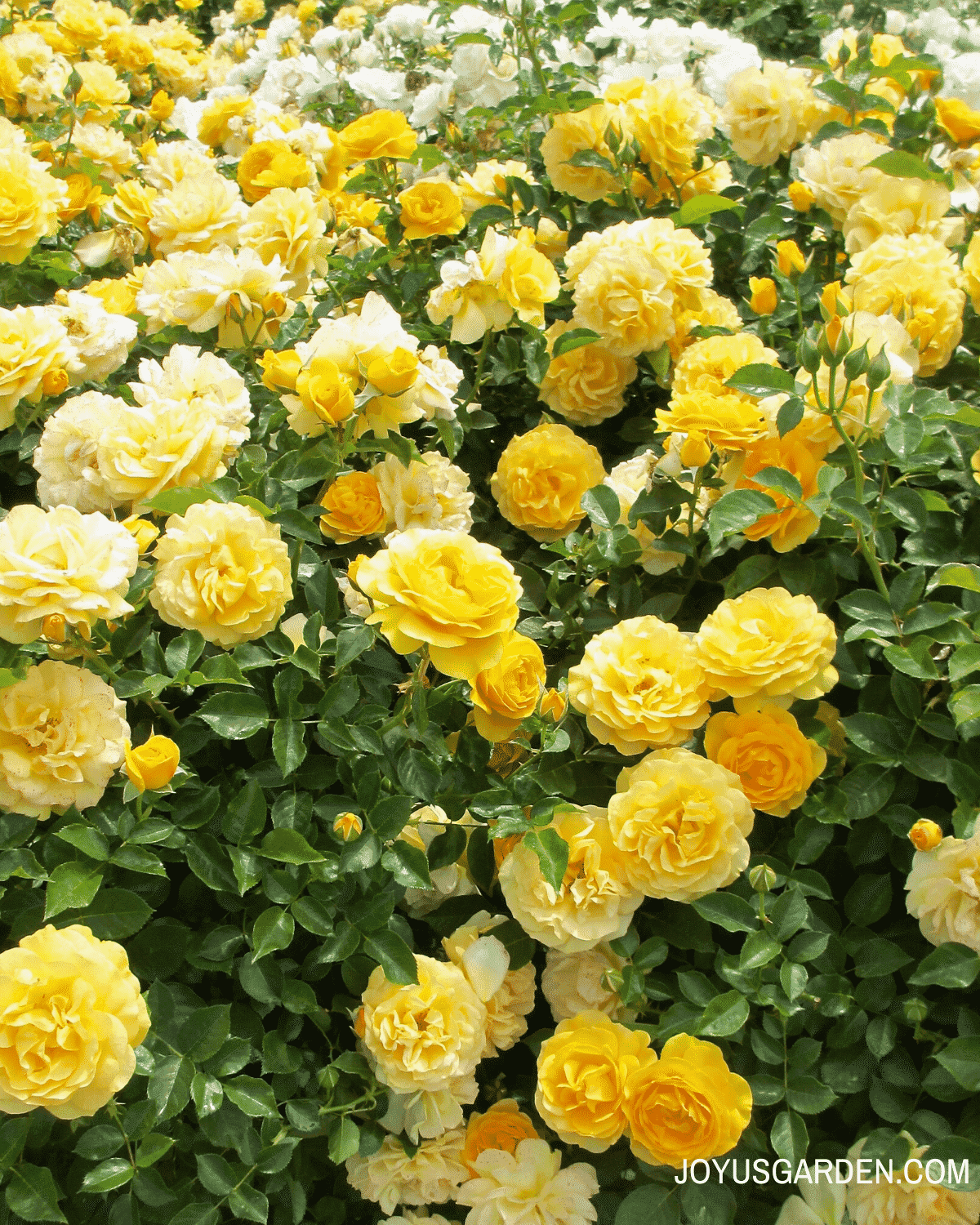 How to Use This Food on Roses
Use approximately 1 to 2 cups for a large bush, 1 to 1 1/2 cups for a medium bush, and 1/2 to 1 cup for smaller bushes. The box of rose and flower fertilizer will give you the guidelines as to how much to use.
Because I had large quantities of roses to feed, mixing it up in bulk in a large pail was the easy way to go. If you mix up too much, don't worry because it keeps.  Just cover it up and save it until the next feeding.
Simply dig a well about 4-6″ deep around the base of the rose in between the trunk and the drip line. Roses don't have an extensive root system so don't go out too far.
Cover the well back up and be sure to water the blend in well.
Never fertilize a dry rose plant. If it's dry, then it's stressed. Be sure to water first and wait until the water absorbs (a few hours or overnight). Then, you can feed.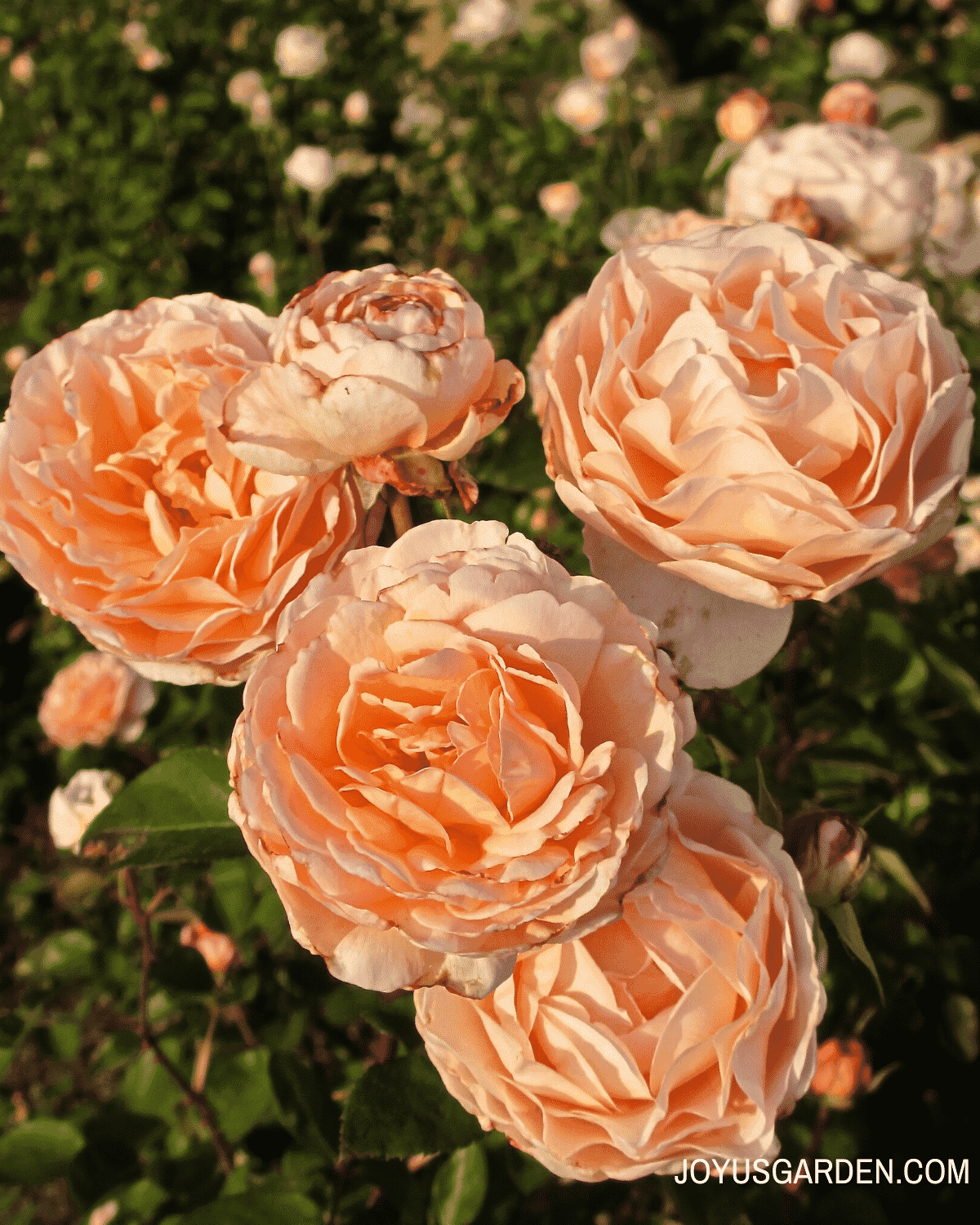 How often should you feed roses?
Your roses will greatly benefit from 2 or 4 feedings a year.
In coastal California, I would do a feeding in March, another in May, the 3rd in July, and finally 1 at 1/2 strength in early September. This schedule worked for roses that bloomed throughout the season.
If you're in a colder climate, start after the danger of frost has passed and wrap up the feeding process about 6 – 8 weeks before the 1st frost. New growth is soft and tender making it susceptible to freeze damage.
How often you feed also depends on how often the rose flowers (some flower only in spring and only need 2 applications), how fertile your soil is, what fertilizer you're using, and your climate zone. 
If you're in a year-round warmer climate, you'll feed 3-4 times. In a colder climate, 2 times may be enough.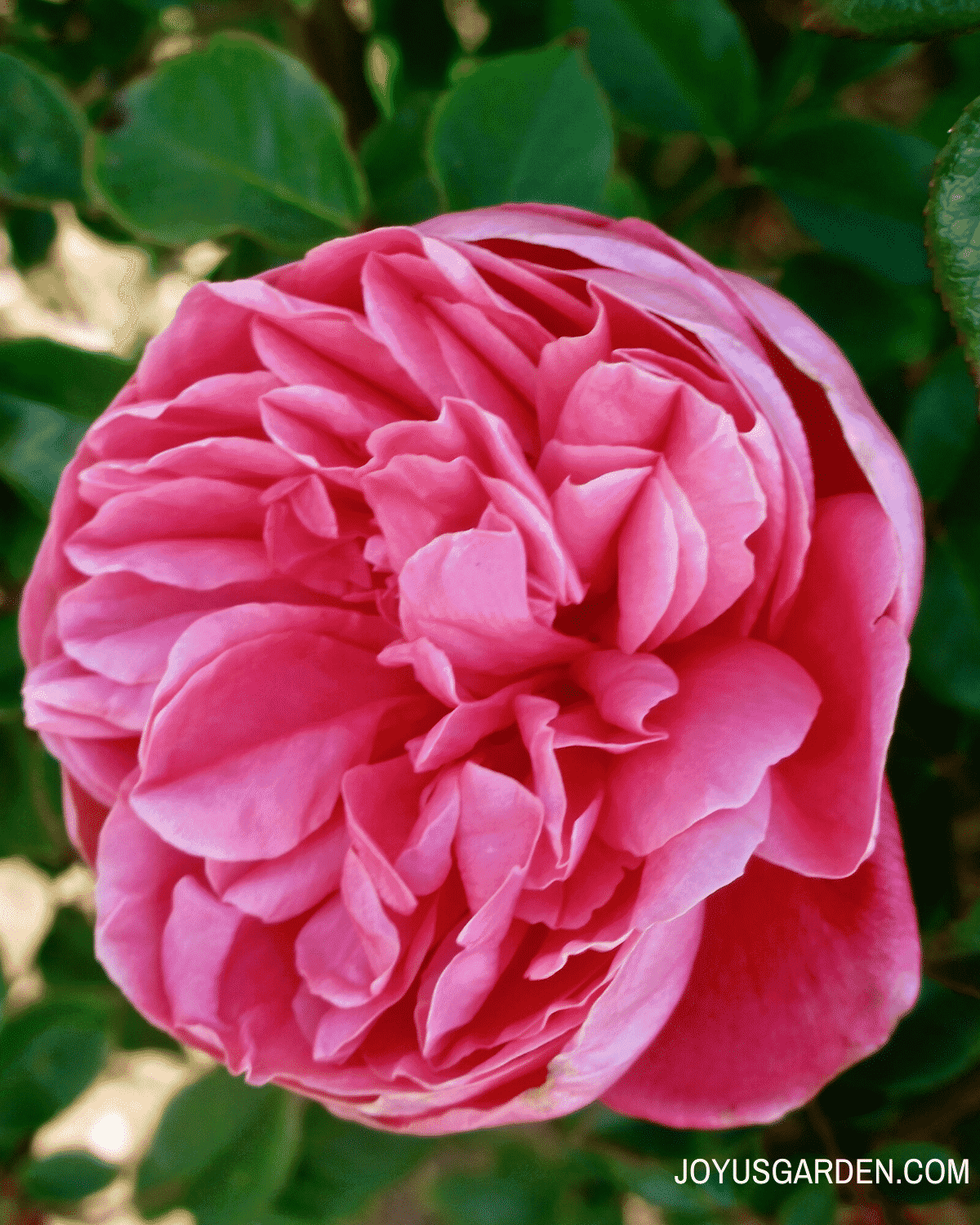 Do this feeding, and your roses will love you. Just think of all the vases of beautiful blooms you'll have!
Happy Gardening,

Did you enjoy our guide on feeding roses? Check out these additional resources on outdoor gardening!
This post may contain affiliate links. You can read our policies here. Your cost for the products will be no higher but Joy Us garden receives a small commission. Thank you for helping us spread the word & make the world a more beautiful place!
I'm a life-long gardener who still to this day gets giddy at the thought of a trip to one of the local nurseries. Yes, I actually studied landscape and environmental horticulture and the practical experience I have garnered through the years has served me well. Childhood memories of chicken manure "tea" still float through my olfactory senses to this day. I have always been an organic gardener and always will be. From the Earth … To the Earth. I was born and raised in rural, bucolic Litchfield County, Connecticut and now joyfully live a few blocks from the ocean in beautiful Santa Barbara, California.