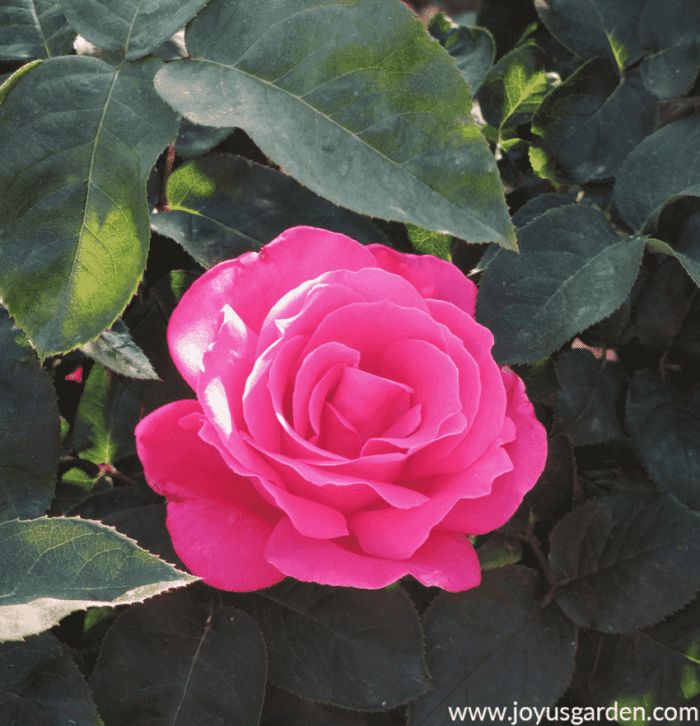 Anyone and everyone can enjoy roses, no matter what climate you live in. And who wouldn't want a shrub or two in their garden that contains roses? They're bursting with color, foliage, and unforgettable fragrances. In addition to that, roses are easy to care for, especially in pots and containers. So, we've made a list of recommendations of the best roses for container gardening, just for you!
How to Care for Roses in Containers
Caring for roses is rather simple. Roses need cleaning up, pruning, deadheading, and feeding because it takes a lot of energy for them to grow and flower. If you're a beginning gardener and want to grow the best and easiest roses for container gardening, be sure to choose roses that are under 5′ tall, disease-resistant, and repeat blooming.
Nell's Quick Tips on Rose Gardening:
Use Nell's advice for future reference as you grow your own rose garden! Here are some of her tips on container gardening regarding roses.
1. Choosing the Right Container Pot:
Containers stand-alone or in small groupings. Choose a rose which repeatedly blooms and is disease resistant. As far as rose gardening is concerned, there are two factors you should look out for:
Choose pots with drainage holes.
You'll want drainage holes because the roots can easily rot otherwise. Roses, like all plants, need drainage. Make sure the container has at least 1 drain hole.
Bigger containers will work better than smaller ones.
Your roses will need room to grow and flourish. Almost any rose does well in an appropriately sized container but I like to stick with roses which stay under 4-5′ tall. I've found that climbing roses, large hybrid teas, large floribundas, and large shrub roses aren't as well suited for growing in containers.
Choose a large enough container which is suited to the size the rose will be at the end of the season. The larger the rose gets, the larger the size container you'll need. Their fibrous roots need room to spread out and grow. Also, the smaller the container, the more often it'll need watering.
Plastic and resin pots have gotten so good looking these days. They can easily be spray painted to accent your outdoor space. Plus, they don't get as hot as terra cotta or ceramic pots do so the roots will stay a bit cooler if heat is an issue. Just make sure they're weatherproof (most say how cold they go on the tag) if you're in a cold climate.
2. Plant your roses in the spring after the last frost.
Give your roots time to stabilize in the soil. Bare root is available for shipping in winter or spring (depending on your climate zone) from the sources below.
Buy your roses from a reliable source.
Good choices are David Austin, Star, Edmunds, Weeks, Jackson Perkins, Regan Nursery and Heirloom Roses.
3. Roses love & need full sun to do their best.
Choose a location that gets at least 5-6 hours of sun a day for your roses.
4. Air circulation is important so make sure yours has enough to keep it healthy.
5. Plant your roses in good organic potting soil.
Roses love to grow in rich soil. We recommend FoxFarm Ocean Forest Potting Soil. They love a rich, nourishing mix so add compost in when planting and also use it as a topdressing.
6. If the pot is large enough, roses look great underplanted with colorful annuals & trailing plants.
This is a great way to make your garden or patio look aesthetically pleasing as well!
7. Don't let the soil go completely dry.
Roses need regular watering suitable to your climate.
8. Roses love to be fed.
I was a professional gardener in the San Francisco Bay Area for 20 years and this is the best way to feed Roses organically & naturally which helped them thrive. I didn't feed roses in pots with this blend as often as I did roses in the ground. Once in spring & once in mid-summer was enough.
9. Prune throughout the season as necessary.
You'll need to deadhead, shape, and remove sucker or unwanted growth depending on what type of rose you have.
10. Protect your roses in the winter if you're in a cold climate.
Apply a very thick layer of hay on the surface of the soil &/or wrap the plant with burlap.
Related: How To Feed Roses Naturally, Answering Your Questions About Fertilizing & Feeding Roses
Roses Fit for Pots and Container Gardening
Now it's time to introduce you to some of the best roses for container gardening! We love these for their stunning colors, beautiful foliage, and simple maintenance.
This rose is a dream come true. Belinda's Dream is an easy-care shrub that's resistant to rose diseases and pests. The pink color will shine brightly in the sun, and you won't have to worry about the sunlight and heat ruining this plant. It also comes with glossy foliage that we love so much.
Height: 3 to 4 ft
Flower Color: Pink
She grows just right in containers, as well as any landscape you choose. The soft colors can complement a variety of gardens. We love the flowy feel of the bursting blooms.
Height: 2.5 ft
Flower Color: Cream
When your eyes fall upon this hybrid tea rose, you'll be mesmerized by the splash of pink looking back at you. The blooms on this beauty are flawless. This rose is robust, and you can easily share some of the blooms with your loved ones.
Height: 2 to 3 ft
Flower Color: Pink
Just like the name suggests, this rose is definitely star quality. Look at that pop of yellow! Plus, it has a sea of deep green foliage to compliment the roses. They come with a fruity scent too!
Height: 3 to 5 ft
Flower Color: Yellow
This particular rose is easy-care and quick to flourish, so if you're new to rose gardening, At Last Floribunda is a good bloom to start with. This one also caught our eye because of its unique apricot coloring.
Height: 2.5 to 3 ft
Flower Color: Apricot
If you were searching for an elegant white rose, here it is. The intense fragrance that accompanies this rose will make you never want to leave your garden. It'll remind you of candy-like licorice!
Height: 4 to 5 ft
Flower Color: White
The plum color of this rose is so gorgeous! The number of blooms included will make your garden feel rose-abundant. Plus, it's disease-resistant, so you can expect it'll be around for a long time.
Height: 3 to 5 ft
Flower Color: Purple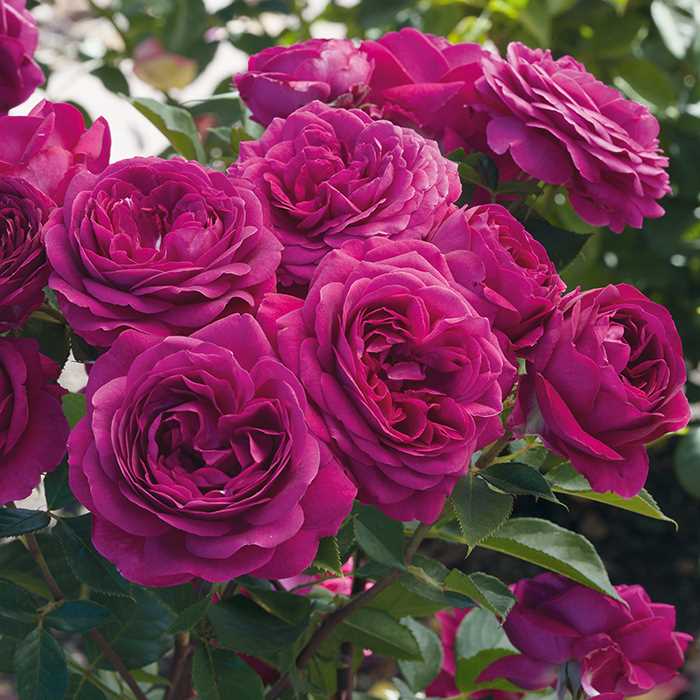 Another beautiful bloom with a wonderful fragrance, this hybrid tea rose has a colorful combination of yellow and orange in its blooms. They are gently ruffled and pleasing to the eye.
Height: 3 to 4 ft
Flower Color: Yellow
The color is rich burnished gold with salmon tints on the outer rows of petals and it's amazingly prolific despite its large size. The leathery foliage is extremely resistant to both mildew and blackspot covering robust and free-branching plants. Certainly the hardiest of anything near its color and deliciously fragrant as well.
Height: 4 to 5 ft
Flower Color: Yellow
Looking at this rose is like looking at a painting. There are so many shades of pink that come together just like paint strokes. The fragrance is one of the best too: hints of citrus, peach, and pear, it's almost like you purchased a fruity body mist!
Height: 3 to 4 ft
Flower Color: Pink
This rose contains shades of white and pink coloring. It's tough and reliable, so you can expect it last for a long time. The blooms are thick and will cover the foliage, so you can expect to see lots of roses!
Height: 2.5 ft
Flower Color: Soft Pink
The blooms give a warm and pink glow. This rose is very ideal for pots and containers. It's also highly fragrant so enjoy the sweet scent!
Height: 5 ft
Flower Color: Warm Pink
This English rose is extremely floriferous. Looking at the blooms will remind of you vanilla cupcakes! They tend to grow vigorously and emit an apple fragrance. They're disease resistant and repeat-flowering easily, which makes them one of the best choices for container gardening.
Height: 4 ft
Flower Color: White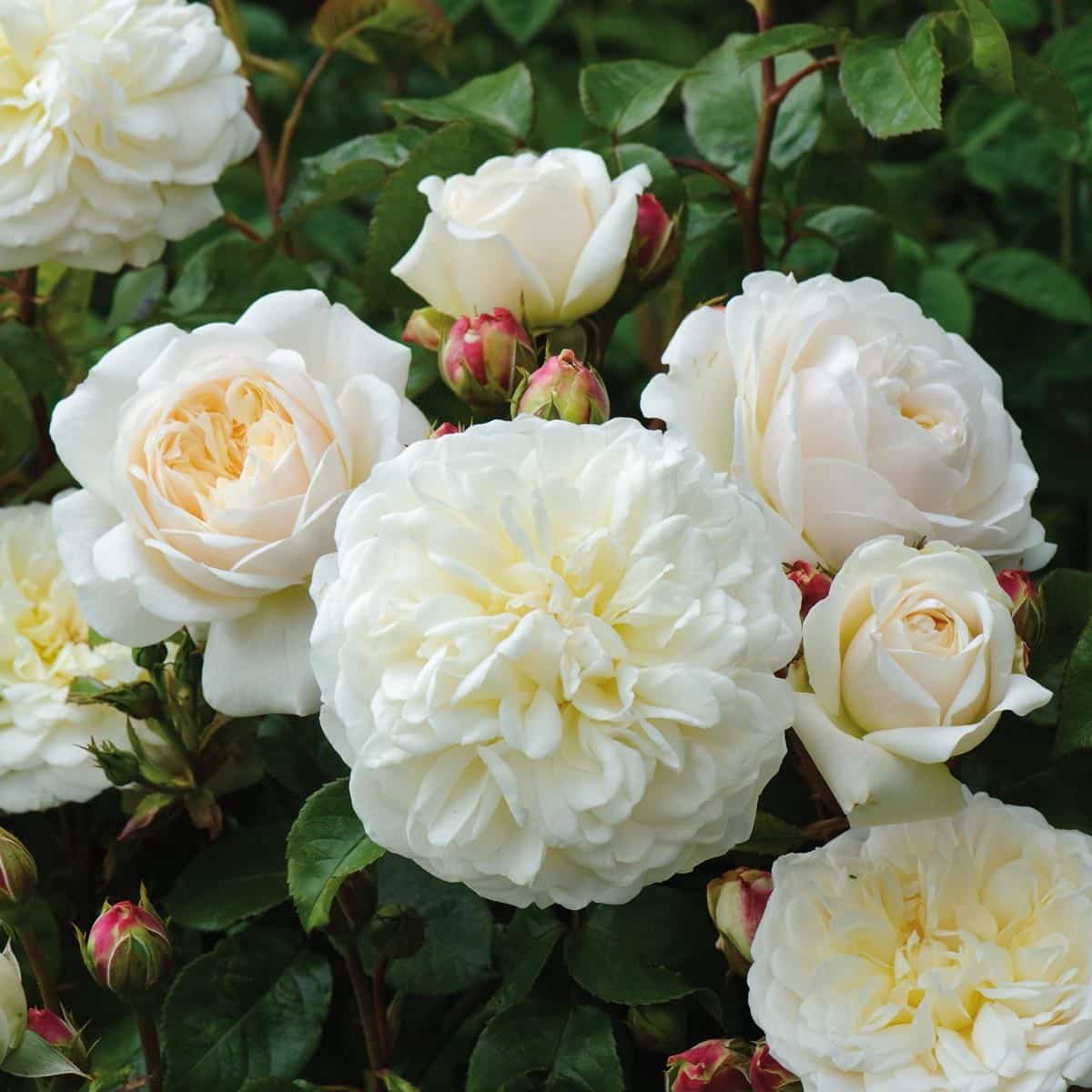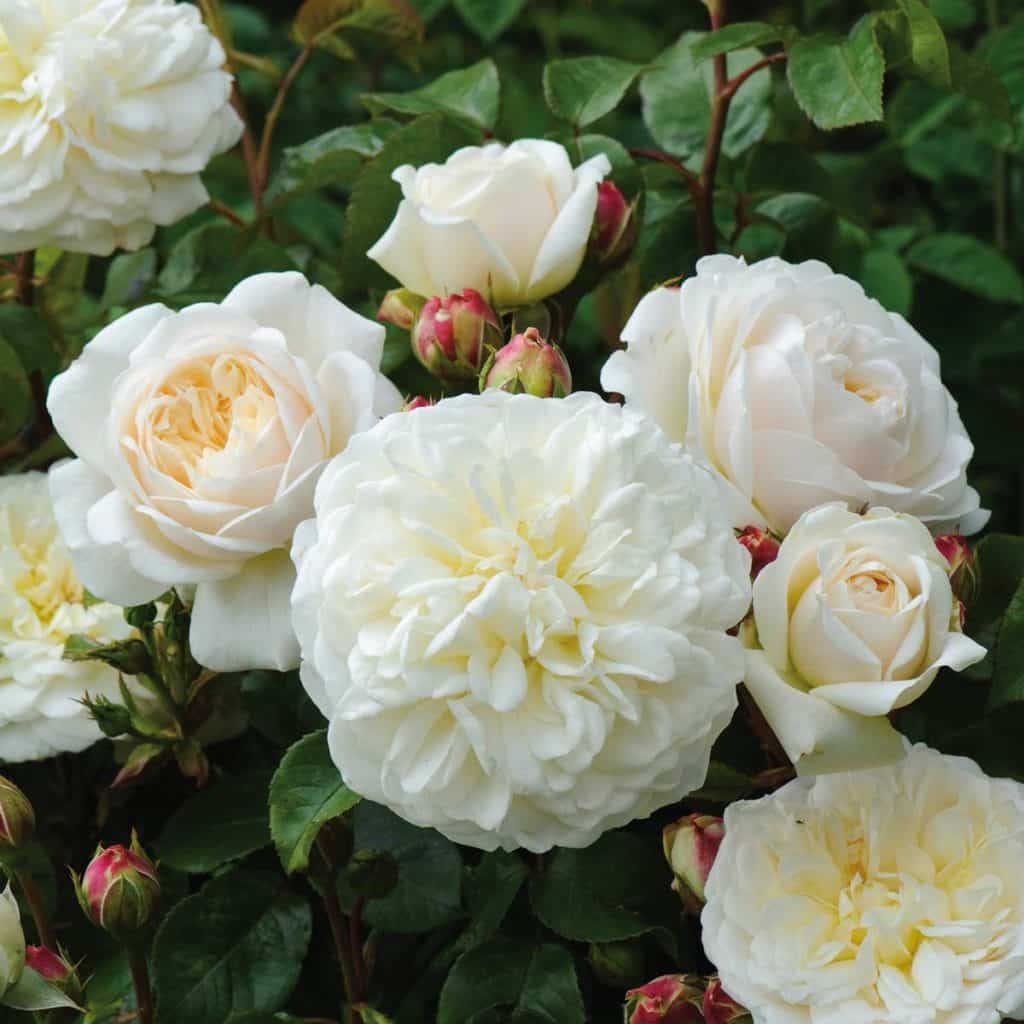 Every rose lady should smell so sweet. This siren can lure you into a hypnotic trance with her heady damask rose perfume and lurid costume of hot pink. She has big shapely buds and blooms borne on long strong stems. The vigorous upright plant is attractively robed with large dark green leaves. The established plant gives more bloom.
Height: 4 ft
Flower Color: Deep Rose Pink
Pink and ruffled, this rose will actually survive the winter months. Continual blooming and disease-resistant make this one a catch for container gardening too.
Height: 4 ft
Flower Color: Dark Pink
This particular rose doesn't look like the rest. The blooms open wide so you can see the pedals within. Plus, they are pretty massive, so they easily cover the entire foliage.
Height: 2 ft
Flower Color: Soft Pink
This extremely healthy and vigorous Floribunda has unique coloring with brilliant orange-red petals highlighted by their cream reverse. Gold medal winner in international competition.
Height: 2 to 3 ft
Flower Color: Orange Red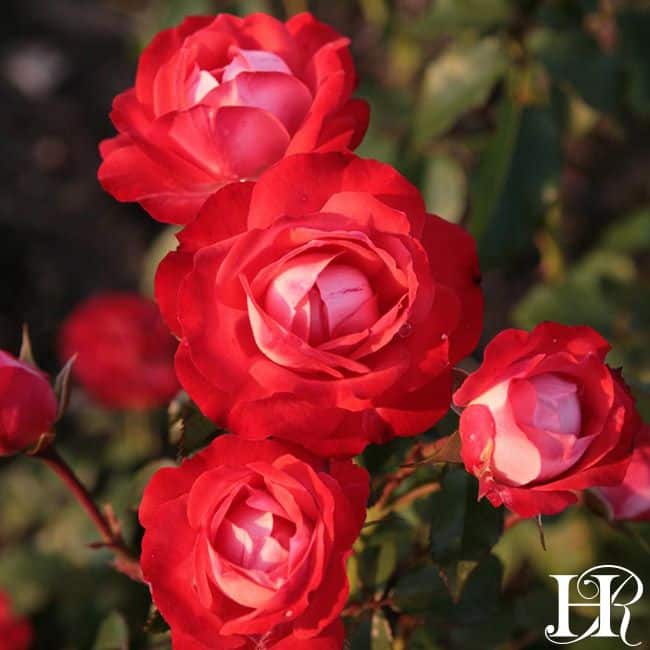 Do you enjoy landscaping? You may want to include the Double Knockout Tree Rose in your garden then! It has a gorgeous red bloom, and the shrub grows well throughout the summer well into fall.
Height: 3 to 4 ft
Flower Color: Fire-Engine Red
Just like the name suggests, this rose will remind you of glowing sunshine! The flowering is rich and the fragrance is out of this world. Pruning isn't always needed, just deadheading here and there.
Height: 4 ft
Flower Color: Bright Yellow
When this one blooms, she blooms! The Yellow Sunblaze would be an exceptional addition to any rose garden: it's busy and glossy, so it's a fun flower to look at, as well as smell. Enjoy!
Height: 12 to 18 inches
Flower Color: Yellow
Here is another beautiful rose with an apricot glow to it. The blooms are double-layered and ruffled, which makes them look really bountiful. This flower will grow well in warmer climates.
Height: 4 ft
Flower Color: Apricot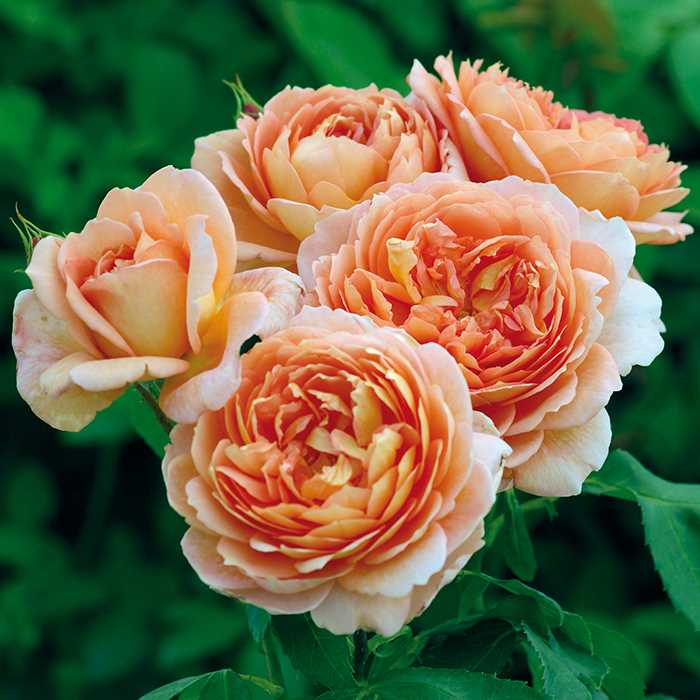 Now that you've learned more about some of our favorite Roses for container gardening, please enjoy our other articles about Roses: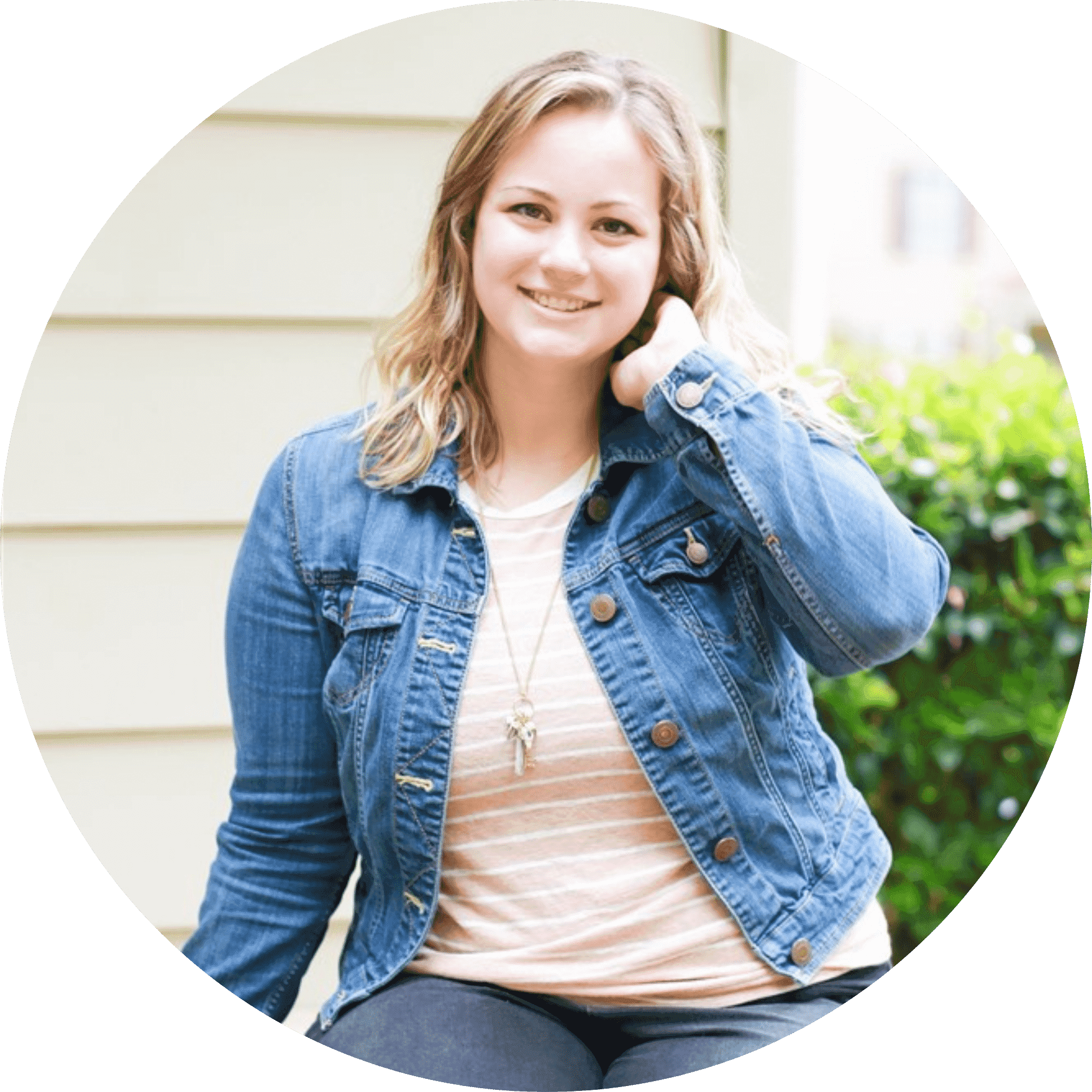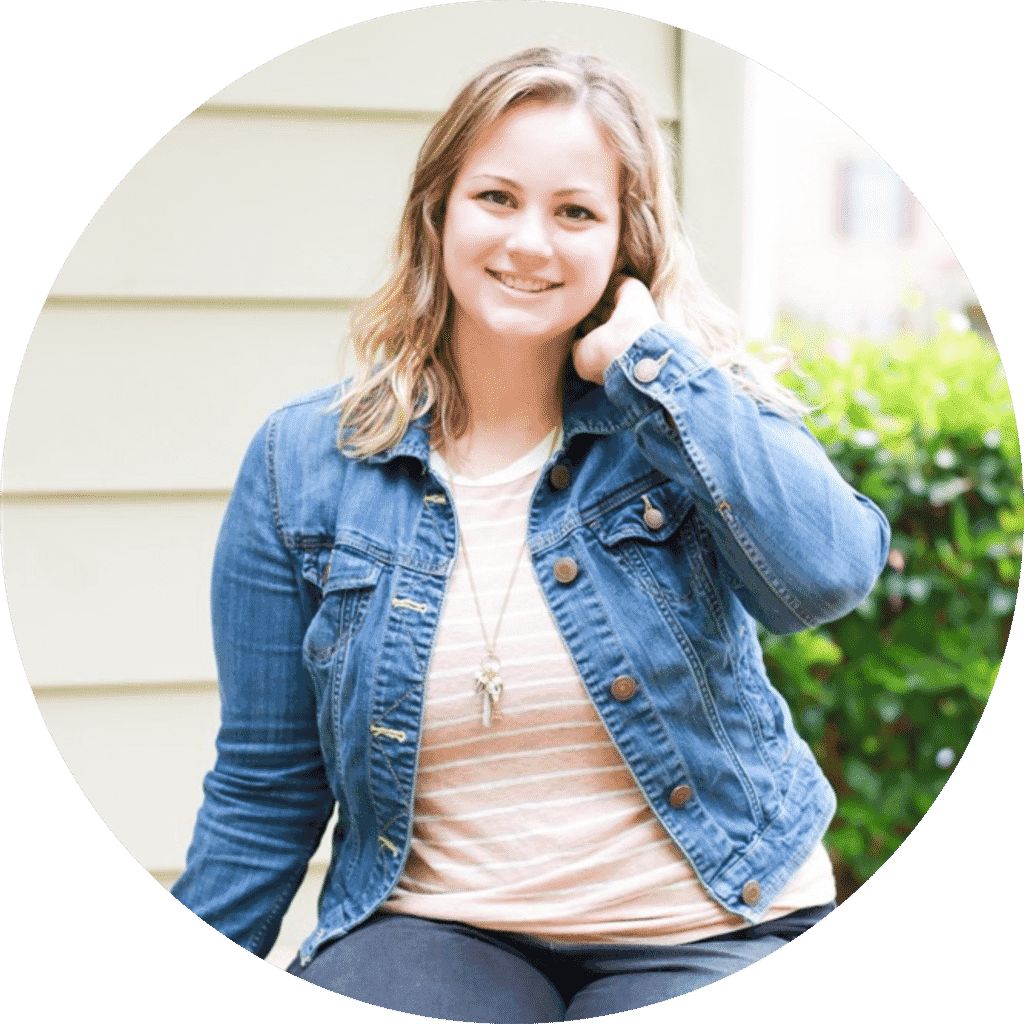 About the Author
Miranda is a content manager for Joy Us Garden. In her free time, she enjoys hiking with her dog, reading a good book, or critiquing a new movie or TV show. Check out her marketing blog here.
This post may contain affiliate links. You can read our policies here. Your cost for the products will be no higher but Joy Us garden receives a small commission. Thank you for helping us spread the word & make the world a more beautiful place!