When we think of gardens, we often picture vibrant, colorful blooms that brighten up the space. However, something is intriguing and mysterious about the idea of growing black flowers.
Black can have an ominous tone, but black flowers symbolize farewell, rejuvenation, or rebirth. Plant these rare flowers to add intrigue to your garden.
You can also search by your growing zone by entering your zip code to ensure your chosen black beauty will grow well in your garden. Also, be sure to check sun needs.
I hope you enjoy these dark, mysterious, yet intriguing blooms!
Note: While these flowers are commonly called black, their petals can range from very deep purples to dark burgundy or maroon. The term "black" is often used to describe their intense, dark coloration.
Are there any natural black flowers?
No. But some come close!
Are black flowers difficult to grow?
No, not necessarily. The same growing conditions required for other species will also be appropriate for most black blooms. However, some may require more maintenance than traditional varieties since they must be protected from direct sunlight (partial sun is fine) and waterlogging to preserve their dark hue.
Are black flowers rare?
Black flowers are not common in the plant kingdom. Most flowers come in various colors, but true black pigmentation is rare. This is because the pigments of most flowers produce colors like red, yellow, blue, or white – not black.
The dark color that flowers usually have is caused by the accumulation of dark pigments, such as anthocyanins or melanins, which makes them appear black or almost black.
Flowers labeled as black can often appear to be very dark purple or deep burgundy instead of true black. The perception of blackness in flowers can also be affected by temperature, lighting conditions, and individual perception.
Note: This post was published on 7/2/2016. It was updated on 8/26/2023.
Plants with (Almost) Black Flowers
These dark beauties may seem rare, but many varieties are readily available for home gardeners. This post will explore some of the blackest flowers, what makes them unique, and how to grow them successfully. These flowers contrast or complement others in the garden, like chartreuse, white, and pale pink.
1. Bearded Iris – Black is Black
Among the striking black flowers, the bearded iris makes a bold statement with its dramatic, velvety petals in deep purplish-black hues.
The bearded iris is a herbaceous perennial that can grow up to three feet tall, with thick stems bearing multiple blooms. They need to be divided every few years to get the best blooming.
The flower's "beard" refers to a fuzzy line that runs along the lower petals and acts as a visual and olfactory attractant to pollinators.
Sunlight Needs: Full Sun
Growing Zones: 3, 4, 5, 6, 7, 8, 9, 10
2. Dahlia – Black Narcissus
The Black Narcissus is a must-have for dahlia lovers. Its pointy petals and double flowers are nothing short of magical.
Its stunning display blooms in summer and autumn and will attract pollinators to your garden. They grow fast and make superb cut flowers.
Sunlight Needs: Full Sun
Growing Zones: 8, 9, 10, 11 (in colder climates, the tubers can be dug up and stored for the winter)
3. Siberian Iris – Black Flowered
The Siberian iris is a perennial flower with striking deep purple petals that have an almost black appearance. The plant's foliage has a feathery texture and can reach up to three feet tall.
These roots are hardy and easy to care for, growing in both full sun and partial shade. They prefer moist soil but can tolerate dryer conditions.
Sunlight Needs: Full Sun, Partial Shade
Growing Zones: 3, 4, 5, 6, 7, 8, 9
4. Hollyhock – Black Watchmen
Once grown by Thomas Jefferson at Monticello, this heirloom variety has been meticulously reselected by Dutch seedsmen for its timeless form and rich color. Hollyhocks are quintessential cottage garden flowers.
The hibiscus-like blossoms, measuring 3 to 4 inches, flaunt satiny petals that blend from a magnificent deep dark maroon to a pure black hue. Black Watchman flowers make a striking garden display, unfurling slowly on tall, sturdy 5 to 7-foot stalks.
Sunlight Needs: Full sun
Growing Zones: 3, 4, 5, 6, 7, 8
5. Hollyhock – Nigra
The hollyhock is an old-fashioned garden favorite that produces tall spires of satiny flowers in ivory, pink, lavender, and burgundy shades. The Nigra variety has a beautiful deep maroon color with velvet petals. It blooms from late spring to early summer.
Sunlight Needs: Full Sun
Growing Zones: 2, 3, 4, 5, 6, 7, 8, 9, 12
6. Tulip – Black Parrot
Tulips are some of our favorite flowers here at Joy Us garden! The Black Parrot is a unique and beautiful tulip with deep purple and black petals. It blooms in late spring and has an elegant, trumpet-shaped bloom.
These bulbs are easy to care for, preferring full sun and well-drained soil. You'll have better luck growing them in warmer climates if you chill your bulbs for a few months.
Sunlight Needs: Full Sun, Partial Shade
Growing Zones: 3, 4, 5, 6, 7, 8
7. Calla Lily – Captain Black
Calla lilies are elegant flowers with a unique trumpet-shaped bloom and are available in a range of colors, including white, pink, purple, yellow, and orange. Black flowers, including black calla lilies, have become increasingly popular due to their unique and striking appearance.
These really give a tropical appearance and bloom late spring into summer.
Sunlight Needs: Full sun, Partial sun
Growing Zones: 8, 9, 10, 11
8. Salvia – Black & Blue
Check out these stunning cobalt blue flowers that pop against the black calyxes and stems. They emerge from the lush, green foliage and dramatically contrast any garden. Not only do they provide sensational color all season long, but they also thrive in sunny beds and borders.
The Black & Blue Salvia is a great choice for adding a touch of vibrancy to your garden. It's a perennial in mild winter regions, but you can treat it as an annual in other areas. This plant is fast-growing and attracts pollinators to your garden.
Sunlight Needs: Full sun
Growing Zones: 7, 8, 9, 10
9. Lily – Night Rider
Next, we have the stunning Black Lily. With their deep, inky color and dramatic shape, black lilies add a touch of elegance to any garden. These flowers prefer partial shade, well-draining soil, and plenty of moisture.
They also require regular feeding during the growing season to produce captivating blooms. Their bloom time is early to mid-summer.
Sunlight Needs: Full Sun, Partial Shade
Growing Zones: 3, 4, 5, 6, 7, 8, 9
10. Lisianthus – Black Pearl
Now we have the black pearl lisianthus. This annual flower produces gorgeous deep purple petals that appear almost black in certain light conditions. The flowers bloom from early summer to mid-autumn and make a perfect addition to any garden.
They're beautiful cut flowers and remind us of paper roses!
Sunlight Needs: Full Sun
Growing Zones: 2, 3, 4, 5, 6, 7, 8, 9, 10
11. Hellebore – Wedding Party® Dark and Handsome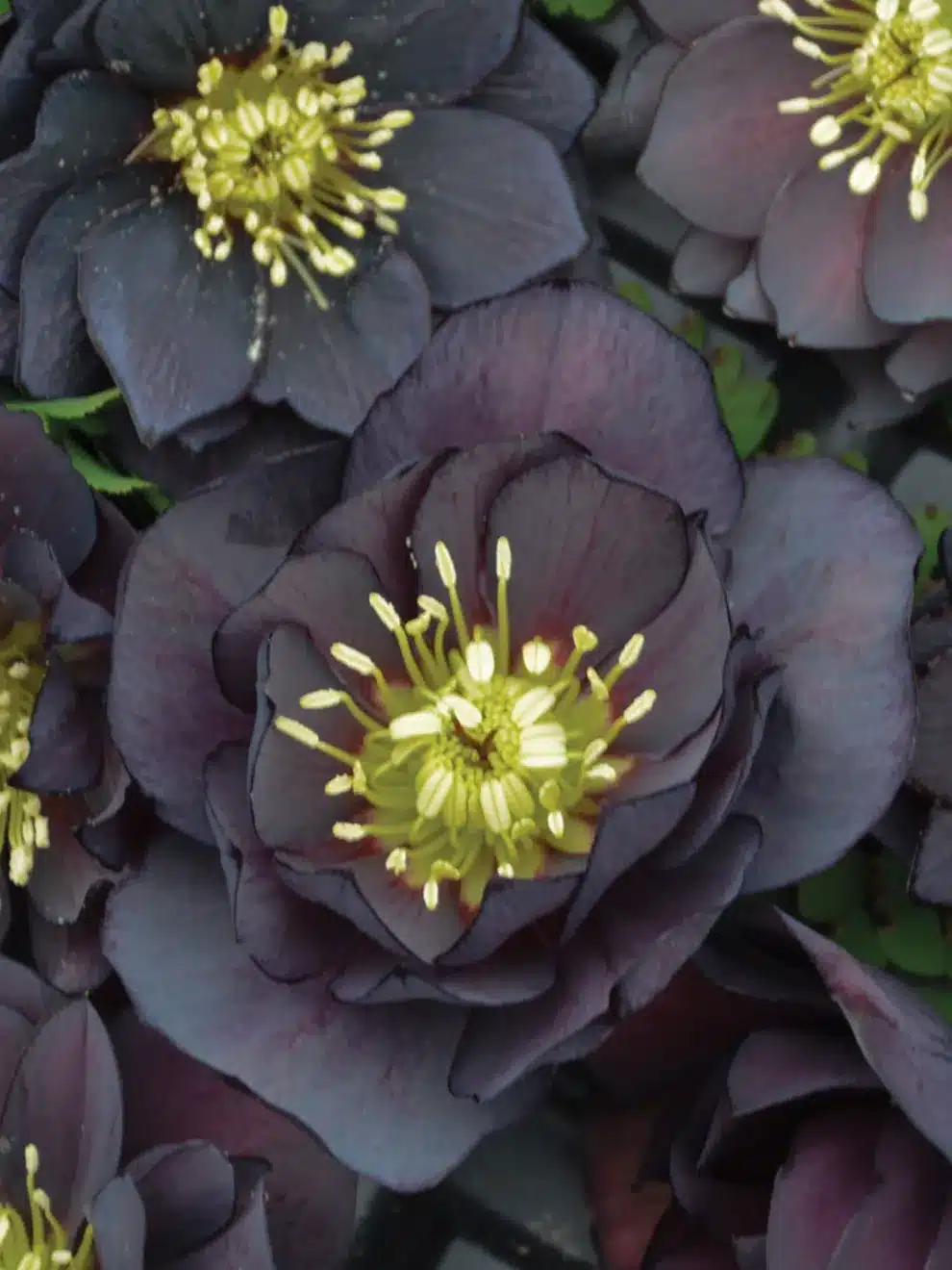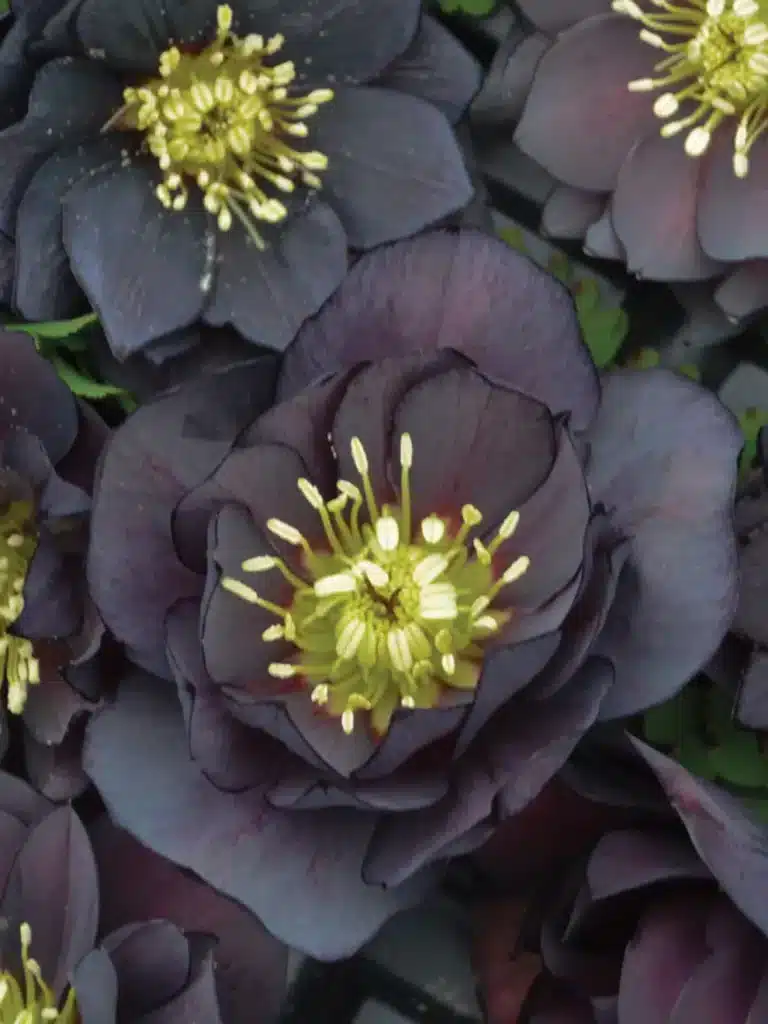 Another striking option is the Black Hellebore, also known as the Christmas Rose. These perennials bloom in late winter or early spring with dark, moody flowers that emerge from the snow.
Black Hellebores prefer shade or partial shade, moist soil, and protection from harsh winds. They're also deer-resistant, making them a great option for gardeners dealing with pesky wildlife.
Sunlight Needs: Part Sun, Full Shade
Growing Zones: 4, 5, 6, 7, 8, 9
12. Petunia – Starlet™ Velvet
These velvety dark flowers are perfect for hanging baskets as the plants have a trailing habit. They thrive in full sun and well-draining soil. Regularly pinching back the stems will promote bushier growth and more blooms.
Petunias are popular annuals that make great bedding and container plants. How striking would these be when combined with Creeping Jenny spilling out of a pot?
Sunlight Needs: Full Sun (6 hours)
Growing Zones: 10a, 10b, 11a, 11b (all; but they can be perennials in the listed zones)
13. Tulip – Queen of Night
Tulips come in virtually every color of the rainbow, but here's another (almost) black selection for you. These flowers have a simple cup shape that grows on 30″ stems. Never deliberately water a bed in which your tulips are planted. They dislike excessive moisture.
They bloom in late to mid-spring.
Sunlight Needs: Full Sun/Partial Shade
Growing Zones: 3, 4, 5, 6, 7, 8
14. Bat Flower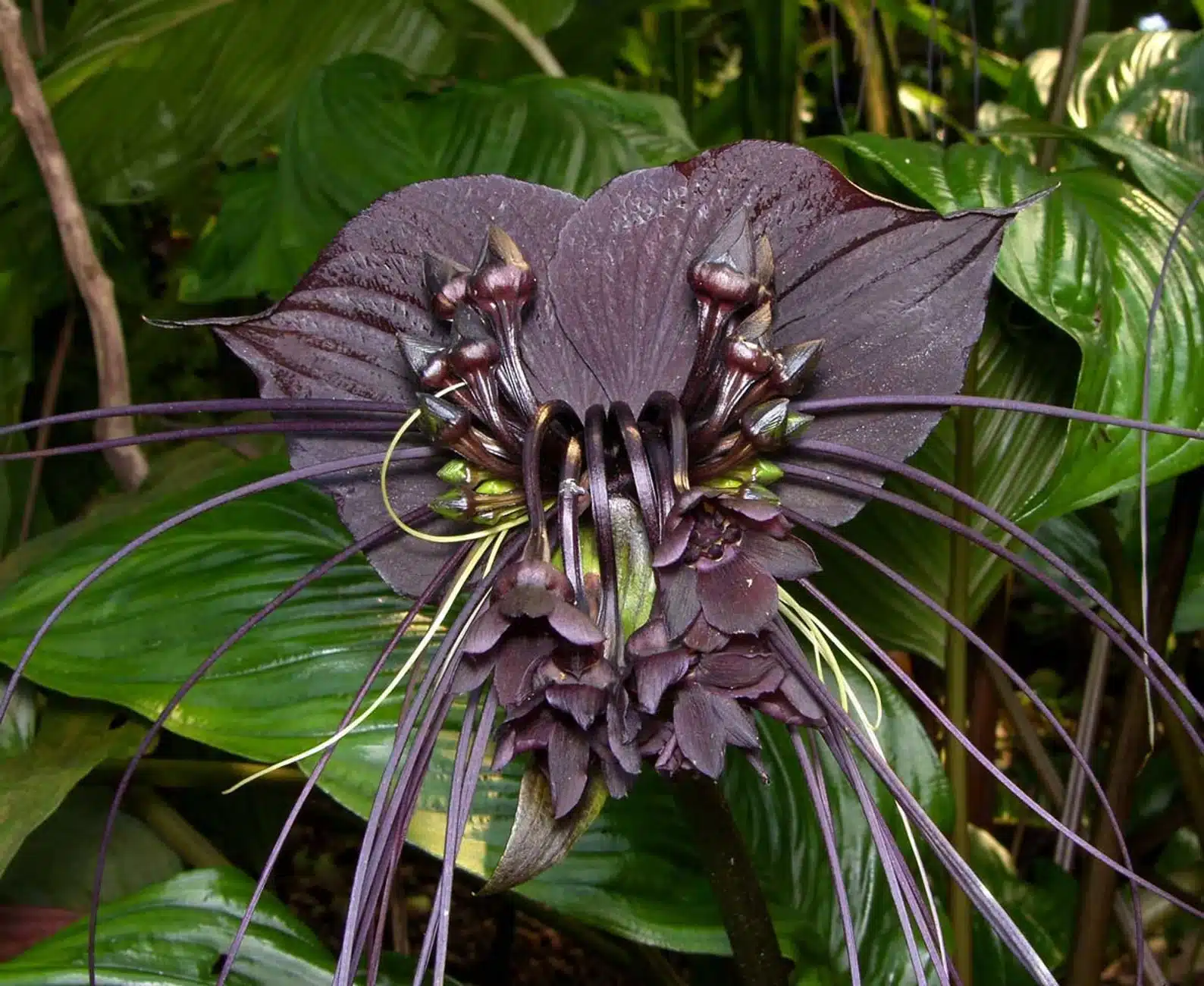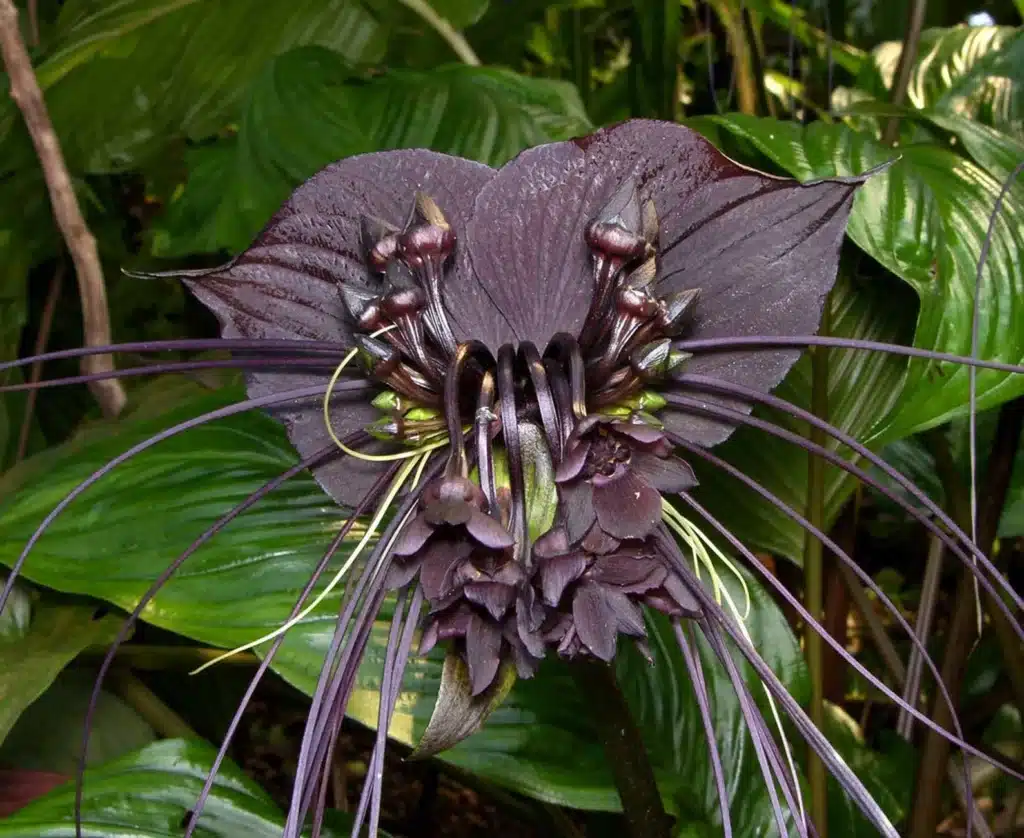 This unusual looking flower looks like a bat in flight with ruffled wings and long filaments. The blooms are large and do best in semi-tropical climates.
The larger the Bat Flower (Tacca chantieri), the more likely it is to be healthy. This flower will do better indoors and enjoys shade. The plant should be allowed to dry out during dormancy but needs moisture while blooming. These plants are fun but challenging if you're a beginning gardener!
Sunlight Needs: Partial Shade
Growing Zones: 9, 10, 11
15. Petunia – Black Magic
This is the blackest petunia on the market. These popular bedding plants, commonly sold as annuals, can bloom from spring into early fall. . This beautiful petunia would look great in hanging baskets, containers, or in front of the garden as a border.
It pairs beautifully with white, yellow, and chartreuse.
Sunlight Needs: Part Sun to Full Sun
Growing Zones: 9, 10, 11 (all; but they can be perennials in the listed zones)
16. Gladiolus – Black Star
Do you like a little drama in your garden? The flowers on this gladiolus are a deep red with a subtle contrasting stripe along the petals.
Mid-summer blooming and effortless to grow, this deep merlot beauty is a showstopper. This perennial can grow up to 4-5′ tall, making it suited for mid to back of the border, so you might have to stake it.
Sunlight Needs: Full Sun
Growing Zones: 8, 9, 10, 11
If you love flower gardens, check out these posts!
Quick Flower Tips
Buy Flowers from a Trusted Source: The quality of the plant will be better if you buy from a trusted source. Check to make sure you are getting the best quality.
Feed Your Flowers: Most flowers love to be fed with flower or bloom food. This helps them stay healthy and look vibrant. They also love to be planted and fed with compost, worm compost, or chicken manure.
Be Gentle with Your Flowers: Flowers are delicate and can easily be damaged if handled too roughly. Handle them gently and avoid jostling them when picking, deadheading, pruning, and arranging.
Location Matters: Don't try to grow a plant suited for a sunny location in the shade. It'll struggle to thrive.
Watch Out for Pests: It's important to watch out for pests such as aphids and scale, which can damage flowers. If you notice any, treat them immediately.
Deadheading: To encourage more flowers, deadhead the spent blooms. This will allow the plant to focus its energy on producing more flowers.
Properly Store Bulbs: Cold-sensitive bulbs should be stored in a cool and dry place.
Conclusion
Black flowers can make a unique and striking addition to any garden. These dark beauties range from deep purples to desirable near-black hues, with many different species available for home gardeners.
Adding black flowers to your garden can add a touch of mystery and intrigue to your outdoor space.
These stunning blooms come in many types, from petunias to tulips to lilies. So why not try something new and exciting this season?
Happy Gardening,
-Miranda & Nell
This post may contain affiliate links. You can read our policies here. Your cost for the products will be no higher but Joy Us garden receives a small commission. Thank you for helping us spread the word & make the world a more beautiful place!