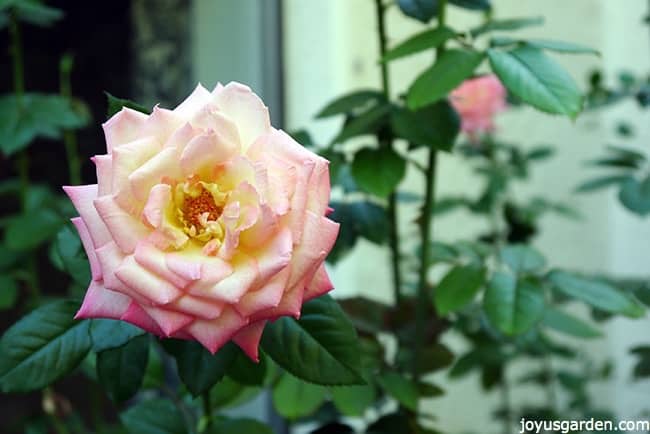 Have you been tossing, turning and unable to sleep at night since I published yesterday's post? Are you on the edge of your seat with wonder? This quick update is indeed, as evidenced by the beautiful bloom that you see above, a positive one. The neglected rose that I inherited when I moved into this house is blooming away like crazy since I pruned and cleaned it up. I just love a happy ending!
You want to open up a rose so sunlight & air can get in. This, along with proper pruning, stimulates healthy new growth which is where the flowering occurs on a hybrid tea.
This rose grows outside my bedroom window and stands over 6′ tall. It had only produced 2 small flowers in 3 months. The pale green foliage was edged in yellow and brown and the bush had an overall bad shape. This happens with roses that aren't properly pruned and nourished. Since the pruning, every stem but 1 has bloomed and what beautiful and fragrant blooms they are.
This delightful rose is "French Perfume".
I did the pruning of this rose on September 7th and it was putting on a full show of blooms when I filmed the video and took these pics on October 21st. It grows in the very back corner of my side garden right so to say it was neglected was an understatement. Now I'm sure it feels much more loved and appreciated!
This is the flower before the pruning. It never got big nor did it fully open.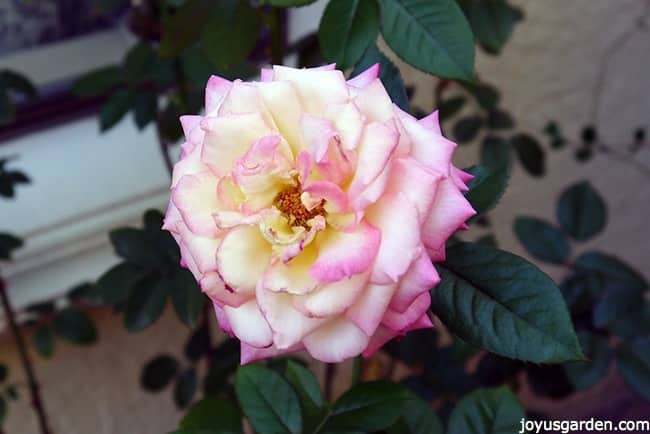 This is a healthy flower which was brought on by the pruning & a bit of composting.
After pruning, I applied a 2-3″ layer of local, organic compost around the base of the plant. Because it was late in the season, I didn't want to fertilize this rose.
I'll do the big pruning of this rose at the end of January or sometime in February, depending on the temps here in Tucson. In March I'll feed it with a good dose of compost along with worm castings. This hybrid tea's now on the fast road to recovery.
Happy gardening,

You May Also Enjoy:
Roses We Love For Container Gardening
Ponytail Palm Care Outdoors: Answering Questions
The Best Tips For Growing Your Own Balcony Garden

This post may contain Amazon affiliate links. You can read our policies here. Your cost for the products will be no higher but Joy Us garden receives a small commission. Thank you for helping us spread the word & make the world a more beautiful place!