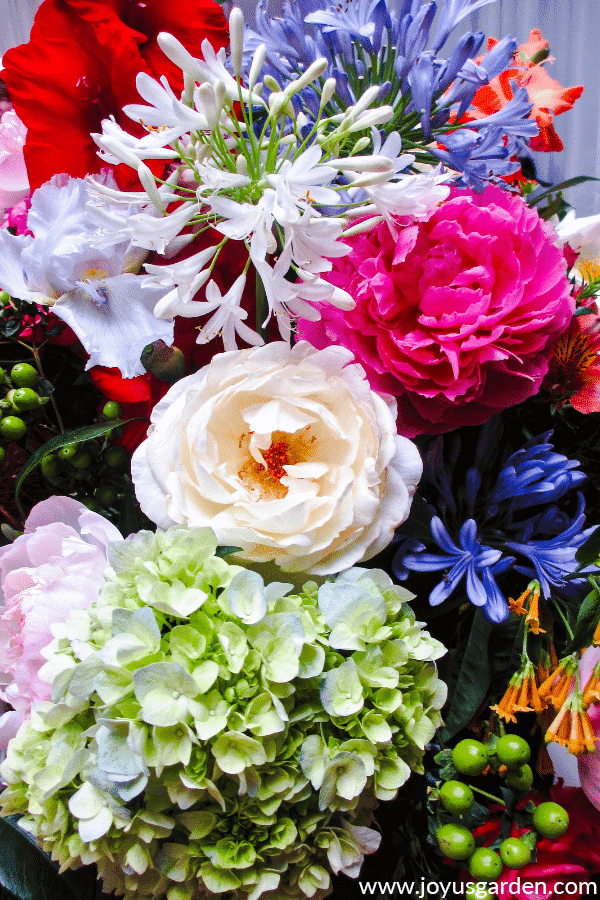 Whatever flowers and colors you like and use, they draw our eyes right in. Greens are so restful and can certainly be interesting but those vibrant blooms steal the show. Flower beds need a little extra loving care in order to thrive but it's not hard to do at all. These organic flower gardening tips will get you well on your way.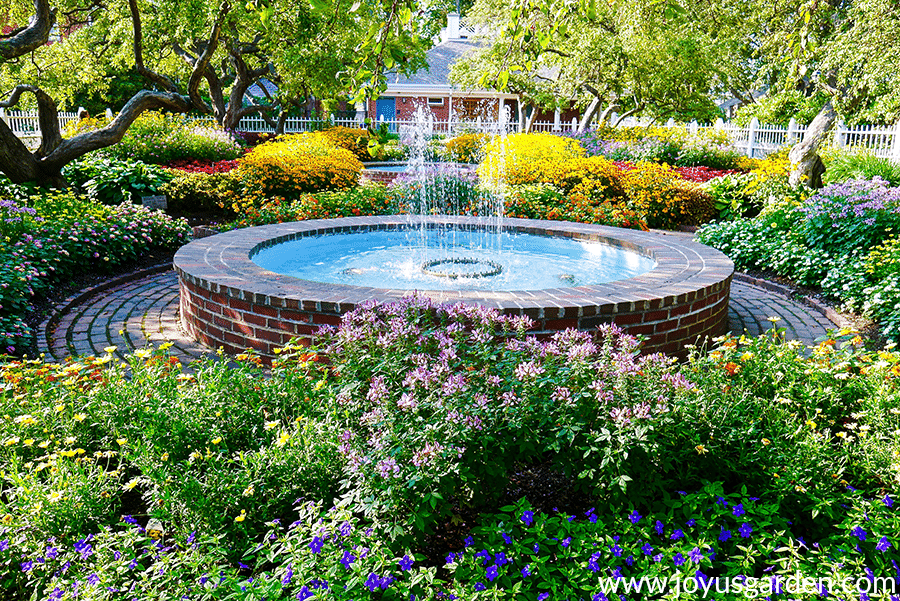 A beautiful flower garden in full regalia in Portsmouth, NH
Flowers are often the focal point of a garden and provide us with visual delight. As Claude Monet said: "I must have flowers, always, and always."
Let me first clarify what I mean by a flower bed – it's one with trees, shrubs, perennials, and annuals. It's basically a garden where any types of flowers are grown. And, growing your garden organically is always the best way.
If you're a gardener, then you're always thinking ahead to the next season. In spring you need to clean up after the winter months. Branches have fallen and need to be picked up. Virused or diseased leaves, as well as dead stalks, need to be removed.
And then there are the weeds which are starting to appear – they're a chore in their own category! Be sure to prune your perennials back if you haven't already done that in the fall. Even if you have done this, they'll probably need a little more grooming. This is also a good time to divide perennials as well as plant them.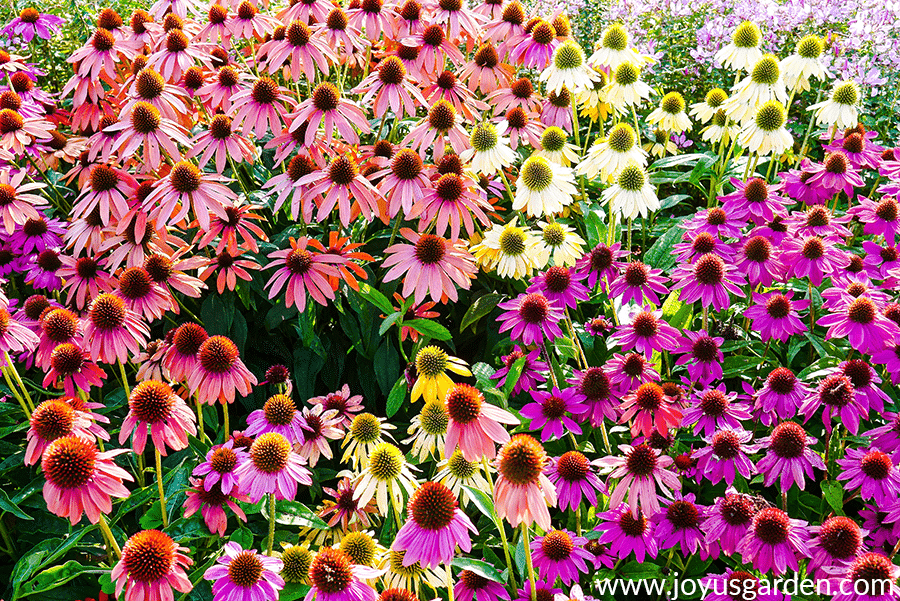 Lots of colors of Echinacea (Cone Flower), which is a very popular summer into fall blooming perennial.
Perennials, in general, aren't deep rooted and annuals even less so. They have fine shallow roots. Anything that flowers continuously like annuals do will want more to keep them going. The care you give both perennials and annuals depends on what they are, their requirements and the growing conditions.
For instance, anything in the shade with good soil will require less water than anything in the sun with windy conditions. Keep an eye on your flower beds and pay attention to them. Sometimes your garden might need more water than other times depending on the weather, especially those shallow-rooted annuals.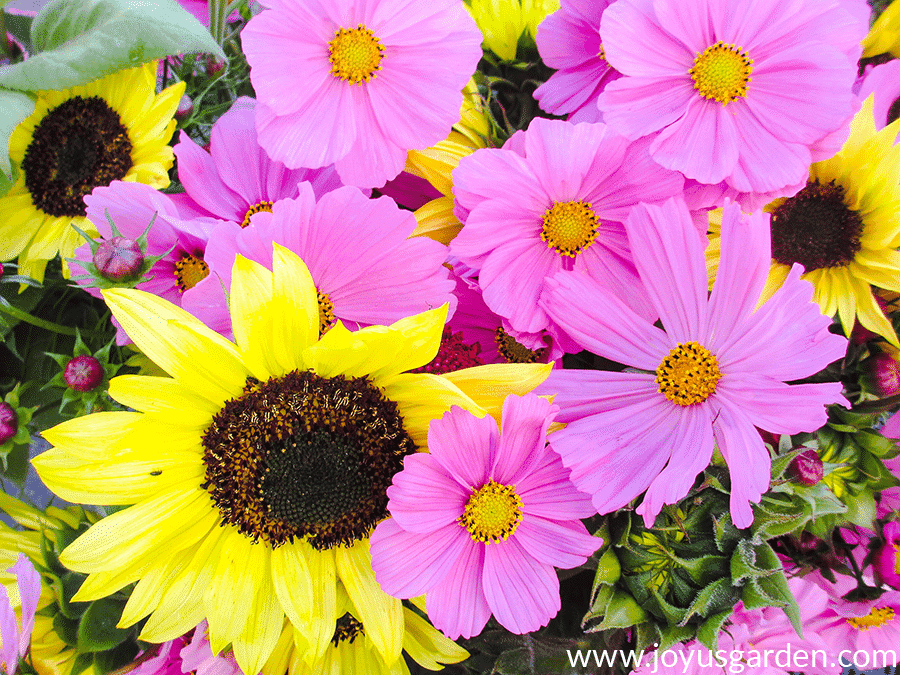 Sunflowers & cosmos are annuals, and they love the sun
Organic Flower Gardening Tips
Know the exposure
Make sure the plants you are choosing are suited to the exposure. There are plants which do best in shade, sun & part shade or part sun. Do a little research online or in books to get an idea of which plants do well in your area.
Be sure to read the tags which are in the plants because they'll tell you what exposure they do best in. This is also where a reputable nursery comes into play as they'll be able to guide you.
If you are a beginner, just know we all start somewhere. Gardening is a never-ending learning experience!
This is key. Your soil needs to be healthy in order for the plants to do well. Be sure to work the soil before planting & aerate it so the roots can easily grow.
The soil is the foundation for your plants & it needs to be as healthy as can be for your flowers to bloom & grow. You want it to be well amended with organic matter (called mulch, amendment or compost), have good drainage & be as rich as can be.
If your soil has a lot of clay, you'll amend it differently than if your soil has a lot of sand or sandy loam. Your local nursery or landscape supply business will be able to help you choose what amendments are right for your garden.
Or, if you're to an area or new to gardening, you may consider having a soil test done to see if there are any deficiencies in your planting beds. You can contact your county extension office to have a soil test done.
If you have multiple beds, buying in bulk from a local landscape supply company & having it delivered is the most economical way. This, of course, is also true when you're feeding established beds (so right below).
For a small bed, the bagged option is the way to go. In fact, many landscape supply companies let you bag your own so you get a compost specific to your area. You can see what I mean here.
I'm not big on fertilizer when planting and use it only for annuals or roses. I throw in some compost when planting perennials, shrubs & trees.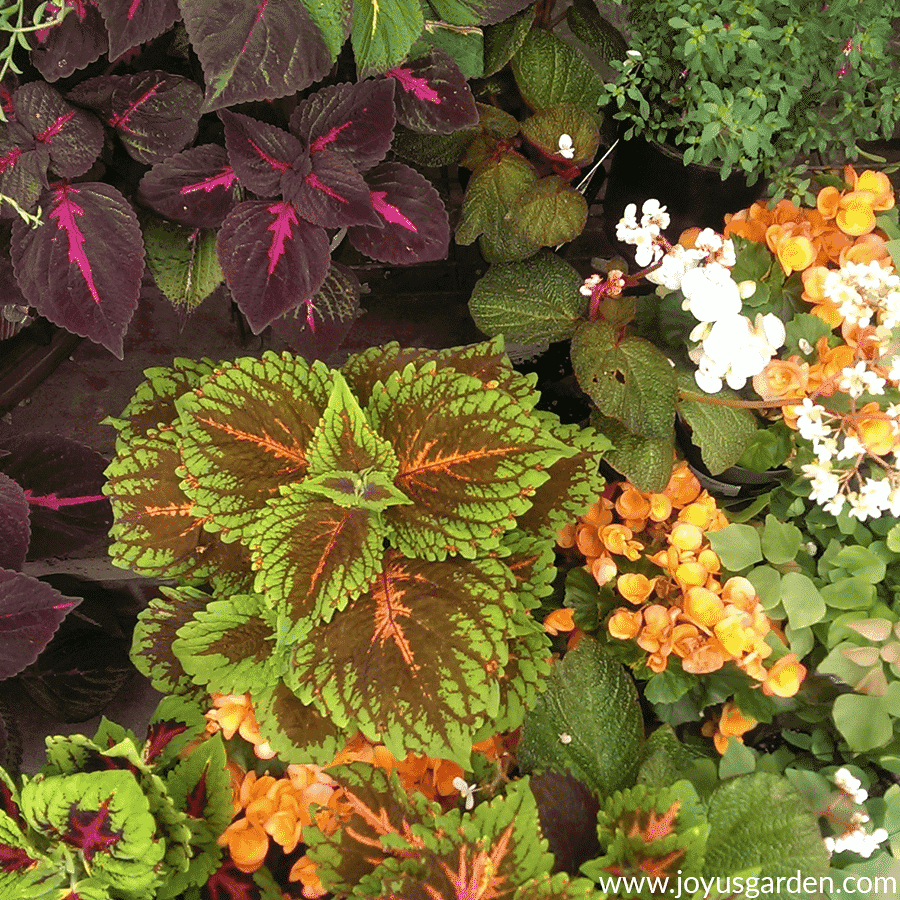 Shade lovers
Compost established beds
Consider composting your beds every year or 2 as this is generally the best way to feed trees, shrubs & perennials.
If you amend on a regular basis, once every 1-2 years, then your flower bed will be as happy as can be. I'm not big on fertilizer & use it only when feeding annuals & roses throughout the season or for plants which have a specific deficiency.
Feed the annuals
You need to feed annuals & roses 2 or 3 times during the summer season. They flower like crazy & need the nourishment to keep them flowering away.
Blend for Annual Flowers (& Roses Too)
I was a professional gardener in the San Francisco Bay Area for over 20 years & this was my favorite blend. It still is except now I use worm compost instead of chicken manure.
Rose and flower food (2 parts)
Alfalfa meal (1 part)
Chicken manure (1 part)
Here's the brand of rose and flower food I used for years. This 1 is another favorite.
Alfalfa meal is great for anything that blooms, especially roses.
The brand of chicken manure I used isn't sold online. I love worm compost which you could use instead.
I use organic ingredients of course. How much of this mix you use depends on the size of the plants you're planting or the established ones you're feeding. Just follow the recommended amount on the rose and flower food box.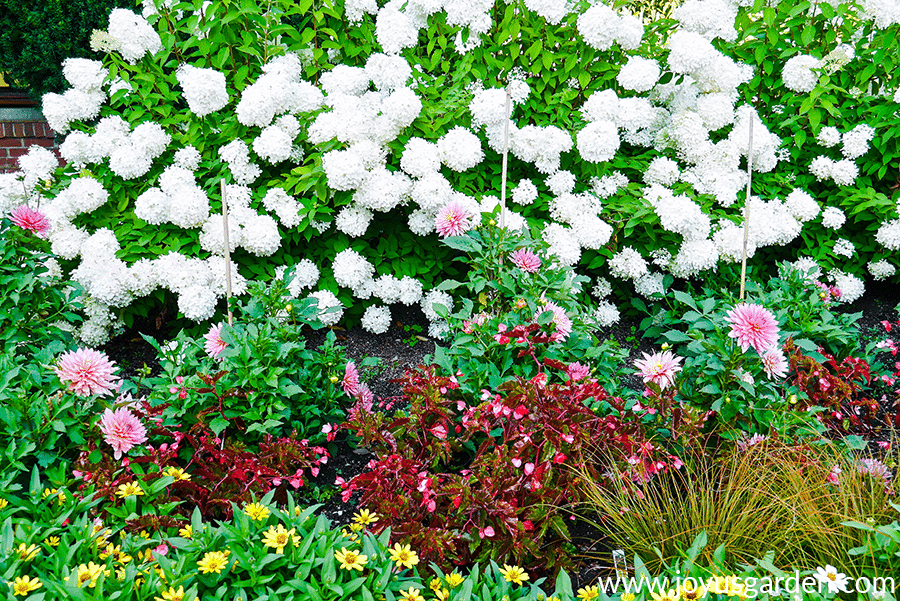 White hydrangea paniculatas make a beautiful backdrop.
Pruning
Deadheading & pruning is sometimes essential for repeat or continued bloom, depending on what you've planted. Many annuals, perennials & roses need it to bring on the next flush of blooms. Just make sure your pruners are clean & sharp.
Clean the Flower Beds
Keeping your flower beds clean helps to keep diseases, virus' & insects at bay or to a minimum. For most plants, this isn't an issue but roses are especially susceptible. Cleanliness is key so just make sure you keep your eye out for aphids, beetles, rust, mildew, black spot, etc.
Pesticides
This is important: after you've planted your organic flower beds, don't use pesticides. They don't belong in an organic garden. We don't want to poison the bees, butterflies, birds, etc which visit our gardens. Plus, not to mention our children, our precious pets & ourselves.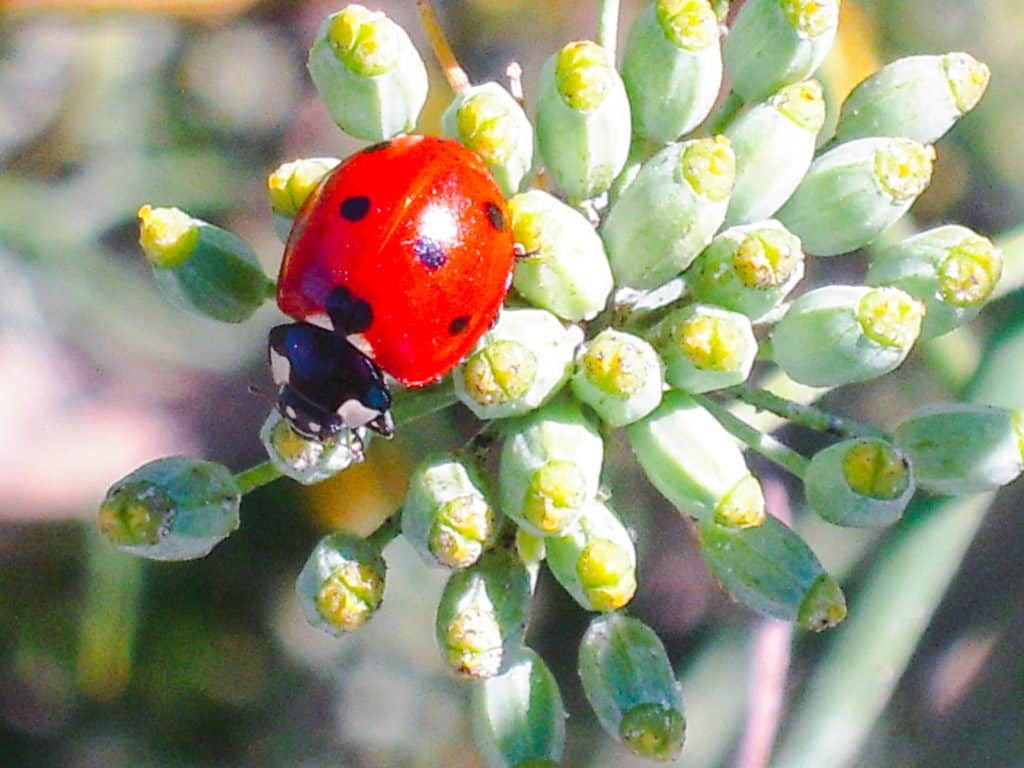 No chemicals please but ladybugs are always welcome in our organic flower gardens.
Seasonal Care of Organic Flower Beds
Summer is when your flower bed is in full regalia. Make sure it's getting enough water whether it be from the sky, drip system, hose or watering can. Keep up on the weeding and control insects with a spray of the hose or with organic remedies such as neem oil or insecticidal soap.
Deadhead those annuals and cut back the perennials as needed to encourage more flowering though out the season. Most shrubs don't need a lot of pruning & trees even less. Pay attention to how your shrubs & trees grow & if they have any specific care needs. For instance, a hydrangea do best with yearly pruning whereas something like boxwood or myrtle doesn't need it.
Fall is clean up time and winter is sleepy time. Flower beds take some work but it's a labor of love. Done organically, it's so much better for you and all the other living creatures visiting and inhabiting your garden.
Flowers bring so much color to our lives. Organic flower gardening is the way to go so we can have scrumptious bouquets like in the lead photo. Can we ever have too many flowers?!
Happy gardening,

Did You Enjoy Our Guide on Organic Flower Gardening?Check Out this Additional Information on Outdoor Gardening:
7 Things To Think About When Planning A Garden
How To Successfully Plant Shrubs In The Garden
How To Successfully Plant Perennials
Roses We Love for Container Gardening
How To Prepare and Plant A Flower Bed
How to Feed Camellias With Great Success
Clean And Sharpen Your Pruning Tools
This post may contain affiliate links. Your cost for the products will be no higher but Joy Us garden receives a small commission. Thank you for helping us spread the word & make the world a more beautiful place!