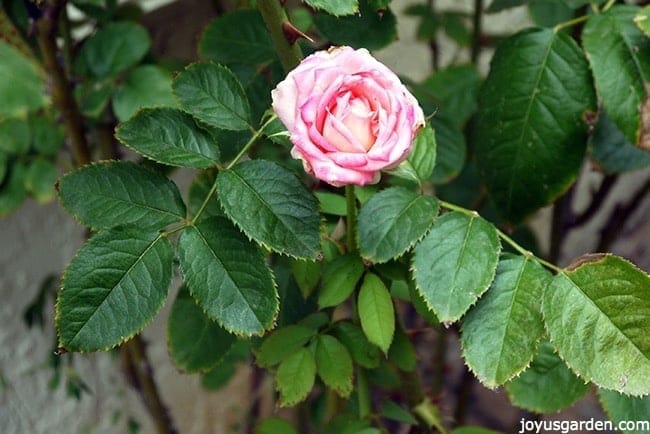 I wouldn't have planted a rose here in the Sonoran Desert but when you move into a new house, you get the garden and all the plants along with it. The rose grows outside my bedroom window and stands over 6′ tall.
I know it's a hybrid tea but couldn't tell which variety it was because the 2 flowers it produced were small and most likely off color. This happens when roses aren't properly pruned and nourished.
After 3 months of looking at this somewhat sad specimen, I decided to spring into action with the Felcos. This is all about the late summer pruning and rejuvenating a neglected rose.
Roses need cleaning up, pruning, deadheading & feeding because it takes a lot of energy for them to grow and flower.
Here's the rose before the pruning.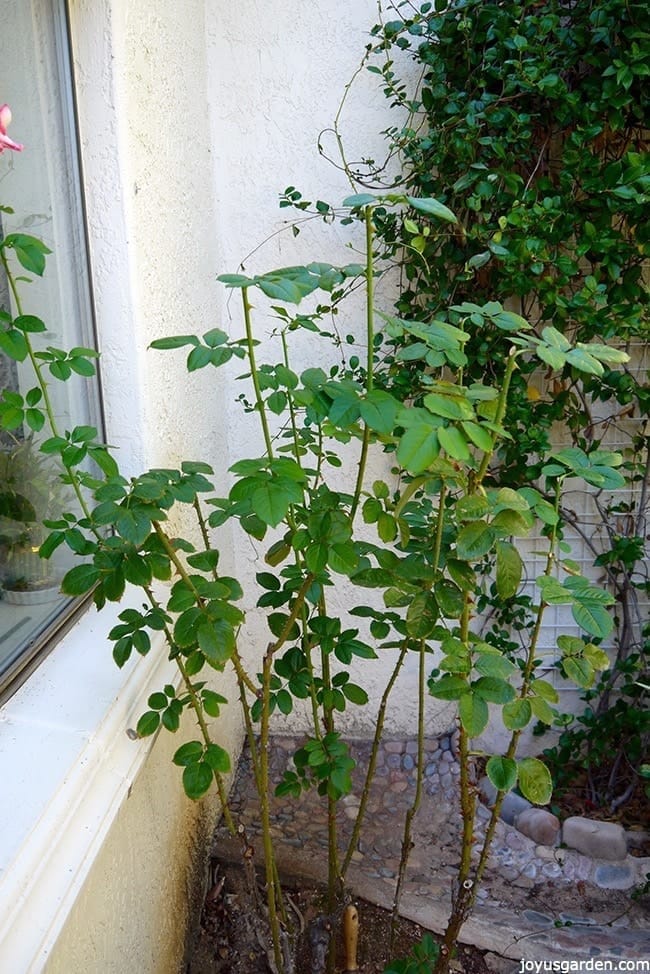 You can see how it's been thinned out & opened up after the pruning.
This post isn't about the big pruning you'd do on a hybrid tea rose (here in Tucson that time is late January/early February) but a lighter 1 late in the season to hopefully rejuvenate it. I did this pruning right after Labor Day. The rose had only produced 2 smallish blooms in 3 months and much of the foliage was edged in yellow and brown. It grows in the very back corner of my side garden right so to say it was neglected was an under statement.
Wedged in the back corner in between the star jasmine & yucca pruning the rose:
How to Prune Roses:
1- Start on the outside of the rose & work my way in.
2- Remove canes (the stems) which are crowded &/or crossing over. Take them all the way down or back to a main cane. What you want to do is open up the rose so sunlight & air can get in to stimulate healthy new growth because that's where the flowering occurs.
3- Remove dead, weak &/or spindly growth & bad cuts.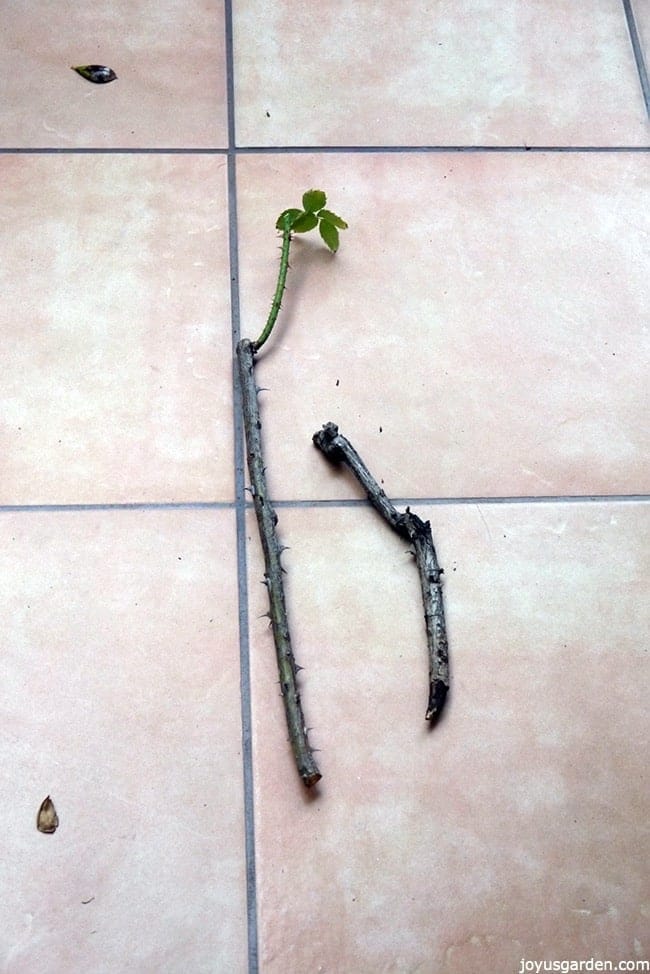 On the left you see spindly growth & on the right a dead cane.
A few tips to insure successful results:
1- Make sure your pruners are clean & sharp. The cuts will look a lot better & you'll lessen the chances of spreading any diseases.
2- Water your rose well the day before you prune if need be. I'm in the desert so I soaked it the previous evening.
3- For hybrid teas, you want to take cuts 5-7 leaf nodes down on the stem.
4- Always make sure that node faces outward so as not to stimulate excessive inner growth.
5- Take those cuts at an angle about 1/4″ above the node.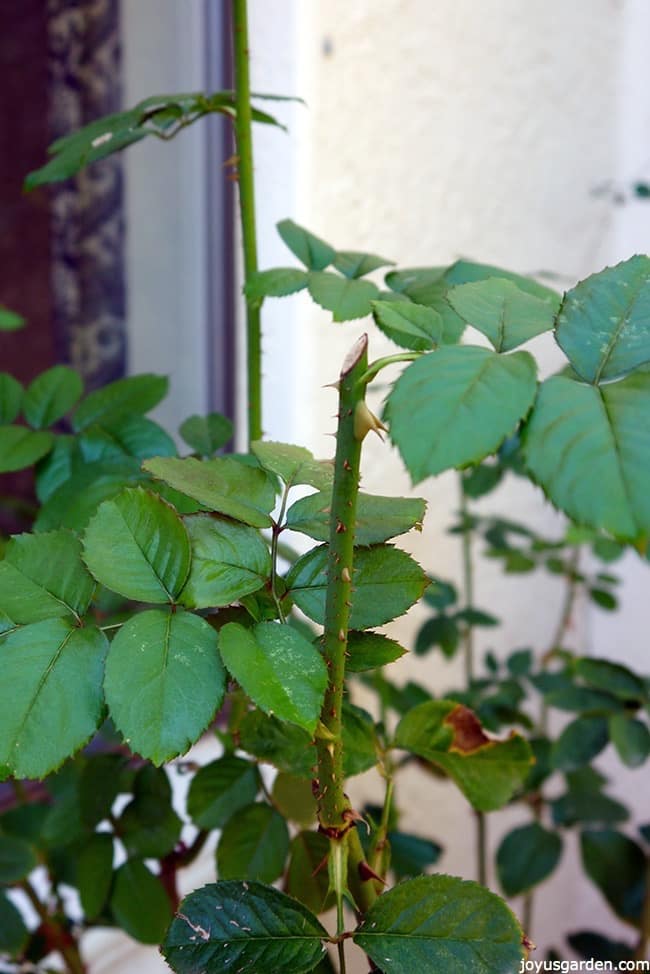 You can see what I do in the video – this illustrates the above 2 points.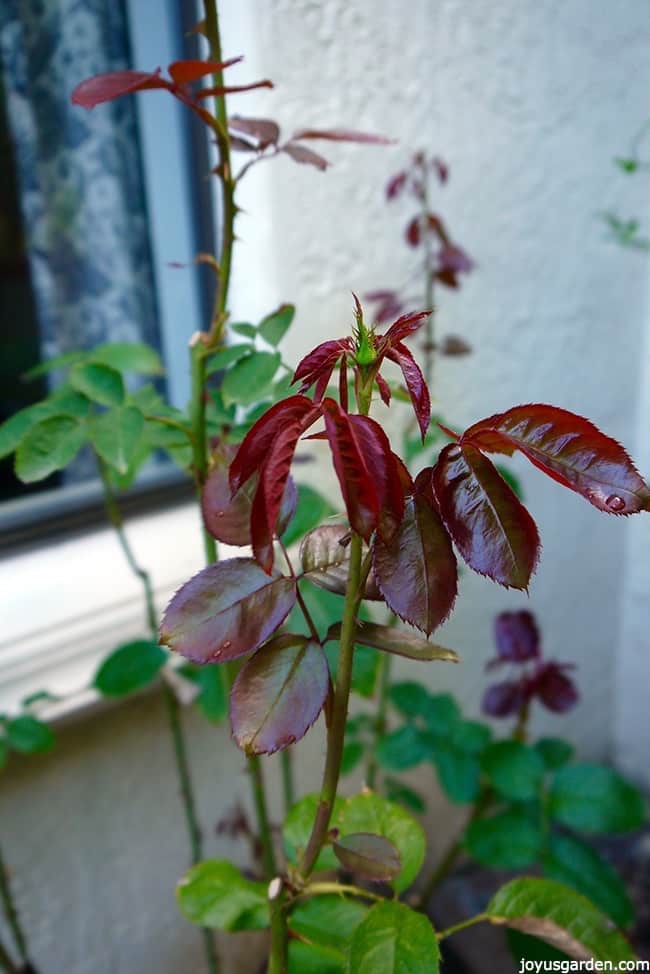 This is what results from the pruning – new growth which brings on those beautiful blooms!
After pruning, I applied a 2-3″ layer of local, organic compost around the base of this rose. It was early September so I didn't want to fertilize it. I wanted to show it some love & give it a little boost.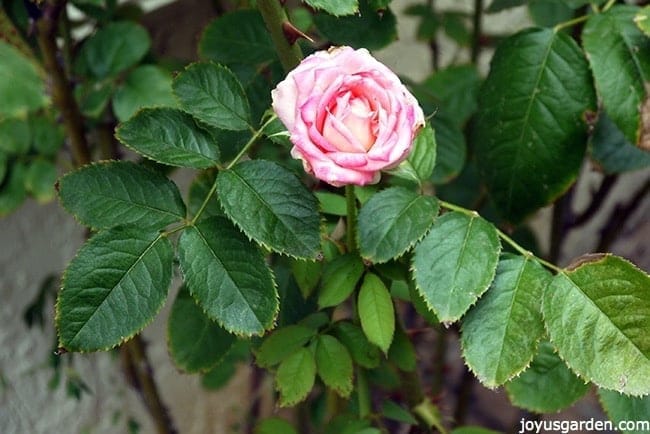 The fully open flower before the pruning.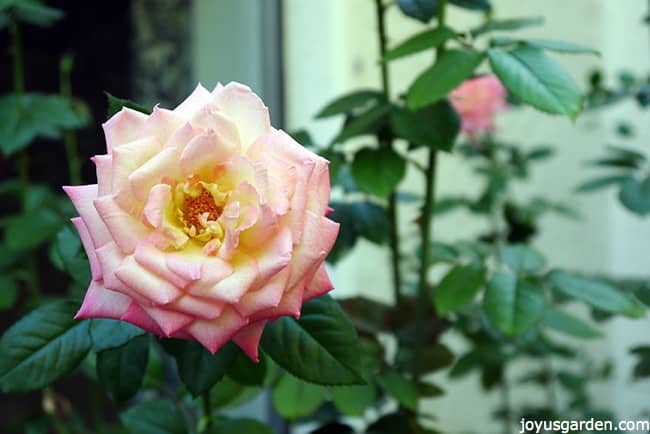 After the pruning the flower opens beautifully.
The proof's in the pudding I always say. This rose, which I discovered is French Perfume, flowered about 5-6 weeks after I pruned it. Every cane except for 1 bloomed with large, fragrant flowers and the foliage looks nice and healthy. You can see the update on this rose here.
I'll give it a big pruning in late winter, lighter prunings throughout the season and feed it a few times. Next year this rose'll be a blooming machine!
Happy gardening,

You May Also Enjoy:
Roses We Love For Container Gardening
Ponytail Palm Care Outdoors: Answering Questions
The Best Tips For Growing Your Own Balcony Garden

This post may contain Amazon affiliate links. You can read our policies here. Your cost for the products will be no higher but Joy Us garden receives a small commission. Thank you for helping us spread the word & make the world a more beautiful place!