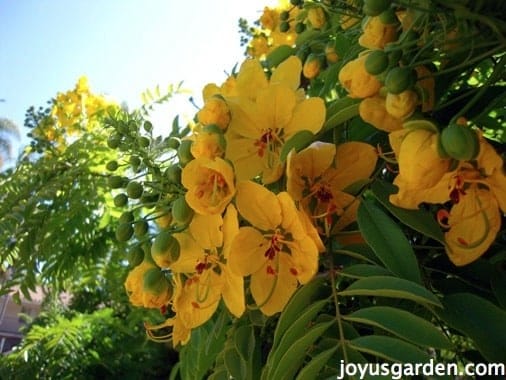 Today's post is going to be short and sweet because Lucy is here from San Diego. We were busy working away to get our book done, taking pictures and shooting videos. Now we're ready to talk about flowering trees!
When I moved to Santa Barbara from San Francisco I was amazed at how many trees flower here and at most times of the year. The ones that you'll see here are by no means all of them – just ones that I have pictures of that are good or that I like. Plus, Santa Barbara is home to one of the largest known fig trees in the world.
Archontophoenix cunninghamiana or King Palm (yes, palms do flower!)
Bauhinia x blakeana or Hong Kong Orchid Tree
Cassia leptophylla or Gold Medallion Tree
Albizia julibrissin or Mimosa
Magnolia grandiflora or Southern Magnolia
Spathodea campanulata or African Tulip Tree
Stenocarpus sinuatus or Firewheel Tree
Jacaranda mimosifolia or Jacaranda
Erythrina coralloides or Naked Coral Tree
Eucalyptus ficifolia or Red Flowering Gum
Pyrus kawakamii or Evergreen Pear
The flora provides lots of color around here, that's for sure. When the Jacarandas are shedding their flowers in June or July, we all sing the song "Purple Rain". They make a mess but it's a pretty mess at least!
Next up for Flower Friday: Orange Flowers
This post may contain affiliate links. You can read our policies here. Your cost for the products will be no higher but Joy Us garden receives a small commission. Thank you for helping us spread the word & make the world a more beautiful place!